Readings & Reflections: Saturday of the Thirty-fourth Week in Ordinary Time & St. James of the Marche, November 28, 2015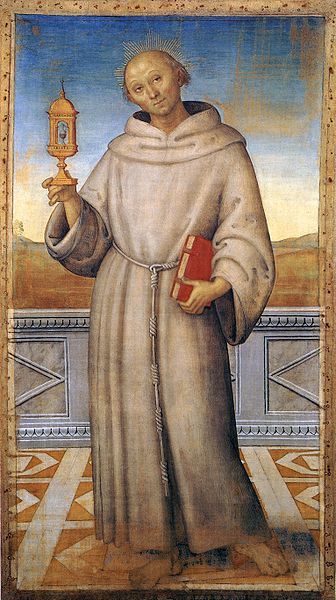 The prophet Daniel witnesses a horrifying vision, yet no degree of terror can dissuade him from the promise revealed from heaven; "The holy ones of the Most High shall receive the kingship to possess it forever." To "be vigilant" means to make our life a prayer by which we stand secure before the presence of the Son in whom all God's promises come true.
AMDG+
Opening Prayer
Lord, fill us with all good things. Fill my heart with the love, peace, joy, and righteousness of your kingdom. May the fire of the Holy Spirit inflame my heart with an eager longing for you and for your return." In your Mighty Name, I pray. Amen.
Reading 1
Dn 7:15-27
I, Daniel, found my spirit anguished within its covering of flesh,
and I was terrified by the visions of my mind.
I approached one of those present
and asked him what all this meant in truth;
in answer, he made known to me the meaning of the things:
"These four great beasts stand for four kingdoms
which shall arise on the earth.
But the holy ones of the Most High shall receive the kingship,
to possess it forever and ever."
But I wished to make certain about the fourth beast,
so very terrible and different from the others,
devouring and crushing with its iron teeth and bronze claws,
and trampling with its feet what was left;
about the ten horns on its head, and the other one that sprang up,
before which three horns fell;
about the horn with the eyes and the mouth that spoke arrogantly,
which appeared greater than its fellows.
For, as I watched, that horn made war against the holy ones
and was victorious until the Ancient One arrived;
judgment was pronounced in favor of the holy ones of the Most High,
and the time came when the holy ones possessed the kingdom.
He answered me thus:
"The fourth beast shall be a fourth kingdom on earth
different from all the others;
It shall devour the whole earth,
beat it down, and crush it.
The ten horns shall be ten kings
rising out of that kingdom;
another shall rise up after them,
Different from those before him,
who shall lay low three kings.
He shall speak against the Most High
and oppress the holy ones of the Most High,
thinking to change the feast days and the law.
They shall be handed over to him
for a year, two years, and a half-year.
But when the court is convened,
and his power is taken away
by final and absolute destruction,
Then the kingship and dominion and majesty
of all the kingdoms under the heavens
shall be given to the holy people of the Most High,
Whose Kingdom shall be everlasting:
all dominions shall serve and obey him."
The word of the Lord.
Responsorial Psalm
Daniel 3:82, 83, 84, 85, 86, 87
R. Give glory and eternal praise to him.
"You sons of men, bless the Lord;
praise and exalt him above all forever."
R. Give glory and eternal praise to him.
"O Israel, bless the Lord;
praise and exalt him above all forever."
R. Give glory and eternal praise to him.
"Priests of the Lord, bless the Lord;
praise and exalt him above all forever."
R. Give glory and eternal praise to him.
"Servants of the Lord, bless the Lord;
praise and exalt him above all forever."
R. Give glory and eternal praise to him.
"Spirits and souls of the just, bless the Lord;
praise and exalt him above all forever."
R. Give glory and eternal praise to him.
"Holy men of humble heart, bless the Lord;
praise and exalt him above all forever."
R. Give glory and eternal praise to him.
Gospel
Lk 21:34-36
Jesus said to his disciples:
"Beware that your hearts do not become drowsy
from carousing and drunkenness
and the anxieties of daily life,
and that day catch you by surprise like a trap.
For that day will assault everyone
who lives on the face of the earth.
Be vigilant at all times
and pray that you have the strength
to escape the tribulations that are imminent
and to stand before the Son of Man."
The Gospel of the Lord.
Reflection – Be vigilant
"Beware that your hearts do not become drowsy from carousing and drunkenness and the anxieties of daily life, and that day catch you by surprise like a trap."
Beware of success! A time to be careful is when one reaches his goals as vulnerability always accompanies achievement. After the long hard work and energies are drained and dreams are realized, we should all watch out.
Without realizing it, even before the taste of success becomes stale, self-centeredness can come in and self-destruction maybe on its way. Success can cause one to become less attuned to God and less receptive to God's invitation to love and care for His people. This can happen in every aspect of life- from politics, sports, profession and academics to one's ministry.
During difficult times and the whole objective is survival and somehow to get to the goal; one's battle cry may be sacrifice and unity. Hard times will bind people together as goals are set. People become spiritual and prayerful and very dependent on the Lord. But as the bits and pieces fall in place and goals are achieved, the adversary comes in with his corrupting influence. Slowly pride comes in.
Unknowingly, arrogance can become a distinct part of one's witnessing. One begins to believe his own gifts and talents, his very own power to make things happen. One forgets how to relate to his neighbor and co-worker and moves on his own without regard for the good of the body. One forgets the role of other parts of the whole body and may tend to undermine others thinking that one's motives are good and noble anyway. One becomes authoritative and become less considerate of people and their shortcomings and can become political in one's ways. And those whom one believes do not share his own philosophy, he slowly gets rid off, eliminates and discredits.
It is sad to note that we undermine history and we forget that it is filled by heroes who forgot to walk carefully along the narrow ledges of the heights of success and that most of them, if not all of them have mightily fallen.
The only way we can be on guard and not be a victim of success is by clothing ourselves with humility. 1Peter 5: 5-7 address the crucial items for success: authority, attitude and anxiety. "Younger people should be willing to be under older people. And all of you should be humble with each other. God is against the proud but He gives grace to the humble. Be humble under God's powerful Hand so that He will lift you up when the right time comes. Give all your worries to Him because He cares for you."
Let me suggest some ideas that may be useful in life including our very own work for the Lord.
Submit yourself to those who mentor you and guide you. Listen to their counsel, be accountable and open to reproof, accept their suggestions and respect their seasoned years of work and ministry.
Humble yourself under the Mighty Hand of the Lord. This means that you have to ask God to grant you His kind of success in His time and way. You have to willingly accept His discipline as being for your good and His glory. Being humble is not to manipulate circumstances or maneuver people in order to achieve your goals. You have to let go and let God be God.
Do not be anxious. Anxieties, fears, troubles and disappointments can leave you weary and depressed. Cast them upon the Lord and let Him resolve them for you. No amount of worries will ever change the outcome neither will they improve them. You have to give all your cares to God.
If one is a mentor, a guide, a teacher of a flock, listen and be attentive to God's written Word and to the counsel of our brethren especially those who are lower in stature and their advice do not fit within one's way of doing things. Most often, they are God sent and are instruments of God's love.
With these thoughts in our hearts, we effectively make God in charge, and whatever success we may have and He may have in mind for us, will always be a surprise for us to claim. They will always be for His glory and not for us. This does not mean that we should not use our intellect, not have diligence and get rid of forward planning. It just means that we will not make success our very own shrine.
Instead of spending our time pushing and promoting, politicking and trying to win people to our side or to impress people about our gifts and the authority that accompanies our respective roles in community, all we need to do is be HUMBLE and let God do our work for Him. If we allow God to do our work and His will to prevail in us, we will realize in the end that we will have more SUCCESS, more friends and a bigger family. We will have more LOVE and CARE in our lives rather than judgments and condemnations. In the end, we will always have more and more of GOD in our hearts!
Aren't all these more than what the world can offer? SUCCESS the way God wants it to be should be foremost in our hearts.
Direction
SUBMISSION plus HUMILITY less WORRY = God HONORING SUCCESS with FULL SATISFACTION. In order for God to give us SUCCESS in our work for Him, in all humility, we should submit to one another in love.
Prayer
Heavenly Father, give me wisdom, the courage and the humility to turn over to You the daily uncertainties of my life and of my ministry. In Jesus, I pray. Amen.
Reflection 2 – Watch at all times
Is there anything which holds you back from the joy and freedom of the Lord? God wants our hearts for him and for his kingdom. But our hearts can be weighed down by many anxious cares and fearful concerns, or by harmful addictions and sinful habits. Jesus offers us true freedom – freedom from the power of sin and a wasted life – wasting ourselves on harmful or useless things which keep us distant from God. Jesus offers us freedom from our disordered passions and unruly desires – such as making food, drink or other things our master rather than our servant. And Jesus offers us freedom from the power of crippling anxieties and needless, cares, and being overwhelmed by fear or doubt. Jesus wants our hearts to be ruled by one thing only – his love which has power to undo any sin and trouble in our lives.
Jesus warns us of the temptation to slacken off – to become spiritually lazy and inattentive to the things of God. We can fall asleep spiritually if we allow other things to distract us from the reality of God and his kingdom. It is very easy to get caught up in the things of the present moment or to be weighed down with anxieties and troubles. The Lord knows our struggles and our shortcomings. He wants us to know that we do not have to carry these burdens alone. He is with us and he gives us all the grace and help we need to walk in his way of holiness. But there is one thing he doesn't tolerate: that is indifference and an attitude of not caring, and doing nothing! God gives us his grace so we can seek him confidently and live in his truth and love. His grace makes fruitful and productive so we can act and speak lovingly in all situations. There is an important spiritual principle that God wants us to understand. God expects more of us than we can do by ourselves and He wants to work in and through us by the power of his Holy Spirit. That is why he is so eager to give us his spiritual gifts, strength and help. His grace is sufficient for every need we have! But he expects us to do our part as well: to actively seek him, and to pray for the things we need to carry out his will, especially for the strength to persevere in faith, so we can endure trials with patience, and overcome temptation to unfaithfulness, especially from apostasy – the denial of Jesus Christ out of fear or pride. God is always ready to fill us with his grace, power, love and strength. Are you hungry for God, for his grace, strength and help?
Let's examine ourselves and pray, "Lord, you fill us with all good things. Fill my heart with the love, peace, joy, and righteousness of your kingdom. May, the fire of the Holy Spirit inflame my heart with an eager longing for you and for your return."
Reflection 3 – Being Vigilant with Mary
"The salvation of the world began through Mary and through her it must be accomplished. Mary scarcely appeared in the first coming of Jesus so that men, as yet insufficient instructed and enlightened concerning the person of her Son, might not wander from the truth by becoming too strongly attached to her. This would apparently have happened if she had been known, on account of the wondrous charms with which the Almighty had endowed even her outward appearance. So true is this that Saint Denis the Areopagite tells us in his writings that when he saw her he would have taken her for a goddess, because of her incomparable beauty, had not his well-grounded faith taught him otherwise. But in the second coming of Jesus Christ, Mary must be known and openly revealed by the Holy Spirit so that Jesus may be known, loved, and served through her. The reasons, which moved the Holy Spirit to hide his spouse during her life and to reveal but very little of her since the first preaching of the Gospel, exist no longer.
"God wishes therefore to reveal Mary, his masterpiece, and make her more known in these latter times: Because she kept herself hidden in this world and in her great humility considered herself lower than dust, having obtained from God, his Apostles, and evangelists the favor of not being made known.
"Because, as Mary is not only God's masterpiece of glory in heaven, but also his masterpiece of grace on earth, he wishes to be glorified and praised because of her by those living upon earth.
"Since she is the dawn which precedes and discloses the Sun of Justice, Jesus Christ, she must be known and acknowledged so that Jesus may be known and acknowledged.
"As she was the way by which Jesus first came to us, she will again be the way by which he will come to us the second time though not in the same manner.
"Since she is the sure means, the direct and immaculate way to Jesus, and the perfect guide to him, it is through her that souls who are to shine forth in sanctity must find him. He who finds Mary finds life, that is, Jesus Christ" (Source: Saint Louis Grignion de Montfort, Magnificat, Vol. 16, No. 9, November 2014, pp. 402-403).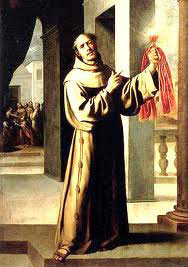 Reflection 4 – St. James of the Marche (1394-1476 A.D.)
Meet one of the fathers of the modern pawnshop!
James was born in the Marche of Ancona, in central Italy along the Adriatic Sea. After earning doctorates in canon and civil law at the University of Perugia, he joined the Friars Minor and began a very austere life. He fasted nine months of the year; he slept three hours a night. St. Bernardine of Siena told him to moderate his penances.
James studied theology with St. John of Capistrano. Ordained in 1420, James began a preaching career that took him all over Italy and through 13 Central and Eastern European countries. This extremely popular preacher converted many people (250,000 at one estimate) and helped spread devotion to the Holy Name of Jesus. His sermons prompted numerous Catholics to reform their lives and many men joined the Franciscans under his influence.
With John of Capistrano, Albert of Sarteano and Bernardine of Siena, James is considered one of the "four pillars" of the Observant movement among the Franciscans. These friars became known especially for their preaching.
To combat extremely high interest rates, James established montes pietatis(literally, mountains of charity)–nonprofit credit organizations that lent money at very low rates on pawned objects.
Not everyone was happy with the work James did. Twice assassins lost their nerve when they came face to face with him. James died in 1476 and was canonized in 1726.
Comment:
James wanted the word of God to take root in the hearts of his listeners. His preaching was directed to preparing the soil, so to speak, by removing any rocks and softening up lives hardened by sin. God's intention is that his word take root in our lives, but for that we need both prayerful preachers and cooperative listeners.
Quote:
"Beloved and most holy word of God! You enlighten the hearts of the faithful, you satisfy the hungry, console the afflicted; you make the souls of all productive of good and cause all virtues to blossom; you snatch souls from the devil's jaw; you make the wretched holy, and men of earth citizens of heaven" (Sermon of St. James).
Read the source: http://www.americancatholic.org/features/saints/saint.aspx?id=1213
SAINT OF THE DAY
Catholic saints are holy people and human people who lived extraordinary lives. Each saint the Church honors responded to God's invitation to use his or her unique gifts. God calls each one of us to be a saint. Click here to receive Saint of the Day in your email.
St. James of the Marches, O.F.M., (ca. 1391 – 28 November 1476) (Italian: Giacomo della Marca)[1] was an ItalianFriar Minor, preacher and writer.[2]
Early life
[
edit
]
He was born Dominic Gangala in the early 1390s to a poor family in Monteprandone, then in the March of Ancona, (now in the Province of Ascoli Piceno) in central Italy along the Adriatic Sea. As a child, he began his studies at Offidaunder the guidance of his uncle, a priest, who soon afterwards sent him to school in the nearby city of Ascoli Piceno. He later studied at the University of Perugia where he took the degree of Doctor in Canon and Civil Law. After a short stay at Florence as tutor for a noble family, and as judge of sorcerers, James was received into the Order of Friars Minor, in the chapel of the Portiuncula, in Assisi, on 26 July 1416. At that time, he took the religious name of James. Having finished his novitiate at the hermitage of the Carceri, near Assisi, he studied theology at Fiesole, near Florence, with St. John of Capistrano,[3] under St. Bernardine of Siena.[2] He began a very austere life fasting nine months of the year. St. Bernardine told him to moderate his penances.[3]
Priest and inquisitor
[
edit
]
On 13 June 1420, he was ordained a priest and soon began to preach in Tuscany, in the Marches, and in Umbria; for half a century he carried on his spiritual labours, remarkable for the miracles he performed and the numerous conversions he wrought. He helped spread devotion to the Holy Name of Jesus.[3] From 1427, James preached penance, combated heretics, and was on legations in Germany, Austria, Sweden, Denmark, Bohemia, Poland, Hungary, and Bosnia. He was also appointed inquisitor against the Fratelli, a heretic sect that dissented from the Franciscans on the vow of poverty, among other things.[4] In Bosnia, he was also commissary of the Friars Minor there. As such, he combated the heresies that he found there, which earned him the hostility of its ruler, King Tvrtko II, and even more of his wife, Queen Dorothea, whom James accused of trying to poison him.[5]
At the time of the Council of Basle, James promoted the reunion of the moderate Hussites with the Catholic Church, and later that of the Greek Orthodox at the Council of Ferrara-Florence.[2] Against the Ottomans, he preached severalcrusades, and at the death of St. John Capistran, in 1456, James was sent to Hungary as his successor. He instituted several montes pietatis (literally, "mountains of piety": nonprofit credit organizations that lent money at very low rates on pawned objects), and preached in all the greater cities. He was offered the bishopric of Milan in 1460, which he declined.[4]
St. James belonged to the Observant branch of the Friars Minor, then rapidly spreading and stirring up much controversy. In this task, he encouraged reforms in the Order of Friars Minor. How much he suffered on this account is shown in a letter written by him to St. John Capistran.[6] King Tvrtko II was a major opponent of James's reforms in Bosnia, and was probably strongly influenced in that regard by Queen Dorothy.[5]
Under Pope Callistus III, in 1455, he was appointed an arbiter on the questions at issue between the Conventuals and Observants. His decision was published 2 February 1456 in a papal bull, which pleased neither part. A few years later, on Easter Monday 1462, James, preaching at Brescia, uttered the opinion of some theologians that the Precious Blood shed during the Passion was not united with the Divinity of Christ during the three days of his burial. The Dominican friar, James of Brescia, the local inquisitor, immediately summoned him to his tribunal. James refused to appear, and after some troubles appealed to the Holy See. The question was discussed at Rome during Christmas 1462 (not 1463, as some have it), before Pope Pius II and the cardinals, but no decision was ever given.[4] James spent the last three years of his life in Naples, and died there on 28 November 1476.
Writings
[
edit
]
His writings have not yet been collected. His library and autographs are preserved in part at the Municipio of Monteprandone (see Crivellucci, "I codici della libreria raccolta da S. Giacomo della Marca nel convento di S. Maria delle Grazie presso Monteprandone", Leghorn, 1889).
He wrote "Dialogus contra Fraticellos" printed in Baluze-Mansi, "Miscellanea", II, Lucca, 1761, 595-610 (cf. Ehrle in "Archiv für Litt. u. Kirchengeschichte", IV, Freiburg im Br., 1888, 107-10).
His numerous sermons are not edited. For some of them, and for his treatise on the "Miracles of the Name of Jesus", see Candido Mariotti, O.F.M., "Nome di Gesù ed i Francescani", Fano, 1909, 125-34.
On his notebook, or "Itinerarium", See Luigi Tasso, O.F.M., in "Miscellanea Francescana", I (1886), 125-26: "Regula confitendi peccata" was several times edited in Latin and Italian during the fifteenth century. "De Sanguine Christi effuse" and some other treatises remained in manuscript.
Veneration
[
edit
]
James was buried in Naples in the Franciscan church of Santa Maria la Nova, where his body remained until 2001. At the instigation of the provincial minister (Franciscan superior) of the Marches region, Father Ferdinando Campana, O.F.M., James's body was relocated to Monteprandone, where it remains incorrupt and visible to the public today. He was beatifiedby Pope Urban VIII in 1624, and canonized by Pope Benedict XIII in 1726. Naples venerates him as one of its patron saints. His liturgical feast day is observed by the Franciscan Order on 28 November. He is generally represented holding in his right hand a chalice, out of which a snake is escaping – an allusion to some endeavours of heretics to poison him or, less likely, to the controversy about the Precious Blood.[7]
Sources and References
[
edit
]
This article incorporates text from a publication now in the public domain: Herbermann, Charles, ed. (1913).