Readings & Reflections: Friday of the Twenty-sixth Week in Ordinary Time & St. Jerome, September 30,2016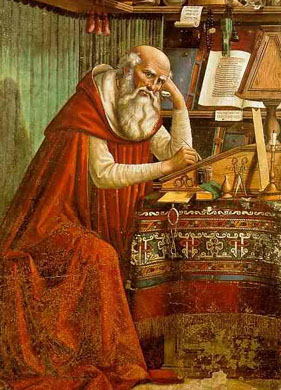 A native of Italy, Jerome was educated in the Latin and Greek classics. As an adult, he received baptism and embarked on a life of solitary penance in the desert of Calchis. He is perhaps best known for his hot temper. He relished controversy and treated the friends of the Church as harshly as her critics. Under Pope Damasus, Jerome revised the then-current translation of the Bible, producing the Vulgate, the Church's official Latin biblical text. In time of schism, he was the papacy's dogged defender: "He who clings to the Chair of Peter is accepted by me." In later years, Jerome founded a monastic community in the Holy Land, where he composed commentaries on the Scriptures: "I beg of you, dear brother," he wrote to a friend, "to live among these books, to meditate upon them, to know nothing else, to seek nothing else. Does not such a life seem to you a forestate of heaven here on earth?" He lived in a cave in Bethlehem: "He never rests, day or night," it was observed. "He is reading or writing the whole time." Jerome is one of the four great Latin Fathers. He died in Bethlehem in 420 A.D.
AMDG+
Opening Prayer
"Most High and glorious God, enlighten the darkness of our hearts and give us a true faith, a certain hope and a perfect love. Give us a sense of the divine and knowledge of yourself, so that we may do everything in fulfilment of your holy will; through Jesus Christ our Lord." Amen. (Prayer of Francis of Assisi, 1182-1226)
Reading 1
Jb 38:1, 12-21; 40:3-5
The LORD addressed Job out of the storm and said:
Have you ever in your lifetime commanded the morning
and shown the dawn its place
For taking hold of the ends of the earth,
till the wicked are shaken from its surface?
The earth is changed as is clay by the seal,
and dyed as though it were a garment;
But from the wicked the light is withheld,
and the arm of pride is shattered.
Have you entered into the sources of the sea,
or walked about in the depths of the abyss?
Have the gates of death been shown to you,
or have you seen the gates of darkness?
Have you comprehended the breadth of the earth?
Tell me, if you know all:
Which is the way to the dwelling place of light,
and where is the abode of darkness,
That you may take them to their boundaries
and set them on their homeward paths?
You know, because you were born before them,
and the number of your years is great!
Then Job answered the LORD and said:
Behold, I am of little account; what can I answer you?
I put my hand over my mouth.
Though I have spoken once, I will not do so again;
though twice, I will do so no more.
The word of the Lord.
Responsorial Psalm
Ps 139:1-3, 7-8, 9-10, 13-14ab
(24b) Guide me, Lord, along the everlasting way.
O LORD, you have probed me and you know me;
you know when I sit and when I stand;
you understand my thoughts from afar.
My journeys and my rest you scrutinize,
with all my ways you are familiar.
R. Guide me, Lord, along the everlasting way.
Where can I go from your spirit?
From your presence where can I flee?
If I go up to the heavens, you are there;
if I sink to the nether world, you are present there.
R. Guide me, Lord, along the everlasting way.
If I take the wings of the dawn,
if I settle at the farthest limits of the sea,
Even there your hand shall guide me,
and your right hand hold me fast.
R. Guide me, Lord, along the everlasting way.
Truly you have formed my inmost being;
you knit me in my mother's womb.
I give you thanks that I am fearfully, wonderfully made;
wonderful are your works.
R. Guide me, Lord, along the everlasting way.
Gospel
Lk 10:13-16
Jesus said to them,
"Woe to you, Chorazin! Woe to you, Bethsaida!
For if the mighty deeds done in your midst
had been done in Tyre and Sidon,
they would long ago have repented,
sitting in sackcloth and ashes.
But it will be more tolerable for Tyre and Sidon
at the judgment than for you.
And as for you, Capernaum, 'Will you be exalted to heaven?
You will go down to the netherworld.'
Whoever listens to you listens to me.
Whoever rejects you rejects me.
And whoever rejects me rejects the one who sent me."
The Gospel of the Lord.
Reflection 1 – Woe to you Chorazin and Bethsaida
The cities of Chorazin and Bethsaida lay near Capernaum on the northern border of the Sea of Galilee. Jesus spent most of His time teaching and healing the people in these areas. His ministry was focused on these key cities and I consider it a great privilege for their people to be directly ministered and taught by Jesus.
But this privilege was accompanied by a greater responsibility which they were not able to live up to. They failed to respond to God 's Word. Their hard and stubborn hearts could not comprehend Who Jesus was. The arrogance in their hearts led them not only to reject Him but to persecute Him and in time, crucify Him on the Cross. Certainly, God's very own could not act on His Word much more share it with the rest of the world.
This is then a reminder to all that being privileged entails a lot of responsibilities. Being with the Lord means living for God and sharing Him with everyone and much more. Being a leader in community is being the least, the last of all and the servant of all! The privilege of being a Christian leader entails not only leading, directing, managing and empowering God's people but loving, sharing and caring for them- being Christ to them.
Today we may all be considered very privileged in lot of ways. Despite the gloom and doom of our present day economy, vast industry cutbacks, rising unemployment and the rising terrorism worldwide and an atmosphere of grim pessimism from all over, we may still be considered the most blessed among all generations. Amidst the outpouring of God 's grace upon us, have we really acted upon God and His call the way He wants us to?
Many of us pay more attention to the bad news on television than to the Good News of Jesus. We are all better students of world politics, public polls and Wall Street than we are of God 's Word. We have forgotten that it is still God Who is in charge and it is God 's sovereign hand which will prevail and His prophetic plan which we should closely look into.
Let us then look into our hearts and check how faithful we have been to God and His call. Let us be reminded of the words of Jesus Himself: "It will go ill with you, Chorazin! And just as ill with you, Bethsaida! If the miracles worked in your midst had occurred in Tyre and Sidon, they would long ago have reformed in sackcloth and ashes. It will go easier on the day of judgment for Tyre and Sidon than for you. And as for you, Capernaum, ' Are you to be exalted to the skies? You shall be hurled down to the realm of death! ' "
Feeling like being exalted to the skies… beware for the realm of death may be upon all of us! Complacency can cause us to believe what is not true and reject God and His Word especially amidst the heights of success of God 's own creation!
Have we as faithful believers heard God's Word and acted on it… have we received our Lord's call to repentance with hearts that are open to the transforming grace of our Lord?
Have we as a community responded upon what the larger Church has envisioned in the last several years to be our role in our Lord's vineyard?
As we lead God's people, let us not abuse the authority and power vested upon us. Let us be reminded always of our Lord's words: "Woe to you, Chorazin! Woe to you, Bethsaida! For if the mighty deeds done in your midst had been done in Tyre and Sidon, they would long ago have repented, sitting in sackcloth and ashes. But it will be more tolerable for Tyre and Sidon at the judgment than for you.
Direction
To hear God 's Word means to act respond to His call.
Prayer
Heavenly Father, give us the grace to respond to your call and abide by your will. In Jesus we pray Amen.
Reflection 2 – Behold, I am of little account
The Book of Job deals with the theme of God's Providence; it shows, according to Saint Thomas Aquinas, that human affairs are ruled by divine providence. One of the difficulties that the book has to address is an argument against divine providence: the fact that just men seem to be afflicted with evil without cause.
Job's three friends, Eliphaz, Bildad and Zophar all tried to figure out why Job, a just and virtuous man has suffered so many grave afflictions. Eliphaz, for example, holds that Job's suffering has to be a punishment from God on account of Job's sins (4:7,17). He asked rhetorically: Has anyone who was innocent perished? Can moral man be righteous before God? Happy, he says, is the man whom God reproves. Therefore Job should not despise the chastening of God the Almighty. God will deliver Job from his troubles. Job answers that he does not understand where he has erred or what wrong he spoke (6:24,30). He maintains his integrity throughout the conversation.
After Job's three friends finish, a fourth person, a young man named Elihu speaks. He was angry at Job because he justified himself rather than God; he was angry at the three friends because they found no answer to the problem and declared that Job was in the wrong (32:2-3). Elihu argues that God speaks to man in order to turn man aside from evil deeds and to cut off pride from man. He does this to keep man from falling into the Pit and losing his life. When chastened by pain, man turns to God in prayer and enters into God's presence with joy and recounts to men his salvation (33:26). God is just and Job is wrong to proclaim his self-righteousness.
After Elihu speaks to Job, God himself addresses Job. He answers out of the whirlwind. First, God proclaims his power, manifested in his creation. This power greatly surpasses Job, who was not there when God laid the foundation of the world, who did not set the limits of the sea, who does not have power over day and night, and who has limited knowledge of the animals of the earth.
Job can only respond: "Behold, I am of small account; what shall I answer you?". Job remains in silence and awaits God's word. This time, God asks Job why he has challenged Him, why he has condemned Him so that he can be justified. Job can only respond to God with humility and repentance. He says: "I have uttered what I did not understand; I despise myself and repent in dust and ashes". The Lord accepts Job's repentance, rebukes Job's three friends and restores Job's fortunes twofold.
The Book of Job, then, does not come to a definitive answer about the problem of why good men and women suffer. However, it does affirm two basic truths: on the one hand, it affirms God's power, justice and wisdom. All things are in God's hands, he acts with justice and guides all things. He created them and governs them. On the other hand, man should not be self-righteous or think he understands all things. Contemplating God's creation and the fact that man himself is one of God's creatures should lead to humility of heart and filial trust in God.
With the coming of Jesus Christ and his Passion and death, a more complete understanding of the problem of suffering is possible. Because of his sin, man is in need of redemption. Jesus is the innocent one, the Lamb of God, who takes away the sin of the world and forges a New Covenant that can never be broken. The New Covenant includes the forgiveness of sins, the food for Eternal Life, and the purifying Blood of Christ.
This is the Good News that Jesus brought and preached. Today, in Luke's Gospel, Jesus condemns the cities that reject him and the message preached by the seventy disciples. Tyre and Sidon were Phoenician cities which were often the object of judgment by the prophets of old. However, neither city was privileged to witness the mighty works that the towns of Galilee – Chorazin, Bethsaida and Capernaum – saw. Had the Phoenician cities seen the mighty works of Jesus and his disciples, they would have repented. The three cities of Galilee, however, refused to believe. They heard the Word, but did not understand it, and, instead of welcoming the Word, they rejected it.
Today's Liturgy of the Word is both a warning and an invitation. It warns us about the danger of a prideful heart that justifies itself and a hardened heart that refuses to believe. The invitation, then, is to become like a child, who is simple of heart and to welcome the Word of God in faith and love. Read the source: http://www.zenit.org/en/articles/daily-homily-behold-i-am-of-little-account
Reflection 3 – He who hears you hears me
If Jesus were to visit your community today, what would he say? Would he issue a warning like the one he gave to Chorazin and Bethsaida? And how would you respond? Wherever Jesus went he did mighty works to show the people how much God had for them. Chorazin and Bethsaida had been blessed with the visitation of God. They heard the good news and experienced the wonderful works which Jesus did for them. Why was Jesus upset with these communities? The word woe is also translated as alas. It is as much as an expression of sorrowful pity as it is of anger.
Jesus calls us to walk in the way of truth and freedom – justice and holiness
Why does Jesus lament and issue a stern warning? The people who heard the gospel here very likely responded with indifference. Jesus upbraids them for doing nothing! Repentance demands change – a change of heart and way of life. God's word is life-giving and it saves us from destruction – the destruction of soul as well as body. Jesus' anger is directed toward sin and everything which hinders us from doing the will of God and receiving his blessing. In love he calls us to walk in his way of truth and freedom, grace and mercy, justice and holiness. Do you receive his word with faith and submission or with doubt and indifference?
"Lord Jesus, give me the child-like simplicity and purity of faith to gaze upon your face with joy and confidence in your all-merciful love. Remove every doubt, fear, and proud thought which would hinder me from receiving your word with trust and humble submission." – Read the source: http://www.rc.net/wcc/readings/sep30.htm
Reflection 4 – Can you hear God's voice in the storm?
In today's first reading, we hear God speaking to Job "out of the storm." Think of a storm that's raging in your life right now. Have you been able to hear Gods voice in it? Today's scriptures are that voice. What is he saying to you?
He told Job, "What are you worried about? I AM still in charge of your life." Job had been thinking that God was letting things get out of control. We often feel that way, too, don't we? We say by our actions and by our words: "God, You're late! This problem should be fixed by now. I'd better explain to You what You should do, so that we can get this finished in a more timely manner."
And God replies, "Tell me, if you know all: Which is the way to the dwelling place of light, and where is the abode of darkness? Do you really know how to obtain good instead of bad?" And then God gets a little sarcastic: "Oh yeah, of course you do – you were born before I created light and dark, you're so old!"
Job, humbled by the reminder of his inadequacies compared to the greatness of God, speaks for all of us as he says, "All right, I'll shut up! I'll even put my hand over my mouth … oops, I spoke again. I won't do that again. Oops, I just did."
(You didn't know there was humor in that book of the Bible, did you?!)
To hear God speak in the storm, we have to repent of our prideful assumption that we know the right way to end our troubles. We must acknowledge that God truly is in charge, even if it doesn't seem so, and that his timing is always perfect, even when we think he's late.
Today's responsorial Psalm reminds us that God can be trusted because of one big reason: He knows us better than we know ourselves. Therefore, his guidance and his timing are much better than our own. We can be certain that he cares about us, because he formed our innermost being (our souls) and our bodies (which he knit in our mother's wombs). He loved us even before we were born. He made us wonderfully.
Did you hear that? He made you to be one of his wonderful works. Do you think he'd ruin one of his masterpieces?
The Gospel reading is God's voice in the storm saying, "Don't forget how I've helped you before! Of course I'll help you again." If we look only at our problems and neglect to spend time recollecting what he's done for us in the past, it's easy to distrust him. This kind of faith is no faith and it leads to destruction, just like what happened to Capernaum.
Capernaum was an important, busy town when Jesus taught the Good News there. Today, the little towns of Bethlehem and Nazareth continue to thrive, but Capernaum has been lost to the "realm of death." (Click here to see what it looks like today: HolyLand/capern3.jpg. See more by looking at a couple of pages from my Virtual Pilgrimage: holyland.gnm.org/page057).
God is taking very good care of you! Listen for his voice. – Read the source: http://gnm.org/good-news-reflections/?useDrDate=2016-09-30
Reflection 5 – "Whoever listens to you…"
Kierkegaard, a philosopher who loved Jesus very much, affirmed that God has created two categories of people: heroes and poets. The hero is the one who accomplishes great deeds and even does battle with death. The poet does not do impressive deeds, but he sings about the hero and is enthusiastic about the hero; he is as happy as if he were the hero himself, because his own genius can be expressed in sheer admiration and devotion. When he has found his hero, the poet goes from city to city and tells people that they too should admire the hero.
For us, Jesus is our hero, and we should be his poets. I do not mean in the sense that we should write poems about him but in the sense that we are in love with Jesus. The poets speak through their songs and succeed not only in convincing, but in taking others along with them.
Our evangelization should be Pentecostal: It should cause heartstrings to vibrate. In the place where the towers of Babel were first erected and people wanted to make a name for themselves, those towers are demolished and every one's name is forgotten. Let us, therefore, lift up the name that is above all names and proclaim Paul's words, "If you confess with your lips that Jesus is Lord and believe in your heart that God raised him from the dead, you will be saved" (Rom 10:9). – Source: Fr. Raniero Cantalamessa, O.F.M. CAP, Magnificat, Vol. 16, No. 8 October 2014, pp. 57-58.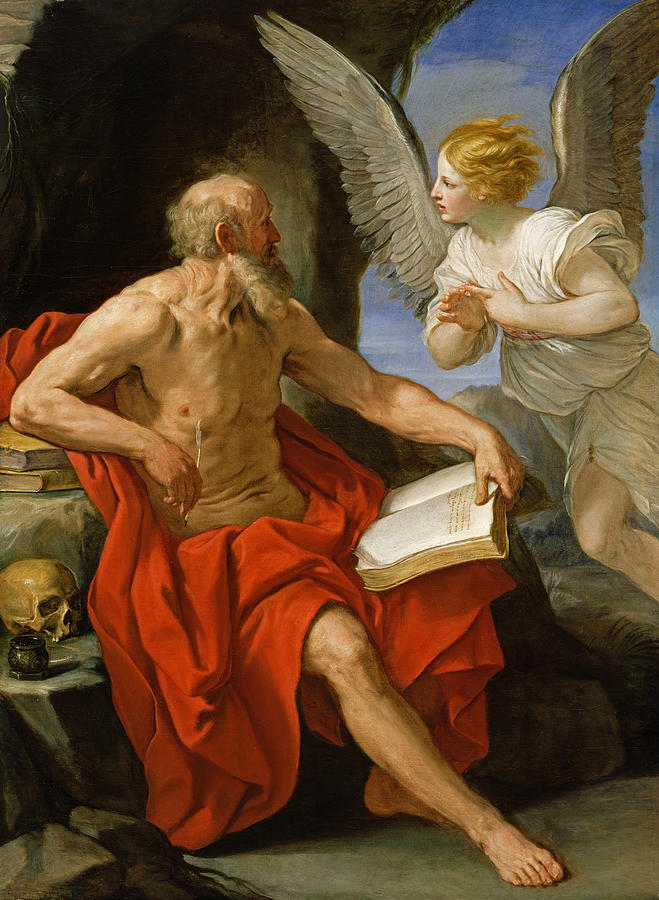 Reflection 6 – The price of being Christian
Jerome was born named as Eusebius Hieronymus Sophronius at Stridon, near Aquileia, in Dalmatia (present day Yugoslavia) in ca. 345 AD and died in Bethlehem on September 30, 420 AD. He translated the Old Testament from Hebrew and the New Testament from Greek into Latin. He was the foremost scholar and commentator of his time. He was a monk who became a priest and then secretary to Pope Damasus. He is often portrayed as a cardinal because of his position as papal secretary.
Jerome was also well known for his acid pen. He wrote scathing criticisms of the society of his time. He finally went to Bethlehem where he lived in a cave. He is a saint because he took the Gospel seriously. There is a tendency today to accommodate the Gospel message by taking away its bite. Jerome spoke of a Gospel without compromise. He took every sacred word seriously and passionately, whatever consequences. Jerome reminds us that the Gospel message deals with the serious matters of spiritual life and spiritual death.
In our American history on the second day of the Battle of Gettysburg, a southern brigade was about to break through the northern line when General Hancock ordered a much smaller regiment, the First Minnesota, to charge the overwhelming numbers to give him time to bring up reinforcments. Of the 262 Minnesotans who attacked, 215 were either killed or wounded; only 47 came back. These men knew the meaning of sacrifice and commitment.
Dietrich Bonhoefer, the German Lutheran pastor hanged by the Nazis in 1945, wrote a still influential book titled The Cost of Discipleship. Linking Jesus' call ("Come, follow me") to Jesus' crucifixion, Bonhoeffer concluded, "When Christ calls a man, he bids him come and die." Today's Gospel account makes it clear that a true disciple must be willing to forego his possessions, make any sacrifice, and persevere in his response. In Bonhoeffer's terminology, anything less than wholehearted commitment to Christ is "cheap grace." The grace of true discipleship is "costly."
Dorothy Day, Catholic social activist and founder of the Catholic Worker Movement, once famously said, "Don't call me a saint. I don't want to be dismissed that easily." Dorothy's rejection of the title had nothing to do with pride or humility – rather, she did not want her efforts on behalf of the poor and oppressed (for example, her begging for food, sleeping on the floor of a jail, or devotion to Holy Mass) to be thought the works of only special or extraordinary people. She wanted to make it clear that all who follow Christ are called to make sacrifices for the sake of the gospel and the good of their neglected brothers and sisters.
Our decision to follow Christ should not be made lightly. The consequences of our "yes" are dramatic. The Lord will always be with us. We have the support of the heavenly kingdom. But the cost of our discipleship is high – he meant it when he said we must pick up our cross if we wish to come after him! (Source: Norman Langenbrunner, Weekday Homily Helps. Ohio: St. Anthony Messenger Press, September 30, 2009).
Reflection 7 – Your word became the joy of my heart
Saint Jerome was born in the Roman Province of Dalmatia in the town of Stridon (located in modern-day Slovenia) in 342/7, he studied in Rome and, after leaving behind a life of worldly pleasure, became a Christian in 366 and devoted himself to the ascetic life.
He made his way to the East and lived as a hermit in the Desert of Chalcis, where he learned Greek and Hebrew. As he studied and meditated on the Word of God, he experienced a deep regret for the sins of his youth. He was "keenly aware of the contrast between the pagan mentality and the Christian life: a contrast made famous by the dramatic and lively 'vision' – of which he has left us an account – in which it seemed to him that he was being scourged before God because he was 'Ciceronian rather than Christian' (cf. Ep. 22,30)" (Pope Benedict XVI, 7 November 2007).
Saint Jerome returned to Rome in 382 and worked as a secretary and counselor to Pope Damasus, who encouraged him to produce a new Latin translation of the Bible. When Pope Damasus died in 385, Jerome went to the Holy Land and Egypt. From 386 to his death on September 30, 419/20, he stayed in Bethlehem. There, "he commented on the Word of God; he defended the faith, vigorously opposing various heresies; he urged the monks on to perfection; he taught classical and Christian culture to young students; he welcomed with a pastor's heart pilgrims who were visiting the Holy Land" (Pope Benedict XVI, 7 November 2007).
Saint Jerome comments on Matthew 13:46-52 as follows. With regard to the first parable about the pearl of great price: "The good pearls that the salesman seeks are the Law and the prophets… but the one pearl of very great price is the knowledge of the Savior and the concealed mystery of his Passion and Resurrection. When the businessman finds it, he acts as the apostle Paul does. He despises as off scouring and refuse all the mysteries of the Law and the prophets and the former observances in which he had lived blamelessly, that he might gain Christ. It is not the case that the finding of the new pearl means that the old pearls are condemned. Rather, it means that in comparison with it, every other gem is rather cheap" (Saint Jerome, Commentary on Matthew, CUA Press, 164).
In the second parable, Jerome sees a fulfillment of Jeremiah's prophecy: "Behold, I am sending many fishermen to you" (Jeremiah 16:16). Jerome continues, saying that the fishermen who became apostles, cast a net of Gospel-doctrines "into the sea of the world, and it stretches out in the midst of the waves until the present day, capturing anything that falls into it from the salty and bitter waters. That is to say, it catches both good and bad men, both the best fish and the worse. But when the consummation and end of the world comes, as he explains more clearly below, at that time the net will be drawn to shore. Then a true judgment for separating the fish will be demonstrated, and, as though in some very quiet harbor, the good will be cast into the vessels of the heavenly mansions, but the flame of Gehenna will take the bad to be baked and dried" (Saint Jerome, Commentary on Matthew, CUA Press, 164-165).
Jesus wants his apostles not only to hear the parables, but to understand them since they will be teachers, a vocation that Jerome fulfilled faithfully. The apostles impress the Word of God on the tablets of their heart. "They had been instructed in the mysteries of the heavenly kingdoms. They were powerful in the wealth of the householder, and from the treasury of their doctrines they cast out new things and old. Thus whatever they proclaimed in the Gospel, they proved by means of the words of the Law and the prophets. This is why the bride says in the Song of Songs: 'I have save for you new things with the old, my brother' (7:13)" (Saint Jerome, Commentary on Matthew, CUA Press, 165).
Saint Jerome teaches us first of all that, like him, we should seek the pearl of great price and be prepared to sell all things to obtain it. Second, we can imitate his love for Sacred Scripture, which is capable of giving us "wisdom for salvation through faith in Christ Jesus". Ignorance of the Scriptures, Jerome says, is ignorance of Christ. Jerome saw prayer as our speaking to Christ and reading Scripture as Christ speaking to us. Third, Jerome served the Church with his talents and gifts, and, through the Latin translation of the Bible, made a lasting contribution. He invested the many talents given him and presented them to his Lord on the day of his passing. Fourthly, Jerome was known to have a difficult personality and hot-temper. He shows how even this passion and energy can be placed at the service of the Gospel. Throughout his long life, he was attentive to the Holy Spirit and was obedient to God. Read the source: http://www.zenit.org/en/articles/daily-homily-your-word-became-the-joy-of-my-heart
Reflection 8 – St. Jerome (345-420 A.D.)
Most of the saints are remembered for some outstanding virtue or devotion which they practiced, but Jerome is frequently remembered for his bad temper! It is true that he had a very bad temper and could use a vitriolic pen, but his love for God and his Son Jesus Christ was extraordinarily intense; anyone who taught error was an enemy of God and truth, and St. Jerome went after him or her with his mighty and sometimes sarcastic pen.
He was above all a Scripture scholar, translating most of the Old Testament from the Hebrew. He also wrote commentaries which are a great source of scriptural inspiration for us today. He was an avid student, a thorough scholar, a prodigious letter-writer and a consultant to monk, bishop and pope. St. Augustine (August 28) said of him, "What Jerome is ignorant of, no mortal has ever known."
St. Jerome is particularly important for having made a translation of the Bible which came to be called the Vulgate. It is not the most critical edition of the Bible, but its acceptance by the Church was fortunate. As a modern scholar says, "No man before Jerome or among his contemporaries and very few men for many centuries afterwards were so well qualified to do the work." The Council of Trent called for a new and corrected edition of the Vulgate, and declared it the authentic text to be used in the Church.
In order to be able to do such work, Jerome prepared himself well. He was a master of Latin, Greek, Hebrew and Chaldaic. He began his studies at his birthplace, Stridon in Dalmatia (in the former Yugoslavia). After his preliminary education he went to Rome, the center of learning at that time, and thence to Trier, Germany, where the scholar was very much in evidence. He spent several years in each place, always trying to find the very best teachers. He once served as private secretary of Pope Damasus (December 11).
After these preparatory studies he traveled extensively in Palestine, marking each spot of Christ's life with an outpouring of devotion. Mystic that he was, he spent five years in the desert of Chalcis so that he might give himself up to prayer, penance and study. Finally he settled in Bethlehem, where he lived in the cave believed to have been the birthplace of Christ. On September 30 in the year 420, Jerome died in Bethlehem. The remains of his body now lie buried in the Basilica of St. Mary Major in Rome.
Comment:
Jerome was a strong, outspoken man. He had the virtues and the unpleasant fruits of being a fearless critic and all the usual moral problems of a man. He was, as someone has said, no admirer of moderation whether in virtue or against evil. He was swift to anger, but also swift to feel remorse, even more severe on his own shortcomings than on those of others. A pope is said to have remarked, on seeing a picture of Jerome striking his breast with a stone, "You do well to carry that stone, for without it the Church would never have canonized you" (Butler's Lives of the Saints).
Quote:
"In the remotest part of a wild and stony desert, burnt up with the heat of the scorching sun so that it frightens even the monks that inhabit it, I seemed to myself to be in the midst of the delights and crowds of Rome. In this exile and prison to which for the fear of hell I had voluntarily condemned myself, I many times imagined myself witnessing the dancing of the Roman maidens as if I had been in the midst of them: In my cold body and in my parched-up flesh, which seemed dead before its death, passion was able to live. Alone with this enemy, I threw myself in spirit at the feet of Jesus, watering them with my tears, and I tamed my flesh by fasting whole weeks. I am not ashamed to disclose my temptations, but I grieve that I am not now what I then was" ("Letter to St. Eustochium").
Patron Saint of: Librarians
Related St. Anthony Messenger article(s)
St. Jerome: Perils of a Bible Translator, by Leslie Hoppe, OFM
Read the source: http://www.americancatholic.org/features/saints/saint.aspx?id=1154
The life of St. Jerome
Saint Jerome, the priest, monk and Doctor of the Church renowned for his extraordinary depth of learning and translations of the Bible into Latin in the Vulgate, is celebrated by the Church with his memorial today, September 30.
Besides his contributions as a Church Father and patronage of subsequent Catholic scholarship, Jerome is also regarded as a patron of people with difficult personalities—owing to the sometimes extreme approach which he took in articulating his scholarly opinions and the teaching of the Church. He is also notable for his devotion to the ascetic life, and for his insistence on the importance of Hebrew scholarship for Christians.
Born around 340 as Eusebius Hieronymous Sophronius in present-day Croatia, Jerome received Christian instruction from his father, who sent him to Rome for instruction in rhetoric and classical literature. His youth was thus dominated by a struggle between worldly pursuits –which brought him into many types of temptation– and the inclination to a life of faith, a feeling evoked by regular trips to the Roman catacombs with his friends in the city.
Baptized in 360 by Pope Liberius, Jerome traveled widely among the monastic and intellectual centers of the newly Christian empire. Upon returning to the city of his birth, following the end of a local crisis caused by the Arian heresy, he studied theology in the famous schools of Trier and worked closely with two other future saints, Chromatius and Heliodorus, who were outstanding teachers of orthodox theology.
Seeking a life more akin to the first generation of "desert fathers," Jerome left the Adriatic and traveled east to Syria, visiting several Greek cities of civil and ecclesiastical importance on the way to his real destination: "a wild and stony desert … to which, through fear or hell, I had voluntarily condemned myself, with no other company but scorpions and wild beasts."
Jerome's letters vividly chronicle the temptations and trials he endured during several years as a desert hermit. Nevertheless, after his ordination by the bishop of Antioch, followed by periods of study in Constantinople and service at Rome to Pope Damasus I, Jerome opted permanently for a solitary and ascetic life in the city of Bethlehem from the mid-380s.
Jerome remained engaged both as an arbitrator and disputant of controversies in the Church, and served as a spiritual father to a group of nuns who had become his disciples in Rome. Monks and pilgrims from a wide array of nations and cultures also found their way to his monastery, where he commented that "as many different choirs chant the psalms as there are nations."
Rejecting pagan literature as a distraction, Jerome undertook to learn Hebrew from a Christian monk who had converted from Judaism. Somewhat unusually for a fourth-century Christian priest, he also studied with Jewish rabbis, striving to maintain the connection between Hebrew language and culture, and the emerging world of Greek and Latin-speaking Christianity. He became a secretary of Pope Damasus, who commissioned the Vulgate from him. Prepared by these ventures, Jerome spent 15 years translating most of the Hebrew Bible into its authoritative Latin version. His harsh temperament and biting criticisms of his intellectual opponents made him many enemies in the Church and in Rome and he was forced to leave the city.
Jerome went to Bethlehem, established a monastery, and lived the rest of his years in study, prayer, and asceticism.
St. Jerome once said, "I interpret as I should, following the command of Christ: 'Search the Scriptures,' and 'Seek and you shall find.' For if, as Paul says, Christ is the power of God and the wisdom of God, and if the man who does not know Scripture does not know the power and wisdom of God, then ignorance of Scriptures is ignorance of Christ."
After living through both Barbarian invasions of the Roman empire, and a resurgence of riots sparked by doctrinal disputes in the Church, Jerome died in his Bethlehem monastery in 420 A.D.
Read from the source: http://www.catholicnewsagency.com/saint.php?n=610
SAINT OF THE DAY
Catholic saints are holy people and human people who lived extraordinary lives. Each saint the Church honors responded to God's invitation to use his or her unique gifts. God calls each one of us to be a saint.
St. Jerome
Hermit and Doctor of the Church
Born
c. 347
Stridon (possibly Strido Dalmatiae, on the border ofDalmatia and Pannonia)
Died
420 (aged c. 73)
Bethlehem, Palaestina Prima
Venerated in
Roman Catholic Church
Eastern Orthodox Church
Anglican Communion
Lutheranism
Oriental Orthodoxy
Major shrine
Basilica of Saint Mary Major,Rome, Italy
Feast
30 September (Western Christianity)
15 June (Eastern Christianity)
Attributes
lion, cardinal attire, cross, skull,trumpet, owl, books and writing material
Patronage
archeologists; archivists; Bible scholars; librarians; libraries; school children; students;translators

Major works

The Vulgate
De viris illustribus
Chronicon
Part of a series on
Catholic philosophy
Branches
Philosophy portal
Jerome (/dʒəˈroʊm/; Latin: Eusebius Sophronius Hieronymus; Greek: Εὐσέβιος Σωφρόνιος Ἱερώνυμος; c.  347 – 30 September 420) was a presbyter, confessor, theologian and historian. He was the son of Eusebius, born at Stridon, a village near Emona on the border of Dalmatia and Pannonia, then part of northeastern Italy.[1][2][3] He is best known for his translation of most of the Bible into Latin (the translation that became known as the Vulgate), and his commentaries on the Gospels. His list of writings is extensive.[4]
The protégé of Pope Damasus I, who died in December of 384, Jerome was known for his teachings on Christian moral life, especially to those living in cosmopolitan centers such as Rome. In many cases, he focused his attention to the lives of women and identified how a woman devoted to Jesus should live her life. This focus stemmed from his close patron relationships with several prominent female ascetics who were members of affluent senatorial families.[5]
He is recognised as a Saint and Doctor of the Church by the Roman Catholic Church, the Eastern Orthodox Church, theLutheran Church, and the Anglican Communion.[6] His feast day is 30 September.
Eusebius Sophronius Hieronymus was born at Stridon around 347 A.D.[7] He was of Illyrian ancestry and his native tongue was the Illyrian dialect.[8][9] He was not baptized until about 360–366 A.D., when he had gone to Rome with his friend Bonosus (who may or may not have been the same Bonosus whom Jerome identifies as his friend who went to live as a hermit on an island in the Adriatic) to pursue rhetorical and philosophical studies. He studied under the grammarianAelius Donatus. There Jerome learned Latin and at least some Greek,[10] though probably not the familiarity with Greek literature he would later claim to have acquired as a schoolboy.[11]
As a student in Rome, he engaged in the superficial escapades and wanton behaviour of students there, which he indulged in quite casually but for which he suffered terrible bouts of guilt afterwards. To appease his conscience, he would visit on Sundays the sepulchres of the martyrs and the Apostles in the catacombs. This experience would remind him of the terrors of hell:
"Often I would find myself entering those crypts, deep dug in the earth, with their walls on either side lined with the bodies of the dead, where everything was so dark that almost it seemed as though the Psalmist's words were fulfilled, Let them go down quick into Hell.[12] Here and there the light, not entering in through windows, but filtering down from above through shafts, relieved the horror of the darkness. But again, as soon as you found yourself cautiously moving forward, the black night closed around and there came to my mind the line of Vergil, "Horror ubique animos, simul ipsa silentia terrent'".[13][14]
Jerome used a quote from Virgil—"On all sides round horror spread wide; the very silence breathed a terror on my soul"[15]—to describe the horror of hell. Jerome initially used classical authors to describe Christian concepts such as hell that indicated both his classical education and his deep shame of their associated practices, such as pederasty which was found in Rome. Although initially skeptical of Christianity, he was eventually converted.[16] After several years in Rome, he travelled with Bonosus to Gaul and settled in Trier where he seems to have first taken up theological studies, and where he copied, for his friendTyrannius Rufinus, Hilary of Poitiers' commentary on the Psalms and the treatise De synodis. Next came a stay of at least several months, or possibly years, with Rufinus at Aquileia, where he made many Christian friends.
Some of these accompanied him when he set out about 373 on a journey through Thrace and Asia Minor into northern Syria. At Antioch, where he stayed the longest, two of his companions died and he himself was seriously ill more than once. During one of these illnesses (about the winter of 373–374), he had a vision that led him to lay aside his secular studies and devote himself to God. He seems to have abstained for a considerable time from the study of the classics and to have plunged deeply into that of the Bible, under the impulse of Apollinaris of Laodicea, then teaching in Antioch and not yet suspected of heresy.
Seized with a desire for a life of ascetic penance, he went for a time to the desert of Chalcis, to the southeast of Antioch, known as the "Syrian Thebaid", from the number of hermits inhabiting it. During this period, he seems to have found time for studying and writing. He made his first attempt to learn Hebrew under the guidance of a converted Jew; and he seems to have been in correspondence with Jewish Christians in Antioch. Around this time he had copied for him a Hebrew Gospel, of which fragments are preserved in his notes, and is known today as the Gospel of the Hebrews, and which the Nazarenes considered to be the true Gospel of Matthew.[17] Jerome translated parts of this Hebrew Gospel into Greek.[18]
Returning to Antioch in 378 or 379, he was ordained by Bishop Paulinus, apparently unwillingly and on condition that he continue his ascetic life. Soon afterward, he went to Constantinople to pursue a study of Scripture under Gregory Nazianzen. He seems to have spent two years there, then left, and the next three (382–385) he was in Rome again, as secretary to Pope Damasus I and the leading Roman Christians. Invited originally for the synod of 382, held to end the schism of Antioch as there were rival claimants to be the proper patriarch in Antioch. Jerome had accompanied one of the claimants, Paulinus back to Rome in order to get more support for him, and distinguished himself to the pope, and took a prominent place in his councils.
He was given duties in Rome, and he undertook a revision of the Latin Bible, to be based on the Greek manuscripts of the New Testament. He also updated the Psalter containing the Book of Psalms then at use in Rome based on the Septuagint. Though he did not realize it yet, translating much of what became the Latin Vulgate Bible would take many years and be his most important achievement (see Writings– Translations section below).
In Rome he was surrounded by a circle of well-born and well-educated women, including some from the noblest patricianfamilies, such as the widows Lea, Marcella and Paula, with their daughters Blaesilla and Eustochium. The resulting inclination of these women towards the monastic life, away from the indulgent lasciviousness in Rome, and his unsparing criticism of thesecular clergy of Rome, brought a growing hostility against him among the Roman clergy and their supporters. Soon after the death of his patron Damasus (10 December 384), Jerome was forced by them to leave his position at Rome after an inquiry was brought up by the Roman clergy into allegations that he had an improper relationship with the widow Paula. Still, his writings were highly regarded by women who were attempting to maintain a vow of becoming a consecrated virgin. His letters were widely read and distributed throughout the Christian empire and it is clear through his writing that he knew these virgin women were not his only audience.[5]
Additionally, his condemnation of Blaesilla's hedonistic lifestyle in Rome had led her to adopt ascetic practices, but it affected her health and worsened her physical weakness to the point that she died just four months after starting to follow his instructions; much of the Roman populace were outraged at Jerome for causing the premature death of such a lively young woman, and his insistence to Paula that Blaesilla should not be mourned, and complaints that her grief was excessive, were seen as heartless, polarising Roman opinion against him.[20]
In August 385, he left Rome for good and returned to Antioch, accompanied by his brother Paulinian and several friends, and followed a little later by Paula and Eustochium, who had resolved to end their days in the Holy Land. In the winter of 385, Jerome acted as their spiritual adviser. The pilgrims, joined by Bishop Paulinus of Antioch, visited Jerusalem, Bethlehem, and the holy places of Galilee, and then went to Egypt, the home of the great heroes of the ascetic life.
At the Catechetical School of Alexandria, Jerome listened to the catechist Didymus the Blind expounding the prophet Hoseaand telling his reminiscences of Anthony the Great, who had died 30 years before; he spent some time in Nitria, admiring the disciplined community life of the numerous inhabitants of that "city of the Lord", but detecting even there "concealed serpents", i.e., the influence of Origen of Alexandria. Late in the summer of 388 he was back in Palestine, and spent the remainder of his life working in a cave near Bethlehem, the very cave Jesus was born,[21] surrounded by a few friends, both men and women (including Paula and Eustochium), to whom he acted as priestly guide and teacher.
Amply provided by Paula with the means of livelihood and of increasing his collection of books, he led a life of incessant activity in literary production. To these last 34 years of his career belong the most important of his works; his version of the Old Testament from the original Hebrew text, the best of his scriptural commentaries, his catalogue of Christian authors, and the dialogue against the Pelagians, the literary perfection of which even an opponent recognized. To this period also belong most of his polemics, which distinguished him among the orthodox Fathers, including the treatises against the Origenism later declared anathema, of Bishop John II of Jerusalem and his early friend Rufinus. Later, as a result of his writings againstPelagianism, a body of excited partisans broke into the monastic buildings, set them on fire, attacked the inmates and killed adeacon, forcing Jerome to seek safety in a neighboring fortress (416).
It is recorded that Jerome died near Bethlehem on 30 September 420. The date of his death is given by the Chronicon ofProsper of Aquitaine. His remains, originally buried at Bethlehem, are said to have been later transferred to the basilica ofSanta Maria Maggiore in Rome, though other places in the West claim some relics—the cathedral at Nepi boasting possession of his head, which, according to another tradition, is in the Escorial.
Translations and commentaries
[
edit
]
Jerome was a scholar at a time when that statement implied a fluency in Greek. He knew some Hebrew when he started histranslation project, but moved to Jerusalem to strengthen his grip on Jewish scripture commentary. A wealthy Roman aristocrat, Paula, funded his stay in a monastery in Bethlehem and he completed his translation there. He began in 382 by correcting the existing Latin language version of the New Testament, commonly referred to as the Vetus Latina. By 390 he turned to translating the Hebrew Bible from the original Hebrew, having previously translated portions from the Septuagintwhich came from Alexandria. He believed that the mainstream Rabbinical Judaism had rejected the Septuagint as valid Jewish scriptural texts because of what were ascertained as mistranslations along with its Hellenistic heretical elements.[22] He completed this work by 405. Prior to Jerome's Vulgate, all Latin translations of the Old Testament were based on the Septuagint not the Hebrew. Jerome's decision to use a Hebrew text instead of the previous translated Septuagint went against the advice of most other Christians, including Augustine, who thought the Septuagint inspired. Modern scholarship, however, has cast doubts on the actual quality of Jerome's Hebrew knowledge. Many modern scholars believe that the Greek Hexapla is the main source for Jerome's "iuxta Hebraeos" translation of the Old Testament.[23]
For the next 15 years, until he died, Jerome produced a number of commentaries on Scripture, often explaining his translation choices in using the original Hebrew rather than suspect translations. His patristic commentaries align closely with Jewish tradition, and he indulges in allegorical and mystical subtleties after the manner of Philo and the Alexandrian school. Unlike his contemporaries, he emphasizes the difference between the Hebrew Bible "apocrypha" and the Hebraica veritas of theprotocanonical books. In his Vulgate's prologues, he describes some portions of books in the Septuagint that were not found in the Hebrew as being non-canonical (he called them apocrypha);[24] for Baruch, he mentions by name in his Prologue to Jeremiah and notes that it is neither read nor held among the Hebrews, but does not explicitly call it apocryphal or "not in the canon".[25] His Preface to The Books of Samuel and Kings[26] includes the following statement, commonly called the Helmeted Preface:
This preface to the Scriptures may serve as a "helmeted" introduction to all the books which we turn from Hebrew into Latin, so that we may be assured that what is not found in our list must be placed amongst the Apocryphal writings. Wisdom, therefore, which generally bears the name of Solomon, and the book of Jesus, the Son of Sirach, and Judith, and Tobias, and the Shepherd are not in the canon. The first book of Maccabees I have found to be Hebrew, the second is Greek, as can be proved from the very style.
Although Jerome was once suspicious of the apocrypha, it is said that he later viewed them as Scripture. For example, in Jerome's letter to Eustochium he quotes Sirach 13:2.,[27] elsewhere Jerome also refers to Baruch, the Story of Susannah and Wisdom as scripture.[28][29][30]
Jerome's commentaries fall into three groups:
His translations or recastings of Greek predecessors, including fourteen homilies on the Book of Jeremiah and the same number on the Book of Ezekiel by Origen (translated ca. 380 in Constantinople); two homilies of Origen of Alexandria on the Song of Solomon (in Rome, ca. 383); and thirty-nine on the Gospel of Luke (ca. 389, in Bethlehem). The nine homilies of Origen on the Book of Isaiah included among his works were not done by him. Here should be mentioned, as an important contribution to the topography of Palestine, his book De situ et nominibus locorum Hebraeorum, a translation with additions and some regrettable omissions of the Onomasticon of Eusebius. To the same period (ca. 390) belongs the Liber interpretationis nominum Hebraicorum, based on a work supposed to go back to Philo and expanded by Origen.
Original commentaries on the Old Testament. To the period before his settlement at Bethlehem and the following five years belong a series of short Old Testament studies: De seraphim, De voce Osanna, De tribus quaestionibus veteris legis(usually included among the letters as 18, 20, and 36); Quaestiones hebraicae in Genesim; Commentarius in Ecclesiasten;Tractatus septem in Psalmos 10–16 (lost); Explanationes in Michaeam, Sophoniam, Nahum, Habacuc, Aggaeum. After 395 he composed a series of longer commentaries, though in rather a desultory fashion: first on Jonah and Obadiah (396), then on Isaiah (ca. 395-ca. 400), on Zechariah, Malachi, Hoseah, Joel, Amos (from 406), on the Book of Daniel (ca. 407), on Ezekiel (between 410 and 415), and on Jeremiah (after 415, left unfinished).
New Testament commentaries. These include only Philemon, Galatians, Ephesians, and Titus (hastily composed 387–388); Matthew (dictated in a fortnight, 398);Mark, selected passages in Luke, Revelation, and the prologue to the Gospel of John.
Historical and hagiographic writings
[
edit
]
Jerome is also known as a historian. One of his earliest historical works was his Chronicle (or Chronicon or Temporum liber), composed ca. 380 in Constantinople; this is a translation into Latin of the chronological tables which compose the second part of the Chronicon of Eusebius, with a supplement covering the period from 325 to 379. Despite numerous errors taken over from Eusebius, and some of his own, Jerome produced a valuable work, if only for the impulse which it gave to such later chroniclers as Prosper, Cassiodorus, and Victor of Tunnuna to continue his annals.
Of considerable importance as well is the De viris illustribus, which was written at Bethlehem in 392, the title and arrangement of which are borrowed from Suetonius. It contains short biographical and literary notes on 135 Christian authors, from Saint Peter down to Jerome himself. For the first seventy-eight authors Eusebius (Historia ecclesiastica) is the main source; in the second section, beginning with Arnobius and Lactantius, he includes a good deal of independent information, especially as to western writers.
Four works of a hagiographic nature are:
The so-called Martyrologium Hieronymianum is spurious; it was apparently composed by a western monk toward the end of the 6th or beginning of the 7th century, with reference to an expression of Jerome's in the opening chapter of the Vita Malchi, where he speaks of intending to write a history of the saints and martyrs from theapostolic times.
Letters
[
edit
]
Jerome's letters or epistles, both by the great variety of their subjects and by their qualities of style, form an important portion of his literary remains. Whether he is discussing problems of scholarship, or reasoning on cases of conscience, comforting the afflicted, or saying pleasant things to his friends, scourging the vices and corruptions of the time and against sexual immoralityamong the clergy,[31] exhorting to the ascetic life and renunciation of the world, or breaking a lance with his theological opponents, he gives a vivid picture not only of his own mind, but of the age and its peculiar characteristics. Because there was no distinct line between personal documents and those meant for publication, we frequently find in his letters both confidential messages and treatises meant for others besides the one to whom he was writing.[32]
Due to the time he spent in Rome among wealthy families belonging to the Roman upper-class, Jerome was frequently commissioned by women who had taken a vow of virginity to write them in guidance of how to live their life. As a result, he spent a great deal of his life corresponding to these women about certain abstentions and lifestyle practices.[5] These included the clothing she should wear, the interactions she should undertake and how to go about conducting herself during such interactions, and what and how she ate and drank. The letters most frequently reprinted or referred to are of a hortatory nature, such as Ep. 14, Ad Heliodorum de laude vitae solitariae; Ep. 22, Ad Eustochium de custodia virginitatis; Ep. 52, Ad Nepotianum de vita clericorum et monachorum, a sort of epitome of pastoral theology from the ascetic standpoint; Ep. 53, Ad Paulinum de studio scripturarum; Ep. 57, to the same, De institutione monachi; Ep. 70, Ad Magnum de scriptoribus ecclesiasticis; and Ep. 107, Ad Laetam de institutione filiae.
Letter to Dardanus (Ep. 129)


You may delineate the Promised Land of Moses from the Book of Numbers (ch. 34): as bounded on the south by the desert tract called Sina, between the Dead Sea and the city of Kadesh-barnea, [which is located with the Arabah to the east] and continues to the west, as far as the river of Egypt, that discharges into the open sea near the city of Rhinocolara; as bounded on the west by the sea along the coasts of Palestine, Phoenicia, Coele‑Syria, and Cilicia; as bounded on the north by the circle formed by the Taurus Mountains[33] and Zephyrium and extending to Hamath, called Epiphany‑Syria; as bounded on the east by the city of Antioch Hippos and Lake Kinneret, now called Tiberias, and then the Jordan River which discharges into the salt sea, now called the Dead Sea.[34][35]
Theological writings
[
edit
]
Practically all of Jerome's productions in the field of dogma have a more or less vehemently polemical character, and are directed against assailants of the orthodox doctrines. Even the translation of the treatise of Didymus the Blind on the Holy Spiritinto Latin (begun in Rome 384, completed at Bethlehem) shows an apologetic tendency against the Arians andPneumatomachoi. The same is true of his version of Origen's De principiis (ca. 399), intended to supersede the inaccurate translation by Rufinus. The more strictly polemical writings cover every period of his life. During the sojourns at Antioch and Constantinople he was mainly occupied with the Arian controversy, and especially with the schisms centering around Meletius of Antioch and Lucifer Calaritanus. Two letters to Pope Damasus (15 and 16) complain of the conduct of both parties at Antioch, the Meletians and Paulinians, who had tried to draw him into their controversy over the application of the terms ousiaand hypostasis to the Trinity. At the same time or a little later (379) he composed his Liber Contra Luciferianos, in which he cleverly uses the dialogue form to combat the tenets of that faction, particularly their rejection of baptism by heretics.
In Rome (ca. 383) he wrote a passionate counterblast against the teaching of Helvidius, in defense of the doctrine of theperpetual virginity of Mary and of the superiority of the single over the married state. An opponent of a somewhat similar nature was Jovinianus, with whom he came into conflict in 392 (Adversus Jovinianum, Against Jovinianus) and the defense of this work addressed to his friend Pammachius, numbered 48 in the letters). Once more he defended the ordinary Catholic practices of piety and his own ascetic ethics in 406 against the Gallic presbyter Vigilantius, who opposed the cultus of martyrs and relics, the vow of poverty, and clerical celibacy. Meanwhile, the controversy with John II of Jerusalem and Rufinus concerning the orthodoxy of Origen occurred. To this period belong some of his most passionate and most comprehensive polemical works: the Contra Joannem Hierosolymitanum (398 or 399); the two closely connected Apologiae contra Rufinum (402); and the "last word" written a few months later, theLiber tertius seuten ultima responsio adversus scripta Rufini. The last of his polemical works is the skilfully composed Dialogus contra Pelagianos (415).
Reception by later Christianity
[
edit
]
Jerome is the second most voluminous writer (after Augustine of Hippo) in ancient Latin Christianity. In the Roman Catholic Church, he is recognized as the patron saint of translators, librarians and encyclopedists.[36]
He acquired a knowledge of Hebrew by studying with a Jew who converted to Christianity, and took the unusual position (for that time) that the Hebrew, and not the Septuagint, was the inspired text of the Old Testament. The traditional view is that he used this knowledge to translate what became known as the Vulgate, and his translation was slowly but eventually accepted in the Catholic Church.[37] The later resurgence of Hebrew studies within Christianity owes much to him.
He showed more zeal and interest in the ascetic ideal than in abstract speculation. It was this strict asceticism that made Martin Luther judge him so severely. In fact, Protestant readers are not generally inclined to accept his writings as authoritative. The tendency to recognize a superior comes out in his correspondence with Augustine (cf. Jerome's letters numbered 56, 67, 102–105, 110–112, 115–116; and 28, 39, 40, 67–68, 71–75, 81–82 in Augustine's).
Despite the criticisms already mentioned, Jerome has retained a rank among the western Fathers. This would be his due, if for nothing else, on account of the great influence exercised by his Latin version of the Bible upon the subsequent ecclesiasticaland theological development.[38]
In art, he is often represented as one of the four Latin doctors of the Church along with Augustine of Hippo, Ambrose, and Pope Gregory I. As a prominent member of the Roman clergy, he has often been portrayed anachronistically in the garb of a cardinal. Even when he is depicted as a half-clad anchorite, with cross, skull and Bible for the only furniture of his cell, the red hat or some other indication of his rank as cardinal is as a rule introduced somewhere in the picture. During Jerome's life, cardinals did not exist. However, by the time of the Renaissance and the Baroque it was common practice for a secretary to the pope to be a cardinal (as Jerome had effectively been to Damasus), and so this was reflected in artistic interpretations.
He is also often depicted with a lion, in reference to the popular hagiographical belief that Jerome had tamed a lion in the wilderness by healing its paw. The source for the story may actually have been the second century Roman tale of Androcles, or confusion with the exploits of Saint Gerasimus (Jerome in Latin is "Geronimus").[40][41][42] Hagiographies of Jerome talk of his having spent many years in the Syrian desert, and artists often depict him in a "wilderness", which for West European painters can take the form of a wood or forest.[43]
He is also sometimes depicted with an owl, the symbol of wisdom and scholarship.[44] Writing materials and the trumpet of final judgment are also part of his iconography.[44] He is commemorated on 30 September with a memorial.
Miscellany
[
edit
]
Geronimo, a religious and military leader of the Chiricahua Apache, who tenaciously fought against Mexico and the United States' expansion into Apache tribal lands for several decades during the Apache Wars, was initially known by his Apache name: "Goyahkla" (One Who Yawns). "Later he was called Geronimo (Spanish for Jerome), most likely because of the way he fought in battle against Mexican soldiers who frantically called upon St. Jerome for help. He willingly accepted the name."[45]
See also
[
edit
]
References
[
edit
]
Notes