Readings & Reflections with Cardinal Tagle's video: The Ascension of the Lord B & St. Damien de Veuster, May 10,2018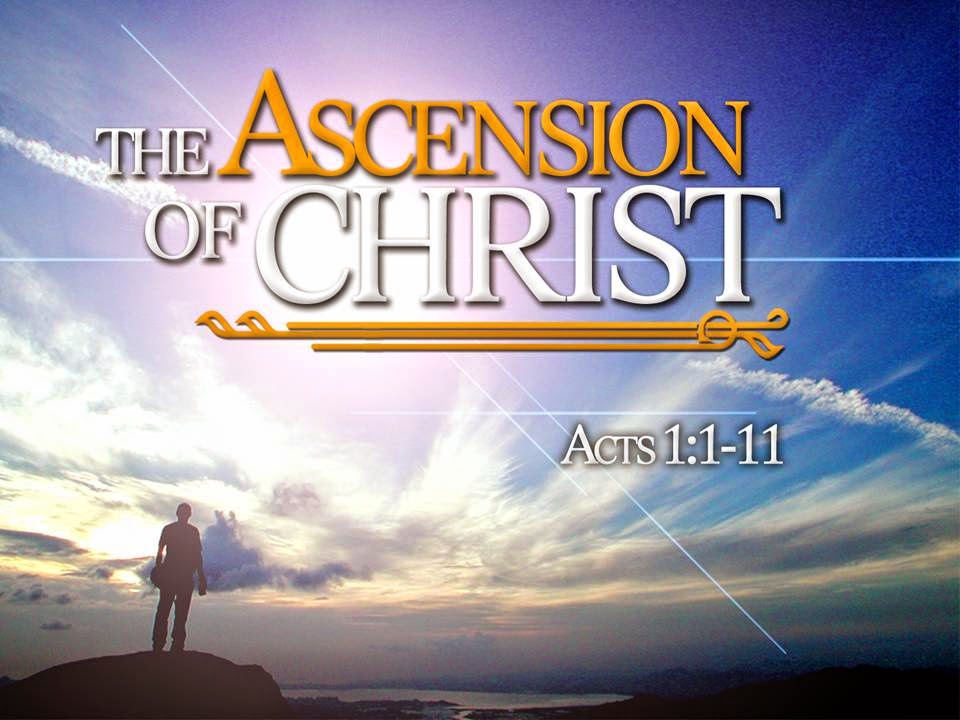 "The meaning of Christ's Ascension," writes Pope Benedict XVI, "expresses our belief that in Christ the humanity that we all share has entered into the inner life of God in a new and hitherto unheard of way. It means that man has found an everlasting place in God." It would be a mistake to interpret the Ascension as "the temporary absence of Christ from the world." Rather, "we go to heaven to the extent that we go to Jesus Christ and enter into him." Heaven is a person: "Jesus himself is what we call 'heaven.'" (Note: Regarding the Ascension of the Lord, the ecclesiastical provinces of Boston, Hartford, New York, Newark, Omaha, and Philadelphia have retained its celebration on the proper Thursday, while all other provinces have transferred this Solemnity to the Seventh Sunday of Easter, May 13,2018. If transferred, Thursday, May 10, 2018, is observed as an Easter Weekday). Readings & Reflections: Seventh Sunday of Easter B & Our Lady of Fatima, May 13,2018 click this link: http://www.pagadiandiocese.org/2018/05/11/readings-reflections-seventh-sunday-of-easter-b-our-lady-of-fatima-may-132018/
AMDG+
Opening Prayer
Dear Jesus, today as we commemorate your Ascension into heaven, we acknowledge receipt of the very instructions You handed on to your first disciples and consider them as your instructions to us. We have a mission to perform and your instructions are as clear and sure as the ones the Father had placed in your own heart. With your Spirit, we shall endeavor to devote ourselves to consolidating your Kingdom on earth and ensure that it be a Kingdom of goodness, justice, solidarity and mercy. Lord make us courageous witnesses to the Gospel before today's world, bringing hope to the oppressed, the poor and the marginalized, the suffering, the lost and abandoned, the hopeless, desperate and those crying for justice, freedom, truth and peace. Lord, enable us to be good to those all men, to love them and care for them, and by doing so, to be able to show our love for God, our Father, Who loves us unconditionally and beyond any measure. In your Mighty Name, we pray. Amen.
Reading I
Acts 1:1-11 – As the Apostles were looking on, Jesus was lifted up.
In the first book, Theophilus,
I dealt with all that Jesus did and taught
until the day he was taken up,
after giving instructions through the Holy Spirit
to the apostles whom he had chosen.
He presented himself alive to them
by many proofs after he had suffered,
appearing to them during forty days
and speaking about the kingdom of God.
While meeting with the them,
he enjoined them not to depart from Jerusalem,
but to wait for "the promise of the Father
about which you have heard me speak;
for John baptized with water,
but in a few days you will be baptized with the Holy Spirit."
When they had gathered together they asked him,
"Lord, are you at this time going to restore the kingdom to Israel?"
He answered them, "It is not for you to know the times or seasons
that the Father has established by his own authority.
But you will receive power when the Holy Spirit comes upon you,
and you will be my witnesses in Jerusalem,
throughout Judea and Samaria,
and to the ends of the earth."
When he had said this, as they were looking on,
he was lifted up, and a cloud took him from their sight.
While they were looking intently at the sky as he was going,
suddenly two men dressed in white garments stood beside them.
They said, "Men of Galilee,
why are you standing there looking at the sky?
This Jesus who has been taken up from you into heaven
will return in the same way as you have seen him going into heaven."
The word of the Lord.
Responsorial Psalm
Ps 47:2-3, 6-7, 8-9
R. (6) God mounts his throne to shouts of joy: a blare of trumpets for the Lord.
or:
R. Alleluia.
All you peoples, clap your hands,
shout to God with cries of gladness,
for the LORD, the Most High, the awesome,
is the great king over all the earth.
R. God mounts his throne to shouts of joy: a blare of trumpets for the Lord.
or:
R. Alleluia.
God mounts his throne amid shouts of joy;
the LORD, amid trumpet blasts.
Sing praise to God, sing praise;
sing praise to our king, sing praise.
R. God mounts his throne to shouts of joy: a blare of trumpets for the Lord.
or:
R. Alleluia.
For king of all the earth is God;
sing hymns of praise.
God reigns over the nations,
God sits upon his holy throne.
R. God mounts his throne to shouts of joy: a blare of trumpets for the Lord.
or:
R. Alleluia.
Reading II
Ephesians 1:17-23 – God seated Jesus at his right hand in the heavens.
Brothers and sisters: May the God of our Lord Jesus Christ, the Father of glory,
give you a Spirit of wisdom and revelation resulting in knowledge of him.
May the eyes of your hearts be enlightened, that you may know what is the hope that belongs to his call, what are the riches of glory in his inheritance among the holy ones, and what is the surpassing greatness of his power for us who believe, in accord with the exercise of his great might, which he worked in Christ, raising him from the dead and seating him at his right hand in the heavens, far above every principality, authority, power, and dominion, and every name that is named not only in this age but also in the one to come. And he put all things beneath his feet and gave him as head over all things to the church, which is his body, the fullness of the one who fills all things in every way.
The word of the Lord.
Gospel
Mk 16:15-20 – The Lord Jesus was taken up into heaven and took his seat at the right hand of God.
Bishop Robert Barron's Homily – At the right hand of the Father click below:
Jesus said to his disciples:
"Go into the whole world
and proclaim the gospel to every creature.
Whoever believes and is baptized will be saved;
whoever does not believe will be condemned.
These signs will accompany those who believe:
in my name they will drive out demons,
they will speak new languages.
They will pick up serpents with their hands,
and if they drink any deadly thing, it will not harm them.
They will lay hands on the sick, and they will recover."
So then the Lord Jesus, after he spoke to them,
was taken up into heaven
and took his seat at the right hand of God.
But they went forth and preached everywhere,
while the Lord worked with them
and confirmed the word through accompanying signs.
The Gospel of the Lord.
Reflection 1 – The Ascension of the Lord.
Today we celebrate the Ascension. It was the last time Jesus physically appeared to His disciples. In Luke 24:36-53, He had taken them to a place near Bethany and as He was giving them a final blessing, the miracle occurred and He was seen ascending into the heavens, going to His Father. Our Lord's first apostles were overjoyed at this juncture of their earthly companionship with the Lord as He told them of an event to come in a very short time which will empower them and all believers for the commission. He slowly moved upward and away from them as Jesus said, "All power in heaven and on earth has been given to me. Go, therefore, and make disciples of all nations, baptizing them in the name of the Father, and of the Son, and of the Holy Spirit, teaching them to observe all that I have commanded you. And behold, I am with you always, until the end of the age."
The Acts of the Apostles records the Ascension of Christ in a very simple narrative. "He was lifted up before their eyes in a cloud which took Him from their sight" (1:9). Our Church celebrates this event of Christ's glorification. It celebrates all that Christ has done and accomplished for us. Ascension is the day we celebrate the fulfillment of the salvation plan for us and united all things on earth to those in heaven. Jesus our Lord ascended in glory, never leaving us but remaining ever-present as He proclaimed in Matthew 28: 20, "I am with you always, until the end of the age."
The Feast of the Ascension of Christ took place, according to scriptural testimony forty days after His resurrection. The timing is significant, as the number "forty" is not only a semitic idiom for "a long time" but it refers to significant turning points in the sacred history of Christians and Jews. Moses was on Mount Sinai for forty days, the Hebrews wandered in the desert for forty years, Jesus was in the wilderness for forty days after His baptism. All of these events refer not merely to a space of time, but to the time at which the promises of God were fulfilled. It is the point at which time is "filled up" with the promise of God.
Today we proclaim the Lordship of Christ Who is now at God's right hand which means Jesus is Lord. As such Jesus, risen and ascended is "one with God" and can be experienced anywhere. Jesus is no longer restricted to time and space, as He was during His life on earth.
As we bring our lives under the Lordship of Jesus, the mighty anointing to pursue His mission is upon us. With His Ascension, our Lord took our human existence into the presence of God. He took with Him our flesh and our blood, so that you and I… all of us ~ shall be able to abide in God and God abide in us. The mystery of the Ascension thus brought us into the very life of God. We are now on very intimate terms with Him and as such can work with our Lord as He empowers us by sharing His strength with us to bring His own mission to fruition." And behold, I am with you always, until the end of the age."
Direction
The vision of our earthly life world should transcend the boundaries of this material life. Set our focus on God and His heavenly Kingdom.
Prayer
May the eyes of our hearts be enlightened, that we may know what is the hope that belongs to those who believe and may the riches of glory in His inheritance be upon all of us. In Jesus, we pray. Amen.
Reflection 2 – Departure or Overture?
I believe one of the most emotionally laden places is the international airport, NAIA in particular. There is so much human drama involved. At the Arrival Area, people are happy, enthusiastic and exuberant. Their loved one, away for a long time, is arriving at any moment. But the complete opposite can be seen at the Departure Area. There is sadness and pain, for their loved one is leaving. There is always sadness in parting.
This Sunday, we celebrate the Feast of the Ascension of Our Lord. We call to mind the event when Jesus finally goes back to the Father. We, therefore, naturally expect the disciples to be sad as the people at the Departure Area. But that was not the case.
In the first place, the evangelists did not dwell so much on the issue of departure. Even St. Luke, who was the only one who wrote about the farewell scene that describes the bodily ascension of Jesus, was not really concerned about how the event took place, but more about the message. The emphasis was not on the details of the departure, but on the words of commissioning. In this Sunday's Gospel, St. Mark focused on the parting words of Jesus: "Go into all the world and proclaim the good news to the whole creation. The one who believes and is baptized will be saved; but the one who does not believe will be condemned." (Mark 16:15-16).
Clearly, then, the disciples had no room to indulge in any dramatic display of emotion, for foremost in their mind is not that Jesus is departing, but that they had been entrusted with this gargantuan task of evangelizing the "whole world", and the time to do it has now begun. That event was, therefore, more of an overture than a departure.
Before such a grand overture, particularly knowing fully well their limitations and weaknesses, the more dominant feeling among the disciples was, most probably, fear and apprehension. That is why, immediately after giving them the mission to evangelize, Jesus was quick to assure them of divine assistance and protection: "And these signs will accompany those who believe: by using my name they will cast out demons; they will speak in new tongues; they will pick up snakes in their hands, and if they drink any deadly thing, it will not hurt them; they will lay their hands on the sick, and they will recover" (Mark 16:17-18).
The Feast of the Ascension of Our Lord invites us to look into ourselves, particularly on the great honor and privilege we received as followers of Christ, and on the tremendous responsibility attached thereto.
First, instead of looking at the Ascension as abandonment by Jesus, we should rather look at it as man's greatest glory. This is what Pope Benedict XVI pointed out: "The meaning of Christ's Ascension expresses our belief that in Christ the humanity that we all share has entered into the inner life of God in a new and hitherto unheard of way. It means that man has found an everlasting place in God."It is not we left behind, but rather we taken up by Jesus into the innermost life of God. How faithful have we been to this great dignity? How joyful are we to realize that we have received such great honor of being welcomed into the life of God? Or do we still find becoming rich and famous as more attractive and desirable than to be known as true Christians?
Second, the Ascension of Our Lord highlights the truth that we profess in the Creed: Jesus will come again. The Gospels contain many parables about a master who sets out on a long journey, and entrusts his estate to his servants until his return. We are those servants. Jesus is the Master who ascends to his heavenly Father and leaves his disciples in charge of the affairs of his kingdom till his return in glory. While waiting for that Second Coming of the Lord, we are expected to be the trustworthy and faithful servants. Are we such servants? Are we ready for the Lord's coming at any time? Do we ever take the task of evangelization seriously? For some of us, we may be embarrassed and humbled to realize that we seriously spend more time, resources and efforts in piling up possessions, or in making ourselves beautiful in front of the mirror than in spreading and living the Good News of Jesus.
Let this prayer, said by the priest every after the Our Father at Mass, give us courage and strength: "Deliver us, Lord, we pray, from every evil, graciously grant us peace in our days, that, by the help of your mercy, we may be always free from sin and safe from all distress, as we await the blessed hope and the coming of our Savior, Jesus Christ."
Let our hearts be joyful and our hopes strong for we are confident that God continues to give us His protection from all evils and unnecessary worries as we work for His kingdom on earth while awaiting our Master's return in glory (Source: Fr. Mike Lagrimas, Santa Lucia Parish, Bgy. Sta. Lucia, Novaliches, Quezon City 1117).
Reflection 3 – Help others
We are here to know Jesus, who said, "Learn of me for I am gentle and humble of heart" (Mt 11:29). And we are here to tell others about him. This is where most Catholics fail. They try to take care of their own souls and that is the end of it. How have we become so small-minded, narrow of outlook? We do as we are told by the media, that religion is a private affair not to be discussed in public. But is that what Jesus said? Remember his last words, "Go out and tell everyone about me" (Mk 16:15).
So many Catholics are half-hearted, worldly at heart, and do not think about spreading the faith. Protestant churches say most of their new parishioners are those who are invited to church by another parishioner. Do Catholics invite others to Mass with them? There is little sign of this. We all have the vocation speak about Jesus to others. So many in our day are groping blindly in the darkness. Many need Christ, but we do not give him to them. If the apostles were like us they would still be sitting in the upper room. But no, after the miracle of Pentecost they went down to the streets and proclaimed Christ. We are blessed by their zeal.
Many Catholics say they don't know enough theology to discuss it with people. One does not have to discuss it. Simply invite them to Mass with you. Then introduce them to the priest. God will do the rest.
At the Ascension Jesus returned to heaven. He wants us now to be his voice, his hands, and his feet. We are to do his work in the world. In the second reading (Eph 4:1-13), St. Paul tells us the followers of Christ to be like Christ. He is speaking to us. Imitate Christ. Let religion be known. Most individuals are half-hearted in following Christ. They do just enough to get by. Is this what Jesus wants? Why did he go from place to place announcing the Good News? We must be like him.
Too often Catholics, like those without religion, follow what is popular in our society. Is this what Jesus did? The media give us "experts" who say religion is out-of-style. Most experts are proud and like to hear themselves talk. Many talk nonsense. They are proud and the proud are blind. More to be trusted are ordinary people who think religion is important. They need God's help in our sick world. They without many degrees behind their names urge us to go to Church and to pray. A poor mother often teaches her children more about the faith than many university professors. Being proud they attract attention to themselves and forget God. No wonder we have so many problems. It is the hard-working family people who keep the faith alight in the deepening darkness all about us. It is good mothers who believe and tell their children to help others in need, as Christ told us. Only in this way can we emerge from an unthinking world.
Jesus returned to the Father, yet he loves us so much he remained with us, and so we have the Eucharist. Msgr. Ronald Knox said of the Eucharist, "It is the window in the wall." It takes us out of our highly secularist world and let us see spiritual things. There is more than we see with our eyes. In this sacrament we mortals get a glimpse of the immortal.
The Eucharist is spiritual strength. By this food from heaven we have the courage to walk with Christ. The worldly laugh at religion. But it is religion that gives us inspiration and new hope.
We are living in a perilous world – read the daily paper and see all the evil. Many don't think about it; they continue to play like children and things get worse. They just watch TV to be entertained; they don't think, they just follow the crowd.
We were made for better things. We were made to grow in soul and do good. Catholics must keep trying, daily asking God for help.
Bishop Sheen said, "Today the hearts and souls of good men are sorely tried." Small as what we do may be, we must at least do something. God counts the effort, not the victory.
In our troubled world, Bishop Sheen asks, what has gone wrong? It is that people today have forgotten God. They somehow think they are superior and do not have to pray. Selfishness prevails; people are proud. Even many Christians are materialists at heart.
We have been told by self-anointed "experts" that we are making progress. The truth is, far from it.
The experts are proud. They talk all the time and do not listen. It is only by listening that we learn.
Many who make money their goal are good at this, but empty in mind and heart. Surely making money is not God's goal for us. And those who have money put up a big show but are inside depressed and despondent.
Jesus came to rescue man from himself. So many are unwise but they think they are wise. Jesus brought us true wisdom, but he is not listened to. Not a few say we are too smart for that. The fact is we are too dumb. Big houses and big cars do not make us important; we must walk with Jesus, although this is not popular with the crowd. They will ridicule us, as Jesus said. Yes, with money you can buy friends to flatter you. This is not the way Christ wants us to live.
We are not here to entertain ourselves; we are not here to pile up possessions. We are here to grow in kindness.
Christ, knowing how small and weak we are, gives us new strength. We can do nothing without him. We must swim against the current. Worldly ways take us away from God. In the end God will judge us on how kind we are.
Our society, chasing after money, is weary. Let us turn to Jesus to help us. The world is bankrupt spiritually speaking. Lord, give us help.
Man left to himself sinks into the swamp of despair. Too bad he does not learn this at the beginning instead of at the end.
Ethics have degenerated. So we see CEOs of large corporations who have been to the best schools cheating the people. They are full of greed. They are only clever crooks. Man without God is like a sunflower without the sun.
Life is our greatest gift. Life with Christ and in Christ can be beautiful. We should never cease telling our Creator how grateful we are. We show our gratitude best by striving to be what our Maker made us to be, good people. The great insult is acting like we are "self-made men." They act as if they, and not God, make the sun rise.
We pray and find God and find what he wants us to do. Therein lies peace of soul. And doing what he wants us to do is truly best for ourselves. If we think at all we will know that this is God's world, we are here to find happiness. This is something every person wants. If we think at all we will find that happiness comes from doing as God wishes.
God has given you faith, rejoice in it.
As we go forth on our pilgrim journey we cannot see the way. But God will help us. To ignore him is to be a fool. Faith lights my going and love will be in my heart. If we think we know that religion is not indifferentism, pretending that whether we have religion or not makes no difference. There are not a few today who look on religion as a hobby to have or not to have according to one's taste.
God create us in his image and likeness. He wants us to grow in goodness. He gives us a world, a garden that provides for us. We must be thankful. We hate it when we give things to others and they never thank us. But what must God feel? He has given us everything.
We are creatures, very limited. Only the stupid, and sometimes the learned stupid, think they do not need assistance. If we are grateful, Almighty God who is merciful reaches out his hand to us and helps us along. His goodness descends upon us as the rays of the sun nourish the flowers.
We must use our reason. Aristotle said our intellect is our greatest gift. The Greek thinker said "to stretch the mind." If all we do it watch TV, we are in a bad way. We are moving, but in the wrong direction. We are always moving. If we do nothing the current carries us back downstream. God wants us to work, to paddle against the current. In this way we become better people and give greater honor and glory to God.
Jesus' holy heart overflowed with love. We are to be like him. He came to earth and redeemed us. He is our savior. He saves us with his grace from our selfishness, pettiness and smallness of mind. Be like Christ in helping others. (Rev. Rawley Myers, Ph.D., "Homilies on the Liturgies of Sundays and Feasts," Homiletic & Pastoral Review, Vol. CIX, No. 7. San Francisco: Ignatius Press, April 2009, pp. 41-44; Suggested reading: Catechism of the Catholic Church, 571,668-672,849-854,904-907).
Reflection 4 – The Sacraments Are Essential
Purpose: Jesus gave us all the essentials for our salvation through the Church. He is present to us especially in the sacraments, but do we recognize him, and do we value such a gift?
As a teacher, this time of year is both exhilarating (summer is soon!) and painful (lots of work, so little time!). The end of the school year is definitely in sight for teachers, students, and parents. This past week was exam week at the seminary. And seminarians aren't that different from other students who want their teachers to answer this question: What's going to be on the exam?
I usually give out a study guide to help the students focus on the most important material. Most of the students will get the essentials down, but some will inevitably pad their answers, writing down whatever they happen to know about a topic, whether it really answers the question or not. I will have a stack of exams to assess over the next few days, and I'll see: Did they know the essentials?
It is the same with our spiritual lives: there are essentials. There are beliefs and practices that have to be maintained for us to be the people that God wants us to be, to be happy here on earth and ultimately to enjoy eternal life with him forever.
On this Ascension Sunday, we recognize that Christ gives us all the essentials through the Church. Everything necessary for our salvation remains even after Christ Jesus ascended to the Father. That was the divine plan: that Christ would be with us until the end of time through the Church he founded.
It is why Christ gave us the sacraments as channels of grace. It's why Christ gave us the Mass and the Holy Eucharist—so we could receive his Body and Blood as spiritual food to strengthen us and sustain us—that his living presence would remain here long after he walked here on earth.
One of my disappointments as a priest—and I suspect for all priests—is how often the sacraments are not valued, as if they were only an optional way to experience God. I am shocked and saddened by how many Catholics choose not to get married in the Church, and how often young parents don't have their children baptized. The sacraments aren't optional; they are the ways that Christ himself instituted to touch our hearts and minds, to communicate his very presence with us.
It is important to remember that the sacraments aren't our creation; we don't own them, and, so, we can't pick or choose or change them. God has given us the sacraments so that we can encounter Jesus in a special way, a way that people have done for 2,000 years and continue to do today.
Have you ever thought about it? Why are bread and wine the matter for the Eucharist; why not pizza and soda? Why don't we baptize babies by pouring motor oil on their heads? Jesus gave us the model for how to experience him; it's not a mystery; we don't have to guess. We use bread and wine for the Eucharist; we use holy water to baptize because it's what Jesus used, and he knew what would touch people's lives, transform their souls, and change their hearts.
On this Ascension Sunday, we celebrate Christ's returning to the Father in heaven, but we don't focus on Christ's leaving as if it were a sort of retirement party or going-away celebration. Instead, we focus on how Christ remains with us and how he provides for us all the tools, all the treasures necessary for happiness in this life, and the life to come. All we need to do is to embrace his divine plan for us through the power and beauty of His sacraments. – (Source: Homiletic and Pastoral Review)
Suggestions for Further Reading: Catechism of the Catholic Church, §751-776
Reflection 5 – The Lord Jesus was taken up into heaven
Why did Jesus leave his disciples forty days after his resurrection? Forty is a significant number in the scriptures. Moses went to the mountain to seek the face of God for forty days in prayer and fasting. The people of Israel were in the wilderness for forty years in preparation for their entry into the promised land. Elijah fasted for forty days as he journeyed in the wilderness to the mountain of God. For forty days after his resurrection Jesus appeared numerous times to his disciples to assure them that he had risen indeed and to prepare them for the task of carrying on the work which he began during his earthy ministry.
The Risen Lord Jesus is with us always to the end of time
Jesus' departure and ascension was both an end and a beginning for his disciples. While it was the end of Jesus' physical presence with his beloved disciples, it marked the beginning of Jesus' presence with them in a new way. Jesus promised that he would be with them always to the end of time (Matthew 28:20). Now as the glorified and risen Lord and Savior, ascended to the right hand of the Father in heaven, Jesus promised to send them the Holy Spirit who would anoint them with power on the Feast of Pentecost, just as Jesus was anointed for his ministry at the River Jordan. When the Lord Jesus departed physically from the apostles, they were not left in sorrow or grief. Instead, they were filled with joy and with great anticipation for the coming of the Holy Spirit.
The Risen Lord empowers us to carry on his work
Jesus' last words to his apostles point to his saving mission and to their mission to be witnesses of his saving death and his glorious resurrection and to proclaim the good news of salvation to all the world. Their task is to proclaim the Gospel – the good news of salvation – not only to the people of Israel, but to all the nations as well. God's love and gift of salvation is not reserved for a few or for one nation alone, but it is for the whole world – for all who will accept it. The Gospel is the power of God, the power to release people from their burden of guilt, sin, and oppression, and the power to heal, restore, and make us whole. Do you believe in the power of the Gospel?
We are ambassadors for Jesus Christ
This is the great commission which the risen Christ gives to the whole church. All believers have been given a share in this task – to be heralds of the good news and ambassadors for Jesus Christ, the only savior of the world. We have not been left alone in this task, for the risen Lord works in and through us by the power of his Holy Spirit. Today we witness a new Pentecost as the Lord pours out his Holy Spirit upon his people to renew and strengthen the body of Christ and to equip it for effective ministry and mission world-wide. Do you witness to others the joy of the Gospel and the hope of the resurrection?
"Lord Jesus, through the gift of your Holy Spirit, you fill us with an indomitable spirit of praise and joy which no earthly trial can subdue. Fill me with your resurrection joy and help me to live a life of praise and thanksgiving for your glory. May I witness to those around me the joy of the Gospel and the reality of your great victory over sin and death." – Read the source: http://dailyscripture.servantsoftheword.org/readings/2018/may10a.htm
Reflection 6 – Why Ascension
One question that comes up with the Ascension is: "Why?"
Wouldn't it have just been easier for Jesus to stay and overawe any opposition to the building of the Kingdom? After all, there he is, in all of his Divine Majesty! Deny that! You can't kill him now! Submit!
But it would not have accomplished what God wants of us—a change of heart! God wants not external obedience, but interior change, which needs our willing surrender to the will of God in our lives. Besides, Jesus himself gives us reasons why he needs to go to the Father.
As he tells the Apostles in the Gospel of John, he is going to prepare a place for us. So what is there to prepare? If God has created Heaven for us, isn't it already prepared? Well, no. Our place in heaven is part of the Body of Christ. Our incorporation into the Body of Christ at Baptism is not just a nice, poetic way of speaking of our relationship with Christ. It describes a reality of our existence, and if so, our place in heaven is in unity with Christ, one body with Christ. Christ himself is the prepared place for us in the Kingdom of Heaven.
Jesus ascending to Heaven sets the stage for the sending of the Holy Spirit. Again we hear in the Gospel of John, "…it is better for you that I go. For if I do not go, the Advocate will not come to you. But if I go, I will send him to you." We hear him promise in Acts of the Apostles today, "…in a few days you will be baptized with the Holy Spirit." And, "you will receive power when the Holy Spirit comes upon you." This power of the Holy Spirit is the means by which the most important reason Jesus must ascend is accomplished.
Jesus ascends so that his command to "Go into the whole world and proclaim the gospel to every creature," may be fulfilled. The Gifts of the Holy Spirit are given to accomplish the mission of spreading the Gospel. If we look at the Seven Gifts of the Holy Spirit, each one has something to do with helping us to help others in being open to the Redemption of Jesus Christ. Wisdom opens the mind. Understanding opens the heart. Counsel helps in difficult situations to know what is right. Fortitude gives us endurance like the martyrs, and provides inspiration. St. Irenaeus said, "The Blood of Martyrs is the seed of faith." Knowledge lets us see things from God's perspective, so we can help others to see the world, and themselves, in a new way. Piety puts us in a state of reverence so we can understand our dependence on God. We then offer to God the worship and thanksgiving due to him. Fear or awe of the Lord gives us wondrous awareness of the glory and majesty of God. This puts us not in a servile state, but rather in a joyful awareness of God's grandeur, and a grateful realization that only in him do we find true peace.
Along with the Seven Gifts that help fulfill the mission of spreading the Gospel, there are the gifts of service, which are as many and varied as there are needs in the world. As we serve for the sake of Christ, that service, empowered by the Holy Spirit, becomes a means of spreading the Gospel, and building up the Kingdom. We also have the Charismatic Gifts that help manifest God's presence and working in the world. All of these work toward the goal of building the Kingdom of God on earth. These help us be true witnesses of Jesus Christ in the world. We, the Church, the Body of Christ on earth, are empowered and commissioned to testify to the Resurrection, the redemption that Jesus won for us. We are the examples of the freedom his Redemption brings, and the proof of the reality in the truth of the Gospel.
The Church is calling us to a New Evangelization. It is a recognition that we need to call our sisters and brothers in the faith, who we don't see very often, to a new appreciation of our faith in Jesus Christ. We need to use the same gifts and example that would call non-believers to Christ. The aim, as I said at the beginning, is a change of heart, a real conversion. That starts with our personal example, and extends to God-given opportunities to share our faith, and our experience of Jesus Christ. Christ is Ascended! Our work to build the Kingdom continues, to the Glory of God! – Read the source: https://www.hprweb.com/2018/05/homilies-for-may-2018/
Reflection 7 – Ascension and mission
With the Wish that Christ Ascends into the Heaven of our Heart
1) Legal certainty and joy.
In the Creed, we recite "He ascended into heaven and is seated at the right hand of the Father." That means that we believe the fact that Christ's humanity has entered the heart of God. Where God is, there is heaven, and love is heaven on earth. Consequently, "the Ascension does not point to Jesus' absence but tells us that he is alive in our midst in a new way. He is no longer in a specific place in the world as he was before the Ascension. He is now in the lordship of God, present in every space and time, close to each one of us. In our life we are never alone: we have this Advocate who awaits us, who defends us. "(Pope Francis, General Audience, April 17, 2013).
It is therefore correct to say that one of the lessons that comes from the Ascension is that we too can rise to the top, but only if we remain tied to Jesus. If we entrust our lives to Him, if we let ourselves be guided by Him, we are sure to be in safe hands, in the hands of our savior, of our defense advocate. "In our life, we are never alone: we have this Advocate who awaits us, who defends us." (Pope Francis, General Audience, and April 17, 2013)
Another lesson is that we must have clear is that entering into the glory of God demands daily fidelity to his will, even when it requires sacrifice and acceptance of the cross because "the elevation on the cross signifies and announces the elevation of the ascension into heaven "(Catechism of the Catholic Church, n. 661). In this ascent "the Crucified and Risen Lord guides us. We have with us a multitude of brothers and sisters who, in silence and concealment, in their family life and at work, in their problems and hardships, in their joys and hopes, live faith daily and together with us bring the world the lordship of God's love, in the Risen Jesus Christ, ascended into Heaven, our own Advocate who pleads for us."(Pope Francis, General Audience, April 17, 2013)
A third lesson comes from the first reading of today's Mass, which presents the event of the Ascension as recounted by St. Luke in the Acts of the Apostles. It teaches us how to have the joy of the Apostles that comes by the certainty of the constant presence of the risen Jesus in our personal lives and in the one of the community.
This certitude and this joy can be ours if we ask with a sincere heart and mind the blessing that Jesus gave to the Apostles while ascending into Heaven.
In this way, like the Apostles, we will live the ascension of the Risen Lord not as a separation or as the Lord's permanent absence.
In this way, we will have confirmed and increased the certainty that the Risen Crucified One is alive and that in Him the doors of God, the doors of eternal life have been always open.
In this way, on Ascension Day, we may have in our hearts not just the pain of departure, but also the certainty and the joy of the constant proximity of Christ, although in a different way than in his earthly life. "He, that two thousand years ago was a special man in history, continues to this day to live in history as the soul of the Church" (H.U. von Balthasar).
2) Ascension and Mission.
In the short narration of the Ascension (third reading of this Sunday) that Saint Mark makes, we see that, more than on the Ascension per se, the Risen Jesus invites us to draw the consequences of his going to the Father: the Apostles and with them the Christians of all times are his ambassadors and his missionaries sent to bring the Gospel to the whole world. "And they went forth and preached[1]everywhere, while the Lord worked with them and confirmed the message by the signs that accompanied them" (Mk 16, 20). Jesus goes to heaven and the disciples are in the world. But the departure of Jesus is not a true absence, but another way to be present "The Lord worked with them and gave foundation to the Word" (Mk 16, 20). "The Ascension is not a cosmic geographic journey, but the navigation of the heart that leads you away from isolating yourself to the love that embraces the universe" (Benedict XVI, 10 March 2010).
The invitation of Christ to embrace the universe, announcing to all men the Gospel "Go into the whole world" (Mk 16: 15), was not perceived as crazy, but as a mandate of charity to bring salvation to all.
With the ascension, there is a twist in the path of redemption. From Jerusalem where it was accomplished, the mission of Christ, the redemptive mission, which is now entrusted to the apostles, expands into a universal dimension. The group, hitherto compact, dissolves physically speaking, but not emotionally. While the Redeemer "departs" into the sky, the apostles depart each in a different direction from the geographical point of view, but deeply in communion with one another and with Christ. The popular tradition dictates what would be the goal of everyone: for Peter, Antioch and Rome, for Matthew, Ethiopia, for Thomas, India and so on. But our thoughts go in particular to the apostle on whom we know in great detail, Paul of Tarsus, the tireless traveler who brought the Gospel in today's Turkey, Greece, and Rome. And after him let us also thank the countless missionaries who for twenty centuries, with heroism often expressed by martyrdom, continued and continue the work of the apostles, to share with the largest possible number of people the good, holy, true and pleased life that the Gospel of Jesus has been announcing and implementing for the last two millennia. Like them let us become missionaries of joy, announcing to the world that God is a communion of eternal love, infinite joy that does not remain closed in itself, but expands to those whom He loves and who love him.
It is really a miracle that eleven men were able to develop a "body", the Mystical Body, in which millions and millions of believers found and find themselves. It is humanly impossible. The explanation lies in the words "The Lord worked with them." And with a very specific purpose. The compact group, made up of Jesus and the first apostles, has not dissolved, it has spread throughout the world. They were scattered: they are united in faith, love, and hope. The hope, in particular, to reconvene in unity, in the presence of the One who came before us at the side of his and our Father.
The verbs used by Christ to send to mission retain their relevance:
– ' To go' indicates the dynamism and the courage to plunge into the always new situations in the world;
– ' To proclaim the Gospel', because people become followers not so much of a doctrine, but of a Person;
– 'To believe' to the announcement of a faith that includes undoubtedly the knowledge of its truth and of the events of salvation, but that mostly comes from a true encounter with God in Jesus Christ and from the love for Him by trusting in Him, so that our entire life is indeed affected.
– 'To baptize' indicates the sacrament that transforms people and places in the life of the Trinity and of the Church. Baptism is the sacrament that gives us the Holy Spirit, making us children of God in Christ, and marks the entry into the community of faith, the Church. We do not believe without the grace of the Holy Spirit; and we do not believe alone, but together with our brothers and sisters. "In Baptism, we are immersed in that inexhaustible source of life that is the death of Jesus, the greatest act of love in all history; and because of that love we can live a new life, no longer at the mercy of evil, sin, and death, but in communion with God and with our brothers "(Pope Francis, General Audience, January 8, 2014).
3) The missionary spirit of Virginity.
It is good to reflect on Jesus' last words, when He sends his disciples to preach in the world that, even if it does seem, has the need of the infinity, truth, love, hope, and joy that Heaven is and has.
It is a task that shakes us too, today, so great it is.
It is a task that seems not for poor humans like us, but for angels. This is why Jesus assures His Presence "working with us, confirming His Word with miracles that accompany it" (Mk 16, 20).
It is a task for all the baptized because through baptism all Christians become disciples and missionaries called to bring the Gospel to the world.
But what is the missionary way of the consecrated Virgins in the world?
It is to be icons, living images of Christ, chaste, poor and obedient (see Vat. II Council, Decree on the Renewal of Religious Life, Perfectae Caritatis, 1) in front of the ecclesial and human community.
How can they "make a live painting" of Christ?
By a communion with God and with the brothers and sisters in humanity, which is not diminished but increased by the solitude in which they are called to live. The virgins are such and are missionaries if they "use" their emotions and their body as Christ did: not to possess or be possessed, but to give communion to everyone they meet.
In short, the unique vocation of the consecrated Virgins in the world indicates a clear mission: to enhance the dignity of the woman testifying in the life of the world in which they remain immersed, the full meaning of the love that they have received from Jesus Christ to be given to their brothers and sisters in humanity.
Patristic Reading: Saint Augustine, bishop of Hyppo, Sermo de Ascensio Domini, Mai 98, 1-2: PLS 2, 494-495
Today our Lord Jesus Christ ascended into heaven; let our hearts ascend with him. Listen to the words of the Apostle: If you have risen with Christ, set your hearts on the things that are above where Christ is, seated at the right hand of God; seek the things that are above, not the things that are on earth. For just as he remained with us even after his ascension, so we too are already in heaven with him, even though what is promised us has not yet been fulfilled in our bodies.
Christ is now exalted above the heavens, but he still suffers on earth all the pain that we, the members of his body, have to bear. He showed this when he cried out from above: Saul, Saul, why do you persecute me? and when he said: I was hungry and you gave me food.
Why do we on earth not strive to find rest with him in heaven even now, through the faith, hope, and love that unites us to him? While in heaven he is also with us; and we while on earth are with him. He is here with us by his divinity, his power, and his love. We cannot be in heaven, as he is on earth, by divinity, but in him, we can be there by love.
He did not leave heaven when he came down to us; nor did he withdraw from us when he went up again into heaven. The fact that he was in heaven even while he was on earth is borne out by his own statement: No one has ever ascended into heaven except the one who descended from heaven, the Son of Man, who is in heaven.
These words are explained by our oneness with Christ, for he is our head and we are his body. No one ascended into heaven except Christ because we also are Christ: he is the Son of Man by his union with us, and we by our union with him are the sons of God. So the Apostle says: Just as the human body, which has many members, is a unity because all the different members make one body, so is it also with Christ. He too has many members, but one body.
Out of compassion for us, he descended from heaven, and although he ascended alone, we also ascend, because we are in him by grace. Thus, no one but Christ descended and no one but Christ ascended; not because there is no distinction between the head and the body, but because the body as a unity cannot be separated from the head.
[1] The task is to "preach", a term which deserves an explanation. It means not simply to instruct, to exhort or to give an uplifting sermon. The verb "to preach" means the announcement of an event, a news, not a doctrine. It is decisive news: not only a piece of information but an appeal. The preached gospel is made credible and visible by the signs that the disciple does. But there must be signs that reveal the power of God, not that of man. – Read the source: Archbishop Francesco Follo https://zenit.org/articles/archbishop-follo-ascension-and-mission/
Reflection 8 – Marks the beginning of Church's mission
Celebrated today in Italy and in many other countries is the Solemnity of the Lord's Ascension. This feast contains two elements. On one hand, it directs our look to Heaven, where Jesus, glorified, is seated at the right hand of God (Cf. Mark 16:19). On the other, it recalls the beginning of the Church's mission: why? Because Jesus risen and ascended into Heaven sends His disciples to spread the Gospel throughout the world; therefore, the Ascension exhorts us to raise our gaze to Heaven, to then turn it back immediately to earth, carrying out the tasks that the Risen Lord has entrusted to us.
It's what today's Gospel passage invites us to do, in which the event of the Ascension comes immediately after the mission that Jesus entrusts to the disciples. It's a boundless mission, namely, literally without boundaries, which surpasses human strength. In fact, Jesus says: "Go into all the world and preach the Gospel to the whole creation" (Mark 16:15. The task that Jesus entrusts, to a small group of simple men without great intellectual capacities, seems truly daring. Yet this meager company, irrelevant in face of the world's great powers, is sent to bring Jesus' message of love and mercy to all corners of the earth.
However, this plan of God can only be realized with the strength that God Himself grants to the Apostles. In this connection, Jesus assures them that the Holy Spirit will sustain their mission. He says thus: "You shall receive power when the Holy Spirit has come upon you; and you shall by my witnesses in Jerusalem and in all Judea and Samaria and to the ends of the earth" (Acts 1:8).
So this mission was realized, and the Apostles began this work, which was then continued by their successors. The mission entrusted by Jesus to the Apostles has been carried out through the centuries, and it continues still today: it requires the collaboration of us all. Each one, in fact, by dint of the Baptism he received, is qualified on his part to proclaim the Gospel. It's in fact Baptism that qualifies us and also drives us to be missionaries, to proclaim the Gospel.
While the Lord's Ascension into Heaven inaugurates a new way of Jesus' presence in our midst, it asks us to have eyes and a heart to encounter Him, to serve Him, and to witness Him to others. It's about being men and women of the Ascension, namely, seekers of Christ along the roads of our time, bringing His word of salvation to the ends of the earth. In this itinerary, we encounter Christ Himself in our brothers, especially in the poorest, in those that suffer in their flesh the harsh and mortifying experience of old and new poverties. As at the beginning the Risen Christ sent His Apostles with the strength of the Holy Spirit, so today He sends all of us, with the same strength, to put concrete and visible signs of hope; because Jesus gives us hope; He has gone to Heaven and has opened the doors of Heaven and the hope that we will arrive there.
May the Virgin Mary that, as Mother of the dead and risen Lord, animated the faith of the first community of disciples, help us also to keep "our heart high," as the Liturgy exhorts us to do. And, at the same time, may she help us to have our "feet on earth," and to sow the Gospel courageously in concrete situations of life and history. – Read the source: Pope Francis https://zenit.org/articles/the-ascension-pope-directs-our-gaze-to-heaven-and-earth/
Reflection 9 – Moving forward with the Holy Spirit
Sometimes we find ourselves in the same posture as the disciples in today's first reading, looking up at the sky where we last saw Jesus, not moving, just staring at nothing, waiting for him to come back and do something to rescue this world from its evil.
It seems like he's not finished. There's more he should be doing. Our world needs the Second Coming of Christ — and now! What's the delay?
Ahhh, but he's told us not to stand about gawking and waiting but to go forth and spread the Good News. He told us to take what he's given us and use it to serve others, to make a difference somewhere, somehow, to someone.
Why do we stare at the empty sky? Because we feel inadequate.
Parents know this feeling. After giving birth or adopting a child in an amazing partnership with God the Giver of Life, we have the awesome task of raising this tiny human into a faith-filled, emotionally healthy adult. Wow. More than a few miracles will be needed.
Graduates know this feeling. After completing college or a Lay Ministry training program or ordination or final vows, we stand on the threshold of working for the Lord and wonder: Will I be effective and successful? Will I like it? Or will I be sent where I'd rather not go?
Those who are grieving know this feeling. After a loved one is taken home to the Lord or a friend is lost in a failed relationship, our lives change drastically. It feels like it shouldn't have. How can we recover from the emptiness, which by its very nature forces our attention onto ourselves and our unmet needs, so that we become full of service to others?
Every change in our lives is a commissioning. Every loss is the beginning of a new calling. Every experience is training for a work of God's kingdom that the Lord wants to accomplish through us.
Why are you standing there looking at the sky? Jesus has been your teacher and your guide: Although you cannot see what he's doing now, he has not abandoned you. He is fulfilling his promise: "You will receive power from the Holy Spirit, and you will be my witness throughout the earth." Indeed, you were given that Holy Spirit in baptism, and it is this Spirit of God that empowers you to continue the ministry of Jesus using your particular gifts and talents and experiences.
We must confidently raise our foot to step forward and, while it's still in mid-air, ask: "Okay God, where do You want me to place this foot down next?" If we remain centered on the Lord, we will not lose our balance. The Holy Spirit will do the work of Christ on Earth through us.
Questions for Personal Reflection:
What thresholds or new beginnings are you facing? How are these opportunities for the continuation of the ministry of Jesus?
Questions for Community Faith Sharing:
In what ways are you doing the works of Jesus? Which parish ministries could use your gifts and talents? How do you rely on the Holy Spirit to get it done? – Read the source: http://gnm.org/good-news-reflections/?useDrDate=2018-05-12
Please follow Romeo Hontiveros at Twitter click this link: https://twitter.com/Trumpeta
Reflection 10 – St. Damien de Veuster of Moloka'I (1840-1889 A.D.)
When Joseph de Veuster was born in Tremelo, Belgium, in 1840, few people in Europe had any firsthand knowledge of leprosy (Hansen's disease). By the time he died at the age of 49, people all over the world knew about this disease because of him. They knew that human compassion could soften the ravages of this disease.
Forced to quit school at age 13 to work on the family farm, Joseph entered the Congregation of the Sacred Hearts of Jesus and Mary six years later, taking the name of a fourth-century physician and martyr. When his brother Pamphile, a priest in the same congregation, fell ill and was unable to go to the Hawaiian Islands as assigned, Damien quickly volunteered in his place. In May 1864, two months after arriving in his new mission, Damien was ordained a priest in Honolulu and assigned to the island of Hawaii.
In 1873, he went to the Hawaiian government's leper colony on the island of Molokai, set up seven years earlier. Part of a team of four chaplains taking that assignment for three months each year, Damien soon volunteered to remain permanently, caring for the people's physical, medical and spiritual needs. In time, he became their most effective advocate to obtain promised government support.
Soon the settlement had new houses and a new church, school and orphanage. Morale improved considerably. A few years later he succeeded in getting the Franciscan Sisters of Syracuse, led by Mother Marianne Cope (January 23), to help staff this colony in Kalaupapa.
Damien contracted Hansen's disease and died of its complications. As requested, he was buried in Kalaupapa, but in 1936 the Belgian government succeeded in having his body moved to Belgium. Part of Damien's body was returned to his beloved Hawaiian brothers and sisters after his beatification in 1995.
Damien was canonized by Pope Benedict XVI on October 11, 2009.
When Hawaii became a state in 1959, it selected Damien as one of its two representatives in the Statuary Hall at the U.S. Capitol.
Comment:
Some people thought Damien was a hero for going to Molokai and others thought he was crazy. When a Protestant clergyman wrote that Damien was guilty of immoral behavior, Robert Louis Stevenson vigorously defended him in an "Open Letter to Dr. Hyde."
Quote:
During the canonization homily, Pope Benedict XVI said: "Let us remember before this noble figure that it is charity which makes unity, brings it forth and makes it desirable. Following in Saint Paul's footsteps, Saint Damien prompts us to choose the good warfare (1 Tm 1:18), not the kind that brings division but the kind that gathers people together. He invites us to open our eyes to the forms of leprosy that disfigure the humanity of our brethren and still today call for the charity of our presence as servants, beyond that of our generosity."
Read the source: http://www.americancatholic.org/features/saints/saint.aspx?id=1379
SAINT OF THE DAY
Catholic saints are holy people and human people who lived extraordinary lives. Each saint the Church honors responded to God's invitation to use his or her unique gifts. God calls each one of us to be a saint. Click here to receive Saint of the Day in your email.
FATHER DAMIEN, SS.CC.
SAINT DAMIEN OF MOLOKAI

A photograph of Father Damien taken shortly before his death

RELIGIOUS PRIEST AND MISSIONARY
BORN
3 January 1840
Tremelo, Belgium
DIED
15 April 1889 (aged 49)
Kalaupapa, Moloka

ʻ

i, Hawaiʻi
VENERATED IN
Roman Catholic Church,Eastern Catholic Churches,Episcopal Church; some churches of Anglican Communion; individual Lutheran Churches
BEATIFIED
4 June 1995, Basilica of the Sacred Heart(Koekelberg),Brussels, by Pope John Paul II
CANONIZED
11 October 2009, Vatican City, by Pope Benedict XVI
MAJOR SHRINE
Leuven, Belgium (bodily relics)
Moloka

ʻ

i, Hawaii (relics of his hand)
FEAST
10 May (Catholic Church; obligatory in Hawaii, option in the rest of the United States);[1]15 April (Episcopal Church of the United States)
PATRONAGE
people with leprosy
Father Damien or Saint Damien of Molokai, SS.CC. or Saint Damien de Veuster (Dutch: Pater Damiaan or Heilige Damiaan van Molokai; 3 January 1840 – 15 April 1889),[2] born Jozef De Veuster, was a Roman Catholic priest fromBelgium and member of the Congregation of the Sacred Hearts of Jesus and Mary,[3] a missionary religious institute. He won recognition for his ministry from 1873 to 1889 in the Kingdom of Hawaiʻi to people with leprosy (also known as Hansen's disease), who were required to live under a government-sanctioned medical quarantine on the island ofMolokaʻi.[4]
After sixteen years' caring for the physical, spiritual, and emotional needs of those in the leper colony, Father Damien died of leprosy. He has been described as a "martyr of charity".[5] He was the tenth person in what is now the United States to be recognized as a saint by the Catholic Church.[6]
In both the Latin Rite and the Eastern Rites of the Catholic Church, Damien is venerated as a saint. In the Anglicancommunion, as well as other denominations of Christianity, Damien is considered the spiritual patron for leprosy and outcasts. As he is the patron saint of the Diocese of Honolulu and of Hawaii, Father Damien Day is celebrated statewide on 15 April.
Upon his beatification by Pope John Paul II in Rome on 4 June 1995, Blessed Damien was granted a memorial feast day, which is celebrated on 10 May. Father Damien was canonized by Pope Benedict XVI on Sunday, 11 October 2009.[7][8] The Catholic Encyclopedia calls him "the Apostle of the Lepers."[9]
Early life
[
edit
]
Damien was born Jozef ("Jef") De Veuster, the seventh child and fourth son of the Flemish corn merchant Joannes Franciscus ("Frans") De Veuster and his wife Anne-Catherine ("Cato") Wouters in the village of Tremelo in Flemish Brabant. He attended college in Braine-le-Comte, then entered the novitiate of the Congregation of the Sacred Hearts of Jesus and Mary in Leuven. He took the name of Brother Damianus (Damiaan in Dutch, Damien in French) in his first vows, presumably in reference to the first Saint Damian.[10]
Following in the footsteps of his sisters Eugénie and Pauline (who became nuns) and brother Auguste (Father Pamphile), Damien became a "Picpus" Brother (another name for members of the Congregation of the Sacred Hearts of Jesus and Mary) on 7 October 1860. His superiors thought that he was not a good candidate for the priesthood because he lacked education. However, he was not considered unintelligent. Because he learned Latin well from his brother, his superiors decided to allow him to become a priest. During his ecclesiastical studies, Damien prayed daily before a picture of St. Francis Xavier, patron of missionaries, to be sent on a mission.[11][12]Three years later when Damien's brother Father Pamphile could not travel to Hawaiʻi as a missionary because of illness, Damien was allowed to take his place.
Mission to Hawaii
[
edit
]
On 19 March 1864, Damien landed at Honolulu Harbor on Oahu. He was ordained into the priesthood on 21 May 1864, at what is now the Cathedral of Our Lady of Peace, a church founded by his religious institute. Today it serves as the Cathedral of the Bishop of Honolulu.[13]
In 1865 Father Damien was assigned to the Catholic Mission in North Kohala on the island of Hawaiʻi. While Father Damien was serving in several parishes on Oʻahu, the Kingdom of Hawaiʻi was struggling with a labor shortage, as identified by planters.[14] Native Hawaiians had high mortality rates to such Eurasian infectious diseases as smallpox, cholera, and whooping cough, brought to theHawaiian Islands by foreign traders, sailors and immigrants. Thousands of Hawaiians died of such diseases, to which they had no acquired immunity.
It is believed that Chinese workers carried leprosy (later known as Hansen's disease) to the islands in the 1830s and 1840s. At that time, leprosy was thought to be highly contagious and incurable. Later the medical community determined that roughly 95% of human beings are immune to it and, in the 20th century, developed effective treatment. In 1865, out of fear of this contagious disease, theHawaiian Legislature passed the "Act to Prevent the Spread of Leprosy". This law quarantined the lepers of Hawaii, requiring the most serious cases to be moved to a settlement colony of Kalawao on the eastern end of the Kalaupapa peninsula on the island of Molokaʻi. Later the settlement of Kalaupapa was developed. Kalawao County, where the two villages are located, is separated from the rest of Molokaʻi by a steep mountain ridge. Even in the 21st century, the only land access is by a mule trail. From 1866 through 1969, a total of about 8,000 Hawaiians were sent to the Kalaupapa peninsula for medical quarantine.
The Royal Board of Health initially provided the quarantined people with food and other supplies, but it did not have the resources to offer proper health care. According to documents of that time, the Kingdom of Hawaiʻi did not intend for the settlements to be penal colonies, but the Kingdom did not provide enough resources to support them.[4] The Kingdom planned for the inhabitants to grow their own crops but, because of the local environment and the effects of leprosy, this was impractical.
According to Penny Moblo, accounts about the colony from the 19th well into the 20th century have overstated its poor condition, adding to the myth of the European saviors for the colony and the island, whose government was eventually controlled by European Americans. For instance, most of the houses and other buildings were constructed and owned by the residents, even after the change of government and increased investment by the Territory of Hawaiʻi.
There is evidence that lay volunteers offered to help on the island, and that the Hawaiians would have preferred a native priest, if one were available.[15]
By 1868, according to the Catholic Encyclopedia (1911), "Drunken and lewd conduct prevailed. The easy-going, good-natured people seemed wholly changed."[16]This seems to be an account fulfilling the contemporary European ideas about the Hawaiians more than an accurate record of conditions.[15]
While Bishop Louis Désiré Maigret, the vicar apostolic of the Honolulu diocese, believed that the lepers needed a Catholic priest to assist them, he realized that this assignment had high risk. He did not want to send any one person "in the name of obedience". After much prayer, four priests volunteered to go. The bishop planned for the volunteers to take turns in rotation assisting the inhabitants.
Father Damien was the first priest to volunteer and, on 10 May 1873, he arrived at the secluded settlement at Kalaupapa, where 816 lepers then lived. Damien worked with them to build a church and establish the Parish of Saint Philomena. In addition to serving as a priest, he dressed residents' ulcers, built a reservoir, built homes and furniture, made coffins, and dug graves.[10] Six months after his arrival at Kalawao, he wrote to his brother, Pamphile, in Europe:
…I make myself a leper with the lepers to gain all to JesusChrist.
Some historians believed that Father Damien was a catalyst for a turning point for the community. Under his leadership, basic laws were enforced, shacks were upgraded and improved as painted houses, working farms were organized, and schools were established. At his own request and of the lepers, Father Damien remained on Molokaʻi.[4] Many such accounts completely overlooked the roles of superintendents who were Hawaiian or part-Hawaiian. Until the late 20th century, most historic accounts of Damien's ministry revealed biases of Europeans and Americans, and nearly completely discounted the roles of the native residents on Molokaʻi.[15]
William P. Ragsdale was a highly popular and effective mixed-raceattorney and politician who was part Hawaiian; he had served as an interpreter and in other government posts. After finding that he had contracted leprosy, he "gave himself up to the law", and was appointed to serve as superintendent at Kalaupapa in 1873. He led it until his death in 1877. His popularity led to his being called "Governor." Father Damien succeeded him briefly as superintendent, but he gave that up after three months in February 1878 in favor of another appointee. His superiors did not want priests serving in government posts.[17]
Illness and death
[
edit
]
In December 1884 while preparing to bathe, Damien inadvertently put his foot into scalding water, causing his skin to blister. He felt nothing and realized he had contracted leprosy after 11 years of working in the colony.[4] Residents said that Damien worked vigorously to build as many homes as he could and planned for the future of programs he had established.
In 1885 Masanao Goto, a Japanese leprologist, came to Honoluluand treated Damien. He believed that leprosy was caused by a diminution of the blood. His treatment consisted of nourishing food, moderate exercise, frequent friction to the benumbed parts, special ointments, and medical baths. The treatments did relieve some of the symptoms and were very popular with the Hawaiian patients. Damien had faith in the treatments and said he wanted to be treated by no one but Goto,[18][19][20] who became a good friend.[21]
In his last years, Damien engaged in a flurry of activity. While continuing his care of patients, he tried to complete several building projects and enlarge the orphanages, and organize the work. Four volunteers arrived at Kalaupapa to help the ailing missionary: a priest, a soldier, a male nurse, and a Religious Sister.[22] Louis Lambert Conrardy was a Belgian priest. Joseph Dutton was an American Civil War soldier who left behind a marriage broken by alcoholism. James Sinnett was a nurse fromChicago. Mother (now also Saint) Marianne Cope had been the head of the Franciscan-run St Joseph's Hospital inSyracuse, New York.[22]
Conrardy took up pastoral duties; Cope organized a working hospital; Dutton attended to the construction and maintenance of the community's buildings; Sinnett nursed Damien in the last phases of illness. With an arm in a sling, a foot in bandages and his leg dragging, Damien knew death was near. He was bedridden on 23 March 1889, and on 30 March he made a general confession.[23] Damien died of leprosy at 8:00 a.m. on 15 April 1889, at the age of 49.[24]The next day, after Massby Father Moellers at St. Philomena's, the whole settlement followed the funeral cortège to the cemetery. Damien was laid to rest under the same pandanus tree where he first slept upon his arrival on Molokaʻi.[25]
In January 1936, at the request of King Leopold III of Belgium and the Belgian government, Damien's body was returned to his native land. It was transported aboard the Belgian ship Mercator. He was buried in Leuven, the historic university city close to the village where Damien was born. After his beatification in June 1995, the remains of his right hand were returned to Hawaii and re-interred in his original grave on Molokaʻi.[26][27]
Order of Kalākaua
[
edit
]
In the waning days of the Kingdom, before it was overthrown by European Americans, King David Kalākaua bestowed on Damien the honor of "Knight Commander of the Royal Order of Kalākaua".[28]When Crown Princess Lydia Liliʻuokalanivisited the settlement to present the medal, she was reported as having been too distraught and heartbroken at the sight of the residents to read her speech. The princess shared her experience, acclaiming Damien's efforts.[29]Consequently, Damien became internationally known in the United States and Europe. American Protestants raised large sums of money for the missionary's work. The Church of England sent food, medicine, clothing, and supplies to the settlement. It is believed that Damien never wore the royal medal, although it was placed by his side at his funeral.
Criticism and commentary
[
edit
]
Father Damien had become internationally known before his death, seen as a symbolic Christian figure caring for the afflicted natives. His superiors thought Damien lacking in education and finesse, but knew him as "an earnest peasant hard at work in his own way for God."[30] News of his death on 15 April was quickly carried across the globe by the modern communications of the time, by steamship to Honolulu and California, telegraph to the East Coast of the United States, and cable to England, reaching London on 11 May.[31] Following an outpouring of praise for his work, other voices began to be heard in Hawaiʻi.
Representatives of the Congregational and Presbyterian churches in Hawaii criticized his approach. Reverend Charles McEwen Hyde, a Presbyterian minister in Honolulu, wrote in August to fellow pastor, Reverend H. B. Gage of San Francisco. Hyde referred to Father Damien as "a coarse, dirty man," who contracted leprosy due to "carelessness".[32][33] Hyde said that Damien was mistakenly being given credit for reforms that were made by the Board of Health. Without consulting with Hyde, Gage had the letter published in a San Francisco newspaper, generating comment and controversy in the US and Hawaiʻi. People of the period consistently overlooked the role of Hawaiians themselves, among whom several had prominent roles of leadership on the island.[34]
Later in 1889 Scottish author Robert Louis Stevenson and his family arrived in Hawaii for an extended stay. He had tuberculosis, then also incurable, and was seeking some relief. Moved by Damien's story, he became interested in the controversy about the priest and went to Molokaʻi for eight days and seven nights.[32]Stevenson wanted to learn more about Damien at the place where he had worked. He spoke with residents of varying religious backgrounds to learn more about Damien's work. Based on his conversations and observations, he wrote an open letter to Hyde that addressed the minister's criticisms and had it printed at his own expense. This became the most famous account of Damien, featuring him in the role of a European aiding a benighted native people.[32][35]
In his "6,000-word polemic,"[35] Stevenson praised Damien extensively, writing to Hyde:
If that world at all remember you, on the day when Damien of Molokai shall be named a Saint, it will be in virtue of one work: your letter to the Reverend H. B. Gage.[32]
Stevenson referred to his journal entries in his letter:
…I have set down these private passages, as you perceive, without correction; thanks to you, the public has them in their bluntness. They are almost a list of the man's faults, for it is rather these that I was seeking: with his virtues, with the heroic profile of his life, I and the world were already sufficiently acquainted. I was besides a little suspicious of Catholic testimony; in no ill sense, but merely because Damien's admirers and disciples were the least likely to be critical. I know you will be more suspicious still; and the facts set down above were one and all collected from the lips of Protestants who had opposed the father in his life. Yet I am strangely deceived, or they build up the image of a man, with all his weakness, essentially heroic, and alive with rugged honesty, generosity, and mirth.[32]
Since then historians and ethnologists have also studied Damien's work and the life of residents on Molokaʻi. For example, Penny Moblo assesses the myth and controversy about the priest in the context not of religious conflict between Protestants and Catholics, but of changes in relations in Hawaiʻi between the royal house, European-American planters and missionaries, and native residents, in the years of the overthrow of the government and assumption of power by Americans.[14]Among the facts left out of early accounts praising Father Damien was that the residents of the leper colony wanted a native priest, that lay volunteers were rejected, and that residents asked in 1878 that the priest be replaced. As Hawai'ians were literate, they spoke for themselves. In this period, Damien had patient J.K. Kahuila, a Hawaiian Protestant minister, put in irons and deported to Oahu because he believed the man was too rebellious. Kahuila got a lawyer and demanded investigation of Damien.[14]Moblo concludes that in most 19th and 20th-century accounts, "the focus on Damien eclipses the active role played by Hawaiians and preserves a colonially biased history."[14]
Mahatma Gandhi, the important political leader of India, said that Father Damien's work had inspired his own social campaigns in India, leading to independence for his people and also securing aid for those who needed it. Gandhi was quoted in T.N. Jagadisan's 1965 publication, Mahatma Gandhi Answers the Challenge of Leprosy, as saying,
The political and journalistic world can boast of very few heroes who compare with Father Damien of Molokai. The Catholic Church, on the contrary, counts by the thousands those who after the example of Fr. Damien have devoted themselves to the victims of leprosy. It is worthwhile to look for the sources of such heroism.[36]
Canonization
[
edit
]
In 1977 Pope Paul VI declared Father Damien to be venerable, the one of the initial steps that lead to sainthood. On 4 June 1995, Pope John Paul II beatified him and gave him his official spiritual title of Blessed. On 20 December 1999, Jorge Medina Estévez, Prefect of the Congregation for Divine Worship and the Discipline of the Sacraments, confirmed the November 1999 decision of the United States Conference of Catholic Bishops to place Blessed Damien on the liturgical calendar with the rank of optional memorial. Father Damien was canonized on 11 October 2009, by Pope Benedict XVI. His feast Day is celebrated on 10 May. In Hawaii it is celebrated on the day of his death, 15 April.
Two miracles have been attributed to Father Damien's posthumous intercession: On 13 June 1992, Pope John Paul II approved the cure of a nun in France in 1895 as a miracle attributed to Venerable Damien's intercession. In that case, Sister Simplicia Hue began a novena to Father Damien as she lay dying of a lingering intestinal illness. It is stated that pain and symptoms of the illness disappeared overnight.
In the second case, Audrey Toguchi, a Hawaiian woman who suffered from a rare form of cancer, had remission after having prayed at the grave of Father Damien on Molokaʻi. There was no medical explanation as her prognosis was terminal.[37][38]In 1997 Toguchi was diagnosed with liposarcoma, a cancer that arises in fat cells. She underwent surgery a year later and a tumor was removed, but the cancer metastasized to her lungs. Her physician, Dr. Walter Chang, told her, "Nobody has ever survived this cancer. It's going to take you."[37] Toguchi was surviving in 2008.[37]
In April 2008 the Holy See accepted the two cures as evidence of Father Damien's sanctity. On 2 June 2008, theCongregation for the Causes of Saints at the Vatican voted to recommend raising Father Damien of Molokaʻi to sainthood. The decree that officially notes and verifies the miracle needed for canonization was promulgated by Pope Benedict XVI andCardinal José Saraiva Martins on Thursday, 3 July 2008, with the ceremony taking place in Rome and celebrations in Belgium and Hawaii.[39] On 21 February 2009, the Vatican announced that Father Damien would be canonized.[7] The ceremony took place in Rome on Rosary Sunday, 11 October 2009, in the presence of King Albert II of the Belgians andQueen Paola as well as the Belgian Prime Minister, Herman Van Rompuy, and several cabinet ministers,[8][40] completing the process of canonization. In Washington, D.C., President Barack Obama affirmed his deep admiration for St. Damien, saying that he gave voice to voiceless and dignity to the sick.[41] Four other individuals were canonized with Father Damien at the same ceremony: Zygmunt Szczęsny Feliński, Sister Jeanne Jugan, Father Francisco Coll Guitart and Rafael Arnáiz Barón.[42]
Damien is honored, together with Marianne Cope, with a feast day on the liturgical calendar of the Episcopal Church (USA)on 15 April.
In arts and media
[
edit
]
Legacy and honors
[
edit
]
In 2005, Damien was honored with the title of De Grootste Belg, chosen as "The Greatest Belgian" throughout that country's history, in polling conducted by the Flemish public broadcasting service, VRT.[11] He ranked third on Le plus grand Belge ("The Greatest Belgian") in a poll by the French-speaking public channel RTBF.
With canonization highlighting his ministry to persons with leprosy, Father Damien in his work has been cited as an example of how society should minister to HIV/AIDS patients.[50] On the occasion of Damien's canonization, President Barack Obama stated, "In our own time, as millions around the world suffer from disease, especially the pandemic of HIV/AIDS, we should draw on the example of Father Damien's resolve in answering the urgent call to heal and care for the sick."[51] Several clinics and centers nationwide catering to HIV/AIDS patients bear his name.[52] There is a chapel named for him and dedicated to people with HIV/AIDS, in St. Thomas the Apostle Hollywood, an Episcopal parish.[53][54]
The Damien The Leper Society is among charities named after him that work to treat and control leprosy. Damien House, Ireland, is a centre for "peace for families and individuals affected by bereavement, stress, violence, and other difficulties with particular attention to Northern Ireland".[55] Saint Damien Advocates is a religious freedom organization that says it wants to carry on Father Damien's work with orphans and others.[56][57]
Schools named after him include Damien High School in Southern California and Damien Memorial School in Hawaii. The village of Saint-Damien, Quebec is also named after him. Churches worldwide are named after him.
St. Damien of Molokaʻi Catholic Church in Edmond, Oklahoma, dedicated in 2010, is believed to have been the first Roman Catholic church in the continental United States to be named for Saint Damien after his canonization. A Traditional Latin Mass church, it is operated by the Priestly Fraternity of St. Peter (FSSP) and was authorized in 2010 by Eusebius J. Beltran, Archbishop of Oklahoma City. The Catholic diocese of Pontiac, Michigan has a St. Damien parish.[58]
The Damien and Marianne of Moloka'i Heritage Center was established at the St. Augustine by the Sea Catholic Church in Honolulu. Marianne of Molokaʻi was canonized in 2012. The center is open several hours every day except holidays.[59]
See also
[
edit
]
References
[
edit
]
Sources
[
edit
]