Readings & Reflections: Ash Wednesday & Saints Cyril and Methodius; St. Valentine, February 14,2018
Born in Thessalonica of a senatorial family, brothers Cyril and Methodius began a mission to Moravia (present-day Czech Republic) in response to the request of Prince Ratislav for a "bishop and teacher… able to explain to them the true Christian Faith in their own language." Commissioned by the emperor at Constantinople, the Byzantine Greek brothers Cyril and Methodius undertook a mission to the Slavs in the ninth century. Accordingly, Cyril and Methodius set about translating the Scriptures into Old Slavonic language, using an alphabet devised by Cyril. After two successful years in Moravia (present-day Czech Republic), they traveled to Rome, where Pope Hadrian II approved the Slavonic liturgical books. Cyril died in Rome in 869 A.D. and Methodius continued in the missions, suffering imprisonment for two years by a neighboring German bishop until Pope John VIII intervened. Mthodius spent his final years creating the Nomokanon, a manual of Byzantine ecclesiastical and civil law. He died in 885 A.D. Saint John Paul II named Cyril and Methodius co-patrons of Europe, with Saint Benedict. The brothers' service to the peoples at the meeting point of East and West made them "authentic precursors of ecumenism."
We begin each Lent begging for "the blessing of forgiveness." God longs for us to return to him with our whole heart. For without such repentance we remain tormented by the question, "Where is our God?" God has not cast us out of his presence; rather, he desires us to "become the very holiness of God." The Father "who is hidden" waits for us to pray, "A clean heart create for me, O God." Then the way that we reach out to reality to become one with it will reveal God's saving Presence in every circumstance. "The joy of our salvation" begins today. Watch the video on Biblical Roots of Ash Wednesday click this link: http://www.pagadiandiocese.org/2017/02/24/the-biblical-roots-of-ash-wednesday/
AMDG+
Opening Prayer
"Lord, give me a lively faith, a firm hope, a fervent charity, and a great love for you. Take from me all lukewarmness in the meditation of your word, and dullness in prayer. Give me fervor and delight in thinking of you and your grace, and fill me with compassion for others, especially those in need, that I may respond with generosity" Amen.
Reading 1
Jl 2:12-18
Even now, says the LORD,
return to me with your whole heart,
with fasting, and weeping, and mourning;
Rend your hearts, not your garments,
and return to the LORD, your God.
For gracious and merciful is he,
slow to anger, rich in kindness,
and relenting in punishment.
Perhaps he will again relent
and leave behind him a blessing,
Offerings and libations
for the LORD, your God.
Blow the trumpet in Zion!
proclaim a fast,
call an assembly;
Gather the people,
notify the congregation;
Assemble the elders,
gather the children
and the infants at the breast;
Let the bridegroom quit his room
and the bride her chamber.
Between the porch and the altar
let the priests, the ministers of the LORD, weep,
And say, "Spare, O LORD, your people,
and make not your heritage a reproach,
with the nations ruling over them!
Why should they say among the peoples,
'Where is their God?'"
Then the LORD was stirred to concern for his land
and took pity on his people.
The word of the Lord.
Responsorial Psalm
Ps 51:3-4, 5-6ab, 12-13, 14 and 17
R. (see 3a) Be merciful, O Lord, for we have sinned.
Have mercy on me, O God, in your goodness;
in the greatness of your compassion wipe out my offense.
Thoroughly wash me from my guilt
and of my sin cleanse me.
R. Be merciful, O Lord, for we have sinned.
For I acknowledge my offense,
and my sin is before me always:
"Against you only have I sinned,
and done what is evil in your sight."
R. Be merciful, O Lord, for we have sinned.
A clean heart create for me, O God,
and a steadfast spirit renew within me.
Cast me not out from your presence,
and your Holy Spirit take not from me.
R. Be merciful, O Lord, for we have sinned.
Give me back the joy of your salvation,
and a willing spirit sustain in me.
O Lord, open my lips,
and my mouth shall proclaim your praise.
R. Be merciful, O Lord, for we have sinned.
Reading II
2 Cor 5:20-6:2
Brothers and sisters:
We are ambassadors for Christ,
as if God were appealing through us.
We implore you on behalf of Christ,
be reconciled to God.
For our sake he made him to be sin who did not know sin,
so that we might become the righteousness of God in him.
Working together, then,
we appeal to you not to receive the grace of God in vain.
For he says:
In an acceptable time I heard you,
and on the day of salvation I helped you.
Behold, now is a very acceptable time;
behold, now is the day of salvation.
The word of the Lord.
Gospel
Mt 6:1-6, 16-18
Jesus said to his disciples:
"Take care not to perform righteous deeds
in order that people may see them;
otherwise, you will have no recompense from your heavenly Father.
When you give alms,
do not blow a trumpet before you,
as the hypocrites do in the synagogues and in the streets
to win the praise of others.
Amen, I say to you,
they have received their reward.
But when you give alms,
do not let your left hand know what your right is doing,
so that your almsgiving may be secret.
And your Father who sees in secret will repay you.
"When you pray,
do not be like the hypocrites,
who love to stand and pray in the synagogues and on street corners
so that others may see them.
Amen, I say to you,
they have received their reward.
But when you pray, go to your inner room,
close the door, and pray to your Father in secret.
And your Father who sees in secret will repay you.
"When you fast,
do not look gloomy like the hypocrites.
They neglect their appearance,
so that they may appear to others to be fasting.
Amen, I say to you, they have received their reward.
But when you fast,
anoint your head and wash your face,
so that you may not appear to be fasting,
except to your Father who is hidden.
And your Father who sees what is hidden will repay you."
The Gospel of the Lord.
Reflection 1 – Hypocrisy
Hypocrisy is the main issue that comes to heart whenever I meditate on today's gospel scene.
Our relationship with God is something personal and private, something that is not public in nature yet also need to be properly witnessed and shared with those around us. It follows then that all our acts of righteousness, our good and godly acts, our charity towards others, our prayer life and devotion to God are to be done in the secrecy and privacy of our own hearts and confines of our being.
God expects us to witness to the world how we live our lives for Him. He also wants to use us as His instruments in drawing people closer to Him. The problem sets in when we endeavor to witness and share God with others. At times, in our brokenness and our sinfulness, we tend to parade our piety by trying to show off that we are of God and that we are His people. We over emphasize what we do and as some will say, we become "overacting" in our ways to impress not only God but His people. We do our godly works for public acclaim and praise.
Our motive is therefore to gain acceptance from the world and be popular in the eyes of people. We serve, nurture and nourish our pride rather than feed ourselves with the spirituality we all need to live righteous lives for our Lord. We strive to please people and our self-centered hearts rather than God.
Today, let us work together in the Name of our Lord with sincere hearts. Let us not receive the grace of God in vain but in the privacy of our hearts, humbly work for God and His people. And if we have sinned in the arrogance of our hearts and through our boastful hearts, let us be sorry for our transgressions and return to our Lord with our whole heart, with fasting, and weeping, and mourning.
Let us approach God's throne of mercy for we have sinned. Let us pray that in His goodness and in the greatness of His compassion that He wipes out our offense, thoroughly wash us from our guilt and of our sin cleanse us.
Let us pursue our holy and godly lives because we love God and we want to follow Him and please Him, and not for show.
Let us remember to be humble of heart so that our Father who sees what is hidden will repay us with His bountiful and endless blessings!
As we begin the penitential season of Lent, let us strive to cleanse our hearts of anything that separates us from God, be reconciled with Him and His people. Let us receive the Sacrament of Reconciliation not only to show our Lord how sorry we are for our sins but to always bring us into a realization that being one with God implies acknowledging our sinfulness, being sorry for them and living in truth!
Let us respond to God's invitation to examine the state of our hearts, our pride and arrogance and the authenticity of our very own discipleship in Christ.
Let us ask ourselves a very simple question and truly dwell on it:
How sincere and transparent are we in our service for God's flock?
"But when you fast, anoint your head and wash your face,
so that you may not appear to be fasting,
except to your Father who is hidden.
And your Father who sees what is hidden will repay you."
Direction
All our works for the Lord should be kept in the secrecy of our own hearts and not to gain public acclaim and acceptance. Be authentic in all relationships.
Repent and always remain reconciled with God.
Prayer
Heavenly Father, a clean heart create for me and a steadfast spirit renew within me. Cast me not out from your presence, and your holy spirit take not from me. Give me back the joy of your salvation and a willing spirit sustain in me as I pray all these in Jesus, My Lord and Savior. Amen.
Reflection 2 – 10 Things to Remember For Lent by Bishop Ricken
Remember the formula.The Church does a good job capturing certain truths with easy-to-remember lists and formulas: 10 Commandments, 7 sacraments, 3 persons in the Trinity. For Lent, the Church gives us almost a slogan—Prayer, Fasting and Almsgiving—as the three things we need to work on during the season.
It's a time of prayer.Lent is essentially an act of prayer spread out over 40 days. As we pray, we go on a journey, one that hopefully brings us closer to Christ and leaves us changed by the encounter with him.
It's a time to fast.With the fasts of Ash Wednesday and Good Friday, meatless Fridays, and our personal disciplines interspersed, Lent is the only time many Catholics these days actually fast. And maybe that's why it gets all the attention. "What are you giving up for Lent? Hotdogs? Beer? Jelly beans?" It's almost a game for some of us, but fasting is actually a form of penance, which helps us turn away from sin and toward Christ.
It's a time to work on discipline. The 40 days of Lent are also a good, set time to work on personal discipline in general. Instead of giving something up, it can be doing something positive. "I'm going to exercise more. I'm going to pray more. I'm going to be nicer to my family, friends and coworkers.
 It's about dying to yourself. The more serious side of Lenten discipline is that it's about more than self-control – it's about finding aspects of yourself that are less than Christ-like and letting them die. The suffering and death of Christ are foremost on our minds during Lent, and we join in these mysteries by suffering, dying with Christ and being resurrected in a purified form.
Don't do too much. It's tempting to make Lent some ambitious period of personal reinvention, but it's best to keep it simple and focused. There's a reason the Church works on these mysteries year after year. We spend our entire lives growing closer to God. Don't try to cram it all in one Lent. That's a recipe for failure.
Lent reminds us of our weakness. Of course, even when we set simple goals for ourselves during Lent, we still have trouble keeping them. When we fast, we realize we're all just one meal away from hunger. In both cases, Lent shows us our weakness. This can be painful, but recognizing how helpless we are makes us seek God's help with renewed urgency and sincerity.
 Be patient with yourself. When we're confronted with our own weakness during Lent, the temptation is to get angry and frustrated. "What a bad person I am!" But that's the wrong lesson. God is calling us to be patient and to see ourselves as he does, with unconditional love.
Reach out in charity. As we experience weakness and suffering during Lent, we should be renewed in our compassion for those who are hungry, suffering or otherwise in need. The third part of the Lenten formula is almsgiving. It's about more than throwing a few extra dollars in the collection plate; it's about reaching out to others and helping them without question as a way of sharing the experience of God's unconditional love.
 Learn to love like Christ. Giving of ourselves in the midst of our suffering and self-denial brings us closer to loving like Christ, who suffered and poured himself out unconditionally on cross for all of us. Lent is a journey through the desert to the foot of the cross on Good Friday, as we seek him out, ask his help, join in his suffering, and learn to love like him.
Reflection 3 – When you pray, fast, and give alms
Are you hungry for God and do you thirst for his holiness? God wants to set our hearts ablaze with the fire of his Holy Spirit that we may share in his holiness and radiate the joy of the Gospel to those around us. St. Augustine of Hippo tells us that there are two kinds of people and two kinds of love: "One is holy, the other is selfish. One is subject to God; the other endeavors to equal Him." We are what we love. God wants to free our hearts from all that would keep us captive to selfishness and sin. "Rend your hearts and not your garments" says the prophet Joel (Joel 2:12). The Holy Spirit is ever ready to transform our hearts and to lead us further in God's way of truth and holiness.
Devoting our lives to God
Why did Jesus single out prayer, fasting, and almsgiving for his disciples? The Jews considered these three as the cardinal works of the religious life. These were seen as the key signs of a pious (godly) person, the three great pillars on which the good life was based. Jesus pointed to the heart of the matter. Why do you pray, fast, and give alms? To draw attention to yourself so that others may notice and think highly of you? Or to give glory to God? The Lord warns his disciples of self-seeking glory – the preoccupation with looking good and seeking praise from others. True piety is something more than feeling good or looking holy. True piety is loving devotion to God. It is an attitude of awe, reverence, worship and obedience. It is a gift and working of the Holy Spirit that enables us to devote our lives to God with a holy desire to please him in all things (Isaiah 11:1-2).
Fulness of life with God our Father
What is the sure reward which Jesus points out to his disciples? It is communion with God our Father. In him alone we find the fulness of life, happiness, and truth. May the prayer of Augustine of Hippo, recorded in his Confessions, be our prayer this Lent: When I am completely united to you, there will be no more sorrows or trials; entirely full of you, my life will be complete. The Lord wants to renew us each day and give us new hearts of love and compassion. Do you want to grow in your love for God and for your neighbor? Seek him expectantly in prayer, with fasting, and in generous giving to those in need.
In the wilderness of prayer and fasting with Jesus
The forty days of Lent is the annual retreat of the people of God in imitation of Jesus' forty days in the wilderness. Forty is a significant number in the Scriptures. Moses went to the mountain to seek the face of God for forty days in prayer and fasting. The people of Israel were in the wilderness for forty years in preparation for their entry into the promised land. Elijah fasted for forty days as he journeyed in the wilderness to the mountain of God. We are called to journey with the Lord in a special season of prayer, fasting, almsgiving, and penitence (expressing true sorrow for sin and wrongdoing) as we prepare to celebrate the feast of Easter, the Christian Passover of Jesus' victory over sin, Satan, and death.
Growing in lively faith, firm hope, and fervent charity
The Lord Jesus gives us spiritual food and supernatural strength (faith, hope, and love) to seek his face and to prepare ourselves for spiritual combat and testing. We, too, must follow in the way of the cross in order to share in the victory of Christ's death and resurrection. As you begin this holy season of testing and preparation, ask the Lord Jesus for a fresh outpouring of his Holy Spirit so that you may grow in faith, hope, and love and embrace his will more fully in our lives.
"Lord Jesus, give me a lively faith, a firm hope, a fervent charity, and a great love of you. Take from me all lukewarmness in the meditation of your word, and dullness in prayer. Give me fervor and delight in thinking of you and your grace, and fill me with compassion for others, especially those in need, that I may respond with generosity." – Read the source: http://dailyscripture.servantsoftheword.org/readings/2018/feb14.htm
Reflection 4 – Ambassadors for Christ
Ash Wednesday makes one's faith very visible and public. Not offensively — but also not easy to miss — the sign of our faith shows up in the office, at school, on buses and subways, in lines at the grocery store, or at the gas station. This small symbol of the cross of ashes on our foreheads expresses an important truth: Faith doesn't happen only at church, but lives among us, in public, every day.
The Scripture texts for the liturgy of Ash Wednesday do not only remind us of sin and death; they are a loud call to overcome sin, to be converted to Christ and the Gospel and to prepare for the new life of Easter. I would like to offer some reflections on what it means to be reconciled to God, to be an "Ambassador for Christ" (2 Corinthians 5:20-21), and the meaning of authentic piety and devotion as outlined in Matthew's Gospel text for today's liturgy (6:1-6, 16-18). I will conclude with some thoughts on Benedict XVI's profound 2010 Lenten reflection on God's justice.
Be reconciled to God!
Today — the liturgy tells us — is the "acceptable time" for our reconciliation with God. Reconciliation is a gratuitous gift of God. Reconciliation must involve everyone: individuals, families, nations and peoples.
In the passage from 2 Corinthians 5:20-21, Paul encouraged the fractious Corinthian community to recognize that God has "reconciled us to himself through Christ, and has given us the ministry of reconciliation" (5:18). Paul speaks of "the new creation in Christ" (cf. 2 Corinthians 5:17) and goes on to tell us: "God in Christ was reconciling the world to himself, not holding individuals' faults against them, and he has entrusted to us the news that we are reconciled. […] The appeal we make in Christ's name is: be reconciled to God" (2 Corinthians 5:19-20).
When we speak of the world as reconciled to God, we are speaking not only of individuals but also of every community: families, communities, clans, tribes, nations and states. In his providence, God made covenant after covenant with the human family: the covenant with our first parents in the Garden of Eden; the covenant with Noah after the Flood and the covenant with Abraham. In the Book of Joshua we learn about the covenant made with Israel, when Moses led the Israelites out of slavery in the land of Egypt. And God has now made the final and definitive covenant with all of humanity in Jesus Christ, who reconciled individual men and women — as well as entire nations — to God by his Passion, Death and Resurrection.
In the sacrament of the Eucharist, we celebrate the mystery of our redemption and full reconciliation with God. It is through his passion, death and resurrection that Jesus has saved the world. Before receiving the body and blood of the Lord, we show that we are at peace with one another. The Eucharist is celebrated by a reconciled community. When the celebration is ended, we are sent out to spread this peace and message of reconciliation to others.
Mission of high rank
Because we have been entrusted with this message of reconciliation, we are "ambassadors for Christ" (5:20). The mission that we have been given is one of high rank. It is a mission that ennobles us. Because we have been called to be ambassadors, we have to be true and loyal to the one we represent. An ambassador is known by his or her credentials. Ambassadors must give credible proof that they have been sent. As ambassadors of Christ we too must give proof of our mission. And the greatest proof is our own fidelity to the Christian way of life.
If we are reconciled with God, with ourselves and with others, and if we in turn foster Christ's reconciliation in society, we can make a convincing claim to be ambassadors of the Prince of Peace. Just as God took the initiative in sending his son to reconcile the world, so he expects us to take the initiative to restore harmony to a broken world and an often-divided Church.
Can we apply this Christian vision, this wonderful mission of reconciliation, to our own situations? Can we put it into practice among family, friends and community members and try over and over again when we fail? It is very sad when grudges are carried for long periods of time, when people refuse to speak together, when the joy of attending reunions or celebrations is denied someone, perhaps for a misdemeanor that occurred long ago and whose circumstances are practically forgotten!
Process of self-denial
Matthew's Gospel (6:1-6, 16-18) issues a warning against doing good in order to be seen and gives three examples for right living: prayer, fasting and almsgiving. In each, the conduct of the hypocrites (6:2) is contrasted with the behavior demanded of the disciples. The sayings about reward found here and elsewhere (Matthew 5:12, 46; 10:41-42) show that this is a genuine element of Christian moral exhortation.
Let us look closely at what the Gospel demands of us in this threefold process of self-denial: we must pray: "Go to your room, close the door, and pray to your Father in private." We must fast: "No one must see you are fasting but your Father." We must give alms: "Keep your deeds of mercy secret, and your Father who sees in secret will repay you."
There is nothing ambiguous about what is required of us this season. Prayer, fasting and almsgiving are the pillars of the Lenten journey for Christians. This is the piety, the devotion and the sincerity that the Lord seeks from us this Lent.
God's justice
Benedict XVI's 2010 Lenten message, the Church presents us with the spiritual context of the Lenten Season. This year, the Pope's message takes up the great theme of justice, beginning from St. Paul's affirmation: "The justice of God has been manifested through faith in Jesus Christ" [cf. Romans 3:21-22]. Conversion to Christ gives people the strength to break the bonds of selfishness and work for justice in the world. The Pope's message is above all a challenge to our willingness to entrust ourselves to God and to believe in him.
Benedict XVI reminds us that what we need most cannot be guaranteed to us by law. "In order to live life to the full, something more intimate is necessary that can be granted only as a gift: We could say that man lives by that love which only God can communicate since He created the human person in His image and likeness. Material goods are certainly useful and required — indeed Jesus Himself was concerned to heal the sick, feed the crowds that followed Him and surely condemns the indifference that even today forces hundreds of millions into death through lack of food, water and medicine — yet 'distributive' justice does not render to the human being the totality of his 'due'. Just as man needs bread, so does man have even more need of God."
The Holy Father says: "Conversion to Christ, believing in the Gospel, ultimately means this: to exit the illusion of self-sufficiency in order to discover and accept one's own need — the need of others and God, the need of his forgiveness and his friendship."
In these words — charity, solidarity, fraternity — lie the key to a true understanding of the responsibility of Christians in the world. Solidarity or charity implies the responsibility to defend and protect the universal dignity of any human being anywhere in the world under any circumstances.
Pieties and devotions
Lent is the opportune time to examine our pieties and devotions, and to ask if our lives are truly animated by Gospel justice and charity that find their fullest expression in the Eucharistic banquet.
During this season we are invited to establish or rebuild our pieties and devotions: more focused prayer, more frequent celebrations of the Sacrament of Reconciliation; praying the ancient devotion of the Via Crucis (Stations of the Cross). We cannot choose a piety or devotion out of fear — and woe to those who choose such out of fear and claim they do it out of religion!
In celebrating the Sacrament of Reconciliation we are also showing that we are aware that we belong to the Church. There is a triple dimension to confessing our sins. First a confession of praise: we praise God for all the good things that we see in our life. Second, there is a confession of sin: We acknowledge in all simplicity, and with sorrow, our failings. Third, there is a confession of faith: we put our trust in God who has sent his Son to overcome sin. Our theme song for Lent is not "We Shall Overcome," but rather, "God, in Christ, Will Overcome in Us" — if we allow Him to do so (Source: Fr. Thomas Rosica, FEB. 16, 2010, Zenit.org).
Reflection 5 – A Place To Grow
Your Father who sees in secret will reward you openly. –Matthew 6:18
"I'm limited," you say. You are frustrated by the cramping restrictions of age, illness, a difficult child, or an uncooperative spouse. Perhaps you are housebound or bedridden and feel you have no place to serve.
Your limited place need not limit you. Embrace it as a place to grow. Don't worry about what people around you may think. God sees what is done "in secret" and He will reward you in due time (Matthew 6:18).
In fact, our restrictions are part of God's plan to mature us—to draw us away from our preoccupation with being seen and heard by others. If we pray, give, or fast to increase others' estimation of us, we will miss God's blessing. If we are concerned about enhancing our reputation, we lose the good that God has promised to give us.
God always rewards hidden spirituality. He hears every private prayer; He recognizes every secret gift; He notes and richly rewards each unseen act of devotion. You will be strengthened, and the Lord will make you all that He wants you to be.
The bottom line is this: The things that are done for God's eyes are the things that matter. So, settle into that secret place where God alone sees and knows.
Jesus has called me to be at my best,
Living for Him when at work or at play;
He knows my heart, and in that I can rest—
Why should I worry what others may say?
To know that God sees us brings both conviction and comfort (Source: Our Daily Bread, RBC Ministries).
Reflection 6 – For His Eyes Only
Your Father who sees in secret will reward you openly. —Matthew 6:18
Typically, as we age we lose our prominence and our positions of influence. Even those of us who have never sought the limelight seem increasingly to fade into the shadows.
Obscurity and anonymity are good, however, for it is difficult to perform in public without wondering what impression we're making on others. We fret over the extent that our reputations are being enhanced or damaged. And therein lies our peril: To the degree that we seek human recognition, we forfeit God's approval. On the other hand, to lose the admiration of men and women may turn us to seek God's approval only.
Here is a test for our gifts, our prayers, our fasts: Are they done for God's eyes only? If so, though overlooked and unnoticed by others, we have our Father's acknowledgment and reward.
Three times Jesus repeated to His disciples: "Your Father who sees in secret will reward you openly" (Matt. 6:4,6,18). This is our assurance as well. Every unobserved gift of time, energy, and love; every petition we whisper in our Father's ears; every secret, inward struggle against sin and self-indulgence will be fully rewarded in due time. In the end, His "Well done, good and faithful servant" is all that will matter (Matt. 25:21). — David H. Roper
All service rendered to the Lord
Is sure to gain His rich reward;
And if we work with motives pure,
Our weakest efforts will endure. —D. De Haan
There is no reward from God to those who seek it from men. —Spurgeon (Source: Our Daily Bread, RBC Ministries).
Reflection 7 – Recognizing Christ's Ultimate Sacrifice for Each of Us
Purpose: In Lent, we must keep the Cross before our eyes so that each day we can draw closer to God and move further away from our sins, in preparation for the great feast of Easter.
We are all going to die. That reality is one that has motivated every major quest of mankind, either trying to avoid it, or searching for meaning in it. Today, we enter into a season that calls to mind, and more than that, actually relives the reality that even God himself was not willing to be exempt from this fundamental human experience. In death, humanity is tempted to see its final limit, the point past which nothing else is possible. Throughout history, great men have tried to overcome death, or at least, to forget about it for a while, but the reality stands ever-looming, and must ultimately be acknowledge for what it is: inevitable.
In this season of Lent, the Church asks us to do something very difficult. We temporarily put aside the joy of Easter Sunday, and our knowledge of the Resurrection, to walk with Christ and allow ourselves to tremble again at the Wood of the Cross. But we don't do so out of morbidity or hatred of life. Rather, we do so to gain the perspective of those first disciples who walked with Christ toward his Cross in Jerusalem. They were there, if at a distance, when he hung his head and breathed his last. And they witnessed something beyond imagining. What seemed to be defeat was swallowed up in victory. The cry of "all is lost" was replaced by the victory shout of "We have won!" And why? All because that "bleeding head so wounded, reviled, and put to scorn" did not hesitate to enter into our world of suffering and sin, in order to raise it up at last to him.
And so we see that, entering into this season of penance is far from an obsession with death, or a doubt about the Resurrection. It is quite the opposite, preparing us to celebrate all the more fervently the feast of our triumph when Easter arrives. We kneel before the Cross of Christ because that is where we find the consolation of a God who suffers with us. By our sinfulness, the only thing we can really call our own is that we have placed him on that Cross, but by his love, the only Love which can truly deserve the name, he has overcome the power of death itself. And he did so through the Cross, through the death he chose to suffer. We can never forget or ignore that Wood made beautiful by the Body of our Savior.
This is the great gift which God holds out to us, and which St. Paul urges us not to receive in vain. These 40 days are all about purifying our intentions, cleansing us of whatever keeps us far from God, and opening our hearts to receive him more perfectly. As the Lord proclaims through the prophet Joel, "return to me with your whole heart, with fasting, and weeping, and mourning; Rend your hearts, not your garments, and return to the Lord, your God." The death of Jesus on the Cross was for me and for you, individually. If I were the only person in the world in need of salvation, Jesus would have submitted to undergo the exact same Passion just for me, and the same can be said for you. Each of us can look at him and truthfully say, "He is doing this for me." How could we waste this opportunity to turn away from our sins, and turn back to him? Back to our God who is "gracious and merciful … slow to anger, rich in kindness, and relenting in punishment."
When we consider all of this, isn't it strange that we, humanity, could still be so cold, so ungrateful, so unloving, so sinful still today? How can we remain unmoved in the face of such great love, such self-sacrificing redemption? I don't believe it's because we think about these things and choose to reject his love; at least, that's not very common. Rather, we all too often simply don't think of them at all. Certainly, when we stop to contemplate our Lord's passion today we can't help but feel his love burning in our hearts, but tomorrow, unless we renew those thoughts, we'll forget, and the flame will die down again. Then, in a few days, when some strong, attractive temptation comes along, we may give in without a thought of Jesus and his sufferings, and the smoldering spark of love that still remains might be extinguished altogether.
Today, then, and each day this Lent, we must keep the Cross of Christ, that glorious symbol of our salvation, before our eyes. Through fasting, prayer, and almsgiving we can turn back to him and beg, "Be merciful, O Lord, for we have sinned." And if we do that, when Easter arrives, we truly will have reason to rejoice. We will relive the experience of those first disciples who saw the triumph of life over death, the glorious resurrection of Jesus Christ. But it all begins today, as we set that glory aside for a time, for "Behold, now is a very acceptable time … now is the day of salvation."
Suggestions for Further Reading: Joseph Ratzinger, Dogma and Preaching: Applying Christian Doctrine to Daily Life, (San Francisco: Ignatius Press, 2011), Ch. 25, 26.
Read the source: http://www.hprweb.com/2016/02/homilies-for-february-2016/
Reflection 8 – Grow in faith this Lent!
This Lent can be a passageway from grief to healing, from anger to peace, from worry to relief. How? By using the opportunities our Church provides to grow in faith. Day by day we will journey with Jesus as he teaches us to rise above our crosses by first embracing them in redemptive holiness and then by entering into the resurrection of Christ. If we do this, we will discover tremendous blessings that we cannot yet imagine.
What crosses are you carrying? When we take time to notice how our sufferings connect us to the passion and death of Jesus, we unite ourselves to his resurrection, and we experience the kingdom of heaven now, here on earth.
In today's Gospel reading, Jesus gives us a walking staff for this journey. It has three parts. The top section, like a shepherd's crook, is almsgiving — this will bend our heavenward heart back to earth. Our Christ-like generosity allows us to bring heaven's relief to others. The middle section is fasting — this is what gives strength to the staff. The bottom of it is prayer — this is what grounds us.
ALMSGIVING is a gift that we give to God in thanksgiving for his generosity toward us. Jesus describes two different "rewards": (1) the repayment received by the Pharisees and (2) the recompense given to those whose generosity is based on love. Those who give lovingly are friends of God, and since friends share freely with each other, we are generous with our time, our patience, our talents, our money, or whatever else God has given to us that others need. Such love opens our hearts to receive more of God's love.
PRAYER can be motivated by a right attitude or a wrong attitude. Do we pray with pious words and appropriate gestures in order to get people's approval? Do we make the sign of the cross when we pray because we think it will improve our chances to get what we asked for? Do we recite formula prayers over and over to convince God to pay us heed? Or is our prayer time truly an intimate communication with the One whom we cherish most dearly?
FASTING is valuable only if it helps us purify our souls. If we fast so that others will think we're good Catholics, it's worthless. Fasting originated in Jewish history as a personal sacrifice on the Day of Atonement — the annual day for the forgiveness of sins — to show God humility and repentance. Today, fasting is recommended by the Church as a means of acquiring "mastery over our instincts and freedom of heart" (Catechism paragraph 2043). In other words, fasting helps us enter into greater conversion.
This three-part walking staff is necessary for our journey, because it enables us to deepen our faith. Almsgiving becomes faith growth when we make sacrifices for the sake of loving others. Praying becomes faith growth when we sacrifice our selfish use of time for the sake of loving God. Fasting becomes faith growth when we sacrifice our desire for self-centered pleasures, represented by our enjoyment of favorite foods, for the sake of strengthening our resolve to become more like Christ. – Read the source: http://gnm.org/good-news-reflections/?useDrDate=2017-03-01
Reflection 9 – How healing will your Lent be this year?
What victory do you need? What needs to be resurrected in your life?
For Easter to be more than just a day of colored eggs, fattening chocolates and big dinners, Lent needs to be more than just 40 days of obligatory sacrifices like meatless pizza on Fridays.
To experience the joy and power of resurrection, we have to take a journey through the experience of mourning and repentance. We have to experience the powerlessness of death: the death of our selfishness, the death of our worldliness, the death of behaviors that are not Christ-like.
In today's first reading, God beckons: "Return to me with your whole heart, with fasting, and weeping, and mourning." Fasting is worthwhile only if it improves our self-discipline so that we can resist sin and grow in holiness. We're hypocrites, like Jesus describes in today's Gospel passage, if fasting produces no inner changes.
What will your journey through Lent be like this year? What daily exercises will promote greater holiness? Here's a suggestion: Identify one fault — just one for now: one selfish behavior or one fear or one flaw or one unloving habit — and choose a daily activity or an abstinence for the duration of Lent that will help you overcome this behavior.
Tell God about this fault. He is beckoning: "Return to me with your whole heart, with fasting, and weeping, and mourning."
The readings from Joel and Psalm 51 remind us that God is merciful toward those who recognize their sinfulness and regret it so much that they're truly motivated to change. Dealing with our need to change can feel overwhelming and shameful, but if we keep our focus on God's mercy, we feel helped, healed, and finally resurrected.
By identifying and working on just one sinful tendency as our Lenten project, we can give it to Jesus, and by the end of Lent nail it to his cross and hear him offer it to God as he cries out, "Father forgive them….!" It will die with Jesus, and we'll be resurrected to a new life, a new level of holiness, a new closeness with Christ.
On Ash Wednesday, as you receive and wear your ashes, do it fully conscious of your need for forgiveness, with a commitment to overcome a significant sin by Easter.
Why do we keep the black smudges on our foreheads all day? Not to win the admiration of others. It's a sign that we know we need to change! Otherwise, we should do as Jesus said: "When you fast, see to it that you … wash your face" so that no one but God will know what you are doing. – Read the source: http://gnm.org/good-news-reflections/?useDrDate=2018-02-14
To deepen your experience of Christ this Lent, see our Lenten videos, WordBytes, and meditations online at wordbytes.gnm.org/Lent/
Reflection 10 – "For our sake he made him to be sin who did not know sin…."
I used to be embarrassed to admit this, but Lent is my favorite season of the Church's year. The older I get, the more I find others who think likewise. Wondering about this, I've come to think that Lent is a "diamond in the rough". Hidden beneath its harsh exterior, Lent offers some of the Church's most profound riches. Here's an example.
In today's First Reading is a verse that's also chanted within one of the antiphons for the Blessing and Distribution of Ashes. "Let the priests, the ministers of the Lord, stand between the porch and the altar and weep and cry out: Spare, O Lord, spare your people". This sentence speaks to the Old Testament priest's role among God's People. First, it reveals that the Old Testament priest physically stands between the porch and the altar—between God's People and the place of sacrifice to God—to act as the Prophet Joel describes.
There, the Old Testament priest weeps and cries out on behalf of God's sinful people. While this weeping and crying is not part of his official "job description," which, in fact, centers on the offering of sacrifice, these actions are clearly bound up with the priest's role as mediator. This is true because the sins of God's People are the reason that he stands where he does: between them and the Lord God, weeping, crying, and, finally, offering sacrifice.
Yet while this Old Testament background is important, the Church proclaims this verse from the Prophet Joel today in order to point our attention to the priesthood of Jesus Christ.
One phrase in particular from today's Second Reading forces us to reckon with the depth of Jesus' priesthood. What does Saint Paul mean when, speaking about God the Father and the Son, he states that "For our sake He made Him to be sin who did not know sin"? This saving truth reminds us about three distinct forms of humility that Jesus accepted for our salvation, by which He stands between sinful man and the divine Father.1
First, we need to reflect upon God the Son humbling Himself to become human at the Annunciation. Jesus stands between God and man as True God and true man. For scriptural meditation on this saving mystery during Lent, we might use the prologue of St. John's Gospel account or the canticle of Christ's humility found in Philippians.2
Then, more than thirty years after His conception, this divine Word made Flesh offered up His life on the Cross. We need to reflect upon Jesus' humility on Calvary. Upon the Cross, Jesus is not an Old Testament priest, crying and weeping and offering a dumb animal in sacrifice. In humility, the Word made Flesh sacrifices His own Body and Blood, soul and divinity. To reflect on this saving mystery, we might use the Passion narrative from any of the four Gospel accounts.3
But be careful! Within this second form of Jesus' humility is a third: a mystery that we must not underestimate. Again, in speaking about the Father sending His divine Son to save us, the Apostle declares: "For our sake he made him to be sin who did not know sin".
Often when we meditate upon the Passion of the Christ—say, for example, during the Stations of the Cross—we are impressed by how awfully man's sins affect Jesus. We might imagine the Cross as "containing" our sins, so that the physical weight of Jesus' heavy cross symbolizes the spiritual weight of all mankind's sins. Or we might imagine each lash from the Scourging at the Pillar as representing an individual sin. But while those images may help us meditate upon the meaning of the Passion, St. Paul is saying something even more profound.
God the Father made His divine Son "to be sin": not only to carry sin, or be wounded by sin, but to be made sin. Jesus, who from before time began was true God, stands not only in the place of sinners, but in the place of sin. This is where He offers sacrifice as a new and everlasting priest. His stance between merciful grace and man's sins brings together both in Himself, where the former destroys the latter.
But how can we human beings with our minds dimmed by sin even fathom what it means for the Father to make His Son sin? How could someone even begin to reflect on the depth of this saving mystery? One way is by asking "Why?"
"Why did God the Son humble Himself to become human? Why did Jesus sacrifice Himself on Calvary? Why did the Father make His only-begotten Son to be sin?" The answer, of course, is God's divine love for sinful human persons. But the depth of such love for us sinners is even more unfathomable than that of the Father making His divine Son sin. What response can we make to these mysteries of our Faith?
The only fitting response is to enter into these mysteries. Each of us must enter into Christ: into the One who is divine love begotten by the Father, who is human by the mission received from His Father, yet who is made sin by the Father for our salvation. Christ's stances in each of these three—begotten, sent to become man, and made sin by the Father—suggest three paths leading to the Father's love. During Lent, set forth upon all three.
The third is conversion: the turning of one's heart, mind, soul and strength from one's sins to God. How blessed we are as Catholics to have the Sacrament of Confession to lead us in this on-going effort of conversion! Before this coming Sunday, mark on your calendar the date when you will make your next confession.
Second, good works move oneself closer to the Father by putting into practice Jesus' words in today's Gospel passage. Prayer, fasting, and almsgiving have tremendous power—when done in secret, out of human love for "your Father who is hidden"—to prepare us for growth in the Father's love. Find a list of the Corporal and Spiritual Works of Mercy and choose one of the Corporal Works and one of the Spiritual Works to focus upon more intently during Lent.
Above all is God's grace. God's grace is His alone, of course. You can do nothing to earn it or achieve it. Yet this is what God wants for you most of all. Everything you do can only dispose yourself to accept God's grace, to act upon His grace, and to make His grace your life. Stand fast in Christ throughout this holy season of Lent. Seek the meaning of your life where Jesus stands. – Read the source: http://www.hprweb.com/2017/02/homilies-for-march-2017/
Reflection 11 – Return to the Lord
"Return to me with all your heart… return to the Lord" (Jl 2:12, 13). The prophet Joel makes this plea to the people in the Lord's name. No one should feel excluded: "Assemble the aged, gather the children, even infants at the breast, the bridegroom… and the bride" (v. 16). All the faithful people are summoned to come and worship their God, "for he is gracious and merciful, slow to anger and abounding in steadfast love" (v. 13).
We too want to take up this appeal; we want to return to the merciful heart of the Father. In this season of grace that begins today, we once again turn our eyes to his mercy. Lent is a path: it leads to the triumph of mercy over all that would crush us or reduce us to something unworthy of our dignity as God's children. Lent is the road leading from slavery to freedom, from suffering to joy, from death to life. The mark of the ashes with which we set out reminds us of our origin: we were taken from the earth, we are made of dust. True, yet we are dust in the loving hands of God, who has breathed his spirit of life upon each one of us, and still wants to do so. He wants to keep giving us that breath of life that saves us from every other type of breath: the stifling asphyxiabrought on by our selfishness, the stifling asphyxia generated by petty ambition and silent indifference – an asphyxia that smothers the spirit, narrows our horizons and slows the beating of our hearts. The breath of God's life saves us from this asphyxia that dampens our faith, cools our charity and strangles every hope. To experience Lent is to yearn for this breath of life that our Father unceasingly offers us amid the mire of our history.
The breath of God's life sets us free from the asphyxia that so often we fail to notice, or become so used to that it seems normal, even when its effects are felt. We think it is normal because we have grown so accustomed to breathing air in which hope has dissipated, the air of glumness and resignation, the stifling air of panic and hostility.
Lent is the time for saying no. No to the spiritual asphyxia born of the pollution caused by indifference, by thinking that other people's lives are not my concern, and by every attempt to trivialize life, especially the lives of those whose flesh is burdened by so much superficiality. Lent means saying no to the toxic pollution of empty and meaningless words, of harsh and hasty criticism, of simplistic analyses that fail to grasp the complexity of problems, especially the problems of those who suffer the most. Lent is the time to say no to the asphyxia of a prayer that soothes our conscience, of an almsgiving that leaves us self-satisfied, of a fasting that makes us feel good. Lent is the time to say no to the asphyxia born of relationships that exclude, that try to find God while avoiding the wounds of Christ present in the wounds of his brothers and sisters: in a word, all those forms of spirituality that reduce the faith to a ghetto culture, a culture of exclusion.
Lent is a time for remembering. It is the time to reflect and ask ourselves what we would be if God had closed his doors to us. What would we be without his mercy that never tires of forgiving us and always gives us the chance to begin anew? Lent is the time to ask ourselves where we would be without the help of so many people who in a thousand quiet ways have stretched out their hands and in very concrete ways given us hope and enabled us to make a new beginning?
Lent is the time to start breathing again. It is the time to open our hearts to the breath of the One capable of turning our dust into humanity. It is not the time to rend our garments before the evil all around us, but instead to make room in our life for all the good we are able to do. It is a time to set aside everything that isolates us, encloses us and paralyzes us. Lent is a time of compassion, when, with the Psalmist, we can say: "Restore to us the joy of your salvation, sustain in us a willing spirit", so that by our lives we may declare your praise (cf. Ps 51:12.15), and our dust – by the power of your breath of life – may become a "dust of love". (Source: Pope Francis https://zenit.org/articles/popes-homily-at-ash-wednesday-mass-at-basilica-of-st-sabina-allaventino/).
Reflection 12 – A time to grow
"Behold, now is a very acceptable time; behold, now is the day of salvation" (2 Cor 6:2).
A mother and her 3-year-old daughter were watching Show White and the Seven Dwarfs for the first time together. The wicked queen appeared disguised as an old lady selling apples, and the daughter was spellbound. The Snow White took a bite out of the poisoned apple and collapsed to the ground. As the apple rolled away, the daughter whispered, "See, Mommy, she doesn't like the skin either."
Maybe you have an aversion to Lent. You just don't like it. Perhaps Lent is too much of an intrusion into your daily routine and you prefer to ignore it. That would be a mistake. We need Lent, but we should understand why.
Lent is a special time, an "acceptable time" to grow, to change, to seek more earnestly the face of the Lord. And it is not just "my" private time, but rather is "our" time, the Church's time, the time in which as sisters and brothers throughout the world, we repent and believe the good news.
"Father, help me to appreciate the need for Lenten prayer, meditation and discipline. Show me how I need to grow – and give me the grace to do so. May this Lent be for me and for all Christians as special time of salvation. In Jesus' name, Amen." (Fr. Thomas Connery, Lenten Light Reflections and Prayers).
Reflection 13 – How to Prepare for the Next 40 Days
Be patient with these 40 days and allow the emptying process takes place. – by
Sherry Antonetti
The goal of Lent is to go into the desert, to allow ourselves to experience emptiness. We can't hear God if we're not listening. We won't recognize our need for God unless we allow ourselves to become aware of our own lacking. In a culture that almost demands we be sated, stimulated and entertained 24/7, opting not to instantly gratify anything becomes an almost radical act of the will. It's also an opportunity to really recognize, all we can offer, is our will to God.
How can we make sure this Lent is a fruitful one?
Begin with the question, "What is keeping me from a deeper relationship with Christ?" and start looking for the answer. Each of us struggles with the "thorn in our flesh" Saint Paul describes, and which we can only overcome by cooperating with God's grace (which is always sufficient). What are my attachments? What are my idols? What keeps me at a distance from God? What keeps me from going deeper and deeper in? What sin strangles my faith? What sin hinders my ability to love God and others?
There are some things we can do, to help ourselves to a more fruitful Lent.
(1) Proclaim a fast from noise, both visual and auditory in nature, even if only for 10 minutes a day. Cultivate quiet. Lent is the antidote for the craziness of modern life, in that it demands we not allow ourselves to be diverted or distracted by all we have at our fingertips. It may be in adoration, it may be on your drive to work, it may be while you exercise or 15 minutes before everyone else gets up for their day, but seek silence.
(2) Give beyond what is organic. It's easy to just put over whatever one has in one's wallet at the offertory, or grab a can or two off the shelf for the food drive once a week. Instead, plan a gift with your family, from your grocery budget, of a meal, or a day of meals if you can. Make it a deliberate part of your Lenten experience to surrender the cheese pizza or the latte and place that money somewhere where it can feed someone who doesn't have such a luxury or offer a new shirt, rather than merely the ones you've outgrown or dislike. Give cheerfully, give generously, and give regularly, so that it becomes something you do, something which becomes part of how you live.
(3) Pray often. Pray daily. Whether via Scripture or listening to the Rosary, attending a daily Mass, reading reflections or the Divine Office, there are countless vehicles for prayer. Laudate and the Divine Office are two great apps for your phone, and the Magnificat is an awesome way to get little snatches of prayer in throughout the busy day.
The three temptations for Christ in the desert offered by the devil were pleasure, (which we seek to fight through fasting), power (which we seek to fight by alms giving or service) and pride (which we seek to fight through prayer). We come to Ash
Wednesday
knowing we have appetites for physical things like those foods/attachments which we know we indulge in as a form of comfort. We come to Ash
Wednesday
knowing we often let the world become the master of our lives. We need Lent to reorient our hearts, to allow Christ to pour something in.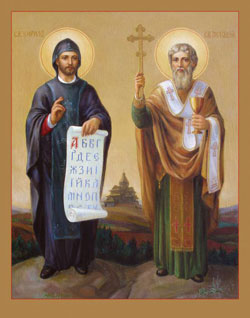 Reflection 14 – Sts. Cyril and Methodius (d. 869; d. 884) & St. Valentine
Because their father was an officer in a part of Greece inhabited by many Slavs, these two Greek brothers ultimately became missionaries, teachers and patrons of the Slavic peoples.
After a brilliant course of studies, Cyril (called Constantine until he became a monk shortly before his death) refused the governorship of a district such as his brother had accepted among the Slavic-speaking population. Cyril withdrew to a monastery where his brother Methodius had become a monk after some years in a governmental post.
A decisive change in their lives occurred when the Duke of Moravia (present-day Czech Republic) asked the Eastern Emperor Michael for political independence from German rule and ecclesiastical autonomy (having their own clergy and liturgy). Cyril and Methodius undertook the missionary task.
Cyril's first work was to invent an alphabet, still used in some Eastern liturgies. His followers probably formed the Cyrillic alphabet (for example, modern Russian) from Greek capital letters. Together they translated the Gospels, the psalter, Paul's letters and the liturgical books into Slavonic, and composed a Slavonic liturgy, highly irregular then.
That and their free use of the vernacular in preaching led to opposition from the German clergy. The bishop refused to consecrate Slavic bishops and priests, and Cyril was forced to appeal to Rome. On the visit to Rome, he and Methodius had the joy of seeing their new liturgy approved by Pope Adrian II. Cyril, long an invalid, died in Rome 50 days after taking the monastic habit.
Methodius continued mission work for 16 more years. He was papal legate for all the Slavic peoples, consecrated a bishop and then given an ancient see (now in the Czech Republic). When much of their former territory was removed from their jurisdiction, the Bavarian bishops retaliated with a violent storm of accusation against Methodius. As a result, Emperor Louis the German exiled Methodius for three years. Pope John VIII secured his release.
Because the Frankish clergy, still smarting, continued their accusations, Methodius had to go to Rome to defend himself against charges of heresy and uphold his use of the Slavonic liturgy. He was again vindicated.
Legend has it that in a feverish period of activity, Methodius translated the whole Bible into Slavonic in eight months. He died on Tuesday of Holy Week, surrounded by his disciples, in his cathedral church.
Opposition continued after his death, and the work of the brothers in Moravia was brought to an end and their disciples scattered. But the expulsions had the beneficial effect of spreading the spiritual, liturgical and cultural work of the brothers to Bulgaria, Bohemia and southern Poland. Patrons of Moravia, and specially venerated by Catholic Czechs, Slovaks, Croatians, Orthodox Serbians and Bulgarians, Cyril and Methodius are eminently fitted to guard the long-desired unity of East and West. In 1980, Pope John Paul II named them additional co-patrons of Europe (with Benedict).
Comment:
Holiness means reacting to human life with God's love: human life as it is, crisscrossed with the political and the cultural, the beautiful and the ugly, the selfish and the saintly. For Cyril and Methodius much of their daily cross had to do with the language of the liturgy. They are not saints because they got the liturgy into Slavonic, but because they did so with the courage and humility of Christ.
Quote:
"Even in the liturgy, the Church has no wish to impose a rigid uniformity in matters which do not involve the faith or the good of the whole community. Rather she respects and fosters the spiritual adornments and gifts of the various races and peoples…. Provided that the substantial unity of the Roman rite is maintained, the revision of liturgical books should allow for legitimate variations and adaptations to different groups, religions, and peoples, especially in mission lands" (Vatican II,Constitution on the Sacred Liturgy, 37, 38).
Patron Saint of: Slavic peoples
Read the source: http://www.americancatholic.org/features/saints/saint.aspx?id=1291
SAINT OF THE DAY
Catholic saints are holy people and human people who lived extraordinary lives. Each saint the Church honors responded to God's invitation to use his or her unique gifts. God calls each one of us to be a saint. Click here to receive Saint of the Day in your email.
Saint Valentine (Latin: Valentinius), officially Saint Valentine of Rome,[2] is a widely recognized third-century Romansaint commemorated on February 14 and associated since the High Middle Ageswith a tradition of courtly love.
All that is reliably known of the saint commemorated on February 14 is his name and that he was martyred and buried at a cemetery on the Via Flaminia close to the Milvian bridge to the north of Rome on that day. It is uncertain whether St. Valentine is to be identified as one saint or the conflation of two saints of the same name. Several differentmartyrologies have been added to later hagiographies that are unreliable.
Because so little is known of him, in 1969 the Roman Catholic Church removed his name from the General Roman Calendar, leaving his liturgical celebration to local calendars.[3] The Roman Catholic Church continues to recognize him as a saint, listing him as such in the February 14 entry in the Roman Martyrology,[4] and authorizing liturgical veneration of him on February 14 in any place where that day is not devoted to some other obligatory celebration in accordance with the rule that on such a day the Mass may be that of any saint listed in the Martyrology for that day.[5] Use of the pre-1970 liturgical calendar is also authorized under the conditions indicated in the motu proprio Summorum Pontificumof 2007. Saint Valentine's Church in Rome, built in 1960 for the needs of the Olympic Village, continues as a modern, well-visited parish church.
Saint Valentine is commemorated in the Anglican Communion,[6] as well as in the Lutheran Church.[7] In parts but not all of the Eastern Orthodox Church, Saint Valentine the Presbyter of Rome is celebrated on July 6[8] and HieromartyrValentine (Bishop of Interamna, Terni in Italy) is celebrated on July 30.[9] Notwithstanding that in the Greek Orthodox Churches no Saint Valentine exists, and because of the relative obscurity of these two saints in the East, members of the Greek Orthodox Church named Valentinos (male) or Valentina (female) may observe their name day on the Western ecclesiastical calendar date of February 14.[10]
Identification
[
edit
]
The name Valentinus does not occur in the earliest list of Roman martyrs, compiled by the Chronographer of 354.[11]But it is found in the Martyrologium Hieronymianum,[12] which was compiled, from earlier local sources, between 460 and 544. The feast of St. Valentine of February 14 was first established in 496 by Pope Gelasius I, who included Valentine among all those "… whose names are justly reverenced among men, but whose acts are known only to God." As Gelasius implies, nothing was then known about his life.
The Catholic Encyclopedia[13] and other hagiographicalsources[14]speak of three Saint Valentines that appear in connection with February 14. One was a Roman priest, another the bishop of Interamna (modern Terni) both buried along the Via Flaminia outside Rome, at different distances from the city. The third was said to be a saint who suffered on the same day with a number of companions in the Roman province of Africa, for whom nothing else is known.
Though the extant accounts of the martyrdoms of the first two listed saints are of a late date and contain legendary elements, a common nucleus of fact may underlie the two accounts and they may refer to a single person.[15] According to the official biography of the Diocese of Terni, Bishop Valentine was born and lived in Interamna and was imprisoned and tortured in Rome on February 14, 273, while on a temporary stay there. His body was hastily buried at a nearby cemetery and a few nights later his disciples retrieved his body and returned him home.[16]
Τhe Roman Martyrology, the Catholic Church's official list of recognized saints, for February 14 gives only one Saint Valentine; a martyr who died on the Via Flaminia.[17]
Other saints with the same name
[
edit
]
The name "Valentine", derived from valens (worthy, strong, powerful), was popular in Late Antiquity. About eleven other saints having the name Valentine are commemorated in the Roman Catholic Church.[18] Some Eastern Churches of the Western rite may provide still other different lists of Saint Valentines.[19] The Roman martyrology lists only seven who died on days other than February 14: a priest from Viterbo (November 3); a bishop from Raetiawho died in about 450 (January 7); a fifth-century priest and hermit (July 4); a Spanish hermit who died in about 715 (October 25); Valentine Berrio Ochoa, martyred in 1861 (November 24); and Valentine Jaunzarás Gómez, martyred in 1936 (September 18). It also lists a virgin, Saint Valentina, who was martyred in 308 (July 25) in Caesarea, Palestine.[20]
Hagiography and testimony
[
edit
]
The inconsistency in the identification of the saint is replicated in the various vitae that are ascribed to him.
A common hagiography describes Saint Valentine, as the former Bishop of Terni, Narnia and Amelia, a town of Umbria, in central Italy. While under house arrest of Judge Asterius, and discussing his faith with him, Valentinus (the Latin version of his name) was discussing the validity of Jesus. The judge put Valentinus to the test and brought to him the judge's adopted blind daughter. If Valentinus succeeded in restoring the girl's sight, Asterius would do anything he asked. Valentinus laid his hands on her eyes and the child's vision was restored. Immediately humbled, the judge asked Valentinus what he should do. Valentinus replied that all of the idols around the judge's house should be broken, the judge should fast for three days, and then undergo baptism. The judge obeyed and as a result, freed all the Christian inmates under his authority. The judge, his family and his forty-four member household (family members and servants) were baptized.[21] Valentinus was later arrested again for continuing to proselytize and was sent to the prefect of Rome, to the emperor Claudius Gothicus (Claudius II) himself. Claudius took a liking to him until Valentinus tried to convince Claudius to embrace Christianity, whereupon Claudius refused and condemned Valentinus to death, commanding that Valentinus either renounce his faith or he would be beaten with clubs, and beheaded. Valentinus refused and Claudius' command was executed outside the Flaminian GateFebruary 14, 269.[22]
The Legenda Aurea of Jacobus de Voragine, compiled about 1260 and one of the most-read books of the High Middle Ages, gives sufficient details of the saints for each day of the liturgical year to inspire a homily on each occasion. The very brief vita of St Valentine has him executed for refusing to deny Christ by the order of the "Emperor Claudius"[23] in the year 280. Before his head was cut off, this Valentine restored sight and hearing to the daughter of his jailer. Jacobus makes a play with the etymology of "Valentine", "as containing valour".
A popularly ascribed hagiographical identity appears in the Nuremberg Chronicle (1493). Alongside a woodcut portrait of Valentine, the text states that he was a Roman priest martyred during the reign of Claudius Gothicus. He was arrested and imprisoned upon being caught marrying Christian couples and otherwise aiding Christians who were at the time being persecuted by Claudius in Rome. Helping Christians at this time was considered a crime. Claudius took a liking to this prisoner. However, when Valentinus tried to convert the Emperor, he was condemned to death. He was beaten with clubs and stones; when that failed to kill him, he was beheaded outside the Flaminian Gate. Various dates are given for the martyrdom or martyrdoms: 269, 270, or 273.[24]
There are many other legends behind Saint Valentine, none of them based on historical facts. One is that in the 1st century AD
it is said that Valentine, who was a priest, defied the order of the emperor Claudius and secretly married couples so that the husbands wouldn't have to go to war. The legend claims that soldiers were sparse at this time so this was a big inconvenience to the emperor. Another legend is that Valentine refused to sacrifice to pagan gods. Being imprisoned for this, Valentine gave his testimony in prison and through his prayers healed the jailer's daughter who was suffering from blindness. On the day of his execution he left her a note that was signed "Your Valentine".
Churches named Valentine
[
edit
]
Saint Valentine was not exceptionally more venerated than other saints and it seems that in England no church was everdedicated to him.[25] There are many churches containing the name of Valentine in other countries.
A 5th or 6th century work called Passio Marii et Marthae made up a legend about Saint Valentine's Basilica (it:Basilica di San Valentino) being dedicated to Saint Valentine in Rome. A later Passio repeated the legend and added the adornment thatPope Julius I (357–352) had built the ancient basilica S. Valentini extra Portam on top of his sepulchre, in the Via Flaminia.[26] This church was really named after a 4th-century tribune called Valentino, who donated the land it's built on.[26]It hosted the martyr's relics until the thirteenth century, when they were transferred to Santa Prassede, and the ancient basilica decayed.[27]
Valentine's Day
[
edit
]
English 18th-century antiquarians Alban Butler and Francis Douce, noting the obscurity of Saint Valentine's identity, suggested that Valentine's Day was created as an attempt to supersede the pagan holiday of Lupercalia (mid-February in Rome). This idea has lately been dismissed by other researchers, such as Professor Jack B. Oruch of the University of Kansas, Henry Ansgar Kelly of the University of California, Los Angeles[28] and Associate Professor Michael Matthew Kaylor of the Masaryk University.[29] Many of the current legends that characterize Saint Valentine were invented in the fourteenth century in England, notably by Geoffrey Chaucer and his circle, when the feast day of February 14 first became associated with romantic love.[30]
Oruch charges that the traditions associated with "Valentine's Day", documented in Geoffrey Chaucer's Parliament of Foules and set in the fictional context of an old tradition, did not exist before Chaucer.[31]He argues that the speculative explanation of sentimental customs, posing as historical fact, had their origins among 18th-century antiquaries, notably Alban Butler, the author of Butler's Lives of Saints, and have been perpetuated even by respectable modern scholars. In the French 14th-century manuscript illumination from a Vies des Saints (illustration above), Saint Valentine, bishop of Terni, oversees the construction of his basilica at Terni; there is no suggestion here that the bishop was a patron of lovers.[32]
During the Middle Ages, it was believed that birds paired in mid-February. This was then associated with the romance of Valentine. Although all these legends may differ in ways, Valentine's day is widely recognized as a day for romance and devotion.
Relics and liturgical celebration
[
edit
]
The flower-crowned skull of St. Valentine is exhibited in the Basilica of Santa Maria in Cosmedin, Rome.
In 1836, some relics that were exhumed from the catacombs of Saint Hippolytus on the Via Tiburtina, then near (rather than inside) Rome, were identified with St Valentine; placed in a casket, and transported to the procession to the high altar for a special Mass dedicated to young people and all those in love.
Also in 1836, Fr. John Spratt, an Irish priest and famous preacher, was given many tokens of esteem following a sermon in Rome. One gift from Pope Gregory XVI were the remains of St. Valentine and "a small vessel tinged with his blood." The Reliquary was placed in Whitefriar Street Church in Dublin, Ireland, and has remained there until this day. This was accompanied by a letter claiming the relics were those of St. Valentine.[33]
Another relic was found in 2003 in Prague in Church of St Peter and Paul at Vyšehrad.[34]
A silver reliquary containing a fragment of St. Valentine's skull is found in the parish church of St. Mary's Assumption in Chelmno Poland.[35][36]
Alleged relics of St. Valentine also lie at the reliquary of Roquemaurein France, in the Stephansdom in Vienna, in Balzan in Maltaand also in Blessed John Duns Scotus' church in the Gorbals area of Glasgow, Scotland. There is also a gold reliquary bearing the words 'Corpus St. Valentin, M' (Body of St. Valentine, Martyr) at The Birmingham Oratory, UK, in one of the side altars in the main church.
Saint Valentine remains in the Roman Catholic Church's official list of saints (the Roman Martyrology), but, in view of the scarcity of information about him, his commemoration was removed from the General Roman Calendar, when this was revised in 1969. It is included in local calendars of places such as Balzan in Malta. Some Traditionalist Catholics observe earlier calendars of the Roman Rite, in which Saint Valentine was celebrated as a Simple Feast until 1955, when Pope Pius XII reduced the mention of him to a commemoration in the Mass of the day, a position it kept in the General Roman Calendar of 1960 incorporated in the 1962 edition of the Roman Missal, use of which, as an extraordinary form of the Roman Rite, is still authorized in accordance with Pope Benedict XVI's 2007 motu proprioSummorum Pontificum.
February 14 is also celebrated as St. Valentine's Day in other Christian Churches; in the Church of England, for example, it was included in Calendars before the Reformation, and S.Valentine, Bishop and Martyr, was restored to the Church's Calendar in the 1661/1662 Book of Common Prayer. He remains in the Calendars of the Church of England and in those of most other parts of the Anglican Communion.[37]
See also
[
edit
]
Bibliography
[
edit
]
Johannes Baptista de Rossi et Ludovicus Duchesne, ed., Martyrologium Hieronymianum: ad fidem codicum adiectis prolegomenis. Ex Actibus Sanctorum Novembris, Tomi II, pars prior. Bruxellis 1894. lxxxii, 195 p. S. Valentinus, p. 20.
Hülsen, Christian. 1927. Le chiese di Roma nel medio evo: cataloghi ed appunti. Florence. CXV, 640 p. (On-line text).
Thurston, Herbert. 1933. St. Valentine, Martyr. In Alban Butler's Lives of the Saints, Vol. II, pp. 214–217. New York . 409 p..
Aigrain, René. 1953. Hagiographie: Ses sources, ses méthodes, son histoire. Paris 1953.
Amore, Agostino. 1966. S. Valentino di Roma o di Terni?, Antonianum 41 (1966), pp 260–77.
Kellogg, Alfred. 1972. Chaucer's St. Valentine: A Conjecture. In Kellogg, Chaucer, Langland, Arthur. 1972, pp. 108–145.
Amore, Agostino. 1975. I martiri di Roma. Roma, Antonianum, 1975. 322 p.
Kelly, Henry Ansgar 1986. Chaucer and the cult of Saint Valentine.Leiden, the Netherlands. 185 p.
Martyrologium Romanum 2001. Libreria Editrice Vaticana, 2001, p. 141 (February 14). 773 p.
Oruch, Jack B. 1981. St. Valentine, Chaucer, and Spring in February, Speculum 56 (July 1981), pp 534–565.
Schoepflin, Maurizio and Seren, Linda. 2000. San Valentino di Terni : storia, tradizione, devozione. Morena (Roma), 2000. 111 p.
SAINTS CYRIL AND METHODIUS
BISHOPS AND CONFESSORS; EQUALS TO THE APOSTLES; PATRONS OF EUROPE; APOSTLES TO THE SLAVS
BORN
826 or 827 and 815
Thessalonica, Byzantine Empire(present-day Greece)
DIED
14 February 869 and 6 April 885
VENERATED IN
Orthodox Church
Roman Catholic Church
Anglican Communion
Lutheran Church
FEAST
11 and 24 May[1] (Orthodox Church)
14 February (present Roman Catholic calendar); 5 July (Roman Catholic calendar 1880–1886); 7 July (Roman Catholic calendar 1887–1969)
5 July (Roman Catholic Czech Republic and Slovakia)
ATTRIBUTES
brothers depicted together; Eastern bishops holding up a church; Eastern bishops holding an icon of the Last Judgment.[2]Often, Cyril is depicted wearing a monastic habit and Methodius vested as a bishop withomophorion.
PATRONAGE
Unity between Orthodox and Roman Catholics
Bulgaria, Republic of Macedonia, Czech Republic,Slovakia, Transnistria,Archdiocese of Ljubljana, Europe,[2]Slovak Eparchy of Toronto, Eparchy of Košice[3]
Saints Cyril and Methodius (826-869, 815-885; Greek: Κύριλλος καὶ Μεθόδιος; Old Church Slavonic: Кѷриллъ и Меѳодїи[more]) were two Byzantine Christian theologians and Christian missionaries who were brothers. Through their work they influenced the cultural development of all Slavs, for which they received the title "Apostles to the Slavs". They are credited with devising the Glagolitic alphabet, the first alphabet used to transcribe Old Church Slavonic.[4] After their deaths, their pupils continued their missionary work among other Slavs. Both brothers are venerated in the Orthodox Church as saints with the title of "equal-to-apostles". In 1880, Pope Leo XIII introduced their feast into the calendar of the Roman Catholic Church. In 1980, Pope John Paul II declared them co-patron saints of Europe, together withBenedict of Nursia.[5]
Early career
Early life
The two brothers were born in Thessalonica, in present-day Greece– Cyril lived from 827–828 and Methodius 815–820. Cyril was reputedly the youngest of seven brothers; he was born Constantine,[6]but took the name Cyril upon becoming a monk in Rome shortly before his death,[7][8][9] according to the "Vita Cyrilli" ("The Life of Cyril"). Methodius was born Michael and took the name Methodius upon becoming a monk at Mysian Olympus (present-day Uludağ), in northwest Turkey.[10] Their father was Leo, a droungarios of the Byzantine theme of Thessalonica, and their mother was Maria.
The exact ethnic origins of the brothers are unknown, there is controversy as to whether Cyril and Methodius were ofSlavic[11] or Byzantine Greek[12] origin, or both.[13] The two brothers lost their father when Cyril was only fourteen, and the powerful minister Theoktistos, who was logothetes tou dromou, one of the chief ministers of the Empire, became their protector. He was also responsible, along with the regent Bardas, for initiating a far-reaching educational program within the Empire which culminated in the establishment of the University of Magnaura, where Cyril was to teach. Cyril was ordained as priest some time after his education, while his brother Methodius remained only a deacon until 867/868.[14]
Missions in the Middle East
Cyril's mastery of theology and command of both Arabic and Hebrew made him eligible for his first state mission. He was sent to the Abbasid Caliph Al-Mutawakkil to discuss the principle of the Holy Trinity with the Arab theologians, and to improve relations between the Caliphate and the Empire.
The second mission (860), requested by the Byzantine EmperorMichael III and the Patriarch of Constantinople Photius (a professor of Cyril's at the University and his guiding light in earlier years), was a missionary expedition to the Khazar Khaganate in order to prevent the expansion of Judaism there. This mission was unsuccessful, as later the Khagan imposed Judaism on his people as the national religion. It has been claimed that Methodius accompanied Cyril on the mission to the Khazars, but this is probably a later invention. The account of his life presented in the Latin "Legenda"claims that he learned the Khazar language while inChersonesos, in Taurica (today Crimea).
After his return to Constantinople, Cyril assumed the role of professor of philosophy at the University while his brother had by this time become a significant player in Byzantine political and administrative affairs, and an abbot of his monastery.
Mission to the Slavs
Great Moravia
In 862, the brothers began the work which would give them their historical importance. That year Prince Rastislav of Great Moraviarequested that Emperor Michael III and the Patriarch Photius send missionaries to evangelize his Slavic subjects. His motives in doing so were probably more political than religious. Rastislav had become king with the support of theFrankish ruler Louis the German, but subsequently sought to assert his independence from the Franks. It is a common misconception that Cyril and Methodius were the first to bring Christianity to Moravia, but the letter from Rastislav to Michael III states clearly that Rastislav's people "had already rejected paganism and adhere to the Christian law."[15]Rastislav is said to have expelled missionaries of the Roman Church and instead turned to Constantinople for ecclesiastical assistance and, presumably, a degree of political support.[15] The Emperor quickly chose to send Cyril, accompanied by his brother Methodius. The request provided a convenient opportunity to expand Byzantine influence. Their first work seems to have been the training of assistants. In 863, they began the task of translating the Bible into the language now known as Old Church Slavonic and travelled to Great Moravia to promote it. They enjoyed considerable success in this endeavour. However, they came into conflict with German ecclesiastics who opposed their efforts to create a specifically Slavic liturgy.
For the purpose of this mission, they devised the Glagolitic alphabet, the first alphabet to be used for Slavonic manuscripts. The Glagolitic alphabet was suited to match the specific features of the Slavic language. Its descendant script, the Cyrillic, is still used by many languages today.[15]
They wrote the first Slavic Civil Code, which was used in Great Moravia. The language derived from Old Church Slavonic, known as Church Slavonic, is still used inliturgy by several Orthodox Churchesand also in some Eastern Catholic churches.
It is impossible to determine with certainty what portions of the Bible the brothers translated. The New Testament and the Psalmsseem to have been the first, followed by other lessons from the Old Testament. The "Translatio" speaks only of a version of the Gospelsby Cyril, and the "Vita Methodii" only of the "evangelium Slovenicum,"though other liturgical selections may also have been translated.
Nor is it known for sure which liturgy, that of Rome or that of Constantinople, they took as a source. They may well have used the Roman alphabet, as suggested by liturgical fragments which adhere closely to the Latin type. This view is confirmed by the "Prague Fragments" and by certain Old Glagolitic liturgical fragments brought from Jerusalem to Kiev and discovered there by Saresnewsky—probably the oldest document for the Slavonic tongue; these adhere closely to the Latin type, as is shown by the words "Mass," "Preface,"and the name of one Felicitas. In any case, the circumstances were such that the brothers could hope for no permanent success without obtaining the authorization of Rome.
Journey to Rome
In 867, Pope Nicholas I invited the brothers to Rome. Their evangelizing mission in Moravia had by this time become the focus of a dispute with Theotmar, the Archbishop of Salzburg and bishop of Passau, who claimed ecclesiastical control of the same territory and wished to see it use the Latin liturgy exclusively. Travelling with the relics of Saint Clement and a retinue of disciples, and passing through Pannonia (the Balaton Principality), where they were well received by Prince Koceľ(Kocelj, Kozel), they arrived in Rome in 868, where they were warmly received. This was partly due to their bringing with them the relics of Saint Clement; the rivalry with Constantinople as to the jurisdiction over the territory of the Slavs would incline Rome to value the brothers and their influence.[15]
The brothers were praised for their learning and cultivated for their influence in Constantinople. Anastasius Bibliothecariuswould later call Cyril "a man of apostolic life" and "a man of great wisdom".[16]Their project in Moravia found support fromPope Adrian II, who formally authorized the use of the new Slavic liturgy. Subsequently Methodius was ordained as priest by the pope himself, and five Slavic disciples were ordained as priests (Saint Gorazd, Saint Clement of Ohrid and Saint Naum) and as deacons (Saint Angelar and Saint Sava) by the prominent bishops Formosus and Gauderic.[17] The newly made priests officiated in their own languages at the altars of some of the principal churches. Feeling his end approaching, Cyril became a monk, was given the new name Cyril,[18] and died fifty days later (14 February 869). There is some question as to assertion of the Translatio (ix.) that he was made a bishop.
Methodius alone
Methodius now continued the work among the Slavs alone; not at first in Great Moravia, but in Pannonia (in the Balaton Principality), owing to the political circumstances of the former country, where Rastislav had been taken captive by his nephew Svatopluk, then delivered over to Carloman, and condemned in a diet of the empire at the end of 870.
Friendly relations had been established with Koceľ on the journey to Rome. This activity in Pannonia made a conflict inevitable with the German episcopate, and especially with the bishop of Salzburg, to whose jurisdiction Pannonia had belonged for seventy-five years. In 865 Bishop Adalwin is found exercising all Episcopal rights there, and the administration under him was in the hands of the archpriest Riehbald. The latter was obliged to retire to Salzburg, but his superior was naturally disinclined to abandon his claims. Methodius sought support from Rome; the Vita asserts that Koceľ sent him thither with an honorable escort to receive Episcopal consecration.
The letter given as Adrian's in chap. viii., with its approval of the Slavonic mass, is a pure invention. The pope named Methodius archbishop of Sirmium with jurisdiction over Great Moravia and Pannonia, thus superseding the claims of Salzburg by an older title. The statement of the "Vita" that Methodius was made bishop in 870 and not raised to the dignity of an archbishop until 873 is contradicted by the brief of Pope John VIII, written in June 879, according to which Adrian consecrated him archbishop; John includes in his jurisdiction not only Great Moravia and Pannonia, but Serbia as well.
Methodius' final years
| | |
| --- | --- |
| | This section does not cite any sources.   (September 2014) |
The archiepiscopal claims of Methodius were considered such an injury to the rights of Salzburg that he was forced to answer for them at a synod held atRegensburg in the presence of King Louis. The assembly, after a heated discussion, declared the deposition of the intruder, and ordered him to be sent to Germany, where he was kept prisoner in Ellwangen for two and a half years. In spite of the strong representations of the Conversio Bagoariorum et Carantanorum, written in 871 to influence the pope, though not avowing this purpose, Rome declared emphatically for Methodius, and sent a bishop, Paul of Ancons, to reinstate him and punish his enemies, after which both parties were commanded to appear in Rome with the legate.
The papal will prevailed, and Methodius secured his freedom and his archiepiscopal authority over both Great Moravia and Pannonia, though the use of Slavonic for the mass was still denied to him. His authority was restricted in Pannonia when after Koceľ's death the principality was administered by German nobles; but Svatopluk now ruled with practical independence in Great Moravia, and expelled the German clergy. This apparently secured an undisturbed field of operation for Methodius, and the Vita (x.) depicts the next few years (873–879) as a period of fruitful progress. Methodius seems to have disregarded, wholly or in part, the prohibition of the Slavonic liturgy; and when Frankish clerics again found their way into the country, and the archbishop's strictness had displeased the licentious Svatopluk, this was made a cause of complaint against him at Rome, coupled with charges regarding the Filioque.
Methodius vindicated his orthodoxy at Rome, the more easily as the creed was still recited there without the Filioque, and promised to obey in regard to the liturgy. The other party was conciliated by giving him a Swabian, Wiching, as his coadjutor. When relations were strained between the two, John VIII steadfastly supported Methodius; but after his death (December 882) the archbishop's position became insecure, and his need of support induced Goetz to accept the statement of the Vita (xiii.) that he went to visit the Eastern emperor.
It was not until after Methodius' death, which is placed on 6 April 885,[19] that the animosity erupted into an open conflict. Gorazd, whom Methodius had designated as his successor, was not recognised by Pope Stephen V. The same Pope forbade the use of the Slavic liturgy[20] and placed the infamous Wiching as Methodius' successor. The latter exiled the disciples of the two brothers from Great Moravia in 885. They fled to the First Bulgarian Empire, where they were welcomed and commissioned to establish theological schools. There they devised theCyrillic script on the basis of the Glagolitic. Cyrillic gradually replaced Glagolitic as the alphabet of the Old Church Slavonic language, which became the official language of the Bulgarian Empire and later spread to the Eastern Slav lands of Kievan Rus'. Cyrillic eventually spread throughout most of the Slavic world to become the standard alphabet in the Eastern Orthodox Slavic countries. Hence, Cyril and Methodius' efforts also paved the way for the spread of Christianity throughout Eastern Europe.
Methodius' body was buried in the main cathedral church of Great Moravia. Until today remains an open question which city was capital of Great Moravia and therefore the place of Methodius' eternal rest remains unknown.[21]
Invention of the Glagolitic and Cyrillic alphabets
The Glagolitic and Cyrillic alphabets are the oldest known Slavic alphabets, and were created by the two brothers and their students, to translate the Bible and other texts into the Slavic languages.[22]The early Glagolitic alphabet was used in Great Moravia between 863 (the arrival of Cyril and Methodius) and 885 (the expulsion of their students) for government and religious documents and books, and at the Great Moravian Academy (Veľkomoravské učilište) founded by Cyril, where followers of Cyril and Methodius were educated, by Methodius himself among others. The alphabet has been traditionally attributed to Cyril. That attribution has been confirmed explicitly by the papal letter Industriae tuae (880) approving the use of Old Church Slavonic, which says that the alphabet was "invented by Constantine the Philosopher". The term invention need not exclude the possibility of the brothers having made use of earlier letters, but implies only that before that time the Slavic languages had no distinct script of their own.
The early Cyrillic alphabet was developed in the First Bulgarian Empire[23] and later finalized and spread by disciples Kliment and Naum in the Ohrid and Preslav schools of Tsar Boris' Bulgaria[24] as a simplification of the Glagolitic alphabet which more closely resembled the Greek alphabet. It was developed by the disciples of Saints Cyril and Methodius at the Preslav Literary School at the end of the 9th century.
After the death of Cyril, Clement of Ohrid accompanied Methodius from Rome to Pannonia and Great Moravia. After the death of Methodius in 885, Clement headed the struggle against the German clergy in Great Moravia along with Gorazd. After spending some time in jail, he was expelled from Great Moravia, and in 885 or 886 reached the borders of the Bulgarian Empire together with Naum of Preslav, Angelarius, and possibly Gorazd (according to other sources, Gorazd was already dead by that time). The four of them were afterwards sent to the Bulgarian capital of Pliska, where they were commissioned by Tsar Boris I of Bulgaria to instruct the future clergy of the state in the Slavonic language.
After the adoption of Christianity in 865, religious ceremonies in Bulgaria were conducted in Greek by clergy sent from the Byzantine Empire. Fearing growing Byzantine influence and weakening of the state, Boris viewed the adoption of the Old Slavonic language as a way to preserve the political independence and stability of Bulgaria, so he established two literary schools (academies), in Pliska and Ohrid, where theology was to be taught in the Slavonic language. While Naum of Preslav stayed in Pliska working on the foundation of the Pliska Literary School, Clement was commissioned by Boris I to organise the teaching of theology to future clergymen in Old Church Slavonic at the Ohrid Literary School. For seven years (886-893) Clement taught some 3,500 students in the Slavonic language and the Glagolitic alphabet.
Commemoration
Saints Cyril and Methodius' Day
The canonization process was much more relaxed in the decades following Cyril's death than today. Cyril was regarded by his disciples as a saint soon after his death. His following spread among the nations he evangelized and subsequently to the wider Christian Church, and he was famous as a holy man, along with his brother Methodius. There were calls for Cyril's canonization from the crowds lining the Roman streets during his funeral procession. The brothers' first appearance in a papal document is in Grande Munus of Leo XIII in 1880. They are known as the "Apostles of the Slavs", and are still highly regarded by both Roman Catholic and Orthodox Christians. Their feast day is currently celebrated on 14 February in the Roman Catholic Church (to coincide with the date of St Cyril's death); on 11 May in the Eastern Orthodox Church (though for Eastern Orthodox Churches which use the Julian Calendar this is 24 May according to the Gregorian calendar); and on 7 July according to the old sanctoral calendar that existed before the revisions of the Second Vatican Council. The celebration also commemorates the introduction of literacy and the preaching of the gospels in the Slavonic language by the brothers. The brothers were declared "Patrons of Europe" in 1980.[25]
According to old Bulgarian chronicles, the day of the holy brothers was celebrated ecclesiastically as early as the 11th century. The first recorded secular celebration of Saints Cyril and Methodius' Day as the "Day of the Bulgarian script", as traditionally accepted by Bulgarian history, was held in the town of Plovdiv on 11 May 1851, when a local Bulgarian school was named "Saints Cyril and Methodius": both acts on the initiative of the prominent Bulgarian educator Nayden Gerov,[26]although an Armenian traveller mentioned his visit to the "celebration of the Bulgarian script" in the town of Shumen on 22 May 1803.[27]
The day is now celebrated as a public holiday in the following countries:
The saints' feast day is celebrated by the Eastern Orthodox Churchon 11 May and by the Roman Catholic Church and the Anglican Communion on 14 February as "Saints Cyril and Methodius Day". The Lutheran Churches commemorate the two saints either on 14 February or 11 May.
Other commemoration
The national library of Bulgaria in Sofia, Ss. Cyril and Methodius University of Skopje in the Republic of Macedonia, and St. Cyril and St. Methodius University of Veliko Tarnovo in Bulgaria and in Trnava, Slovakia, bear the name of the two saints. In the United States, SS. Cyril and Methodius Seminary in Orchard Lake, Michigan, bears their name.
Saints Cyril and Methodius are the main patron saints of the Archdiocese of Ljubljana. Ljubljana Cathedral stands at Cyril and Methodius Square (Slovene: Ciril–Metodov trg).[30] They are also patron saints of the Byzantine Catholic Eparchy of Košice (Slovakia)[3]and the Slovak Greek Catholic Eparchy of Toronto.
St. Cyril Peak and St. Methodius Peak in the Tangra Mountains on Livingston Island, South Shetland Islands, in Antarctica are named for the brothers.
Saint Cyril's remains are interred in a shrine-chapel within the Basilica di San Clemente in Rome. The chapel holds a Madonna by Sassoferrato.
The Basilica of SS. Cyril and Methodius in Danville, Pennsylvania, (the only Roman Catholic basilica dedicated to SS. Cyril and Methodius in the world) is the motherhouse chapel of the Sisters of SS. Cyril and Methodius, a Roman Catholic women's religious community of pontifical rite dedicated to apostolic works of ecumenism, education, evangelization, and elder care.[31]
See also
Notes
References
Daily readings with reflections, Pope's messages, Bishop's messages, Church's music & videos, Educational Speaker, Bible Stories, Christopher Notes, Church Militant Video, Religious Movies, Journey Home