Readings & Reflections: Saturday of the Fifth week in Ordinary Time & St. Scholastica, February 10,2018
What we know of the life of Scholastica is drawn from The Dialogues, Gregory the Great's biography of her brother, Saint Benedict, the founder of Western monasticism. Born of a noble Roman family in Nursia of Umbria, Scholastica was dedicated to God at a young age. She led a community of virgins at Plombariola, not from Monte Cassino, the monastery Benedict had founded. She visited her brother once a year, meeting for prayer and conversation, just outside the monastery walls. It was shortly after one of these meetings, in the year 542 A.D., that Benedict, looking out from the monastery, saw his sister's soul ascend to heaven like a dove.
AMDG+
Opening Prayer
Lord, God the harshness of life and the struggle to produce the food needed for survival have been more and more pronounced among your people amidst greed and selfishness. Lord, bless us with your grace so that we may all be governed by honesty, collaboration, and mutual support. May we all be blessed with hearts that aim to solve many of the problems (poverty, inequality, ill health) faced by our society and the global community. In Jesus, Mighty Name, we pray. Amen.
Reading I
1 Kgs12:26-32; 13:33-34
Jeroboam thought to himself:
"The kingdom will return to David's house.
If now this people go up to offer sacrifices
in the temple of the LORD in Jerusalem,
the hearts of this people will return to their master,
Rehoboam, king of Judah, and they will kill me."
After taking counsel, the king made two calves of gold
and said to the people: "You have been going up to Jerusalem long enough. Here is your God, O Israel, who brought you up from the land of Egypt." And he put one in Bethel, the other in Dan.
This led to sin, because the people frequented those calves
in Bethel and in Dan. He also built temples on the high places
and made priests from among the people who were not Levites.
Jeroboam established a feast in the eighth month
on the fifteenth day of the month
to duplicate in Bethel the pilgrimage feast of Judah,
with sacrifices to the calves he had made;
and he stationed in Bethel priests of the high places he had built.
Jeroboam did not give up his evil ways after this,
but again made priests for the high places
from among the common people.
Whoever desired it was consecrated
and became a priest of the high places.
This was a sin on the part of the house of Jeroboam
for which it was to be cut off and destroyed from the earth.
The word of the Lord.
Responsorial Psalm
106:6-7ab, 19-20, 21-22
R. (4a) Remember us, O Lord, as you favor your people.
We have sinned, we and our fathers;
we have committed crimes; we have done wrong.
Our fathers in Egypt
considered not your wonders.
R. Remember us, O Lord, as you favor your people.
They made a calf in Horeb
and adored a molten image;
They exchanged their glory
for the image of a grass-eating bullock.
R. Remember us, O Lord, as you favor your people.
They forgot the God who had saved them,
who had done great deeds in Egypt,
Wondrous deeds in the land of Ham,
terrible things at the Red Sea.
R. Remember us, O Lord, as you favor your people.
Gospel
Mk 8:1-10
In those days when there again was a great crowd without anything to eat, Jesus summoned the disciples and said, "My heart is moved with pity for the crowd, because they have been with me now for three days and have nothing to eat. If I send them away hungry to their homes, they will collapse on the way,
and some of them have come a great distance." His disciples answered him, "Where can anyone get enough bread to satisfy them here in this deserted place?" Still he asked them, "How many loaves do you have?" They replied, "Seven." He ordered the crowd to sit down on the ground. Then, taking the seven loaves he gave thanks, broke them, and gave them to his disciples to distribute, and they distributed them to the crowd. They also had a few fish.
He said the blessing over them and ordered them distributed also. They ate and were satisfied. They picked up the fragments left over—seven baskets. There were about four thousand people.
He dismissed the crowd and got into the boat with his disciples and came to the region of Dalmanutha.
The Gospel of the Lord.
Reflection 1 – The bread to satisfy
"Where can anyone get enough bread to satisfy them here in this deserted place?"
Some people say that this statement was an insightful statement from our Lord's early disciples who may not have expected Him to respond to every need of the people by performing a miracle. However, some say that the disciples may have spoken out of doubt. They must have failed to remember the power of Jesus as He has witnessed to them in the past. Such a state of mind and heart is not something new to most of us today as we often fail to remember what the Lord has done in our lives. When the going gets good and better we tend to take things for granted and we forget God's mighty power in our lives and that He alone can make a difference in us.
In today's gospel scene, Jesus provided enough for the needs of His people. His provisions were abundant with plenty of left over to take home to their families. The multiplication of bread / fish was one great miracle of Jesus but what appeared to be greater is the fact that Jesus fed both Jews and Gentles (Mark 7:31) together foreshadowing the eventual fellowship of gentiles and Jews (Acts 10 &11). Jesus united both Jews and gentiles and brought peace."Therefore, remember that at one time you, Gentiles in the flesh…were at that time without Christ, alienated from the community of Israel and strangers to the covenants of promise, without hope and without God in the world. But now in Christ Jesus you who once were far off have become near by the blood of Christ. For he is our peace, he who made both one and broke down the dividing wall of enmity, through his flesh, abolishing the law with its commandments and legal claims, that he might create in himself one new person in place of the two, thus establishing peace, and might reconcile both with God, in one body, through the cross, putting that enmity to death by it.
Today let us examine our hearts and see how open we are to breaking bread with people who come from different cultures, background and persuasion. How open are we to sharing God's word and our faith in Christ with the rest of the world? Have we been like Jeroboam in the today's first reading who was an agent of dissent, who instead of being an instrument for unification thwarted one and led his people into further sin by setting up worship places of false gods?
"Where can anyone get enough bread to satisfy them here in this deserted place?"
Translated in another context: "Where can anyone get enough of CHRIST and His love to satisfy in this cold and indifferent world?"
When was the last time we gave more of ourselves in order to unite God's people?
Direction
Ponder and meditate on the works of Jesus which unite and try to see how we can apply them in our relationship with those around us.
Prayer
Heavenly Father, give me your wisdom so that I may be able to deepen my relationship with you and your people, so that I may be able to appreciate and understand life and the need for all your people to be united in the Name of Jesus. Amen.
Reflection 2 – What strengthens our faith?
Mark never paints a positive picture of the disciples closest to Jesus. Time and time again they lack faith. No matter what signs they experience in their journey with Jesus they just don't get it. In today's Gospel we hear Mark's second account of Jesus feeding a huge crowd with a small amount of food. How quickly the disciples forgot the earlier miracle when they ask the same question once more that they asked then: "Where can anyone get enough bread to satisfy them here in this deserted place?"
It is important for us not to shake our heads in disbelief at the hardness of heart of those Jesus called his own. Are we not often the same as they? Time and again the Lord feeds us bread from heaven at this Eucharistic table. Time and time again we find ourselves failing to become what we eat – Christ himself.
Like the previous one, this is a story about the Eucharist. The Eucharist is represented by the seven loaves. In Jewish numerology seven is equated with perfection and thus with God. This must have been an extremely important story for the ancient church as it is one of the few miracles of Jesus found in all four of the Gospels, and even recorded twice in Mark.
The bread distributed to the four thousand today is to satisfy their physical hunger. This will give them the strength to leave "this deserted place" (which harkens back to the manna in the desert in the Exodus story). The bread given from our Eucharistic table satisfies a far greater hunger then the physical kind. For we who have been baptized into Christ experience a spiritual and transformative hunger, a hunger to take the Lord into ourselves so that we can, with the grace of God, truly become what we eat and drink – the Lord's presence wherever we go.
As we approach the Lenten and Easter seasons in the coming days let our priority be to allow God to use us, to grace us as God's instruments to be transformed into Christ, the bread from heaven, for a world desperately hungry for his presence. (Source: Timothy J. Cronin. Weekday Homily Helps. Ohio: St. Anthony Messenger Press, February 13, 2010).
Reflection 3 – Jesus alone can satisfy our hunger for God
Can anything on earth truly satisfy the hunger we experience for God? The enormous crowd that pressed upon Jesus for three days were hungry for something more than physical food. They hung upon Jesus' words because they were hungry for God. When the disciples were confronted by Jesus with the task of feeding four thousand people many miles away from any source of food, they exclaimed: Where in this remote place can anyone get enough bread to feed them? The Israelites were confronted with the same dilemma when they fled Egypt and found themselves in a barren wilderness.
Like the miraculous provision of manna in the wilderness, Jesus, himself provides bread in abundance for the hungry crowd who came out into the desert to seek him. The Gospel records that all were satisfied and they took up what was leftover. When God gives he gives abundantly – more than we deserve and more than we need so that we may have something to share with others as well. The Lord Jesus nourishes and sustains us with his life-giving word and with his heavenly bread.
Jesus nourishes us with the true bread of heaven
The sign of the multiplication of the loaves, when the Lord says the blessing, breaks and distributes through his disciples, prefigures the superabundance of the unique bread of his Eucharist or Lord's Supper. When we receive from the Lord's table we unite ourselves to Jesus Christ, who makes us sharers in his body and blood. Ignatius of Antioch (35-107 A.D.) calls it the "one bread that provides the medicine of immortality, the antidote for death, and the food that makes us live for ever in Jesus Christ" (Ad Eph. 20,2). This supernatural food is healing for both body and soul and strength for our journey heavenward.
When you approach the Table of the Lord, what do you expect to receive? Healing, pardon, comfort, and refreshment for your soul? The Lord has much more for us, more than we can ask or imagine. The principal fruit of receiving from the Lord's Table is an intimate union with Christ himself. As bodily nourishment restores lost strength, so the Eucharist strengthens us in charity and enables us to break with disordered attachments to creatures and to be more firmly rooted in the love of Christ. Do you hunger for Jesus, the true "bread of life"?
"Lord Jesus, you alone can satisfy the hunger in our lives. Fill me with grateful joy and eager longing for the true heavenly bread which gives health, strength, and wholeness to body and soul alike." – Read the source: http://dailyscripture.servantsoftheword.org/readings/2018/feb10.htm
Reflection 4 – The Boxcar Wall
I have compassion on the multitude, because they have now continued with Me three days and have nothing to eat. –Mark 8:2
I ate breakfast the other day with a man who 60 years ago sold newspapers and shined shoes on the streets of downtown Boise, Idaho. He told me about his life in those days and how much things have changed.
"What's changed the most?" I asked him. "People," he said. "They don't care anymore."
As a case in point, he told me about his mother, who often fed hungry men who came to her house. Every day she prepared food for her family and then made several more meals because she knew homeless travelers would start to show up around mealtime. She had deep compassion for those who were in need. Once she asked a man how he happened to find his way to her door. "Your address is written on all the boxcar walls," he said.
I wish that type of compliment could be said of all of us. In the feeding of the multitude, Jesus gave us an example of what it means to care about the physical and spiritual needs of others (Mark 8:1-9).
It would be wonderful if our homes were known as places where hungry people could find bread. But more than that, we need to pray that our homes will be known as places where spiritually hungry men, women, and children will be loved, listened to, and given the Bread of life. —DHR — David H. Roper
Thousands of weary ones need consolation,
Souls of the hungry are crying for bread;
Many have never yet heard of salvation,
Many are waiting by you to be fed. —Anon.
Evangelism is nothing more than one beggar telling another beggar where to find bread (Source: Our Daily Bread, RBC Ministries).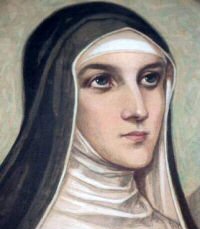 Reflection 5 – St. Scholastica (480-542? A.D.)
Twins often share the same interests and ideas with an equal intensity. Therefore, it is no surprise that Scholastica and her twin brother, Benedict (July 11), established religious communities within a few miles from each other.
Born in 480 of wealthy parents, Scholastica and Benedict were brought up together until he left central Italy for Rome to continue his studies.
Little is known of Scholastica's early life. She founded a religious community for women near Monte Cassino at Plombariola, five miles from where her brother governed a monastery.
The twins visited each other once a year in a farmhouse because Scholastica was not permitted inside the monastery. They spent these times discussing spiritual matters.
According to the Dialogues of St. Gregory the Great, the brother and sister spent their last day together in prayer and conversation. Scholastica sensed her death was close at hand and she begged Benedict to stay with her until the next day.
He refused her request because he did not want to spend a night outside the monastery, thus breaking his own Rule. Scholastica asked God to let her brother remain and a severe thunderstorm broke out, preventing Benedict and his monks from returning to the abbey.
Benedict cried out, "God forgive you, Sister. What have you done?" Scholastica replied, "I asked a favor of you and you refused. I asked it of God and he granted it."
Brother and sister parted the next morning after their long discussion. Three days later, Benedict was praying in his monastery and saw the soul of his sister rising heavenward in the form of a white dove. Benedict then announced the death of his sister to the monks and later buried her in the tomb he had prepared for himself.
Comment:
Scholastica and Benedict gave themselves totally to God and gave top priority to deepening their friendship with him through prayer. They sacrificed some of the opportunities they would have had to be together as brother and sister in order better to fulfill their vocation to the religious life. In coming closer to Christ, however, they found they were also closer to each other. In joining a religious community, they did not forget or forsake their family but rather found more brothers and sisters.
Quote:
"All religious are under an obligation, in accordance with the particular vocation of each, to work zealously and diligently for the building up and growth of the whole mystical body of Christ and for the good of the particular churches. It is their duty to foster these objectives primarily by means of prayer, works of penance, and by the example of their own lives" (Vatican II, Decree on the Pastoral Office of Bishops, 33, Austin Flannery translation).
Patron Saint of: Nuns
Read the source: http://www.americancatholic.org/features/saints/saint.aspx?id=1287
SAINT OF THE DAY
Catholic saints are holy people and human people who lived extraordinary lives. Each saint the Church honors responded to God's invitation to use his or her unique gifts. God calls each one of us to be a saint. Click here to receive Saint of the Day in your email.
Scholastica (c. 480 – 10 February 542) is a saint of the Roman Catholic Church and the Eastern Orthodox Churches. Born in Italy, according to a ninth century tradition, she was the twin sister of Benedict of Nursia.[2][3] Her feast day is 10 February.
Scholastica was born in 480 in Nursia, Umbria, of wealthy parents and according to Gregory the Great's Dialogues, was dedicated to God from a young age. She and her brother Benedict were brought up together until the time he left to pursue studies in Rome.
A young Roman woman of Scholastica's class and time would likely have remained in her father's house until marriage (likely arranged) or entry into religious life. But wealthy women could inherit property, divorce, and were generally literate. On occasion several young women would live together in a household and form a religious community.[3]
Benedictine tradition holds that Scholastica lived in a convent at Plumbariola about five miles from Monte Cassino and that this was the first "Benedictine" convent.[4] However, it has been suggested that it is more likely that she lived in a hermitage with one or two other religious women in a cluster of houses at the base of Mount Cassino where there is an ancient church named after her. Ruth Clifford Engs notes that since Dialogues indicates that Scholastica was dedicated to God at an early age, perhaps she lived in her father's house with other religious women until his death and then moved nearer to Benedict.[3]
The most commonly told story about her is that she would, once a year, go and visit her brother at a place near his abbey, and they would spend the day worshiping together and discussing sacred texts and issues.[5]
One day they had supper and continued their conversation. When Benedict indicated it was time for him to leave, perhaps sensing the time of her death was drawing near, she asked him to stay with her for the evening so they could continue their discussions. Not wishing to break his own Rule, Benedict refused, insisting that he needed to return to his cell. At that point, Scholastica closed her hands in prayer, and after a moment, a wild storm started outside of the guest house in which they were housed. Benedict asked, "What have you done?", to which she replied, "I asked you and you would not listen; so I asked my God and he did listen. So now go off, if you can, leave me and return to your monastery." Benedict was unable to return to his monastery, and they spent the night in discussion.[2]
According to Gregory's Dialogues, three days later, from his cell, he saw his sister's soul leaving the earth and ascending to heaven in the form of a shining white dove.[6] Benedict had her body brought to his monastery, where he caused it to be laid in the tomb which he had prepared for himself.[7]
Scholastica is the foundress of the women's branch of Benedictine Monasticism.
She was selected as the main motif for a high value commemorative coin: the Austria €50 'The Christian Religious Orders', issued 13 March 2002. On the obverse (heads) side of the coin Scholastica is depicted alongside Benedict.
Scholastica is the patron saint of nuns, and convulsive children, and is invoked against storms and rain. Her memorial is 10 February. She is the Patron Saint of Nuns. She sacrificed many opportunities for her and her brother, just so they could get closer to God.
See also
[
edit
]
References
[
edit
]
Jump up

^ "Patron Saints Index: Saint Scholastica". Saints.sqpn.com. Retrieved

2012-05-20

.
^ 

Jump up to:

a b Foley O.F.M., Leonard, rev. McCloskey O.F.M., Pat "Saint Scholastica", Saint of the Day, American Catholic
^ 

Jump up to:

a b c "Engs, Ruth Clifford. "St. Scholastica: Finding Meaning in her Story", St. Meinrad, In: Abbey Press, 2003