Readings & Reflections: Friday of the Fifth Week in Ordinary Time & St. Jerome Emiliani, February 9,2018
In the Church's art, Jerome Emiliani carries the ball and chain with which he was fettered as a prisoner of war near Treviso, Italy, in 1508 A.D. From the dungeon he asked Mary for help, and he escaped soon after. He lived from that time in a spirit of thanksgiving. After serving as mayor of Treviso, he returned to his native Venice, where he began to attend to the needs of abandoned children. Jerome found them food and clothes, and taught them the Faith through a question-and-answer style catechism. He helped prostitutes, incurables, and the impoverished. In 1531 A.D. he founded the Clerks Regular of Somascha, who continued his work among the poor.
The "rebellion against David's house," symbolized by the tearing of the Prophet Ahijah's cloak, is a lingering effect of original sin. Only one thing is powerful enough to overcome it: the Presence of One whose command gives us new ears, new peace.
AMDG+
Opening Prayer
Lord Jesus, Although cures for chronic or permanent conditions are not so common and frequent in today's society, we still believe in the healing power of prayer and care for the sick and suffering. Lord, enable your people to focus and provide spiritual and emotional support to those who are suffering from chronic and "incurable" ailments. Make all of us a source of your healing for family and friends who are ill. Lord, you invite all who are burdened to come to you. Allow your healing hand to heal them. Touch their souls with your compassion. Touch their hearts with your courage and infinite love for all. Touch their minds with your wisdom, that their mouths may always proclaim your praise. Teach them to reach out to you in their need, and help them to lead others to you by example. Most loving Heart of Jesus, bring them health in body and spirit that they may serve you with all their strength. Gently touch gently their lives which you have created, now and forever. Amen.
Reading I
1 Kgs 11:29-32; 12:19
Jeroboam left Jerusalem,
and the prophet Ahijah the Shilonite met him on the road.
The two were alone in the area,
and the prophet was wearing a new cloak.
Ahijah took off his new cloak,
tore it into twelve pieces, and said to Jeroboam:
"Take ten pieces for yourself;
the LORD, the God of Israel, says:
'I will tear away the kingdom from Solomon's grasp
and will give you ten of the tribes.
One tribe shall remain to him for the sake of David my servant,
and of Jerusalem,
the city I have chosen out of all the tribes of Israel.'"
Israel went into rebellion against David's house to this day.
Responsorial Psalm
81:10-11ab, 12-13, 14-15
R. (11a and 9a) I am the Lord, your God: hear my voice.
"There shall be no strange god among you
nor shall you worship any alien god.
I, the LORD, am your God
who led you forth from the land of Egypt."
R. I am the Lord, your God: hear my voice.
"My people heard not my voice,
and Israel obeyed me not;
So I gave them up to the hardness of their hearts;
they walked according to their own counsels."
R. I am the Lord, your God: hear my voice.
"If only my people would hear me,
and Israel walk in my ways,
Quickly would I humble their enemies;
against their foes I would turn my hand."
R. I am the Lord, your God: hear my voice.
Gospel
Mk 7:31-37
Jesus left the district of Tyre
and went by way of Sidon to the Sea of Galilee,
into the district of the Decapolis.
And people brought to him a deaf man who had a speech impediment and begged him to lay his hand on him.
He took him off by himself away from the crowd.
He put his finger into the man's ears
and, spitting, touched his tongue;
then he looked up to heaven and groaned, and said to him,
"Ephphatha!" (that is, "Be opened!")
And immediately the man's ears were opened,
his speech impediment was removed,
and he spoke plainly.
He ordered them not to tell anyone.
But the more he ordered them not to,
the more they proclaimed it.
They were exceedingly astonished and they said,
"He has done all things well.
He makes the deaf hear and the mute speak."
The Gospel of the Lord.
Reflection 1 – A deaf man
"And people brought to him a deaf man who had a speech impediment and begged him to lay his hand on him."
I can still remember the time when my only brother fell ill and subsequently passed on to his next life. The entire family tried to help. His wife did her very best. The medical team poured in all they had. But there was a limit to what everyone could do. In life, it is only God Who can make the difference. It is His will that shall have the final say and affirmation. All we can do is hope and pray for the best.
Those people who brought the deaf man to Jesus probably felt that there was not much they could do for their friend. Most probably that was the very reason why they begged Jesus to lay His healing hands upon their friend. Some of his friends might have hoped for total healing while others may have hoped only for a little improvement to his condition. Some friends may have hoped that even with such condition Jesus could at least give the deaf man some peace in his heart.
Today, we may have a lot of friends and family who may need physical and spiritual healing. Our hearts are so concerned for them but there comes a point when there is there is not much that we can do.
In reality after we have persevered in praying with them and shared God's Word and walked with them hand in hand, all we can do to bring them healing and wholeness, is simply to surrender them to the Lord in prayer. We can only ask the Lord to reach out to all of our loved ones and to relieve them of their burdens and concerns. We can only seek His healing mercies for their sicknesses and what may have afflicted them. We can only unite our hearts with them in prayer and seek God's strength as we all go through the dark valleys of life.
Jesus healed the deaf man as He opened his ears. In our lives God sent Jesus to heal us. It is through His healing touch that our hearts were opened to hear God's voice. Today amidst our weaknesses and our attraction for the world, it always helps to pray that we might "be opened." When we feel that God does not care about our sordid life situations, we may choose to close our hardened hearts on Him. But with prayers, God mighty Hands are in action in our lives as He opens our being to the truth of His love for us. Praying and meditating on His word are our reflex actions to God's word, "be opened!"
After all is said and done, we should remember that we owe everything to our Lord God. We need to totally depend on Him and be open to Him, abide in Him. All we can do is allow Him to prevail in our lives and the lives of those close to our hearts and let Him do what is needed and as He pleases. We need to remain in Jesus as He said: "If you remain in me and my words remain in you, ask for whatever you want and it will be done for you. John 15:7
In every life circumstance, Jesus is the ANSWER! With Him in our lives, we will be fully healed, restored and made fit to reach our final destination! He is our shelter from distress and He will preserve us!

Direction
Surrender all our cares to Jesus and let His healing mercies flow into our sick and sinful bodies. We are limited in what we can do yet we have God Who knows no bounds and on Whom all is possible.
Prayer
Heavenly Father, we pray that You will lay your healing Hands upon all those who are sick. We beg You to have compassion on all those who are suffering so that they may be delivered from their pitiful circumstances. In Jesus, we pray. Amen.
Reflection 2 – Hearing God's voice
What is God telling you but you're too deaf to hear? I am not asking IF you're deaf to something, for we all have partial hearing losses.
In today's Gospel reading, the deaf man started listening even before he could hear! He listened to God's voice inviting him to find new growth and healing. In the same way, God speaks to us in our consciences before we hear it in our minds.
We're living in a noisy world, so it takes effort to hear what the Lord is saying. He's speaking to us all the time. Every moment of every day. He's actually quite chatty!
When was the last time you heard him say, "Well done, good and faithful servant!" I'm sure he has — today even. (Hey, sometimes just getting out of bed gains us a "well done!" from our Lord.)
When was the last time you heard him say, "I made this day for you! Isn't it wonderful? Sure we're sharing in some trials today, but listen to the birds singing! It's a song I taught them to sing for you!"
Sometimes, we're deaf because we don't believe he's saying what he's saying. Sometimes, we're deaf because we're too stubborn to accept his message. He then tries to reach us through other methods, including the people around us. Listen! He might use the least likely person; God's got a sense of humor like that — or maybe it's a sense of fairness.
God has guidance that he wants to give you today, but you'll need to work at keeping your ears open all day. God is also trying to correct you about something, warning you about a sin you're vulnerable to today. And he's giving you words of encouragement, hope, comfort, and rejoicing. Will you be able to hear all of this? Are you willing to hear all of it?
His voice is waiting in the scriptures, in Christian music, in that spiritual book you've got sitting on your table, in your children or your spouse or the friend you "accidentally" bump into. His ways of communicating are as infinite and as creative as he is.
Give him your deafness each morning, and if you truly want to hear, you'll get more guidance, more comfort, more affirmation, and more "All right! Way to go, my child! Well done, good and faithful servant! Hooray for you! I love you!"
You might hear the angels singing to God about what he has done in your life. They have a chorus going right now. Shhhh …. listen! – Read the source: http://gnm.org/good-news-reflections/?useDrDate=2018-02-09
Reflection 3 – Opening our ears wider

In the Book of Genesis (3:1-8), we see a classic illustration of a fault that we all have: hearing what we think we should hear, filtering out what we actually heard, and putting our words (or someone else's words) into God's mouth.
The serpent asked: "Did God really tell you not to eat from any tree in the garden?" No, that's not what he said, but did the woman catch this twisting of the truth? Listen to her answer: "God said all trees were okay except one." This part is true, but then she put words into God's mouth: "You shall not eat of the tree of knowledge of good and evil or even touch it." God had said nothing about touching it (see Genesis 2:16-17).
Eve started to sin when she acted as if she could be "like a god", by adding to God's words. We do that, too, whenever we jump to conclusions by supposing that we know more than we actually do.
This original sin is repeated today when we make up our own minds about the teachings (i.e., the "Deposit of Faith") that the Church Magisterium has protected from error throughout the centuries. To justify the decision to disobey a Church teaching, we put words into God's mouth: "If your conscience says it's okay, then it's okay."
For example, many Catholics don't trust the Church's teaching about using natural methods to responsibly determine the timing and frequency of conceiving children. I can testify that the Natural Family Planning method recommended by the Church is trustworthy unless the woman has a health issue that interferes with it, and when that happens, the Church does offer other options. Contrary to a common misunderstanding, the Church does not promote huge families; what the Church promotes is the value of family.
Consider any Church teaching that's controversial. Remove the temporal (earthly, temporary) human desires from the debate, then research it humbly, asking the Holy Spirit to help you understand what the Church is really trying to teach about love underneath whatever sounds wrong in it.
Although Church rules that deal with cultural problems are changeable and do evolve over time, we sin if we live by our own rules when it comes to moral (divine, eternal) laws, putting our words and personal preferences into God's mouth.
Let us ask Jesus to do for us what he did in today's Gospel passage. He wants to heal our imperfect hearing so that we can listen to the truth more accurately. Jesus is saying to us: "Ephphatha!" (that is, "Be opened!").
Eve didn't like being told that there was something she was not allowed to do. She did not understand (and she did not ask for understanding) why God would forbid anything. She chose not to trust that God had a good reason for his rules nor that his law benefited her. We are given the same choice. Will you trust what God is saying through his Church? – Read the source: http://gnm.org/good-news-reflections/?useDrDate=2017-02-10
Reflection 4 – He has done all things well
How do you expect the Lord to treat you when you ask for his help?Do you approach with fear and doubt, or with faith and confidence?Jesus never turned anyone aside who approached him with sincerity and trust. And whatever Jesus did, he did well. He demonstrated both the beauty and goodness of God in his actions. When Jesus approaches a man who is both deaf and a stutterer, Jesus shows his considerateness for this man's predicament. Jesus takes him aside privately, not doubt to remove him from embarrassment with a noisy crowd of gawkers (onlookers). Jesus then puts his fingers into the deaf man's ears and he touches the man's tongue with his own spittle to physically identify with this man's infirmity and to awaken faith in him. With a word of command the poor man's ears were opened, his tongue was released, and he spoke plainly.
What is the significance of Jesus putting his fingers into the man's ears? Gregory the Great, a church father from the 6th century, comments on this miracle: "The Spirit is called the finger of God. When the Lord puts his fingers into the ears of the deaf mute, he was opening the soul of man to faith through the gifts of the Holy Spirit."
The kindness and compassion of the Lord
The people's response to this miracle testifies to Jesus' great care for others: He has done all things well. No problem or burden was too much for Jesus' careful consideration. The Lord treats each of us with kindness and compassion and he calls us to treat one another in like manner. The Holy Spirit who dwells within us enables us to love as Jesus loves. Do you show kindness and compassion to your neighbors and do you treat them with considerateness as Jesus did?
"Lord Jesus, fill me with your Holy Spirit and inflame my heart with love and compassion. Make me attentive to the needs of others that I may show them kindness and care. Make me an instrument of your mercy and peace that I may help others find healing and wholeness in you." – Read the source: http://dailyscripture.servantsoftheword.org/readings/2018/feb9.htm
Reflection 5 – How will we keep the paschal season?
We are in the final days of winter Ordinary Time. Ash Wednesday is just days away. Now is a good time to begin to think about what we want our Lent to look like. It is especially important to remember that we have Lent because of Easter. We have all heard of the "forty days of Lent" but how many are aware of the "fifty days of Easter"? And how many keep those days as well as we do the days of Lent? This is something to think about as we prepare.
Perhaps you will make prayer more of a priority during the Lenten and Easter seasons. You can't go wrong with a resolution to pray more. It's important to keep in mind that more important than the words we speak in prayer is what comes next: listening to God's response to our prayer. Let us be attentive to the word we hear proclaimed and the Eucharist we eat and drink. The Lord surely communicates with us there. Let us be more attentive to the people who come into our lives, what they say, and what happens around us. God most often communicates to us through others.
This Lent might also be a good time to reestablish our relationship with our patron saints in prayer. The saints are there for us, especially the Blessed Virgin Mary, to intercede on our behalf before the Lord.
Let us especially pray for our catechumens and candidates for full communion with the Catholic Church. Lent is their intense period of purification as they prepare for the Easter sacraments.
Today's Gospel offers a wonderful inspiration for keeping the upcoming paschal season. Jesus heals a man who is deaf and has a speech impediment. We might consider what deafness the Lord might heal in us in the coming weeks. Are we deaf to those at work or school who might be having a particularly difficult period in their lives? Are we deaf to those who need special attention within our families, within our parish, or within the great neighborhood?
As we consider God's will for us in this coming paschal season, we pray, "Lord, open our ears so we may hear you speak." (Source: Timothy J. Cronin. Weekday Homily Helps. Ohio: St. Anthony Messenger Press, February 12, 2010).
Reflection 6 – Motivation
Today's readings contain two examples of disobedience. In the first reading (Gen 3:1-8), the disobedience of the woman and man triggers a series of events that results in their expulsion from the garden. They have simply been commanded to avoid the fruit of the tree in the middle of the garden, but their curiosity and their desire to be like gods cause them to ignore this command and partake of the fruit. The Gospel (Mk 7:31-37) tells of a crowd of people who disobey the injunction of Jesus to keep secret the miracles they have seen him perform. There is no indication that they are punished for this disobedience, but it seems likely that their exuberance over these wonders contributes to the uneasiness of local leaders about the rising popularity of Jesus.
There is a difference between these two disobedient responses, although both seem to have consequences. In the first reading (Gen 3:1-8), the man and woman disobeyed because they were unwilling to accept their limitations or to rely on God for judgment between good and evil. In the Gospel (Mk 7:31-37) the followers of Jesus disobeyed because they were filled with such amazement over the mercy and healing power they had witnessed. Perhaps the severity of the sin is directly correlated to the motivation behind it… or perhaps the sin is the motivation itself.
What is our motivation? Why do we do the things we do? Is it because we are overwhelmed by the greatness of God's works, or do we operate out of a sense of selfishness, greed and unwillingness to trust in God? The challenge of today's readings is for us to examine our hearts to find what stirs us to action. We must replace our self-centered attitudes with the amazement that the followers of Christ felt when they proclaimed, "He had done everything well!" (Mk 7:37). (Source: Cecilia A. Felix, Weekday Homily Helps. Ohio: St. Anthony Messenger Press, February 13, 2009).
Reflection 7 – Contempt of God
When we read the Gospel, we must avoid the temptation of imagining that the events it describes are things that happened to other people, somewhere else, a long time ago. If we do not find ourselves in the Gospel account, we limit the effectiveness of Jesus' ministry to the comparatively few encounters he had with people who lived two thousand years ago. Our faith challenges us to see Jesus' encounters with individuals in the past as signs of what Jesus continues to accomplish in our lives.
The man in today's gospel (Mk 7:31-17) is a picture of our fallen human nature. Our first parents stopped listening to God, and mankind has been beset by deafness ever since. When Adam and Eve lied about why they were hiding from God in the Garden, human speech became muddled and indistinct (Gen. 3:9-13).
These weaknesses are one of the effects of sin, which our catechism defines as "a failure in genuine love for God… and offense against God" (CCC: 1849-50). The man in the gospel is deaf through no fault of his own, but his physical disability perfectly illustrates the spiritual consequences that befall us when we choose to listen to a voice other than God's. If we make this choice often enough, we end up unable to hear anything at all.
Physical deafness can be partial, total or anything in between. We may say the same about sin, which is any thought or action contrary to God's law. St. Augustine calls sins a "love of oneself even to contempt of God." It is a denial of our vocation, which is to love God, and to love others because God loves them. Today's second reading, from the Letter of James (James 2:1-5), shows this social dimension of sin. Because sin weakens our relation with God, the primary relation in our lives, it is reflected in a weakening of every other relation, including the bonds that draws us to one another.
The gravity of our sin depends on the extent to which we prefer to love ourselves rather than God. Some sins are serious enough completely to sever our relation with God; others merely weaken it.
If we turn away from God altogether, we call the sin "mortal" (or "deadly") because the sinful action totally rejects God's love for us, and altogether turns our affections away from him. Mortal sin destroys our love for God, and without this love, which is our response to God's love; we cannot hope to be saved.
Obviously, this is no light matter: to commit a mortal sin we must choose to do something seriously wrong, we must know the action is wrong, and in spite of this knowledge we must deliberately choose to do it. Each of these points is important, and we must consider them all when we examine our conscience. The severity of the punishment rightly suggests that we may commit mortal sins only infrequently. However, although it may be difficult to reject God's love competely, we must not delude ourselves into imagining that it is impossible, or that we cannot commit mortal sin at all.
We commit a venial sin when an action weakens our love for God, but does not blind us altogether to our obligations to God, ourselves and one another. A venial sin is obviously far less serious than a mortal sin, but venial sins add up, and St. Augustine warns us to "tremble when (we) count them."
Sin, even venial sin, weakens our love for God and others and slows down the progress we ought to be making to draw closer to God. One of the effects of sin is a deadening of our sense of wrong-doing. Any habit, good or bad, becomes easier with practice, and a danger of repeated sin is the likelihood that we will grow increasingly deaf to God's call.
In today's first reading (Is. 35:4-7), the prophet Isaiah gives very vivid examples of God's love for us. It enables the blind to see, the deaf to hear, and the lame to leap for joy. If physical weakness is a good image for the effect of sin, these astounding cures are a consoling reminder of the power of God's grace. The Gospel is "Good News," and today's cure of the deaf man shows us the power of God's grace. We experience it in the sacrament of reconciliation, and we embrace it in the Eucharist, when we receive the Lamb of God, who takes away the sins of the world.
Today's gospel ends with the crowd's saying, "He does all things well" (Mk 7:37). This echoes the Book of Genesis, in which God looks at what he has created and sees that it is good (Gen. 1:31). Sin is our rejection of God's goodness; today's gospel is a reminder of God's power to restore that goodness if we are willing to surrender to his love. (Source: Rev. Reginald Martin, OP, "Homilies on the Liturgies of Sundays and Feasts," Homiletic & Pastoral Review. Vol. CIX, No. 11/12. San Francisco: Ignatius Press, August/September 2009, pp. 33-34; Suggested reading: Catechism of the Catholic Church, 1846-1864).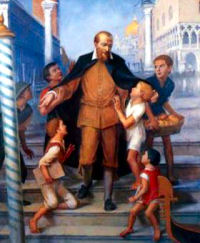 Reflection 8 – St. Jerome Emiliani (1481?-1537 A.D.)
A careless and irreligious soldier for the city-state of Venice, Jerome was captured in a skirmish at an outpost town and chained in a dungeon. In prison Jerome had a lot of time to think, and he gradually learned how to pray. When he escaped, he returned to Venice where he took charge of the education of his nephews—and began his own studies for the priesthood.
In the years after his ordination, events again called Jerome to a decision and a new lifestyle. Plague and famine swept northern Italy. Jerome began caring for the sick and feeding the hungry at his own expense. While serving the sick and the poor, he soon resolved to devote himself and his property solely to others, particularly to abandoned children. He founded three orphanages, a shelter for penitent prostitutes and a hospital.
Around 1532 Jerome and two other priests established a congregation, the Clerks Regular of Somasca, dedicated to the care of orphans and the education of youth. Jerome died in 1537 from a disease he caught while tending the sick. He was canonized in 1767. In 1928 Pius Xl named him the patron of orphans and abandoned children.
Comment:
Very often in our lives it seems to take some kind of "imprisonment" to free us from the shackles of our self-centeredness. When we're "caught" in some situation we don't want to be in, we finally come to know the liberating power of Another. Only then can we become another for "the imprisoned" and "the orphaned" all around us.
Quote:
"'The father of orphans and the defender of widows is God in his holy dwelling. God gives a home to the forsaken; he leads forth prisoners to prosperity; only rebels remain in the parched land' (Psalm 68)…. We should not forget the growing number of persons who are often abandoned by their families and by the community: the old, orphans, the sick and all kinds of people who are rejected…. We must be prepared to take on new functions and new duties in every sector of human activity and especially in the sector of world society, if justice is really to be put into practice. Our action is to be directed above all at those men and nations which, because of various forms of oppression and because of the present character of our society, are silent, indeed voiceless, victims of injustice" (Justice in the World, 1971 World Synod of Bishops).
Patron Saint of: Orphans, abandoned children
Read the source: http://www.americancatholic.org/features/saints/saint.aspx?id=1286
SAINT OF THE DAY
Catholic saints are holy people and human people who lived extraordinary lives. Each saint the Church honors responded to God's invitation to use his or her unique gifts. God calls each one of us to be a saint. Click here to receive Saint of the Day in your email.
Gerolamo Emiliani (Italian: Gerolamo Emiliani also Jerome Aemilian, Hiëronymus Emiliani) (1486 – 8 February 1537), was an Italian humanitarian, founder of the Somaschi Fathers, and saint. He was canonized in 1767 and is thepatron saint of orphans.[1]
Biography
[
edit
]
Jerome was born in Venice, the son of Angelo Emiliani (popularly called Miani) and Eleonore Mauroceni. His father died when he was a teenager and Jerome ran away at the age of 15 to join the army. In 1508, he participated in the defense of Castelnuovo against the League of Cambray. He was appointed governor of a fortress in the mountains of Treviso, and while defending his post was taken prisoner. His escape he attributed to the intercession of the Mother of God; and he made a pilgrimage to the shrine of Our Lady of Treviso, in fulfillment of a vow, and left his chains as an offering.[2] He was then appointed podestà (Venetian magistrate) of Castelnuovo, but after a short time returned to Venice to supervise the education of his nephews. All his spare time was devoted to the study of theology and to works of charity. He was ordained to the priesthood in 1518.[1]
In the year of plague and famine (1528), he seemed to be everywhere and showed his zeal, especially for the orphans, whose number had so greatly increased. Jerome began caring for the sick and feeding the hungry at his own expense.[3] He rented a house for them near the church of St. Rose and, with the assistance of some pious laymen, ministered to their needs. To his charge was also committed the hospital for incurables, founded by St. Cajetan. In 1531 he went to Verona and induced the citizens to build a hospital; in Brescia, Bergamo, Milan and other places in northern Italy, he erected orphanages, for boys and for girls. At Bergamo,he also founded a hostel for repentant prostitutes.[4]
Congregation of Regular Clerics
[
edit
]
Two priests, Alessandro Besuzio and Agostino Bariso, then joined him in his labors of charity, and in 1532 Gerolamo founded a religious society, the Congregation of Regular Clerics.[4] The motherhouse was at Somasca, a secluded North Italian hamlet in the Comune of Vercurago between Milan and Bergamo, after which the members became known as Somaschi. In the Rule of this Society, Gerolamo stated the principal work of the community was the care of orphans, poor and sick, and demanded that dwellings, food and clothing would bear the mark of religious poverty.[1] Devoted to the guardian angels, Emiliani entrusted the Company to the protection of the Virgin, the Holy Spirit and the Archangel Raphael.[5]
The Congregation was approved in 1540 by Pope Paul III, and the Order spread in Italy.[4]
During an epidemic, Jerome was assisting the sick when he contracted the plague. He died in Somasca, February 8, 1537.[6]
Veneration
[
edit
]
He was beatified by Pope Benedict XIV in 1747, and canonized by Pope Clement XIII in 1767.[3] The Office and Mass in his honor were approved eight years later. He was thus not included in the 1570 Tridentine Calendar. When inserted in the Roman Calendar in 1769, he was assigned the date of 20 July. In 1969, Pope Paul VI moved his feast to the day of his death, 8 February.[7]
Patronage
[
edit
]
In 1928 Pius Xl named him the patron of orphans and abandoned children.[3]
See also
[
edit
]
Martinitt, Milan orphanage founded by Emiliani
References
[
edit
]