Readings & Reflections: Wednesday of the Fifth Week in Ordinary Time & St. Colette, February 7,2018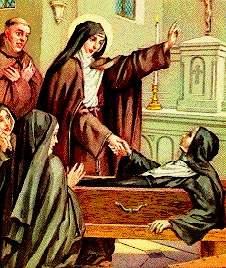 From within the human heart "come evil thoughts, unchastity, theft, murder, adultery, greed, malice, deceit, licentiousness, envy, blasphemy, arrogance, folly." When we are not sure what sin is, we do well to review Christ's list of evils that "come from within and defile." His words reveal a merciful wisdom that, as happened to the queen of Sheba, will leave us "breathless."
AMDG+
Opening Prayer
Dear Jesus, You have revealed to us what deserves space in our hearts. You disclosed to us that rigid and restrictive rules do not make us any better than our neighbor. Rather what is important is what guides our hearts which in turn determines our actions, our thoughts, attitudes and dispositions and how we treat one another. Lord, bless us with your grace, so that we may only imbibe within us the values and norms that will enable us to be like You. We pray in your Holy Name. Amen.
The queen of Sheba, having heard of Solomon's fame,
came to test him with subtle questions.
She arrived in Jerusalem with a very numerous retinue,
and with camels bearing spices,
a large amount of gold, and precious stones.
She came to Solomon and questioned him on every subject
in which she was interested.
King Solomon explained everything she asked about,
and there remained nothing hidden from him
that he could not explain to her.
When the queen of Sheba witnessed Solomon's great wisdom,
the palace he had built, the food at his table,
the seating of his ministers, the attendance and garb of his waiters,
his banquet service,
and the burnt offerings he offered in the temple of the LORD,
she was breathless.
"The report I heard in my country
about your deeds and your wisdom is true," she told the king.
"Though I did not believe the report until I came and saw with my own eyes,
I have discovered that they were not telling me the half.
Your wisdom and prosperity surpass the report I heard.
Blessed are your men, blessed these servants of yours,
who stand before you always and listen to your wisdom.
Blessed be the LORD, your God,
whom it has pleased to place you on the throne of Israel.
In his enduring love for Israel,
the LORD has made you king to carry out judgment and justice."
Then she gave the king one hundred and twenty gold talents,
a very large quantity of spices, and precious stones.
Never again did anyone bring such an abundance of spices
as the queen of Sheba gave to King Solomon.
The word of the Lord.
Responsorial Psalm
R. The mouth of the just murmurs wisdom.
Commit to the LORD your way;
trust in him, and he will act.
He will make justice dawn for you like the light;
bright as the noonday shall be your vindication.
R. The mouth of the just murmurs wisdom.
The mouth of the just man tells of wisdom
and his tongue utters what is right.
The law of his God is in his heart,
and his steps do not falter.
R.The mouth of the just murmurs wisdom.
The salvation of the just is from the LORD;
he is their refuge in time of distress.
And the LORD helps them and delivers them;
he delivers them from the wicked and saves them,
because they take refuge in him.
R. The mouth of the just murmurs wisdom.
Gospel
Mk 7:14-23
Jesus summoned the crowd again and said to them, "Hear me, all of you, and understand. Nothing that enters one from outside can defile that person; but the things that come out from within are what defile."
When he got home away from the crowd his disciples questioned him about the parable. He said to them, "Are even you likewise without understanding?
Do you not realize that everything that goes into a person from outside cannot defile, since it enters not the heart but the stomach and passes out into the latrine?" (Thus he declared all foods clean.) "But what comes out of the man, that is what defiles him.
From within the man, from his heart, come evil thoughts, unchastity, theft, murder, adultery, greed, malice, deceit,licentiousness, envy, blasphemy, arrogance, folly. All these evils come from within and they defile."
The Gospel of the Lord.
Reflection 1 – Godliness and righteousness
"Nothing that enters a man from outside can make him impure; that which comes out of him, and only that, constitutes impurity. Let everyone heed what he hears!"

Godliness and righteousness are not matter of externals, rituals and tradition but they flow from the goodness of one's heart. To be acceptable to God is not a matter of compliance to rituals but one that involves cleansing of our inside-our hearts and minds from what is not of the Lord.
Jealousy, envy, hatred and pride are among the few that we as Christians should be able to decide to cleanse from our inner being. They mislead us and deceive us with foolish suspicions that we effectively mistrust everyone. We become paranoid that people are ganging up on us and our subsequent reaction is to attack with unfair accusations which are not only unsound but uncharitable and certainly not characteristic of a follower of Christ. They cause us to sin and to spill out impurity…impure thoughts and deeds that are fit only for those who have decided to affiliate themselves with the Enemy.
Another poison that may dwell within us is unforgiveness which can only breed bitterness and from it flows the perpetuation of something evil.
"What emerges from within a man, that and nothing else is what makes him impure. Wicked designs come from the deep recesses of the heart: acts of fornication, theft, murder, adulterous conduct, greed, maliciousness, deceit, sensuality, envy, blasphemy arrogance, an obtuse spirit. All these evils come from within and render a man impure."

Brethren, today let us ask ourselves who invited jealousy, envy, hatred and pride and unforgiveness into our hearts. No one but our sinful nature! This is the reason why change should sincerely start from within us.
Although on our own, we cannot change ourselves, the condition of our inner beings deep down inside, can be cleansed by God's grace, if we openly desire to be transformed and present our wounded and broken lives to God. Only by grace can we enter… only by grace can we live! With God's grace at work, everything good follows… healing, restoration and wholeness!
Direction
We can start our own Operations Clean up inside out! Receiving the Sacraments of Reconciliation and Holy Eucharist should be regular in the life of a Christian disciple.
Prayer
Heavenly Father give me the grace to live by your Word and to remove the impurities of the present age from my heart. I pray this in Jesus' Name. Amen.
Reflection 2 – Back to the basics
In the early days of creation, everything was so simple. God created all things and saw that this creation was good. God planted in the garden a tree of the knowledge of good and bad. There was one commandment: not to eat of that tree. The first man and woman must have wondered what it was about that fruit that made it off-limits for them (Gen 2:4-9, 15-17).
Yet today's Gospel (Mk 7:14-23), Jesus claims that it is not what enters a person from the outside that is evil, but what comes from within him or her. According to that perspective, it was not the fruit of the tree itself that was evil, but the desire for the fruit. Throughout time, that longing for the forbidden fruit has been likened to greed, envy, arrogance, and many of the other sins cited by Jesus in the gospel.
If only we could return to simpler times – like the beginning of creation when all things were good and all that was required was a reliance on God. We would not have to worry about avoiding all the many varieties of evil or about being sure that nothing unclean comes from within us. We could rest in the assurance that God is in control and that only God needs to be concerned with sorting out good from evil.
The good news is that this is exactly what salvation gives us: the chance to return to simpler times. We now have the opportunity to let go of these complications that life has amassed. All we need to do is to allow God to purify our hearts, to strive for oneness with God so that all of our desire is for God's way. Just by abandoning our own human desires and setting our hearts on the will of God, we can find that true peace and simplicity. (Source: Cecilia A. Felix, Weekday Homily Helps. Ohio: St. Anthony Messenger Press, February 11, 2009).
Reflection 3 – Managing evil thoughts
Where does evil come from and can we eliminate it from our personal lives? Jesus points his listeners to the source of true defilement – evil desires which come from inside a person's innermost being. Sin does not just happen from external forces. It first springs from the innermost recesses of our thoughts and intentions, from the secret desires which only the individual mind and heart can conceive. We can illustrate this from the story of Cain. When Cain became jealous of his brother Abel, God warned him to guard his own heart (Gen 4:7). Cain unfortunately did not take God's warning to put into his heart. He allowed his jealousy to grow into spite and hatred for his brother, and he began to look for an opportunity to eliminate his brother altogether. When jealousy and other sinful desires come knocking at the door of your heart, how do you respond and manage yourself?
Here's a practical advice of Cardinal Basil Hume of London how to guide our life to saintliness:
Deny yourself. Keep in mind that other people "can provide you with excellent opportunities for self-denial."
Be grateful. "Thank heaven for pretty girls, for music, and as well as for personal success and health. It is a false spirituality to see pleasure as evil," he says.
Pray for the ability to accept things as they are. "If you say 'Thanks be to God' in the face of a snub or unfair criticism," he notes, "you might 'go on feeling furious but that prayer… is extraordinarily valuable and does bring a deep peace – eventually.'"
Change yourself. The cardinal tells of a friend who, in dealing with difficult people, asks himself, "What would I do if I really liked the person?" and then does it.
Think small. "Learn to laugh at yourself and your failures," he advises, "because it does not matter if others do not take you seriously. God will."
God's power and grace enable us to choose what is good and to reject what is evil. Do you believe in the power of God's love to change and transform your heart?
Reflection 4 – Out of the heart come evil thoughts
Where does evil come from and how can we eliminate it from our personal lives? Jesus deals with this issue in response to the religious leaders' concern with ritual defilement (uncleanness) – making oneself unfit to offer acceptable worship and sacrifice to God. The religious leaders were very concerned with avoiding ritual defilement, some no doubt out of reverent fear of God, and others because they wanted to be seen as observant Jews. Jesus points his listeners to the source of true defilement – evil desires which come from inside a person's innermost being. Sin does not just happen from external forces. It first springs from the innermost recesses of our thoughts and intentions, from the secret desires which only the individual mind and heart can conceive.
God gives us his strength to resist sinful thoughts and desires
When Cain became jealous of his brother Abel, God warned him to guard his own heart: "Sin is couching at the door; it's desire is for you, but you must master it" (Genesis 4:7). Cain unfortunately did not take God's warning to heart. He allowed his jealousy to grow into spite and hatred for his brother, and he began to look for an opportunity to eliminate his brother all together. When jealously and other sinful desires come knocking at the door of your heart, how do you respond? Do you entertain them and allow them to overtake you? Fortunately God does not leave us alone in our struggle with hurtful desires and sinful tendencies. He gives us the grace and strength we need to resist and overcome sin when it couches at the door of our heart.
God's word has power to set us free to chose what is good and reject what is wrong
The Lord Jesus wants to set us free from the burden of guilt and from the destructive force of sin and wrong-doing in our personal lives. He wants to purify our hearts and renew our minds so we can freely choose to love and do what is right, good, just, and wise. The Lord Jesus is ready to change and purify our hearts through the grace and help of the Holy Spirit who dwells within us. Like a physician who probes the wound before treating it, God through his Word and Spirit first brings sin into the light that we may recognize it for what it truly is and call upon his mercy and grace for pardon, healing, and restoration. The Spirit of truth is our Counselor and Helper. His power and grace enables us to choose what is good and to reject what is evil. Do you believe in the power of God's love to heal, change, and transform your heart and mind?
"Lord Jesus, fill me with your Holy Spirit and make my heart like yours. Strengthen my heart, mind, and my will that I may freely choose to love what is good and to reject what is evil." – Read the source: http://dailyscripture.servantsoftheword.org/readings/2018/feb7.htm
Reflection 5 – There are no shortcuts to heaven
Do you want Jesus to give you an easy short-cut to heaven? Who wouldn't! But the path of holiness is a difficult inner journey, not an external guarantee like: If I go to Mass every Sunday, I'm going to stay out of hell. If I serve on various committees at church, I'm winning God's favor. If I fast for at least one hour before Mass, I'm like the folks that Jesus was talking about in today's Gospel reading, because no food is defiling the Eucharist that I consume.
Hey wait a minute! I don't want to be like them!
The kingdom of heaven is not a "future" we hope to attain. God's kingdom is already at hand, here and now. If we accept the fact that Jesus died to heal us from our separation from God — a separation caused by our sins — then we live in his kingdom now. Heaven on earth is full of crosses and temptation, but it's still divine. We already belong to God.
Heaven as the after-earth-life is, simply put, the future perfection of the life that we have now. No more crosses, no more temptations, no more impurities in our relationship with God (thanks to purgatory purging out all remaining imperfections). Heaven after death is a continuation of what began on earth.
The path of heaven on earth is a journey of holiness, and our path is defiled by our unholy deeds. We cannot blame the path if we stray from it. Nor can we depend on our path-making tools to carry us to heaven.
Perfect attendance at Mass is only a tool that helps us smooth the road, but if we are not becoming the Eucharist that we consume, and if the true presence of Christ is not coming out from our hearts the rest of the week, what's the point of going to Mass? Staying away from church is no more sinful than going to church and returning home unchanged.
Serving on parish committees is the rock and tar that we use to pave the road, but what happens when someone picks up one of those rocks and hits us in the head with it? If what then comes out from us is evil thoughts, malice, blasphemy, arrogance, or folly, we've been lost on a short-cut that sends us in circles; we haven't been building the path that leads straight to heaven. We've not been following Jesus. Maybe there's a holy card of Jesus tacked to a sign on the road ahead of us, but that's not Jesus.
We dare not blame anyone but ourselves for our unholiness. We are not defiled by the evil-doings of others. When someone treats us unlovingly with evil thoughts, theft, adultery, greed, malice, deceit, envy, arrogance, or folly, these are only externals. How we react to them shows us what's in our hearts: holiness or defilement, Jesus or a plastic statue of him, heaven or worldliness. – Read the source: http://gnm.org/good-news-reflections/?useDrDate=2018-02-07
Reflection 6 – Evils from within
"Nothing makes more visible how much he hates sin than what he has done to destroy it. Is it not too much to say that he wanted to descend from heaven and die himself to wipe it out?… The Son of God has hated sin as far as to want to die in order to destroy it….
"I speak of the faults that Christians who live in half-heartedness are accustomed to commit deliberately and of which they make for themselves habits that they hardly bother to correct. Such are the minor angers, the minor swipes, the words of contempt, the slight gossip, the mockery, the lies, the irreverence and the voluntary distractions in prayer, the desire to please people, the humorous talk that can produce nasty thoughts, the curious looks, too great a love of neatness in dress, laziness, the minor overindulgence in drinking and in eating, the negligence in things that pertain to duty, as in the instruction of servants and in the education of children; in a word, all sins of whatever kind they may be, when the issue is slight or there is more lack of consideration than malice. I say… that these faults, above all when they are actual – when one often falls back into them, when one counts them for nothing – I say that these are the greatest evils.
"Of many reasons that present themselves in order to prove this, I choose not but one sole of them, which will be the whole subject of our discussion. The little sins are great evils because they are great dispositions to the greatest sins; they are all mortal in this sense that they lead to the death of the soul, that they dispose to mortal sin; they dispose to it, both from the side of God whose graces they deplete, and from the side of the individual whose forces they exhaust" (Source: St. Claude La Colombiere, +1682 A.D., Magnificat, Vol. 19, No. 12, February 2018, pp. 105-106).
Please follow Romeo Hontiveros at Twitter click this link: https://twitter.com/Trumpeta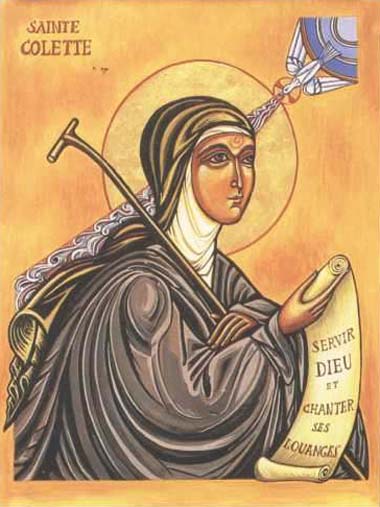 Reflection 7 – St. Colette (1381-1447 A.D.)
Colette did not seek the limelight, but in doing God's will she certainly attracted a lot of attention.
Colette was born in Corbie, France. At 21 she began to follow the Third Order Rule and became an anchoress, a woman walled into a room whose only opening was a window into a church.
After four years of prayer and penance in this cell, she left it. With the approval and encouragement of the pope, she joined the Poor Clares and reintroduced the primitive Rule of St. Clare in the 17 monasteries she established. Her sisters were known for their poverty—they rejected any fixed income—and for their perpetual fast. Colette's reform movement spread to other countries and is still thriving today. Colette was canonized in 1807.
Comment:
Colette began her reform during the time of the Great Western Schism (1378-1417) when three men claimed to be pope and thus divided Western Christianity. The 15th century in general was a very difficult one for the Western Church. Abuses long neglected cost the Church dearly in the following century; the prayers of Colette and her followers may have lessened the Church's troubles in the 16th century. In any case, Colette's reform indicated the entire Church's need to follow Christ more closely.
Quote:
In her spiritual testament, Colette told her sisters: "We must faithfully keep what we have promised. If through human weakness we fail, we must always without delay arise again by means of holy penance, and give our attention to leading a good life and to dying a holy death. May the Father of all mercy, the Son by his holy passion, and the Holy Spirit, source of peace, sweetness and love, fill us with their consolation. Amen."
Read the source: http://www.americancatholic.org/features/saints/saint.aspx?id=1284
SAINT OF THE DAY
Catholic saints are holy people and human people who lived extraordinary lives. Each saint the Church honors responded to God's invitation to use his or her unique gifts. God calls each one of us to be a saint. Click here to receive Saint of the Day in your email.
Colette of Corbie, P.C.C., (13 January 1381 – 6 March 1447) was a French abbess and the foundress of the Colettine Poor Clares, a reform branch of the Order of Saint Clare, better known as the Poor Clares. She is honored as a saint in the Catholic Church. Due to a number of miraculous events claimed during her life, she is venerated as the patron saintof women seeking to conceive, expectant mothers and sick children.
Early life
[
edit
]
She was born Nicole Boellet (or Boylet) in the village of Corbie, in the Picardy region of France, on 13 January 1381, to Robert Boellet, a poor carpenter at the noted Benedictine Abbey of Corbie, and to his wife, Marguerite Moyon. Her contemporary biographers say that her parents had grown old without having children, before praying to Saint Nicholasfor help in having a child. Their prayers were answered when, at the age of 60, Marguerite gave birth to a daughter. Out of gratitude, they named the baby after the saint to whom they credited the miracle of her birth.[1] She was affectionately called Nicolette by her parents, which soon came to be shorted to Colette, by which name she is known.
After her parents died in 1399, Colette joined the Beguines but found their manner of life unchallenging. She received the habit of the Third Order of St. Francis in 1402,[2] and became a hermit under the direction of the Abbot of Corbie, living near the abbey church. After four years of following this ascetic way of life (1402–1406), through several dreams and visions she came to believe that she was being called to reform the Franciscan Second Order, and to return it to its original Franciscan ideals of absolute poverty and austerity.
Foundress
[
edit
]
In October 1406, she turned to the Antipope Benedict XIII of Avignon who was recognized in France as the rightful pope. Benedict received her in Nice, in southern France, and allowed her to transfer to the Order of Poor Clares. Additionally, he empowered her through several papal bulls, issued between 1406 and 1412, to found new monasteries and to complete the reform of the Order.[2]
With the approval of the Countess of Geneva and the aid of the Franciscan itinerant preacher, Henry de Beaume (her confessor and spiritual director), Colette began her work at Beaune, in the Diocese of Geneva. She remained there only a short time. In 1410, she opened her first monastery at Besançon, in an almost-abandoned house of Urbanist Poor Clares. From there, her reform spread to Auxonne (1412), to Poligny (1415), to Ghent (1412), to Heidelberg(1444), to Amiens, to Pont-à-Mousson in Lorraine and to other communities of Poor Clares. During her lifetime 18 monasteries of her reform were founded. For the monasteries which followed her reform, she prescribed extreme poverty, going barefoot, and the observance of perpetual fasting and abstinence.[3]
In addition to the strict rules of the Poor Clares, the Colettines follow their special Constitutions, approved in 1434 by the Minister General of the friars, William of Casale, and approved in 1448 by Pope Nicholas V, again in 1458 by Pope Pius II, and in 1482 by Pope Sixtus IV.
Colette died at Ghent in March 1447.
Veneration
[
edit
]
Colette was beatified 23 January 1740, by Pope Clement XII and was canonized 24 May 1807 by Pope Pius VII.[4] She is invoked by childless couples desiring to become parents, and is also the patroness of expectant mothers, and sick infants.[5]
Colettine nuns
[
edit
]
Currently (2011) outside France the Colettine nuns are found in Belgium, Germany, Ireland, Japan, Norway, the Philippines, Spain and throughout the United Kingdom and the United States.[6]
Colettine friars
[
edit
]
Together with friar Henry of Beaume, Colette also inaugurated a reform among the Franciscan friars (who were known as the Coletans), not to be confounded with the Observants. These friars formed a unique branch of the Order of Friars Minor under Henry's authority, but remained obedient to the authority of the Minister Provincial of the Observant Franciscan friars in France, and never attained much importance, even there. In 1448 they had only thirteen friaries, all attached to monasteries of the Colettine nuns. Together with other small branches of the Friars Minor, they were merged into the wider Observant branch in 1517 by Pope Leo X.
Miracles
[
edit
]
Helping a mother in childbirth
[
edit
]
While traveling to Nice to meet Pope Benedict, Colette stayed at the home of a friend. His wife was in labor at that time with their third child, and was having major difficulties in the childbirth, leaving her in danger of death. Colette immediately went to the local church to pray for her.
The mother gave birth successfully, and survived the ordeal. She credited Colette's prayers for this. The child born, a girl named Pierinne, later entered a monastery founded by Colette. She would become Colette's secretary and biographer.
Saving a sick child
[
edit
]
After the pope had authorized Colette to establish a regimen of strict poverty in the Poor Clare monasteries of France, she started with that of Besançon. The local populace was suspicious of her reform, with its total reliance on them for the sustenance of the monastery. One incident helped turn this around.
According to legend, a local peasant woman gave birth to a stillbornchild. In desperation, out of fear for the child's soul, the father took the baby to the local parish priest for baptism. Seeing that the child was already dead, the priest refused to baptize the body. When the man became insistent, out of frustration, the priest told him to go to the nuns, which he did immediately. When he arrived at the monastery, Mother Colette was made aware of his situation by the portress. Her response was to take off the veil given to her by the Pope, when he gave her the habit of the Second Order, and told the portress to have the father wrap the child's body in it and for him to return to the priest. By the time he arrived at the parish church with his small bundle, the child was conscious and crying. The priest immediately baptized the baby.[7]
Pictures
[
edit
]
Habit of Saint Colette
Ghent, Belgium
See also
[
edit
]
References
[
edit
]