Readings & Reflections: Monday of the Second Week in Advent & St. Damasus I, December 11,2017
Jesus heals the paralytic because he saw the faith of those who lowered him through the roof. In their own hearts they have seen "the glory of the Lord," and that is why they are so eager to make firm knees that are weak and to say to their frightened friend, "Be strong, fear not! Here is your God." Advent calls us to be such a friend "for those with a journey to make."
AMDG+
Opening Prayer
"Lord Jesus, through your merciful love and forgiveness you bring healing and restoration to body, soul, and mind. May your healing power and love touch every area of my life — my innermost thoughts, feelings, attitudes, and memories. Pardon my offences and transform me in the power of your Holy Spirit that I may walk confidently in your truth and righteousness." In your Name, I pray. Amen.
Reading I
Is 35:1-10
The desert and the parched land will exult;
the steppe will rejoice and bloom.
They will bloom with abundant flowers,
and rejoice with joyful song.
The glory of Lebanon will be given to them,
the splendor of Carmel and Sharon;
They will see the glory of the LORD,
the splendor of our God.
Strengthen the hands that are feeble,
make firm the knees that are weak,
Say to those whose hearts are frightened:
Be strong, fear not!
Here is your God,
he comes with vindication;
With divine recompense
he comes to save you.
Then will the eyes of the blind be opened,
the ears of the deaf be cleared;
Then will the lame leap like a stag,
then the tongue of the mute will sing.
Streams will burst forth in the desert,
and rivers in the steppe.
The burning sands will become pools,
and the thirsty ground, springs of water;
The abode where jackals lurk
will be a marsh for the reed and papyrus.
A highway will be there,
called the holy way;
No one unclean may pass over it,
nor fools go astray on it.
No lion will be there,
nor beast of prey go up to be met upon it.
It is for those with a journey to make,
and on it the redeemed will walk.
Those whom the LORD has ransomed will return
and enter Zion singing,
crowned with everlasting joy;
They will meet with joy and gladness,
sorrow and mourning will flee.
The word of the Lord.
Responsorial Psalm
Ps 85:9ab and 10, 11-12, 13-14
R. (Isaiah 35:4f) Our God will come to save us!
I will hear what God proclaims;
the LORD – for he proclaims peace to his people.
Near indeed is his salvation to those who fear him,
glory dwelling in our land.
R. Our God will come to save us!
Kindness and truth shall meet;
justice and peace shall kiss.
Truth shall spring out of the earth,
and justice shall look down from heaven.
R. Our God will come to save us!
The LORD himself will give his benefits;
our land shall yield its increase.
Justice shall walk before him,
and salvation, along the way of his steps.
R. Our God will come to save us!
Gospel
Lk 5:17-26
One day as Jesus was teaching, Pharisees and teachers of the law,
who had come from every village of Galilee and Judea and Jerusalem, were sitting there, and the power of the Lord was with him for healing. And some men brought on a stretcher a man who was paralyzed; they were trying to bring him in and set him in his presence. But not finding a way to bring him in because of the crowd,
they went up on the roof and lowered him on the stretcher through the tiles into the middle in front of Jesus. When Jesus saw their faith, he said, "As for you, your sins are forgiven."
Then the scribes and Pharisees began to ask themselves,
"Who is this who speaks blasphemies? Who but God alone can forgive sins?" Jesus knew their thoughts and said to them in reply,
"What are you thinking in your hearts? Which is easier, to say, 'Your sins are forgiven,' or to say, "Rise and walk'? But that you may know
that the Son of Man has authority on earth to forgive sins"—
he said to the one who was paralyzed, "I say to you, rise, pick up your stretcher, and go home."
He stood up immediately before them, picked up what he had been lying on, and went home, glorifying God. Then astonishment seized them all and they glorified God, and, struck with awe, they said, "We have seen incredible things today."
The Gospel of the Lord.
Reflection 1 – True concern for others
In today's gospel we see a paralytic find his way to Jesus through friends who we assumed loved him and had true concern for him. They did their best in order to bring him to Jesus as they went out of their way to make sure that he was healed. Amidst a big crowd which blocked their entry to the house where Jesus was, the four friends went up the roof and lowered him where Jesus was. Without his friends, he may never have met Jesus.
When we look back and meditate on the work and healings Jesus did, it is quite striking to note that a number of the beneficiaries of Jesus work were friendly referrals.
In Mark 7:32-35, we are witness to the healing of a deaf mute who was brought to Jesus. "And people brought to him a deaf man who had a speech impediment and begged him to lay his hand on him. He took him off by himself away from the crowd. He put his finger into the man's ears and, spitting, touched his tongue; then he looked up to heaven and groaned, and said to him, "Ephphatha!" (that is, "Be opened!") And (immediately) the man's ears were opened, his speech impediment was removed, and he spoke plainly."
In John 1:40-42, we see Andrew, bring his brother Simon Peter, who later became the "prince" of all apostles and on whom Jesus built His church. "Andrew, the brother of Simon Peter, was one of the two who heard John and followed Jesus. He first found his own brother Simon and told him, "We have found the Messiah" 29 (which is translated Anointed). Then he brought him to Jesus. Jesus looked at him and said, "You are Simon the son of John; you will be called Kephas" (which is translated Peter).
And in John 1 :45-49 we all see Philip bring Nathanael to Jesus "Philip found Nathanael and told him, "We have found the one about whom Moses wrote in the law, and also the prophets, Jesus, son of Joseph, from Nazareth." But Nathanael said to him, "Can anything good come from Nazareth?" Philip said to him, "Come and see." Jesus saw Nathanael coming toward him and said of him, "Here is a true Israelite. There is no duplicity in him." Nathanael said to him, "How do you know me?" Jesus answered and said to him, "Before Philip called you, I saw you under the fig tree." Nathanael answered him, "Rabbi, you are the Son of God; 34 you are the King of Israel."
In all four instances, it is quite clear, that had it not been for friends or a brother, the paralytic, the deaf mute, Simon Peter and Nathanael would not have met Jesus.
Today, times have not changed. There are people and places who have not heard about Jesus. Given present circumstances, Jesus and His gospel will never reach the hearts of people unless we go out of our way to evangelize them.
We do not have to go far. With great probability, we have friends, acquaintances, business associates, relatives who may not have heard about Jesus or may have been separated from Him for some reason. Are we making an effort of evangelizing them in Jesus' Name? Are we ready to move out of our comfort zones and bring our Lord to them?
A real test of faith and our love for our Lord is our openness and eagerness to share Jesus with others, especially those who are close to us. Our love for our Lord should be able to move us to draw others to our God.
Direction
Resolve to pursue a ministry that can bring Jesus to others like visiting the elderly or serving in a soup kitchen.
Prayer
Heavenly Father, strengthen my hands that are feeble and make firm my knees that I may be able to bring the joy and peace to Jesus to the world. In Him, I pray. Amen.
Reflection 2 – Your God will come and save you
Is there anything in your life that keeps you from receiving the blessings of God's kingdom? The prophets foretold that when the Messiah came to usher in God's kingdom the blind would see, the deaf hear, and the lame walk (Isaiah 35:5-6). Jesus not only brought physical healing, but healing of mind, heart, and soul as well. Jesus came to bring us the abundant life of God's kingdom (John 10:10). But that new life and transformation can be stifled by unbelief, indifference, and sinful pride. Sin cripples us far more than any physical ailment can. Sin is the work of the kingdom of darkness and it holds us in eternal bondage. There is only one solution and that is the healing, cleansing power of Jesus' forgiveness.
The coming of God's kingdom restores, heals, and brings pardon and new life
Jesus' treatment of sinners upset the religious teachers of the day. When a cripple was brought to Jesus because of the faith of his friends, Jesus did the unthinkable. He first forgave the man his sins. The scribes regarded this as blasphemy because they understood that only God had authority to forgive sins and to unbind a man or woman from their burden of guilt. Jesus claimed an authority which only God could rightfully give. Jesus not only proved that his authority came from God, he showed the great power of God's redeeming love and mercy by healing the cripple of his physical ailment. This man had been crippled not only physically, but spiritually as well. Jesus freed him from his burden of guilt and restored his body as well.
The Lord Jesus sets us free from slavery to sin and makes us whole
The Lord Jesus is ever ready to bring us healing of body, mind, and soul. His grace brings us freedom from the power of sin and from bondage to harmful desires and addictions. Do you allow anything to keep you from Jesus' healing power?
"Lord Jesus, through your merciful love and forgiveness you bring healing and restoration to body, soul, and mind. May your healing power and love touch every area of my life – my innermost thoughts, feelings, attitudes, and memories. Pardon my offenses and transform me in the power of your Holy Spirit that I may walk confidently in your truth and righteousness." – Read the source: http://dailyscripture.servantsoftheword.org/readings/2017/dec11.htm
Reflection 3 – Short sighted expectations
It is important to remember that in Jesus' day there were no clear-cut expectations of what the Messiah would be like. Since the Babylonian exile, Jews hoped that God would restore them to what they had known under King David. That hope focused more on a definitive change in their history and fortunes than on a particular person who would be their savior. For this reason, it was difficult for Jesus' contemporaries to judge whether he might be the one God had chosen to usher in the messianic age. His talk about the kingdom of God caught their ears. His
working of miracles and healing the sick suggested he was God's chosen one. But when he assured people that their sins were forgiven—this was too unexpected and too inconsistent with the agenda of a messiah. His reputation stirred their interest, but his mode of operating upset them. Jesus did not fulfill expectations.
The problem was that Israel's expectations were too low. Saints and mystics openly confess that we tend to limit the Divine One if we confine God to our expectations. Our assessments, our plans, even our dreams are usually shortsighted. God sees so much more. A baby in the womb is safe and secure, but has no expectation about life outside the womb. If asked, he might even say, "I don't want to be born. I'm fine where I am!" His expectation about life is too narrow. It was that way with people Jesus encountered. They thought they knew what kind of messiah they wanted; Jesus never measured up, so they killed him. But, wonderful to say, he had so much more to offer that even death could not stop him.
Part of Advent should be spent on widening our expectations. God always has so much more to offer. "Eye has not seen, ear has not heard, nor has it entered into the human heart what God has in store for those who love him." Spend some time during the rest of this Mass to tell God about your expectations, and then acknowledge that God has even more in mind!
Reflection 4 – What's holding you back?
As we work at building up our faith and our personal connection to Christmas, we need a better understanding of our calling to give birth to Christ in partnership with Mary and the Holy Spirit. We need to get more in touch with how and why we can succeed at spreading the Good News more fully into the world, which so desperately needs him. For this purpose, we can use today's first reading to uncover what's still holding us back:
How is your life like a desert, dry and lifeless except for a few prickly cactuses?
Are you thirsty for more of God? In what area of your life do you feel parched?
Are you feeble in your attempts to become a better evangelizer?
Are your knees weak as your travel the difficult road of holy living?
Are you controlled and paralyzed by fear? Any fear — even the smallest one — paralyzes us from moving ahead into the success that awaits us.
How are you blind? Are you unable to recognize the talents, knowledge and wisdom you have that God wants you to use for taking Christ to others?
What has God been telling you that you can't hear? Maybe it's his guidance? Or his love song that he sings to you? Or his dreams for you?
What part of giving Christ to others is too difficult for you? What lame excuses are you using to sit down and do nothing?
How has fear kept your tongue silent when you could be sharing a story about your faith life? Or what have you been saying that's so unlike Jesus that you give a bad impression of who Jesus really is?
In what areas of your life are the jackals who tempt you still lurking, keeping you from being a good witness of what Jesus is really like?
In what ways do you act foolishly? What the world considers wise the Lord knows to be foolish. What worldly wisdom is holding you back from imitating Jesus?
How are you like a lion? Is there anyone you've been devouring with unkind words or impatience or contempt or bullying instead of giving them the unconditional love of Jesus?
Well, the Good News is, as Isaiah points out: The Lord has ransomed us! Today's Gospel reading reveals that Jesus was overflowing with God's power so that he could minister to people. He wants to minister to you, too. We all need this help to fulfill our calling as evangelizers. It's Jesus who strengthens the hands that are feeble and the knees that are weak.
We are like the paralytic who allowed his friends to lower him to Jesus for a healing. By humbling ourselves and allowing Christian friends to help us, we reach the power of Christ.
And then he says to us, "My friend, your sins are forgiven." With that Word, we are healed. With that Word, all the good things that Isaiah prophesied are becoming true for us. – Read the source: http://gnm.org/good-news-reflections/?useDrDate=2017-12-11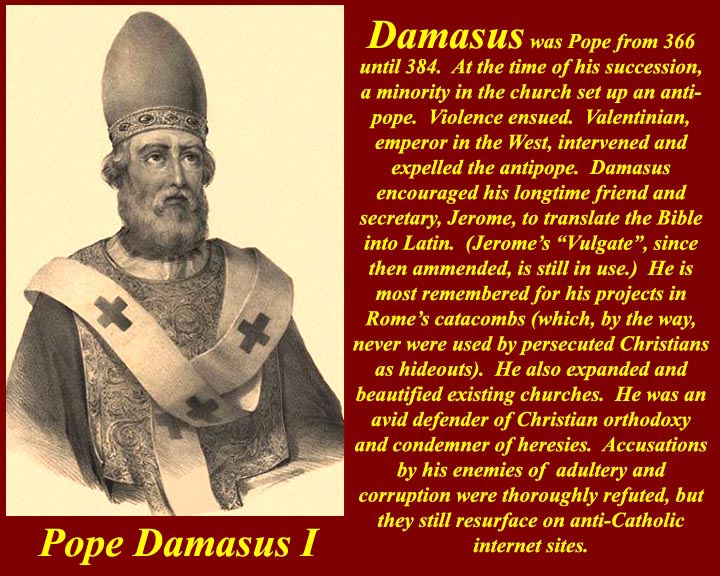 Reflection 5 – St. Damasus I (305?-384 A.D.)
To his secretary St. Jerome, Damasus was "an incomparable person, learned in the Scriptures, a virgin doctor of the virgin Church, who loved chastity and heard its praises with pleasure."
Damasus seldom heard such unrestrained praise. Internal political struggles, doctrinal heresies, uneasy relations with his fellow bishops and those of the Eastern Church marred the peace of his pontificate.
The son of a Roman priest, possibly of Spanish extraction, Damasus started as a deacon in his father's church, and served as a priest in what later became the basilica of San Lorenzo in Rome. He served Pope Liberius (352-366) and followed him into exile.
When Liberius died, Damasus was elected bishop of Rome; but a minority elected and consecrated another deacon, Ursinus, as pope. The controversy between Damasus and the antipope resulted in violent battles in two basilicas, scandalizing the bishops of Italy. At the synod Damasus called on the occasion of his birthday, he asked them to approve his actions. The bishops' reply was curt: "We assembled for a birthday, not to condemn a man unheard." Supporters of the antipope even managed to get Damasus accused of a grave crime—probably sexual—as late as A.D. 378. He had to clear himself before both a civil court and a Church synod.
As pope his lifestyle was simple in contrast to other ecclesiastics of Rome, and he was fierce in his denunciation of Arianism and other heresies. A misunderstanding of the Trinitarian terminology used by Rome threatened amicable relations with the Eastern Church, and Damasus was only moderately successful in dealing with that challenge.
During his pontificate Christianity was declared the official religion of the Roman state (380), and Latin became the principal liturgical language as part of the pope's reforms. His encouragement of St. Jerome's biblical studies led to the Vulgate, the Latin translation of Scripture which twelve centuries later the Council of Trent declared to be "authentic in public readings, disputations, preachings."
Comment:
The history of the papacy and the Church is inextricably mixed with the personal biography of Damasus. In a troubled and pivotal period of Church history, he stands forth as a zealous defender of the faith who knew when to be progressive and when to entrench.
Damasus makes us aware of two qualities of good leadership: alertness to the promptings of the Spirit and service. His struggles are a reminder that Jesus never promised his Rock protection from hurricane winds nor his followers immunity from difficulties. His only guarantee is final victory.
Quote:
"He who walking on the sea could calm the bitter waves, who gives life to the dying seeds of the earth; he who was able to loose the mortal chains of death, and after three days' darkness could bring again to the upper world the brother for his sister Martha: he, I believe, will make Damasus rise again from the dust" (epitaph Damasus wrote for himself).
Read the source: http://www.americancatholic.org/features/saints/saint.aspx?id=1226
SAINT OF THE DAY
Catholic saints are holy people and human people who lived extraordinary lives. Each saint the Church honors responded to God's invitation to use his or her unique gifts. God calls each one of us to be a saint. Click here to receive Saint of the Day in your email.
PAPAL STYLES OF


POPE DAMASUS I

REFERENCE STYLE
His Holiness
SPOKEN STYLE
Your Holiness
RELIGIOUS STYLE
Holy Father
POSTHUMOUS STYLE
Saint
Pope Damasus I (/ˈdæməsəs/ dam-əs-əs; c. 305 – 11 December 384) was Pope from October 366 to his death in 384.[1]
Biographical Information
[
edit
]
Pope St. Damasus I was born around 305,[2] probably near the city of Egitania, Lusitania, in what is the present-day village of Idanha-a-Velha, Portugal, then part of the Western Roman Empire. His life coincided with the rise of Emperor Constantine I and the reunion and re-division of the Western and Eastern Roman Empires, which is associated with thelegitimization of Christianity and its later adoption as the official religion of the Roman state in 380.
Following the death of Pope Liberius, he succeeded to the Papacy amidst factional violence. A group of Damasus' supporters, previously loyal to his opponent Felix, attacked and killed rivals loyal to Liberius' deacon Ursinus in a riot that required the intervention of Emperor Valentinian I to quell.
Damasus faced accusations of murder and adultery with a married woman[3] in his early years as Pope. The neutrality of these claims has come into question with some suggesting that the accusations were motivated by the schismatic conflict with the supporters of Arianism. His personal problems were contrasted with his religious accomplishments, which included restoring Saint Lawrence outside the Walls, encouraging his personal secretary Saint Jerome in hisVulgate translation of the Bible, and presiding over the Council of Rome in 382, which may have set down the canon of Scripture(based upon the Decretum Gelasianum, which some consider a sixth-century work[4]). He also did much to encourage the veneration of the Christian martyrs,[5] restoring and creating access to their tombs in the Catacombs of Rome and elsewhere, and setting up tablets with verse inscriptions composed by himself, several of which survive or are recorded in his Epigrammata.[6]
[7] Damasus has been described as "the first society Pope",[8] and was apparently a member of a group of Iberian Christians, largely related to each other, who were close to the Iberian Theodosius I.[9]
Early life
[
edit
]
Damasus' parents were Antonius, who became a priest at the Church of St. Lawrence (San Lorenzo) in Rome, and Laurentia. He began his ecclesiastical career as a deacon in his father's church, where he went on to serve as a priest. This later became the basilica of Saint Lawrence outside the Walls in Rome.[10]
During Damasus' early years, Constantine I rose to rule the Western Roman Empire. As emperor, he issued the Edict of Milan (313), which granted religious freedom to Christians in all parts of the Roman Empire. A crisis precipitated by the rejection of religious freedom by Licinius, Emperor of the Eastern Roman Empire, in favor of paganism resulted in a civil war in 324 that placed Constantine firmly in control of a reunited Empire. This led to the establishment of Christian religious supremacy in Constantinople and gradually led to a See in that city which sought to rival the authority of the Roman See. Damasus would have been in his twenties at the time.
When Pope Liberius was banished by Emperor Constantius II to Berea in 354, Damasus was archdeacon of the Roman church and followed Liberius into exile, though he immediately returned to Rome. During the period before Liberius' return, Damasus had a great share in the government of the church.[11]
Succession crisis
[
edit
]
In the early Church, new Bishops of Rome were elected or chosen by the clergy and the people of the diocese in the presence of the other bishops in the province, which was the manner customarily used in other dioceses. While this simple method worked well in a small community of Christians unified by persecution, as the congregation grew in size, the acclamation of a new bishop was fraught with division, and rival claimants and a certain class hostility between patrician and plebeiancandidates unsettled some episcopal elections. At the same time, 4th-century emperors expected each new pope-elect to be presented to them for approval, which sometimes led to state domination of the Church's internal affairs.
On the death of Liberius on 24 September 366, one faction supported Ursinus (or Ursicinus), who had served as deacon to Liberius, while another faction, previously loyal to the Antipope Felix II, supported Damasus. The upper-class partisans of Felix supported the election of Damasus, but the opposing supporters of Liberius, the deacons and laity, supported Ursinus. The two were elected simultaneously (Damasus' election was held in San Lorenzo in Lucina) in an atmosphere of rioting. J. N. D. Kelly states that Damasus hired a gang of thugs that stormed the Julian Basilica, carrying out a three-day massacre of the Ursinians.[12] Supporters already clashed at the beginning of October. Such was the violence and bloodshed that the two prefects of the city were called in to restore order, and after a first setback, when they were driven to the suburbs and a massacre of 137 was perpetrated in the basilica of Sicininus (the modern Basilica di Santa Maria Maggiore), the prefects banished Ursinus to Gaul.[13] There was further violence when he returned, which continued after Ursinus was exiled again.
Church historians such as St. Jerome and Rufinus, championed Damasus. At a synod in 378, Ursinus was condemned and Damasus exonerated and declared the true pope. The former antipope continued to intrigue against Damasus for the next few years and unsuccessfully attempted to revive his claim on Damasus's death. Ursinus was among the Arian party in Milan, according to Ambrose.[14]
Edward Gibbon writes, "The enemies of Damasus styled him Auriscalpius Matronarum, the ladies' ear-scratcher."[15]
Damasus I was active in defending the Catholic Church against the threat of schisms. In two Roman synods (368 and 369) he condemned Apollinarianism andMacedonianism, and sent legates to the First Council of Constantinople that was convoked in 381 to address these heresies.
Pope Damasus appointed St Jerome as his confidential secretary. Writing in 409, Jerome remarked, "A great many years ago when I was helping Damasus, bishop of Rome with his ecclesiastical correspondence, and writing his answers to the questions referred to him by the councils of the east and west…"[16] If "east and west" do not betray the passage as an interpolation, Jerome spent three years (382–385) in Rome in close intercourse with Pope Damasus and the leading Christians. Invited there originally to a synod of 382 convened to end the schism of Antioch, he made himself indispensable to the pope, and took a prominent place in his councils.
In order to put an end to the marked divergences in the western texts of that period, Damasus encouraged the highly respected scholar to revise the available Old Latin versions of the Bible into a more accurate Latin on the basis of the Greek New Testament and the Septuagint, resulting in the Vulgate. Jerome devoted a very brief notice to Damasus in his De Viris Illustribus, written after Damasus' death: "he had a fine talent for making verses and published many brief works in heroic metre. He died in the reign of the emperor Theodosius at the age of almost eighty".[17]
St. Damasus sat in the Chair of St. Peter for eighteen years and two months. His feast day is 11 December. He was buried beside his mother and sister in a "funerary basilica … somewhere between the Via Appia and Via Ardeatina", the exact location of which is lost.[18]
Emperor Gratian
[
edit
]
The reign of Gratian, during Damasus' papacy, forms an important epoch in ecclesiastical history, since during that period (359–383), Catholic Christianity for the first time became dominant throughout the empire. Under the influence of Ambrose, Gratian prohibited pagan worship at Rome; refused to wear the insignia of thepontifex maximus as unbefitting a Christian; removed the Altar of Victoryfrom the Senate at Rome and confiscated its revenues, despite protests from the pagan members of the Senate; forbade legacies of real property to the Vestals; and abolished other privileges belonging to them and to the pontiffs.
Relations with the Eastern Church
[
edit
]
The Eastern Church, in the person of St. Basil of Caesarea, earnestly sought the aid and encouragement of Damasus against an apparently triumphant Arianism. Damasus, however, harbored some degree of suspicion against the great Cappadocian Doctor of the Church. In the matter of the Meletian Schism at Antioch, Damasus—together with Pope St. Athanasius of Alexandria and his successor, Peter II of Alexandria—sympathized with the party of Paulinus as more sincerely representative of Nicene orthodoxy. On the death of Meletiushe sought to secure the succession for Paulinus and to exclude Flavian.[19] He supported the appeal of the Christian senators to Emperor Gratian for the removal of the altar of Victory from the Senate House,[20] and lived to welcome the famous edict of Theodosius I, "De fide Catholica" (27 February 380),[21] which proclaimed as the religion of the Roman State that doctrine which Saint Peter had preached to the Romans and of which Damasus was head.[1]
During his papacy, Peter II of Alexandria was obliged for a while to seek refuge in Rome from the persecuting Arians. He was received by Damasus, who sympathised with him and gave him support against the Arians.[1] This reconciled the relations between the Church of Rome and the Church of Antioch, which both supported the Church of Alexandria.
Devotion to Saint Laurence
[
edit
]
Damasus rebuilt or repaired a church named for Saint Laurence, known as San Lorenzo fuori le Mura ("St Lawrence outside the walls"), which by the 7th century was a station on the itineraries of the graves of the Roman martyrs.
Damasus' devotion for the Roman martyr is attested also by the tradition according to which the Pope built a church devoted to Laurence in his own house, San Lorenzo in Damaso.
Letter of Jerome to Damasus
[
edit
]
The letters from Jerome to Damasus are examples of the primacy of the See of Peter:
Yet, though your greatness terrifies me, your kindness attracts me. From the priest I demand the safe-keeping of the victim, from the shepherd the protection due to the sheep. Away with all that is overweening; let the state of Roman majesty withdraw. My words are spoken to the successor of the fisherman, to the disciple of the cross. As I follow no leader save Christ, so I communicate with none but your blessedness, that is with the chair of Peter. For this, I know, is the rock on which the church is built! This is the house where alone the paschal lamb can be rightly eaten. This is the ark of Noah, and he who is not found in it shall perish when the flood prevails. But since by reason of my sins I have betaken myself to this desert which lies between Syria and the uncivilized waste, I cannot, owing to the great distance between us, always ask of your sanctity the holy thing of the Lord. Consequently I here follow the Egyptian confessors who share your faith, and anchor my frail craft under the shadow of their great argosies. I know nothing of Vitalis; I reject Meletius; I have nothing to do with Paulinus. He that gathers not with you scatters; he that is not of Christ is of Antichrist.[22]
See also
[
edit
]
References