Readings & Reflections with Cardinal Tagle's video: Second Sunday of Advent B & Blessed Adolph Kolping, December 10,2017
"The beginning of the Gospel of Jesus Christ" is not a book, but a presence: the presence of the Son of God in human flesh. The beginning of the Gospel promises a new beginning for those aching to hear someone "speak tenderly." Comfort will come; truth that is meaning which never decays will "spring out of the earth" – out of what we see and touch every day. We hasten that day by awaiting this presence eagerly. "Repentance" means changing to please the one who loves us into happiness.
AMDG+
Opening Prayer
Lord give us the grace to drop all our airs of superiority and pride, and humble ourselves before your mighty throne because You are truly our all in all. Give us the humility of John the Baptist as we endeavor to bring your Word to the ends of the world. Amen.
Reading 1 IS 40:1-5, 9-11 – Prepare the way of the Lord.
Comfort, give comfort to my people,
says your God.
Speak tenderly to Jerusalem, and proclaim to her
that her service is at an end,
her guilt is expiated;
indeed, she has received from the hand of the LORD
double for all her sins.
A voice cries out:
In the desert prepare the way of the LORD!
Make straight in the wasteland a highway for our God!
Every valley shall be filled in,
every mountain and hill shall be made low;
the rugged land shall be made a plain,
the rough country, a broad valley.
Then the glory of the LORD shall be revealed,
and all people shall see it together;
for the mouth of the LORD has spoken.
Go up on to a high mountain,
Zion, herald of glad tidings;
cry out at the top of your voice,
Jerusalem, herald of good news!
Fear not to cry out
and say to the cities of Judah:
Here is your God!
Here comes with power
the Lord GOD,
who rules by his strong arm;
here is his reward with him,
his recompense before him.
Like a shepherd he feeds his flock;
in his arms he gathers the lambs,
carrying them in his bosom,
and leading the ewes with care.
The word of the Lord.
Responsorial Psalm PS 85:9-10, 11-12, 13-14
R/ (8) Lord, let us see your kindness, and grant us your salvation.
I will hear what God proclaims;
the LORD—for he proclaims peace to his people.
Near indeed is his salvation to those who fear him,
glory dwelling in our land.
R/ Lord, let us see your kindness, and grant us your salvation.
Kindness and truth shall meet;
justice and peace shall kiss.
Truth shall spring out of the earth,
and justice shall look down from heaven.
R/ Lord, let us see your kindness, and grant us your salvation.
The LORD himself will give his benefits;
our land shall yield its increase.
Justice shall walk before him,
and prepare the way of his steps.
R/ Lord, let us see your kindness, and grant us your salvation.
Reading 2 2 PT 3:8-14 – We await new heavens and a new earth.
Do not ignore this one fact, beloved,
that with the Lord one day is like a thousand years
and a thousand years like one day.
The Lord does not delay his promise, as some regard "delay,"
but he is patient with you,
not wishing that any should perish
but that all should come to repentance.
But the day of the Lord will come like a thief,
and then the heavens will pass away with a mighty roar
and the elements will be dissolved by fire,
and the earth and everything done on it will be found out.
Since everything is to be dissolved in this way,
what sort of persons ought you to be,
conducting yourselves in holiness and devotion,
waiting for and hastening the coming of the day of God,
because of which the heavens will be dissolved in flames
and the elements melted by fire.
But according to his promise
we await new heavens and a new earth
in which righteousness dwells.
Therefore, beloved, since you await these things,
be eager to be found without spot or blemish before him, at peace.
The word of the Lord.
Alleluia LK 3:4, 6
R. Alleluia, alleluia.
Prepare the way of the Lord, make straight his paths:
all flesh shall see the salvation of God.
R. Alleluia, alleluia.
Gospel MK 1:1-8 – Make straight the path of the Lord.
Bishop Robert Barron's Homily – Clear a path click below:
The beginning of the gospel of Jesus Christ the Son of God.
As it is written in Isaiah the prophet:
Behold, I am sending my messenger ahead of you;
he will prepare your way.
A voice of one crying out in the desert:
"Prepare the way of the Lord,
make straight his paths."
John the Baptist appeared in the desert
proclaiming a baptism of repentance for the forgiveness of sins.
People of the whole Judean countryside
and all the inhabitants of Jerusalem
were going out to him
and were being baptized by him in the Jordan River
as they acknowledged their sins.
John was clothed in camel's hair,
with a leather belt around his waist.
He fed on locusts and wild honey.
And this is what he proclaimed:
"One mightier than I is coming after me.
I am not worthy to stoop and loosen the thongs of his sandals.
I have baptized you with water;
he will baptize you with the Holy Spirit."
The Gospel of the Lord.
Reflection 1 – Straighten the Path
Dr. Scott Hahn's reflection click below:
Our God is coming. The time of exile – the long separation of humankind from God due to sin – is about to end. This is the good news proclaimed in today's liturgy.
Isaiah in today's First Reading promises Israel's future release and return from captivity and exile. But as today's Gospel shows, Israel's historic deliverance was meant to herald an even greater saving act by God – the coming of Jesus to set Israel and all nations free from bondage to sin, to gather them up and carry them back to God.
God sent an angel before Israel to lead them in their exodus towards the promised land (see Exodus 23:20). And He promised to send a messenger of the covenant, Elijah, to purify the people and turn their hearts to the Father before the day of the Lord (see Malachi 3:1, 23-24).
John the Baptist quotes these, as well as Isaiah's prophecy, to show that all of Israel's history looks forward to the revelation of Jesus. In Jesus, God has filled in the valley that divided sinful humanity from himself. He has reached down from heaven and made His glory to dwell on earth, as we sing in today's Psalm.
He has done all this, not for humanity in the abstract, but for each of us. The long history of salvation has led us to this Eucharist, in which our God again comes and our salvation is near. And each of us must hear in today's readings a personal call. Here is your God, Isaiah says. He has been patient with you, Peter says in today's Epistle.
Like Jerusalem's inhabitants in the Gospel, we have to go out to Him, repenting our sins, all the laziness and self-indulgence that make our lives a spiritual wasteland. We have to straighten out our lives, so that everything we do leads us to Him.
Today, let us hear the beginning of the gospel and again commit ourselves to lives of holiness and devotion (Source: Scott Hahn, Ph.D https://stpaulcenter.com/straighten-the-path-scott-hahn-reflects-on-the-second-sunday-of-advent/).
Reflection 2 – How to prepare the way of the Lord?
In the revolutionary war, during preparation for a battle, a man in civilian clothes passed a corporal who was arrogantly ordering his men to lift a heavy beam. The man stopped and asked the corporal, "Why don't you help them?" sir, the answer came back indignantly, "I am a corporal" with a muttered apology, the stranger stripped of his coat and pitched in to help the soldiers. "Mr. Corporal," he said when the task was done, "whenever, you haven't enough men to do a job, call on your commander-in-chief. I'll be glad to help. With that, George Washington put on his coat and left. To help others we must often humble ourselves; but we always win by doing so (cf. Fr. William Bausch).
Humility is the central message of St. John the Baptist in order to prepare the way of the Lord. St. John the Baptist is the Lord's immediate precursor sent to prepare his way. Prophet of the Most High, John surpasses all the prophets, of whom he is the last. He inaugurates the Gospel, already from his mother's womb welcome the coming of Christ, and rejoices in being the friend of the bridegroom whom he points out as "Lamb of God, who takes away the sins of the world" (Jn 1:29). Going before Jesus "in the spirit and power of Elijah." John bear witness to Christ in his preaching by his baptism of conversion, and through his martyrdom. We are called to unite John the Baptist desire: "He must increase, but I must decrease" (Jn 3:30).
How can I let myself decrease and the Lord increase? St. Paul advise us to rejoice always (1 Thes 5:16). Here are some suggestions:
When we make mistake, there are only three things we should ever do about it: a) Admit it and ask for forgiveness b) Learn from it, c) Don't repeat it.
All work has value and meaningful. Offered it to the Lord humbly. As St. Paul says "retain what is good. Refrain from every kind of evil" (1 Thes 5:21).
Experiencing each moment is satisfying. Rushing through things to achieve a goal is not. Our Lord Jesus is faithful, and he will help us accomplish our goal.
Celebrate in thanking the Lord everyday, the ordinary. This thing gives life stability and shape.
Make our home an expression of our faith in prayer without ceasing (1 Thes 5:17). Hoping the best will come out even in our difficulties.
Express mutual love in small, practical deeds like the commander-in-chief George Washington.
St. Peter (2 Pt 3:8-15) tells us that the world is coming to an end awaiting a new heavens and new earth. So, we should prepare ourselves "without blemish before him, at peace" (2 Pt 3:14). To prepare ourselves for Christmas, we should go to confession and to welcome Christ with a pure heart. Then, let us resolve ourselves to confess our sins regularly during the coming year.
As we begin the season of Advent, we are called to hear the words of Isaiah (Is 40:1-5, 9-11) and John the Baptist (Mk 1:1-8) and called us to point to God here and now. Advent prepares us the way to Christmas, when Christ makes his home among us. We proclaim Christ by our faith, hope and charity by acting out the words of John the Baptist, "Prepare the way of the Lord, make straight his paths" (Mk 1: 3). The results may surprise us.
During this season of Advent, let us be opened to the Lord in obedience to His will by receiving Him during Holy Communion and come out to proclaim God's words to others by inviting them to go to mass during advent and on Christmas day. Then you become the light in the darkness of the world. For more read the 5 Advent Virtues of St. Joseph click this link: http://www.pagadiandiocese.org/2014/12/21/the-5-advent-virtues-of-st-joseph/
Reflection 3- Prepare the way of the Lord Jesus
Behold, I am sending my messenger ahead of you; he will prepare your way. A voice of one crying out in the desert: "Prepare the way of the Lord, make straight his paths."
Our Father in heaven prepared the way of Jesus' coming into our lives from the very day we saw light. He has been truly faithful to us that even to this day He continues to provide the ways by which we may have Jesus in our hearts. He opens our hearts to the truth that if we have to pave the way of the Lord in the present world, we need to start with ourselves. He reminds us that, "The day of the Lord will come like a thief therefore, beloved, since you await these things, be eager to be found without spot or blemish before him, at peace."2 Pt 3:10-14"Therefore, stay awake! For you do not know on which day your Lord will come." Mt 24;42
What does our Lord mean when He said we have to be awake… we must always be ready?
Interior readiness is what our Lord wants from all of us-a vigorous interior life, matured in thought and judgment and with a spirit of sacrifice that is in union with God. Readiness means being firmly anchored in God by an intense interior life that can withstand the constant pressure of the world around us. Being ready for the Lord implies one's earnest desire for perfection and sanctity in order to give God to souls and bring souls to God. Being ready and alert for the Lord is having a heart that is not only open but is also willing to respond to the needs of others. Readiness is not being concerned about a specific time but trusting in God's goodness and concentrating on obeying His will as revealed by His Word.
Interior readiness implies the need to be watchful as we all prepare for the return of Jesus. Amidst the strong winds of any storm that hopes to destroy us, we ought to be strong and firm. We need to be spiritually nourished and energized by His grace as the enemy lurks around trying to pull us away from the Lord and towards the world, its pleasures and benefits. Complacency and indifference to God's word should never have space in our hearts. We cannot afford to be weak in faith, be spiritually sloppy and slowly be more self righteous in our ways. We need to be strongly anchored and connected to the Lord and His Word if we want to be prepared for Jesus' coming and to make it to our true home in heaven.
We are all called to be ready and prepared for Jesus' return. The best way to do it is by being faithful to Him and serving Him with our whole heart and soul!
Direction
To prepare for Jesus, one's life should be firmly anchored in Him even when there are no storms on the horizon. Have faith and be fruitful.
Prayer
Heavenly Father, help me prepare my heart, my soul and my total life for the return of my Lord and Savior, your Son Jesus. In Him I live and pray. Amen.
Reflection 4 – Spiritual Preparation
A teacher was explaining to her grade school class the value of cleanliness and a healthy lifestyle. She placed four worms in separate jars. The first worm was put into a jar of alcohol. The second worm was put into a container of cigarette smoke. The third worm was put into a jar filled with soda. The fourth worm was put into a container of good clean soil. The children saw with their own eyes the result: The first worm in alcohol – dead.
The second worm in cigarette smoke – dead.
Third worm in soda – dead.
Fourth worm in good clean soil – alive!
So, the teacher asked: "Class, what is the lesson you get from this experiment?"
A boy quickly raised his hand and said, "Now I know that as long as you drink alcohol, smoke cigarettes and drink soda, you won't have worms in your body!"
People nowadays are serious about their physical health and wellbeing. This is truly commendable. After all, we are reminded that the body is the temple of the Holy Spirit. However, while people take care of their body, there is not enough attention given to the spiritual health, the well being of their soul. Such is the fruit of the culture of materialism in the world. People give importance to the physical and material, but neglect and even ignore the spiritual aspects of life.
We are now on the second Sunday of Advent. People are already doing the countdown for Christmas. And definitely, most of us are making preparations for this long-awaited event of the year. Yet, the same thing happens: most preparations are only on the material and superficial levels.
The season of Advent, therefore, aims to direct us towards the more important aspect: the spiritual preparation. Hence, this Sunday, the main figure of Advent, St. John the Baptist, is being presented to us. He is the voice crying in the desert: "Prepare the way of the Lord!"
The preparation that St. John refers to is not about decorations, gifts and parties. Rather, he is talking about internal and spiritual preparation. Based on our readings this Sunday, let me point out the elements of this kind of preparation.
The first element is the virtue of faith. We must be sure that our belief in the coming of the Lord is firm and strong. Jesus comes into our lives in three ways: his coming in history, which is what we celebrate every Christmas; his coming in mystery, which happens everyday in the celebration of the sacraments, especially in the Eucharist, and in our encounter with other people; and his coming in glory at the end of time. As Advent people, we wait with patience and faith. And the best way to keep our faith strong is constant prayer. As St. Padre Pio said, "prayer is the oxygen of our soul."
The second element is humility. This is clearly shown in the teachings and example of St. John the Baptist: "I am not worthy to stoop and loosen the thongs of his sandals." Knowing how sinful we are, we bow our heads in sorrow and shame, yet full of hope – for we have faith in a merciful and loving God. The Lord comes only to people whose hearts are pure and humble. Hence, humility is an essential element in our preparation for the Lord's coming.
And the third element is repentance. The message of St. John the Baptist is constant and urgent: "Repent, for the kingdom of God is at hand!" As we wait for the Lord, we look at ourselves, and humbly admit our sinfulness and unworthiness. Sadly, this element is missing among many people nowadays. The loss of the sense of sin is so evident in our society. St. John pointed out to the people: "Look! There is the Lamb of God, who takes away the sins of the world!" It is Jesus, the Lamb of God, who takes away the sins of the world. How many people still believe this truth?
For a lot of people, it is politicians, Congress, or the movie stars or television that take away the sins of the world. Most countries in the world have already legalized divorce and the killing of unborn babies. Still others have also legalized same sex marriage. They have declared therefore, that these horrible offenses against God, nature and humanity are not anymore wrong and sinful. They are taking away the sins of the world! As a result, many have already lost the sense of sin. The cause of this sad situation is an erroneous understanding of human freedom. Many people think that personal freedom is absolute, and that we can change the moral law any way we wish. This is what Pope Benedict XVI referred to as the "dictatorship of relativism."
Pope Saint John Paul II wrote about this in his encyclical "Veritatis Splendor." He said, "Certain currents of modern thought have gone so far as to exalt freedom to such an extent that it becomes an absolute, which would then be the source of values. This is the direction taken by doctrines which have lost the sense of the transcendent or which are explicitly atheist. The individual conscience is accorded the status of a supreme tribunal of moral judgment, which hands down categorical and infallible decisions about good and evil."
St. John preached a baptism of repentance as the way to prepare the hearts of people for the coming of the Lord. He did not mince words in pointing out sinful deeds and behavior and made sure they realize the horrors of sin. He fearlessly condemned the immoral and scandalous relationship of the king with his brother's wife. In doing so, he was beheaded in prison by order of the king. He was willing to sacrifice his own life in order to bring people to repentance and conversion.
Such attitude is similar to that of Jesus who willingly died on the cross for our conversion and salvation. St. Peter expressed this in the second reading: "The Lord does not delay his promise, but is patient with you, not wishing that any should perish but that all should come to repentance" (2Pet 3:9-10). Needless to say, the sacrament of Confession is an indispensable tool in making our Advent preparation fruitful and complete, "eager to be found without spot or blemish before him, at peace" (2Pet 3:14).
This Advent Season, let our preparation be primarily spiritual, and as we prayed at the start of this Mass, "may no earthly undertaking hinder those who set out in haste to meet your Son." We ask the Lord to give us the grace of repentance so that, set free from the slavery of sin, we may grow in humility and in faith – the essential ingredients in our spiritual preparation for the coming of the Lord in history, in mystery and in glory (Source: Fr. Mike Lagrimas, Our Lady of Guadalupe Parish, Palmera Springs 3, Susano Road, Camarin, Novaliches, Caloocan City 1422).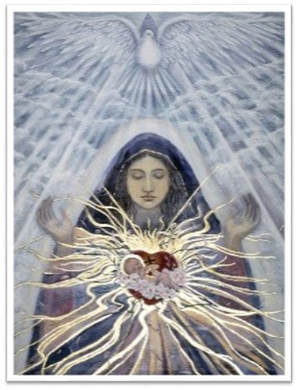 Reflection 5 – The baptism of repentance and purification in the Holy Spirit
John the Baptist's life was fueled by one burning passion – to point others to Jesus Christ and to the coming of his kingdom. Who is John the Baptist and what is the significance of his message for our lives? Scripture tells us that John was filled with the Holy Spirit even from his mother's womb (Luke 1:15, 41) by Christ himself, whom Mary had just conceived by the Holy Spirit. When Mary visited her cousin Elizabeth John leaped in her womb as they were filled with the Holy Spirit (Luke 1:41). The fire of the Spirit dwelt in John and made him the forerunner of the coming Messiah. John was led by the Spirit into the wilderness prior to his ministry where he grew in the word of God and was tested in preparation for his prophetic mission. John's clothing was reminiscent of the prophet Elijah (see Kings 1:8).
Called to hear and obey the Word of God
John broke the prophetic silence of the previous centuries when he began to speak the word of God to the people of Israel. His message was similar to the message of the Old Testament prophets who chided the people of God for their unfaithfulness and who tried to awaken true repentance in them. Among a people unconcerned with the things of God, it was his work to awaken their interest, unsettle them from their complacency, and arouse in them enough good will to recognize and receive Christ when he came. Are you eager to hear God's word and to be changed by it through the power of the Holy Spirit?
Jesus tells us that John the Baptist was more than a prophet (Luke 7:26). John was the voice of the Consoler who is coming (John 1:23; Isaiah 40:1-3). He completed the cycle of prophets begun by Elijah (Matthew 11:13-14). What the prophets had carefully searched for and angels longed to see, now came to completion as John made the way ready for the coming of the Messiah, God's Anointed Son, the Lord Jesus Christ. With John the Baptist, the Holy Spirit begins the restoration to the human race of the "divine likeness", prefiguring what would be achieved with and in the Lord Jesus.
Let the Holy Spirit purify and transform your mind and heart
John's baptism was for repentance – turning away from sin and taking on a new way of life according to God's word. Our baptism in Jesus Christ by water and the Spirit results in a new birth and entry into God's kingdom as his beloved sons and daughters (John 3:5). The Lord Jesus comes to baptize each one of us in his Holy Spirit so that we may walk in his truth and holiness and radiate the joy of the Gospel to all we meet. God's word has power to change and transform our lives so that we may be lights that point others to Jesus Christ. Like John the Baptist, we too are called to give testimony to the light and truth of Christ. Do you point others to Jesus Christ in the way you live, speak, and treat others?
"Lord, let your light burn brightly in my heart that I may know the joy and freedom of your kingdom. Fill me with your Holy Spirit and empower me to witness the truth of your Gospel and to point others to Jesus Christ." – Read the source: http://dailyscripture.servantsoftheword.org/readings/2017/dec10.htm
Reflection 6 – Christ is coming: A life of simplicity and prayer prepares us for Christmas
Today is the second Sunday of Advent. The word "advent" means "coming." Today's first reading (Is 40:1-5, 9-11) says that God is coming and that we must prepare for his coming, which is likened to that of a traveler who has to navigate a rugged road. We are told that we must fix up the road on which Christ is coming. There are bumps that have to be leveled and pot holes that have to be filled. The message that we draw from the words of the prophet Jeremiah, of course, is that Christ is coming to the world this Christmas, and not only to the world but to each one of us. And, in our case, we can see the bumps and the pot holes in the world around us. Our country, for many years now, has been making the road rougher and rougher as secularism grows stronger and stronger. The United States has over a million abortions each year, and those are just the ones that are reported. Many of our Catholic politicians even vote against their faith. There are about as many divorces as there are marriages. Sexual sins abound: contraception, fornication and the spread of sexually transmitted diseases. Jeremiah says that the area through which Christ must pass to get to us is a desert, a wilderness.
Many Catholics would be content with a simple life, a quiet, prayerful life, but it's harder to obtain than it was just a few decades ago. Over two hundred years ago, an English poet, Thomas Gray, was meditating in the cemetery next to his parish church in Stoke Pogis, just a little west of London, the cemetery in which he is now buried. He composed one of the most beautiful poems in the English language, "Elegy in a Country Churchyard," He was aware that, in the sight of God, what counts is a life of love not a life of wealth or power or fame or pleasure. "Let not ambition mock their useful toil, their homely joys, and destiny obscure; Nor grandeur hear with disdainful smile, the short and simple annals of the poor." Thomas Gray knew that the rich and the famous came to the cemetery just as everyone else does. "The boast of heraldry, the pomp of power, and the all alike the inevitable hour: The paths of glory lead but to the grave."
In today's second reading (2 Pt 3:8-15), St. Peter tells us that, since the world is coming to an end, we should live "homely and saintly lives," and that we should "do our best to live lives without spot or stain," so that, when he comes, "he will find us at peace."
Let us say a few words about how we might prepare for Christmas. We should go to confession before Christmas, to welcome Christ with a pure heart. And we can resolve to confess our sins regularly during the coming year.
Prayer is all important. We should go to Mass every Sunday and pray for salvation for ourselves, for our family and friends, and for our country.
One benefit to living a simple life is concentrating more on our family. Parents should make sure that their children learn their religion so well that they will never forget it.
Reading Catholic books or journals can supplement our knowledge of our faith. We have so many good lives of the saints available today. And, while we are reading about them, we can adopt these saints as patrons.
A family that knows and lives its faith makes a tremendous impression on the persons who encounter it. The simplicity of their life speaks for itself. I am sure that each of us has come to know such a family and, if so, it has a permanent impression on us.
There are statements made by Jesus that we should think of often. They can console us in difficulties; statements such as, "Blessed are the poor in spirit, for theirs is the kingdom of heaven; blessed are the merciful, for they shall obtain mercy; blessed are the clean of heart, for they shall see God; charity covers a multitude of sins."
We can be tempted to seek inordinate earthly power, earthly pleasure and earthly fame. But we must remember that what the world think of us is often unimportant; what is important is that, if we love God and live for him, we are fulfilling the purpose for which we exist. (Source: Rev. Leonard A. Kennedy, C.S.B., "Homilies on the liturgies of Sundays and Feasts," Homiletic & Pastoral Review. Vol. CIX, No. 2. New Jersey: St. Ignatius Press, November 2008, pp. 33-34; Suggested reading: Catechism of the Catholic Church, 522-524, 673-674, 1014, 2772, 2853).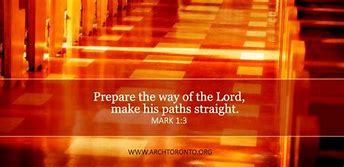 Reflection 7 – Make His Path Straight
Purpose: Advent is a time to prepare for Christmas. As St. John the Baptist gave a compelling witness to Christ by word and deed, so to the Christian is called to do the same.
I wish I had what John the Baptist had! He makes his appearance at the very beginning of St. Marks's Gospel. Announcing far and wide "prepare the way of the Lord." Whatever it was about him, the Gospel tells us "all Judea and all the people of Jerusalem made their way to him." Now, this may be figurative, but I think it is clear that John made an impact on the people who heard him.
We know from history there was excitement in the air in the Holy Land of the time. People were looking everywhere for the Messiah, expecting him to make his appearance at any moment. The political, social, and religious situation at the time was at fever pitch. St. John's anointed words, no doubt, were eagerly received.
But what was it that made him particularly attractive? Was it his own story? Did people remember his birth? The Gospel tells us that that affair was talked about and thought out in Judea. St. Luke tells us that people asked, what would this child turn out to be? Was it his unusual habits? Eating locusts and wild honey, dressing in camel skins and shunning society to live in the deserted places? His peculiarities, no doubt, drew some people to have a look, to catch sight of this strange and unusual man.
It was much more than that. When people came to hear him, they were captivated. His words ran deep into the soul. When the people heard them, they were touched, so much so that they received his baptism. St. John's witness was so radical, so different, so compelling, that whoever saw or heard him confessed their sins and returned home different.
Yet, in the midst of all this, a voice cries out; prepare the way of the Lord.
There is no end to eccentric characters in our world. St. John, however, was much more than an unusual character doing unusual things. By word and deed, he stood out from the crowd and made a huge impact. His way of life and the conviction of his preaching made people sit up and pay attention. They had no choice but to listen to him, regardless of whether they took his message to heart or not.
We, as believers in Jesus Christ, are called to do the exact same. Our word is also fearful. I wonder are we so different today? We live in an era that is marred by uncertainty and doubt. We live in a time of wars and rumors of wars, and year in, year out there appears more and more things to worry about. As the great hymn says, we seem to be "by a thousand snares surrounded." The world of the first century and the world of the 21st don't seem too far apart. We seem to be looking for what St. Peter says in the second reading, "the day of the Lord will come like a thief, and then the heavens will pass away with a mighty roar, and the elements will be dissolved by fire, and the earth, and everything done on it, will be found out." Sobering stuff.
In the doom of gloom, either explicit or implicit, the call of the Christian is to proclaim a new heaven and a new earth, by living "holy and saintly lives." The world around us may not accept what we proclaim. The world around us may reject what we call holy. The world around us may be content to live in great darkness, but those of us who have been given the gift of faith must bravely and confidently cry out, "prepare the way of the Lord."
What does our world need? It needs consolation. In the "decadent west," we have more than we could ever want for our comfort and ease. While it is true that not everyone is backing luxury, the lure of wealth, and the attractions of "the world that is passing away," it seems to be the final goal of so many. Like Israel in the desert, we have bread, but it fails to satisfy.
As we begin the season of Advent, the Church calls us to hear the words of Isaiah and John again. As witnesses of Jesus, our call is to point to God here and now. Advent prepares the way to Christmas, when Christ makes his home among us. We proclaim Christ by quiet conviction, firm hope, and inexhaustible charity. These things alone are compelling. These things alone proclaim, "Prepare the way of the Lord." In hundreds of small ways between now and Christmas, we are called to be like St. John. The results may surprise us. – Read the source: http://www.hprweb.com/2014/12/homilies-for-december-2014/
Reflection 8 – Sacred Harp singing
There's no sound in the world like it.
It can be shrill and passionate, like a shrieking herd of goats, or it can be soft and placid, painting the kinds of dulcet tones that lull children to sleep. This music can even be downright calamitous. This may well surprise you, but I'm describing Sacred Harp singing.
Sacred Harp singing is an American tradition of spiritual folk music which originated in New England in the 1780s. By the 1820s, this distinct body of hymns had migrated to the South where it was preserved in rural communities. Everyone knows its most popular tune: Amazing Grace. Sacred Harp singing is not, by any means, a polished music. The melodies are simple, and the harmonies—frankly—are a little primitive. You can't usually listen to Sacred Harp music performed in concerts, rather, it's shared in local singings, where lovers of the music gather to raise their voices in anthem. There aren't rehearsals. The singers simply gather, pick up the music, and begin to sing for one another, and for God.
And yet, the effect of this boisterous acapella warbling can only be described as transcendent. Entering into a Sacred Harp singing, by contemplating the words, loving the melody, and sharing it in the assembled choir, lifts the singer up in the wall of sound. The exultant, revelatory style of Sacred Harp singing hints at the heraldic role of Zion. This is truly an echo of Zion's song: "Here is your God! Here comes with power the Lord GOD, who rules by his strong arm." (Isa. 40:10).
1. Zion's song is a song of comfort.
Isaiah the prophet declares, "Comfort, give comfort to my people, says your God. Speak tenderly to Jerusalem, and proclaim to her that her service is at an end…" This extraordinary consolation is offered to the Jewish people in exile. To a suffering, displaced people, the LORD promises, through his prophet, that brighter days are on the horizon. This exhortation is not simply to recall the past fidelity of the LORD. On the contrary, the song of comfort tells that God is doing something new. The familiar, well-known melodies of Sacred Harp singing, come to life because each singing is a new experience of the music. That's what Advent is. It's a new look, a new coming to know the comfort and consolation of God.
Centuries later, John the Baptist would take up again Isaiah's song of comfort and consolation. John cries out, "I have baptized you with water; he will baptize you with the Holy Spirit." The LORD is preparing for a grand work of consolation. Like Israel of old, we, the followers of Christ, must look for the consolation God offers us in time of trial. His consolation comes, as certainly as the sun rises, and brings with it the light and love which alone comforts the sorrowing heart.
2. Zion's song is anticipatory.
We, like Zion, expect the Lord to do marvelous things. Just like all those who revel in Sacred Harp singing, eagerly anticipating the next gathering, we look to the horizon of our hearts where we long to see the rising work of the Lord. Isaiah shares the preparation which the LORD will do for his people's homecoming. The prophet says, "Every valley shall be filled in, every mountain and hill shall be made low; the rugged land shall be made a plain, the rough country, a broad valley." The changing landscape makes it possible for Israel to easily return from exile. So too, the LORD will make the rugged landscape of our hearts smooth, and fill in the valleys of our sorrow. Jesus Himself makes it possible for us to hear the call of repentance once proclaimed by John the Baptist, and upon hearing this call, Jesus gives us the grace to be transformed in the light and love of his coming.
3. Zion's song is jubilant.
Finally, the song of Israel is jubilant. Pope Francis speaks of what it means to be joyful, saying: "A Christian is one who is invited… to join in the feast, to the joy of being saved, to the joy of being redeemed, to the joy of sharing life with Christ. This is a joy! You are called to a party!" Hearing the heralds singing of the coming of Christ is nothing short of an invitation to the deepest joy that can be had.
Sacred Harp singings capture something of this rapturous joy. The singers often shout ecstatically, making it impossible to hear anything but their song. There's a deep enthusiasm, a deep passion which carries them away. That kind of expansive joy is what Jesus offers. It's the joy where "one day in its presence is better than a thousand elsewhere."
May the consolation of the songs of Israel ring in our hearts this Advent. May we busy ourselves in anticipation: waiting for, and even hastening, the day of the LORD. And finally, may the jubilant songs of joy echo in our hearts, as we await the coming of our King. – Read the source: http://www.hprweb.com/2017/11/homilies-for-december-2017/
Reflection 8 – Make room of Jesus who is coming
Last Sunday we began Advent with the invitation to watch. Today, the second Sunday of this time of preparation for Christmas, the Liturgy points out the proper contents: it's the time to recognize the voids to fill in our life, to smooth the asperities of pride and make room for Jesus who is coming.
The prophet Isaiah addresses the people announcing the end of the exile in Babylon and the return to Jerusalem. He prophesizes: "A voice cries: 'In the wilderness prepare the way of the Lord [. . .] Every valley shall be lifted up'" (40:3). The valleys to be lifted up represent all the voids of our behavior before God, all our sins of omission. A void in our life can be the fact that we don't pray or pray little. Hence, Advent is the favorable moment to pray with more intensity, to give to the spiritual life the important place it deserves. Another void might be our lack of charity towards our neighbor, especially towards those most in need of help, not only material but also spiritual. We are called to be more conscious of the needs of others, closer to them. Thus, like John the Baptist, we can open paths of hope in the desert of the arid hearts of so many people.
"Every mountain and hill be made low" (v. 4), exhorts again Isaiah. The mountains and hills that must be made low are pride, haughtiness <and> arrogance. Where there is pride, where there is arrogance, where there is haughtiness the Lord can't enter because that heart is full of pride, of haughtiness, of arrogance. Therefore, we must lower this pride. We must assume meek and humble attitudes, without rebuking, listening, talking meekly and thus preparing the coming of our Saviour, He who is meek and humble of heart (Cf. Matthew 11:29). Then we are asked to eliminate all the obstacles we put to our union with the Lord: "The uneven ground shall become level, and the rough places a plain. Then the glory of the Lord shall be revealed – says Isaiah — and all flesh shall see it together" (Isaiah 40:4-5). However, these actions are to be done with joy, because they are geared to the preparation of Jesus' arrival. When we expect at home the visit of a dear person, we prepare everything with care and happiness. We want to predispose ourselves in the same way for the coming of the Lord: to attend to Him every day with solicitude, to be filled with His grace when He comes.
The Saviour we await is able to transform our life with the strength of the Holy Spirit, with the strength of love. In fact, the Holy Spirit effuses in our hearts the love of God, inexhaustible source of purification, of new life and of freedom. The Virgin Mary lived this reality in fullness, allowing herself to be "baptized" by the Holy Spirit who inundated her with His power. May she, who prepared the coming of Christ with the totality of her existence, help us to follow her example and guide our steps to encounter the Lord who is coming. – Read the source: Pope Francis https://zenit.org/articles/angelus-address-on-the-theme-of-the-second-sunday-of-advent/
Reflection 9 – You have a fruitful future
Today's readings tell us to prepare for the Lord – for whatever he wants to give us, do for us, and ask of us. He has a plan for our lives; he has a divine purpose that will bring us to our full potential as children of our loving Father and as partners with Christ the Savior of the world.
We can only fulfill our wonderful potential if we unite ourselves to Christ by joining him on the straight path, the holy path.
How do we know when we are on the right path? By the fruits of the journey. The way of holiness always produces good fruits.
Isaiah says: A voice cries out in the desert! What is barren in your life, and dry, hot, or empty? Sins dry up what would otherwise be fruitful.
Advent is a good preparation for Christmas – and meeting the Lord anew – if we use it to face our sins, reconcile with God, and follow Jesus back onto the holy path. If we neglect this opportunity, Christmas will be only a secular holiday. Our lives will be too barren to give Jesus to others, and we will feel just as empty next year as we do right now.
Prepare the way of the Lord! He has more love to give you, more healing, more joy! Make straight in the wasteland of your sins a highway for our God. Go to the Sacrament of Reconciliation and create a wider road into your heart that's easy for Jesus to travel, a through-way upon which he can arrive in great speed and glory.
All humankind is as frail as grass, and all our glory is like the flower of the field that withers and wilts. Only the glory of God stands forever.
What are your troubles and struggles this Advent? Here is where Jesus wants to minister to you, and here is where you are most vulnerable to sin.
What in your life is going well? What activities are you doing that seem good and productive? Are any of them grassy glories that can wither away in a drought? A hundred years from now, will what you're doing today still have an impact – a beneficial impact?
God has given you talents and a vocation – a calling, a special purpose – that requires those talents. Yes, you! We are all called to have fruitful lives that make an eternal difference. We are all called to be like Mary giving birth to Jesus so that the world becomes a better place. Jesus wants to come straight to us to produce the fruits of his eternal kingdom in our lives and in others.
Are you wasting time? If so, take this to the Sacrament of Reconciliation and prepare yourself for the way of the Lord. He wants to make an eternal difference through you!
Questions for Personal Reflection:
What are you going to do this week to straighten a crooked path? What are you spending time on that is only going to wither up and wilt away?
Questions for Community Faith Sharing:
What good do you see in each other that will make an eternal difference? How does thinking about eternity straighten the path that you're walking on today? What changes because of this perspective? – Read the source: http://gnm.org/good-news-reflections/?useDrDate=2017-12-09
Reflection 10 – Blessed Adolph Kolping (1813-1865 A.D.)
The rise of the factory system in 19th-century Germany brought many single men into cities where they faced new challenges to their faith. Father Adolph Kolping began a ministry to them, hoping that they would not be lost to the Catholic faith, as was happening to workers elsewhere in industrialized Europe.
Born in the village of Kerpen, Adolph became a shoemaker at an early age because of his family's economic situation. Ordained in 1845, he ministered to young workers in Cologne, establishing a choir, which by 1849 had grown into the Young Workmen's Society. A branch of this began in St. Louis, Missouri, in 1856. Nine years later there were over 400 Gesellenvereine (workman's societies) around the world. Today this group has over 450,000 members in 54 countries across the globe.
More commonly called the Kolping Society, it emphasizes the sanctification of family life and the dignity of labor. Father Kolping worked to improve conditions for workers and greatly assisted those in need. He and St. John Bosco in Turin had similar interests in working with young men in big cities. He told his followers, "The needs of the times will teach you what to do. Father Kolping once said, "The first thing that a person finds in life and the last to which he holds out his hand, and the most precious that he possesses, even if he does not realize it, is family life."
He and Blessed John Duns Scotus are buried in Cologne's Minoritenkirche, originally served by the Conventual Franciscans. The Kolping Society's international headquarters are across from this church.
Kolping members journeyed to Rome from Europe, America, Africa, Asia and Oceania for Father Kolping's beatification in 1991, the 100th anniversary of Pope Leo XIII's revolutionary encyclical Rerum Novarum (On the Social Order). Father Kolping's personal witness and apostolate helped prepare for that encyclical.
Comment:
Some people thought that Father Kolping was wasting his time and talents on young working men in industrialized cities. In some countries, the Catholic Church was seen by many workers as the ally of owners and the enemy of workers. Men like Adolph Kolping showed that was not true.
Quote:
"Adolph Kolping gathered skilled workers and factory laborers together. Thus he overcame their isolation and defeatism. A faith society gave them the strength to go out into their everyday lives as Christ's witnesses before God and the world. To come together, to become strengthened in the assembly, and thus to scatter again is and still remains our duty today. We are not Christians for ourselves alone, but always for others too" (Pope John Paul II, beatification homily).
Read the source: http://www.americancatholic.org/features/saints/saint.aspx?id=1225
SAINT OF THE DAY
Catholic saints are holy people and human people who lived extraordinary lives. Each saint the Church honors responded to God's invitation to use his or her unique gifts. God calls each one of us to be a saint. Click here to receive Saint of the Day in your email.
Adolph Kolping (December 8, 1813 in Kerpen — December 4, 1865 in Cologne) was a German Catholic priest, who has been beatified by the Catholic Church. He was a leader in providing social support for young workers in the cities ofindustrial Germany, and worldwide.
Kolping grew up as the son of a shepherd. At the age of 18 he went to Cologne as a shoemaker's assistant. He was shocked by the living conditions of most people living there, which influenced his decision to become a priest. At age 23 he attended the Dreikönigsgymnasiumand afterwards studied theology in Munich, Bonn and Cologne.
On April 13,[2] 1845 he was ordained a priest in Cologne's Minoritenkirche.[1] First he worked in Elberfeld (now part ofWuppertal) as a chaplain and religion teacher.
In 1847 he became the second president of the Catholic Association of Journeymen (founded the preceding year by Johann Gregor Breuer), which gave young journeymen religious and social support.
In 1849 he returned to Cologne as vicar of the cathedral and established Cologne's Association of Journeymen. He united the existing journeymen associations as theRheinischer Gesellenbund("Federation of Journeymen of the Rhine Region") in 1850. This fusion was the origin of today's international Kolpingwerk. Until his death he labored to spread the federation of journeymen associations. By the year of his death, 1865, there were more than four hundred journeymen associations worldwide.
In 1854, Kolping founded the weekly newspaper Rheinische Volksblätter ("Rhine Region People's Paper"), which quickly became one of the most successful press organs of his time.
In 1862, he became the rector of Saint Maria Empfängnis Church.
On December 4, 1865 Kolping died. He is buried in the Minoritenkirche in Cologne.
Veneration and legacy
[
edit
]
On October 27, 1991 he was beatified by Pope John Paul II. He is remembered as the "Father of All Apprentices" and his feast day is on December 4.[1][2]
In Germany today, The International Kolping Society has more than 275,000 members in 2,730 localKolpingsfamilien ("Kolping families"), making it the largest social federation in the country. The organization, based in Cologne, is represented in 59 countries with more than 470,000 members around the world, divided into about 5,000 Kolpingsfamilien.[3]
Citation
[
edit
]
Wenn der Mann wahrhaft Religion hat in Wort und Tat, dann hat die Frau auch gründlich Respekt vor ihm, dann ehrt sie ihn auch willig als ihr Oberhaupt.
References and notes
[
edit
]