Readings & Reflections with Cardinal Tagle's video: First Sunday of Advent B & St. Francis Xavier, December 3,2017
At a certain point in life, the profound desires and cravings of our heart reach a point of eruption in us. Yet at the same time comes the awareness that we cannot bring about what we want – we do not have inside us what is needed to fulfill and satisfy our longings. And so, with our infinite yearnings we turn to the Infinite and cry, "Oh, that you would rend the heavens and come down." Our experience of helplessness before the fact of our boundless human need moves us to ask for fellowship with God's Son, Jesus Christ the Lord. The nature of our desire assures us as we enter into Advent that we are not lacking in any spiritual gift as we wait for the revelation of our Jesus Christ. "The Lord of the house is coming." "Be watchful! Be Alert!"
AMDG+
Opening Prayer
"Lord, awaken my heart and mind to receive your word and to prepare for your coming again. Free me from complacency, from the grip of sin and worldliness, and from attachments to things which pass away. May I always be eager to receive your word and be ready to meet you when you came again." In the Mighty Name of Jesus, I pray. Amen.
Reading I
Is 63:16b-17, 19b; 64:2-7 – Oh, that you would rend the heavens and come down!

You, LORD, are our father,
our redeemer you are named forever.
Why do you let us wander, O LORD, from your ways,
and harden our hearts so that we fear you not?
Return for the sake of your servants,
the tribes of your heritage.
Oh, that you would rend the heavens and come down,
with the mountains quaking before you,
while you wrought awesome deeds we could not hope for,
such as they had not heard of from of old.
No ear has ever heard, no eye ever seen, any God but you
doing such deeds for those who wait for him.
Would that you might meet us doing right,
that we were mindful of you in our ways!
Behold, you are angry, and we are sinful;
all of us have become like unclean people,
all our good deeds are like polluted rags;
we have all withered like leaves,
and our guilt carries us away like the wind.
There is none who calls upon your name,
who rouses himself to cling to you;
for you have hidden your face from us
and have delivered us up to our guilt.
Yet, O LORD, you are our father;
we are the clay and you the potter:
we are all the work of your hands.
The word of the Lord.
Responsorial Psalm
Ps 80:2-3, 15-16, 18-19
R. (4) Lord, make us turn to you; let us see your face and we shall be saved.
O shepherd of Israel, hearken,
from your throne upon the cherubim, shine forth.
Rouse your power,
and come to save us.
R. Lord, make us turn to you; let us see your face and we shall be saved.
Once again, O LORD of hosts,
look down from heaven, and see;
take care of this vine,
and protect what your right hand has planted
the son of man whom you yourself made strong.
R. Lord, make us turn to you; let us see your face and we shall be saved.
May your help be with the man of your right hand,
with the son of man whom you yourself made strong.
Then we will no more withdraw from you;
give us new life, and we will call upon your name.
R. Lord, make us turn to you; let us see your face and we shall be saved.
Reading II
1 Cor 1:3-9 – We wait for the revelation of our Lord Jesus Christ.
Brothers and sisters:
Grace to you and peace from God our Father and the Lord Jesus Christ.
I give thanks to my God always on your account
for the grace of God bestowed on you in Christ Jesus,
that in him you were enriched in every way, with all discourse and all knowledge, as the testimony to Christ was confirmed among you,
so that you are not lacking in any spiritual gift
as you wait for the revelation of our Lord Jesus Christ.
He will keep you firm to the end, irreproachable on the day of our Lord Jesus Christ. God is faithful, and by him you were called to fellowship with his Son,
Jesus Christ our Lord.
The word of the Lord.
Alleluia
Alleluia, alleluia.
Show us Lord, your love;
and grant us your salvation.
R. Alleluia, alleluia
Gospel
Mk 13:33-37 – Be watchful! You do not know when the Lord of the house is coming.
Bishop Robert Barron's Homily – Watching for grace click below:
Jesus said to his disciples:
(Be watchful! Be alert! You do not know when the time will come. It is like a man traveling abroad. He leaves home and places his servants in charge, each with his own work,
and orders the gatekeeper to be on the watch. Watch, therefore;
you do not know when the Lord of the house is coming,
whether in the evening, or at midnight, or at cockcrow, or in the morning. May he not come suddenly and find you sleeping.
What I say to you, I say to all: (Watch!)
The Gospel of the Lord.
Reflection 1 – Watch for Him
Dr. Scott Hahn's reflection click below:
The new Church year begins with a plea for God's visitation. "Oh that you would rend the heavens and come down," the prophet Isaiah cries in today's First Reading.
In today's Psalm, too, we hear the anguished voice of Israel, imploring God to look down from His heavenly throne – to save and shepherd His people.
Today's readings are relatively brief. Their language and "message" are deceptively simple. But we should take note of the serious mood and penitential aspect of the Liturgy today – as the people of Israel recognize their sinfulness, their failures to keep God's covenant, their inability to save themselves.
And in this Advent season, we should see our own lives in the experience of Israel. As we examine our consciences, can't we, too, find that we often harden our hearts, refuse His rule, wander from His ways, withhold our love from Him?
God is faithful, Paul reminds us in today's Epistle. He is our Father. He has hearkened to the cry of His children, coming down from heaven for Israel's sake and for ours – to redeem us from our exile from God, to restore us to His love.
In Jesus, we have seen the Father (see John 14:8-9). The Father has let His face shine upon us. He is the good shepherd (see John 10:11-15) come to guide us to the heavenly kingdom. No matter how far we have strayed, He will give us new life if we turn to Him, if we call upon His holy name, if we pledge anew never again to withdraw from Him.
As Paul says today, He has given us every spiritual gift – especially the Eucharist and penance – to strengthen us as we await Christ's final coming. He will keep us firm to the end – if we let Him.
So, in this season of repentance, we should heed the warning – repeated three times by our Lord in today's Gospel – to be watchful, for we know not the hour when the Lord of the house will return. – Read the source: https://stpaulcenter.com/watch-for-him-scott-hahn-reflects-on-the-first-sunday-of-advent/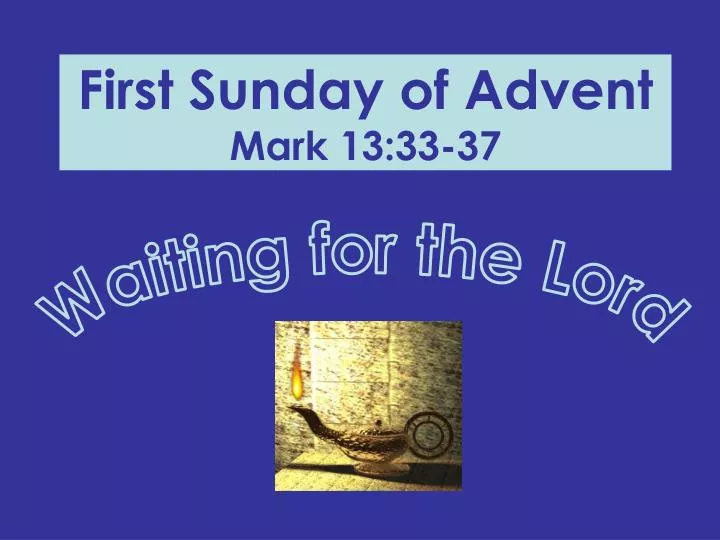 Reflection 2 – Be watchful and be prepared always
When the ancient Roman city of Pompei was destroyed by the eruption of Mt. Vesuvius in 79 AD, there were many people buried in the ruins who were afterwards found in various positions. Some were found in deep vaults, as if they had gone there for protection. Others were found in lofty chambers. But they found the Roman sentinel standing at the city gate where he had been assigned by his captain, with his hand still grasping his spear. They were caught off-guard. Today is the first Sunday of Advent B (Mk 13:33-37). It is the beginning of the church's liturgical calendar. The call is "be watchful;" "be alert." You do not know when the lord of the house will come. He may find you sleeping (Mk 13:35). If I come, and you are sleeping, then you are going to miss out! If I catch you slacking off and not doing the work that I gave you, then you are going to lose your reward! Be ready for my return! It might be very sudden! It might take you by surprise! (cf. Mk 13:36-37)
St. Bernard of Clairvaux (+1153 A.D.) tells us that … there are three Advents of the Lord. The third lies between the other two. It is invisible, while the other two are visible. In the First Advent, he was seen on earth, dwelling among men. He himself testifies that they saw him and hated him. In the Final Advent, all flesh will see the salvation of our God, and they will look on him whom they pierced. The Middle Advent, however, is a hidden one. In it, only, the elect sees the Lord within their own selves, and they are saved. In his First Advent, our Lord came in our flesh and in our weakness. In the Middle Advent, he comes in spirit and in power. In the Final Advent, he will be seen in glory and majesty. Because the Middle Advent lies between the other two, it is like a road on which we travel from the First Advent to the Last. In the First, Christ was our redemption. In the Last, he will appear as our life. In this Middle Advent, he is our rest and consolation. This is the Advent we should be hoping for, watching for, praying for, and preparing ourselves for. It can come at any time, so we must be diligent, and stay awake. If we don't expect it, we shall never receive it. But now is the time to seek it. It is just as real as the Lord's First Advent and his Last. The saints assure us of this.
Pope Benedict XVI said at the Angelus (Dec 10, 2006): "To prepare oneself for Christmas means to be committed to building the "dwelling of God with men." No one is excluded; everyone can and must contribute in order to make this house of communion more spacious and beautiful." What will I prepare myself for Christmas? For more watch, the video of Mother Angelica on advent and repentance click this link: http://www.pagadiandiocese.org/2014/12/13/advent-and-repentance-mother-angelica-live-classics-1231991/
Reflection 3 – Being attentive to Jesus, alert and watchful
Jesus was crucified and died for all of us. He became the offering that redeemed us from total death and destruction. He paid out what was necessary so that we will be set free. Jesus decided to die for us not only to do the Father's will but because He loved us so much. As such, He wants us to be alert and ready for His return so that on day's end when He makes a complete round up of God's people we may be part of His entourage whom the Father shall welcome into His kingdom. In today's gospel, He said: "Be watchful! Be alert! What I say to you, I say to all: "Watch!"
With such an exhortation, what then should we do to be ready and vigilant for His Second Coming? What should we all do and what should be the disposition of our hearts?
Jesus wants to open our hearts to the truth that we cannot sit around, be complacent and wait for a scout to blow his bugle to call us to action or to look for the rapture cloud. We cannot stop from pursuing our regular activities but we have to get our act together. We have to live everyday for God's glory. We have to work diligently, humbly and patiently for His Name's sake. We should be salt of the earth and the light of the world. We should remain stable and cheerful as we anticipate His return. And deep within our hearts, we should be able to claim clear passage into our Father's kingdom because of our faith and the life we have led out of our love for Him and His people.
If we are not absolutely confident that we are ready to face our Lord Jesus, we should take time to retreat and review our life, acknowledge our faults and our sins. We should be able to pick up the bits and pieces of our life without much constraint and start anew. We need to make up our minds to look back, reform and live new lives without any further delay. We should never wait for another day as the time we finally make up our minds and decide to repent, believe and follow Jesus could be rather late. It could be shortly after His anticipated return leaving us only a frustrated chance to look back with the pains of hell and judgment upon us rather that being able to look up to heaven and experience the joy and eternal happiness of being in our Father's kingdom.
God has envisioned that we experience total joy and happiness in His kingdom in the same way that He wants happy lives for us. But we should be able to realize that they will never happen if we do not pay attention to the kind of life He wants us to pursue, if we walk around with our eyes closed, or half asleep and oblivious of both our surroundings and personal circumstances. God does not want us to miss an opportunity to make things work so that we may be changed and transformed, so that any bitterness in us may be turned into something sweet, so that sorrow can turn to peace, indifference and hate to become love, warm and deep.
Brethren, leading sinful lives and becoming unclean people is one sure way not to be alert and watchful of our Lord's return. We all become withered like leaves and our guilt carries us away like the wind.
Today, we are being enjoined to call upon the Name of our Lord and rouse ourselves to cling to Him so that He may have the chance to show us the truth of our circumstances and realize our faults and shortcomings. He is our God, our Father and as the work of His Hands, He molds us into the likeness of Jesus, our Savior.
Being attentive to Jesus, alert and watchful, we become enriched in every way with all discourse and all knowledge, that we are not found lacking in any spiritual gift as we wait for the revelation of our Lord Jesus Christ. If we are faithful to God and remain in Him, He will keep us firm to the end, irreproachable on the day of our Lord Jesus Christ.
God will never give up on us. He is the same patient and compassionate God and today He has given us a little more time to review our lives. His message is, "Be watchful! Be alert! What I say to you, I say to all: "Watch!" He wants us to wake up and pay attention to our daily walk with Him as something wonderful awaits all of us.
If only we will open our eyes and our hearts and be sensitive to his Spirit and allow the Spirit to prevail then we can be molded, transformed and be made ready for our Lord's Second Coming!
Direction
Ready ourselves for Christ's return by doing His will.
Prayer
Heavenly Father, I believe and await the return of our Lord Jesus. Give me the grace and the strength to do what is good for my soul and spirit. In Jesus, I pray. Amen.
Reflection 4 – Be on watch, be alert
In the popular TV show Extreme Makeover, Ty Pennington and his crew remodel an existing house or sometimes completely build a new home for a family in special need. When the signature "Move that bus" command is given, a new life begins for that family. The team from Extreme Makeover and their sponsors can provide a new environment for a family, but those family members must create each day the new life that they seek. At times, we may wish that God would give our lives an extreme makeover by curing some illness, by adding something to or removing something from our lives. Why does God seem so distant? Today's readings, however, affirm that God is very close, that God wants us to have "life to the full," as Jesus says in John 10:10.
Isaiah (63:16-17, 19; 64:2-7) compares the chosen people to clay in the hands of God, the master potter. God works to shape our lives through: our families who affirm and challenge us; friends who tell us the whole truth and then help us deal with the consequences; and faith communities who encourage us, console us and stretch us so that our faith includes all of our life experiences – as things to foster or to avoid.
If we shatter, it isn't the potter's fault. We can use our freedom foolishly. People sometimes try to call their addictions "freedom," refusing to see the consequences of their decisions. This is true of alcoholism, smoking, drug abuse, compulsive gambling, domestic violence, internet pornography or any other compulsive behavior. Addictions never try to disappear. People simply learn to identify them more accurately and with God's help steer clear of them. God values our freedom over our conformity. We don't live by God's values automatically. Unlike the clay, we choose to cooperate, to be molded. God works "extremely makeovers" only with our cooperation.
As a faith community, we are not lacking any spiritual gift, as St. Paul affirms in the second reading (1 Cor 1:3-9). St. Paul will later remind the Christians in Corinth that if they dispute over whose gifts are more important, they will be forgetting that these are given for the benefit of the entire body of Christ. They must have gotten the message. They didn't destroy Paul's letter but preserved it and shared it with other Christians. It would be nice, but untrue, to say that this temptation to turn God's gift into a competition has disappeared among Christians today. With God's grace and God's gifts, we can do whatever work God has given us.
Our time of waiting is very active, like the faithful servants in today's gospel (Mk13:33-37). We do the work assigned without being constantly supervised or becoming obsessed over whether we are sufficiently affirmed. We seek supervision when we need to clarify something, but we can work on our own. We appreciate affirmation but are not totally dependent on it. St. Paul wasn't – in his work with the Christians in Corinth and in other cities where he preached. We become different people while we wait actively. We are not "killing time." We become more compassionate as we see Christ within our sisters and brothers who have various needs to which we respond as best we can. We become more patient with others – and with ourselves!
Mary's time of waiting before the birth of Jesus was hardly idle. Neither was Joseph's time during those months. Mary had to take care of herself in preparation for Jesus' birth. She had to teach Joseph a thing or two about caring for a pregnant woman! Joseph provided food, shelter, clothing and everything else that Jesus would eventually need. Jesus' birth changed their lives just as a new baby's arrival changes any household.
As people who work but who know that God makes the growth possible, every Eucharist helps us grow as disciples. May this Advent season help us to grow as Jesus' followers, using our gifts for the benefit of Christ's body, the church (Source: Fr. Hilarion Kistner, OFM, Editor. Homily Helps. Ohio: St. Anthony Messenger Press, Nov. 30, 2008).
Reflection 5 – Awake and Ready
If the Weather Channel would inform us that there would be a hurricane that will hit our city next week, we will surely take all the necessary precautions immediately. One warning is enough for us to do something to prepare for the calamity. When we buy groceries, we always look for warning signs on the label: cholesterol, fats, MSG, and sodium and sugar contents. We take these warnings seriously.
More than 2000 years ago, Jesus told us that He will come back, and He gave us the warning to be on guard at all times. But His warning goes unheeded. In the Gospel today, Jesus repeats this warning: "Be watchful! Be alert! You do not know when the time will come!" We may not be able to see the Last Day in our lifetime. But one thing is certain: we will all die and face God in judgment.
This Sunday we begin the Season of Advent. It is a season in which we prepare for the celebration of Christmas, the coming of Jesus in history. We look back at that event in Bethlehem, the beginning of our redemption. It is a season of looking back.
But Advent is also a season of looking forward. It looks forward to the second coming of Christ at the end of time. This is what we profess in our Creed: "He will come again to judge the living and the dead." So Jesus warns us this Sunday to be always awake, ready and on guard, for we cannot know when it will come.
How do we prepare? How do we become alert? In the Gospel, Jesus used the image of a master leaving the house and entrusting everything to the care of the servants. "He leaves home, and places his servants in charge, each with his work and orders the gatekeeper to be on the watch." In other words, the best preparation is to do our tasks and fulfill our obligations faithfully, not in the future, but now, for we do not know the exact time. And Jesus gives this warning: "May he not come suddenly and find you sleeping."
In my previous parish, there was a security guard of a nearby bank who died. He was on night duty. According to the investigation, he had "bangungot" or nightmare. In other words, it was most likely that he died while sleeping. Clearly, then, he was sleeping while on duty. I am sure nobody wants to hire a sleeping guard.
Charles Lindberg crossed the Atlantic Ocean on a solo and nonstop flight in 1927 from New York to Paris in 33 hours and 30 minutes. To get himself ready for the ordeal, he often refused to go to sleep for several nights. When asked why, he replied, "Just practicing to stay awake all night." This is the attitude that the season of Advent would like us to have.
There is nothing wrong with sleeping. Everybody needs to sleep. It is a legitimate human need. Yet there are times when we need to keep awake in order to fulfill our duties. Sometimes we forgo sleeping altogether to finish a job. And most importantly, we have to sacrifice some sleeping time to be with the Lord in prayer. It was the earnest appeal of Jesus to His followers while in Gethsemane: "And he came to the disciples and found them sleeping. And he said to Peter, 'So, could you not watch with me one hour? Watch and pray that you may not enter into temptation. The spirit indeed is willing, but the flesh is weak'" (Mt 26:40-41).
It is said that, "Yesterday is a memory. Tomorrow is but a dream. Now is the only time on which eternity depends." Our future eternal destiny depends totally on the now, on how we make use of the opportunities of the present time. The faithful servants, who were doing their job when the master returns, will surely receive a reward. But the servants who were found asleep and not doing their duties will be punished.
In what does our preparation consist of? The first is self-examination. What is our present condition? The prophet Isaiah in the first reading helps us find the right words: "We are sinful. All of us have become like unclean people. All our good deeds are like polluted rags; we have all withered like leaves; and our guilt carries us away like the wind."
After acknowledging our sinfulness, the next step is to make a firm resolution to turn a new leaf. That is why the liturgical color of the Advent Season is violet, a symbol of penance and repentance. Once and for all we decide to reject sin totally and definitively, and follow Christ more closely. And that decision is now. As Thomas Merton said, now should be "the beginning of the end in us of all that is not Christ." Definitely, the sacrament of Confession is in order during this season of Advent.
And finally, we turn to God and ask for divine assistance in our struggle to remain with Him all the time. Herein lies the importance of spending a little more time in prayer: "Watch and pray that you may not enter into temptation." St. Paul, in his first letter to the Corinthians, gives us the firm assurance: In Christ Jesus, "you were enriched in any way… so that you are not lacking in any spiritual gift as you wait for the revelation of our Lord Jesus Christ. He will keep you firm to the end, irreproachable on the day of our Lord Jesus Christ."
Let us make this year's Advent season truly fruitful. Let us prepare for Christmas. But let us have more sincere and serious preparation for that inevitable moment when we will come to face God at the end of time or at the end of our life in this world. May He find us awake, alert and ready to meet Him with joy now and for always. Amen! (Source: Fr. Mike Lagrimas, Our Lady of Guadalupe Parish, Palmera Springs 3, Susano Road, Camarin, Novaliches, Caloocan City 1422).
Reflection 6 – The Mystagogy of Advent
Purpose: We must now renew our efforts to prepare our hearts for the Advent of the Lord.
Happy New Year! Today we liturgically begin the cycle all over again. It's the First Sunday of Advent, the beginning of the new liturgical year. And every year that we go through the cycle again, we are growing spiritually, and understanding the meaning of each season more clearly. At least, that is our hope, and it is the hope of the Church, as she mothers us in the spiritual life. This year, we should aspire to enter into the meaning of Advent, as we never have before. This Christmas, we should aspire to encounter the Infant Jesus in our lives, as we never have before. If we are growing in holiness, then our understanding and experience of Advent and Christmas will be deeper and more profound, than it has ever been for us before.
The readings set the tone and indicate the program as we enter the new season. Advent is about preparing ourselves for the coming of the Lord. "I am coming soon," the Lord tells us, "but you do not know the hour. So be watchful and alert! Be prepared! If I come, and you are sleeping, then you are going to miss out! If I catch you slacking off and not doing the work that I gave you, then you are going to lose your reward! Be ready for my return! It might be very sudden! It might take you by surprise!"
Advent is a time of waiting and a time of preparation. The day of the Lord is at hand. He will appear to us once again. The manger is now empty. But keep your eyes on it, for the divine child will be placed in it once again. And there's going to be a new Epiphany. We are waiting for it. In the meantime, we must get ready! We must repent and purify ourselves! We must clean up and get ready, for the King is coming! He will bring gifts to those who wait for him. He will breathe new life into us. He will free us from our miseries. He will give us more than we could have hoped for, but only if we are diligent, watchful, and ready.
"Ready for what?" some will say. "He's been gone for almost 2000 years. What are you talking about? What are you expecting to happen? Just go buy all your presents, plan your parties, and forget it. When Christmas comes and goes, it will leave us just as empty, broke, and depressed as ever. Bah humbug!" We are all too familiar with that response to Advent and Christmas. But to those who expect nothing, nothing is given. Expecting nothing to happen might seem like a safe path, for if we don't hope for anything, then we cannot be disappointed. And is there really anything for us to hope for? What exactly are we supposed to be watching for? Should we be watching for the final Advent of the Lord? Should we expect the Second Coming of Christ this Christmas? Will he come again in glory? Will all things be made new? Will the New Jerusalem come down from heaven? Yes, someday, but maybe not this year.
It is certainly true that the world, as we know it, is passing away, but it seems unlikely that the end will come anytime soon. Of course, we never know, but there is another possibility that we may be overlooking, another kind of Advent that we should always be watching for, praying for, and hoping for. Perhaps no one has ever told you about this other Advent, but the saints and doctors of the Church talk about it all the time. St. Bernard of Clairvaux, for example, tells us that
… there are three Advents of the Lord. The third lies between the other two. It is invisible, while the other two are visible. In the First Advent, he was seen on earth, dwelling among men. He himself testifies that they saw him and hated him. In the Final Advent, all flesh will see the salvation of our God, and they will look on him whom they pierced. The Middle Advent, however, is a hidden one. In it, only, the elect see the Lord within their own selves, and they are saved. In his First Advent, our Lord came in our flesh and in our weakness. In the Middle Advent, he comes in spirit and in power. In theFinal Advent, he will be seen in glory and majesty.
Because the Middle Advent lies between the other two, it is like a road on which we travel from the First Advent to the Last. In the First, Christ was our redemption. In the Last, he will appear as our life. In this Middle Advent, he is our rest and consolation.
This is the Advent we should be hoping for, watching for, praying for, and preparing ourselves for. It can come at any time, so we must be diligent, and stay awake. If we don't expect it, we shall never receive it. But now is the time to seek it. It is just as real as the Lord's First Advent and his Last. The saints assure us of this. St. Bernard, for example, tells us that if someone should think that what we say about this Middle Advent is sheer invention, he should listen to what our Lord himself says about it: "Whoever has my commandments and keeps them is the one who loves me. And whoever loves me will be loved by my Father. I too will love him and reveal myself to him." "The Father and I will come to him and make our dwelling with him."
That is the promise of the Lord. It is an Epiphany that is offered to all who have the wisdom to seek it. But it takes sustained effort and fervent prayer. It is not a cheap grace. Many of the saints sought it for years before they received it. St. Bernard urges us to be diligent but hopeful:
If you keep the word of God in this way, it will also keep you. The Son with the Father will come to you. The great Prophet who will build the New Jerusalem will come to you, the one who makes all things new. This Middle Advent will then fulfill in you what is written: "As we have borne the likeness of the earthly man, we shall also bear the likeness of the heavenly man." – (Source: Homiletic and Pastoral Review).
Suggestions for Further Reading: Catechism of the Catholic Church §1163-1173; St. Bernard of Clairvaux, Sermo 5, in Adventu Domini, 1-3: Opera omnia, Edit. cisterc. 4 (1966), 188-190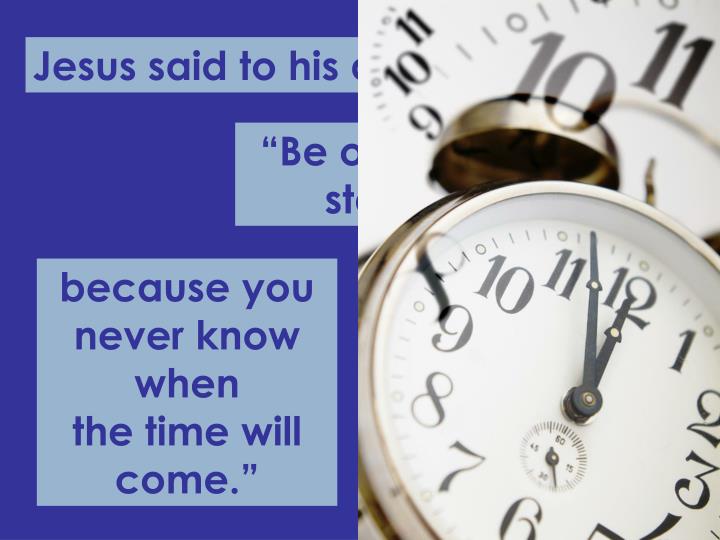 Reflection 7 – Watch!
Be watchful! Be alert!
You do not know when the time will come.
May he not come suddenly and find you sleeping.
What I say to you, I say to all: "Watch!"
Throughout the Gospels, the Lord exhorts his followers to stay awake. In his final days, he tells his apostles so directly in his end-times prophecy and, again, at his agony in the garden. And to this point, vigilance has featured prominently in his teaching and especially in his parables: The enemy plants weeds in the field at night. The bridegroom arrives at night. The master returns at night. With these many warnings, he impresses upon his followers a certain urgency and gravity: Keep watch.
This comes as no surprise. In no wise can the Christian indulge in the slumber of unconversion. There is no standing still in the spiritual life; if you're not growing, you're diminishing. And yet, there is something slightly disconcerting about how Christ describes it. The Lord seems to take a strange delight in delaying—almost as if he wants to catch us off guard. We cannot help but ask why? And though the logic may seem strange, we can come to appreciate that there is wisdom in his timing. So in what remains, we'll consider briefly why the Lord delays and why we keep watch.
First, why delay? The Scriptures testify that there is purpose in Christ's every movement. The Lord does not embark upon his campaign of salvation with ill-considered haste. Rather, he does so with deliberate intention. From an early point in the Gospels, he foretells his paschal mystery and advances towards it with a kind of inexorable desire. So too, this time of delay before his return is the fruit of the same purpose. Even this has its place. In tarrying, he is saving.
We know from his first coming that Jesus does not overwhelm the heart of man with the revelation of his glory. His providential designs are more subtle, more attuned to our conversion. Rather, the Lord proffers an invitation, and as the giver of human liberty, works interiorly by his grace to elicit from us a truly free and personal response. At his first coming, Christ prepares for himself a people in Israel, a tabernacle in the Blessed Virgin Mary, and a body in the Incarnation. So, too, at his Second Coming, his providential delay prepares for him a Church filled with desire. And just as the Old Covenant anticipated the New, so our present poverty anticipates the riches of his return. With the prophets, our hearts cry out: "Return for the sake of your servants, the tribes of your heritage. Oh, that you would rend the heavens and come down, with the mountains quaking before you." Our present hope, and nagging unrest, is itself his gift, lest we settle for something short of everything. For, "No ear has ever heard, no eye ever seen, any God but you doing such deeds for those who wait for him." And so, his delay is tailor-made to increase our faith, our desire, and ultimately our fulfillment.
Now, that's all well and good, but the Lord could have kindled our desire, and deepened our hopes, in any way he thought fit. And what is more, it didn't necessarily need to take this long. So why the crucible of patience? Why keep watch?
The short answer is that it makes us like our Savior Jesus Christ. To be like Christ is the very heart of Christian life. The Christian is called, not merely to be kind or nice or to follow the rules well. He is called to be like his Lord and Savior in his passion, death, and resurrection. This Christ-conformity is first given at baptism, and it grows in the sacramental life, and in the intimacy of prayer. In God's wisdom, he wills that our likeness to Christ grow according to its own mysterious laws. Each is invited to follow Christ, to imitate Christ, and so enter gradually into perfect communion with him. Over the course of the whole of a life, Christ invites the soul into greater intimacy, and bestows upon it his many gifts, each in its proper order.
The most difficult of these gifts to receive is a share in his suffering, but it is indispensable. Without the cross, our Christ-conformity would always be incomplete, for it is precisely at this point that friendship with him is most profound. We must meet him at his most vulnerable; we must meet him in death. And so suffering enters each human life according to God's permission. For some it is violent. For some it is dull. But, often it is the slow death of patience. And so, by his delay he permits us to suffer his absence and so, mysteriously, to become like him.
And so as we await the Lord's return, it is the place of man to wait and to beg. The delay of the Lord is the time to suffer his passion in our members, and so become like unto him in glory. For by this last and greatest grace, we shall not be lacking in any spiritual gift as we wait for the revelation of our Lord Jesus Christ. For he will keep us firm to the end, irreproachable on the day of our Lord Jesus Christ. So wait for the Lord. His day is near. Keep watch. Take heart. – Read the source: http://www.hprweb.com/2017/11/homilies-for-december-2017/
Reflection 8 – Watch expectantly today – your Master is coming!
What do you do when someone you love very dearly and miss very much has been gone a very long time but promises to return soon? Do you ignore their absence, or do you anticipate their return and send them messages to let them know how much you long to be with them again? Jesus' parable about the long-expected return of the Master to his household brings this point home.
Parable of the watchful servants waiting for the master's return
Wealthy landowners often left their estates in the hands of their trustworthy servants and stewards. This gave them freedom to travel, trade, and expand their business ventures. They expected loyalty and hard work from their servants and rewarded them accordingly. Dutiful servants would eagerly anticipate their master's return by keeping the house and estate in good order. Jesus doesn't tell us in his parable whether the servants were ready to receive the unexpected return of their master. Were these servants excited or anxious about their master's return? The watchful servants, no doubt, looked forward to the future because they knew their master would be pleased and would reward them for their vigilance and hard work. Disaster and reprisal, however, awaited those who were unprepared because of carelessness or laziness.
Watching with hopeful expectation and vigilance for Christ's return
When we expect some very important event to happen, we often wait for it with excited anticipation. The Lord Jesus expects us to watch in great anticipation for the most important event of all – his return in glory at the end of this present age! The Old Testament prophets foretold the coming of the Lord when he shall judge between the nations and decide for many peoples(Isaiah 2:5).
The Advent season reminds us that we are living in the end times. The end times begin with the first coming of Christ (when the Word of God became flesh and dwelt among us – John 1:14) and it culminates in Christ's second coming on the Day of Judgment and vindication for his people. Jesus spoke of his return in glory at the close of the ages as an indisputable fact and predetermined act which he will perform as the Judge and Ruler of all peoples, nations, and individuals who ever lived on the earth.
"May your kingdom come!"
While the second coming of the Lord Jesus Christ is for certain, the time of his appearance is not yet disclosed. The Lord's day of visitation and judgment will come swiftly and unexpectedly. Jesus warns his listeners to not be caught off guard when that day arrives. It will surely come in God's good time! The Lord invites us to pray for the coming of his kingdom into our present lives and future as well. Jesus taught his disciples to pray – "may your kingdom come and your will be done on earth as it is in heaven" (Matthew 6:10). Do you earnestly pray for the coming of God's kingdom – both now and at the end of the world?
The Lord will reward those who wait for him
The prophet Isaiah tells us that God will surely reward those who wait for his visitation: "From of old no one has heard or perceived by the ear, no eye has seen a God besides you, who works for those who wait for him" (Isaiah 64:4). Our Lord and Master, Jesus Christ, has entrusted us with his gifts and graces (his abundant favors and blessings). He expects us to make good use of the gifts and resources he gives us for his glory and for the benefit of helping and blessing others as well. He does not want us to use the present time we have here on earth in idleness or wasted living. He has work for us to do – loving, honoring,and serving him and loving, honoring, and serving our families, neighbors, and communities as well.
How do we watch and wait for the Lord's coming?
How does the Lord want us to be watchful and vigilant for his return? The kind of watching the Lord has in mind is not a passive "wait and see what happens" approach to life. The Lord urges us to vigilance and to active prayer that his "kingdom may come" and his "will be done on earth as it is in heaven". We are not only to watch for Christ, but to watch with Christ. The Lord wants us to have our hearts and minds fixed on him and his word. He wants us to be ready for his action and work of grace in our lives and in our world. Those who "wait" for the Lord will not be disappointed. He will surely come with his grace and saving help. Do you watch for the Lord's action in your life with expectant faith and with joyful hope?
The season of Advent is a time for rousing our minds and hearts for the Lord's coming. As his servants we watch for his will – continually seeking him. We watch for his word and his power – that he may act now to save and to deliver. And we watch for his visitation – he will surely come again! Servants of the Lord rouse yourselves! Be vigilant, be alert, be "watchmen" for the Lord pointing the way for his coming.
"Lord Jesus, awaken my heart and mind to receive your word and to prepare for your coming again. Free me from complacency, from the grip of sin and worldliness, and from attachments to things which pass away. May I always be eager to receive your word and be ready to meet you when you come again." – Read the source: http://dailyscripture.servantsoftheword.org/readings/2017/dec3.htm
Reflection 9 – Let's be vigilant waiting for God
1) Waiting for a visit and welcoming it.
This is the first Sunday of Advent. The horizon of prayer opens on history which has its center in Christ, the God made man, the Good Face of Destiny. Therefore, we need to renew our attitude towards prayer, understood in the sense of tension to elevate ourselves to God who is revealed to us as the source of wisdom and power, goodness and love.
For this reason, the Church begins Mass today with this beautiful Entrance Antiphon "To you, I lift up my soul, O my God. In you, I have trusted; let me not be put to shame. Nor let my enemies exult over me; and let none who hope in you be put to shame." This entrance song shows very well the trust of the Church-Bride. With her, let's repeat it from the bottom of our heart for the Savior will come to us to the extent that we have desired him and faithfully waited for him.
Therefore, on this first Sunday of Advent, we are called to become aware of Christ who comes to "visit us as the sun rising from above." It is the visit of God: He enters into the life of each of us and addresses each of us because he wants to live steadily in every one of us.
With this visit, God enters our lives and addresses each one of us. Advent invites us to elevate our souls to welcome the Present who is coming. It is an invitation to understand that the individual events of the day are a sign that God addresses towards us, signs of the attention he has for each of us. Advent invites us and pushes us to contemplate the present Lord, and the certainty of his presence helps us to look at the world and at our lives with different eyes. It helps us to consider our entire existence as a "visit", as a way in which He can come to us and become close to us in every situation and in every moment because He is Emmanuel, the God always with us.
In addition to the "visit", the other important element of Advent is the vigilant expectation that- at the same time – is hope. Advent, the liturgical time that renews year after year the expectation of Christ's coming, prompts us to understand the sense of time and history as a favorable time (kairós) for our salvation. Jesus has illustrated this element of expectation in many parables: in the narration of the servants invited to wait for the master's return, in the parable of the virgins waiting for the groom or in the parables of sowing and harvesting.
In our lives, we are constantly waiting for something: when we are children we want to grow, when adults we strive to achieve and succeed, and, advancing in age, we aspire to rest. Then, it arrives the time when we find that we have hoped too little if, beyond career or social position, there is nothing left to hope for. Hope marks the path of every human being, but for us Christians it is animated by a certainty: the Lord is present in the flow of our lives, he accompanies us and one day he will wipe our tears. One day, not far away, everything will find its fulfillment in the Kingdom of God, the Kingdom of Justice and Peace. In the meantime we pray "I wait for the LORD, my soul waits and I hope for his word.My soul looks for the Lord more than sentinels for daybreak. More than sentinels for daybreak, let Israel hope in the LORD, for with the LORD is mercy, with him is plenteous redemption "(Ps 130: 5-7).
2) Watchfulness and contrition.
Advent's liturgical time celebrates God's visit awakening the expectation of Christ's glorious return and, therefore, preparing us to receive the Son of God, the Word made man for our salvation. However, the Lord comes continually into our lives. Therefore, we must seriously consider the invitation of Christ, which is strongly re-launched on this first Sunday "Be watchful" (Mk 13, 33, 35, and 37). This "command" is not only directed to the disciples, but "to all" because each of us, at the time that only God knows, will be called to give account for his or her existence. This involves humble and confident entrustment in the hands of God, our tender and merciful Father, but also loving charity toward the neighbor and sincere contrition for our sins.
The prayer of a heart that keeps vigil in the wait, is the prayer of those who recognize themselves to be in need. When we recognize our state of indigence, it is then that God fills us with his gifts. The first of these is forgiveness for the greatest indigence that is sin. Prayer, which is request and wait, is request and waiting for pardon. A waiting that does not ask nor accept this forgiveness, is not a waiting for the Redeemer, who loves to forgive us and loves to love us. Forgiveness is the first expression of his love. Prayer always has a dimension of contrition that make us say "Lord, before you talk to me, forgive me" (Ambrosian Rite Antiphon). The bridal dimension is united to the penitential one, because it is born of our sin and flourishes in marriage with God.
The contrition that is at the beginning of the celebration of Holy Mass, or the contrition that lies within the heart of our participation in the mystery of Christ, which is the sacrament of Confession, both must qualify our advent. Without this contrition, our expectation of Christ who for us to comes to a manger, is too childish or too light and a bit superficial, that is, too much taken for granted. It is only with contrition that the imminence of Christ is living beautifully in us and that vigilance is realized.
Watchfulness, then, is contrition. Existentially, along the path of our life, vigilance is a contrition full of love.
To live this craving waiting, we can recite the prayer that Saint Ambrose of Milan recited before the celebration of the Mass: "King of virgins and lover of chastity and perfect continence, with the celestial dew of your blessing, extinguish into my body the incitement of burning lust so that the chastity of the body and of the soul may remain in me. Mortify in my limbs the stimuli of the flesh and give me perpetual and true chastity together with your other gifts that you truly love so that I may offer to you the sacrifice of praise with chaste body and purified heart. "
The form of life that clearly shows that contrition is united to nuptial dimension, is that of the consecrated virgins. Spiritual marriage with Christ makes these women foreigners in the world, but intimately close to God. They are convinced to be nothing and, in the eyes of the world, they are despicable, but in God's eyes they are precious and dear and a model for all of how to live the waiting in order to receive Christ completely and without reservations.
In them the heart of God lies down like in a manger. In them, humanity can see the reflection of God.
Patristic reading
Golden Chain on Mk 13, 33 – 37
Theophylact: The Lord wishing to prevent His disciples from asking about that day and hour, says, "But of that day and that hour knoweth no man, no, not the angels which are in heaven, neither the Son, but the Father."
For if He had said, I know, but I will not reveal it to you, He would have saddened them not a little; but He acted more wisely, and prevents their asking such a question, lest they should importune Him, by saying, neither the Angels, nor I.
Hilary, de Trin., ix: This ignorance of the day and hour is urged against the Only-Begotten God, as if, God born of God had not the same perfection of nature as God. But first, let common sense decide whether it is credible that He, who (p. 270) is the cause that all things are, and are to be, should be ignorant of any out of all these things. For how can it be beyond the knowledge of that nature, by which and in which that which is to be done is contained? And can He be ignorant of that day, which is the day of His own Advent? Human substances foreknow as far as they can what they intend to do, and the knowledge of what is to be done, follows upon the will to act. How then can the Lord of glory, from ignorance of the day of His coming, be believed to be of that imperfect nature, which has on it a necessity of coming, and has not attained to the knowledge of its own advent?
But again, how much more room for blasphemy will there be, if a feeling of envy is ascribed to God the Father, in that He has withheld the knowledge of His beatitude from Him to whom He gave a foreknowledge of His death. But if there are in Him all the treasures of knowledge, He is not ignorant of this day; rather we ought to remember that the treasures of wisdom in Him are hidden; His ignorance therefore must be connected with the hiding of the treasures of wisdom, which are in Him.
For in all cases, in which God declares Himself ignorant, He is not under the power of ignorance, but either it is not a fit time for speaking, or it is an economy of not acting.
But if God is said then to have known that Abraham loved Him, when He did not hide that His knowledge from Abraham, it follows, that the Father is said to know the day, because He did not hide it from the Son. If therefore the Son knew not the day, it is a Sacrament of His being silent, as on the contrary the Father alone is said to know, because He is not silent. But God forbid that any new and bodily changes should be ascribed to the Father or the Son.
Lastly, lest He should be said to be ignorant from weakness, He has immediately added, "Take ye heed, watch and pray, for ye know not when the time is."
Pseudo-Jerome: For we must needs watch with our souls before the death of the body.
Theophylact: But He teach us two things, watching and prayer; for many of us watch, but watch only to pass the night in wickedness; He now follows this up with a parable, saying, "For the Son of Man is as a man taking a far journey, who left his house, and gave his servants power over every work, and commanded the porter to watch." (p. 271)
Bede: The man who taking a far journey left his house is Christ, who ascending as a conqueror to His Father after the Resurrection, left His Church, as to His bodily presence, but has never deprived her of the safeguard of His Divine presence.
Greg, Hom in Evan, 9: For the earth is properly the place for the flesh, which was as it were carried away to a far country, when it was placed by our Redeemer in the heavens. "And he gave his servants power over every work," when, by giving to His faithful ones the grace of the Holy Ghost, He gave them the power of serving every good work.
He has also ordered the porter to watch, because He commanded the order of pastors to have a care over the Church committed to them. Not only, however, those of us who rule over Churches, but all are required to watch the doors of their hearts, lest the evil suggestions of the devil enter into them, and lest our Lord find us sleeping.
Wherefore concluding this parable He adds, "Watch ye therefore: for ye know not when the master of the house cometh, at even, or at midnight, or at cockcrow, or in the morning: lest coming suddenly he find you sleeping."
Pseudo-Jerome: For he who sleeps applies not his mind to real bodies, but to phantoms, and when he awakes, he possesses not what he had seen; so also are those, whom the love of this world seizes upon in this life; they quit after this life what they dreamed was real.
Theophylact: See again that He has not said, I know not when the time will be, but, "Ye know not." For the reason why He concealed it was that it was better for us; for if, now that we know not the end, we are careless, what should we do if we knew it? We should keep on our wickedness even unto the end. Let us therefore attend to His words; for the end comes at even, when a man dies in old age; a midnight, when he dies in the midst of his youth; and at cockcrow, when our reason is perfect within us; for when a child begins to live according to his reason, then the cock cries loud within him, rousing him from the sleep of sense; but the age of childhood is the morning. Now all these ages must look out for the end; for even a child must be watched, lest he die unbaptized.
Pseudo-Jerome: He thus concludes His discourse, that the last should hear from those who come first this precept which is common to all; wherefore He adds, "But what I say unto you I (p. 272) say unto all, Watch."
Augustine, Epist., 199, 3: For He not only speaks to those in whose hearing He then spake, but even to all who came after them, before our time, and even to us, and to all after us, even to His last coming. but shall that day find all living, or will any man say that He speaks also to the dead, when He says, "Watch, lest when he cometh he find you sleeping?"
Why then does He say to all, what only belongs to those who shall then be alive, if it be not that it belongs to all, as I have said? For that day comes to each man when his day comes for departing from this life such as he is to be, when judged in that day, and for this reason every Christian ought to watch, lest the Advent of the Lord find him unprepared; but that day shall find him unprepared, whom the last day of his life shall find unprepared. – Read the source: https://zenit.org/articles/archbishop-follo-lets-be-vigilant-waiting-for-god/
Reflection 10 – On the meaning of Advent
Today we begin the journey of Advent, which will culminate in Christmas. Advent is the time that is given to us to welcome the Lord who comes to meet us, to verify our desire for God, to look ahead and prepare ourselves for Christ's return. He will return to us on the feast of Christmas, when we will remember His historical coming in the humility of the human condition; however, He comes within us every time we are disposed to receive Him, and He will come again at the end of time to "judge the living and the dead." Therefore, we must always be vigilant and wait for the Lord with the hope of meeting Him. Today's liturgy introduces us, in fact, in this thought-provoking theme of vigilance and expectation.
Jesus exhorts us in the Gospel (Cf. Mark 13:33-37) to take heed and watch, to be ready to receive Him the moment of his return. He says to us: "Take heed, watch and pray, for you do not know when the time will come […] lest He come suddenly and find you asleep" (vv. 33-36).
The person that takes heed is one that, in the noise of the world, doesn't let himself be overwhelmed by distraction or by superficiality, but lives in a full and aware way, with concern first of all for others. With this attitude, we are aware of the tears and the needs of our neighbor and we can also grasp his human and spiritual capacities and qualities. The person that heeds then turns also to the world, trying to counter the indifference and cruelty in it, and rejoicing over the treasures of beauty that also exist and are guarded.
It's about having a look of understanding either to recognize the miseries and poverties of individuals and societies or to recognize the richness hidden in little everyday things, precisely there, where the Lord has placed us.
The vigilant person is the one that receives the invitation to watch, namely, not to let himself be overcome by the sleep of discouragement, of lack of hope, of disappointment and, at the same time, rejects the solicitation of the many vanities that overflow in the world and behind which, sometimes, personal and family time and serenity are sacrificed. It is the painful experience of the people of Israel, recounts the prophet Isaiah: God seemed to have left His people wander far from His ways (Cf. 63:17), but this was an effect of the infidelity of the people themselves (Cf. 64:4b). We also often find ourselves in this situation of infidelity to the Lord's call: He indicates to us the good way, the way of faith, the way of love, but we look for our happiness elsewhere.
To be heedful and vigilant are the assumptions not to continue "wandering far from the Lord's ways," lost in our sins and in our infidelities. To be heedful and to be vigilant are the conditions to enable God to break into our existence, to restore meaning and value to it with His presence full of goodness and tenderness. May Mary Most Holy, model in waiting for God and icon of vigilance, guide us to encounter her Son Jesus, reviving our love for Him. -Read the source: https://zenit.org/articles/angelus-address-on-the-meaning-of-advent/
Reflection 11 – A gift for Jesus
Today we begin the Season of Advent. This year, as we prepare for Christmas, think about how you like to show your fondness for the special people in your life by choosing gifts that will be meaningful to them. And yet, assuming that you can actually find something (or make something) that will be appreciated, does it always make a difference in the long run?
How many gifts have you given in the past that became mere dust-collectors? Which ones turned out to be truly valuable with a long-lasting impact?
Since Christmas is the celebration of the birthday of Jesus, let's remember to give him a gift, too. God deserves more gifts than anyone else, but what do you give to someone who already has everything? Or does he?
What gift can you give to Jesus that will have an eternal impact, a gift that no one else can give him, a gift he doesn't already have? What have you been withholding from him? What talent or activity or ministry or commitment or change in lifestyle?
Here's a meditation in Virtual Reality you'll enjoy: "Four Gifts For Jesus".
This Sunday's first reading reminds us that God is our Father. The responsorial Psalm asks the Father to help us turn to him. The second reading gives thanks to God for all that he has done for us. So – what gift can you give to God to express your appreciation for what he has given to you?
In the Gospel reading, we're reminded of the need to prepare – to actually do something that makes a difference – for the coming of Christ. This not only refers to his Second Coming. It's also about the day when he comes for us as we breathe our last earthly breath. It's about the way he wants to come to you during this year's Season of Christmas. And it's about the way he is coming to you right now, today.
There's something new that he wants to give you. When he offers it, will he find you doing what's right (as in the first reading)? Will he find you using your spiritual gifts (as in the second reading)? Will he find you alert and ready to do his bidding (as in the Gospel reading)?
Advent is an opportunity to take notice of the gifts he gives us and for becoming aware of the gifts we can give to him that he doesn't already have. It should make an eternal difference – for him and for us.
Questions for Personal Reflection:
List the gifts that God has given to you. Write them on a sheet of paper. Then think about how much appreciation you have given to God for the gifts on that list. Do you know how much he appreciates your appreciation?
Questions for Family or Community Faith Sharing:
Name some of the obvious ways that Jesus comes to us today. What are some unexpected ways that Jesus has revealed himself to you? What will you do this Advent to become more aware of Jesus coming to you? How will this make you more ready for Christmas? – Read the source: http://gnm.org/good-news-reflections/?useDrDate=2017-12-02
Reflection 12 – St. Francis Xavier (1506-1552 A.D.)
Jesus asked, "What profit would there be for one to gain the whole world and forfeit his life?" (Matthew 16:26a). The words were repeated to a young teacher of philosophy who had a highly promising career in academics, with success and a life of prestige and honor before him.
Francis Xavier, 24 at the time, and living and teaching in Paris, did not heed these words at once. They came from a good friend, Ignatius of Loyola, whose tireless persuasion finally won the young man to Christ. Francis then made the spiritual exercises under the direction of Ignatius, and in 1534 joined his little community, the infant Society of Jesus. Together at Montmartre they vowed poverty, chastity and apostolic service according to the directions of the pope.
From Venice, where he was ordained a priest in 1537, Francis Xavier went on to Lisbon and from there sailed to the East Indies, landing at Goa, on the west coast of India. For the next 10 years he labored to bring the faith to such widely scattered peoples as the Hindus, the Malayans and the Japanese. He spent much of that time in India, and served as provincial of the newly established Jesuit province of India.
Wherever he went, he lived with the poorest people, sharing their food and rough accommodations. He spent countless hours ministering to the sick and the poor, particularly to lepers. Very often he had no time to sleep or even to say his breviary but, as we know from his letters, he was filled always with joy.
Francis went through the islands of Malaysia, then up to Japan. He learned enough Japanese to preach to simple folk, to instruct and to baptize, and to establish missions for those who were to follow him. From Japan he had dreams of going to China, but this plan was never realized. Before reaching the mainland he died. His remains are enshrined in the Church of Good Jesus in Goa. He and St. Therese of Lisieux were declared co-patrons of the missions in 1925.
Story:
Francis died on the island of Sancian, a hundred miles southwest of Hong Kong. In his final sickness he had to be removed from the ship because the Portuguese sailors feared that kindness to him would offend their master. They were forced to leave him on the sands of the shore, exposed to a bitter wind, but a Portuguese merchant led him into a ramshackle hut. He prayed continually, between spasms of delirium and the doubtful therapy of bleeding. He grew weaker and weaker. "I [Anthony, his friend] could see that he was dying, and put a lighted candle in his hand. Then, with the name of Jesus on his lips, he gave his spirit to his Creator and Lord with great peace and repose."
Comment:
All of us are called to "go and preach to all nations" (see Matthew 28:19). Our preaching is not necessarily on distant shores but to our families, our children, our husband or wife, our coworkers. And we are called to preach not with words, but by our everyday lives. Only by sacrifice, the giving up of all selfish gain, could Francis Xavier be free to bear the Good News to the world. Sacrifice is leaving yourself behind at times for a greater good, the good of prayer, the good of helping someone in need, the good of just listening to another. The greatest gift we have is our time. Francis gave his to others.
Patron Saint of: Japan, Missionaries
Related St. Anthony Messenger article(s)
Four Great Spanish Saints, by Jack Wintz, OFM
Read the source: http://www.americancatholic.org/features/saints/saint.aspx?id=1218
SAINT OF THE DAY
Catholic saints are holy people and human people who lived extraordinary lives. Each saint the Church honors responded to God's invitation to use his or her unique gifts. God calls each one of us to be a saint. Click here to receive Saint of the Day in your email.
A founding member of the Jesuit Order, Francis eagerly accepted a commission to preach the Gospel to the peoples of the East. Arriving at Goa, India, he began his work catechizing the Portuguese. From there he traveled to India, Sri Lanka, Malaysia, and Japan. In a letter from India he wrote, "I looked or desired for nothing here but to wear myself out with work and sacrifice my life itself in bringing about the salvation of souls." But in Japan, where the daimyo demanded formality, Francis approached suitably dressed as an ambassador. Sir Walter Scott eulogized him thus: "The most rigid Protestant, and the most indifferent philosopher, cannot deny to him to courage and patience of a martyr, with the good sense, resolution, ready wit, and address of the best negotiator that ever went on a temporal embassy." Firm, thorough, and determined, Francis was always looking for a way to extend the reach of the Gospel. He was preparing to enter the vast territory of China when he died in 1552 A.D.
FRANCIS XAVIER, ST. (1506-1552). Born in the family castle of Xavier, near Pamplona in the Basque area of Spanish Navarre on Apr. 7, he was sent to the University of Paris 1552, secured his licentiate in 1528, met Ignatius Loyola and became one of the seven who in 1534, at Montmartre founded the Society of Jesus.
In 1536 he left Paris to join Ignatius in Venice, from whence they all in tended to go as missionaries to Palestine (a trip which never materialized), was ordained there in 1537, went to Rome in 1538, and in 1540, when the pope formally recognized the Society, was ordered, with Fr. Simon Rodriguez, to the Far East as the first Jesuit missionaries. King John III kept Fr. Simon in Lisbon, but Francis, after a year's voyage, six months of which were spent at Mozambique where he preached and gave aid to the sick eventually arrived in Goa, India in 1542 with Fr. Paul of Camerino an Italian, and Francis Mansihas, a Portuguese. There he began preaching to the natives and attempted to reform his fellow Europeans, living among the natives and adopting their customs on his travels.
During the next decade he converted tens of thousands to Christianity. He visited the Paravas at the tip of India. near Cape Comorin, Tuticorin (1542), Malacca (1545), the Moluccas near New Guinea and Morotai near the Philippines (1546-47), and Japan (1549- 51). In 1551, India and the East were set up as a separate province and Ignatius made Francis its first provincial. In 1552 he set out for China, landed on the island of Sancian within sight of his goal, but died before he reached the mainland. Working against great difficulties, language problems (contrary to legend, he had no proficiency in foreign tongues ), inadequate funds, and lack of cooperation, often actual resistance, from European officials, he left the mark of his missionary zeal and energy on areas which clung to Christianity for centuries. He was canonized in 1622 and proclaimed patron of all foreign missions by Pope Pius X. F. D. Dec. 3.
From Wikipedia, the free encyclopedia:
SAINT FRANCIS XAVIER, SJ
APOSTLE TO THE FAR EAST
BORN
7 April 1506
Javier, Kingdom of Navarre(present Spain)
DIED
3 December 1552 (aged 46)
Portuguese Base at São João Island (now China)
VENERATED IN
Catholic Church, Lutheran Church, Anglican Communion
BEATIFIED
25 October 1619 by Pope Paul V
CANONIZED
12 March 1622 by Pope Gregory XV
FEAST
3 December
ATTRIBUTES
crucifix; preacher carrying a flaming heart; bell; globe; vessel; young bearded Jesuit in the company of Saint Ignatius Loyola; young bearded Jesuit with a torch, flame, cross and lily
PATRONAGE
African missions; Agartala, India; Ahmedabad, India;Alexandria, Louisiana; Apostleship of Prayer; Australia;Bombay, India; Borneo; Cape Town, South Africa; China; Dinajpur, Bangladesh; East Indies; Fathers of the Precious Blood; foreign missions; Freising, Germany; Goa, India;Green Bay, Wisconsin; India; Indianapolis, Indiana; Sophia University, Tokyo, Japan; Joiliet, Illinois; Kabankalan, Philippines;Nasugbu, Batangas, Philippines; Alegria, Cebu, Philippines; diocese of Malindi, Kenya; missionaries; Missioners of the Precious Blood; Navarre, Spain; navigators; New Zealand; parish missions; plague epidemics; Propagation of the Faith; Zagreb, Croatia; Indonesia; Malacca; Malaysia,Mongolia
Saint Francis Xavier, SJ, born Francisco de Jasso y Azpilicueta (7 April 1506 – 3 December 1552), was aNavarrese Basque Roman Catholic missionary, born in Xavier, Kingdom of Navarre (now part of Spain), and a co-founder of the Society of Jesus. He was a companion of St. Ignatius of Loyola and one of the first seven Jesuitswho took vows of poverty and chastity at Montmartre, Paris in 1534.[1]He led an extensive mission into Asia, mainly in thePortuguese Empire of the time and was influential in evangelization work most notably in India. He also ventured into Japan, Borneo, the Maluku Islands, and other areas which had, until then, not been visited by Christian missionaries. In these areas, struggling to learn the local languages and in the face of opposition, he had less success than he had enjoyed in India. It was a goal of Xavier to extend his missionary preaching to China but he died in Shangchuan Islandshortly before doing so.
St. Francis Xavier was beatified by Pope Paul V on 25 October 1619, and was canonized by Pope Gregory XV on 12 March 1622. In 1624 he was made co-patron of Navarre alongside Santiago. Known as the "Apostle of the Indies," and the "Apostle of Japan", he is considered to be one of the greatest missionaries since St. Paul.[2] In 1927, Pope Pius XIpublished the decree "Apostolicorum in Missionibus" naming St. Francis Xavier, along with St. Thérèse of Lisieux, co-patron of all foreign missions.[3] He is now co-patron saint of Navarre with San Fermin. The Day of Navarre (Día de Navarra) in Spain marks the anniversary of Saint Francis Xavier's death on 3 December 1552.
Early life
[
edit
]
Francis Xavier was born in the castle of Xavier, in the Kingdom of Navarre, on 7 April 1506 according to a family register. He was the youngest son of Juan de Jasso y Atondo, who belonged to a prosperous farming family and had acquired a doctorate in law at the University of Bologna,[4] and later became privy counselor and finance minister to King John III of Navarre (Jean d'Albret).[5]Francis' mother was Doña Maria de Azpilcueta y Aznárez, sole heiress of two noble Navarrese families. He was thus related to the great theologian and philosopher Martín de Azpilcueta.[6]Notwithstanding different interpretations on his first language,[7]no evidence suggests that Xavier's mother tongue was other than Basque, as stated by himself, and confirmed by the sociolinguistic environment of the time.[A]
In 1512, Ferdinand, King of Aragon and regent of Castile, invaded Navarre, initiating a war that lasted over 18 years. Three years later, Francis' father died when Francis was only nine years old. In 1516, Francis's brothers participated in a failed Navarrese-French attempt to expel the Spanish invaders from the kingdom. The Spanish Governor, Cardinal Cisneros, confiscated the family lands, demolished the outer wall, the gates, and two towers of the family castle, and filled in the moat. In addition, the height of the keep was reduced by half.[9] Only the family residence inside the castle was left. In 1522 one of Francis's brothers participated with 200 Navarrese nobles in dogged but failed resistance against the Castilian Count of Miranda in Amaiur,Baztan, the last Navarrese territorial position south of the Pyrenees.
Until he left for studies in Paris in 1525, Francis' life was surrounded by this war, which ended with Spanish conquest of Navarre in 1530.
In 1525, Francis went to study at the Collège Sainte-Barbe, University of Paris, where he would spend the next eleven years.[10]In the early days he acquired some reputation as an athlete[11]and a fine high-jumper.[12]
In 1529, Francis shared lodgings with his friend Pierre Favre. A new student, Ignatius of Loyola, came to room with them.[13] At 38, Ignatius was much older than Peter and Francis, who were both 23 at the time. Pierre was won over by Ignatius to become a priest, but Francis had aspirations of worldly advancement. At first Francis was not much taken with Ignatius. He regarded the new lodger as a joke and was sarcastic about his efforts to convert students. [14] Only after Pierre left their lodgings to visit his family, when Ignatius was alone with the proud Navarrese, was he was able to slowly break down Francis's stubborn resistance.[15] According to most biographies Ignatius is said to have posed the question: "What will it profit a man to gain the whole world, and lose his own soul?"[16]However, according to James Broderick such method is not characteristic of Ignatius and there is no evidence that he employed it at all.[14]
In 1530 Francis received the degree of Master of Arts, and afterwards taught Aristotelian philosophy at Beauvais College, University of Paris.[14]
On 15 August 1534, seven students met in a crypt beneath the Church of Saint Denis (now Saint Pierre de Montmartre), in Montmartreoutside Paris. They were Francis, Ignatius of Loyola, Alfonso Salmeron, Diego Laínez, Nicolás Bobadilla from Spain, Peter FaberfromSavoy, and Simão Rodrigues from Portugal. They made private vows of poverty, chastity, and obedience to the Pope, and also vowed to go to the Holy Land to convert infidels.[17][18] Francis began his study of theology in 1534 and was ordained on June 24, 1537.
In 1539, after long discussions, Ignatius drew up a formula for a new monastic order, the Society of Jesus (the Jesuits). [15] Ignatius's plan for the order was approved by Pope Paul III in 1540.[19]
Missionary work
[
edit
]
In 1540 King John of Portugal had Pedro Mascarenhas, Portuguese ambassador to the Vatican, request Jesuit missionaries to spread the faith in his new Indian possessions, where the king believed that Christian values were eroding among the Portuguese. After successive appeals to the Pope asking for missionaries for the East Indiesunder the Padroadoagreement, John III was encouraged by Diogo de Gouveia, rector of the Collège Sainte-Barbe, to recruit the newly graduated youngsters that would establish the Society of Jesus.[20]
Loyola promptly appointed Nicholas Bobadilla and Simão Rodrigues. At the last moment, however, Bobadilla became seriously ill. With some hesitance and uneasiness, Ignatius asked Francis to go in Bobadilla's place. Thus, Xavier accidentally began his life as the first Jesuit missionary.[21][22][23]
Leaving Rome on 15 March 1540, in the Ambassador's train,[24]Francis took with him a breviary, a catechism, and De Institutione bene vivendi by Croatian humanist Marko Maruli?,[25] a Latin book that had become popular in the Counter-Reformation. According to a 1549 letter of F. Balthasar Gago in Goa, it was the only book that Francis read or studied.[26]Francis reached Lisbon in June 1540 and four days after his arrival, he and Rodrigues were summoned to a private audience with the King and the Queen.[27]
Francis Xavier devoted much of his life to missions in Asia, mainly in four centers: Malacca, Amboina and Ternate, Japan, and China. His growing information about new places indicated to him that he had to go to what he understood were centers of influence for the whole region. China loomed large from his days in India. Japan was particularly attractive because of its culture. For him, these areas were interconnected; they could not be evangelized separately.[28]
Goa and India
[
edit
]
He left Lisbon on 7 April 1541, Xavier's thirty-fifth birthday, along with two other Jesuits and the new viceroy Martim Afonso de Sousa, on board the Santiago.[29] As he departed, Francis was given a brief from the pope appointing him apostolic nuncio to the East.[23] From August until March 1542 he remained in Portuguese Mozambique, and arrived in Goa, then capital of Portuguese India on 6 May 1542, thirteen months after leaving Lisbon.
Following quickly on the great voyages of discovery, the Portuguese had established themselves at Goa thirty years earlier. Francis' primary mission, as ordered by King John III, was to restore Christianity among the Portuguese settlers. According to Teotonio R. DeSouza, recent critical accounts indicate that apart from the posted civil servants, "the great majority of those who were dispatched as "discoverers" were the riff-raff of Portuguese society, picked up from Portuguese jails." [30]Nor did the soldiers, sailors, or merchants come to do missionary work, and Imperial policy permitted the outflow of disaffected nobility. Many of the arrivals formed liaisons with local women and adopted Indian culture. Missionaries often wrote against the "scandalous and undisciplined" behavior of their fellow Christians.[31]
The Christian population had churches, clergy, and a bishop, but there were few preachers and no priests beyond the walls of Goa. Xavier decided that he must begin by instructing the Portuguese themselves, and gave much of his time to the teaching of children. The first five months he spent in preaching and ministering to the sick in the hospitals.[32] After that, he walked through the streets ringing a bell to summon the children and servants to catechism.[33]He was invited to head Saint Paul's College, a pioneer seminaryfor the education of secular priests, which became the first Jesuit headquarters in Asia.[34]
Xavier soon learned that along the Pearl Fishery Coast, which extends from Cape Comorin on the southern tip of India to the island of Manaar, off Ceylon (Sri Lanka), there was a J?ti of people called Paravas. Many of them had been baptized ten years before, merely to please the Portuguese, who had helped them against the Moors, but remained uninstructed in the faith. Accompanied by several native clerics from the seminary at Goa, he set sail for Cape Comorin in October 1542. First he set himself to learn the language of the Paravas; he taught those who had already been baptized, and preached to those who weren't. His efforts with the high-caste Brahmins remained unavailing.[33]
He devoted almost three years to the work of preaching to the people of southern India and Ceylon, converting many. Many were the difficulties and hardships which Xavier had to encounter at this time, sometimes because the Portuguese soldiers, far from seconding his work, hampered it by their bad example and vicious habits.[35] He built nearly 40 churches along the coast, including St. Stephen's Church, Kombuthurai, mentioned in his letters dated 1544.
During this time, he was able to visit the tomb of St. Thomas the Apostle in Mylapore (now part of Madras (Chennai) then in Portuguese India).[23] He set his sights eastward in 1545 and planned a missionary journey to Makassar on the island ofCelebes(today's Indonesia).
As the first Jesuit in India, Francis had difficulty achieving much success in his missionary trips. His successors, such as de Nobili, Matteo Ricci, and Beschi, attempted to convert the noblemen first as a means to influence more people, while Francis had initially interacted buy finasteride new york most with the lower classes (later though, in Japan, Francis changed tack by paying tribute to the Emperor and seeking an audience with him).[36]
South East Asia
[
edit
]
In the spring of 1545 Xavier started for Portuguese Malacca. He laboured there for the last months of that year. About January 1546, Xavier left Malacca for the Maluku Islands, where the Portuguese had some settlements. For a year and a half he preached the Gospel there. He went first to Ambon Island, where he stayed until mid-June. He then visited other Maluku Islands, including Ternate, Baranura, and Morotai.[35] Shortly after Easter 1546, he returned to Ambon Island; a few months later he returned to Malacca.
In Malacca in December 1547, Francis Xavier met a Japanese man named Anjir?.[35] Anjir? had heard of Francis in 1545 and had traveled from Kagoshima to Malacca to meet him. Having been charged with murder, Anjir? had fled Japan. He told Francis extensively about his former life and the customs and culture of his homeland. Anjir? became the first Japanese Christian and adopted the name of 'Paulo de Santa Fe'. He later helped Xavier as a mediator and translator for the mission to Japan that now seemed much more possible.
In January 1548 Francis returned to Goa to attend to his responsibilities as superior of the mission there.[37] The next 15 months were occupied with various journeys and administrative measures. He left Goa on 15 April 1549, stopped at Malacca, and visited Canton. He was accompanied by Anjiro, two other Japanese men, Father Cosme de Torrès, and Brother João Fernandes. He had taken with him presents for the "King of Japan" since he was intending to introduce himself as theApostolic Nuncio.
Europeans had already come to Japan: the Portuguese had landed in 1543 on the island of Tanegashima, where they introduced the first firearms to Japan.[38]
From Amboina, he wrote to his companions in Europe: "I asked a Portuguese merchant, … who had been for many days in Anjir?'s country of Japan, to give me … some information on that land and its people from what he had seen and heard …. All the Portuguese merchants coming from Japan tell me that if I go there I shall do great service for God our Lord, more than with the pagans of India, for they are a very reasonable people. (To His Companions Residing in Rome, From Cochin, 20 January 1548, no. 18, p. 178).[28]
Francis Xavier reached Japan on 27 July 1549, with Anjiro and three other Jesuits, but he was not permitted to enter any port his ship arrived at[38] until 15 August, when he went ashore at Kagoshima, the principal port of Satsuma Province on the island of Ky?sh?. As a representative of the Portuguese king, he was received in a friendly manner. Shimazu Takahisa (1514–1571), daimyo of Satsuma, gave a friendly reception to Francis on 29 September 1549, but in the following year he forbade the conversion of his subjects to Christianity under penalty of death; Christians in Kagoshima could not be given any catechism in the following years. The Portuguese missionary Pedro de Alcáçova would later write in 1554:
In Cangoxima, the first place Father Master Francisco stopped at, there were a good number of Christians, although there was no one there to teach them; the shortage of laborers prevented the whole kingdom from becoming Christian.[38]
He was hosted by Anjir?'s family until October 1550.[16] From October to December 1550, he resided in Yamaguchi. Shortly before Christmas, he left for Kyoto but failed to meet with the Emperor. He returned to Yamaguchi in March 1551, where he was permitted to preach by the daimyo of the province. However, lacking fluency in the Japanese language, he had to limit himself to reading aloud the translation of a catechism.
Francis was the first Jesuit to go to Japan as a missionary.[39] He brought with him paintings of the Madonna and the Madonna and Child. These paintings were used to help teach the Japanese about Christianity. There was a huge language barrier as Japanese was unlike other languages the missionaries had previously encountered. For a long time Francis struggled to learn the language.
Having learned that evangelical poverty had not the appeal in Japan that it had in Europe and in India, he decided to change his method of approach. Hearing after a time that a Portuguese ship had arrived at a port in the province of Bungo in Kyushu and that the prince there would like to see him, Xavier now set out southward. The Jesuit, in a fine cassock, surplice, and stole, was attended by thirty gentlemen and as many servants, all in their best clothes. Five of them bore on cushions valuable articles, including a portrait of Our Lady and a pair of velvet slippers, these not gifts for the prince, but solemn offerings to Xavier, to impress the onlookers with his eminence. Handsomely dressed, with his companions acting as attendants, he presented himself before Oshindono, the ruler of Nagate, and as a representative of the great kingdom of Portugal offered him the letters and presents, a musical instrument, a watch, and other attractive objects which had been given him by the authorities in India for the emperor.[33]
For forty-five years the Jesuits were the only missionaries in Asia, but the Franciscans also began proselytizing in Asia as well. Christian missionaries were later forced into exile, along with their assistants. Some were able to stay behind, however Christianity was then kept underground as to not be persecuted.[40]
The Japanese people were not easily converted; many of the people were already Buddhist or Shinto. Francis tried to combat the disposition of some of the Japanese that a God who had created everything, including evil, could not be good. The concept of Hell was also a struggle; the Japanese were bothered by the idea of their ancestors living in Hell. Despite Francis' different religion, he felt that they were good people, much like Europeans, and could be converted.[41][42][43]
Xavier was welcomed by the Shingon monks since he used the word Dainichi for the Christian God; attempting to adapt the concept to local traditions. As Xavier learned more about the religious nuances of the word, he changed to Deusu[16] from the Latin and Portuguese Deus. The monks later realized that Xavier was preaching a rival religion and grew more aggressive towards his attempts at conversion.
With the passage of time, his sojourn in Japan could be considered somewhat fruitful as attested by congregations established in Hirado, Yamaguchi, and Bungo. Xavier worked for more than two years in Japan and saw his successor-Jesuits established. He then decided to return to India. Historians debate the exact path he returned by, but from evidence attributed to the captain of his ship, he may have traveled through Tanegeshima and Minato, and avoided Kagoshima because of the hostility of the daimyo.[38] During his trip, a tempest forced him to stop on an island near Guangzhou, China where he met Diogo Pereira, a rich merchant and an old friend from Cochin. Pereira showed him a letter from Portuguese prisoners in Guangzhou, asking for a Portuguese ambassador to speak to the Chinese Emperor on their behalf. Later during the voyage, he stopped at Malacca on 27 December 1551, and was back in Goa by January 1552.
On 17 April he set sail with Diogo Pereira on the Santa Cruz for China. He planned to introduce himself as Apostolic Nuncio and Pereira as ambassador of the King of Portugal. But then he realized that he had forgotten his testimonial letters as an Apostolic Nuncio. Back in Malacca, he was confronted by the capitão Álvaro de Ataíde da Gama who now had total control over the harbor. The capitãorefused to recognize his title of Nuncio, asked Pereira to resign from his title of ambassador, named a new crew for the ship, and demanded the gifts for the Chinese Emperor be left in Malacca.
In late August 1552, the Santa Cruz reached the Chinese island of Shangchuan, 14 km away from the southern coast of mainland China, near Taishan, Guangdong, 200 km south-west of what later became Hong Kong. At this time, he was accompanied only by a Jesuit student, Álvaro Ferreira, a Chinese man called António, and a Malabar servant called Christopher. Around mid-November he sent a letter saying that a man had agreed to take him to the mainland in exchange for a large sum of money. Having sent back Álvaro Ferreira, he remained alone with António. He died at Shangchuan from a fever on 3 December 1552, while he was waiting for a boat that would agree to take him to mainland China.
Burials and relics
[
edit
]
He was first buried on a beach at Shangchuan Island, Taishan, Guangdong. His incorrupt body was taken from the island in February 1553 and was temporarily buried in St. Paul's church in Portuguese Malacca on 22 March 1553. An open grave in the church now marks the place of Xavier's burial. Pereira came back from Goa, removed the corpse shortly after 15 April 1553, and moved it to his house. On 11 December 1553, Xavier's body was shipped to Goa. The body is now in the Basilica of Bom Jesus in Goa, where it was placed in a glass container encased in a silver casket on 2 December 1637.[44] This casket, constructed by Goan silversmiths between 1636 and 1637, was an exemplary blend of Italian and Indian aesthetic sensibilities. There are 32 silver plates on all the four sides of the casket depicting different episodes from the life of the Saint:
Francis lies on the ground with his arms and legs tied, but the chords break miraculously.
Francis kisses the ulcer of a patient in a Venetian hospital.
He is visited by St. Jerome as he lies ailing in the hospital of Vicenza.
A vision about his future apostolate.
A vision about his sister's prophecy about his fate.
He saves the secretary of the Portuguese Ambassador while crossing the Alps.
He lifts a sickman who dies after receiving communion but freed from fever.
He baptises in Travancore.
He resuscitates a boy who died in a well at Cape Comorin.
He cures miraculously a man full of sores.
He drives away the Badagas in Travancore.
He resuscitates three persons: a man who was buried at Coulao; a boy about to be buried at Multao; and a child.
He takes money from his empty pockets and gives to a Portuguese at Malyapore.
A crab restores his crucifix which had fallen into the sea. • He preaches in the island of Moro.
He preaches in the sea of Malacca and announces the victory against the enemies.
He converts a Portuguese soldier.
He helps the dying Vicar of Malacca.
Francis kneels down and on his shoulders there rests a child whom he restores to health.
He goes from Amanguchi to Meaco walking.
He cures a dumb and paralytic in Amanguchi.
He cures a deaf Japanese.
He prays in the ship during a storm.
He baptizes three kings in Cochin.
He cures a religious in the college of St. Paul.
Due to the lack of water, he sweetens the sea water, during a voyage.
The agony of Francis at Sancian.
After his death he is seen by a lady according to his promise.
The body dressed in sacerdotal vestments is exposed for public veneration.
Francis levitates as he distributes communion in the College of St. Paul.
The body is placed in a niche at Chaul with lighted candles. On the top of this casket there is a cross with two angels. One is holding a burning heart and the other a legend which says, "Satis est Domine, satis est." (It's enough Lord, it's enough)
The right forearm, which Xavier used to bless and baptize his converts, was detached bySuperior General Claudio Acquaviva in 1614. It has been displayed since in a silver reliquary at the main Jesuit church in Rome, Il Gesù.
Another of Xavier's arm bones was brought to Macau where it was kept in a silverreliquary. The relic was destined for Japan but religious persecution there persuaded the church to keep it in Macau's Cathedral of St. Paul. It was subsequently moved to St. Joseph's and in 1978 to the Chapel of St. Francis Xavier on Coloane Island. More recently the relic was moved to St. Joseph's Seminary and the Sacred Art Museum.[45]
In 2006, on the 500th anniversary of his birth, the Xavier Tomb Monument and Chapel on the Shangchuan Island, in ruins after years of neglect under communist rule in China was restored with the support from the alumni of Wah Yan College, a Jesuit high school in Hong Kong.
Veneration
[
edit
]
Beatification and canonization
[
edit
]
Francis Xavier was beatified by Paul V on 25 October 1619, and was canonized by Gregory XV on 12 March (12 April[46]) 1622, at the same time as Ignatius Loyola.[47] Pius XI proclaimed him the "Patron of Catholic Missions".[48] His feast day is 3 December.[49]
Pilgrimage centres
[
edit
]
Saint Francis Xavier's relics are kept in a silver casket, elevated inside the Bom Jesus Basilica and are exposed (being brought to ground level) generally every ten years, but this is discretionary. The sacred relics went on display starting on 22 November 2014 at the XVII Solemn Exposition. The display closed on 4 January 2015. The previous exposition, the sixteenth, was held from 21 November 2004 to 2 January 2005.
Relics of Saint Francis Xavier are also found in the Espirito Santo (Holy Spirit) Church, Margão, in Sanv Fransiku Xavierachi Igorz (Church of St. Francis Xavier), Batpal, Canacona, Goa and at St. Francis Xavier Chapel, Portais, Panjim.
Other places
[
edit
]
Other pilgrimage centres include Saint Francis Xavier's birthplace in Navarra, Church of Il Gesu, Rome, Malacca (where he was buried for 2 years, before being brought to Goa), Sancian (Place of death) etc.
In Magdalena de Kino in Sonora, Mexico in the Temple of Santa María Magdalena, there is a statue of San Francisco Xavier, an important historical figure for both Sonora and the neighboring U.S. state of Arizona. The statue is said to be miraculous and is the object of pilgrimage for many of the region.
Novena of grace
[
edit
]
The Novena of Grace is a popular devotion to Francis Xavier, typically prayed either on the nine days before 3 December, or on 4 March through 12 March (the anniversary of Pope Gregory XV's canonization of Xavier in 1622). It began with the Italian Jesuit missionary Marcello Mastrilli. Before he could travel to the Far East, Mastrilli was gravely injured in a freak accident after a festive celebration dedicated to the Immaculate Conception in Naples. Delirious and on the verge of death, Mastrilli saw Xavier, who he later said asked him to choose between traveling or death by holding the respective symbols, to which Mastrilli answered, "I choose that which God wills."[50]Upon regaining his health, Mastrilli made his way via Goa and the Philippines to Satsuma, Japan. The Tokugawa Shogunate beheaded the missionary in October 1637, after undergoing three days of tortures involving the volcanic sulfurous fumes from Mt. Unzen, known as the Hell mouth or "pit" that had supposedly caused an earlier missionary to renounce his faith.[51]
St. Francis Xavier is noteworthy for his missionary work, both as organizer and as pioneer, reputed to have converted more people than anyone else has done since Saint Paul. Pope Benedict XVI said of both Ignatius of Loyola and Francis Xavier: "not only their history which was interwoven for many years from Paris and Rome, but a unique desire — a unique passion, it could be said — moved and sustained them through different human events: the passion to give to God-Trinity a glory always greater and to work for the proclamation of the Gospel of Christ to the peoples who had been ignored."[48] By consulting with the earlier ancient Christians of St. Thomas in India, Xavier developed Jesuit missionary methods. His success also spurred many Europeans to join the order, as well as become missionaries throughout the world. His personal efforts most affected Christians in India and the East Indies (Indonesia, Malaysia, Timor). India still has numerous Jesuit missions, and many more schools. Xavier also worked to propagate Christianity in Chinaand Japan. However, following the persecutions of Toyotomi Hideyoshi and the subsequent closing of Japan to foreigners, the Christians of Japan were forced to go underground to develop an independent Christian culture. Likewise, while Xavier inspired many missionaries to China, Chinese Christians also were forced underground and developed their own Christian culture.
Francis Xavier is the patron saint of his native Navarre, which celebrates his feast day on 3 December as a government holiday. In addition to Roman Catholic masses remembering Xavier on that day (now known as the Day of Navarra), celebrations in the surrounding weeks honor the region's cultural heritage. Furthermore, in the 1940s, devoted Catholics instituted the Javierada, an annual day-long pilgrimage (often on foot) from the capital at Pamplona to Xavier, where his order has built a basilica and museum and restored his family's castle.
Namesake
[
edit
]
As the foremost saint from Navarre and one of the main Jesuit saints, he is much venerated in Spain and the Hispanic countries where Francisco Javier or Javier are common male given names.[52]The alternative spelling Xavier is also popular in Portugal, Catalonia, Brazil, France, Belgium, and southern Italy. In India, the spelling Xavier is almost always used, and the name is quite common among Christians, especially in Goa and the southern states of Tamil Nadu, Kerala, Karnataka. The names Francisco Xavier, António Xavier, João Xavier, Caetano Xavier, Domingos Xavier et cetera, were very common till quite recently in Goa. In Austria and Bavaria the name is spelled as Xaver (pronounced [?k?sa?f?]) and often used in addition to Francis as Franz-Xaver [frant?s?k?sa?f?]. Many Catalan men are named for him, often using the two-name combination Francesc Xavier. In English speaking countries, "Xavier" until recently was likely to follow "Francis"; in the 2000s, however, "Xavier" by itself has become more popular than "Francis", and since 2001 is now one of the hundred most common male baby names in the U.S.A.[53]Furthermore, the Sevier family name, possibly most famous in the United States for John Sevier originated from the name Xavier.
Many churches all over the world, often founded by Jesuits, have been named in honor of Xavier. Those in the United States include the historic St. Francis Xavier Shrine at Warwick, Maryland, (founded 1720, and at which American founding father,Charles Carroll of Carrollton, (1737–1832), (longest living signer and only Catholic at the Continental Congress to sign theDeclaration of Independence, 1776) and cousin to the first American-born Bishop John Carroll, (1735–1815), Bishop and later Archbishop of Baltimore, 1790–1815, (at the Roman Catholic Archdiocese of Baltimore) began their education), also the American educational teaching order Xaverian Brothers, the Basilica of St. Francis Xavierin Dyersville, Iowa, and theMission San Xavier del Bac in Tucson, Arizona (founded in 1692, and known for its Spanish Colonial architecture).
Rubens painted "St Francis Xavier Raising the Dead", for a Jesuit church in Antwerp, and in which he depicted one of St Francis' many miracles (in this case a resurrection).[54]
In popular culture
[
edit
]
Francis Xavier's name is mentioned in an unnamed episode of the satirical webcomic Saturday Morning Breakfast Cereal.
Missionary
[
edit
]
Shortly before leaving he had issued a famous instruction to Father Gaspar Barazeuz who was leaving to go to Ormuz (a kingdom on an island in the Persian Gulf, formerly attached to the Empire of Persia, now part of Iran), that he should mix with sinners:
And if you wish to bring forth much fruit, both for yourselves and for your neighbors, and to live consoled, converse with sinners, making them unburden themselves to you. These are the living books by which you are to study, both for your preaching and for your own consolation. I do not say that you should not on occasion read written books… to support what you say against vices with authorities from the Holy Scriptures and examples from the lives of the saints.[26]
Modern scholars place the number of people converted to Christianity by Francis Xavier at around 30,000. And while some of Xavier's methods have been since criticized (he forced converts to take Portuguese names and dress in Western clothes, approved the persecution of the Eastern Church, and used the Goagovernment as a missionary tool), he has also earned praise. He insisted that missionaries adapt to many of the customs, and most certainly the language, of the culture they wish to evangelize. And unlike later missionaries, Xavier supported an educated native clergy. Though for a time, it seemed his work in Japan was subsequently destroyed by persecution, Protestant missionaries three centuries later discovered that approx. 100,000 Christians still practiced in the Nagasakiarea.[55]
Francis Xavier's work initiated permanent change in eastern Indonesia, and he was known as the 'Apostle of the Indies' where in 1546–1547 he worked in theMaluku Islands among the people of Ambon, Ternate, and Morotai (or Moro), and laid the foundations for a permanent mission. After he left the Maluku Islands, others carried on his work and by the 1560s there were 10,000 Roman Catholics in the area, mostly on Ambon. By the 1590s there were 50,000 to 60,000.[56]
Role in the Goa Inquisition
[
edit
]
It was in Kenya that Francis Xavier had his first contact with another religion, Islam. Although extremely tolerant of human flaws,[57] This worldview led him to missionary tactics that even the Jesuit James Patrick Broderick, though writing an admiring biography, condemns Xavier's "woefully inadequate views about Indian religion and civilization".[58]
he, as many Christians of that time, was not tolerant of other religions, which he considered to be "Devil's instruments". Deeply imbued with the theology of the later Augustine, he was fiercely "jealous" of "God's greater glory" and deeply suspicious of the "untutored" efforts of man to scale the heights of the spirit.
The role of Francis Xavier in the Goa Inquisition is controversial. He had written to King João III of Portugal in 1546, encouraging him to dispatch the Inquisition to Goa, which he did many years later in 1560.[59] Francis Xavier died in 1552 without living to see the horrors of the Goa Inquisition, but some historians believe that he was aware of the Portuguese Inquisition's brutality. In an interview to an Indian newspaper, historian Teotónio de Souza stated that Francis Xavier and Simão Rodrigues, another founder-member of the Society of Jesus, were together in Lisbon before Francis left for India. Both were asked to assist spiritually the prisoners of the Inquisition and were present at the very first Auto-da-fé celebrated in Portugal in September 1540, at which 23 were absolved and two were condemned to be burnt, including a French cleric. Hence, he believes that Xavier was aware of the brutality of the Inquisition.[60]
Fictional
[
edit
]
Hesperion XXI (artist, orchestra), La Capella Reial de Catalunya (artist, orchestra), Jordi Savall (artist, conductor), (1 January 2007). Francisco Javier: La Ruta de Oriente (Audio CD, MP3). Alia Vox. ASIN B0012JJP40.
See also
[
edit
]
Footnotes
[
edit
]