Readings & Reflections with Cardinal Tagle's video: Twenty-ninth Sunday in Ordinary Time & St. John Paul II, October 22,2017
The plotting Pharisees, defiant toward Christ, presume they have the ingenuity to entrap him in his speech. Yet, the Lord takes on the false measure by which these malicious men would measure him, and turns it on themselves. Before every deceitful effort to outwit Jesus or to expose him as a fraud, Christ responds: "I have called you by name, though you knew me not. I am the Lord and there is no other." The effects of original sin entice us to seek our hope in ourselves. That is why St. Paul reminds us: "You were chosen by God our Father." We throw off self-exaltation for the "endurance in hope of our Lord Jesus Christ."
AMDG+
Opening Prayer
"Lord, because you have made me, I owe you the whole of my love; because you have redeemed me, I owe you the whole of myself; because you have promised so much, I owe you all my being. Moreover, I owe you as much more love than myself as you are greater than I, for whom you gave yourself and to whom you promised yourself. I pray you, Lord, make me taste by love what I taste by knowledge; let me know by love what I know by understanding. I owe you more than my whole self, but I have no more, and by myself I cannot render the whole of it to you. Draw me to you, Lord, in the fullness of love. I am wholly yours by creation; make me all yours, too, in love." Amen. (prayer of Anselm, 1033-1109)
Reading I
Is 45:1, 4-6 – I have grasped the right hand of Cyrus to subdue the nations before him.
Thus says the LORD to his anointed, Cyrus,
whose right hand I grasp,
subduing nations before him,
and making kings run in his service,
opening doors before him
and leaving the gates unbarred:
For the sake of Jacob, my servant,
of Israel, my chosen one,
I have called you by your name,
giving you a title, though you knew me not.
I am the LORD and there is no other,
there is no God besides me.
It is I who arm you, though you know me not,
so that toward the rising and the setting of the sun
people may know that there is none besides me.
I am the LORD, there is no other.
The word of the Lord.
Responsorial Psalm
Ps 96:1, 3, 4-5, 7-8, 9-10
(7b)Give the Lord glory and honor.
Sing to the LORD a new song;
sing to the LORD, all you lands.
Tell his glory among the nations;
among all peoples, his wondrous deeds.
R. Give the Lord glory and honor.
For great is the LORD and highly to be praised;
awesome is he, beyond all gods.
For all the gods of the nations are things of nought,
but the LORD made the heavens.
R. Give the Lord glory and honor.
Give to the LORD, you families of nations,
give to the LORD glory and praise;
give to the LORD the glory due his name!
Bring gifts, and enter his courts.
R. Give the Lord glory and honor.
Worship the LORD, in holy attire;
tremble before him, all the earth;
say among the nations: The LORD is king,
he governs the peoples with equity.
R. Give the Lord glory and honor.
Reading II
1 Thes 1:1-5b – Calling to mind faith, love and hope.

Paul, Silvanus, and Timothy to the church of the Thessalonians
in God the Father and the Lord Jesus Christ:
grace to you and peace.
We give thanks to God always for all of you,
remembering you in our prayers,
unceasingly calling to mind your work of faith and labor of love
and endurance in hope of our Lord Jesus Christ,
before our God and Father,
knowing, brothers and sisters loved by God,
how you were chosen.
For our gospel did not come to you in word alone,
but also in power and in the Holy Spirit and with much conviction.
The word of the Lord.
Gospel
Mt 22:15-21 – Repay to Caesar what belongs to Caesar and to God what belongs to God.
Bishop Robert Barron's Homily – Caesar and God click below:
The Pharisees went off
and plotted how they might entrap Jesus in speech.
They sent their disciples to him, with the Herodians, saying,
"Teacher, we know that you are a truthful man
and that you teach the way of God in accordance with the truth.
And you are not concerned with anyone's opinion,
for you do not regard a person's status.
Tell us, then, what is your opinion:
Is it lawful to pay the census tax to Caesar or not?"
Knowing their malice, Jesus said,
"Why are you testing me, you hypocrites?
Show me the coin that pays the census tax."
Then they handed him the Roman coin.
He said to them, "Whose image is this and whose inscription?"
They replied, "Caesar's."
At that he said to them,
"Then repay to Caesar what belongs to Caesar
and to God what belongs to God."
The Gospel of the Lord.
Reflection 1 – Caesar and the King
Dr. Scott Hahn's reflection click below:
The Lord is king over all the earth, as we sing in today's Psalm. Governments rise and fall by His permission, with no authority but that given from above (see John 19:11; Romans 13:1).
In effect, God says to every ruler what he tells King Cyrus in today's First Reading: "I have called you . . . though you knew me not."
The Lord raised up Cyrus to restore the Israelites from exile, and to rebuild Jerusalem (see Ezra 1:1-4). Throughout salvation history, God has used foreign rulers for the sake of His chosen people. Pharaoh's heart was hardened to reveal God's power (see Romans 9:17). Invading armies were used to punish Israel's sins (see 2 Maccabees 6:7-16).
The Roman occupation during Jesus' time was, in a similar way, a judgment on Israel's unfaithfulness. Jesus' famous words in today's Gospel: "Repay to Caesar" are a pointed reminder of this. And they call us, too, to keep our allegiances straight.
The Lord alone is our king. His kingdom is not of this world (see John 18:36) but it begins here in His Church, which tells of His glory among all peoples. Citizens of heaven (see Philippians 3:20), we are called to be a light to the world (see Matthew 5:14) – working in faith, laboring in love, and enduring in hope, as today's Epistle counsels.
We owe the government a concern for the common good, and obedience to laws – unless they conflict with God's commandments as interpreted by the Church (see Acts 5:29).
But we owe God everything. The coin bears Caesar's image. But we bear God's own image (see Genesis 1:27). We owe Him our very lives – all our heart, mind, soul, and strength, offered as a living sacrifice of love (see Romans 12:1-2).
We should pray for our leaders, that like Cyrus they do God's will (see 1 Timothy 2:1-2) – until from the rising of the sun to its setting, all humanity knows that Jesus is Lord. – Read the source: https://stpaulcenter.com/caesar-and-the-king-scott-hahn-reflects-on-the-twenty-ninth-sunday-in-ordinary-time/
Reflection 2 – What belongs to Caesar and what belongs to God
In today's Gospel (Mt 22:15-21), Jesus helped His followers to think clearly about their civic duty in the world. The Jews were required to pay taxes to the Roman government. They hated this taxation because the money went directly into Caesar's treasury, where some of it supported the pagan temples and decadent lifestyle of the Roman aristocracy. They may have questioned whether they even had a civic responsibility to Caesar (cf. Our Daily Bread, RBC Ministries). Jesus reminded them, however, that they lived in a world with dual citizenship – the two kingdoms—Caesar's kingdom (human authority) and God's kingdom (spiritual authority). They had responsibilities to both, but their greater responsibility was to God and His kingdom (Acts 5:28-29). To render to Caesar what was Caesar's was to return his own coin to him (cf. Mt. 17:25; Rom 13:6-7; 1 Pet 2:13-14; Jer 26:8-9; 27:6-22; 29:4-9; Ezek 8-9); to render to God what was God's was to render worship to him alone (cf. Mt. 4:10). Neither the image nor the superscription on coins in common usage could prevent Jewish people's single-minded devotion to God. If the Roman coin bears Caesar's image, then it belongs to him and should be given back to him. But what is it that 'belongs to God'? It is the human person, who bears the image of the living God (Gen 1:26-27). We desire God, for we are created by him and for him and he never ceases to draw us to himself. Only in him will we find the truth and happiness we never stop searching for (CCC: 27). In this life we are called to live by faith, persevere in hope and to grow in love. We are ordered to God and destined for eternal beatitude. God put us in the world to know, to love, and to serve him, and so to come to paradise. Beatitude makes us 'sharers of the divine nature' and of eternal life. With beatitude, we enter into the glory of Christ and the joy of Trinitarian life (cf. CCC: 1721).
Jesus does not divide the world into two equal realms but clearly defining the boundaries between our obligations to Caesar and our obligations to God. Rather, his answer acknowledges our obligation to the state, but affirms our larger obligation to God. Coins bearing Caesar's image may belong to Caesar, but all things (coins, Caesar, Rome, the planet earth, the universe) come from the mind of God and are under God's dominion. Caesar's realm is but a speck within God's realm. The days of Caesar's realm are numbered, but God's realm is eternal. Watch the video on Caesar and Christ click this link: http://www.pagadiandiocese.org/2014/06/19/caesar-christ/
Reflection 3 – Repay to Caesar what belongs to Caesar
What comes to heart when Jesus said, "Then repay to Caesar what belongs to Caesar"?
Most of us will start to think of payment of taxes to the government. If we have to live in this present world not only as a proactive citizen but also as a child of God, our payment of taxes does not fulfill our duties to 'Caesar' and the government.
Rendering unto Caesar what is due Caesar goes way beyond the payment of taxes due the government but should include our honest effort to advance the kingdom of God so that society is changed and the plight of the poor people is addressed. We need to work for social reforms so that our lives are founded on Christ, so that justice, peace and equality may always transcend the very human inclination to seek power, fame and fortune.
Giving to Caesar what is due him is sharing our thoughts and being bold in our work for what is right in the eyes of our Lord. It is Advocacy for everything our Lord stands for and living by them. If we are able to stand by God and His ways and bring them to His people through those whom He has sent to govern us, then we may have somehow complied with our Lord's directive, "then repay to Caesar what belongs to Caesar."
As we render to Caesar what is his, we should be able to do the same to God. One consolation is, if we do everything right, even our duties to Caesar, then we are also able to "repay to God what belongs to God" as everything belongs to Him. Going beyond the details of the law and being guided by God's Word will only bring us closer to our God. Our openness to the Spirit and allowing His Mighty power to work within us so that we may be able to apply GOD, His Word and plan in every aspect of our lives shall fulfill our duties to both Caesar and God.
One thing that should never leave our hearts and minds is the truth that everything else falls under the rule of God, even Caesar. The moral good and the basic law on love of God and His people way surpass whatever law may come from Caesar as the authority that emanates from him and his government only flows from the authority of God. When we live our lives for God through Christ, everything else will follow, even our relationship with Caesar.
The greatest authority that we all have to live up to is the authority of Jesus Christ, which He earned through His obedience to the Father, even up to the Cross. Jesus Christ reigns over all of us and there is no one who can ever take His place of honor in our lives. He is the ONE and only authority we have to answer to! I am the LORD and there is no other, there is no God besides me. It is I who arm you, though you know me not, so that toward the rising and the setting of the sun people may know that there is none besides me. I am the LORD, there is no other. Isaiah 45:5-6
Today, let us follow the very words of our Lord Jesus: "Then repay to Caesar what belongs to Caesar and to God what belongs to God" Mt 22:21, by being truly compliant to His gospel which "did not come to us in word alone but also in power and in the Holy Spirit and with much conviction." 1Thes1:5
Direction
Be faithful to our commitment to a prayerful life as this is the best way we can to be under the rule and authority of God. Give Him the Lord glory and honor.
Prayer
Heavenly Father, enable me to submit myself and be obedient to every authority that You may place over me, both in church and in society. In Jesus, I pray. Amen.
Reflection 4 – Give everything to God
One day a mother was in panic. Her little boy swallowed a coin. "Quick!" she called on her husband. "Call the doctor!" But the husband calmly replied, "We do not need a doctor. Let us call a priest instead." "Why? Is our boy going to die?" she asked. "No," he replied, 'But our parish priest has his way of getting money out of anybody."
The Gospel this Sunday is talking about a coin. Jesus said to his critics, the Herodians and the Pharisees: "Show me a coin." The coin was a Roman coin used to pay taxes to the Emperor. Jesus made this request because He was asked the question: "Is it lawful for us to pay taxes to the Emperor?" Jesus was quick to notice the malice behind this simple question. That is why he retorted: "Why are you testing me, you hypocrites?" He called them hypocrites because they were actually trying to trap him. If he answers "yes", they will tell the people that Jesus is a supporter of the Roman Empire. If he answers "no", they will accuse him of sedition and let the matter be known by the Roman authorities so that he would be imprisoned. He called them hypocrites also because it is not proper for Jews, especially the Pharisees, to have in their possession a Roman coin for such would be an acknowledgement of Roman power over the Jewish people. Added to that, the coin has the blasphemous words inscribed on it: "Tiberius Caesar, Son of the Divine Augustus." Yet when he asked for a coin, the Pharisees readily gave him one. In fact, it is publicly known that they are already paying taxes to the Emperor.
They laid a trap for Jesus, but he eluded it masterfully by saying: "Give to Caesar what belongs to Caesar, and to God what belongs to God." This statement, short as it is, spells out a guiding principle for us. We cannot deny the fact that we are still in this world. At the same time, we should not also forget that we do not belong to this world; we are citizens of heaven.
While we are in this world, we abide by the principles of social life. No man is an island. We live with others in society. We should be useful and healthy members of society. And for a society to live in peace and harmony, there should be norms and laws, which must be followed for the common good and the protection of human rights. In this regard, a legitimate authority is necessary to implement the laws and to lead and unite the people. That is the meaning of the first part of the statement of Jesus: "Give to Caesar what belongs to Caesar." We have duties and obligations as members of society: loyalty to country, honest public service, payment of taxes, obedience to the laws of the land, respect for persons in authority and defense of basic human rights among many others. "Give to Caesar what belongs to Caesar." I don't think we have problem with this. I believe we are all law-abiding citizens of the land. Otherwise, we will not be here but in jail.
But the second part is what is more difficult and challenging: "Give to God what belongs to God." What belongs to God? There is a common tendency among us to dichotomize our self. Sometimes we say, my soul belongs to God, but my body belongs to me and to the world. Or we say, when I am in church, I belong to God. But when I get out, I am on my own. That is not correct. We belong to God, whole and entire. That is why, when Jesus was asked, "What is the greatest commandment?" He answered, "This is the first: Hear O Israel, the Lord your God is Lord alone. You shall love the Lord your God with all your soul, with all your heart, with all your mind and with all your strength." He is not talking about 10 % or 50%. He said "all", which means 100%. So, what is due to God? Everything. Since everything comes from Him, we ought to give everything back to Him. That is justice, plain and simple. So, we ask ourselves: "Am I ready and willing to give God everything?"
The first Filipino saint is Saint Lorenzo Ruiz, a martyr. He was a married layman, a lowly sacristan in a church in Manila. He joined the Dominican missionaries to Japan. There they were captured and tortured. Under penalty of death, they were ordered to renounce their faith. Lorenzo uttered these heroic words: "I am a Christian. And if I have a thousand lives, I will give them all to God." Such a beautiful example of total generosity to God!
An old man won a million dollars in the lottery. His family could not break the great news to him for fear that he might have a heart attack. They requested the priest to do the task. The priest obliged and talked to the old man. He started with: "Sir, if you win one million dollars, what will you do?" The old man quickly replied, "I will give half of it to you and to the church!" The priest had heart attack.
When I was a child, my parents would bring all of us children to church on Sunday. The house would be filled with activity as four children scramble to dress up. Then before leaving the house my parents would give each of us a five-centavo coin for the church collection. At that age I wondered, are my parents telling us that coins are enough to give to the church? Later in life, I realized they were, after all, very generous to the Church. They readily gave their son to the Church as a priest.
God is generous to us. He gives us everything, even His own Son: "For God so loved the world that He gave His only Son." How generous are we to God? "Give to God what belongs to God." Everything. (Source: Fr. Mike Lagrimas, Our Lady of Guadalupe Parish, Palmera Springs 3, Susano Road, Camarin, Novaliches, Caloocan City 1422).
Reflection 5 – Give to Caesar what belongs to Caesar
In the Gospel, Jesus has already made his royal entry into Jerusalem, asserted his authority over the Temple, and judged the leaders of the temple, who prevented the Temple from being a house of prayer. When the chief priests and elders ask him, "By what authority are you doing these things?", Jesus responds with three parables.
In the first, Jesus compares the chief priests and elders to a son who says that he will work in his father's vineyard but then does not go. In the second, they are compared to wicked tenants, who maltreat and kill the landowner's servants and son. In the third, they are like a wedding guest who is improperly dressed for the feast. The chief priests and elders, like the son, are not fulfilling the will of God; like the wicked tenant, they are plotting to kill God's only begotten Son, and, like the man without a wedding garment, they are not clothed with works of justice, righteousness, and charity. Jesus is warning them that they have been judged and are about to be cast out into the darkness.
This leads the Pharisees to plot once again how to trap Jesus in his speech. They have their disciples present a dilemma to him that can't be solved with a simple yes or no. If Jesus says that it is lawful to pay the census tax, then he will appear to be a Roman sympathizer and will discredit himself in the eyes of the Jews who saw the Roman rule of Judea as an unacceptable and intolerable burden. If Jesus says that it is not lawful to pay the tax, then the Herodians will report him to the Roman authorities for instigating a tax revolt (see C. Mitch and E. Sri, The Gospel of Matthew, Baker Academic, 285).
Jesus knows that they are testing him and asks them to show him a coin for the census tax. "By producing the coin used for the taxes, the Pharisees are publicly exposed as hypocrites. They may oppose Roman taxation in principle, but apparently they are in the habit of paying it just like every other Palestinian Jew" (see C. Mitch and E. Sri, The Gospel of Matthew, Baker Academic, 285).
On the one side, the coin, had the words "Tiberius Caesar Augustus, Son of the Divine Augustus". On the other side, it declares Tiberius to be "High Priest". It is ironic that the coin, with these two inscriptions, is being shown to the one who is truly the Son of God and the Eternal High Priest.
Jesus is able to avoid the trap of the Pharisees by making a distinction between political obligations and religious obligations. "Paying taxes is not a compromise of one's duties toward God, nor does serving God exempt one from supporting the civil government. But this is not all the statement reveals, for Jesus implicitly subordinates the claims of Caesar to the claims of God. If the Roman coin bears Caesar's image, then it belongs to him and should be given back to him. But what is it that 'belongs to God'? It is the human person, who bears the image of the living God (Gen 1:26-27)" (see C. Mitch and E. Sri, The Gospel of Matthew, Baker Academic, 286).
Saint Paul alludes to this truth in the Letter to the Thessalonians: we are loved by God and chosen by him before the foundation of the world for salvation and divine sonship. We desire God, for we are created by him and for him and he never ceases to draw us to himself. Only in him will we find the truth and happiness we never stop searching for (CCC, 27). In this life we are called live by faith, persevere in hope and to grow in love. We are ordered to God and destined for eternal beatitude. God put us in the world to know, to love, and to serve him, and so to come to paradise. Beatitude makes us 'sharers of the divine nature' and of eternal life. With beatitude, we enter into the glory of Christ and the joy of Trinitarian life (see CCC, 1721). – Read the source: http://www.zenit.org/en/articles/sunday-homily-give-to-caesar-what-belongs-to-caesar
Reflection 6 – God and Caesar
The conclusion of today's gospel is one of the best known quotes from the New Testament: "Give to Caesar what is Caesar's, but give to God what is God's." In the ancient world, altar and throne were united. There was usually a close union or even identity between church and state. In the time of Jesus the chief priests and elders ruled in Palestine, but under the Romans who promoted the divinity of the emperor. Jesus put an end to that by making a distinction between the rights of God and the rights of the state – they are on different levels. One is natural and the other is supernatural.
In the first reading Isaiah offers us a good lesson on divine providence. He says that God raised up Cyrus in Persia to punish Babylon and to restore the remnant of Israel back to the promised land. The word "providence" is defined as God's all-wise plan for the universe and the carrying out of this plan by his loving rule. Amazingly, Isaiah calls Cyrus his "anointed" – a word usually reserved for the king and the Messiah. Here the point is that God raised him up for a purpose – to restore Israel, even though he did not know it and did not know the true God of Israel.
Isaiah stresses the omnipotence and uniqueness of God four times: "I am the Lord and there is no other." Therefore his providence is universal, infallibly certain and immutable. God's providence or plan is directed toward each person's salvation and good because it flows from love, for God is love.
The Pharisees hated Rome and were opposed to paying the tax. Herodians were fellow travelers who sought favor from Rome, so they supported the tax. The question put to Jesus is a trick – a dilemma. For if he says "No," he will be denounced to the Roman authorities. So in reply he asked to see a coin. Since they carried and used Roman coins, it showed that they agreed in some sense to the Roman rule. He asked, "Whose head is this, and whose inscription?" "Caesar's," they replied. Then Jesus said, "Then gives to Caesar what is Caesar's, but give to God what is God's."
In the United States we have a complete separation between Church and state. In some European countries in the past, when Catholicism was the official religion of the state, the state supported the Church. Today the Church depends on the offerings of the faithful to support the clergy, to provide religious education and to do charitable works. All have an obligation to support the Church according to their means. This is one of the precepts of the Church. Some parishes have a system of tithing, though it is not a universal requirement.
In the ancient world, altar and throne were usually united. They demanded absolute submission on the part of the people, taking the place of God. The same structure was found among the Aztecs in Mexico in the sixteenth century. With his response, Jesus put an end to the idea that the state is the expression of both political and religious authority. Since man owes his whole being to God, he owes him adoration and worship. He also has obligations to the state, such as paying taxes and obeying just laws. This is willed by God because the state is a natural society. Here we have the basis for the separation of Church and state into their different but complementary functions. In a sense, it divides into secular and sacred, though not perfectly.
In the Acts of the Apostles, St. Peter tells the Jewish authorities that "we must obey God rather than men" (Acts 5:29). So when the state orders one to do something immoral – like abortion, sterilization, euthanasia, etc. – one must resist to the point of jail and martyrdom. There are many examples of this in history – Roman martyrs, martyrs in China, St. Thomas More and St. John Fisher in England. God's rights come first, for he has first claim on our allegiance.
The otherness or transcendence of God is praised by St. Paul in the second reading when he thanks God for the faith, hope and love of the Thessalonians. The Church's primary mission is the salvation of souls through the Word and the sacraments. Their purpose is to bring all men to worship and serve the true God. Social work and political involvement are also necessary, but they are secondary and flow from love – first love of God and neighbor.
As our government becomes more secular and more hostile to religion, Catholics will be faced with some difficult decisions about cooperating or not cooperating in immoral government policies, for example, providing condoms and abortion counseling in Catholicschools and hospitals. Catholics and all Christians should get involved in the political process to stop immoral policies. Let us pray that God by his grace will enlighten our political rulers, and raise up more God-fearing leaders who will "give to Caesar the things that are Caesar's and to God what is God's" (Source: Rev. Kenneth Baker, SJ, "Homilies on the Liturgies of Sundays and Feasts," Homiletic & Pastoral Review, Vol. CVIII, No. 11-12. New Jersey: Ignatius Press, 2008, pp. 45-47; Suggested reading: Catechism of the Catholic Church,1434, 1438, 1969, 2447, 2462).
Reflection 7 – Beware of Becoming an Unconscious Pharisee
Purpose: Once again the Gospel tells of Jesus coming into conflict with the Pharisees. The source of the conflict is the profound difference between the message of Jesus and the Pharisees' understanding of religion. Jesus' challenge to the Pharisees is also challenge to us.
The Pharisees are mentioned frequently in the Gospels. They played a significant role in the public life of Jesus. What we know of them leads us to have a very negative opinion of them. We see them as legalistic hypocrites, blind to Jesus and his message. We see them becoming increasingly hostile to Jesus, and eventually seeking to destroy him. They are often presented as questioning Jesus, trying to provoke a response that will discredit him.
Specifically, in today's Gospel, the Pharisees propose a dilemma designed to get Jesus into trouble, no matter which alternative he chooses. If Jesus said it was lawful to pay the tax, he would be in trouble with the Jewish people. If he said the tax should not be paid, he would be in trouble with the Roman authorities. As he often did, Jesus responded with a question. In doing so, he escaped the dilemma and raised the issue to a new level.
Although he was often in conflict with the Pharisees, Jesus recognized their role as teachers in Israel. He told people, "Do as they say; not as they do!" The Jewish people were people of the law as handed down by Moses. The Pharisees were the interpreters and guardians of the law. In fact, it was to their credit that they were the ones largely responsible for sustaining fidelity to the Law of Moses in Israel.
Jesus was sharply critical of the religion of the Pharisees. They often turned life-giving principles into regulations that suffocated and condemned. Over time, the great principles of the Law were broken down into literally thousands of rules and regulations. The Pharisees believed salvation was attained through scrupulous observance of those rules and regulations.
Rules and regulations have their place, their importance. But to see religion as consisting only in rules and regulations holds two dangers. First, following the rules scrupulously can lead to presumption, to thinking we earn God's grace through our own efforts, that we save ourselves. Secondly, failing to follow the rules, while believing them to be our salvation, can lead to scrupulosity.
The Pharisees thought they knew exactly what God wanted of them. When Jesus told them they didn't have it right, they simply refused to believe him. In fact, they turned strongly against him and his message. The Pharisees were dedicated legalists. For them, religion consisted in careful observance of every detail of the Law. At the same time, they were deeply religious in the sense of being desperately earnest about the practice of religion; but religion as they understood it.
Much of the behavior of the Pharisees was self-serving. Deeds were performed to be seen and admired. Reflection on their behavior has resulted in the term "Pharisee" becoming a synonym for "hypocrite." The problem of the Pharisees was not so much a lack of faith, as a lack of humility, humility that would allow them to admit they could be wrong. They had lost the capacity for self-criticism. Lack of humility is often accompanied by stubbornness. Thus, the Pharisees became fixed in their opposition to Jesus, which then became stronger and stronger.
Having said all that about the Pharisees, I still like to think of them as affording us a good example in a negative way. We must be careful not to out-Pharisee the Pharisees, i.e., not to think of ourselves as incapable of making the same mistakes they did. We can learn from them not to think we understand so perfectly what God wants of us that we never have to make any adjustment in our thinking. To put it a bit differently, the valuable lesson we can learn from the Pharisees is that they needed to change their minds, to be converted. There is a sense in which we, too, need to be converted, i.e., converted in the sense of being continuously in a process of turning away from sin, and turning to the Lord.
From time to time, the Gospels describe Jesus as challenging the Pharisees in very strong language. It helps to remember Jesus also found it necessary to challenge his close followers. We can find 17 places in the Gospels when Jesus asked his disciples: "Are you still without understanding?" It is not that the disciples were dull or of low intelligence. The real challenge for Jesus is not one of a lack of intelligence among his disciples, but for them to be willing to give up an old vision, and accept a new one. The challenge Jesus presents to anyone who wants to be his follower is not so much a matter of understanding, as a matter of radical faith, and profound trust in Jesus as Son of God, and our Savior (Source: Homiletic and Pastoral Review).
Reflection 8 – Beware of Becoming an Unconscious Pharisee
The Pharisees are mentioned frequently in the Gospels. They played a significant role in the public life of Jesus. What we know of them leads us to have a very negative opinion of them. We see them as legalistic hypocrites, blind to Jesus and his message. We see them becoming increasingly hostile to Jesus, and eventually seeking to destroy him. They are often presented as questioning Jesus, trying to provoke a response that will discredit him.
Specifically, in today's Gospel, the Pharisees propose a dilemma designed to get Jesus into trouble, no matter which alternative he chooses. If Jesus said it was lawful to pay the tax, he would be in trouble with the Jewish people. If he said the tax should not be paid, he would be in trouble with the Roman authorities. As he often did, Jesus responded with a question. In doing so, he escaped the dilemma and raised the issue to a new level.
Although he was often in conflict with the Pharisees, Jesus recognized their role as teachers in Israel. He told people, "Do as they say; not as they do!" The Jewish people were people of the law as handed down by Moses. The Pharisees were the interpreters and guardians of the law. In fact, it was to their credit that they were the ones largely responsible for sustaining fidelity to the Law of Moses in Israel.
Jesus was sharply critical of the religion of the Pharisees. They often turned life-giving principles into regulations that suffocated and condemned. Over time, the great principles of the Law were broken down into literally thousands of rules and regulations. The Pharisees believed salvation was attained through scrupulous observance of those rules and regulations.
Rules and regulations have their place, their importance. But to see religion as consisting only in rules and regulations holds two dangers. First, following the rules scrupulously can lead to presumption, to thinking we earn God's grace through our own efforts, that we save ourselves. Secondly, failing to follow the rules, while believing them to be our salvation, can lead to scrupulosity.
The Pharisees thought they knew exactly what God wanted of them. When Jesus told them they didn't have it right, they simply refused to believe him. In fact, they turned strongly against him and his message. The Pharisees were dedicated legalists. For them, religion consisted in careful observance of every detail of the Law. At the same time, they were deeply religious in the sense of being desperately earnest about the practice of religion; but religion as they understood it.
Much of the behavior of the Pharisees was self-serving. Deeds were performed to be seen and admired. Reflection on their behavior has resulted in the term "Pharisee" becoming a synonym for "hypocrite." The problem of the Pharisees was not so much a lack of faith, as a lack of humility, humility that would allow them to admit they could be wrong. They had lost the capacity for self-criticism. Lack of humility is often accompanied by stubbornness. Thus, the Pharisees became fixed in their opposition to Jesus, which then became stronger and stronger.
Having said all that about the Pharisees, I still like to think of them as affording us a good example in a negative way. We must be careful not to out-Pharisee the Pharisees, i.e., not to think of ourselves as incapable of making the same mistakes they did. We can learn from them not to think we understand so perfectly what God wants of us that we never have to make any adjustment in our thinking. To put it a bit differently, the valuable lesson we can learn from the Pharisees is that they needed to change their minds, to be converted. There is a sense in which we, too, need to be converted, i.e., converted in the sense of being continuously in a process of turning away from sin, and turning to the Lord.
From time to time, the Gospels describe Jesus as challenging the Pharisees in very strong language. It helps to remember Jesus also found it necessary to challenge his close followers. We can find 17 places in the Gospels when Jesus asked his disciples: "Are you still without understanding?" It is not that the disciples were dull or of low intelligence. The real challenge for Jesus is not one of a lack of intelligence among his disciples, but for them to be willing to give up an old vision, and accept a new one. The challenge Jesus presents to anyone who wants to be his follower is not so much a matter of understanding, as a matter of radical faith, and profound trust in Jesus as Son of God, and our Savior. – Read the source: http://www.hprweb.com/2017/09/homilies-for-october-2017/
Reflection 9 – Blessed Pope Paul VI: Graces of Mission Sunday
"It is appropriate first of all to emphasize the following point: for the Church, the first means of evangelization is the witness of an authentically Christian life, given over to God in a communion that nothing should destroy and at the same time given to one's neighbor with limitless zeal. As we said recently to a group of lay people, "Modern man listens more willingly to witnesses than to teachers, and if he does listen to teachers, it is because they are witnesses." St. Peter expressed this well when he held up the example of a reverent and chaste life that wins over even without a word those who refuse to obey the Word. It is therefore primarily by her conduct and by her life that the Church will evangelize the world, in other words, by her living witness of fidelity to the Lord Jesus – the witness of poverty and detachment, of freedom in the face of the powers of this world, in short, the witness of sanctity.
"What is the state of the Church ten years after the Council?… Is she firmly established in the midst of the world and yet free and independent enough to call for the world's attention? Does she testify to solidarity with people and at the same time to the divine Absolute? Is she more ardent in contemplation and adoration and more zealous in missionary, charitable, and liberating action? Is she ever more committed to the effort to search for the restoration of the complete unity of Christians, a unity that makes more effective the common witness, 'so that the world may believe?" We are all responsible for the answers that could be given to these questions" (Blessed Pope Paul VI, +1978, Manificat, Vol. 16, No. 8, October 2014, pp. 283-284).
Reflection 10 – The image engraved on our hearts
In this Sunday's Gospel reading, when Jesus asks the Pharisees to tell him whose image was engraved on the coin owed for the census tax, he uses it to teach a lesson about the image that should be engraved upon our hearts. Our hearts should belong to God and to God alone.
The Romans believed that their emperors were divine. Therefore, to possess Roman coins meant carrying around the graven image of a human god. The Pharisees knew this when they challenged Jesus.
Paying the census tax to Caesar symbolized more than just submission to a foreign government. It had religious connotations. If Jesus was a true prophet, he should speak up against Jews possessing pagan coins. If he was a true messiah, he should deliver them from the oppression and taxes of the foreign government – or so they thought.
We don't know how they happened to have the Roman coin that they showed to Jesus. If they pulled it out of their own purses, which is likely, it revealed their hypocrisy. However, Jesus wasn't just interested in exposing their hypocrisy; he wanted to make a point about the True Messiah.
If we belong to God, Jesus is engraved upon our hearts. We have been rescued from the destruction of sin by the Messiah. We have let him deliver us from the oppression of evil that was caused by our sins.
Whose image do others see when they look at your life? When people see you, do they see Jesus engraved upon you? To the extent that they do, that's the extent to which you belong to the kingdom of God!
Questions for Personal Reflection:
How do you know that others see Jesus in your life? What's the evidence? What have they told you about yourself that is also a description of Christ?
Questions for Community Faith Sharing:
What are some of the ways in which Jesus has come into your life and changed you from within? How has that changed the way you live? How does this evangelize others? – Read the source: http://gnm.org/good-news-reflections/?useDrDate=2017-10-21
Reflection 11 – God's coin
Let us understand that the coin of God's is us on whom the charity of the divine image is engraved.
1) The taxes to the State, man to God.
The subject of this Sunday's Gospel is the debate between Jesus, the Pharisees and the Herodians who want to trap him with a question about the tribute to be paid to the Romans. Under the appearance of fidelity to the law of God or to the Roman emperor, they seek reasons to accuse him. If, to the question "Is it lawful or not to pay the tribute to Caesar?" Jesus replies "You must pay," they could, along with the people, accuse him of being a friend of the Romans. If the Messiah gives the answer "You do not have to pay," they could report him to the Roman authorities accusing him of being a revolutionary. In short, the Pharisees want to put him in a situation they think is without exit. Instead, Christ finds a way out answering to the question regarding the tribute to Caesar with a striking political realism. The tax is paid to the emperor because the image on the coin is his, but every human being carries in himself the image of God and, therefore, belongs to Him, and to Him alone. It is to Him that everyone must "pay" the tribute because he or she owes it to God for his or her own existence.
In his answer "Give to Caesar what is Caesar's and to God what is God's", Christ does not remain only on the political level but clearly states that what matters most is the Kingdom of God. The words of Christ illuminate the line of the Christian's conduct in the world. Faith does not require his detachment from temporal realities but becomes an incentive to be committed with laborious generosity to transform them from within, contributing to the establishment of the Kingdom of heaven.
If the first consideration that comes from today's Gospel is that the Messiah does not oppose the State to God but affirms the duty to contribute to the common good also paying taxes, the second thought that comes to mind is that the sentence "Give to Caesar what is Caesar's and to God what belongs to God" does not oppose Caesar to God ( man or God) neither juxtaposes Cesare to God (man and God), but it is as if to say "Give man what is his so that he may feel and live the joy of giving God what is God's".
Referring to the image of Caesar imprinted on the coin, of which the Pharisees and the Herodians speak, Jesus reminds them and us that we are created in the image and likeness of God. If their tribute belongs to Caesar, their lives belong to God. Jesus starts from the duty to return the money to Caesar, whose image is imprinted on the coin, to get to the obligation of restoring man to God, whose image is "imprinted" in the human nature. It is fair to give back to Caesar the money with his image; it is right and proper to give back to God the man made in His image.
By proposing these reflections, I put myself on the path of the Church Fathers, one of whom wrote "The image of God is not imprinted on gold, but on mankind. Caesar's coin is gold, that of God is humanity … Therefore, give your material riches to Caesar, but keep for God the unique innocence of your conscience, where God is contemplated … Caesar, in fact, demanded his image on every coin, but God chose the man he created to reflect his glory "(Anonymous, incomplete work on Matthew,Homily 42). St. Augustine has repeatedly used this reference in his homilies "If Caesar claims his image imprinted on the coin, would not God ask man for the divine image sculpted in him?" (Ennarrationes in Psalmos, Psalm 94, 2). And again "As the money is given back to Caesar, so the soul, enlightened and impressed by the light of his face, is given back to God… Christ in fact dwells in the inner man" (Ibidem, Psalm 4, 8). Man cannot be reduced only to materiality and spirituality is the prevailing dimension of every existence.
2) Returning man to God.
Commanding to pay the tribute to Caesar, Jesus Christ recognizes the civil power and his rights, but equally clearly recalls that God's superior rights must be respected (cf. Dignitatis humanae, 8). Saying, "Give to God what is of God," the Messiah clearly teaches that the most important thing is the Kingdom of God.
Thus, on the one hand, in the light of the Gospel that tells of this diatribe on the tribute to Caesar (see Mk 12, 13-17, Mt 22, 15-22, Lk 20, 20-26), the Christians recognize and respect the distinction and the autonomy of the state, considering it a great progress for humanity and a fundamental condition for the freedom of the Church and the fulfillment of its universal mission of salvation among all peoples. On the other hand, the believers in Christ take seriously the command of giving back to God what is God's, namely all things, "because of the Lord is the earth and all that it contains" (1 Cor. 10:26). Let us return to God our loved ones, our neighbor, and all men honoring them in taking care of them as a precious treasure. Every woman and every man are golden talents offered to us for our good. They are, in the world, the real gold coins that carry engraved in them the image and the inscription of God.
A peculiar way of returning everything to God is the one of consecrated virgins who, thanks their consecration, are "human space inhabited by the Trinity" (VC 41). They testify how the total gift of self to this Love urges them "to take care of the divine image deformed in the faces of the brothers and sisters "(VC 75d) and thus reveal the Mystery of a God who is at the service of man.
The lives of these women are based on at least three pillars.
The first pillar is the "Consecration" itself, which is determined by the initiative of the free love of God who calls and by the faith in Him as a response to this call. Consecration is life centered on God, in total abandonment and loving confidence, life of gratuity and gratitude and of the special manifestation of the Mystery of God in a simple and humble person.
The second pillar is love for the brothers and the sisters from all over the world. The consecrated woman is called to share Love because the gift received is a gift to be given and shared in gratitude and love to God who first loved her. The gift made to her by God does not exclude others, but through her it is destined to circulate first and foremost among all those with whom she lives and works, and then to reach the whole world.
The third pillar, or rather, the goal of Consecrated Life is a mission to be done for the men and the women who live in this world of God "Go into all the world" (Mk 16:15). The Christian's mission to go, enclosed in the heart of the Gospel and solemnly resonating on Pentecost, has a secret that is guarded as a precious pearl in the Gospel: Remain in my love. To go and to remain: these are the two evangelical coordinates in which the consecrated virgin moves, and from which she daily draws his lifeblood. This "going all over the world" is the continuation of self-giving to others, lived within the Churches. Then, from within the community, it extends to all the other human beings. In this gesture of donation, the others are also perceived as a gift of God for us. With them we must live and share the gifts we have received from the Lord. In this journey in the world, the fundamental commitments are the praise to God, the testimony of Jesus on a personal and community level, and the explicit announcement of His name to the nations by living a true missionary dimension and returning the world to God.
Patristic reading
Saint John Chrysostome (344/354 – 407)
Homily LXX. Matthew Chapter 22, Verse 15
"Then went the Pharisees, and took counsel how they might entangle Him in His talk."

Then. When? When most of all they ought to have been moved to compunction, when they should have been amazed at His love to man, when they should have feared the things to come, when from the past they ought to have believed touching the future also. For indeed the things that had been said cried aloud in actual fulfillment I mean, that publicans and harlots believed, and prophets and righteous men were slain, and from these things they ought not to have gainsaid touching their own destruction, but even to believe and to be sobered.

But nevertheless not even so do their wicked acts cease, but travail and proceed further. And forasmuch as they could not lay hands. on Him (for they feared the multitude), they took another way with the intention of bringing Him into danger, and making Him guilty of crimes against the state.

For "they sent out unto Him their disciples with the Herodians saying, Master, we know that thou art true, and teachest the way of God in truth, neither carest thou for any man; for thou regardest not the person of men. Tell us therefore, What thinkest thou? Is it lawful to give tribute unto C'sar or not?1

For they were now tributaries, their state having passed under the rule of the Romans. Forasmuch then as they saw that Theudas and Judas2 with their companies for this cause were put to death, as having prepared for a revolt, they were minded to bring Him too by these words into such a suspicion. Therefore they sent both their own disciples, and Herod's soldiers, digging, as they thought, a precipice on either side, and in every direction setting the snare, so that, whatever He should say, they might lay hold of it; and if He should answer in favor of the Herodians, themselves might find fault with Him, but if in their favor, the others should accuse Him. And yet He had given the didrachmas, 3 but they knew not that.

And in either way indeed they expected to lay hold of Him; but they desired rather that He should say something against the Herodians. Wherefore they send their disciples also to urge. Him thereto by their presence, that they might deliver Him to the governor as a usurper. For this Luke also intimates and shows, by saying, that they asked also in the presence of the multitude, so that the testimony should be the stronger.

But the result was altogether opposite; for in a larger body of spectators they afforded the demonstration of their folly.

And see their flattery, and their hidden craft. "We know," their words are, "that Thou art true." How said ye then, "He is a deceiver," and "deceiveth the people," and "hath a devil," and "is not of God?"4 how a little while before did ye devise to slay Him? 

But they are at everything, whatsoever their craft against Him may suggest. For since, when a little before they had said in self will, "By what authority doest Thou these things?"5 they did not meet with an answer to the question, they look to puff Him up by their flattery, and to persuade Him to say something against the established laws, and opposed to the prevailing government.

Wherefore also they testify the truth unto Him, confessing what was really so, nevertheless, not with an upright mind, nor willingly; and add thereto, saying, "Thou carest not for any man." See how plainly they are desiring to urge Him to these sayings, that would make Him both offend Herod, and incur the suspicion of being an usurper, as standing up against the laws, so that they might punish Him, as a mover of sedition, and an usurper. For in saying, "Thou carest not for any man," and, "Thou regardest not the person of man," they were hinting at Herod and Caesar, "Tell us therefore, what thinkest Thou?" Now ye honor Him, and esteem Him a Teacher, having despised and insulted Him oftentimes, when He was discoursing of the things that concern your salvation. Whence also they are become confederates.

And see their craftiness. They say not, Tell us what is good, what is expedient, what is lawful? But, "What thinkest Thou?" So much did they look to this one object, to betray Him, and to set Him at enmity with the rulers. And Mark declaring this, and more plainly discovering their self-will, and their murderous disposition, affirms them to have said, "Shall we give C'sar tribute, or shall we not give?"6 So that they were breathing anger, and travailing with a plot against Him, yet they feigned respect.

What then saith He? "Why tempt ye me, ye hypocrites?" Seest thou how He talks with them with more than usual severity? For since their wickedness was now complete and manifest, He cuts the deeper, first confounding and silencing them, by publishing their secret thoughts, and making it manifest to all with what kind of intent they are coming unto Him.

And these things He did, repulsing their wickedness, so that they might not suffer hurt in attempting the same things again. And yet their words were full of much respect, for they both called Him Master, and bore witness to His truth, and that He was no respecter of persons; but being God, He was deceived by none of these things. Wherefore they also ought to have conjectured, that the rebuke was not the result of conjecture, but a sign of His knowing their secret thoughts.

2. He stopped not, however, at the rebuke, although it was enough merely to have convicted them of their purpose, and to have put them to shame for their wickedness; but He stoppeth not at this, but in another way closes their mouths; for, "Shew me," saith He, "the tribute money." And when they had shown it, as He ever doth, by their tongue He brings out the decision, and causes them to decide, that it is lawful; which was a clear and plain victory. So that. when He asks, not from ignorance doth He ask, but because it is His will to cause them to be bound by their own answers. For when, on being asked, "Whose is the image?" they said, "C'sar's;" He saith, "Render unto C'sar the things that are C'sar's."7 For this is not to give but to render, and this He shows both by the image, and by the superscription.

Then that they might not say, Thou art subjecting us to men, He added, "And unto God the things that are God's." For it is possible both to fulfill to men their claims and to give unto God the things that are due to God from us. Wherefore Paul also saith, "Render unto all their dues; tribute to whom tribute is due, custom to whom custom, fear to whom fear."8

But thou, when thou hearest, "Render unto C'sar the things which are Ct, "Ren'sar's" know that He is speaking only of those things, which are no detriment to godliness; since if it be any such thing as this, such a thing is no longer C'sar's tribute, but the devil's.

When they heard these things, their mouths were stopped, and they "marveled" at His wisdom. Ought they not then to have believed, ought they not to have been amazed. For indeed, He gave them proof of His Godhead, by revealing the secrets of their hearts, and with gentleness did He silence them.

What then? Did they believe? By no means, but they "left Him, and went their way;" and after them, "came to Him the Sadducees."

O folly! When the others had been put to silence, these made the attack, when they ought to have been the more backward. But such is the nature of rashness, shameless, and importunate, and attempting things impossible. Therefore the evangelist also, amazed at their folly, signified this very thing, by saying, "On that day came to Him."9 On that day. On what day? In which He had convicted their craftiness, and put them to shame. But who are these? A sect of the Jews different from the Pharisees, and much worse than they, who said, "that there is no resurrection, nor angel, nor spirit.10 For these were some of a grosset sort, and eager after the things of the body. For there were many sects even amongst the Jews. Wherefore Paul also saith, "I am a Pharisee, of the strictest sect amongst us."11

And they say nothing indeed directly about a resurrection; but they feign a story, and make up a case, which, as I suppose, never so much as had an existence; thinking to drive Him to perplexity, and desiring to overthrow both things, both the existence of a resurrection, and of such a resurrection.

And again, these too attack Him with a show of moderation, saying, "Master, Moses said, If a man die, not having children, his brother shall marry his wife, and raise up seed unto his brother. Now there were with us seven brethren: and the first, when he had married a wife, deceased; and, having no issue, 12 left his wife unto his brother. Likewise the second also, and the third, unto the seventh. And last of all the woman died also. Therefore, in the resurrection, whose wife shall she be of the seven?"13

See Him answering these like a teacher. For though out of craft they came unto Him, yet was their question rather one of ignorance. Therefore neither doth He say unto them, "Ye hypocrites."

Moreover, in order that He might not blame, saying, "Wherefore had seven one wife?" they add the authority of Moses; although, as I have said before, it was a fiction, in my judgment at least. For the third would not have taken her, when he saw the two bridegrooms dead; or if the third, yet not the fourth or the fifth; and if even these, much more the sixth or the seventh would not have come unto the woman, but have shrunk from her. For such is the nature of the Jews. For if now many have this feeling, much more then had they; when at least, even without this, they often avoided marrying in this way, and that when the law was constraining them. Thus, at any rate, Ruth, that Moabitish woman, was thrust off to him that was further off from her kindred; and Tamar too was thus compelled to obtain, by stealth, seed from her husband's kinsman.

And wherefore did they not feign two or three, but seven? In order the more abundantly to bring derision, as they thought, upon the resurrection. Wherefore they further say, "they all had her," as driving Him into some difficulty.

What then saith Christ? He replies unto both, as taking His stand not against the words, but the purpose, and on every occasion revealing the secrets of their hearts; and at one time exposing them, at another time leaving the refutation of them that question Him to their conscience. See, at any rate here, how He proves both points, as well that there will be a resurrection, as that it will not be such a resurrection as they suspect.

For what saith He? "Ye do err, not knowing the Scriptures, nor the power of God."14 For since, as if they knew them, they put forward Moses and the law, He shows that this question is that of men very ignorant of the Scriptures. For hence also arose their tempting Him, from their being ignorant of the Scriptures, and from their not knowing the power of God as they ought.

"For what marvel then is it," He saith, "if ye tempt me, who am as yet unknown to you, when at least ye know not so much as the power of God, of which ye have had so much experience, and neither from common sense nor from the Scriptures have become acquainted with it;" if indeed even common sense causes us to know this, that to God all things are possible. And in the first place He answers to the question asked. For since this was the cause for their not believing a resurrection, that they think the order of things is like this, He cures the cause, then the symptom also (for thence arose the disease too), and shows the manner of the resurrection. "For in the resurrection," saith He, "they neither marry, nor are given in marriage, but are as angels of God in Heaven."15 But Luke saith, "As Sons of God."16

If then they marry not, the question is vain. But not because they do not marry, therefore are they angels, but because they are as angels, therefore they do not marry. By this He removed many other difficulties also, all which things Paul intimated by one word, saying, "For the fashion of this world passeth away."17

And by these words He declared how great a thing the resurrection is; and that moreover there is a resurrection, He proves. And indeed this too was demonstrated at the same time by what He had said, nevertheless over and above He adds again to His word by what He saith now. For neither at their question only did He stop, but at their thought. Thus when they are not dealing with great craft, but are asking in ignorance, He teaches even over and above, but when it is of wickedness only, not even to their question doth He answer.

And again by Moses doth He stop their mouths, since they too had brought forward Moses; and He saith, "But as touching the resurrection of the dead, have ye not read, I am the God of Abraham, and the God of Isaac, and the God of Jacob? He is not the God of the dead, but of the living."18 Not of them that are not His meaning is, and that are utterly blotted out, and are to rise no more. For He said not, I was, but, I am; of them that are, and them that live. For like as Adam, although he lived on the day that he ate of the tree, died in the sentence: even so also these, although they had died, lived in the promise of the resurrection.

How then doth He say elsewhere, "That He might be Lord both of the dead and of the living?"19 But this is not contrary to that. For here He speaks of the dead, who are also themselves to live. And moreover too, "I am the God of Abraham," is another thing from, "That He might be Lord both of the dead and of the living." He knew of another death too, concerning which He saith, "Let the dead bury their dead."20

"And when the multitudes heard this, they were astonished at His doctrine."21 Yet not even here the Sadducees; but these go away defeated, while the impartial multitude reap the benefit.

Since then the resurrection is like this, come let us do all things, that we may obtain the first honors there. But, if ye will, let us show you some even before the resurrection here pursuing and reaping these blessings, again having made our resort to the deserts. For again will I enter upon the same discourse, since I see you listening with more pleasure.

Let us behold then to-day also the spiritual camps, let us behold their pleasure unalloyed with fear. For not with spears are they encamped like the soldiers, for at this point I lately ended my discourse, neither with shields and breastplates; but bare of all these wilt thou see them, yet achieving such things, as not even with arms do they.

And if thou art able to observe, come and stretch forth thy hand to me, and let us go unto this war, both of us, and let us see their battle array. For these too fight every day, and slay their adversaries, and conquer all the lusts that are plotting against us; and thou wilt see these cast out on the ground, and not able so much as to struggle, but proving by very deed that saying of the apostle, "They that are Christ's have crucified the flesh with the affections and lusts."22

Seest thou a multitude of dead lying there, slain by the sword of the Spirit? Therefore in that place is no drunkenness nor gluttony. And their table proves it, and the trophy that is set thereon. For drunkenness and gluttony lie dead, put to the rout by the drinking of water, though this be multiform, and a many-headed monster. For like as in the fabled Scylla and Hydra, so in drunkenness may one see many heads, on one side fornication growing up, on another wrath; on one hand sloth, on another lawless lusts; but all these things are taken away. And yet all those other armies, though they get the better in ten thousand wars, are taken captive by these; and neither arms, nor spears, nor whatever else there may be, is able to stand against these phalanxes; but the very giants, the heroes, those that do countless brave deeds, thou wilt find without bonds bound by sleep and drunkenness, without slaughter or wounds lying like the wounded, or rather in more grievous case. For those at least struggle; but these do not even this, but straightway give up.

Seest thou that this host is greater and more to be admired? For the enemies that got the better of the others it destroys by its mere will. For they do so weaken the mother of all evils that she cannot even trouble them anymore; and the leader being overthrown, and the head removed, the rest of the body also lies still.

And this victory one may see each of them that abide there, achieving. For it is not as in these wars of ours, where, if any enemy hath received a blow from one, he is no more grievous to another, having been once overthrown; but it is necessary for all to smite this monster; and he that hath not smitten and overthrown her, is surely troubled by her.

Seest thou a glorious victory? For such a trophy as the hosts in all pans of the world having met together have not power to erect, this each one of those men erects; and all things that from the army of drunkenness lie mingled together wounded, delirious words of frenzy, insane thoughts, unpleasing haughtiness. And they imitate their own Lord, at whom the Scripture marveling saith, "He shall drink of the brook in the way, therefore shall He lift up the head."23

Would ye see also another multitude of dead? Let us see the lusts that arise from luxurious living, those that are cherished by the makers of sauces, by the cooks, the furnishers of feasts, the confectioners. For I am ashamed indeed to speak of all; however, I will tell of the birds from Phasis, the soups that are mixed from various things: the moist, the dry dishes, the laws made about these things. For like as if ordering some city and marshaling hosts, even so these too make laws, and ordain such a thing first, and such a thing second, and some bring in first birds roasted on the embers, filled within with fish; and others make of other material the beginnings of these unlawful feasts; and them is much rivalry about these things, about quality, and about order, and about quantity; and they take a pride in the things, for which they ought to bury themselves for shame; some saying that they have spent the half of the day, some all of it, some that they have added the night too. Behold, O wretched man, the measure of thy belly, and be ashamed of thy unmeasured earnestness! 

But there is nothing like this amongst those angels; but all these desires also are dead. For their meals are not unto fullness, and unto luxurious living, but unto necessity. No bird hunters are there, no fishermen, but bread and water. But this confusion, and the disturbance, and the turmoils, are all removed from thence, alike from the house and from the body, and great is the haven, but amongst these great the tempest.

Burst open now in thought the belly of them who feed on such things, and thou wilt see the vast refuse, and the unclean channel, and the whited sepulchre.

But what come after these I am even ashamed to tell, the disagreeable erucations, the vomitings, the discharges downwards and upwards.

But go and see even these desires dead there, and those more violent lusts that spring from these; I mean, those of impurity. For these too thou wilt see all overthrown, with their horses, with their beasts of burden. For the beast of burden, and the weapon, and the horse of a filthy deed, is a filthy word. But thou wilt see such like horse and rider together, and their weapons thrown down; but here quite the contrary, and souls cast down dead. But not at their meal only is the victory of these holy men glorious, but in the other things also, in money, in glory, in envy, in all diseases of the soul.

Surely does not this host seem to thee mightier than that, and the meal better? Nay, who will gainsay it? None, not even of those persons themselves, though he be very mad. For this guides us on to Heaven, that drags to hell; this the devil lays out, that Christ; for this luxury gives laws, and intemperance, for that self-denial and sobriety, here Christ is present, there the devil. For where there is drunkenness, the devil is there; where there are filthy words, where there is surfeiting, there the devils hold their choirs. Such a table had that rich man, therefore not even of a drop of water was he master.

But these have not such a table, but they already practice the ways of the angels. They marry not, they are not given in marriage, neither do they sleep excessively, nor live luxuriously, but except a few things they are even bodiless.

Now who is there that so easily overcomes his enemies as he that sets up a trophy while at his dinner? Therefore also the prophet saith, "Thou hast prepared a table before me, in the presence of them that trouble me."24 One could not be wrong in repeating this oracle about this table. For nothing so troubles a soul as disorderly concupiscence, and luxury, and drunkenness, and the evils that spring from these; and this they know full well who have had experience thereof.

And if thou wast to learn also, whence this table is procured, and whence that; then thou wouldest see wall the difference between each. Whence then is this procured. From countless tears, from widows defrauded, from orphans despoiled; but the other from honest labor. And this table is like to a fair and wall-favored woman, needing nothing external, but having her beauty from nature; but that to some ugly and ill-favored harlot, wearing much paint, but not able to disguise her deformity, but the nearer she is, the more convicted. For this too, when it is nearer to him that is at it, then shows its ugliness more. For look not I tell thee, at the banqueters, as they come only, but also as they go away, and then thou wilt see its ugliness. For that, as being free, suffers them that come unto it to say nothing shameful; but this nothing seemly, as being a harlot, and dishonored. This seeks the profit of him that is at it that the hurt. And one not but that we must offend Him.

Let us go away therefore unto those men. Thence we shall learn with how many bonds we are encompassed. Thence shall we learn to set before ourselves a table full of countless blessings, most sweet, without cost, delivered from care, free from envy and jealousy and every disease, and full of good hope, and having its many trophies. No turmoil of soul there, no sorrow, no wrath; all is calm, all is peace.

For tell me not of the silence of them that serve in the houses of the rich, but of the clamor of them that dine; I mean, not that which they make one to another (for this too is worthy of derision), but that within, that in the soul, that brings on them a great captivity, the tumults of the thoughts, the sleet, the darkness, the tempest, by which all things are mingled and confused, and are like to some night battle. But not in the monks' tents are such things as these; but great is the calm, great the quietness. And that table is succeeded by a sleep that is like death, but this by sobriety and wakefulness; that by punishment, this by the kingdom of heaven, and the immortal rewards.

This then let us follow, that we may enjoy also the fruits thereof; unto which God grant we may all attain, by the grace and love towards man of our Lord Jesus Christ to whom be glory and might world without end. Amen.

1 Mt 22,16-17.
2 Ac 5,36-37.
3 
4 Jn 7,12 Jn 8,48 Jn 9,16.
5 Mt 21,23.
6 Mc 12,15.
7 Mt 22,20-21. [Abridged.] 
8 Rm 13, 7.
9 Mt 22, 22-23. [The article may not form part of the citation. It does not occur in the New Testament passage.—R.]
10 Ac 23, 8.
11 Ac 23, 6, and Ac 26, 5.
12 [R. V., "seed."]
13 . [With the trifling variations the Greek of these verses agrees with the received text.—R.]
14 Mt 22, 29.
15 Mt 22, 30. [The second verb is peculiar, but conveys the same sense as the received text.—R.]
16 Lc 20, 36.
17 1Co 7, 31.
18 Mt 22, 31-32. [In the last clause the text differs from the received, oJ qeov" being omitted (so Tischendorf). The R. V. follows a slightly different reading "God is; not the God," etc.—R.]
19 Rm 14,9.
20 Mt 8,22.
21 Mt 22,33.
22 Ga 5,24.
23 Ps 110,7.
24 Ps 23,5. [LXX.]
– Read the source: Archbishop Francesco Follo https://zenit.org/articles/archbishop-follo-gods-coin/
Reflection 12 – On rendering to Caesar and God
"A Christian Is Called to Commit Himself to Concretely to Human and Social Realities, without Opposing 'God' and "Caesar'"
This Sunday's Gospel (Matthew 22:15-21) presents to us a new face to face between Jesus and His opponents. The subject addressed is that of tribute to Caesar – a "thorny" question, about the lawfulness or not of paying taxes to the Emperor of Rome, to whom Palestine was subject in Jesus' time. The positions were different; hence the question addressed to Him by the Pharisees: "Is it lawful to pay taxes to Caesar, or not?" (v. 17) a trap set for the Teacher. In fact, according to how He responded He would have been accused of being for or against Rome.
However, in this case Jesus also answers calmly and takes advantage of the malicious question to give an important teaching, rising above the controversy and the opposing sides. He says to the Pharisees" "Show Me the money for the tax?" And they brought Him a coin and, looking at the coin. Jesus asked them:"Whose likeness and inscription is this?" The Pharisees could only answer: "Caesar's." Then Jesus concludes: "Render therefore to Caesar the things that are Caesar's, and to God the things that are God's." (Cf. vv. 19-21). On one hand, intimating to restore to the Emperor what belonged to him, Jesus said that to pay the tax was not an act of idolatry, but an act owed to the earthly authority; on the other – and it's here that Jesus gives the "coup" – recalling God's primacy, He asks that He be given what is due to Him as Lord of man's life and of history.
The reference to Caesar's image, engraved in the coin, says that it's right to feel oneself fully — with rights and duties – citizens of the State, but, symbolically, He makes one think of the other image that is imprinted in every man: the image of God. He is the Lord of all and we, who have been created "in His image," belong first of all to Him. From the questions posed to him by the Pharisees, Jesus draws a more radical and vital question for each one of us, a question that we can ask ourselves: to whom do I belong? To the family, to the city, to friends, to the school, to work, to politics, to the State" Yes, certainly, but first of all, Jesus reminds us, <we> belong to God. This is <our> fundamental belonging. It is He who has given <us> all that <we> are and that <we> have. And, therefore, day after day we can and must live our life in the acknowledgement of this, our fundamental belonging, and in our heart the acknowledgement of our Father, who created each one of us individually, unrepeatable, but always in keeping with the image of His beloved Son Jesus. It's a stupendous mystery.
A Christian is called to commit himself concretely to human and social realities without opposing "God" and "Caesar"; to oppose God and Caesar would be a fundamentalist attitude. A Christian is called to commit himself concretely to earthly realities, but illuminating them with the Light that comes from God. The priority entrustment to God and hope in Him do not imply a fleeing from reality but rather rendering diligently to God what belongs to Him. It's because of this that the believer looks at the future reality, that of God, in order to live his earthly life in fullness and to respond courageously to its challenges.
May the Virgin Mary help us to live always in conformity with the image of God that we bear within us, also making our contribution to the building of the earthly city. – Read the source: Pope Francis https://zenit.org/articles/angelus-address-on-rendering-to-caesar-the-things-that-are-caesars-and-to-god-the-things-that-are-gods/
Reflection 13 – Give to God what belongs to God
What do we owe God and our neighbor? Scripture tells us to give to everyone whatever is their due and to "owe no one anything, except to love one another" (Romans 13:6-8). The Jewish authorities sought to trap Jesus in a religious-state issue. The Jews resented their foreign rulers and despised paying taxes to Caesar. They posed a dilemma to test Jesus to see if he was loyal to them and to their understanding of religion. If Jesus answered that it was lawful to pay taxes to a pagan ruler, then he would lose credibility with the Jewish nation who would regard him as a coward and a friend of Caesar. If he said it was not lawful, then the Pharisees would have grounds to report him to the Roman authorities as a political trouble-maker and have him arrested.
Coins inscribe the owner's name and authority on them
Jesus avoided their trap by confronting them with the image of a coin. Coinage in the ancient world had significant political power. Rulers issued coins with their own image and inscription on them. In a certain sense the coin was regarded as the personal property of the ruler. Where the coin was valid the ruler held political sway over the people. Since the Jews used the Roman currency, Jesus explained that what belonged to Caesar must be given to Caesar.
We have been "stamped" with God's image and likeness
This story has another deeper meaning as well. We, too, have been stamped with God's image since we are created in his own likeness – "God created man in his own image ..male and female he created them" (Genesis 1:26-27). We rightfully belong not to ourselves, but to God who created us and redeemed us in the precious blood of his Son, our Lord Jesus Christ (see 1 Corinthians 6:19-20). Paul the Apostle says that we are to present our bodies as a living sacrifice to God (Romans 12:1). Do you acknowledge that your life and everything you possess belongs to God and not to yourself? And do you give to God what rightfully belongs to him?
"Lord, because you have made me, I owe you the whole of my love; because you have redeemed me, I owe you the whole of myself; because you have promised so much, I owe you all my being. Moreover, I owe you as much more love than myself as you are greater than I, for whom you gave yourself and to whom you promised yourself. I pray you, Lord, make me taste by love what I taste by knowledge; let me know by love what I know by understanding. I owe you more than my whole self, but I have no more, and by myself I cannot render the whole of it to you. Draw me to you, Lord, in the fullness of love. I am wholly yours by creation; make me all yours, too, in love." (prayer of Anselm, 1033-1109 AD) -Read the source: http://dailyscripture.servantsoftheword.org/readings/2017/oct22.htm
Reflection 14 – St. John Paul II (1920-2005 A.D.)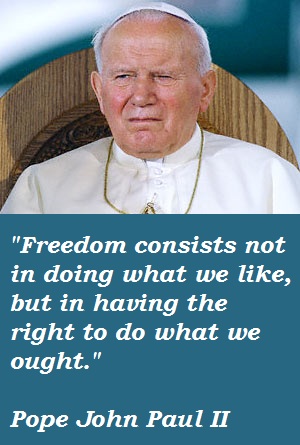 A native of Wadowice, Poland, Karol Wojtyla suffered the losss of his mother as a child, and lived under two repressive regimes before being elected Pope John Paul II in 1978. He devoted himself to interpreting the Second Vatican Council and preparing the Church for the new millennium. After surviving an assassination attempt in 1981, John Paul II offered his attacker forgiveness. He suffered a slow decline from Parkinson's disease on the world stage. Despite his frail frame and slurred speech, he continued to travel and teach. Among his many accomplishments as pope, he made 104 apostolic journeys outside Italy and promulgated a new catechism. He inaugurated World Youth Day and the World Meeting of Families. John Paul II died on April 2,2005, on the vigil of the feast he had inaugurated, Divine Mercy Sunday. "It is Jesus that you seek when you dream of happiness," he told young people in the year 2000. "He is waiting for you when nothing else you find satisfies you; he is the beauty to which you are so attracted;… it is he who reads in your hearts your most genuine choices, the choices that others try to stifle."
"Open wide the doors to Christ," urged John Paul II during the homily at the Mass when he was installed as pope in 1978.
Born in Wadowice, Poland, Karol Jozef Wojtyla had lost his mother, father and older brother before his 21st birthday. Karol's promising academic career at Krakow's Jagiellonian University was cut short by the outbreak of World War II. While working in a quarry and a chemical factory, he enrolled in an "underground" seminary in Kraków. Ordained in 1946, he was immediately sent to Rome where he earned a doctorate in theology.
Back in Poland, a short assignment as assistant pastor in a rural parish preceded his very fruitful chaplaincy for university students. Soon he earned a doctorate in philosophy and began teaching that subject at Poland's University of Lublin.
Communist officials allowed him to be appointed auxiliary bishop of Kraków in 1958, considering him a relatively harmless intellectual. They could not have been more wrong!
He attended all four sessions of Vatican II and contributed especially to its Pastoral Constitution on the Church in the Modern World. Appointed as archbishop of Kraków in 1964, he was named a cardinal three years later.
Elected pope in October 1978, he took the name of his short-lived, immediate predecessor. Pope John Paul II was the first non-Italian pope in 455 years. In time, he made pastoral visits to 124 countries, including several with small Christian populations.
He promoted ecumenical and interfaith initiatives, especially the 1986 Day of Prayer for World Peace in Assisi. He visited Rome's Main Synagogue and the Western Wall in Jerusalem; he also established diplomatic relations between the Holy See and Israel. He improved Catholic-Muslim relations and in 2001 visited a mosque in Damascus, Syria.
The Great Jubilee of the Year 2000, a key event in John Paul's ministry, was marked by special celebrations in Rome and elsewhere for Catholics and other Christians. Relations with the Orthodox Churches improved considerably during his ministry as pope.
"Christ is the center of the universe and of human history" was the opening line of his 1979 encyclical, Redeemer of the Human Race. In 1995, he described himself to the United Nations General Assembly as "a witness to hope."
His 1979 visit to Poland encouraged the growth of the Solidarity movement there and the collapse of communism in central and eastern Europe 10 years later. He began World Youth Day and traveled to several countries for those celebrations. He very much wanted to visit China and the Soviet Union but the governments in those countries prevented that.
One of the most well-remembered photos of his pontificate was his one-on-one conversation in 1983 with Mehmet Ali Agca, who had attempted to assassinate him two years earlier.
In his 27 years of papal ministry, John Paul II wrote 14 encyclicals and five books, canonized 482 saints and beatified 1,338 people.
In the last years of his life, he suffered from Parkinson's disease and was forced to cut back on some of his activities.
Pope Benedict XVI beatified John Paul II in 2011, and Pope Francis canonized him in 2014.
Comment:
Before John Paul II's funeral Mass in St. Peter's Square, hundreds of thousands of people had waited patiently for a brief moment to pray before his body, which lay in state inside St. Peter's for several days. The media coverage of his funeral was unprecedented.
Cardinal Joseph Ratzinger, then dean of the College of Cardinals and later Pope Benedict XVI, presided at the funeral Mass and concluded his homily by saying: "None of us can ever forget how, in that last Easter Sunday of his life, the Holy Father, marked by suffering, came once more to the window of the Apostolic Palace and one last time gave his blessing urbi et orbi ['to the city and to the world'].
"We can be sure that our beloved pope is standing today at the window of the Father's house, that sees us and blesses us. Yes, bless us, Holy Father. We entrust your dear soul to the Mother of God, your Mother, who guided you each day and who will guide you now to the glory of her Son, our Lord Jesus Christ. Amen."
Quote:
In his 1999 Letter to the Elderly, Pope John Paul II wrote: "Grant, O Lord of life,…when the moment of our definitive 'passage' comes, that we may face it with serenity, without regret for what we shall leave behind. For in meeting you, after having sought you for so long, we shall find once more every authentic good which we have known here on earth, in the company of all those who have gone before us marked with the sign of faith and hope….Amen."
Related St. Anthony Messenger article(s)
Pope John Paul II: 25 Years of Service, by Cindy Wooden, Cardinal Roger Mahony, John Thavis, Mary Ann Walsh, RSM, and Bishop Joseph Galante
Pope John Paul II: Model of Heroic Service, by Jack Wintz, OFM
Blessed Pope John Paul II: Witness to Hope, by Pat McCloskey, OFM
Read the source: http://www.americancatholic.org/features/saints/saint.aspx?id=1949
Related Articles/ Videos of St. John Paul II click below:
Saint Pope John Paul II's Theology of the Body in Video Presentation
The Sacramentality of Human Love According to St. John Paul II
Pope John Paul II's Definitive Answers to Secular Feminism
Why Satan is so scared of St. John Paul II according to Rome chief exorcist
Video: Catholic Church celebrates feast day of St. John Paul II for the first time
Video:Pope Francis remembers Pope John Paul II during his general audience
Video: How St. John Paul II led Dr. Taylor Marshall to the Catholic Church?
Video: Pope John Paul II – 34 years ago today, the late Pope was shot in St. Peter's Square
Book: Pope John Paul II's mother rejected Doctor's abortion suggestion
SAINT OF THE DAY
Catholic saints are holy people and human people who lived extraordinary lives. Each saint the Church honors responded to God's invitation to use his or her unique gifts. God calls each one of us to be a saint. Click here to receive Saint of the Day in your email.
There's a generation that didn't know John Paul II – this film is for them
Denver, Colo., Apr 3, 2017 / 04:42 pm (CNA/EWTN News).- Thousands of people gathered in St. Peter's Square and around their television sets to pray for Pope John Paul II as he passed away on April 2, 2005. They remembered the more than 26 years he served as the Holy Father; the courage he had in fighting communism; his immense love; and his adventurous spirit.
But that was 12 years ago.
The generation of young people who grew up during the papacies of Benedict XVI and Pope Francis might only know St. John Paul II for his canonization, which took place April 27, 2014.
The recent documentary Liberating a Continent: John Paul II and the Fall of Communism hopes to educate this younger generation on the heroic life of the Roman Pontiff – telling the stories they cannot find in their textbooks.
"One of the reasons we set out to make this film is to kind of cement the legacy of Pope John Paul II," David Naglieri, the film's writer and director, told CNA.
"There's a generation now that's graduating college, entering the workforce, that didn't necessarily live through all these events with the fall of Communism. Perhaps they didn't … have the chance to see Pope John Paul II in person."
Like a real life super-hero movie, the 90-minute film focuses on the saint's role as an integral part in the fall of communism in central and eastern Europe – except St. John Paul II did not use destructive weapons to take down some of the world's toughest leaders.
Rather, he used prayer and solidarity to encourage those oppressed by communism in Poland to keep their hope and will alive.
According to Naglieri, this documentary is unlike any other John Paul II film.
"What helps separate our film from past works is that we looked at the entire span of central and eastern Europe and how his message not just impacted Poland, but other countries as well," he said.
"And then we tried to connect it to the modern day and to see how John Paul's legacy continues to impact those who are striving for freedom in Europe."
The film reveals the events in St. John Paul II's life through a timeline, which helps show how God's providence guided the saint his entire life.
The late Pope grew up in Krakow, and became its archbishop in 1964. The documentary explains how he returned to the city for nine days in 1979, the year after his election as Bishop of Rome, instead of his intended two.
An interview in the documentary with Dr. Norman Davies, a historian of Poland, explains how the government's distribution of antennas during the 1980 Olympic games led to the spreading of St. John Paul II's message behind the Iron Curtain.
The film even tells the story of how President Reagan and the Pope met six days before the president's famous 'tear down this wall' speech in 1987.
Filled with striking stories and interviews such as these, the documentary shows who truly held the power during this difficult time in the world's history.
Naglieri said the film was an 18-month project from beginning to end, and that "we traveled to Poland and other central European countries several times during the making of it. "
The documentary features interviews with Reagan's National Security Advisor from 1981-82, the Prime Minister of Poland, the Archbishop of Lviv, a former Director of the Holy See Press Office, as well as journalists, historians, authors, and professors.
Narrating the documentary is Jim Caviezel, who portrayed Christ in Mel Gibson's 'The Passion of the Christ'. Joe Kraemer, known for his work on multiple 'Mission Impossible' movies, composed the documentary's original music.
Read the source: https://www.catholicnewsagency.com/news/theres-a-generation-that-didnt-know-john-paul-ii-this-film-is-for-them-69080
This article was originally published on CNA June 15, 2016.
[SHOW]ORDINATION HISTORY OF POPE JOHN PAUL II
Pope John Paul II (Latin: Ioannes Paulus II; Italian: Giovanni Paolo II), born Karol Józef Wojtyła[a] (Polish: [ˈkarɔl ˈjuzɛf vɔjˈtɨwa]; 18 May 1920 – 2 April 2005), served as Pope from 1978 to 2005. He was elected by the second Papal conclave of 1978, which was called after Pope John Paul I, who was elected in August after the death ofPope Paul VI, died after thirty-three days. Then-Cardinal Wojtyła was elected on the third day of the conclave and adopted his predecessor's name in tribute to him.[3][4] In the years since his death, John Paul II has been declared a saint by the Roman Catholic Church. He is referred to by Roman Catholics as Pope Saint John Paul II or Saint John Paul the Great, for example as a name for institutions.[5][6][7]
John Paul II is recognised as helping to end Communist rule in his native Poland and eventually all of Europe.[8] John Paul II significantly improved the Catholic Church's relations with Judaism,Islam, the Eastern Orthodox Church, and the Anglican Communion. He upheld the Church's teachings on such matters as artificialcontraceptionand theordination of women, but also supported the Church's Second Vatican Council and its reforms.
He was one of the most travelled world leaders in history, visiting 129 countries during his pontificate. As part of his special emphasis on the universal call to holiness, he beatified 1,340 peopleandcanonised 483 saints, more than the combined tally of his predecessors during the preceding five centuries. By the time of his death, he had named most of the College of Cardinals, consecrated or co-consecrated a large number of the world's bishops, and ordained many priests.[9] A key goal of his papacy was to transform and reposition the Catholic Church. His wish was "to place his Church at the heart of a new religious alliance that would bring together Jews, Muslims and Christians in a great religious armada".[10][11]
He was the second longest-serving pope in modern history afterPope Pius IX, who served for nearly 32 years from 1846 to 1878. Born in Poland, John Paul II was the first non-Italian pope since theDutch Pope Adrian VI, who served from 1522 to 1523. John Paul II's cause for canonisation commenced in 2005 one month after his death with the traditional five-year waiting period waived. On 19 December 2009, John Paul II was proclaimed Venerable by his successor Pope Benedict XVI and was beatified on 1 May 2011 (Divine Mercy Sunday) after the Congregation for the Causes of Saints attributed one miracle to his intercession, the healing of a French nun from Parkinson's disease. A second miracle attributed to John Paul II's intercession was approved on 2 July 2013, and confirmed by Pope Francistwo days later (two miracles must be attributed to a person's intercession to be declared a saint). John Paul II was canonised on 27 April 2014 (again Divine Mercy Sunday), together with Pope John XXIII.[12] On 11 September 2014, Pope Francis added John Paul II's optional memorial feast day to the worldwide General Roman Calendar of saints, in response to worldwide requests.[13] It is traditional to celebrate saints' feast days on the anniversary of their deaths, but that of John Paul II (22 October) is celebrated on the anniversary of his papal inauguration.[14][15]
Early life
Karol Józef Wojtyła was born in the Polish town of Wadowice.[16][17]He was the youngest of three children born to Karol Wojtyła(1879–1941), an ethnic Pole,[18] and Emilia Kaczorowska(1884–1929), whose mother's maiden surname was Scholz.[19] Emilia, who was a schoolteacher, died in childbirth in 1929[20] when Wojtyła was eight years old.[21] His elder sister Olga had died before his birth, but he was close to his brother Edmund, nicknamed Mundek, who was 13 years his senior. Edmund's work as a physician eventually led to his death from scarlet fever, a loss that affected Wojtyła deeply.[18][21]
As a boy, Wojtyła was athletic, often playing football as goalkeeper.[22] During his childhood, Wojtyła had contact with Wadowice's large Jewish community.[23] School football games were often organised between teams of Jews and Catholics, and Wojtyła often played on the Jewish side.[18][22] "I remember that at least a third of my classmates at elementary school in Wadowice were Jews. At elementary school there were fewer. With some I was on very friendly terms. And what struck me about some of them was their Polish patriotism."[24] Wojtyła's first, and possibly only, love affair was with a Jewish girl, Ginka Beer, who was described as "slender", "a superb actress" and "having stupendous dark eyes and jet black hair".[11][23]
In mid-1938, Wojtyła and his father left Wadowice and moved toKraków, where he enrolled at the Jagiellonian University. While studying such topics as philology and various languages, he worked as a volunteer librarian and was required to participate incompulsory military training in the Academic Legion, but herefused to fire a weapon. He performed with various theatrical groups and worked as a playwright.[25] During this time, his talent for language blossomed, and he learned as many as 12 foreign languages,[26] nine of which he used extensively as pope.
Nazi occupation of Poland and the Holocaust
In 1939, Nazi German occupation forces closed the university after invading Poland.[16] Able-bodied males were required to work, so from 1940 to 1944 Wojtyła variously worked as a messenger for a restaurant, a manual labourer in a limestone quarry and for theSolvay chemical factory, to avoid deportation to Germany.[17][25]In 1940 he was struck by a tram, suffering a fractured skull. The same year he was hit by a lorry in a quarry, which left him with one shoulder higher than the other and a permanent stoop.[27] His father, a former Austro-Hungarian non-commissioned officer and later officer in the Polish Army, died of a heart attack in 1941,[19]leaving Wojtyła as the immediate family's only surviving member.[18][20][28] "I was not at my mother's death, I was not at my brother's death, I was not at my father's death," he said, reflecting on these times of his life, nearly forty years later, "At twenty, I had already lost all the people I loved."[28]
After his father's death, he started thinking seriously about the priesthood.[29] In October 1942, while the war continued, he knocked on the door of the Bishop's Palace in Krakówand asked to study for the priesthood.[29] Soon after, he began courses in theclandestine underground seminary run by the Archbishop of Kraków, Adam Stefan Cardinal Sapieha. On 29 February 1944, Wojtyła was hit by a German truck. German Wehrmacht officerstended to him and sent him to a hospital. He spent two weeks there recovering from a severe concussion and a shoulder injury. It seemed to him that this accident and his survival was a confirmation of his vocation. On 6 August 1944, a day known as 'Black Sunday',[30]the Gestaporounded up young men in Kraków to curtail the uprising there, [30] similar to the recent uprising in Warsaw.[31][32] Wojtyła escaped by hiding in the basement of his uncle's house at 10 Tyniecka Street, while the German troops searched above.[29][31][32]More than eight thousand men and boys were taken that day, while Wojtyła escaped to the Archbishop's Palace,[29][30][31] where he remained until after the Germans had left.[18][29][31]
On the night of 17 January 1945, the Germans fled the city, and the students reclaimed the ruined seminary. Wojtyła and another seminarian volunteered for the task of clearing away piles of frozen excrement from the toilets.[33] Wojtyła also helped a 14-year-old Jewish refugee girl named Edith Zierer,[34] who had run away from a Nazi labour camp in Częstochowa.[34] Edith had collapsed on a railway platform, so Wojtyła carried her to a train and stayed with her throughout the journey to Kraków. Edith credits Wojtyła with saving her life that day.[35][36][37] B'nai B'rith and other authorities have said that Wojtyła helped protect many other Polish Jewsfrom the Nazis. During the Nazi occupation of Poland, a Jewish family sent its son, Stanley Berger, to be hidden by a Gentile Polish family. Berger's biological Jewish parents died during the Holocaust, and after the war Berger's new Christian parents asked a young Polish priest named Karol Wojtyła, the future Pope John Paul II, to baptise the boy. The future pope refused, claiming that the child should be raised in the Jewish faith of his birth parents and nation, not as a Catholic.[38] In September 2003, Emmanuelle Pacifici, the head of Italy's Jewish community, proposed that John Paul II receive the medal of a Righteous Among the Nations for saving a two-year-old Jewish boy by giving him to a Gentile Polish family to be hidden in 1942, when Karol Wojtyła was just a seminarian. After the war, this boy's Christian adopted parents asked the future Pope John Paul II to baptise the boy, yet once again he refused, as with Berger. After the war, Karol Wojtyła did everything he could to ensure that this Jewish boy he saved leave Poland to be raised by his Jewish relatives in the United States.[39] In April 2005, shortly after John Paul II's death, the Israeli government created a commission to honour the legacy of John Paul II. One of the proposed ways of honouring him was to give him the medal of the Righteous Among the Nations.[40]In Wojtyła's last book, Memory and Identity, he described the 12 years of the Nazi régime as 'bestiality',[41] quoting from the Polish theologian and philosopher Konstanty Michalski.[42]
Priesthood
After finishing his studies at the seminary in Kraków, Wojtyła wasordained as a priest on All Saints' Day, 1 November 1946,[20] by the Archbishop of Kraków, Cardinal Sapieha.[17][43][44] Sapieha sent Wojtyła to Rome's Pontifical International Athenaeum Angelicum, the future Pontifical University of Saint Thomas Aquinas,Angelicumto study under the French Dominican Fr. Reginald Garrigou-Lagrange beginning on 26 November 1946. Wojtyła earned a licencein July 1947, passed his doctoral exam on 14 June 1948, and successfully defended his doctoral thesis titled Doctrina de fide apud S. Ioannem a Cruce (The Doctrine of Faith in St. John of the Cross) in philosophy on 19 June 1948.[45] The Angelicum preserves the original copy of Wojtyła's typewritten thesis.[46] Among other courses at the Angelicum, Wojtyła studied Hebrew with the Dutch Dominican Peter G. Duncker, author of the Compendium grammaticae linguae hebraicae biblicae.[47]
According to Wojtyła's schoolmate the future Austrian CardinalAlfons Stickler, in 1947 during his sojourn at the Angelicum Wojtyła visited Padre Pio, who heard his confession and told him that one day he would ascend to "the highest post in the Church".[48] Cardinal Stickler added that Wojtyła believed that the prophecy was fulfilled when he became a Cardinal.[49]
Wojtyła returned to Poland in the summer of 1948 for his firstpastoral assignment in the village of Niegowić, fifteen miles (24 km) from Kraków, at the Church of the Assumption. He arrived at Niegowić at harvest time, where his first action was to kneel and kiss the ground.[50] He repeated this gesture, which he adapted from the French saint Jean Marie Baptiste Vianney,[50] throughout his papacy.
In March 1949, Wojtyła was transferred to the parish of Saint Florian in Kraków. He taught ethics at Jagiellonian University and subsequently at the Catholic University of Lublin. While teaching, he gathered a group of about 20 young people, who began to call themselves Rodzinka, the "little family". They met for prayer, philosophical discussion, and to help the blind and sick. The group eventually grew to approximately 200 participants, and their activities expanded to include annual skiing and kayaking trips.[51]
In 1953, Wojtyła's habilitation thesis was accepted by the Faculty of Theology at the Jagiellonian University. In 1954, he earned aDoctorate in Sacred Theology,[52] evaluating the feasibility of a Catholic ethic based on the ethical system of thephenomenologistMax Scheler with a dissertation titled "Reevaluation of the possibility of founding a Catholic ethic on the ethical system of Max Scheler"[53] (Ocena możliwości zbudowania etyki chrześcijańskiej przy założeniach systemu Maksa Schelera).[54]Scheler was a German philosopher who founded a broadphilosophical movement that emphasised the study of conscious experience. However, the Communist authorities abolished the Faculty of Theology at the Jagellonian University, thereby preventing him from receiving the degree until 1957.[44] Wojtyła developed a theological approach that combined traditional Catholic Thomism with the ideas ofpersonalism, a philosophical approach deriving from phenomenology, which was popular among Catholic intellectuals in Kraków during Wojtyła's intellectual development. He translated Scheler's Formalism and the Ethics of Substantive Values.[55]
During this period, Wojtyła wrote a series of articles in Kraków's Catholic newspaper, Tygodnik Powszechny ("Universal Weekly"), dealing with contemporary church issues.[56] He focused on creating original literary work during his first dozen years as a priest. War, life under Communism, and his pastoral responsibilities all fed his poetry and plays. Wojtyła published his work under two pseudonyms—Andrzej Jawień and Stanisław Andrzej Gruda[25][56]—to distinguish his literary from his religious writings (under his own name), and also so that his literary works would be considered on their merits.[25][56] In 1960, Wojtyła published the influential theological book Love and Responsibility, a defence of traditional Church teachings on marriage from a new philosophical standpoint.[25][57]
"Wujek"
While a priest in Kraków, groups of students regularly joined Wojtyła for hiking, skiing, bicycling, camping and kayaking, accompanied by prayer, outdoor Masses and theological discussions. In Stalinist-era Poland, it was not permitted for priests to travel with groups of students. Father Wojtyła asked his younger companions to call him "Wujek" (Polish for "Uncle") to prevent outsiders from deducing he was a priest. The nickname gained popularity among his followers. In 1958, when Wojtyła was named auxiliary bishop of Kraków, his acquaintances expressed concern that this would cause him to change. Wojtyła responded to his friends, "Wujek will remain Wujek," and he continued to live a simple life, shunning the trappings that came with his position as Bishop. This beloved nickname stayed with Wojtyła for his entire life and continues to be affectionately used, particularly by the Polish people.[58][59]
Bishop and Cardinal
On 4 July 1958,[44] while Wojtyła was on a kayaking holiday in the lakes region of northern Poland, Pope Pius XII appointed him as theAuxiliary Bishop of Kraków. He was then summoned to Warsaw to meet the Primate of Poland, Stefan Cardinal Wyszyński, who informed him of his appointment.[60][61] He agreed to serve as Auxiliary Bishop to Kraków's Archbishop Eugeniusz Baziak, and he received episcopal consecration (as Titular Bishop of Ombi) on 28 September 1958. Baziak was the principal consecrator. Principal co-consecrators were Bishop Boleslaw Kominek (Titular Bishop ofSophene and Vågå, auxiliary of the Catholic Archdiocese of Wrocław, and future Cardinal and Archbishop of Wrocław) and then-Auxiliary Bishop Franciszek Jop of the Catholic Diocese of Sandomierz (Titular Bishop of Daulia; later Auxiliary Bishop of the Archdiocese of Wrocław and then Bishop of the Catholic Diocese of Opole).[44] At the age of 38, Wojtyła became the youngest bishop in Poland. Baziak died in June 1962 and on 16 July Wojtyła was selected as Vicar Capitular (temporary administrator) of the Archdiocese until an Archbishop could be appointed.[16][17]
In October 1962, Wojtyła took part in the Second Vatican Council(1962–1965),[16][44] where he made contributions to two of its most historic and influential products, the Decree on Religious Freedom (in Latin, Dignitatis humanae) and the Pastoral Constitution on the Church in the Modern World (Gaudium et spes).[44] Wojtyła and the Polish bishops contributed a draft text to the Council for Gaudium et spes. According to the historian John W. O'Malley, the draft text Gaudium et spes that Wojtyła and the Polish delegation sent "had some influence on the version that was sent to the council fathers that summer but was not accepted as the base text".[62] According to John F. Crosby, as pope, John Paul II used the words of Gaudium et spes later to introduce his own views on the nature of the human person in relation to God: man is "the only creature on earth that God has wanted for its own sake", but man "can fully discover his true self only in a sincere giving of himself".[63]
He also participated in the assemblies of the Synod of Bishops.[16][17]On 13 January 1964, Pope Paul VI appointed him Archbishop of Kraków.[64] On 26 June 1967, Paul VI announced Archbishop Karol Wojtyła's promotion to the Sacred College of Cardinals.[44][64]Wojtyła was named Cardinal-Priest of the titulus of San Cesareo in Palatio.
In 1967, he was instrumental in formulating the encyclical Humanae vitae, which dealt with the same issues that forbid abortion andartificial birth control.[44][65][66]
In 1970, according to a contemporary witness, Cardinal Wojtyła was against the distribution of a letter around Kraków, stating that the Polish Episcopate was preparing for the 50th anniversary of thePolish-Soviet War.
Election to the papacy
In August 1978, following the death of Pope Paul VI, Cardinal Wojtyła voted in the Papal conclave, which elected Pope John Paul I. John Paul I died after only 33 days as pope, triggering another conclave.[17][44][67]
The second conclave of 1978 started on 14 October, ten days after the funeral. It was split between two strong candidates for the papacy: Giuseppe Cardinal Siri, the conservative Archbishop of Genoa, and the liberal Archbishop of Florence, Giovanni Cardinal Benelli, a close friend of John Paul I.[68]
Supporters of Benelli were confident that he would be elected, and in earlyballots, Benelli came within nine votes of success.[68]However, both men faced sufficient opposition for neither to be likely to prevail. Giovanni Colombo, the Archbishop of Milan was considered as a compromise candidate among the Italian cardinal-electors, but when he started to receive votes, he announced that, if elected, he would decline to accept the papacy.[69] Franz Cardinal König, Archbishop of Vienna, suggested to his fellow electors another compromise candidate: the Polish Cardinal Karol Józef Wojtyła.[68] Wojtyła won on the eighth ballot on the third day (16 October) with, according to the Italian press, 99 votes from the 111 participating electors. He subsequently chose the name John Paul II[44][68] in honour of his immediate predecessor and also in honour of the late Pope Paul VI, and the traditional white smoke informed the crowd gathered inSt. Peter's Square that a pope had been chosen. There had been rumours that the new pope wished to be known as Pope Stanislaus I in honour of the Polish saint of the name, but was convinced by the cardinals that it was not a Roman name.[67]He accepted his election with these words: 'With obedience in faith to Christ, my Lord, and with trust in the Mother of Christ and the Church, in spite of great difficulties, I accept.'[70][71] When the new pontiff appeared on the balcony, he broke tradition by addressing the gathered crowd:[70]
Dear brothers and sisters, we are saddened at the death of our beloved Pope John Paul I, and so the cardinals have called for a new bishop of Rome. They called him from a faraway land—far and yet always close because of our communion in faith and Christian traditions. I was afraid to accept that responsibility, yet I do so in a spirit of obedience to the Lord and total faithfulness to Mary, our most Holy Mother. I am speaking to you in your—no, our Italian language. If I make a mistake, please "correct" me …. [humorously mispronouncing the word "correct" by deliberately Latinizing it][72][70][73][74]
Wojtyła became the 264th pope according to the chronological list of popes, the first non-Italian in 455 years.[75] At only 58 years of age, he was the youngest pope since Pope Pius IX in 1846, who was 54.[44] Like his predecessor, John Paul II dispensed with the traditional Papal coronation and instead received ecclesiasticalinvestiture with a simplified Papal inauguration on 22 October 1978. During his inauguration, when the cardinals were to kneel before him to take their vows and kiss his ring, he stood up as the Polish prelate Stefan Cardinal Wyszyński knelt down, stopped him from kissing the ring, and simply hugged him.[76]
Pastoral trips
During his pontificate, Pope John Paul II made trips to 129 countries,[78] travelling more than 1,100,000 kilometres (680,000 mi) while doing so. He consistently attracted large crowds, some among the largest ever assembled in human history, such as the Manila World Youth Day, which gathered up to four million people, the largest Papal gathering ever, according to the Vatican.[79][80] John Paul II's earliest official visits were to the Dominican Republic and Mexico in January 1979.[81] While some of his trips (such as to the United States and the Holy Land) were to places previously visited by Pope Paul VI, John Paul II became the first pope to visit the White House in October 1979, where he was greeted warmly by then-President Jimmy Carter. He was the first pope ever to visit several countries in one year, starting in 1979 with Mexico[82] andIreland.[83] He was the first reigning pope to travel to the United Kingdom, in 1982, where he met Queen Elizabeth II, theSupreme Governor of the Church of England. While in England, he also visited Canterbury Cathedral and knelt in prayer withRobert Runcie, the Archbishop of Canterbury, at the spot where Thomas à Becket had been killed.[84]
He travelled to Haiti in 1983, where he spoke in Creole to thousands of impoverished Catholics gathered to greet him at the airport. His message, "things must change in Haiti," referring to the disparity between the wealthy and the poor, was met with thunderous applause.[85] In 2000, he was the first modern pope to visit Egypt,[86]where he met with the Coptic pope, Pope Shenouda III[86] and theGreek Orthodox Patriarch of Alexandria.[86] He was the first Catholic pope to visit and pray in an Islamic mosque, in Damascus, Syria, in 2001. He visited the Umayyad Mosque, a former Christian church where John the Baptist is believed to be interred,[87] where he made a speech calling for Muslims, Christians and Jews to live together.[87]
On 15 January 1995, during the X World Youth Day, he offeredMassto an estimated crowd of between five and seven million inLuneta Park,[80] Manila, Philippines, which was considered to be the largest single gathering in Christian history.[80]In March 2000, while visiting Jerusalem, John Paul became the first pope in history to visit and pray at the Western Wall.[88][89] In September 2001, amid post-11 September concerns, he travelled to Kazakhstan, with an audience largely consisting of Muslims, and to Armenia, to participate in the celebration of 1,700 years ofArmenian Christianity.[90]
First papal trip to Poland
In June 1979, Pope John Paul II travelled to Poland where ecstatic crowds constantly surrounded him.[91] This first papal trip to Poland uplifted the nation's spirit and sparked the formation of theSolidarity movement in 1980, which later brought freedom andhuman rights to his troubled homeland.[65] Poland's Communist leaders intended to use the Pope's visit to show the people that even though the Pope was Polish it did not alter their capacity to govern, oppress, and distribute the goods of society. They also hoped that if the Pope abided by the rules they set, that the Polish people would see his example and follow them as well. If the Pope's visit inspired a riot, the Communist leaders of Poland were prepared to crush the uprising and blame the suffering on the Pope.[92]
"The Pope won that struggle by transcending politics. His was what Joseph Nye calls 'soft power' — the power of attraction and repulsion. He began with an enormous advantage, and exploited it to the utmost: He headed the one institution that stood for the polar opposite of the Communist way of life that the Polish people hated. He was a Pole, but beyond the regime's reach. By identifying with him, Poles would have the chance to cleanse themselves of the compromises they had to make to live under the regime. And so they came to him by the millions. They listened. He told them to be good, not to compromise themselves, to stick by one another, to be fearless, and that God is the only source of goodness, the only standard of conduct. 'Be not afraid,' he said. Millions shouted in response, 'We want God! We want God! We want God!' The regime cowered. Had the Pope chosen to turn his soft power into the hard variety, the regime might have been drowned in blood. Instead, the Pope simply led the Polish people to desert their rulers by affirming solidarity with one another. The Communists managed to hold on as despots a decade longer. But as political leaders, they were finished. Visiting his native Poland in 1979, Pope John Paul II struck what turned out to be a mortal blow to its Communist regime, to the Soviet Empire, [and] ultimately to Communism."[92]
According to John Lewis Gaddis, one of the most influential historians of the Cold War, the trip led to the formation of Solidarity and would begin the process of Communism's demise in Eastern Europe:
When Pope John Paul II kissed the ground at the Warsaw airport he began the process by which Communism in Poland—and ultimately elsewhere in Europe—would come to an end.[93]
On later trips to Poland, he gave tacit support to the Solidarityorganisation.[65] These visits reinforced this message and contributed to the collapse of East European Communism that took place between 1989/1990 with the reintroduction of democracy in Poland, and which then spread through Eastern Europe (1990–1991) and South-Eastern Europe (1990–1992).[73][78][91][94][95]
Teachings
As pope, John Paul II wrote 14 papal encyclicals and taught aboutsexuality in what is referred as the "Theology of the Body". Some key elements of his strategy to "reposition the Catholic Church" were encyclicals such as Ecclesia de Eucharistia, Reconciliatio et paenitentiaand Redemptoris Mater. In his At the beginning of the new millennium(Novo Millennio Ineunte), he emphasised the importance of "starting afresh from Christ": "No, we shall not be saved by a formula but by a Person." In The Splendour of the Truth(Veritatis Splendor), he emphasised the dependence of man on God and His Law ("Without the Creator, the creature disappears") and the "dependence of freedom on the truth". He warned that man "giving himself over to relativism and scepticism, goes off in search of an illusory freedom apart from truth itself". In Fides et Ratio (On the Relationship between Faith and Reason) John Paul promoted a renewed interest in philosophy and an autonomous pursuit of truth in theological matters. Drawing on many different sources (such as Thomism), he described the mutually supporting relationship between faith and reason, and emphasised that theologians should focus on that relationship. John Paul II wrote extensively about workers and thesocial doctrine of the Church, which he discussed in three encyclicals: Laborem exercens, Sollicitudo rei socialis, and Centesimus annus. Through his encyclicals and many Apostolic Letters and Exhortations, John Paul II talked about the dignity of women and the importance of the family for the future of humanity.[65] Other encyclicals include The Gospel of Life(Evangelium Vitae) and Ut Unum Sint (That They May Be One). Though critics accused him of inflexibility in explicitly re-asserting Catholic moral teachings against abortion and euthanasia that have been in place for well over a thousand years, he urged a more nuanced view of capital punishment.[65] In his second encyclical Dives in misericordia he stressed that divine mercy is the greatest feature of God, needed especially in modern times.
Moral stances
John Paul II was considered a conservative on doctrine and issues relating to human sexual reproduction and the ordination of women.[96]
While the Pope was visiting the United States of America he said, "All human life, from the moments of conception and through all subsequent stages, is sacred."[97]
A series of 129 lectures given by John Paul II during his Wednesday audiences in Rome between September 1979 and November 1984 were later compiled and published as a single work titled Theology of the Body, an extended meditation onhuman sexuality. He extended it to the condemnation of abortion, euthanasia and virtually all capital punishment,[98] calling them all a part of the "culture of death" that is pervasive in the modern world. He campaigned for world debt forgiveness andsocial justice.[65][96] He coined the term "social mortgage", which related that all private property had a social dimension, namely, that "the goods of this are originally meant for all."[99] In 2000, he publicly endorsed the Jubilee 2000 campaign on African debt relief fronted by Irish rock stars Bob Geldof and Bono, once famously interrupting a U2 recording session by telephoning the studio and asking to speak to Bono.[100]
Pope John Paul II, who was present and very influential at the 1962–65 Second Vatican Council, affirmed the teachings of that Council and did much to implement them. Nevertheless, his critics often wished that he would embrace the so-called "progressive" agenda that some hoped would evolve as a result of the Council. In fact, the Council did not advocate "progressive" changes in these areas; for example, they still condemned abortion as an unspeakable crime. Pope John Paul II continued to declare that contraception, abortion, and homosexual acts were gravely sinful, and, with Joseph Ratzinger (future Pope Benedict XVI), opposedliberation theology.
Following the Church's exaltation of the marital act of sexual intercourse between a baptised man and woman within sacramental marriage as proper and exclusive to the sacrament of marriage, John Paul II believed that it was, in every instance, profaned by contraception, abortion, divorce followed by a 'second' marriage, and by homosexual acts. In 1994, John Paul II asserted the Church's lack of authority to ordain women to the priesthood, stating that without such authority ordination is not legitimately compatible with fidelity to Christ. This was also deemed a repudiation of calls to break with the constant tradition of the Church by ordaining women to the priesthood.[101] In addition, John Paul II chose not to end the discipline of mandatory priestly celibacy, although in a small number of unusual circumstances, he did allow certain married clergymen of other Christian traditions who later became Catholic to be ordained as Catholic priests.
Apartheid in South Africa
Pope John Paul II was an outspoken opponent of apartheid in South Africa. In 1985, while visiting the Netherlands, he gave an impassioned speech condemning apartheid at the International Court of Justice, proclaiming that "No system of apartheid or separate development will ever be acceptable as a model for the relations between peoples or races."[102] In September 1988, Pope John Paul II made a pilgrimage to ten Southern African countries, including those bordering South Africa, while demonstratively avoiding South Africa. During his visit to Zimbabwe, John Paul II called for economic sanctions against South Africa's government.[103] After John Paul II's death, both Nelson Mandela and Archbishop Desmond Tutu praised the Pope for defending human rights and condemning economic injustice.[104]
Capital punishment
Pope John Paul II was an outspoken opponent of the death penalty, although previous popes had accepted the practice. At a papal mass in St. Louis, Missouri, in the United States he said:
A sign of hope is the increasing recognition that the dignity of human life must never be taken away, even in the case of someone who has done great evil. Modern society has the means of protecting itself, without definitively denying criminals the chance to reform. I renew the appeal I made most recently at Christmas for a consensus to end the death penalty, which is both cruel and unnecessary.[105]
During that visit, John Paul II convinced the then governor of Missouri, Mel Carnahan, to reduce the death sentence of convicted murderer Darrell J. Mease to life imprisonment without parole.[106]John Paul II's other attempts to reduce the sentence of death-rowinmates were unsuccessful. In 1983, John Paul II visitedGuatemalaand unsuccessfully asked the country's president, Efraín Ríos Montt, to reduce the sentence for six left-wing guerrillas sentenced to death.[107]
In 2002, John Paul II again traveled to Guatemala. At that time, Guatemala was one of only two countries in Latin America (the other being Cuba) to apply capital punishment. John Paul II asked to the Guatemalan president, Alfonso Portillo, for a moratorium on executions.[108]
European Union
Pope John Paul II pushed for a reference to Europe's Christian cultural roots in the draft of the European Constitution. In his 2003apostolic exhortation Ecclesia in Europa, John Paul II wrote that he "fully (respected) the secular nature of (European) institutions". However, he wanted the EU Constitution to enshrine religious rights, including acknowledging the rights of religious groups to organise freely, recognise the specific identity of each denomination and allow for a "structured dialogue" between each religious community and the EU, and extend across the European Union the legal status enjoyed by religious institutions in individual member states. "I wish once more to appeal to those drawing up the future European Constitutional Treaty so that it will include a reference to the religion and in particular to the Christian heritage of Europe," John Paul II said. The pope's desire for a reference to Europe's Christian identity in the Constitution was supported by non-Catholic representatives of the Church of England and Orthodox Churches from Russia, Romania, and Greece.[109] John Paul II's demand to include a reference to Europe's Christian roots in the European Constitution was supported by some non-Christians, such as Joseph Weiler, a practising Orthodox Jew and renowned constitutional lawyer, who said that the Constitution's lack of a reference to Christianity was not a "demonstration of neutrality," but, rather, "a Jacobin attitude".[110]
At the same time, however, John Paul II was an enthusiastic supporter of European integration; in particular, he supported his native Poland's entry into the bloc. On 19 May 2003, three weeks before a referendum was held in Poland on EU membership, the Polish pope addressed his compatriots and urged them to vote for Poland's EU membership at St. Peter's Square in Vatican City State. While some conservative, Catholic politicians in Poland opposed EU membership, John Paul II said:
I know that there are many in opposition to integration. I appreciate their concern about maintaining the cultural and religious identity of our nation. However, I must emphasise that Poland has always been an important part of Europe. Europe needs Poland. The Church in Europe needs the Poles' testimony of faith. Poland needs Europe.[111]
The Polish pope compared Poland's entry into the EU to the Union of Lublin, which was signed in 1564 and united the Kingdom of Poland and the Grand Duchy of Lithuania into one nation and created an elective monarchy.[112]
Evolution
On 22 October 1996, in a speech to the Pontifical Academy of Sciences plenary session at the Vatican, John Paul II said of evolution that "this theory has been progressively accepted by researchers, following a series of discoveries in various fields of knowledge. The convergence, neither sought nor fabricated, of the results of work that was conducted independently is in itself a significant argument in favour of this theory." John Paul II's embrace of evolution was enthusiastically praised by American paleontologist and evolutionary biologist Stephen Jay Gould,[113] with whom he had an audience in 1984.[114]
Although generally accepting the theory of evolution, John Paul II made one major exception—the human soul. "If the human body has its origin in living material which pre-exists it, the spiritual soul is immediately created by God."[115][116][117]
Iraq War
In 2003 John Paul II criticised the 2003 US-led invasion of Iraq, saying in his State of the World address "No to war! War is not always inevitable. It is always a defeat for humanity."[118] He sent Pío Cardinal Laghi, the former Apostolic Pro-Nuncio to the United States, to talk with George W. Bush, the American President, to express opposition to the war. John Paul II said that it was up to the United Nations to solve the international conflict through diplomacy and that a unilateral aggression is acrime against peace and a violation of international law. The Pope's opposition to the Iraq War led to him being a candidate to win the 2003 Nobel Peace Prize, which was ultimately awarded to Iranian attorney/judge and noted human rights advocate, Shirin Ebadi.[119][120]
Liberation theology
In 1984 and 1986, through the Cardinal Ratzinger as Prefect of the Congregation for the Doctrine of the Faith of the Congregation for the Doctrine of the FaithCardinal Ratzinger (later Pope Benedict XVI), John Paul II officially condemned aspects of liberation theology, which had many followers in South America. Visiting Europe, Óscar Romero unsuccessfully attempted to obtain a Vatican condemnation of El Salvador's regime, for violations of human rights and its support of death squads. In his travel to Managua, Nicaragua, in 1983, John Paul II harshly condemned what he dubbed the "popular Church"[121] (i.e. "ecclesial base communities" supported by the CELAM), and the Nicaraguan clergy's tendencies to support the leftist Sandinistas, reminding the clergy of their duties of obedience to the Holy See.[121] During that visit Ernesto Cardenal, a priest and minister in the Sandinista government, knelt to kiss his hand. John Paul withdrew it, wagged his finger in Cardenal's face, and told him, "You must straighten out your position with the church."[122]
Organised crime
Pope John Paul II was the first pontiff to actively fight against Mafiaviolence in Southern Italy. In 1993, during a pilgrimage to Agrigento,Sicily, he appealed to the Mafiosi: "I say to those responsible: Convert! One day, the judgment of God will arrive!" In 1994, John Paul II visited Catania and told victims of Mafia violence to "rise up and cloak yourself in light and justice!"[123] In 1995, the Mafia bombed two historical churches in Rome. Some believed that this was the mob's vendettaagainst the pope for his denounciations of organised crime.[124]
Persian Gulf War
Between 1990 and 1991, a 34-nation coalition led by the United States waged a war against Saddam Hussein's Iraq, which had invaded and annexed Kuwait. Pope John Paul II was a staunch opponent of the Gulf War. Throughout the conflict, he appealed to the international community to stop the war, and after it was over led diplomatic initiatives to negotiate peace in the Middle East.[125]In his 1991 encyclical Centesimus Annus, John Paul II harshly condemned the conflict:
No, never again war, which destroys the lives of innocent people, teaches how to kill, throws into upheaval even the lives of those who do the killing and leaves behind a trail of resentment and hatred, thus making it all the more difficult to find a just solution of the very problems which provoked the war.[126]
In April 1991, during his Urbi et Orbi Sunday message at St. Peter's Basilica, John Paul II called for the international community to "lend an ear" to "the long-ignored aspirations of oppressed peoples". He specifically named the Kurds, a people who were fighting a civil war against Saddam Hussein's troops in Iraq, as one such people, and referred to the war as a "darkness menacing the earth". During this time, the Vatican had expressed its frustration with the international ignoring of the Pope's calls for peace in the Middle East.[127]
Rwandan genocide
John Paul II was the first world leader to describe as genocide the massacre by Hutus of Tutsis in the mostly Catholic country of Rwanda, which started in 1990 and reached its height in 1994. He called for a ceasefire and condemned the massacres on 10 April and 15 May 1990.[128] In 1995, during his third visit to Kenya before an audience of 300,000, John Paul II pleaded for an end to the violence in Rwanda and Burundi, pleading for forgiveness and reconciliation as a solution to the genocide. He told Rwandan and Burundian refugees that he "was close to them and shared their immense pain". He said:
What is happening in your countries is a terrible tragedy that must end. During the African Synod, we, the pastors of the church, felt the duty to express our consternation and to launch an appeal for forgiveness and reconciliation. This is the only way to dissipate the threats of ethnocentrism that are hovering over Africa these days and that have so brutally touched Rwanda and Burundi.[129]
Views on sexuality
While taking a traditional position on human sexuality, maintaining the Church's moral opposition to homosexual acts, John Paul II asserted that people with homosexual inclinations possess the same inherent dignity and rights as everybody else.[130] In his bookMemory and Identity he referred to the "strong pressures" by theEuropean Parliament to recognise homosexual unions as an alternative type of family, with the right to adopt children. In the book, as quoted by Reuters, he wrote: "It is legitimate and necessary to ask oneself if this is not perhaps part of a new ideology of evil, more subtle and hidden, perhaps, intent upon exploiting human rights themselves against man and against the family."[65][131] A 1997 study determined that 3% of the pope's statements were about the issue of sexual morality.[132]
Role in the collapse of dictatorships
Pope John Paul II has been credited with inspiring political change that not only led to the collapse of Communism in his native Poland and eventually all of Eastern Europe, but also in many countries ruled by dictators. In the words of Joaquín Navarro-Valls, John Paul II's press secretary:
The single fact of John Paul II's election in 1978 changed everything. In Poland, everything began. Not in East Germany or Czechoslovakia. Then the whole thing spread. Why in 1980 did they lead the way in Gdansk? Why did they decide, now or never? Only because there was a Polish pope. He was in Chile and Pinochet was out. He was in Haiti and Duvalier was out. He was in the Philippines and Marcos was out. On many of those occasions, people would come here to the Vatican thanking the Holy Father for changing things.[133]
Chile
Before John Paul II's pilgrimage to Latin America, during a meeting with reporters, he criticised Augusto Pinochet's regime as "dictatorial". In the words of The New York Times, he used "unusually strong language" to criticise Pinochet and asserted to journalists that the Church in Chile must not only pray, but actively fight for the restoration of democracy in Chile.[134]
During his visit to Chile in 1987, John Paul II asked Chile's 31 Catholic bishops to campaign for free elections in the country.[135]According to George Weigel and Cardinal Stanisław Dziwisz, he encouraged Pinochet to accept a democratic opening of the regime, and may even have called for his resignation[136] According to Monsignor Sławomir Oder, the postulator of John Paul II'sbeatificationcause, John Paul's words to Pinochet had a profound impact on the Chilean dictator. The Pope confided to a friend: "I received a letter from Pinochet in which he told me that as a Catholic he had listened to my words, he had accepted them, and he had decided to begin the process to change the leadership of his country."[137]
During his visit to Chile, John Paul II supported the Vicariate of Solidarity, the Church-led pro-democracy, anti-Pinochet organisation. John Paul II visited the Vicariate of Solidarity's offices, spoke with its workers, and "called upon them to continue their work, emphasizing that the Gospel consistently urges respect for human rights".[138]While in Chile, Pope John Paul II made gestures of public support of Chile's anti-Pinochet democratic opposition. For instance, he hugged and kissedCarmen Gloria Quintana, a young student burned alive by Chilean police and told her that "We must pray for peace and justice in Chile."[139] Later, he met with several opposition groups, including those that had been declared illegal by Pinochet's government. The opposition praised John Paul II for denouncing Pinochet as a "dictator", for many members of Chile's opposition were persecuted for much milder statements. BishopCarlos Camus, one of the harshest critics of Pinochet's dictatorship within the Chilean Church, praised John Paul II's stance during the papal visit: "I am quite moved, because our pastor supports us totally. Never again will anyone be able to say that we are interfering in politics when we defend human dignity." He added: "No country the Pope has visited has remained the same after his departure. The Pope's visit is a mission, an extraordinary social catechism, and his stay here will be a watershed in Chilean history."[140]
Some have erroneously accused John Paul II of affirming Pinochet's regime by appearing with the Chilean ruler in public. However, Cardinal Roberto Tucci, the organiser of John Paul II's visits, revealed that Pinochet tricked the pontiff by telling him he would take him to his living room, while in reality he took him to his balcony. Tucci claims that the pontiff was "furious".[141]
Haiti
Pope John Paul II visited Haiti on 9 March 1983, when the country was ruled by Jean-Claude "Baby Doc" Duvalier. He bluntly criticised the poverty of the country, directly addressing Baby Doc and his wife, Michèle Bennett in front of a large crowd of Haitians:
Yours is a beautiful country, rich in human resources, but Christians cannot be unaware of the injustice, the excessive inequality, the degradation of the quality of life, the misery, the hunger, the fear suffered by the majority of the people.[142]
John Paul II spoke in French and occasionally in Creole, and in the homily outlined the basic human rights that most Haitians lacked: "the opportunity to eat enough, to be cared for when ill, to find housing, to study, to overcome illiteracy, to find worthwhile and properly paid work; all that provides a truly human life for men and women, for young and old." Following John Paul II's pilgrimage, the Haitian opposition to Duvalier frequently reproduced and quoted the Pope's message. Shortly before leaving Haiti, John Paul II called for social change in Haiti by saying: "Lift up your heads, be conscious of your dignity of men created in God's image…."[143]
John Paul II's visit inspired massive protests against the Duvalier dictatorship. In response to the visit, 860 Catholic priests and Church workers signed a statement committing the Church to work on behalf of the poor.[144] In 1986, Duvalier was deposed in an uprising.
Paraguay
The collapse of the dictatorship of General Alfredo Stroessner of Paraguay was linked, among other things, to Pope John Paul II's visit to the South American country in 1989. Since Stroessner's taking power through a coup d'état in 1954, Paraguay's bishops increasingly criticised the regime for human rights abuses, rigged elections, and the country's feudal economy. During his private meeting with Stroessner, John Paul II told the dictator:
Politics has a fundamental ethical dimension because it is first and foremost a service to man. The Church can and must remind men—and in particular those who govern—of their ethical duties for the good of the whole of society. The Church cannot be isolated inside its temples just as men's consciences cannot be isolated from God.[145]
Later, during a Mass, Pope John Paul II criticised the regime for impoverishing the peasants and the unemployed, claiming that the government must give people greater access to the land. Although Stroessner tried to prevent him from doing so, Pope John Paul II met opposition leaders in the one-party state.[145]
Role in the fall of Communism
John Paul II has been credited with being instrumental in bringing down Communism in Central and Eastern Europe,[65][73][78][94][95][146] by being the spiritual inspiration behind its downfall and catalyst for "a peaceful revolution" in Poland. Lech Wałęsa, the founder of 'Solidarity', credited John Paul II with giving Poles the courage to demand change.[65]According to Wałęsa, "Before his pontificate, the world was divided into blocs. Nobody knew how to get rid of Communism. In Warsaw, in 1979, he simply said: 'Do not be afraid', and later prayed: 'Let your Spirit descend and change the image of the land … this land'."[146] It has also been widely alleged that the Vatican Bank covertly funded Solidarity.[147][148]
US President Ronald Reagan's correspondence with the pope reveals "a continuous scurrying to shore up Vatican support for U.S. policies. Perhaps most surprisingly, the papers show that, as late as 1984, the pope did not believe the Communist Polish government could be changed."[149]
The British historian Timothy Garton Ash, who describes himself as an "agnostic liberal", said shortly after John Paul II's death:
No one can prove conclusively that he was a primary cause of the end of communism. However, the major figures on all sides—not just Lech Wałęsa, the Polish Solidarity leader, but also Solidarity's arch-opponent, General Wojciech Jaruzelski; not just the former American president George Bush Senior but also the former Soviet president Mikhail Gorbachev—now agree that he was. I would argue the historical case in three steps: without the Polish Pope, no Solidarity revolution in Poland in 1980; without Solidarity, no dramatic change in Soviet policy towards eastern Europe under Gorbachev; without that change, no velvet revolutions in 1989.[150]
In December 1989, John Paul II met with the Soviet leader Mikhail Gorbachev at the Vatican and each expressed his respect and admiration for the other. Gorbachev once said "The collapse of theIron Curtain would have been impossible without John Paul II."[73][94] On John Paul II's death, Mikhail Gorbachev said: "Pope John Paul II's devotion to his followers is a remarkable example to all of us."[95][146]
On 4 June 2004 U.S. President George W. Bush presented thePresidential Medal of Freedom, the United States' highest civilian honour, to John Paul II during a ceremony at the Apostolic Palace. The president read the citation that accompanied the medal, which recognised "this son of Poland" whose "principled stand for peace and freedom has inspired millions and helped to topple communism and tyranny".[151] After receiving the award, John Paul II said, "May the desire for freedom, peace, a more humane world symbolised by this medal inspire men and women of goodwill in every time and place."[152]
Communist attempt to humiliate John Paul II
In 1983 Poland's Communist government unsuccessfully tried to humiliate John Paul II by falsely saying he had fathered an illegitimate child. Section D of Służba Bezpieczeństwa (SB), the security service, had an action named "Triangolo" to carry out criminal operations against the Catholic Church; the operation encompassed all Polish hostile actions against the Pope.[153] Captain Grzegorz Piotrowski, one of the murderers of Jerzy Popiełuszko, was the leader of section D. They drugged Irena Kinaszewska, the secretary of the Kraków-based weekly Catholic magazine Tygodnik Powszechny where Karol Wojtyła had worked, and unsuccessfully attempted to make her admit to having had sexual relations with him.[154]
The SB then attempted to compromise Cracow priest Andrzej Bardecki, an editor of Tygodnik Powszechny and one of the closest friends of Cardinal Karol Wojtyła before he became pope, by planting false memoirs in his dwelling, but Piotrowski was exposed and the forgeries were found and destroyed before the SB could "discover" them.[154]
Relations with other churches and religions
John Paul II travelled extensively and met with believers from many divergent faiths. At the World Day of Prayer for Peace, held in Assision 27 October 1986, more than 120 representatives of different religions and denominations spent a day of fasting and prayer.[155]
Anglicanism
John Paul II had good relations with the Church of England. He was the first reigning pope to travel to the United Kingdom, in 1982, where he met Queen Elizabeth II, the Supreme Governor of the Church of England. He preached in Canterbury Cathedral and received Robert Runcie, the Archbishop of Canterbury. He said that he was disappointed by the Church of England's decision to ordain women and saw it as a step away from unity between the Anglican Communion and the Catholic Church.[156]
In 1980 John Paul II issued a Pastoral Provision allowing married former Episcopal priests to become Catholic priests, and for the acceptance of former Episcopal Church parishes into the Catholic Church. He allowed the creation of the Anglican Use form of theLatin Rite, which incorporates the Anglican Book of Common Prayer. He helped establish Our Lady of the Atonement Catholic Church, together with Archbishop Patrick Flores of San Antonio, Texas, as the inaugural parish for the Anglican Use liturgy.[157]
Animism
In his book-length interview Crossing the Threshold of Hope with the Italian journalist Vittorio Messori published in 1995, John Paul II praises animism, drawing parallels with Christianity. He says:
… it would be helpful to recall … the animist religions which stress ancestor worship. It seems that those who practice them are particularly close to Christianity, and among them, the Church's missionaries also find it easier to speak a common language. Is there, perhaps, in this veneration of ancestors a kind of preparation for the Christian faith in the Communion of Saints, in which all believers—whether living or dead—form a single community, a single body? […] There is nothing strange, then, that the African and Asian animists would become believers in Christ more easily than followers of the great religions of the Far East.[158]
In 1985, the pope visited the African country of Togo, where 60 per cent of the population espouses animist beliefs. To honour the pope, animist religious leaders met him at a Catholic Marian shrine in the forest, much to the pontiff's delight. John Paul II proceeded to call for the need for religious tolerance, praised animism, and emphasised common elements between animism and Christianity, saying:
Nature, exuberant and splendid in this area of forests and lakes, impregnates spirits and hearts with its mystery and orients them spontaneously toward the mystery of He who is the author of life. It is this religious sentiment that animates you and one can say that animates all of your compatriots.[159]
During the investiture of President Thomas Boni Yayi of Benin as a titled Yoruba chieftain on 20 December 2008, the reigning Ooni ofIle-Ife, Nigeria, Olubuse II, referred to Pope John Paul II as a previous recipient of the same royal honour.[160]
Armenian Apostolic Church
John Paul II had good relations with the Armenian Apostolic Church. In 1996, he brought the Catholic Church and the Armenian Church closer by agreeing with Armenian Archbishop Karekin II on Christ's nature.[161] During an audience in 2000, John Paul II and Karekin II, by then the Catholicos of All Armenians, issued a joint statement condemning the Armenian genocide. Meanwhile, the pope gave Karekin the relics of St. Gregory the Illuminator, the first head of the Armenian Church that had been kept in Naples, Italy, for 500 years.[162] In September 2001, John Paul II went on a three-day pilgrimage to Armenia to take part in an ecumenical celebration with Karekin IIin the newly consecrated St. Gregory the Illuminator Cathedral in Yerevan. The two Church leaders signed a declaration remembering the victims of the Armenian genocide. [163]
Buddhism
Tenzin Gyatso, the 14th Dalai Lama, visited John Paul II eight times. The two men held many similar views and understood similar plights, both coming from nations affected by communism and both serving as heads of major religious bodies.[164][165] As Archbishop of Kraków, long before the 14th Dalai Lama was a world-famous figure, Wojtyła held special Masses to pray for the Tibetan people's non-violent struggle for freedom from Maoist China.[166] During his 1995 visit to Sri Lanka, a country where a majority of the population adheres to Theravada Buddhism, John Paul II expressed his admiration for Buddhism:
In particular I express my highest regard for the followers of Buddhism, the majority religion in Sri Lanka, with its … four great values of … loving kindness, compassion, sympathetic joy and equanimity; with its ten transcendental virtues and the joys of the Sangha expressed so beautifully in the Theragathas. I ardently hope that my visit will serve to strengthen the goodwill between us, and that it will reassure everyone of the Catholic Church's desire for interreligious dialogue and cooperation in building a more just and fraternal world. To everyone I extend the hand of friendship, recalling the splendid words of theDhammapada: "Better than a thousand useless words is one single word that gives peace…."[167]
Eastern Orthodox Church
In May 1999, John Paul II visited Romania on the invitation from Patriarch Teoctist Arăpaşu of the Romanian Orthodox Church. This was the first time a pope had visited a predominantly Eastern Orthodox country since the Great Schism in 1054.[168] On his arrival, the Patriarch and the President of Romania, Emil Constantinescu, greeted the Pope.[168] The Patriarch stated, "The second millennium of Christian history began with a painful wounding of the unity of the Church; the end of this millennium has seen a real commitment to restoring Christian unity."[168]
On 23–27 June 2001 John Paul II visited Ukraine, another heavily Orthodox nation, at the invitation of the President of Ukraine and bishops of the Ukrainian Greek Catholic Church.[169] The Pope spoke to leaders of the All-Ukrainian Council of Churches and Religious Organisations, pleading for "open, tolerant and honest dialogue".[169] About 200 thousand people attended the liturgies celebrated by the Pope in Kiev, and the liturgy in Lviv gathered nearly one and a half million faithful.[169] John Paul II said that an end to the Great Schism was one of his fondest wishes.[169] Healing divisions between the Catholic and Eastern Orthodox churchesregarding Latin and Byzantine traditions was clearly of great personal interest. For many years, John Paul II sought to facilitate dialogue and unity stating as early as 1988 in Euntes in mundum, "Europe has two lungs, it will never breathe easily until it uses both of them."
During his 2001 travels, John Paul II became the first pope to visit Greece in 1291 years.[170][171] In Athens, the Pope met withArchbishop Christodoulos, the head of the Greek Orthodox Church.[170]After a private 30-minute meeting, the two spoke publicly. Christodoulos read a list of "13 offences" of the Catholic Church against the Eastern Orthodox Church since the Great Schism,[170]including the pillaging of Constantinople by crusaders in 1204, and bemoaned the lack of apology from the Catholic Church, saying "Until now, there has not been heard a single request for pardon" for the "maniacal crusaders of the 13th century".[170]
The Pope responded by saying "For the occasions past and present, when sons and daughters of the Catholic Church have sinned by action or omission against their Orthodox brothers and sisters, may the Lord grant us forgiveness", to which Christodoulos immediately applauded. John Paul II said that the sacking of Constantinople was a source of "profound regret" for Catholics.[170] Later John Paul II and Christodoulos met on a spot where Saint Paul had once preached to Athenian Christians. They issued a 'common declaration', saying "We shall do everything in our power, so that the Christian roots of Europe and its Christian soul may be preserved…. We condemn all recourse to violence, proselytism and fanaticism, in the name of religion."[170] The two leaders then said the Lord's Prayertogether, breaking an Orthodox taboo against praying with Catholics.[170]
The Pope had said throughout his pontificate that one of his greatest dreams was to visit Russia, but this never occurred. He attempted to solve the problems that had arisen over centuries between the Catholic and Russian Orthodox churches, and in 2004 gave them a 1730 copy of the lost icon of Our Lady of Kazan.
Islam
John Paul II made considerable efforts to improve relations between Catholicism and Islam.[172]
On 6 May 2001 he became the first Catholic pope to enter and pray in a mosque. Respectfully removing his shoes, he entered the Umayyad Mosque, a formerByzantine era Christian church dedicated to John the Baptist (who was believed to be interred there) in Damascus, Syria, and gave a speech including the statement: "For all the times that Muslims and Christians have offended one another, we need to seek forgiveness from the Almighty and to offer each other forgiveness."[87] He kissed theQur'an in Syria, an act that made him popular among Muslims but that disturbed many Catholics.[173]
In 2004 Paul II hosted the "Papal Concert of Reconciliation", which brought together leaders of Islam with leaders of the Jewish community and of the Catholic Church at the Vatican for a concert by the Kraków Philharmonic Choir from Poland, the London Philharmonic Choir from the United Kingdom, the Pittsburgh Symphony Orchestra from the United States, and the Ankara State Polyphonic Choir of Turkey.[174][175][176][177] The event was conceived and conducted by SirGilbert Levine, KCSG and was broadcast throughout the world.[174][175][176][177]
John Paul II oversaw the publication of the Catechism of the Catholic Church, which makes a special provision for Muslims; therein, it is written, "The plan of salvation also includes those who acknowledge the Creator, in 'the first place amongst whom are the Muslims'; these profess to hold the faith of Abraham, and together with us they adore the one, merciful God, mankind's judge on the last day."[178]
Jainism
In 1995, Pope John Paul II held a meeting with 21 Jains, a sect that broke away from mainstream Hinduism in 600 BC, organized by thePontifical Council for Interreligious Dialogue. He praised Mahatma Gandhi for his "unshakeable faith in God", ensured the Jains that the Catholic Church will continue to engage in dialogue with their religion and spoke of the common need to aid the poor. The Jain leaders were impressed with the pope's "transparency and simplicity", and the meeting received much attention in the Gujaratstate in western India, home to many Jains.[179]
Judaism
Relations between Catholicism and Judaism improved dramatically during the pontificate of John Paul II.[65][89] He spoke frequently about the Church's relationship with the Jewish faith.[65]
In 1979 John Paul II visited the Auschwitz concentration camp in Poland where many of his compatriots (mostly Jews) had perished during the Nazi occupation in World War II, the first pope to do so. In 1998 he issued We Remember: A Reflection on the Shoah, which outlined his thinking on the Holocaust.[180] He became the first pope known to have made an official papal visit to a synagogue, when he visited the Great Synagogue of Rome on 13 April 1986.[181][182]
On 30 December 1993 John Paul II established formal diplomatic relations between the Holy See and the State of Israel, acknowledging its centrality in Jewish life and faith.[181]
On 7 April 1994 he hosted the Papal Concert to Commemorate the Holocaust. It was the first-ever Vatican event dedicated to the memory of the six million Jews murdered in World War II. This concert, which was conceived and conducted by American conductor Gilbert Levine, was attended by the Chief Rabbi of RomeElio Toaff, the President of Italy Oscar Luigi Scalfaro, and survivors of the Holocaust from around the world. The Royal Philharmonic Orchestra, actor Richard Dreyfuss and cellist Lynn Harrell performed on this occasion under Levine's direction.[183][184] On the morning of the concert, the Pope received the attending members of survivor community in a special audience in the Apostolic Palace.
In March 2000 John Paul II visited Yad Vashem, the national Holocaust memorial in Israel, and later made history by touching one of the holiest sites in Judaism, the Western Wall in Jerusalem,[89] placing a letter inside it (in which he prayed for forgiveness for the actions against Jews).[88][89][181] In part of his address he said: "I assure the Jewish people the Catholic Church … is deeply saddened by the hatred, acts of persecution and displays of anti-Semitism directed against the Jews by Christians at any time and in any place," he added that there were "no words strong enough to deplore the terrible tragedy of the Holocaust."[88][89] Israeli cabinetminister Rabbi Michael Melchior, who hosted the Pope's visit, said he was "very moved" by the Pope's gesture.[88][89]
It was beyond history, beyond memory.[88]
We are deeply saddened by the behaviour of those who in the course of history have caused these children of yours to suffer, and asking your forgiveness we wish to commit ourselves to genuine brotherhood with the people of the Covenant.[185]
In October 2003, the Anti-Defamation League (ADL) issued a statement congratulating John Paul II on entering the 25th year of his papacy. In January 2005, John Paul II became the first pope known to receive a priestly blessing from a rabbi, when RabbisBenjamin Blech, Barry Dov Schwartz, and Jack Bemporad visited the Pontiff at Clementine Hall in the Apostolic Palace.[186]
Immediately after John Paul II's death, the ADL said in a statement that he had revolutionised Catholic-Jewish relations, saying, "more change for the better took place in his 27-year Papacy than in the nearly 2,000 years before."[187] In another statement issued by the Australia/Israel & Jewish Affairs Council, Director Dr Colin Rubenstein said, "The Pope will be remembered for his inspiring spiritual leadership in the cause of freedom and humanity. He achieved far more in terms oftransforming relations with both the Jewish people and the State of Israel than any other figure in the history of the Catholic Church."[181]
With Judaism, therefore, we have a relationship which we do not have with any other religion. You are our dearly beloved brothers, and in a certain way, it could be said that you are ourelder brothers.[188]
In an interview with the Polish Press Agency, Michael Schudrich, chief rabbi of Poland, said that never in history did anyone do as much for Christian-Jewish dialogue as Pope John Paul II, adding that many Jews had a greater respect for the late pope than for some rabbis. Schudrich praised John Paul II for condemning anti-Semitism as a sin, which no previous pope had done.[189]
On John Paul II's beatification the Chief Rabbi of Rome Riccardo Di Segni said in an interview with the Vatican newspaper L'Osservatore Romano that "John Paul II was revolutionary because he tore down a thousand-year wall of Catholic distrust of the Jewish world." Meanwhile, Elio Toaff, the former Chief Rabbi of Rome, said that:
Remembrance of the Pope Karol Wojtyła will remain strong in the collective Jewish memory because of his appeals to fraternity and the spirit of tolerance, which excludes all violence. In the stormy history of relations between Roman popes and Jews in the ghetto in which they were closed for over three centuries in humiliating circumstances, John Paul II is a bright figure in his uniqueness. In relations between our two great religions in the new century that was stained with bloody wars and the plague of racism, the heritage of John Paul II remains one of the few spiritual islands guaranteeing survival and human progress.[190]
Lutheranism
From 15 to 19 November 1980, John Paul II visited West Germany[191] on his first trip to a country with a large Lutheranpopulation. In Mainz, he met with leaders of the Lutheran and other Protestant Churches, and with representatives of other Christian denominations.
On 11 December 1983, John Paul II participated in an ecumenical service in the Evangelical Lutheran Church in Rome,[192] the first papal visit ever to a Lutheran church. The visit took place 500 years after the birth of Martin Luther, the German Augustinian monk who initiated the Lutheran reformation.
In his apostolic pilgrimage to Norway, Iceland, Finland, Denmark and Sweden of June 1989,[193] John Paul II became the first pope to visit countries with Lutheran majorities. In addition to celebrating Mass with Catholic believers, he participated in ecumenical services at places that had been Catholic shrines before the 16th-century Lutheran reformation: Nidaros Cathedral in Norway; near St. Olav's Church at Thingvellir in Iceland; Turku Cathedral in Finland;Roskilde Cathedral in Denmark; and Uppsala Cathedral in Sweden.
On 31 October 1999, (the 482nd anniversary of Reformation Day, Martin Luther's posting of the 95 Theses), representatives of the Vatican and the Lutheran World Federation (LWF) signed a Joint Declaration on the Doctrine of Justification, as a gesture of unity. The signing was a fruit of a theological dialogue that had been going on between the LWF and the Vatican since 1965.
Assassination attempts and plots
As he entered St. Peter's Square to address an audience on 13 May 1981,[194] Pope John Paul II was shot and critically woundedbyMehmet Ali Ağca,[16][78][195] an expert Turkish gunman who was a member of the militant fascist group Grey Wolves.[196] The assassin used a Browning 9 mm semi-automatic pistol,[197] shooting the pope in the abdomen and perforating his colon and small intestinemultiple times.[73] John Paul II was rushed into the Vatican complex and then to theGemelli Hospital. On the way to the hospital, he lost consciousness. Even though the two bullets missed his mesenteric artery and abdominal aorta, he lost nearly three-quarters of his blood. He underwent five hours of surgery to treat his wounds.[198]Surgeons performed a colostomy, temporarily rerouting the upper part of the large intestine to let the damaged lower part heal.[198]When he briefly gained consciousness before being operated on, he instructed the doctors not to remove his Brown Scapular during the operation.[199] The pope stated that Our Lady of Fátimahelped keep him alive throughout his ordeal.[78][195][200]
Could I forget that the event in St. Peter's Square took place on the day and at the hour when the first appearance of the Mother of Christ to the poor little peasants has been remembered for over sixty years at Fátima, Portugal? For in everything that happened to me on that very day, I felt that extraordinary motherly protection and care, which turned out to be stronger than the deadly bullet.[201]
Ağca was caught and restrained by a nun and other bystanders until police arrived. He was sentenced to life imprisonment. Two days after Christmas in 1983, John Paul II visited Ağca in prison. John Paul II and Ağca spoke privately for about twenty minutes.[78][195]John Paul II said, "What we talked about will have to remain a secret between him and me. I spoke to him as a brother whom I have pardoned and who has my complete trust.″
On 2 March 2006 the Italian parliament's Mitrokhin Commission, set up by Silvio Berlusconi and headed by Forza Italiasenator Paolo Guzzanti, concluded that the Soviet Union was behind the attempt on John Paul II's life,[196][202] in retaliation for the pope's support of Solidarity, the Catholic, pro-democratic Polish workers' movement, a theory that had already been supported by Michael Ledeen and theUnited States Central Intelligence Agency at the time.[196][202]The Italian report stated that Communist Bulgarian security departments were utilised to prevent the Soviet Union's role from being uncovered.[202]The report stated that Soviet military intelligence (Glavnoje Razvedyvatel'noje Upravlenije), not the KGB, were responsible.[202] Russian Foreign Intelligence Service spokesman Boris Labusov called the accusation "absurd".[202] The Pope declared during a May 2002 visit to Bulgaria that the country's Soviet-bloc-era leadership had nothing to do with theassassination attempt.[196][202]However, his secretary, Cardinal Stanisław Dziwisz, alleged in his book A Life with Karol, that the pope was convinced privately that the former Soviet Union was behind the attack.[203] It was later discovered that many of John Paul II's aides had foreign-government attachments;[204] Bulgaria and Russia disputed the Italian commission's conclusions, pointing out that the Pope had publicly denied the Bulgarian connection.[202]
A second assassination attempt was made on 12 May 1982, just a day before the anniversary of the first attempt on his life, in Fátima, Portugal when a man tried to stab John Paul II with a bayonet.[205][206][207] He was stopped by security guards. Stanisław Dziwisz later said that John Paul II had been injured during the attempt but managed to hide a non-life-threatening wound.[205][206][207] The assailant, a traditionalist Catholic Spanish priest named Juan María Fernández y Krohn,[205] had been ordained as a priest by ArchbishopMarcel Lefebvre of the Society of Saint Pius X and was opposed to the changes made by the Second Vatican Council, claiming that the pope was an agent of Communist Moscow and of the MarxistEastern Bloc.[208] Fernández y Krohn subsequently left the priesthood and served three years of a six-year sentence.[206][207][208] The ex-priest was treated for mental illness and then expelled from Portugal to become a solicitor in Belgium.[208]
The Al-Qaeda-funded Bojinka plot planned to kill John Paul II during a visit to the Philippines during World Youth Day 1995 celebrations. On 15 January 1995 asuicide bomber was planning to dress as a priest and detonate a bomb when the Pope passed in his motorcadeon his way to the San Carlos Seminary in Makati City. The assassination was supposed to divert attention from the next phase of the operation. However, a chemical fire inadvertently started by the cell alerted police to their whereabouts, and all were arrested a week before the Pope's visit, and confessed to the plot.[209]
In 2009 John Koehler, a journalist and former army intelligence officer, published Spies in the Vatican: The Soviet Union's Cold War Against the Catholic Church.[210]Mining mostly East German and Polish secret police archives, Koehler says the assassination attempts were "KGB-backed" and gives details.[211] During John Paul II's papacy there were many clerics within the Vatican who on nomination, declined to be ordained, and then mysteriously left the church. There is wide speculation that they were, in reality, KGBagents.
Apologies
John Paul II apologised to many groups that had suffered at the hands of the Catholic Church through the years.[65][212] Before becoming pope he had been a prominent editor and supporter of initiatives such as the Letter of Reconciliation of the Polish Bishops to the German Bishops from 1965. As pope, he officially made public apologies for over 100 wrongdoings, including:[213][214][215][216]
On 20 November 2001, from a laptop in the Vatican, Pope John Paul II sent his first e-mail apologising for the Catholic sex abuse cases, the Church-backed "Stolen Generations" of Aboriginal children in Australia, and to China for the behaviour of Catholic missionaries incolonial times.[219]
Health
When he became pope in 1978 at the age of 58, John Paul II was an avid sportsman. He was extremely healthy and active, jogging in theVatican gardens, weight training, swimming, and hiking in the mountains. He was fond of football. The media contrasted the new Pope's athleticism and trim figure to the poor health of John Paul I and Paul VI, the portliness of John XXIII and the constant claims of ailments of Pius XII. The only modern pope with a fitness regimen had been Pope Pius XI(1922–1939), who was an avid mountaineer.[220][221] An Irish Independent article in the 1980s labelled John Paul II the keep-fit pope.
However, after over twenty-five years as pope, two assassination attempts, one of which injured him severely, and a number of cancer scares, John Paul's physical health declined. In 2001 he was diagnosed as suffering from Parkinson's disease.[222]International observers had suspected this for some time, but it was only publicly acknowledged by the Vatican in 2003. Despite difficulty speaking more than a few sentences at a time, trouble hearing, and severeosteoarthrosis, he continued to tour the world although rarely walking in public.
Death and funeral
Final months
Pope John Paul II was hospitalised with breathing problems caused by a bout of influenza on 1 February 2005.[223] He left the hospital on 10 February, but was subsequently hospitalised again with breathing problems two weeks later and underwent a tracheotomy.[224]
Final illness and death
On 31 March 2005 following a urinary tract infection,[225] he developed septic shock, a form of infection with a high fever and lowblood pressure, but was not hospitalised. Instead, he was monitoredby a team of consultants at his private residence. This was taken as an indication that the pope and those close to him believed that he was nearing death; it would have been in accordance with his wishes to die in the Vatican.[225] Later that day, Vatican sources announced that John Paul II had been given the Anointing of the Sick by his friend and secretary Stanisław Dziwisz. During the final days of the Pope's life, the lights were kept burning through the night where he lay in the Papal apartment on the top floor of the Apostolic Palace. Tens of thousands of people assembled and held vigil in St. Peter's Square and the surrounding streets for two days. Upon hearing of this, the dying pope was said to have stated: "I have searched for you, and now you have come to me, and I thank you."[226]
On Saturday, 2 April 2005, at approximately 15:30 CEST, John Paul II spoke his final words in Polish, "Pozwólcie mi odejść do domu Ojca"("Allow me to depart to the house of the Father"), to his aides, and fell into a coma about four hours later.[226][227] The Mass of the vigil of the Second Sunday of Easter commemorating thecanonisation of Saint Maria Faustina on 30 April 2000, had just been celebrated at his bedside, presided over by Stanisław Dziwisz and two Polish associates. Present at the bedside was a cardinal from Ukraine, who served as a priest with John Paul in Poland, along with Polish nuns of the Congregation of the Sisters Servants of the Most Sacred Heartof Jesus, who ran the papal household.
On 2 April 2005, Pope John Paul II died in his private apartment at 21:37 CEST (19:37 UTC) of heart failure from profound hypotensionand complete circulatory collapse from septic shock, 46 days before his 85th birthday.[227][228][229] He had no close family by the time of his death; his feelings are reflected in his words written in 2000 at the end of his Last Will and Testament.[230] Stanisław Dziwisz later said he had not burned the pontiff's personal notes despite the request being part of the will.[231]
Aftermath
The death of the pontiff set in motion rituals and traditions dating back to medieval times. The Rite of Visitation took place from 4 April 2005 to 7 April 2005 at St. Peter's Basilica. John Paul II's testament, published on 7 April 2005,[232]revealed that the pontiff contemplated being buried in his native Poland but left the final decision to The College of Cardinals, which in passing, preferred burial beneath St. Peter's Basilica, honouring the pontiff's request to be placed "in bare earth".
The Requiem Mass held on 8 April 2005 was said to have set world records both for attendance and number of heads of state present at a funeral.[217][233][234][235] (See: List of Dignitaries.) It was the single largest gathering of heads of state in history, surpassing the funerals of Winston Churchill (1965) and Josip Broz Tito (1980). Four kings, five queens, at least 70 presidents and prime ministers, and more than 14 leaders of other religions attended alongside the faithful.[233] It is likely to have been the largest single pilgrimage of Christianity ever with numbers estimated in excess of four million mourners gathering in and around Vatican City.[217][234][235][236]Between 250,000 and 300,000 watched the event from within the Vatican's walls.[235]
The Dean of the College of Cardinals, Cardinal Joseph Ratzinger, conducted the ceremony. John Paul II was interred in the grottoesunder the basilica, the Tomb of the Popes. He was lowered into a tomb created in the same alcove previously occupied by the remains of John XXIII. The alcove had been empty since Pope John's remains had been moved into the main body of the basilica after his beatification.
Posthumous recognition
JOHN PAUL II
BORN
18 May 1920
Wadowice, Poland
DIED
2 April 2005
Apostolic Palace, Vatican City
VENERATED IN
Catholic Church
BEATIFIED
1 May 2011, St. Peter's Square,Vatican City by Pope Benedict XVI
CANONIZED
27 April 2014, St. Peter's Square, Vatican City by Pope Francis
FEAST
22 October
ATTRIBUTES
Papal ferula, Papal vestments
PATRONAGE
Kraków, Poland, World Youth Day, young Catholics, Świdnica, families, World Meeting of Families 2015
Title "the Great"
Upon the death of John Paul II, a number of clergy at the Vatican and laymen throughout the world[73][217][237] began referring to the late pontiff as "John Paul the Great"—only the fourth pope to be so acclaimed, and the first since thefirst millennium.[73][237][238][239]Scholars of Canon Law say that there is no official process for declaring a pope "Great"; the title simply establishes itself through popular and continued usage,[217][240][241] as was the case with celebrated secular leaders (for example, Alexander III of Macedon became popularly known as Alexander the Great). The three popes who today commonly are known as "Great" are Leo I, who reigned from 440–461 and persuaded Attila the Hunto withdraw from Rome; Gregory I, 590–604, after whom the Gregorian Chant is named; and Pope Nicholas I, 858–867.[237]
His successor, Benedict XVI, referred to him as "the great Pope John Paul II" in his first address from the loggia of St. Peter's Basilica, andCardinal Angelo Sodano referred to John Paul as "the Great" in his published written homily for the pope's funeral Mass of Repose.[242][243]
Since giving his homily at the funeral of Pope John Paul, Pope Benedict XVI continued to refer to John Paul II as "the Great". At the20th World Youth Day in Germany 2005, Pope Benedict XVI, speaking in Polish, John Paul's native language, said, "As the Great Pope John Paul II would say: Keep the flame of faith alive in your lives and your people." In May 2006, Pope Benedict XVI visited John Paul's native Poland. During that visit, he repeatedly made references to "the great John Paul" and "my great predecessor".[244]
Two newspapers have called him "the Great" or "the Greatest". The Italian newspaper Corriere della Sera called him "the Greatest" and the South African Catholic newspaper, The Southern Cross, called him "John Paul II the Great".[245] Some Catholic institutions changed their names to incorporate "the Great", including John Paul the Great Catholic University and schools called some variant ofJohn Paul the Great High School.
Institutions named for John Paul the Great
Beatification
Inspired by calls of "Santo Subito!" ("[Make him a] Saint Immediately!") from the crowds gathered during the funeral Mass that he performed,[248][249][250][251] Benedict XVI began the beatification process for his predecessor, bypassing the normal restriction that five years must pass after a person's death before beginning the beatification process.[249][250][252][253]In an audience with Pope Benedict XVI, Camillo Ruini, Vicar General of the Diocese of Rome, who was responsible for promoting the cause for canonisation of any person who died within that diocese, cited "exceptional circumstances", which suggested that the waiting period could be waived.[17][217][254] This decision was announced on 13 May 2005, the Feast of Our Lady of Fátima and the 24th anniversary of the assassination attempt on John Paul II at St. Peter's Square.[255]
In early 2006 it was reported that the Vatican was investigating a possible miracle associated with John Paul II. Sister Marie Simon-Pierre, a French nun and member of the Congregation of Little Sisters of Catholic Maternity Wards, confined to her bed by Parkinson's disease,[250][256] was reported to have experienced a "complete and lasting cure after members of her community prayed for the intercession of Pope John Paul II".[147][217][248][250][257][258] As of May 2008, Sister Marie-Simon-Pierre, then 46,[248][250] was working again at a maternity hospital run by her religious institute.[253][256][259][260]
"I was sick and now I am cured," she told reporter Gerry Shaw. "I am cured, but it is up to the church to say whether it was a miracle or not."[256][259]
On 28 May 2006, Pope Benedict XVI celebrated Mass before an estimated 900,000 people in John Paul II's native Poland. During hishomily, he encouraged prayers for the early canonisation of John Paul II and stated that he hoped canonisation would happen "in the near future".[256][261]
In January 2007 Cardinal Stanisław Dziwisz announced that the interview phase of the beatification process, in Italy and Poland, was nearing completion.[217][256][262] In February 2007, relics of Pope John Paul II—pieces of white papal cassocks he used to wear—were freely distributed with prayer cards for the cause, a typical pious practice after a saintly Catholic's death.[263][264] On 8 March 2007, the Vicariate of Rome announced that the diocesan phase of John Paul's cause for beatification was at an end. Following a ceremony on 2 April 2007—the second anniversary of the Pontiff's death—the cause proceeded to the scrutiny of the committee of lay, clerical, and episcopal members of the Vatican's Congregation for the Causes of Saints, to conduct a separate investigation.[249][256][262] On the fourth anniversary of Pope John Paul's death, 2 April 2009, Cardinal Dziwisz, told reporters of a presumed miracle that had recently occurred at the former pope's tomb in St. Peter's Basilica.[259][265][266][267] A nine-year-old Polish boy from Gdańsk, who was suffering from kidney cancer and was completely unable to walk, had been visiting the tomb with his parents. On leaving St. Peter's Basilica, the boy told them, "I want to walk," and began walking normally.[265][266][267][268] On 16 November 2009, a panel of reviewers at the Congregation for the Causes of Saints voted unanimously that Pope John Paul II had lived a life of heroic virtue.[269][270]On 19 December 2009, Pope Benedict XVI signed the first of two decrees needed for beatification and proclaimed John Paul II "Venerable", asserting that he had lived a heroic, virtuous life.[269][270] The second vote and the second signed decree certifying the authenticity of the first miracle,the curing of Sister Marie Simon-Pierre, a French nun, from Parkinson's disease. Once the second decree is signed, the positio(the report on the cause, with documentation about his life and writings and with information on the cause) is complete.[270] He can then be beatified.[269][270] Some speculated that he would be beatified sometime during (or soon after) the month of the 32nd anniversary of his 1978 election, in October 2010. As Monsignor Oder noted, this course would have been possible if the second decree were signed in time by Benedict XVI, stating that a posthumous miracle directly attributable to his intercession had occurred, completing the positio.
The Vatican announced on 14 January 2011 that Pope Benedict XVI had confirmed the miracle involving Sister Marie Simon-Pierre and that John Paul II was to be beatified on 1 May, the Feast of Divine Mercy.[271] 1 May is commemorated in former communist countries, such as Poland, and some Western European countries as May Day, and John Paul II was well known for his contributions to communism's relatively peaceful demise.[73][94] In March 2011 the Polish mint issued a gold 1,000 Polish złoty coin (equivalent to US$350), with the Pope's image to commemorate his beatification.[272]
On 29 April 2011 John Paul II's coffin was exhumed from the grotto beneath St. Peter's Basilica ahead of his beatification, as tens of thousands of people arrived in Rome for one of the biggest events since his funeral.[273] John Paul II's remains (in a closed coffin) were placed in front of the Basilica's main altar, where believers could pay their respect before and after the beatification mass in St. Peter's Square on 1 May 2011. On 3 May 2011 his remains were reinterred in the marble altar in Pier Paolo Cristofari's Chapel of St. Sebastian, where Pope Innocent XI was buried. This more prominent location, next to the Chapel of the Pietà, the Chapel of the Blessed Sacrament, and statues of Popes Pius XI and Pius XII, was intended to allow more pilgrims to view his memorial.
Marco Fidel Rojas, the mayor of Huila, Colombia, testified that he was "miraculously cured" of Parkinson's disease through the intercession of John Paul II. Mr. Rojas' doctor certified his cure, and the documentation has been sent to the sainthood cause's Vatican office.[274]
Canonisation
To be eligible for canonisation (being declared a saint) by the Catholic Church, two miracles must be attributed to a candidate, the first having been his healing a case of Parkinson's disease, which was recognized during the beatification process.
According to an article on the Catholic News Service (CNS) dated 23 April 2013, a Vatican commission of doctors concluded that a healing had no natural (medical) explanation, which is the first requirement for an alleged miracle to be officially documented. [275][276][277]
The miracle was deemed to have taken place shortly after the late Pope's beatification on 1 May 2011; it was reported to be the healing of Costa Rican woman Floribeth Mora of an otherwise terminal brain aneurysm.[278] A Vatican panel of expert theologians examined the evidence, determined that it was directly attributable to the intercession of John Paul II, and recognised it as miraculous.[276][277]The next stage was for Cardinals who compose the membership of the Congregation for the Causes of Saints to give their opinion to Pope Francis to decides whether to sign and promulgate the decree and set a date for canonisation.[276][277][279]
On 4 July 2013, Pope Francis confirmed his approval of John Paul II's canonisation, formally recognising the second miracle attributed to his intercession. He was canonised together with Pope John XXIII.[12][280] The date of the canonisation was on 27 April 2014, Divine Mercy Sunday.[281][282]
The canonisation Mass for Blessed Popes John Paul II and John XXIII, was celebrated by Pope Francis (with Pope Emeritus Benedict XVI), on 27 April 2014 in St. Peter's Square at the Vatican (Pope John Paul had died on vigil of Divine Mercy Sunday in 2005). About 150 cardinals and 700 bishops concelebrated the Mass, and at least 500,000 people attended the Mass, with an estimated 300,000 others watching from video screens placed around Rome.[283]
Criticism and controversy
John Paul II was widely criticised for,[284] among other things, his views against the ordination of women and contraception,[16][285] his support for the Second Vatican Council and its reform of the Liturgy, his stance on the sanctity of marriage, and his alleged lack of action against child sexual abuse within the Church.
Opposition to his beatification
Some Catholic theologians disagreed with the call for beatification of John Paul II. Eleven dissident theologians, including Jesuitprofessor José María Castillo and Italian theologian Giovanni Franzoni, raised seven religiously liberal, unorthodox points of contention including the Pope's stance against contraception and the ordination of women as well as the Church scandals that presented "facts which according to their consciences and convictions should be an obstacle to beatification." These objections were not sustained, and his beatification (and eventual canonisation) moved forward.
Child sex abuse scandals
John Paul II was criticisedCatholic sex abuse crisis. In his response, he stated that "there is no place in the priesthood and religious life for those who would harm the young."[286] The Church instituted reforms to prevent future abuse by requiring background checks for Church employees[287] and, because a significant majority of victims were teenage boys, disallowing ordination of men with "deep-seated homosexual tendencies".[288][289] They now require dioceses faced with an allegation to alert the authorities, conduct an investigation and remove the accused from duty.[287][290]In 2008, the Church asserted that the scandal was a very serious problem and estimated that it was "probably caused by 'no more than 1 per cent' " (or 5,000) of the over 500,000 Catholic priests worldwide.[291][292]
for failing to respond quickly enough to the
In April 2002, John Paul II, despite being frail from Parkinson's disease, summoned all the American cardinals to the Vatican to discuss possible solutions to the issue of sexual abuse in the American Church. He asked them to "diligently investigate accusations". John Paul II suggested that American bishops be more open and transparent in dealing with such scandals and emphasised the role of seminary training to prevent sexual deviance among future priests. In what The New York Times called "unusually direct language", John Paul condemned the arrogance of priests that led to the scandals:
Priests and candidates for the priesthood often live at a level both materially and educationally superior to that of their families and the members of their own age group. It is therefore very easy for them to succumb to the temptation of thinking of themselves as better than others. When this happens, the ideal of priestly service and self-giving dedication can fade, leaving the priest dissatisfied and disheartened.[293]
The pope read a statement intended for the American cardinals, calling the sex abuse "an appalling sin" and said the priesthood had no room for such men.[294]
In 2002, Archbishop Juliusz Paetz, the Catholic Archbishop ofPoznań, was accused of molesting seminarians.[295] Pope John Paul II accepted his resignation, and placed sanctions on him, prohibiting Paetz from exercising his ministry as bishop.[296] These restrictions were lifted in 2010 by Pope Benedict XVI.[297][298]
In 2003 John Paul II reiterated that "there is no place in the priesthood and religious life for those who would harm the young."[286]and in April 2003, the Pontifical Academy for Lifeorganised a three-day conference, titled "Abuse of Children and Young People by Catholic Priests and Religious", where eight non-Catholic psychiatric experts were invited to speak to near all Vatican dicasteries' representatives. The panel of experts overwhelmingly opposed implementation of policies of "zero-tolerance" such as was proposed by the US Conference of Catholic Bishops. One expert called such policies a "case of overkill" since they do not permit flexibility to allow for differences among individual cases.[299]
In 2004 John Paul II recalled Bernard Francis Law to be Archpriest of the Papal Basilica of Saint Mary Major in Rome. Law had previously resigned as archbishop of Boston in 2002 in response to the Catholic Church sex abuse scandal after Church documents were revealed that suggested he had covered up sexual abuse committed by priests in his archdiocese.[300] Law resigned from this position in November 2011.[294]
John Paul II was a firm supporter of the Legion of Christ, and in 1998 discontinued investigations into sexual misconduct by its leader Marcial Maciel, who in 2005 resigned his leadership and was later requested by the Vatican to withdraw from his ministry.
Opus Dei controversies
John Paul II was criticised for his support of the Opus Dei prelature and the 2002 canonisation of its founder, Josemaría Escrivá, whom he called 'the saint of ordinary life.'[301][302] Other movements and religious organisations of the Church went decidedly under his wingLegion of Christ, the Neocatechumenal Way,Schoenstatt, thecharismatic movement, etc.) and he was accused repeatedly of taking a soft hand with them, especially in the case of Marcial Maciel, founder of the Legion of Christ.[303]
In 1984 Paul II appointed Joaquín Navarro-Valls, a member of Opus Dei, as Director of the Vatican Press Office. An Opus Dei spokesman says "the influence of Opus Dei in the Vatican has been exaggerated."[304] Of the nearly 200 cardinals in the Catholic Church, only two are known to be members of Opus Dei.[305]
Banco Ambrosiano scandal
Pope John Paul was alleged to have links with Banco Ambrosiano, an Italian bank that collapsed in 1982.[147] At the centre of the bank's failure was its chairman,Roberto Calvi, and his membership in the illegal Masonic Lodge Propaganda Due (aka P2). The Vatican Bank was Banco Ambrosiano's main shareholder, and the death of Pope John Paul I in 1978 is rumoured to be linked to the Ambrosiano scandal.[148]
Calvi, often referred to as "God's Banker", was also involved the Vatican Bank, Istituto per le Opere di Religione, in his dealings, and was close to Bishop Paul Marcinkus, the bank's chairman. Ambrosiano also provided funds for political parties in Italy, and for both the Somoza dictatorship in Nicaragua and its Sandinista opposition. It has been widely alleged that the Vatican Bank provided money for Solidarity in Poland.[147][148]
Calvi used his complex network of overseas banks and companies to move money out of Italy, to inflate share prices, and to arrange massive unsecured loans. In 1978, the Bank of Italy produced a report on Ambrosiano that predicted future disaster.[148] On 5 June 1982, two weeks before the collapse of Banco Ambrosiano, Calvi had written a letter of warning to Pope John Paul II, stating that such a forthcoming event would "provoke a catastrophe of unimaginable proportions in which the Church will suffer the gravest damage".[306]On 18 June 1982 Calvi's body was found hanging from scaffolding beneath Blackfriars Bridge in the financial district of London. Calvi's clothing was stuffed with bricks, and contained cash valued at US$14,000, in three different currencies.[307]
Problems with traditionalists
In addition to all the criticism from those demanding modernisation, traditionalist Catholics sometimes denounced him as well. These issues included demanding a return to the Tridentine Mass[308] and repudiation of the reforms instituted after the Second Vatican Council, such as the use of the vernacular language in the formerly Latin Roman Rite Mass, ecumenism, and the principle of religious liberty. He also was criticized for allowing and appointing liberal bishops in their sees and thus silently promoting Modernism, which was firmly condemned as the "synthesis of all heresies" by his predecessor Pope St. Pius X. In 1988, the controversial traditionalist Archbishop Marcel Lefebvre, founder of the Society of St. Pius X (1970), was excommunicated under John Paul II because of the unapproved ordination of four bishops, which was called by the Holy See a "schismatic act".
The World Day of Prayer for Peace,[309] with a meeting in Assisi, Italy, in 1986, in which the Pope prayed only with the Christians,[310]was heavily criticised as giving the impression that syncretismandindifferentism were openly embraced by the Papal Magisterium. When a second 'Day of Prayer for Peace in the World'[311] was held, in 2002, it was condemned as confusing the laity and compromising to false religions. Likewise criticised was his kissing[312] of the Qur'an in Damascus, Syria, on one of his travels on 6 May 2001. His call for religious freedom was not always supported; bishops likeAntônio de Castro Mayer promoted religious tolerance, but at the same time rejected the Vatican II principle of religious liberty as being liberalist and already condemned by Pope Pius IX in his'Syllabus errorum' (1864) and at the First Vatican Council.[313]
Some Catholics oppose his beatification and canonisation for the above reasons.[314]
Religion and AIDS
John Paul's position against artificial birth control, including the use of condoms to prevent the spread of HIV,[285] was harshly criticised by doctors and AIDS activists, who said that it led to countless deaths and millions of AIDS orphans.[315] Critics have also claimed that large families are caused by lack of contraception and exacerbate Third World poverty and problems such as street children in South America. The Catholic Agency for Overseas Developmentpublished a paper stating, "Any strategy that enables a person to move from a higher-risk towards the lower end of the continuum, [we] believe, is a valid risk reduction strategy."[316]
Social programmes
There was strong criticism of the pope for the controversy surrounding the alleged use of charitable social programmes as a means of converting people in the Third World to Catholicism.[317][318] The Pope created an uproar in the Indian subcontinent when he suggested that a great harvest of faith would be witnessed on the subcontinent in the third Christian millennium.[319]
Ian Paisley
In 1988, when Pope John Paul II was delivering a speech to the European Parliament, Ian Paisley, the leader of the Democratic Unionist Party and Moderator of theFree Presbyterian Church of Ulster, shouted "I denounce you as the Antichrist!"[320][321] and held up a red banner reading "Pope John Paul II ANTICHRIST". Otto von Habsburg, an MEP for Germany, snatched Paisley's banner, tore it up and, along with other MEPs, helped eject him from the chamber.[320][322][323][324][325] The Pope continued with his address after Paisley had been ejected.[322][326][327]
Međugorje apparitions
A number of quotes about the apparitions of Međugorje, in Bosnia and Herzegovina, have been attributed to John Paul II.[328] In 1998, when a certain German gathered various statements that were supposedly made by the Pope and Cardinal Ratzinger, and then forwarded them to the Vatican in the form of a memorandum, Ratzinger responded in writing on 22 July 1998: "The only thing I can say regarding statements on Međugorje ascribed to the Holy Father and myself is that they are complete invention."[329]
Stolen relic
On 27 January 2014, it was reported that a relic of John Paul II, a vial containing drops of his blood, had been stolen from the church of San Pietro della Ienca north of L'Aquila in the mountainousAbruzzo region of central Italy, an area where he had loved to go on skiing vacations. Cardinal Dziwisz had previously given the vial to the church in recognition of its connections to the Pontiff. Because there are only three relics containing his blood, few or no other items were disturbed, and it would be difficult to sell, the investigating Italian police believe it was a commissioned theft, and speculated that the blood might be used in satanic rites. The theft sparked a major search for the culprits.[330] Two men confessed to the crime, and an iron reliquary and a stolen cross, but not the relic, were recovered from the grounds of a drug treatment facility inL'Aquila on 30 January; the blood was recovered shortly after from garbage near where the reliquary had been found.[331]
See also
References
Notes
Sources
Daily readings with reflections, Pope's messages, Bishop's messages, Church's music & videos, Educational Speaker, Bible Stories, Christopher Notes, Church Militant Video, Religious Movies, Journey Home