Readings & Reflections: Wednesday of the Eighteenth Week in Ordinary Time & St. Teresa Benedicta of the Cross (Edith Stein), August 9,2017
Edith was born to a Jewish family in Breslau, Germany (today part of Poland), in 1891 A.D. At fourteen, she became an atheist, but her sincere search for "eternal values as a scholar of philosophy led her to the threshold of the Church. After reading the autobiography of Saint Teresa of Avila at a friend's house, she exclaimed: "This is the truth!" Ten years later she entered Carmel as Teresa Benedicta of the Cross at the age of forty-two. At her profession in 1938, in the face of growing German anti-Semitism, she told her prioress: "Human action cannot help us, but only the sufferings of Christ. My aspiration is to share them." She was seized by Nazi soldiers at the Carmel in Echt, the Netherlands, on August 2,1942, and died in the gas chamber at the Auschwitz concentration camp seven days later. Pope John Paul II canonized her in 1998 as a "martyr for love." Teresa is venerated as a "martyr for love" who consciously offered her life for the salvation of her people.
AMDG+
Opening Prayer
"Lord Jesus, your love and mercy knows no bounds. May I trust you always and pursue you with indomitable persistence as this woman did. Increase my faith in your saving power and deliver me for all evil and harm. "
Reading I
Nm 13:1-2, 25–14:1, 26a-29a, 34-35

The LORD said to Moses [in the desert of Paran,] "Send men to reconnoiter the land of Canaan, which I am giving the children of Israel. You shall send one man from each ancestral tribe, all of them princes."
After reconnoitering the land for forty days they returned, met Moses and Aaron and the whole congregation of the children of Israel in the desert of Paran at Kadesh, made a report to them all, and showed the fruit of the country to the whole congregation. They told Moses: "We went into the land to which you sent us. It does indeed flow with milk and honey, and here is its fruit. However, the people who are living in the land are fierce, and the towns are fortified and very strong. Besides, we saw descendants of the Anakim there. Amalekites live in the region of the Negeb; Hittites, Jebusites, and Amorites dwell in the highlands, and Canaanites along the seacoast and the banks of the Jordan."
Caleb, however, to quiet the people toward Moses, said, "We ought to go up and seize the land, for we can certainly do so." But the men who had gone up with him said, "We cannot attack these people; they are too strong for us." So they spread discouraging reports among the children of Israel
about the land they had scouted, saying, "The land that we explored is a country that consumes its inhabitants. And all the people we saw there are huge, veritable giants (the Anakim were a race of giants); we felt like mere grasshoppers, and so we must have seemed to them."
At this, the whole community broke out with loud cries, and even in the night the people wailed.
The LORD said to Moses and Aaron:
"How long will this wicked assembly grumble against me?
I have heard the grumblings of the children of Israel against me.
Tell them: By my life, says the LORD, I will do to you just what I have heard you say. Here in the desert shall your dead bodies fall. Forty days you spent in scouting the land; forty years shall you suffer for your crimes:
one year for each day. Thus you will realize what it means to oppose me.
I, the LORD, have sworn to do this to all this wicked assembly that conspired against me: here in the desert they shall die to the last man."
The word of the Lord.
Responsorial Psalm
Ps 106:6-7ab, 13-14, 21-22, 23
R. (4a) Remember us, O Lord, as you favor your people.
We have sinned, we and our fathers;
we have committed crimes; we have done wrong.
Our fathers in Egypt
considered not your wonders.
R. Remember us, O Lord, as you favor your people.
But soon they forgot his works;
they waited not for his counsel.
They gave way to craving in the desert
and tempted God in the wilderness.
R. Remember us, O Lord, as you favor your people.
They forgot the God who had saved them,
who had done great deeds in Egypt,
Wondrous deeds in the land of Ham,
terrible things at the Red Sea.
R. Remember us, O Lord, as you favor your people.
Then he spoke of exterminating them,
but Moses, his chosen one,
Withstood him in the breach
to turn back his destructive wrath.
R. Remember us, O Lord, as you favor your people.
Gospel
Mt 15: 21-28
At that time Jesus withdrew to the region of Tyre and Sidon.
And behold, a Canaanite woman of that district came and called out,
"Have pity on me, Lord, Son of David!
My daughter is tormented by a demon."
But he did not say a word in answer to her.
His disciples came and asked him,
"Send her away, for she keeps calling out after us."
He said in reply,
"I was sent only to the lost sheep of the house of Israel."
But the woman came and did him homage, saying, "Lord, help me."
He said in reply,
"It is not right to take the food of the children
and throw it to the dogs."
She said, "Please, Lord, for even the dogs eat the scraps
that fall from the table of their masters."
Then Jesus said to her in reply,
"O woman, great is your faith!
Let it be done for you as you wish."
And her daughter was healed from that hour.
The Gospel of the Lord.
Reflection 1 – Have pity of me
It may have appeared that Jesus had deep contempt for people outside the Jewish nation as He initially responded to the Canaanite woman's request for help as her daughter was being tormented by a demon. When Jesus' said, "I was sent only to the lost sheep of the house of Israel", it seemed Jesus was way out of line and His action quite a contradiction from what He preached. The balance of the story showed that this was not actually the case. As a matter of fact, it was exactly the opposite.
Jesus showed His apostles and all men who shall believe and come after His time, that no barriers should be placed among peoples in their faith with Him. Rich or poor, learned and illiterate, Jew or gentile, all have a special place in His heart. The faith of the Canaanite is so touching as she spoke, "Please, Lord, for even the dogs eat the scraps that fall from the table of their masters", and to which Jesus responded, "O woman, great is your faith! Let it be done for you as you wish." And her daughter was healed from that hour.
Our gospel today highlights the great faith of the Canaanite. Despite what was set before her, she persevered and believed in Jesus. We too in our desire to be with God, in our struggle to seek His will should be faithful even amidst great difficulties.
As instruments of God in His work to bring ALL to His kingdom, we should follow Jesus and remove every obstacle and barrier from everyone's spiritual path. Race, social status and rank should not be of any importance. The sinful, broken and wounded should never be received in a different way as those who appear to be holy and pious. They should be given more love, care and mercy. Nothing should be in the way of every man who seeks God and His will.
As our faith teaches, our Church is Catholic which means UNIVERSAL and as such should be open to ALL, with no 'if's and buts'! The same applies to all Christian spiritual communities… it applies to our very own church!
Let us ask ourselves the following:
Is our community free of any discrimination?
Do we give every one equal opportunities to serve God and His people in community?
Direction
Encourage every church /community member to be fruitful. Open up ways by which everyone can serve and be fruitful in our Lord's name.
Prayer
Heavenly Father, remove my self-righteousness and enable me love and serve all despite our differences. I pray in Jesus' Name. Amen.
Reflection 2 – Great is your faith! Be it done for you as you desire
Do you ever feel "put-off" or ignored by the Lord?
This passage (Matthew 15:21) describes the only occasion in which Jesus ministered outside of Jewish territory. (Tyre and Sidon were fifty miles north of Israel and still exist today in modern Lebanon.) A Gentile woman, a foreigner who was not a member of the Jewish people, puts Jesus on the spot by pleading for his help. At first Jesus seemed to pay no attention to her, and this made his disciples feel embarrassed. Jesus does this to test the woman to awaken faith in her.
Jesus first tests the woman's faith
What did Jesus mean by the expression "throwing bread to the dogs"? The Jews often spoke of the Gentiles with arrogance and insolence as "unclean dogs" since the Gentiles did not follow God's law and were excluded from God's covenant and favor with the people of Israel. For the Greeks the "dog" was a symbol of dishonor and was used to describe a shameless and audacious woman. There is another reference to "dogs" in Matthew's Gospel where Jesus says to his disciples, "Do not give to dogs what is holy" (Matthew 7:6). Jesus tests this woman's faith to see if she is earnest in receiving holy things from the hand of a holy God. Jesus, no doubt, spoke with a smile rather than with an insult because this woman immediately responds with wit and faith – "even the dogs eat the crumbs".
Seek the Lord Jesus with expectant faith
Jesus praises a Gentile woman for her faith and for her love. She made the misery of her child her own and she was willing to suffer rebuff in order to obtain healing for her loved one. She also had indomitable persistence. Her faith grew in contact with the person of Jesus. She began with a request and she ended on her knees in worshipful prayer to the living God. No one who ever sought Jesus with earnest faith – whether Jew or Gentile – was refused his help. Do you seek the Lord Jesus with expectant faith?
"Lord Jesus, your love and mercy knows no bounds. May I trust you always and pursue you with indomitable persistence as this woman did. Increase my faith in your saving power and deliver me from all evil and harm." – Read the source: http://dailyscripture.servantsoftheword.org/readings/2017/aug9.htm
Reflection 3 – Heretics
A priest once met with a young woman and it came out in the conversation that she was having premarital relations with her boyfriend. The priest asked her what she was planning to do to end that, but she said she had no plans to end it. She said, "I have a agreement with God and it's going fine." The priest responded, "You may have an agreement, but it's not with God. It's with Satan. God doesn't make agreement like that."
Every age has its controversies and its heretics. In this age it's about sexuality: premarital sex, contraception, in vitro fertilization, even abortion. The Church has made its teaching clear, but there are some who would like to change that teaching or ignore it.
When Pope Paul VI published his prophetic encyclical Humanae Vitae in 1968 many theologians and others tried to undermine his teaching, but all his predictions have come true. He warned of more "infidelity and the lowering of morality"; that the man "may lose respect for the woman" and see her as "an instrument of selfish enjoyment," not "his respected and beloved companion"; and that governments might impose contraception on their peoples, interfering with "the most personal … sector of conjugal morality" (HV, n.17). All of these things have happened.
Meanwhile, those who have practiced Natural Family Planning have experienced increased communication and a divorce rate of one in twenty-five or less, compared to the national average of one in two. And, as a method, it is 98 percent effective or better.
In vitro fertilization has been surpassed by natural procreation technology (known as NaPro technology) both in success rate and in economy. Couples who are having difficulty in conceiving have been delighted with this highly scientific, moral and effective way of helping them conceive naturally.
Regarding premarital sex, secular studies have shown that the divorce rate among those who live together before marriage is, surprisingly, 74 percent, compared to the national average of 50 percent. And according to a 1992 study published by the University of Chicago, men who have had premarital sex are 63 percent more likely to get divorced than if they had not. Women are 76 percent more like to divorce if they have had premarital sex (The Family Portrait, Washington, DC: The Family Research Council, 2002, p.63)
And today, we see many women coming forth to proclaim that their abortions hurt them deeply. There is an association of such women called Silent No More.
Every age has its controversies. In the early Church, the controversies were about who Christ was. Arianism claimed he was more than man but less than God. This error was so widespread that St. Jerome wrote, "The whole world groaned and marveled to find itself Arian," yet the truth of Christ's divinity won out in the end. There were controversies over the number of wills in Christ, the number of natures and the number of persons (there are two wills, two natures, but just one divine person).
In the first three or four centuries there was the Gnostic heresy, which claimed that the body was not important, only the spirit. This error, known as dualism, prompted some Gnostics to treat sexual promiscuity lightly. This same error reappeared in the 1970s and beyond when dissenters from Humanae Vitae claimed it was "physicalism" to describe certain acts as immoral. One of the key points of Pope John Paul II's theology of the body was to deny such claims and proclaim that "the body expresses the person" and thus is of great significance.
In the eleventh and twelfth centuries, as well as the sixteenth century, the issue was corruption in the Church. Did the fact a number of priests were living with women or that bishops were grabbing for all the money they could get mean that people could, in essence, form their own Christian churches? The Albingensians and Waldensians, although they began as dedicated, poverty-living Catholics, decided to start preaching without the permission of the bishops, and in time fell into all sorts of errors, including dualism and denying many of the sacraments and the existence of purgatory. The same sort of thing happened with the reformers of the sixteenth century who broke from Rome.
Thus, we can see that every age has had its controversies in the Church, but despite the weaknesses and faults of her leaders, the Church has survived and remained the "pillar and bulwark of truth" as she is described in 1 Tim 3:14-15. Those who have tried to reform the Church by breaking with the pope have fallen into all sorts of errors. In our time, it will be no different with those who try to change the teachings on sexuality.
Jesus loves his Church, and will continue to guide it until the end. This was his promise: "I will be with you always until the end of time" (Mt 28:20). (Source: Rev. Thomas G. Morrow, "Homilies on the Liturgies of Sundays and Feasts," Homiletic & Pastoral Review, Vol. CVIII, No. 10. New Jersey: Ignatius Press, July 2008, pp. 38-40; Suggested readings: Catechism of the Catholic Church, 285,495,817-821,2089,2127-2128).
Reflection 4 – Bold Persistence
Jesus answered and said to her, "O woman, great is your faith! Let it be to you as you desire." —Matthew 15:28
In 1953, a fledgling business called Rocket Chemical Company and its staff of three set out to create a line of rust-prevention solvents and degreasers for use in the aerospace industry. It took them 40 attempts to perfect their formula. The original secret formula for WD-40—which stands for Water Displacement, 40th attempt—is still in use today. What a story of persistence!
The gospel of Matthew records another story of bold persistence. A Canaanite woman had a daughter who was possessed by a demon. She had no hope for her daughter—until she heard that Jesus was in the region.
This desperate woman came to Jesus with her need because she believed He could help her. She cried out to Him even though everything and everybody seemed to be against her—race, religious background, gender, the disciples, Satan, and seemingly even Jesus (Matt. 15:22-27). Despite all of these obstacles, she did not give up. With bold persistence, she pushed her way through the dark corridors of difficulty, desperate need, and rejection. The result? Jesus commended her for her faith and healed her daughter (v.28).
We too are invited to approach Jesus with bold persistence. As we keep asking, seeking, and knocking, we will find grace and mercy in our time of need. — Marvin Williams
Something happens when we pray,
Take our place and therein stay,
Wrestle on till break of day;
Ever let us pray. —Anon.
Persistence in prayer pleases God (Source: Our Daily Bread, RBC Ministries).
Reflection 5 – Christ leaves no one outside
Sometimes it seems that this must be the age of the greatest disputes within the Church. Catholics argue about many things with each other, and the media would like the world to believe that in the United States we rebel against everything the Pope says. When disputes end in hatred and disunity, we know that they are serious.
The fact is that nothing in our contemporary Church can compare in seriousness, and bitterness as well, with the dispute in the early Church between Jewish and Gentiles converts to the faith. Jewish Christians, who came to be called Judaizers, believed that for the Gentiles to become disciples of Jesus, they had to be circumcised and follow the Law of Moses. In other words, they had to become Jewish. The Gentiles insisted that Jesus had done something new. He had extended an invitation to everyone without distinction to embrace the God of Israel, the one true God.
His invitation was prefigured in the book of Isaiah the prophet (Is 56:1,6-7). It was composed for those Jews who returned from exile in Babylon only to find their homeland occupied by foreigners whom they deeply resented. The returning Jews could either attempt to expel the foreigners or they could follow the teaching of Isaiah who proclaimed that the foreigners who joined themselves to the Lord should be accepted. The Lord said through the prophet, "My house shall be called a house of prayer for all peoples" (Is 56:7).
This universalism was a hard lesson for the Jews to learn. That is why at the time of Jesus and even afterwards there was a bitter dispute about the place of the Gentiles. The Canaanite woman in today's gospel (Mt 15:21-28) was not Jewish; she was a Gentile. Jesus' disciples wanted him to have nothing to do with her, to send her away. When the woman persisted in asking Jesus to heal her daughter, Jesus said, "It is not right to take the food of sons and daughters and throw it to the dogs." How could Jesus say such a harsh and mean thing? Actually his words are an echo of the Judaizers who wanted nothing to do with the Gentiles and looked upon them as dogs. St. Matthew who wrote the Gospel story hoped that hearing these harsh, cruel words on the lips of Jesus would shock his readers into realizing how improper it was to reject the Gentiles. The woman by her faith won the favor of Jesus.
Today we do not think that people have to become Jewish in order to become Catholics. But maybe we practice other forms of exclusiveness. In some instances roles have become reversed; the anti-Semitism of today has replaced the "anti-Gentilism" of the first Christian century. Racism is a serious problem in our society. Hatred for immigrants, many of whom are fellow Catholics, has given meaning to that strange word, "xenophobia" (that means disliked of foreign people).
The word we should concentrate on is "Catholic." It reminds us that ours is a universal, world-wide Church, which embraces everyone. Every Catholic Church is a house of prayer for all peoples. Here the Lord offers to all of us, not the scraps from the table, but the precious body and blood of the Lord of all. To be faithful to him is to accept all peoples without exception. (Source: Rev. Charles E. Miller, Sunday Preaching. New York: Alba House, 1997, pp. 106-107).
Reflection 6 – Going beyond the box

In the Gospel reading today, Jesus deals with a request that came from outside the parameters of his mission. When the Canaanite woman asks him to heal her daughter he replies, "No. My mission is only to the Israelites." However, he gives her what she asked for when her persistence proves that her desire comes from true faith in Christ and his mission. Jesus is not one to say "no" when our faith is real and our request allows him to fulfill his mission.
Parameters are always getting in our way. It's called, "thinking inside the box." We neatly box up our understanding of the world, of God, of the Faith, of others, and even who we are and what our potential is. This is a trap. There is much more to Christian life than what's inside familiar parameters. We need to dare to think outside the box.
What are the limitations that trap you inside your box? Once we identify our limitations, we can grow beyond them.
In what ways are you trapping God inside your box? Let God exceed your limits!
Here's a spiritual exercise: When you enter church and dip your fingers into the holy water to make the sign of the cross, do it with your left hand. (I wonder, which hand do lefties use?) Does it seem somehow sacrilegious to cross yourself with the "wrong" hand? Why would it be? Get out of the box!
One day, a woman came up to me in church asking if I had change for $20, because she didn't have any singles to pay for the votive candle that she wanted to light for a prayer request. I didn't have the cash, so I said, "God doesn't mind if you light a candle without paying for it. It's the prayer he's interested in." (If she really wanted to help the church, she could increase her donation in the Sunday collection.) But my comment shook her up. It didn't sound "proper".
These are examples of little ways that we stay trapped inside our boxes. There are much larger ways, parameters that impact our lives and others' lives so much that we're actually sinning when we choose to stay inside the box. To grow in holiness, we must pay attention to how often we hold fast to what is simply habitual or expected or prescheduled or "this is how everyone else does it".
We need to dare to follow Jesus beyond our boxes. We also need to have faith like that of the Canaanite woman to knock down the walls of pre-set parameters. This is important, because out there, in the great beyond, is where we discover that God is bigger than we've imagined him to be. We're so used to staying inside our little boxes that our trust in God is based upon an unconscious assumption that he's as limited as we are.
The truth is: When God seems to fail us, it only seems so because we've boxed him into our perceptions of all the humans who have failed us. To discover that God has not failed us at all, we have to break free of our preconceived expectations. – Read the source: http://gnm.org/good-news-reflections/?useDrDate=2017-08-09
Reflection 7 – St. Teresa Benedicta of the Cross (Edith Stein) (1891-1942 A.D.)
A brilliant philosopher who stopped believing in God when she was 14, Edith Stein was so captivated by reading the autobiography of Teresa of Avila (October 15) that she began a spiritual journey that led to her Baptism in 1922. Twelve years later she imitated Teresa by becoming a Carmelite, taking the name Teresa Benedicta of the Cross.
Born into a prominent Jewish family in Breslau (now Wroclaw, Poland), Edith abandoned Judaism in her teens. As a student at the University of Göttingen, she became fascinated by phenomenology, an approach to philosophy. Excelling as a protégé of Edmund Husserl, one of the leading phenomenologists, Edith earned a doctorate in philosophy in 1916. She continued as a university teacher until 1922 when she moved to a Dominican school in Speyer; her appointment as lecturer at the Educational Institute of Munich ended under pressure from the Nazis.
After living in the Cologne Carmel (1934-38), she moved to the Carmelite monastery in Echt, Netherlands. The Nazis occupied that country in 1940. In retaliation for being denounced by the Dutch bishops, the Nazis arrested all Dutch Jews who had become Christians. Teresa Benedicta and her sister Rosa, also a Catholic, died in a gas chamber in Auschwitz on August 9, 1942.
Saint John Paul II beatified Teresa Benedicta in 1987 and canonized her 12 years later.
Comment:
The writings of Edith Stein fill 17 volumes, many of which have been translated into English. A woman of integrity, she followed the truth wherever it led her. After becoming a Catholic, Edith continued to honor her mother's Jewish faith. Sister Josephine Koeppel, O.C.D. , translator of several of Edith's books, sums up this saint with the phrase, "Learn to live at God's hands."
Quote:
In his homily at the canonization Mass, Pope John Paul II said: "Because she was Jewish, Edith Stein was taken with her sister Rosa and many other Catholics and Jews from the Netherlands to the concentration camp in Auschwitz, where she died with them in the gas chambers. Today we remember them all with deep respect. A few days before her deportation, the woman religious had dismissed the question about a possible rescue: 'Do not do it! Why should I be spared? Is it not right that I should gain no advantage from my Baptism? If I cannot share the lot of my brothers and sisters, my life, in a certain sense, is destroyed.'"
Addressing himself to the young people gathered for the canonization, the pope said: "Your life is not an endless series of open doors! Listen to your heart! Do not stay on the surface but go to the heart of things! And when the time is right, have the courage to decide! The Lord is waiting for you to put your freedom in his good hands."
Related St. Anthony Messenger article(s)
Edith Stein: Our Newest Saint, by John Feister
Read the source: http://www.americancatholic.org/features/saints/saint.aspx?id=1102
SAINT OF THE DAY
Catholic saints are holy people and human people who lived extraordinary lives. Each saint the Church honors responded to God's invitation to use his or her unique gifts. God calls each one of us to be a saint. Click here to receive Saint of the Day in your email.
Edith Stein, also known as St. Teresa Benedicta of the Cross, OCD(German: Teresia Benedicta vom Kreuz, Latin:Teresia Benedicta a Cruce; 12 October 1891 – 9 August 1942), was a German Jewish philosopher who converted to theRoman Catholic Church and became a Discalced Carmelite nun. She is a martyr and saint of the Catholic Church.
She was born into an observant Jewish family, but was an atheist by her teenage years. Moved by the tragedies of World War I, in 1915 she took lessons to become a nursing assistant and worked in a hospital for the prevention of disease outbreaks. After completing her doctoral thesis in 1916 from the University of Göttingen, she obtained an assistantship at the University of Freiburg.
From reading the works of the reformer of the Carmelite Order, St. Teresa of Jesus, OCD, she was drawn to the Catholic Faith. She was baptized on 1 January 1922 into the Roman Catholic Church. At that point she wanted to become a Discalced Carmelite nun, but was dissuaded by her spiritual mentors. She then taught at a Catholic school of education inSpeyer. As a result of the requirement of an "Aryan certificate" for civil servants promulgated by the Nazi government in April 1933 as part of its Law for the Restoration of the Professional Civil Service, she had to quit her teaching position.
She was admitted to the Discalced Carmelite monastery in Colognethe following October. She received the religious habit of the Order as a novice in April 1934, taking the religious name Teresa Benedicta of the Cross ("Teresa blessed by the Cross"). In 1938 she and her sister Rosa, by then also a convert and an extern Sister of the monastery, were sent to the Carmelite monastery in Echt, Netherlands for their safety. Despite the Nazi invasion of that state in 1940, they remained undisturbed until they were arrested by the Nazis on 2 August 1942 and sent to the Auschwitz concentration camp, where they died in the gas chamber on 9 August 1942.
Early life
[
edit
]
Edith Stein was born in Breslau (now Wrocław, Poland), Lower Silesia, into an observant Jewish family. She was the youngest of 11 children and was born on Yom Kippur, the holiest day of the Hebrew calendar, which combined to make her a favorite of her mother.[3]She was a very gifted child who enjoyed learning, in a home where her mother encouraged critical thinking, and she greatly admired her mother's strong religious faith. By her teenage years, however, Edith had become an atheist.
Though her father died while she was young, her widowed mother was determined to give her children a thorough education and consequently sent Edith to study at the University of Breslau (also known as "Schlesische Friedrich-Wilhelms-Universität").
Academic career
[
edit
]
In 1916 Edith Stein received a doctorate of philosophy from the University of Freiburg with a dissertation titled Zum Problem der Einfühlung (On the Problem of Empathy) and directed by the phenomenological philosopher Edmund Husserl. Stein's interruption of her studies for most of 1915 to serve as a volunteer wartime Red Cross nurse in an infectious disease hospital at Märisch-Weisskirchen in Moraviahad informed her study of empathy.[4] She then became a member of the faculty at the University of Freiburg, where she worked as a teaching assistant to Husserl, who had transferred to that institution. In the previous year she had worked with Martin Heidegger in editing Husserl's papers for publication, and Heidegger succeeded her as a teaching assistant to Husserl in 1919. Because she was a woman, Husserl did not support her submitting her habilitationalthesis (a prerequisite for an academic chair) to the University of Freiburg in 1918. Her other thesis, Psychische Kausalität (Sentient Causality),[5] submitted at the University of Göttingenthe following year, was likewise rejected.
While Stein had earlier contacts with Roman Catholicism, it was her reading of the autobiography of the mystic St. Teresa of Ávila during summer holidays in Bad Bergzabern in 1921 that caused her conversion. Baptized on 1 January 1922, and dissuaded by her spiritual advisers from immediately seeking entry to the religious life, she obtained a position to teach at the Dominican nuns' school in Speyerfrom 1923 to 1931. While there, she translated Thomas Aquinas' De Veritate (Of Truth) into German, familiarized herself with Roman Catholic philosophy in general, and tried to bridge the phenomenology of her former teacher, Husserl, to Thomism. She visited Husserl and Heidegger at Freiburg in April 1929, the same month that Heidegger gave a speech to Husserl on his 70th birthday. In 1932 she became a lecturer at the Catholic Church-affiliated Institute for Scientific Pedagogy in Münster, but antisemitic legislation passed by the Nazi government forced her to resign the post in 1933. In a letter to Pope Pius XI, she denounced the Nazi regime and asked the Pope to openly denounce the regime "to put a stop to this abuse of Christ's name."
As a child of the Jewish people who, by the grace of God, for the past eleven years has also been a child of the Catholic Church, I dare to speak to the Father of Christianity about that which oppresses millions of Germans. For weeks we have seen deeds perpetrated in Germany which mock any sense of justice and humanity, not to mention love of neighbor. For years the leaders of National Socialism have been preaching hatred of the Jews…. But the responsibility must fall, after all, on those who brought them to this point and it also falls on those who keep silent in the face of such happenings.

Everything that happened and continues to happen on a daily basis originates with a government that calls itself 'Christian.' For weeks not only Jews but also thousands of faithful Catholics in Germany, and, I believe, all over the world, have been waiting and hoping for the Church of Christ to raise its voice to put a stop to this abuse of Christ's name. Is not this idolization of race and governmental power which is being pounded into the public consciousness by the radio open heresy? Isn't the effort to destroy Jewish blood an abuse of the holiest humanity of our Savior, of the most blessed Virgin and the apostles? Is not all this diametrically opposed to the conduct of our Lord and Savior, who, even on the cross, still prayed for his persecutors? And isn't this a black mark on the record of this Holy Year which was intended to be a year of peace and reconciliation? We all, who are faithful children of the Church and who see the conditions in Germany with open eyes, fear the worst for the prestige of the Church, if the silence continues any longer.

— Edith Stein, Letter to Pope Pius XI
Her letter received no answer, and it is not known for certain whether the Pope ever read it.[6] However, in 1937 the Pope issued an encyclical written in German, Mit brennender Sorge (With Burning Anxiety), in which he criticized Nazism, listed violations of the Concordat between Germany and the Church of 1933, and condemned antisemitism.
Discalced Carmelite nun and martyr
[
edit
]
Edith Stein entered the Discalced Carmelite monastery St. Maria vom Frieden (Our Lady of Peace) in Cologne in 1933 and took the religious name of Teresa Benedicta of the Cross. There she wrote her metaphysical book Endliches und ewiges Sein (Finite and Eternal Being), which attempted to combine the philosophies of St. Thomas Aquinas, Duns Scotus and Husserl.
To avoid the growing Nazi threat, her Order transferred her and her sister, Rosa, who was also a convert and an extern sister of the Carmel, to the Discalced Carmelite monastery in Echt, Netherlands. There she wrote Studie über Joannes a Cruce: Kreuzeswissenschaft("Studies on John of the Cross: The Science of the Cross"). In her testament of 6 June 1939 she wrote: "I beg the Lord to take my life and my death … for all concerns of the sacred hearts of Jesus and Mary and the holy [C]hurch, especially for the preservation of our holy [O]rder, in particular the Carmelite monasteries of Cologne and Echt, as atonement for the unbelief of the Jewish People, and that the Lord will be received by [H]is own people and [H]is kingdom shall come in glory, for the salvation of Germany and the peace of the world, at last for my loved ones, living or dead, and for all God gave to me: that none of them shall go astray."
Stein's move to Echt prompted her to be more devout and an even greater subscriber to the Carmelite lifestyle. After having her teaching position revoked by the implementation of the Law for the Restoration of the Professional Civil Service, Stein quickly eased back into the role of instructor at the convent in Echt, teaching both fellow sisters and students within the community Latin and philosophy.[7]
Even prior to the Nazi occupation of the Netherlands, Stein believed she would not survive the war, going as far to write the Prioress to request her permission to "allow [Stein] to offer [her]self to the heart of Jesus as a sacrifice of atonement for true peace" and created a will. Her fellow sisters would later recount how Stein began "quietly training herself for life in a concentration camp, by enduring cold and hunger" after the Nazi invasion of the Netherlands in May, 1940.[7]
Ultimately, she was not safe in the Netherlands. The Dutch Bishops' Conference had a public statement read in all the churches of the nation on 20 July 1942 condemning Nazi racism. In a retaliatory response on 26 July 1942 the Reichskommissar of the Netherlands, Arthur Seyss-Inquart ordered the arrest of all Jewish converts who had previously been spared. Along with two hundred and forty-three baptized Jews living in the Netherlands, Stein was arrested by the SS on 2 August 1942. Stein and her sister, Rosa, were imprisoned at the concentration camps of Amersfoort and Westerbork before being deported to Auschwitz. A Dutch official at Westerbork was so impressed by her sense of faith and calm,[8] he offered her an escape plan. Stein vehemently denied his assistance, stating, "If somebody intervened at this point and took away her chance to share in the fate of her brothers and sisters, that would be utter annihilation."[7]
On 7 August 1942, early in the morning, 987 Jews were deported to the Auschwitz concentration camp. It was probably on 9 August that Sr. Teresa Benedicta of the Cross, her sister, and many more of her people were killed in a mass gas chamber.[3][9]
Legacy and veneration
[
edit
]
Edith Stein was beatified as a martyr on 1 May 1987 in Cologne, Germany by Pope John Paul II and then canonized by him 11 years later on 11 October 1998 inVatican City. The miracle that was the basis for her canonization was the cure of Teresa Benedicta McCarthy, a little girl who had swallowed a large amount ofparacetamol(acetaminophen), which causes hepatic necrosis. The young girl's father, Rev. Emmanuel Charles McCarthy, a priest of the Melkite Greek Catholic Church, immediately rounded up relatives and prayed for St. Teresa's intercession.[10] Shortly thereafter the nurses in the intensive care unit saw her sit up completely healthy. Dr. Ronald Kleinman, a pediatric specialist at Massachusetts General Hospital in Boston who treated Teresa Benedicta, testified about her recovery to Church tribunals, stating: "I was willing to say that it was miraculous."[10] McCarthy would later attend St. Teresa's canonization.
Sr. Teresia Benedicta of the Cross is one of the six patron saints of Europe, together with Sts. Benedict of Nursia, Cyril and Methodius, Bridget of Sweden, andCatherine of Siena.
Today there are many schools named in tribute to her, for example in Darmstadt, Germany,[11] Hengelo, Netherlands,[12] and Mississauga, Ontario, Canada.[13] Also named for her are a women's dormitory at the University of Tübingen[14] and a classroom building at The College of the Holy Cross in Worcester, Massachusetts.
The philosopher Alasdair MacIntyre published a book in 2006 titled Edith Stein: A Philosophical Prologue, 1913-1922, in which he contrasted her living of her own personal philosophy with Martin Heidegger, whose actions during the Nazi era, according to MacIntyre, suggested a "bifurcation of personality."[15]
In 2008, a memorial Stolperstein (Polish: kamienie pamięci) was placed near Stein's childhood home at 38 ul. Nowowiejska (formerly the Michaelisstrasse) in Wrocław.
In 2009 her bust was installed at the Walhalla Memorial near Regensburg, Germany. In June 2009 the International Association for the Study of the Philosophy of Edith Stein (IASPES) was founded, and held its first international conference at Maynooth University, Ireland in order to advance the philosophical writings of Edith Stein.[16]
On 6 June 2014, the 70th anniversary of D-Day, a bell dedicated to her was named by Prince Charles at Bayeux Cathedral.
Also in 2014, the book Edith Stein and Regina Jonas: Religious Visionaries in the Time of the Death Camps, by Emily Leah Silverman, was published.
Controversy as to the cause of her murder
[
edit
]
The beatification of St. Teresa as a martyr generated criticism. Critics argued that she was murdered because she was Jewish by birth, rather than for her Catholic faith,[17] and that, in the words of Daniel Polish, the beatification seemed to "carry the tacit message encouraging conversionary activities" because "official discussion of the beatification seemed to make a point of conjoining Stein's Catholic faith with her death with 'fellow Jews' in Auschwitz".[18][19] The position of the Catholic Churchis that St. Teresa also died because of the Dutch episcopacy's public condemnation of Nazi racism in 1942; in other words, that she died because of the moral teaching of the Church and is thus a true martyr.[3][20]
Gallery
[
edit
]
Writings in English translation
[
edit
]
Life in a Jewish Family: Her Unfinished Autobiographical Account, translated by Sister Josephine Koeppel, O.C.D., from The Collected Works of Edith Stein, Volume 1, ICS Publications, 1986
On the Problem of Empathy, translated by Waltraut Stein, from The Collected Works of Edith Stein, Volume 3, ICS Publications, 1989
Essays on Woman, translated by Freda Mary Oben, 1996
The Hidden Life, translated by Sister Josephine Koeppel, O.C.D., 1993[21]
The Science of the Cross, translated by Sister Josephine Koeppel, O.C.D. The Collected Works of Edith Stein, Volume Six, 1983, 2002, 2011, ICS Publications
Knowledge and Faith
Finite and Eternal Being: An Attempt to an Ascent to the Meaning of Being
Philosophy of Psychology and the Humanities, translated by Mary Catharine Baseheart, S.C.N., and Marianne Sawicki, 2000
An Investigation Concerning the State, translated by Marianne Sawicki, 2006, ICS Publications
Martin Heidegger's Existential Philosophy[22]
Self-Portrait in Letters, 1916-1942
Spirituality of the Christian Woman[23]
Potency and Act, Studies Toward a Philosophy of Being Translated by Walter Redmond, from The Collected Works of Edith Stein, Volume Eleven, 1998, 2005,2009, ICS Publications
Further Reading
[
edit
]
Borden, Sarah R. Edith Stein. Outstanding Christian Thinkers series (Continuum, 2003).
Calcagno, Antonio. The Philosophy of Edith Stein (Duquesne University Press, 2007).
Lebech, Mette.The Philosophy of Edith Stein. From Phenomenology to Metaphysics (Peter Lang, 2015)
Lebech, Mette. Why do we need the Philosophy of Edith Stein?. Communio 38 (Winter 2011): 682 – 727.
MacIntyre, Alasdair C. Edith Stein: A Philosophical Prologue, 1913-1922 (Lanham, MD: Rowman & Littlefield Publishers, 2006).
Posselt, OCD, Teresia Renata. Edith Stein: The Life of a Philosopher and Carmelite (Sheed and Ward, 1952; republished ICS Publications, 2005).
Sawicki, Marianne. Body, Text and Science: The Literacy of Investigative Practices and the Phenomenology of Edith Stein (Dordrecht: Kluwer, 1997).
See also
[
edit
]
References
[
edit
]
A Gift from Edith Stein (1891-1942)
A Modern "Mother" of the Church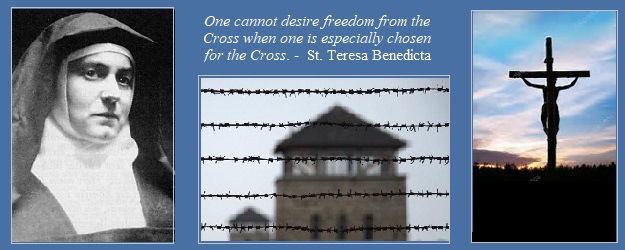 Edith Stein was born into a Jewish family on the Feast of the Atonement, 1982, and died a Catholic Carmelite nun, St. Teresia Benedicta of the Cross, in Auschwitz in 1942. She is an "eminent daughter of Israel and faithful daughter of the Church … [and] a saint to the whole world." (2) 1
There is a terrible temptation to look the other way, to pretend that we live in a different world, or to believe that we are different from the people who lived and died in the atrocities of the Second World War. However, in reality, what we have seen is a spread of the mentality that rejects the gift of human personhood. On the one hand, there are marvelous inventions which benefit us, whether it is increased international communication, motorized wheelchairs, or personal computers. But, on the other hand, there is a disease that has spread: an uncritical, unaccountable, and unrestricted belief in technological development. Indeed, that there appears now to be a new "sin" existing where we believe that there can be nothing other than progress, and endlessly exploitative innovation. The human conscience—which is paralyzed under the influence of bureaucratic "distance," the ideological denial of a common humanity, the goal of a greater good for everyone (except the people whose exploitation make it possible)—needs reawakening. Edith Stein, then, is a witness to a feminism which develops the whole human race, and is an antidote to the dying humanity which we daily witness.
In the following three parts to this article, there is an account of the origin of this reflection in the World Youth Day pilgrimage to Cracow (I); the context of modern feminism (II); and, finally, a number of specific aspects of Edith Stein's life and work (III).
Edith Stein in the Context of the World Youth Day—Pilgrimage to Cracow (I)
Ordinarily, I would never have read about a woman who had been gassed at Auschwitz. As a young student, having seen pictures taken by the allies who entered the concentration camps at the end of the Second World War, I had no desire to revisit this reality. However, over many years, it has become clear that the mentality that can reduce human beings to mere "biologic" beings is still with us. 2 Indeed, biologism is expressed in the mentality that considers itself biologically superior,3 superior to the point of determining the death of those defined as "inferior". The problem is caused by an inadequate account of the human person. Biological identity is a beginning which needs the complementary analysis which opens to the fuller reality to be investigated. The contradiction inherent in the intelligent explanation of a human, "biological" being is beyond the power of ideologically-driven exponents of biologism. In other words, in elective abortion, in the stark reality of a child being torn from the womb, the perpetrators believe that this child is a "biologic" reality, rather than a psychologically inscribed biological reality that begins the gift of human personhood. Even in view of the inconsistency of tearing out a boy or girl from the womb, there is the wealth of human reality which is expressed in the relationship of a son or daughter, grandchild, niece, or nephew. There is a wealth of human suffering that is brought about at the same time. The reality of bureaucratically programmed deaths, in other words, is still with us: the "processing" of the abortion of a human being suppresses the very humanity he or she has in common with the person whose gift of life has been stolen. The terrible irony remains that the abortionist has received the gift of human life, which he or she then takes from the unborn child through abortion.
However, visiting two memorials to the death of ideological racism has shown me that the mystery of this tragedy, and the triumph of hope, needs to be pondered over and prayed about.4 The first memorial was in Berlin, a deliberately bare set of giant shapes like tombstones, inscribed, in one place, with the stark words: Memorial to the Murdered Jews of Europe.5 Whatever the controversies that surround this work, I could not but admire the blunt statement of truth which constantly calls consciences to be open to the reality of this human suffering, and to all human suffering.
The "second memorial" consisted of the concentration camps themselves: Auschwitz I, Auschwitz II-Birkenau. As we processed through these camps, thousands upon thousands of us, passing through on the way to the World Youth Meeting with Pope Francis in Cracow, there was a reverence in the process of assembling, passes being checked, and then winding our way through the various scenes and accounts, identifying what went on in the barbed, but extraordinarily ordinariness of the buildings, and their beautiful surroundings of trees and fields. What I did not expect to discover was hope, hope that expressed itself in the liberation of the camps, and the raw witness to what went on, and then finally came to an end.
As I read about Edith Stein, what encouraged me was the attractiveness of her personality. Indeed, a certain contrast between her patient, cheerful, helpfulness in everyday life, and through the extremity of awaiting execution,6 contrasted to my own tendency toward grumpiness, especially towards the end of the day.
It is a truism that nothing comes to exist but for the context in which it comes to exist. Therefore, Edith Stein's life and work comes to exist in the context of a many-faceted "moment" in modern history. She is a woman who lived the love that completes the truth of nascent feminism: the need to recognize the right of all races' legitimate self-expression and development; the need to integrate new philosophical insights with perennial truths; the need to improve Jewish-Christian relations;7 and, the mystery of a lived "love of the enemy" (cf. Mt 5: 44).8 St. Teresa Benedicta of the Cross says to us all: "Do not accept anything as the truth if it lacks love. And do not accept anything as love which lacks truth! One without the other becomes a destructive lie."(6)9
Edith Stein in the Context of Modern Feminism (II)
The Identification of Women in the Church
We are used to thinking in terms of the Fathers of the Church, profound Christian thinkers from the early part of the first millennium, and the Fathers of the Second Vatican Council (1962-1965). The Fathers of the Church were a wide variety of early Christian writers who reflected on almost every aspect of the Scriptures, and the spiritual life. St. Augustine (354-430 AD), for example, is cited in the document of the Council on the Word of God, showing an early sensitivity to the implications of divine-human authorship: "God speaks in Sacred Scripture through men in human fashion" (Dei Verbum, 12). In other words, it was preciselyas "true human authors" that God inspired the writers of Scripture (Dei Verbum, 11). Therefore, God spoke to us through the very humanity of human authorship (cf. Lk 1: 1-4). Blessed John Henry Newman (1901-1890) was not actually present at the Council, and yet influenced it in a number of ways, particularly in its reference to the lay vocation:10 the vocation of being Christian, whether or not it is expressed more specifically in the vocation to marriage, or the priesthood.
Edith Stein (1891-1942), who came along later and was younger than Newman, is no less an influence on the Council, and the modern development of the Church. It was, after all, not until 1970 that Pope Paul VI made St. Teresa of Avila (1515-1582)11 the first woman Doctor of the Church: a Doctor of Prayer, in a world too often too busy to pray.12 As a part, then, of the general rapprochement concerning the overlooked contribution of women in the life of the Church, Edith Stein is one of three co-patronesses of Europe, along with three male patrons of Europe.13 Thus, I regard Edith Stein as a Mother of the Council, and a Modern Mother of the Church.
At the same time, however, the very existence of female religious orders is itself a witness to the ongoing contribution to the development of the identity of women, which, from the Old through the New Testament, has been expressed in innumerable ways. As such, there is plenty of work to do in a reasonable account of the contribution of women and the positive, if not uncritical assessment, of the mystery of the Church to the identity of women throughout the centuries. Therefore, I am not an avant-garde feminist. Indeed, in the words of Pope Francis, St. John Paul II answered that there is no possibility of a woman's ordination to the Catholic priesthood. He said by way of explanation:
…the Church is the Bride of Jesus Christ. It is a spousal mystery. And, in the light of this mystery one understands the reason for these two dimensions: the Petrine dimension, namely, episcopal, and the Marian dimension, with all that is the maternity of the Church, but in a more profound sense.14
In the mystery of salvation, then, the mystery of woman is an expression of the mystery of salvation: that God acts in us; and, in keeping with the iconography of this mystery, Christ chose the ministerial priesthood to be an expression of the vocation of a man.15Nevertheless, there is a feminism which needs to be identified and developed.16 Edith Stein was in the forefront of advancing the reasonable development of the identity of a woman.
A Real or an Imagined Injustice to Women?
In the case of the Catholic Church, then, it is widely "claimed" that denying the possibility of the priesthood to women is an injustice. If the priesthood of the Catholic Church is an expression of a specific ministry of Christ Himself, then it is clear that Christ chose men precisely for this purpose; indeed, men were "created" in view of a priestly possibility that was never envisaged for women. Nevertheless, in view of our baptismal consecration as priests, prophets, and kings, there is a priestly work of teaching which is a part of the vocation of women, as Edith says:
The spreading of the faith, since it is included in the priestly vocation to teach, is predominantly the task of men, though women, too, are active in this sphere, especially in the teaching Orders.17
Where is the injustice if men and women are constituted as dynamically different, yet complementary "expressions" of human personhood? What if, from the beginning, God expressed a radical difference in human personhood, precisely as a vocation to the mutual enrichment of both men and women. What is the radical benefit of womanhood and, indeed, of the contribution of specific women to the life of men, marriage and family, culture, society, the Church and the world? Why, in other words, is a ministry which is exclusively reserved to men, not an injustice to women?18 There is, in other words, a vocation in virtue of being a woman, which is as indispensable as being a man, but characteristically different. Perhaps, it is a help, therefore, to reflect on this in the light of Edith Stein, an early advocate of genuine feminism.
Edith Stein: the Person (III)
How do I Come to be Writing about Edith Stein?
Writing about Edith Stein, however briefly, is another aspect of the gifts I have been given through the 2016 World Youth Day pilgrimage to Poland. As a member of a team of catechists, who went with more than three hundred young people to the World Youth Day, and met with Pope Francis, my wife and I also attended a pre-pilgrimage meeting. A team of around twenty catechists were called to finalize the preparations for the pilgrimage, which included the possibility of giving a number of catecheses in the course of a nine day journey, from London to Cracow. Although I am much more familiar with the work of St. John Paul II, I was vaguely aware of a philosophical affinity between Karol Wojtyla and Edith Stein. As I was also had a slight familiarity with her connection with the late Pope, I offered to prepare a catechesis on Edith. Reading began and continued, both in the lead up to the pilgrimage, and during it. As the schedule of the pilgrimage suffered from one delay after another, it looked as if the opportunity to give this catechesis would slip through the changes in the timetable. In what I regard as a gift from Edith herself, I eventually gave the catechesis in a Carmelite Monastery in Poland.19
Edith Stein: Philosophy; Judaism and Feminism; Prayer and Self-Offering
I began reading about Edith Stein, falling in love with her reasonableness, her prayerful discovery of her vocation, and the dialogue she had with her confessors. There was the obvious kinship between her philosophical and theological work, and the papacy of St. John Paul II, and the modern development of the Church's teaching on the complementarity of men and women, Jewish-Christian dialogue, and the attractive goodness in how she did the good she did. Although there is not an explicit reference to Edith Stein in the opening catecheses, in 1979, of St. John Paul II's Theology of the Body, it is possible to see the whole cycle as summarized in Edith's understanding of the opening chapters of Genesis. Edith says:
"We shall find in … [the Word of God] … the traces of the original order of creation, of the fall and of the redemption;"20 and, in the words of St. John Paul II, we see that Christ appeals to the beginning and to the original order that "has not lost its force, although man has lost his primeval innocence."21
On the one hand, then, it could be that both of them had been thinking with the Church22and understood, albeit in slightly different ways, the enduring reality expressed in the word of God, or, alternatively, it could be that there is a direct dependence of St. John Paul II on Edith Stein, St. Teresa Benedicta of the Cross. However, I cannot prove such a dependence and simply point to it in order to indicate how the path of the Church has passed through both the work of Edith Stein, and John Paul II. It is now necessary to consider some more specific features of Edith's work.
Philosophy: Edith's search for the truth led her to phenomenology: "the world as we perceive it does not merely exist … in our subjective perception. [Husserl's] … pupils saw his philosophy as a return to objects: "back to things". [His] … phenomenology unwittingly led many of his pupils to the Christian faith.23 In other words, there is an implicit relationship between "what is" and the Christian faith, in that truth does not contradict truth;24 and, therefore, any philosophy which apprehends what really exists, also leads to the fullness of truth expressed in the mystery of God. At the same time, phenomenology is also an aid to philosophy itself, as it helps to rescue modern thinking from an unaccountable subjectivity.
After deciding to abandon prayer, "it was precisely along the byways of philosophical investigation that grace awaited her: having chosen to undertake the study of phenomenology, she became sensitive to an objective reality which, far from ultimately dissolving in the subject, both precedes the subject, and becomes the measure of subjective knowledge, and thus needs to be examined with rigorous objectivity."(8)25 In Edith's own words: phenomenology "turned attention away from the 'subject' and toward 'things' themselves."26 Although, it has to be said, in the very recognition of the process of perceiving the object, there is an implicit, if not an explicit, recognition of an objectified subjectivity: a recognition, in other words, of the presence of the perceiving subject as entailed in the turn "toward 'things' themselves." Thus, "Perception again appeared as reception, deriving its laws from objects [and] not, as criticism has it, from determination which imposes its laws on the objects."27 Without digressing too far from Edith herself, I would add, however, that perception has its own laws: it is the law of a process that provides the opportunity of an active engagement with what actually exists. In other words, perception is both a framework for making possible the active reception of what exists and, at the same time, a process through which there is a dialogue of the whole person with the reality in which we are almost seamlessly immersed.
In the temptation, as it were, of philosophical thought to emphasize one aspect of reality, or another, Edith's recognition of woman's capacity for holistic, human development found philosophical expression in a philosophy of wholeness. On the one hand, Edith says: "The female species is characterized by the unity and wholeness of the entire psychosomatic personality and by the harmonious development of the faculties; the male species by the perfecting of individual capacities to obtain record achievements."28 The unfolding development of each person's characteristics, whether man or woman, clearly benefits from the reciprocal development of both human wholeness, and specific capacities. On the other hand, the philosophy that attracted Edith, phenomenology, "is an effort to 'bring back into philosophy everyday things, concrete wholes, the basic experiences of life as they come to us.'"29 In another account of phenomenology, we read that phenomenology "describes with meticulous accuracy the stream of consciousness as it presents itself to the observing mind … the acts performed … for example … in responding to a stimulus, in taking cognizance of a fact, in reaching a decision."30 Altogether, then, Edith Stein, and later St. John Paul II, took phenomenology's beginning with the subject's openness to phenomena of whatever kind, kindling an almost universal openness to what exists, and began to integrate it into a deeper metaphysics of what this reveals about the whole human being, relationships, reality as a whole and, ultimately, religious experience and God: "both [Husserl and St. Thomas Aquinas] considered philosophy to be an exact science that starts with the knowledge of reality through the senses and develops in intellectual activity."31
Clearly, however, intellectual activity runs throughout: from "the knowledge of reality through the senses" to the development of it through "intellectual activity'." In a certain sense, then, it is necessary to define the intellectual activity: "Phenomenology … taught that essences could be intuitively and immediately known without the formal apparatus of scientific method or psychological process."32 An essence is what is definable. Therefore, phenomenology concerns itself with an "immediate" apprehension with what exists, whether what exists is an "idea," an object or a relationship between people, or all kinds of variations of these three possibilities. In other words, an actual piece of paper is "intuitively and immediately known" as a non-living product of the labor of a person, the different kinds of which can be observed or explored with cutting, drawing, or wrapping activities, the materials and processes through which it can be made can be researched; and, ultimately, the actual piece of paper can be identified as per its origin, generally or more particularly, with respect to who bought it, and for how much. In other words, the object itself, "paper," implies a specifically knowable identity, amidst a multitude of relationships, and potential uses. This whole process implies all the psychological, sociological, philosophical, scientific, and circumstantial analyses that are, in effect, coextensive with the "intuitive" definition of what exists in a particular instance and, at the same time, entails all the ramifications for the investigating subject, and the whole environment of which it is a "whole" within the "whole."
Developing this interrelationship between an adequate subjectivity, and a foundational understanding of the structure of being, was one of the primary concerns of St. John Paul II. In other words, Edith's work was instrumental in the modern enrichment of the structure of human personhood, with a more adequate account of human subjectivity, with all its unique and universal characteristics.
Judaism and feminism: In the context of anti-Semitism, which seemed to be so prevalent in what was referred to as a country with a Christian government,33 Edith's conversion to Catholicism was also a point of re-entry into the heritage of faith which she had abandoned when she had decided to give up prayer, although she later said that: "My longing for truth was a prayer in itself."34 Edith did not disown her Jewish heritage and, indeed, it helped her in order to enter into the cross which was inseparable from her vocation.35
Edith's pursuit of truth had culminated in the discovery that "Truth is a person, the person of Jesus [Christ];"36 and, at the same time, Edith followed St. Teresa of Avila into the Catholic Church, and the Carmelite order. Albeit Edith's entry into Carmel had to wait until anti-Semitism had closed all other possibilities of work to her,37 and both she, and her confessor, agreed that it was the providential moment for her to enter Carmel.38 Edith's entry into Carmel, however, was not to be without the taint of a slight anti-Semitism in the course of her reception into the convent.39 More generally, however, Edith's account of Life in a Jewish Family was to provide a real answer to the propaganda's "horrendous caricature"40 of Jewish people: "to write down what I, child of a Jewish family, had learned about the Jewish people since such knowledge is so rarely found in outsiders."41 In the course of the dialogue between Jews and Catholics, it is almost as if the life of Edith Stein "is" a powerful catalyst of this development.42 In the words of St. John Paul II: "May her witness constantly strengthen the bridge of mutual understanding between Jews and Christians."(8)43 Furthermore, there is no doubt that her Jewish background informed her feminism and, indeed, is almost a modern forerunner to it: "By the time [Edith's mother] was eight, she was so diligent and capable that her parents could send her to help out-of-town relatives in an emergency."44 In other words, although in this instance in a very "traditional" way, Edith's mother was both trained to be capable and, indeed, chose to be capable at a very early age;45 and, on the death of her husband, Edith's mother was to show herself a very able businesswoman,46 providing for the education of two very able daughters.47
Prayer and self-offering: It was the vocation of Esther, the Jewish Queen, who interceded for the salvation of her people with King Ahasuerus,48 which increasingly expressed the depth of Edith's vocation—a vocation which entailed that mystery of offering her death for both persecutors, and persecuted.49 It is probably one of the deepest mysteries of the divine-human dimensions of the Christian Faith that the free act in which evil is done is the occasion through which God brings about good. Joseph, a prophetic dreamer, who had been sold into slavery by his brothers, and had yet risen to be Pharaoh's right hand man, was thus able to help his family, and the whole region in a time of famine. On being reconciled with his brothers, he explained to them that :"…you meant evil against me; but God meant it for good, to bring it about that many people should be kept alive."(Gn 50: 20) It is unavoidable, therefore, that we think of the crucifixion: that God intended for good what was clearly the dreadful death of the Son of God. In this way, therefore, Edith entered into the mystery announced, as it were, by her birth on the Jewish feast of the Atonement—the feast day of reconciliation between God and man.50
In the dialogue between Edith Stein and Jesus Christ, we can see that Edith recognizes that her vocation is a participation in the reconciling51 self-offering of Christ. At the same time Edith recognized that Christian marriage entailed an inseparable, reciprocal self-offering: "I believe that even most of the 'happy' marriages are, more often than not, at least in part a martyrdom."52 Edith wishes to live and die for the Church, for the concerns of Jesus and Mary, for the Order of Carmel. Then, there are the peoples to which she belongs: the communities of Cologne and Echt, the Jews and Germans, her family, friends, and acquaintances. She is offering herself for all of these.53 Edith Stein's answer to the question of who can atone for the "oppressed and the oppressors" was that is was the victims, "willingly carrying their sufferings, who could atone."54 Edith was born "in 1891, on the (Jewish feast day of the) Day of Atonement"55 and died in Auschwitz in 194256.
Conclusion
No period of history is an isolated event—either in itself, or in terms of the relationship between one idea and another—and, ultimately, ideas and programs impact people, either by bringing communion and communication, or fracturing society, and imperiling the lives of people. Our times are very much an outcome of the mentality which is, in a certain sense, radically incapable of recognizing the equality of all human beings in the gift of human personhood. Just as the "structure of energy" is manifest in the capabilities of matter and its states—whether solid, liquid or gas—so the visible more generally communicates the invisible. And, as such, the psychological is inherent in the embryological development of the human person. The relationship of mother and father to their child is already as "psychologically existent" as it is physiologically drawn upon in conception.
What we witness, however, in the life of Edith Stein, is that the last word of human development goes to the Christian mystery of the "gift of self"—the reciprocal gift of self between Edith Stein and Jesus Christ. Even if in the course of her life she espoused all the good developments of a true, realistic type of feminism—unfolding profound philosophical and personal gifts—the "leaven" of Edith's life goes on unfolding in the most influential way through the very Jewish-Christian identity that expresses the deepest contours of the path of life.
I am personally grateful, then, for the opportunity to begin to draw on her participation in the dialogue of our times. And, in so far as I have been able, I hope this article encourages others to turn to this modern Mother of the Church.
Daily readings with reflections, Pope's messages, Bishop's messages, Church's music & videos, Educational Speaker, Bible Stories, Christopher Notes, Church Militant Video, Religious Movies, Journey Home