Readings & Reflections: Tuesday of the Eighteenth Week in Ordinary Time & St. Dominic, August 8,2017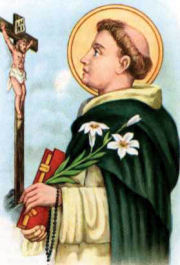 Born in 1170 A.D. in Calaruega, Spain, Dominic de Guzman attended the university at Palencia. Ordained an Augustinian Canon, he went to France where the Albigensians were misleading the faithful with their notion of "purity" founded on a rejection of the material order. Dominic converted many through his austere witness and his sound preaching informed by Scripture. Later Thomas Aquinas expressed this characteristic rhythm of Dominican life: "To contemplate and to give to others the fruits of contemplation." Young men joined him and, in 1216 A.D., the Order of Preachers was approved by Pope Honorius III who looked to Dominic's brethren as "future champions of the faith and the true lights of the world." He also founded an order of contemplative nuns in 1206 A.D. Dominic died in 1221 A.D. "Your strong love burned with heavenly fire and God-like zeal. With all the fervor of an impetuous heart and with an avowal of perfect poverty, you spent your whole self in the cause of the apostolic life" (Blessed Jordan of Saxony).
AMDG+
Opening Prayer
Dear Jesus, Make us believe and place our faith in our heavenly Father. Make us always be aware that our work behind the scenes are all noticed by our Heavenly Father and that we don't need credit for them. Make us like Moses who was forgiving towards his detractors. But most importantly, always make us aware that great things in life will be upon us if we believe and place our faith in our Father. Yes, Lord, strengthen our faith and make us believe through good and difficult times. In your Name we, pray. Amen.
Reading 1
Nm 12:1-13
Miriam and Aaron spoke against Moses on the pretext
of the marriage he had contracted with a Cushite woman.
They complained, "Is it through Moses alone that the LORD speaks?
Does he not speak through us also?"
And the LORD heard this.
Now, Moses himself was by far the meekest man on the face of the earth.
So at once the LORD said to Moses and Aaron and Miriam,
"Come out, you three, to the meeting tent."
And the three of them went.
Then the LORD came down in the column of cloud,
and standing at the entrance of the tent,
called Aaron and Miriam.
When both came forward, he said,
"Now listen to the words of the LORD:
Should there be a prophet among you,
in visions will I reveal myself to him,
in dreams will I speak to him;
not so with my servant Moses!
Throughout my house he bears my trust:
face to face I speak to him;
plainly and not in riddles.
The presence of the LORD he beholds.
Why, then, did you not fear to speak against my servant Moses?"
So angry was the LORD against them that when he departed,
and the cloud withdrew from the tent,
there was Miriam, a snow-white leper!
When Aaron turned and saw her a leper, he said to Moses,
"Ah, my lord! Please do not charge us with the sin
that we have foolishly committed!
Let her not thus be like the stillborn babe
that comes forth from its mother's womb
with its flesh half consumed."
Then Moses cried to the LORD, "Please, not this! Pray, heal her!"
The word of the Lord.
Responsorial Psalm
Ps 51:3-4, 5-6ab, 6cd-7, 12-13
R. (see 3a) Be merciful, O Lord, for we have sinned.
Have mercy on me, O God, in your goodness;
in the greatness of your compassion wipe out my offense.
Thoroughly wash me from my guilt
and of my sin cleanse me.
R. Be merciful, O Lord, for we have sinned.
For I acknowledge my offense;
and my sin is before me always:
"Against you only have I sinned;
and done what is evil in your sight."
R. Be merciful, O Lord, for we have sinned.
That you may be justified in your sentence,
vindicated when you condemn.
Indeed, in guilt was I born,
and in sin my mother conceived me.
R. Be merciful, O Lord, for we have sinned.
A clean heart create for me, O God,
and a steadfast spirit renew within me.
Cast me not off from your presence,
and your Holy Spirit take not from me.
R. Be merciful, O Lord, for we have sinned.
Gospel
Mt 14:22-36
Jesus made the disciples get into a boat and precede him to the other side of the sea, while he dismissed the crowds. After doing so, he went up on the mountain by himself to pray. When it was evening he was there alone. Meanwhile the boat, already a few miles offshore, was being tossed about by the waves, for the wind was against it. During the fourth watch of the night, he came toward them, walking on the sea. When the disciples saw him walking on the sea they were terrified. "It is a ghost," they said, and they cried out in fear.
At once Jesus spoke to them, "Take courage, it is I; do not be afraid." Peter said to him in reply, "Lord, if it is you, command me to come to you on the water." He said, "Come." Peter got out of the boat and began to walk on the water toward Jesus. But when he saw how strong the wind was he became frightened; and, beginning to sink, he cried out, "Lord, save me!" Immediately Jesus stretched out his hand and caught him, and said to him, "O you of little faith, why did you doubt?" After they got into the boat, the wind died down. Those who were in the boat did him homage, saying, "Truly, you are the Son of God."
After making the crossing, they came to land at Gennesaret. When the men of that place recognized him, they sent word to all the surrounding country.
People brought to him all those who were sick
and begged him that they might touch only the tassel on his cloak,
and as many as touched it were healed.
The Gospel of the Lord.
or
Mt 15:1-2, 10-14
Some Pharisees and scribes came to Jesus from Jerusalem and said,
"Why do your disciples break the tradition of the elders?
They do not wash their hands when they eat a meal."
He summoned the crowd and said to them, "Hear and understand.
It is not what enters one's mouth that defiles the man;
but what comes out of the mouth is what defiles one."
Then his disciples approached and said to him,
"Do you know that the Pharisees took offense
when they heard what you said?"
He said in reply, "Every plant that my heavenly Father has not planted will be uprooted.
Let them alone; they are blind guides of the blind.
If a blind man leads a blind man,
both will fall into a pit.
The Gospel of the Lord.
Reflection 1 – In Matthew 15:1-2, it says: "Then Pharisees and scribes came to Jesus from Jerusalem and said, "Why do your disciples break the tradition of the elders? They do not wash (their) hands when they eat a meal."
It is very interesting to note that the Pharisees and the early teachers of the Law had quite an amount of questions for our Lord. They were not authentic questions to seek Him, His truth and wisdom. They were questions fashioned to set a trap for Him, questions that only bore their righteousness and their seeming compliance to the law. Their questions which came in the form of "Why? Don't" were all a way of directing their criticisms on Jesus and His disciples. They were critical, never seeking, always condemning, never redeeming. They were all about rules.
In the light of our community affairs God has also set forth a set of rules so that we may conduct our affairs in an orderly manner, so that peace rather than confusion may reign. We should however be careful and very discerning in our ways so that we do not become so focused on the law rather than the spirit. We should always be guided that when rules and laws predominate, whoever gets to enforce the rules gets to determine who is good and who is not. That's not so nice, because those trying to impose rules never have to get around to worrying about being godly themselves and how compliant they may be.
This is a key warning for all of. We must avoid the "Why?" and "Don't!" in our motivations and not let our spirit be so pre-occupied with pointing out everyone else's faults that we never get around to our own. In the process, we may become like the Pharisees and early teachers of the Law. We may miss the truth and the wisdom of other people's actions and motivations while protecting ourselves, our traditions and the set of rules, which we cling to. We may be convinced to believe that it is only our way, as the only way to do things. We may judge and condemn unknowingly. The critics of Jesus, who were pretentious in word and deed were not able to put down Jesus but even brought themselves further down.
If we believe we are God's prophet and have been instructed to proclaim His message,, let us speak the truth (and not in riddles) yet in love and in Christ. "Now listen to the words of the LORD:" Should there be a prophet among you, in visions will I reveal myself to him, in dreams will I speak to him; not so with my servant Moses! Throughout my house he bears my trust: face to face I speak to him; plainly and not in riddles. The presence of the LORD he beholds.
Let us not speak as we if are faultless and avoid condemning, judging and putting others against the wall. Let us tame our tongues and the arrogance of our spirit. As word said in haste or an action done in anger, we will only regret. Today's gospel says: "Hear and understand. It is not what enters one's mouth that defiles the man; but what comes out of the mouth is what defiles one." It is sad but when we are guilty of such action, we actually have put ourselves down and we lose our anointing as God's undershepherds. Jesus continued to say: "Every plant that my heavenly Father has not planted will be uprooted. Let them alone; they are blind guides of the blind. If a blind man leads a blind man, both will fall into a pit."
Amidst differences in perspectives and motivations in our work for the Lord, we have always been guided and taught to focus in our Lord instead of letting the negative rule our hearts. We have always been exhorted to view situations, circumstances, even people, with the compassionate eyes of Jesus so that what we see is only the goodness in every man's hearts.
Today let us pray to our Father in heaven to remove from our hearts any cynicism, pettiness, and callousness against our co-workers in community. Let us ask Him to use us to be redemptive, not antagonistic nor critical. But most importantly let us seek His grace so that we do not become hard headed and hard hearted to believe that it is only our way that is right in our Lord's eyes .
Let us GO FORWARD and remain founded on love for God and for one another. Nothing should break our bonds as God's flock as we all stand our ground, and see the victory the LORD will win for all of us today!
Direction
Let us be guided: "For I acknowledge my offense; and my sin is before me always:"
Prayer
Be merciful, O Lord, for I have sinned. In Jesus's Mighty Name I pray Amen.
Reflection 2 – Peter's little faith
A young boy trying to learn to swim was always faced with doubt if he will ever be buoyant and float on water. Whenever fear grips his heart and doubt sets in, he often finds himself going under water. He feels hopeless and often times looks for someone who will save him from drowning.
When a man starts to doubt God in his life, he ceases to see Him. He fails to feel His presence and at the same time he becomes jaded that he misses God's Hands and the miracles God had done in His life.
Are there circumstances in our lives which have led us to doubt God? Maybe its is the deteriorating health of a loved one. Maybe it is the continued decline of one's retirement fund with the present collapse of the financial markets. How are we going to live the rest of our golden years with nothing set aside? What will happen to my children and children's children if I cannot even leave something for them when I pass on to the next life?
If these thoughts are in our hearts today, let us remember the very words of Jesus to Peter when he started to sink: "O you of little faith, why did you doubt?" Doubt should never be allowed to prevail in our relationship with God. When we doubt Him, we invite others things into our lives. We make fear an integral part of our relationship with God. We give the evil one ample space in our hearts that in time we find ourselves totally drawn away from God.
God is always with us and will never forsake us. Zephaniah 17 says: "Our Lord God is in your midst; you have no further misfortune to fear." Our Lord wants us to look at the world with fresh eyes. He wants our hearts to be open and receptive to His power. If we have faith, God is always at work deep within us and we would find life's challenges and its pains less daunting than we thought. We will see the outstretched hands of Jesus ready to embrace us and to walk with us. If we believe Jesus like the sick people who were brought to Him, we will be healed and made whole. If we have faith in Him, we will be amazed at how much God loves us that we experience big and small miracles!
Great things in life will be upon us if we believe and place our faith in God!
Direction
Do not worry; instead believe and take courage. Allow God some space in our hearts.
Prayer
Heavenly Father, I have my total trust and faith in You. Forgive me, heal me and make me whole. In Jesus, I pray. Amen.
Reflection 3 – Faith in the midst of troubles and trials
In the midst of our trials and tribulations, the Lord extends his hands to us and save us. He calms our frightened hearts through his quiet presence. In the gospel today (Mt 14:22-36), the story of Jesus' walking on the water is difficult to interpret. The disciples were terrified not by the wind and waves but by the sight of a ghost. Seasoned fishermen like Peter, Andrew, and James and John would have experienced rough seas on other occasions. Their fear is prompted by something else. They were frightened because of Jesus' absence. They saw something coming toward them, and without Jesus they did not know what to do about it.
If the boat represents the Church, later generations of Christians, having embarked upon this boat, may be frightened by the specter of persecution or the phantom of abandonment. If Jesus is gone (by the time the Gospel story is written Jesus died, rose and ascended), then Christians are left to ask, "Are we alone? Has Jesus left us subject to ridicule, rejection, and maltreatment?" The threat of imprisonment and execution were all too real!
While Jesus is walking on the water, Peter is so eager to be back in Jesus' company that he jumps out of the boat and tries walking on water. Then he cries, "Save me," and Jesus offers him his hand and he rebukes, "How little faith you have. Why did you falter?" This is directed at Peter not because he fails to walk on water but because he jumps ship, he abandons the boat, he is deserting the Church. Similarly in our own experiences, we all run into big storm in our lives. Sometimes the wind gets so strong and the waves so high that we feel like we're sinking. Just trying to go on seems as pointless as trying to walk on water. Sometimes what gets us through the storms is refusing to give up ourselves. As long as Peter kept his eyes on Jesus, he was alright; when he looked away and focused on the wind and the waves, he was lost. It's the same with us. If we see only the obstacles, we lose heart. If we focus on Jesus and his continuous presence for us, we have a chance, and we can go on. Jesus assures us, "I'll be with you always, until the end of the world" (Mt 28:20). How do we recognize Jesus' presence until the end of the world?
The gospel story today is preceded by the story of the multiplication of the loaves. Perhaps there is a deliberate linkage between Jesus' feeding the people and his coming to his disciples' rescue. The Eucharist is where we are fed. Those who understand the meal understand the Lord's assurance, "I will be with you!" Our fears are relieved when we come to recognize the Lord Jesus in the breaking of the bread.
As we come forward for communion today carrying all of our problems and concerns, remember that our risen Lord is at the end of that communion line waiting for you. Whatever you fear, Jesus is holding out his saving and helping hand so that you will not sink in life's stormy seas. Remember too that you carry Jesus' real presence within you. Recall Jesus' words: "Take courage, it is I; do not be afraid" (Mt 14:27).
Reflection 4 – O Man of Little Faith
Does the Lord seem distant when trials or adversity come your way? It was at Jesus' initiative that the disciples sailed across the lake, only to find themselves in a life-threatening storm. Although they were experienced fishermen, they feared for their lives. While Jesus was not with them in the boat, he nonetheless watched for them in prayer. When he perceived their trouble he came to them on the sea and startled them with his sudden appearance. Jesus came walking on the sea, and Peter walked on the water at the invitation of the Lord until his faith falters. Why did Peter falter in his faith in Jesus? How can we persevere in our faith in God?
Here's a story of a student named Tokusan who used to come to the teacher in the evening to talk and listen. One night it was very late before he was finished asking questions: "Why don't you go to bed now?" the teacher asked. Tokusan bowed and lifted the screen to go outside. "But it was very dark out there," said the student. And the teacher suggested, "Here take this candle." But when Tokusan reached for the candle, the teacher leaned forward and blew it out. Why? The teacher said, "With your eyes on Jesus on the cross, your heart ready to be broken, your mind eager for challenge and change, and your soul enriched by the nearness of God, are you willing to go out into the dark into the unknown holding the candle of Christ's love? Only then can you hope to build the kingdom on earth as in heaven in faith and love."
Faith is an entirely free gift that God makes to man. We can lose this priceless gift, as St. Paul said, "Wage the good warfare holding faith and a good conscience" (1 Tim 1:18-19). To live, grow and persevere in faith until the end, we must nourish it with the word of God; we must beg the Lord to increase our faith; it must be working through charity, abounding in hope and rooted in the faith of the Church.
In the gospel, every time Peter fell, he rose again. His failure only made him love the Lord more deeply and trust him more intently. Likewise, the Lord watches over us at all times, especially in our moment of temptation and difficulty. Do you rely on the Lord for his strength and help? Jesus assures us that we have no need of fear if we trust in Him and in his great love for us. When calamities or trials threaten to overwhelm you, how do you respond?
Reflection 5 – It is I – have no fear
Does the Lord Jesus seem distant when trials or adversity come your way? It was at Jesus' initiative that the disciples sailed across the lake, only to find themselves in a life-threatening storm. Although they were experienced fishermen, they feared for their lives. While Jesus was not with them in the boat, he, nonetheless watched for them in prayer. When he perceived their trouble he came to them on the sea and startled them with his sudden appearance. Do you look for the Lord's presence when you encounter difficulty or challenges?
Fight fear with faith
This dramatic incident on the sea of Galilee revealed Peter's character more fully than others. Here we see Peter's impulsiveness – his tendency to act without thinking of what he was doing. He often failed and came to grief as a result of his impulsiveness. In contrast, Jesus always bade his disciples to see how difficult it was to follow him before they set out on the way he taught them. A great deal of failure in the Christian life is due to acting on impulse and emotional fervor without counting the cost. Peter, fortunately in the moment of his failure clutched at Jesus and held him firmly. Every time Peter fell, he rose again. His failures only made him love the Lord more deeply and trust him more intently.
The Lord keeps watch over us at all times, and especially in our moments of temptation and difficulty. Do you rely on the Lord for his strength and help? Jesus assures us that we have no need of fear if we trust in Him and in his great love for us. When calamities or trials threaten to overwhelm you, how do you respond? With faith and hope in God's love, care and presence with you?
"Lord Jesus, help me to trust you always and to never doubt your presence and your power to help me. In my moments of doubt and weakness, may I cling to you as Peter did. Strengthen my faith that I may walk straight in the path you set before me, neither veering to the left nor to the right". – Read the source: http://dailyscripture.servantsoftheword.org/readings/2017/aug8.htm
Reflection 6 – Jesus comes to meet us
The sea symbolizes this life and the instability of the visible world; the storm points to every kind of trial or difficulty that oppreses human beings. The boat, instead, represents the Church, built by Christ and steered by the Apostles. Jesus wanted to teach the disciples to bear life's adversities courageously, trusting in God, in the One who revealed himself to the Prophet Elijah on Mount Horeb "in a still small voice" the whispering of a gentle breeze (1 Kg 19:12). The passage then continues with the action of the Apostle Peter, who, moved by an impulse of love for the Teacher, asks him to bid him to come to him, walking on the water. "But when he saw the wind was strong, Peter was afraid, and beginning to sink he cried out, 'Lord save me!' (Mt 14:30). Saint Augustine, imagining that he was addressing the Apostles, commented: the Lord "leaned down and took you by the hand"; and he did not say this to Peter alone but also to us. Peter walks on the water, not by his own effort but rather through divine grace in which he believes. And when he was smitten by doubt, when he no longer fixed his gaze on Jesus but was frightened by the gale, when he failed to put full trust in the Teacher's words, it means that he was interiorly distancing himself from the Teacher and so risked sinking in the sea of life. So it is also for us: if we look only at ourselves we become dependent on the winds and can no longer pass through storms on the waters of life. The great thinker Romano Guardini wrote that the Lord "is always close, being at the root of our being. Yet we must experience our relationship with God between the poles of distance and closeness. By closeness we are strengthened, by distance we are put to the test." Dear friend, the experience of the Prophet Elijah who heard God passing and the troubled faith of the Apostle Peter enable us to understand that even before we seek the Lord or invoke him, it is he himself who comes to meet us, who lowers heaven to stretch out his hand to us and raise us to his heights; all he expects of us is that we trust totally in him, that we really take hold of his hand. – Source: Pope Benedict XVI, Magnificat , Vol. 14, No. 6, August 2012, pp. 99-100.
Reflection 7 – How to walk on water or fly like a butterfly
The reading from Matthew 14:22-36 teaches us that to stay above water we have to keep our eyes on Jesus instead of the problems that are drowning us. Have you ever wondered why just believing in Jesus isn't enough?
The problem lies in not knowing who we really are. How can we follow Jesus by walking on storm-tossed waves if we don't realize that we are the Father's precious loved ones? We sink because we doubt that God will protect us. Doubt comes from being uncertain about his love for us or about his generosity or his dreams for us. We think that since we're not good enough to deserve his caring support, he withholds his compassion from us. Storms and waves seem to be evidence that he doesn't care about us or approve of us.
So, of course we sink in troubled waters!
What we don't realize is that as God's children, we have his love and concern whether we deserve it or not. And as followers of Jesus, we belong on the waves. As followers of Jesus, we have to get out of the boat and walk on water, following him wherever he goes, doing whatever he tells us. For Christians, life is quite an adventure.
Allow me to explain this with a little parable on dry land.
The Parable of the Lowly Brown Caterpillar
Once upon a time, in a great big forest, at the bottom of a very tall tree, there crawled along in the soft, dirty, dark earth a caterpillar that was brown and fat and squishy. His name was Bumpadoo.
The odd thing about Bumpadoo was that he didn't know he was a caterpillar. He thought he was a worm. That is why he crawled at the bottom of the very tall tree instead of climbing up into the tree and into the branches and out onto the stems into the bright sunlight to feast on the banquet of abundant green leaves.
Bumbadoo had not always lived in the dirt. A long time ago, he had followed his true nature into the tree and out onto the leaves, and as he dined there in the bright sunshine, he grew bigger and fatter and happier, as should happen from eating lots and lots of good green nourishment. But a wind came along, rustled through the tree branches and shook the leaves mightily. Bumpadoo thought he was going to fall. Bumpadoo thought he was going to die. And so he scurried off of the leaves and over the branches and down the bark of the tree to the safety of the quiet, still and dirty earth.
In the earth, he met other creatures who crawled where he liked to crawl. They identified themselves as worms, and since Bumpadoo liked the quietness and stillness of the dirty earth, he began to think that he, too, was a worm. Over time, he forgot how yummy the abundant green leaves had been. He forgot how beautiful the forest could look when viewed from very high up in the very tall tree. And he forgot that there was more to life than crawling around in the dirty earth like the worms.
One dreary rainy day, in the quiet muddy earth, Bumpadoo suddenly heard something bounce with a little plop. He poked his head out of the ground to see what had happened and came face to face with a big worm that looked just like him — brown and fat and squishy.
"Who are you?" asked Bumpadoo.
"Oh my! Where am I?" exclaimed the stranger. "I was munching on my dinner," she said, "hanging on as best I could to the slippery wet leaf, and a wind came along and it shook me and I fell, and here I am, but where am I?"
"You are with me!" said Bumpadoo. "But I do not know your name. Would you please tell me what it is? I am a worm called Bumpadoo."
"Oh my apologies, I briefly forgot my manners," said the stranger. "It's nice to meet you. My name is Faddawolladee. I'm a caterpillar, and I must climb back up into that tree to the place where I live." She looked up, up, up the side of her very tall tree.
Bumpadoo laughed. "A caterpillar, you say? But you look like me. You must be a worm, just like me."
Faddawolladee turned her gaze to Bumpadoo. She eyed him carefully. "Yes we do look very much alike. That means you are not a worm. That means you are a caterpillar."
Bumpadoo shook the head of his fat and squishy brown body and said, "You and I cannot possibly be caterpillars. Caterpillars are glorious creatures that live in the trees instead of the earth, and they build cocoons in the leaves and become gorgeous butterflies. You are just a worm like me. Come, follow me, and I will show you where to find some dirt that is really delightful to wiggle through."
Faddawolladee replied, "Oh no, my friend! I am indeed a caterpillar. In fact, I was about to start building my cocoon when along came this rain storm and its wind, and I failed to hang on tight enough, so I fell."
Her attitude astounded Bumpadoo. "How arrogant for you to claim to be a caterpillar!" he said. "You are telling me that you're better than I am, and yet we are alike."
Faddawolladee sighed. "You are not a worm, my friend. You are a caterpillar like me. You should be feasting on the banquet of abundant green leaves that are high up in the very tall tree. I'm going to start the long climb up there now. Why don't you join me?"
"How can you say I am not a worm?" insisted Bumpadoo. "Can't you see that I live and crawl and eat in the soft, dirty earth? And you certainly are no better than I. You have no right to claim that you are a caterpillar or by that claim to imply that someday you will become a gorgeous butterfly!"
Faddawolladee stared silently at Bumpadoo for a minute. Then she turned around and started to head for the tree. "It's a very long climb back up to the leaves," she said, "but it's a climb I must take. I can't force you to come with me. I can't make you believe that I am indeed a caterpillar and that you are too. I can tell you that up in the tree, a very long journey from here, there is an abundance of delicious green leaves in the bright sunshine, but I can't make you understand how delightful they are to feast upon. It's worth all the hardship of getting up there. I invite you to come along — but the choice is yours."
Bumpadoo looked high, high, high up into the roof of the forest. "Aren't you afraid of falling again when the wind returns?" he asked. "A worm who thinks he can live there and eat there and not fall off is living in an illusion."
Faddawolladee attached her front feet to the base of the tree. "The fall is not what we should fear," she said. "Staying in the dirt after the fall — now that is what should make us tremble with motivation to do what we have to do to become the butterflies we were created to be." And with one last look at Bumpadoo, she said, "You cannot see the real me, nor can you know the real you, unless you give this tree a good try." – Read the source: http://gnm.org/good-news-reflections/?useDrDate=2016-08-02
Reflection 8 – The unexpected Jesus
We often have the same problem the disciples did in the Gospel reading for today. Jesus approaches us in an unexpected way and we freak out. We misinterpret his presence — "It's a ghost!" It's a tragedy! It's just my imagination! It's illogical! It's impossible! God would never speak through that person! If it's not what I want to hear, it can't be right!
For example, in 1977, while I was very much a Protestant, God graced me with a belief in the miracle of transubstantiation — the transforming of the substance of bread and wine into the actual body and blood of Jesus through the consecration prayers of the Catholic priest at Mass. I thought: This is super-wonderful, but it does not mean he's saying I should become Catholic. As a well-trained "PROTESTant", I had many reasons why God would not do that.
I started going to Mass just to be near the Eucharist and to be around others who understood this miracle, and my spiritual life blossomed. Even so, the invitation to become a full-fledged Catholic was like Jesus approaching me on the water. It couldn't be real. I was so certain of this that I behaved like the other disciples — not Peter, but the others who hunkered down in the boat when they saw the "ghost".
Eventually, this hunkering position caused spiritual muscle cramps. My prayer life dried up and no matter how I tried to revive it, I just could not feel connected to God. I shared this problem with a friend; she suggested that the dryness was my refusal to listen to God inviting me to become Catholic. Her words rang true. God always speaks directly to our hearts first, before he speaks to us through the voices of others, so that when the advice given to us by people is truly divinely inspired, it sounds already familiar.
However, I was not yet ready to believe what she said. To test it, I decided to become like Peter when he said, "Lord, if it is you, command me to come to you on the water." Still unwilling to jump out of my Protestant boat, I prayed, "If what my friend said is really true, then prove it to me. Give me a sign." I even chose the sign he should give me, just like Peter did. Asking for a sign can be used by the Enemy to mislead us, but if we're careful and discerning, and if we use it for the right reasons, God honors the request.
God gave me the sign that I had asked for and nearly knocked me over with it. Surrendering my doubts, I stepped out of the security of the old boat, and I've been following Jesus on an endless adventure of water-walking ever since!
What about you? In what ways is Jesus doing the unexpected, the illogical, the discomforting? Dare to step out of your boat. Don't look at the waves or the impossibility of walking on water. Keep your eyes on Jesus. If you freak out and start to fail and flail, he'll grab you and rescue you, just as he did for Peter. – Read the source: http://gnm.org/good-news-reflections/?useDrDate=2017-08-08
Reflection 9 – St. Dominic (1170-1221 A.D.)
If he hadn't taken a trip with his bishop, Dominic would probably have remained within the structure of contemplative life; after the trip, he spent the rest of his life being a contemplative in active apostolic work.
Born in old Castile, Spain, he was trained for the priesthood by a priest-uncle, studied the arts and theology, and became a canon of the cathedral at Osma, where there was an attempt to revive the apostolic common life described in the Acts of the Apostles.
On a journey through France with his bishop, he came face to face with the then virulent Albigensian heresy at Languedoc. The Albigensians (Cathari, "the pure") held to two principles—one good, one evil—in the world. All matter is evil—hence they denied the Incarnation and sacraments. On the same principle, they abstained from procreation and took a minimum of food and drink. The inner circle led what some people regarded as a heroic life of purity and asceticism not shared by ordinary followers.
Dominic sensed the need for the Church to combat this heresy, and was commissioned to be part of the preaching crusade against it. He saw immediately why the preaching was not succeeding: the ordinary people admired and followed the ascetical heroes of the Albigenses. Understandably, they were not impressed by the Catholic preachers who traveled with horse and retinues, stayed at the best inns and had servants. Dominic therefore, with three Cistercians, began itinerant preaching according to the gospel ideal. He continued this work for 10 years, being successful with the ordinary people but not with the leaders.
His fellow preachers gradually became a community, and in 1215 he founded a religious house at Toulouse, the beginning of the Order of Preachers (Dominicans).
His ideal, and that of his Order, was to link organically a life with God, study and prayer in all forms, with a ministry of salvation to people by the word of God. His ideal: contemplata tradere: "to pass on the fruits of contemplation" or "to speak only of God or with God."
Story:
Legend has it that Dominic saw the sinful world threatened by God's anger but saved by the intercession of Mary, who pointed out to her Son two figures: One was Dominic himself, the other a stranger. In church the next day he saw a ragged beggar enter—the man in the vision. He went up to him, embraced him and said, "You are my companion and must walk with me. If we hold together, no earthly power can withstand us." The beggar was Francis of Assisi. The meeting of the two founders is commemorated twice a year, when on their respective feast days Dominicans and Franciscans celebrate Mass in each other's churches and afterward sit at the same table "to eat the bread which for seven centuries has never been wanting" (Butler'sLives of the Saints).
Comment:
The Dominican ideal, like that of all religious communities, is for the imitation, not merely the admiration, of the rest of the Church. The effective combining of contemplation and activity is the vocation of truck driver Smith as well as theologian Aquinas. Acquired contemplation is the tranquil abiding in the presence of God, and is an integral part of any full human life. It must be the wellspring of all Christian activity.
Patron Saint of: Astronomers, Dominican Republic
Read the source: http://www.americancatholic.org/features/saints/saint.aspx?id=1101
SAINT OF THE DAY
Catholic saints are holy people and human people who lived extraordinary lives. Each saint the Church honors responded to God's invitation to use his or her unique gifts. God calls each one of us to be a saint.
SAINT DOMINIC
FOUNDER
BORN
1170
Caleruega, Kingdom of Castile(present-day Castile-Leon,Spain)
DIED
August 6, 1221
Bologna (present-day Emilia-Romagna, Italy)
VENERATED IN
CANONIZED
1234
MAJOR SHRINE
San Domenico, Bologna
FEAST
ATTRIBUTES
Chaplet, dog, star, lilies,Dominican Habit, book and staff,tonsure[2]
PATRONAGE
Astronomers; astronomy;Dominican Republic; falsely accused people; Santo Domingo Pueblo, Valletta, Birgu(Malta), Managua
Saint Dominic (Spanish: Santo Domingo), also known as Dominic of Osma and Dominic of Caleruega, often calledDominic de Guzmánand Domingo Félix de Guzmán (1170 – August 6, 1221), was a Castilian priest and founder of theDominican Order. Dominic is the patron saint of astronomers.
Birth and parentage
[
edit
]
Dominic was born in Caleruega,[3] halfway between Osma and Aranda de Duero in Old Castile, Spain. He was named after Saint Dominic of Silos, who is said to be the patron saint of hopeful mothers. The Benedictine abbey of Santo Domingo de Silos lies a few miles north of Caleruega.
In the earliest narrative source, by Jordan of Saxony, Dominic's parents are named Felix Guzman and Juanna of Aza. The story is told that before his birth his barren mother made a pilgrimage to the Abbey at Silos,[4] and dreamed that a dog leapt from her womb carrying a torch in its mouth, and "seemed to set the earth on fire". This story drew resonance from the fact that his order became known, after his name, as the Dominican order, Dominicanus in Latin which a play on words interpreted as Domini canis: "Dog of the Lord." Jordan adds that Dominic was brought up by his parents and a maternal uncle who was an archbishop.[5] The failure to name his parents is not unusual, since Jordan wrote a history of the Order's early years, rather than a biography of Dominic. A later source, still of the 13th century, also gives their names as Juana and Felix.[6] Nearly a century after Dominic's birth, a local author asserted that Dominic's father was "vir venerabilis et dives in populo suo" ("an honoured and wealthy man in his village").[7] The travel narrative of Pero Tafur, written circa 1439 (about a pilgrimage to Dominic's tomb in Italy), states that Dominic's father belonged to the family de Guzmán, and that his mother belonged to the Aça or Aza family.[8] Dominic's mother, Jane of Aza, was beatified by Pope Leo XII in 1828.
Education and early career
[
edit
]
Dominic was educated in the schools of Palencia (they became a university soon afterwards) where he devoted six years to the arts and four to theology.[9] In 1191, when Spain was desolated by famine,[10]young Dominic gave away his money and sold his clothes, furniture and even precious manuscripts to feed the hungry. Dominic reportedly told his astonished fellow students, "Would you have me study off these dead skins, when men are dying of hunger?"[11] In 1194, around age twenty-five, Dominic joined the Canons Regular in the canonry of Osma, following the rule of Saint Benedict.[12]
In 1203 or 1204 he accompanied Diego de Acebo, the Bishop of Osma, on a diplomatic mission for Alfonso VIII, King of Castile, to secure a bride in Denmark for crown prince Ferdinand.[13] The envoys traveled to Denmark via Aragon and the south of France. The marriage negotiations ended successfully, but the princess died before leaving for Castile.[3]
In the south of France, Dominic and Diego de Acebo began a program to convert the Cathars, a Christian religious sect with gnostic and dualistic beliefs, which the Roman Catholic Church deemed heretical; as part of this, Catholic-Cathar public debates were held at Verfeil, Servian, Pamiers, Montréal and elsewhere. Dominic concluded that only preachers who displayed real sanctity, humility and asceticism could win over convinced Cathar believers; the institutional Church as a general rule did not possess these spiritual warrants.[14] However, even Dominic managed only a few converts among the Cathari.
Foundation of the Dominicans
[
edit
]
In 1215, Dominic established himself, with six followers, in a house given by Peter Seila, a rich resident of Toulouse.[15] Dominic saw the need for a new type of organization to address the spiritual needs of the growing cities of the era, one that would combine dedication and systematic education, with more organizational flexibility than either monastic orders or the secular clergy. He subjected himself and his companions to the monastic rules of prayer and penance; and meanwhile bishop Foulques gave them written authority to preach throughout the territory of Toulouse.[16]
In the same year, the year of the Fourth Lateran Council, Dominic and Foulques went to Rome to secure the approval of the Pope, Innocent III. Dominic returned to Rome a year later, and was finally granted written authority in December 1216 and January 1217 by the new pope, Honorius III for an order to be named "The Order of Preachers" ("Ordo Praedicatorum", or "O.P.," popularly known as the Dominican Order).
Later life
[
edit
]
Blessed Cecilia Caesarini, who was received by St. Dominic into his new order, in her old age described him as "…thin and of middle height. His face was handsome and somewhat fair. He had reddish hair and beard and beautiful eyes. …His hands were long and fine and his voice pleasingly resonant. He never got bald, though he wore the full tonsure, which was mingled with a few grey hairs."[17]
Although he traveled extensively to maintain contact with his growing brotherhood of friars,[18]Dominic made his headquarters at Rome.[19] In 1219, Pope Honorius III invited Saint Dominic and his companions to take up residence at the ancient Roman basilica of Santa Sabina, which they did by early 1220. Before that time the friars had only a temporary residence in Rome at the convent of San Sisto Vecchio, which Honorius III had given to Dominic circa 1218, intending it to become a convent for a reformation of nuns at Rome under Dominic's guidance. The official foundation of the Dominican convent at Santa Sabina with its studium conventuale, the first Dominican studium in Rome, occurred with the legal transfer of property from Pope Honorius III to the Order of Preachers on June 5, 1222, though the brethren had taken up residence there already in 1220.[20] The studium at Santa Sabina was the forerunner of the studium generale at Santa Maria sopra Minerva. The latter would be transformed in the 16th century into the College of Saint Thomas (Latin: Collegium Divi Thomæ), and then in the 20th century into the Pontifical University of Saint Thomas Aquinas, Angelicum sited at the convent of Saints Dominic and Sixtus.
It was in the winter of 1216–1217, at the house of Ugolino de' Contithat he first met William of Montferrat, Dominican friar, afterwards a close friend.[21]
According to Guiraud, Dominic abstained from meat,[22] "observed stated fasts and periods of silence",[23] "selected the worst accommodations and the meanest clothes", and "never allowed himself the luxury of a bed".[24][25] "When travelling, he beguiled the journey with spiritual instruction and prayers" (also Guiraud).[26]Guiraud also states that "as soon as Dominic passed the limits of towns and villages, he took off his shoes, and, however sharp the stones or thorns, he trudged on his way barefooted",[24] and that "rain and other discomforts elicited from his lips nothing but praises to God".[24]
Dominic arrived in Bologna on 21 December 1218.[27] A convent was established at the Mascarella church by the BlessedReginald of Orleans.[28] Soon afterwards they had to move to the church of San Nicolò of the Vineyards.[29] Dominic settled in this church and held here the first two General Chapters of the order.[30][31]
Dominic died at the age of fifty-one, according to Guiraud "exhausted with the austerities and labours of his career".[32] He had reached the convent of St Nicholas at Bologna, Italy, "weary and sick with a fever".[32] Guiraud states that Dominic "made the monks lay him on some sacking stretched upon the ground"[32] and that "the brief time that remained to him was spent in exhorting his followers to have charity, to guard their humility, and to make their treasure out of poverty".[33] He died at noon on 6 August 1221. His body was moved to a simple sarcophagus in 1233.[34][35] Under the authority of Pope Gregory IX, Dominic was canonized in 1234. In 1267 Dominic's remains were moved to the shrine, made by Nicola Pisano and his workshop.[35]
Inquisition
[
edit
]
What part Dominic personally had in the proceedings of the Medieval Inquisition has been disputed for centuries.[37][38] The historical sources from Dominic's own time period reveal nothing about his involvement in the Inquisition.[39] As one recent historian states, "Was Dominic the first of the inquisitors? The answer is categorically: By no means! Simple chronology suffices to resolve the problem: Dominic died in 1221, and the office of the Inquisition was not established until 1231 in Lombardy and 1234 in Languedoc." [40] In fact, several early Dominicans did become inquisitors.[41] But later on, the difference between Dominic and some of his early followers would be obscured. For example, in the 15th century, the Spanish Inquisition commissioned the artist Peter Beruguette to depict Dominic presiding at an auto da fé. Thus, the Spanish inquisitors promoted a historical legend for the sake of auto-justification.[42] Reacting against the Spanish tribunals, 16th- and 17th-century Protestant polemicists gladly developed and perpetuated the legend of Dominic the Inquisitor.[43] This image gave German Protestant critics of the Catholic Church an argument against the Dominican Order whose preaching had proven to be a formidable opponent in the lands of the Reformation.[44] As Edward Peters notes, "In Protestant historiography of the sixteenth century a kind of anti-cult of St. Dominic grew up." [43] Thus we see how Dominic the Inquisitor, the invention of Catholic and Protestant polemicists, became one of the most famous figures in the Black Legend.
The spread of the Rosary, a Marian devotion, is attributed to the preaching of St. Dominic.[45][46] The Rosary has for centuries been at the heart of the Dominican Order.Pope Pius XI stated, "The Rosary of Mary is the principle and foundation on which the very Order of Saint Dominic rests for making perfect the life of its members and obtaining the salvation of others." For centuries, Dominicans have been instrumental in spreading the rosary and emphasizing the Catholic belief in the power of the rosary.[47] The feast of St. Dominic is celebrated with great pomp and devotion in Malta, in the old city of Birgu and the capital city Valletta. The Dominican order has very strong links with Malta and as a matter of fact,Pope St. Pius V, a Dominican friar himself, aided the Knights of St. John to build the city of Valletta. [48]
See also
[
edit
]
References
[
edit
]
Bibliography
[
edit
]