Readings & Reflections: Monday of the Fifteenth Week in Ordinary Time & St. Francis Solano, July 17,2017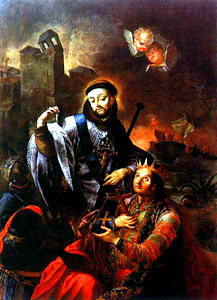 We want to be worthy of Jesus Christ. We want to find our life – our true life – by losing our life for his sake, even if it means having that life made bitter for us "with hard work in mortar and brick"… even if "one's enemies will be those of his household"… even if it means taking up our cross and following after Jesus.
AMDG+
Opening Prayer
Dear Jesus, Enable us to express charity towards our neighbor who is created in the image and likeness of our Heavenly Father. Set us ablaze with the fire of the Holy Spirit, that we may love You above all things and our neighbor as ourselves. In your Name, we pray. Amen.
Reading 1
Ex 1:8-14, 22
A new king, who knew nothing of Joseph, came to power in Egypt.
He said to his subjects, "Look how numerous and powerful
the people of the children of Israel are growing, more so than we ourselves!
Come, let us deal shrewdly with them to stop their increase;
otherwise, in time of war they too may join our enemies
to fight against us, and so leave our country."
Accordingly, taskmasters were set over the children of Israel
to oppress them with forced labor.
Thus they had to build for Pharaoh
the supply cities of Pithom and Raamses.
Yet the more they were oppressed,
the more they multiplied and spread.
The Egyptians, then, dreaded the children of Israel
and reduced them to cruel slavery,
making life bitter for them with hard work in mortar and brick
and all kinds of field work—the whole cruel fate of slaves.
Pharaoh then commanded all his subjects,
"Throw into the river every boy that is born to the Hebrews,
but you may let all the girls live."
The word of the Lord.
Responsorial Psalm
Ps 124:1b-3, 4-6, 7-8
R. (8a) Our help is in the name of the Lord.
Had not the LORD been with us–
let Israel say, had not the LORD been with us–
When men rose up against us,
then would they have swallowed us alive,
When their fury was inflamed against us.
R. Our help is in the name of the Lord.
Then would the waters have overwhelmed us;
The torrent would have swept over us;
over us then would have swept
the raging waters.
Blessed be the LORD, who did not leave us
a prey to their teeth.
R. Our help is in the name of the Lord.
We were rescued like a bird
from the fowlers' snare;
Broken was the snare,
and we were freed.
Our help is in the name of the LORD,
who made heaven and earth.
R. Our help is in the name of the Lord.
Gospel
Mt 10:34-11:1
Jesus said to his Apostles:
"Do not think that I have come to bring peace upon the earth.
I have come to bring not peace but the sword.
For I have come to set
a man against his father,
a daughter against her mother,
and a daughter-in-law against her mother-in-law;
and one's enemies will be those of his household.
"Whoever loves father or mother more than me is not worthy of me,
and whoever loves son or daughter more than me is not worthy of me; and whoever does not take up his cross
and follow after me is not worthy of me.
Whoever finds his life will lose it,
and whoever loses his life for my sake will find it.
"Whoever receives you receives me,
and whoever receives me receives the one who sent me.
Whoever receives a prophet because he is a prophet
will receive a prophet's reward,
and whoever receives a righteous man
because he is righteous will receive a righteous man's reward.
And whoever gives only a cup of cold water to one of these little ones to drink because he is a disciple–amen, I say to you, he will surely not lose his reward."

When Jesus finished giving these commands to his Twelve disciples,
he went away from that place to teach and to preach in their towns.
The Gospel of the Lord.
Reflection 1 – A cup of cold water
"And whoever gives only a cup of cold water to one of these little ones to drink because the little one is a disciple–amen, I say to you, he will surely not lose his reward."
Have you ever considered what a cup of cold water translates to in our lives as Christians and as members of God's family? Compassion.It is what flows from our hearts in response to a neighbor's need. It is what we do to make God's people experience His loving presence, His strength, comfort, support and most especially His love amidst their imperfections, their sinfulness and brokenness.
It is sad to note that we most often do not realize how great our power is to bring joy or sorrow, healing or injury to one another. We will probably never have a chance to come to the rescue of a dying man lying by the roadside. It would be rare that we will be called to die for a neighbor or even make a truly huge sacrifice for another. But all of us will encounter many people whose lives we can make a little richer, a little happier because we were there for them in their moments of sadness, when life seemed to be unbearable, when difficulties, sickness, afflictions and addictions abound in their lives, or when they have been judged and condemned by the world. We will never run short of situations to share a cup of water with another and bring Christ to those around us.
At almost every wink of our eyes, we will have an opportunity to be compassionate and be Christ to others. But most often we choose not to. We opt to rationalize our actions and even push down people rather than lift them up to God. When Jesus said that those who give a cup of cold water to one of these little ones to drink will surely not lose his reward, He meant that for us to experience happiness in our lives we simply have to be compassionate, for us to have everlasting joy, we need and must be compassionate to others.
Jesus is asking us to look at one another – without exception – through His eyes and to see in each brother or sister, a beloved child of God, a stumbling believer very much like ourselves. He wants to make us aware that we may have been a little too hard and judgmental about others. He wants us to take a deeper look at ourselves and see how close we have been to the Pharisee critics of Jesus and remember how foolhardy and off the mark their criticisms really were. Accepting our broken and judgmental attitude can only bring us back to our proper focus, which is to get everyone inside the circle of our love and compassion and not to set anyone aside.
Our sins against our neighbor are right in front of us. We ought to change and do good. Wash yourselves clean! Put away your misdeeds from before my eyes; cease doing evil; learn to do good. Make justice your aim: redress the wronged, hear the orphan's plea, defend the widow.Come now, let us set things right, says the LORD: Though your sins be like scarlet, they may become white as snow; Though they be crimson red, they may become white as wool. Isaiah 1: 16-18
Jesus is asking us to extend the same compassion to each of God's children whom God our Father has extended to us every day without fail. Jesus wants us to be aware that we simply must give more and more of our hearts of compassion to others, more and more of ourselves, and be forgiving as it is the only way we will ever grow into the image and likeness of God.
Being compassionate and merciful is a lifetime task from God. Where are we at this point?
Order
Wash yourselves clean! Put away your misdeeds from before my eyes;
cease doing evil; learn to do good. Make justice your aim: redress the wronged, hear the orphan's plea, defend the widow.
Direction
Be considerate, kind and loving to all.
" To the upright I will show the saving power of God."
Promise
"He that offers praise as a sacrifice glorifies me; and to him that goes the right way I will show the salvation of God. and to him that goes the right way I will show the salvation of God."
"And whoever gives only a cup of cold water to one of these little ones to drink because he is a disciple–amen, I say to you, he will surely not lose his reward."
"To the upright I will show the saving power of God."
Prayer
Heavenly Father, make me an instrument of your love and healing. In Jesus, I pray. Amen.
Reflection 2 – I have not come to bring peace, but a sword
Why does Jesus describe his mission and the coming of God's kingdom in terms of conflict, division, and war? Jesus told his disciples that he did not "come to bring peace, but a sword" (Matthew 10:34). The "sword" which Jesus speaks of here is not a physical weapon that cuts people down, but a spiritual weapon that cuts through the inner core of our being to expose the corruption of sinful thoughts and intentions as well as the lies and deception of Satan and his kingdom of darkness.
Sword of the Spirit
Scripture speaks of God's word as a sharp two-edged sword that "pierces to the division of soul and spirit… discerning the thoughts and intentions of the heart" (Hebrews 4:12, Revelations 19:15). Scripture also describes "God's word" as the "sword of the Spirit" which has power to destroy every spiritual stronghold that keep people in bondage to sin, deception, and Satan (Ephesians 6:17). Jesus came to rescue us and bring us freedom to live as citizens of God's kingdom of righteousness, peace, and joy in the Holy Spirit (Romans 14:17).
Spiritual warfare
Jesus' mission was an act of war against the spiritual forces who oppose the kingdom of God and his rule over the earth and the heavens. That is why Jesus identified Satan as the ruler of this world whom he will cast out (John 12:31). The battle Jesus had in mind was not an earthly conflict between individuals and nations, but a spiritual warfare between the forces of Satan and the armies of heaven. Jesus came to wage war against the spiritual powers of this present world that turn the minds and hearts of people away from God and his kingdom of peace and truth.
Kingdom of light versus kingdom of darkness
The Scriptures make clear that there are ultimately only two kingdoms or powers and that they stand in opposition to one another – God's kingdom of light and Satan's kingdom of darkness. John the Apostle contrasts these two opposing kingdoms in the starkest of terms: We know that we are of God, and the whole world is in the power of the evil one (1 John 5:19). The Scriptures describe the "world" as that society of people who are opposed to God and his kingdom of righteousness, truth, and goodness. Jesus came to overthrow Satan's power and to set us free from everything that would hold us back from knowing, loving, and serving God who has loved each one of us with boundless mercy, compassion, and goodness.
God must take first place
Jesus told his disciples that if they followed him it would be costly because they must put God's kingdom first and obey his word. Whenever a great call is given it inevitably causes division between those who accept and reject it. When Jesus remarked that division would cut very close to home his listeners likely recalled the prophecy of Micah: a man's enemies are the men of his own household (Micah 7:6). The love of God compels us to choose who will be first in our lives. To place any relationship or any other thing above God is a form of idolatry. Jesus challenges his disciples to examine who they love first and foremost. A true disciple loves God above all else and is willing to forsake all for Jesus Christ. Jesus insists that his disciples give him the loyalty which is only due to God, a loyalty which is higher than that owed to spouse or kin. It is possible that family and friends can become our enemies if the thought of them keeps us from doing what we know God wants us to do.
The just reward
True love for God compels us to express charity towards our neighbor who is created in the image and likeness of God. Jesus declared that any kindness shown and any help given to the people of Christ will not go unrewarded. Jesus never refused to give to anyone in need who asked for his help. As his disciples we are called to be kind and generous as he is. Jesus sets before his disciples the one goal in life that is worth any sacrifice and that goal is the will of God which leads to everlasting life, peace, and joy with God. Does the love of Jesus Christ compel you to put God first in all you do (2 Corinthians 5:14)?
"Lord, no eye has seen, no ear has heard, no heart has conceived the things you have prepared for those who love you. Set us ablaze with the fire of the Holy Spirit, that we may love you in and above all things and so receive the rewards you have promised us through Christ our Lord." (from A Christian's Prayer Book) – Read the source: http://dailyscripture.servantsoftheword.org/readings/2017/jul17.htm
Reflection 3 – The depth of our commitment
In today's readings, we hear the unpopular messages of Prophet Isaiah, "Your hands are full of blood!" (Is 1:17) and Jesus message, "I have come to bring not peace but the sword" (Mt 10:34). By these messages, Isaiah and Jesus demand that we consider the depth of our commitment, instead of simply going through the motions of ritual sacrifice. Jesus even suggests that we ought to welcome those who speak prophetic messages of criticism. It is through our acceptance of their admonitions and our willingness to change our lives that we show commitment to Christ and his way.
How do we respond to the prophets of our time? We must be willing to embrace them and their message of chastisement, even when it makes us unpopular with the family, friends or constituents. Real commitment to Christ is demonstrated by our grateful acceptance of those who seek to challenge us and to steer us onto the path of righteousness.
How do we react to the hostilities of our times? It causes us to strike back angrily at our critics; we need to learn from the example of Blessed Pope John Paul II as he forgave his attacker. Around Christmas of 1983 he wrote: "I visited my attacker in prison. We spoke at length. Ali Agca, as everyone knows, was a professional assasin. This means that the attack was not his own initiative, it was someone else's idea; someone else had commissioned him to carry it out. In the course of our conversation it became clear that Ali Agca was still wondering how the attempted assassination could possibly have failed. He had planned it meticulously, attending to every tiny detail. And yet his intended victim had escaped death. How could this have happened? The interesting thing was that his perplexity had led him to the religious question. He wanted to know about the secret of Fatima, and what the secret actually was. This was his principal concern; more than anything else, he wanted to know this. Perhaps those insistent questions showed that he had grasped something really important. Ali Agca had probably sensed that over and above his own power, over and the power of shooting and killing, there was a higher power. He then began to look for it. I hope and pray that he found it" (Magnificat, New York: Vol. 14, No. 5 July 2012, pp. 235-236). This miracle was attributed to Our Lady's protection.
Reflection 4 – Losing To Gain
He who sows sparingly will also reap sparingly, and he who sows bountifully will also reap bountifully. –2 Corinthians 9:6
On my father's farm were certain fields he sowed by hand. He would strap on a canvas contraption that looked somewhat like a kangaroo pouch, fill it with seed, and go out to sow. He would cast seed everywhere.
When a farmer sows seed in his field, it looks like he's throwing it away. It seems to be lost, but it isn't really gone. In due time he gets it back—with much more besides.
When we give ourselves to Christ, it may seem to people as if we're throwing our life away. But He said that it is only as we lose our lives in Him that we find true life (Matthew 10:39).
Jesus teaches us to measure our lives by losses rather than gains, by sacrifices rather than self-preservation, by time spent for others rather than time lavished upon ourselves, by love poured out rather than love poured in.
It's a rule of life: God blesses those who give of their lives and resources (2 Corinthians 9:6). Give out the truth you know, and He'll give you more to give away. Give your time, and you'll have more time to give. Set no limit on your love, and you'll have more love for others than before.
Israel's wise man said, "There is one who scatters, yet increases more" (Proverbs 11:24). It's one of the oldest paradoxes in the world, but it works. — David H. Roper
We lose what on ourselves we spend;
We have as treasure without end
Whatever, Lord, to You we lend,
Who givest all. —Wordsworth
When you grasp, you lose; when you give to God, you gain (Source: Our Daily Bread, RBC Ministries).
Reflection 5 – Discovering a life full of love
We can summarize the words of Jesus in today's Gospel reading this way: "When you give up everything, including your desire to get your needs met through other people instead of relying on Me, that's when you discover the good life, the truly good life. That's when you find real love."
He's saying to you: "What's killing your heart? Who's hurting you? Instead of clinging to your own efforts to find renewal and restoration, turn to Me. Instead of trying to bring your own healing or solutions into that situation, turn to Me."
He says, "What are you seeking from someone else? Find it first in Me, and then you will enjoy what others are able to give you, even if it's not enough. Seek everything you need from Me first, not others, and then you will feel satisfied regardless of whether or not they give you what's been missing."
And: "Why are you trying to avoid suffering? Even I suffered. Follow Me. Embrace your cross. Walk with Me, and I will help you carry it, and I will redeem it. Together we will reach a new life that's full of the love you need."
No one but Jesus can give us everything we need. In times of unhappiness, if we can't see Jesus, it's because we're looking at the wrong person. We're more interested in getting another person's love than we are in receiving Jesus' love. We're more interested in complaining about those who don't satisfy us than we are in rejoicing about what Jesus is doing for us. We're more interested in being affirmed by others than we are in God's affirmation.
Do you have low self-esteem? Then you have not yet discovered how good you truly are, because you're seeking the approval of others. Their disapproval (from the past and/or present) is so deafening that you cannot hear Jesus telling you how very pleased he is with you.
Go to him first for everything. He is standing before you, his arms open to receive you. He's eager to embrace you. He yearns to tell you that you're a precious masterpiece created lovingly by the Good Father! Anyone who has convinced you that you are tainted junk was not speaking the truth. Only Jesus knows just how good you really are. Only Jesus can show you the gem that you are — and you truly are a precious gem!
The more we want something from others and fail to get it sufficiently, the more we hurt. If we ask Jesus to restore peace in our lives by making others love us better, he says, "Do not suppose that my mission is to spread that kind of peace. I want to divide you from whoever is blocking your view of My love and deafening your ears to My words. That is when you will discover true peace." Read the source: http://gnm.org/good-news-reflections/?useDrDate=2016-07-11
Reflection 6 – Division for the love of Christ
God is a God of reconciliation. He provides it as a sacrament so that we can receive directly from Jesus the healing that reunites us to his Divinity and to his Body, which on earth is now the Church.
In Confession, we acknowledge that we have divided ourselves from God and from others. In Confession, the priest sits in for Christ and for the whole Church and accepts our repentance. Through this communal confession and absolution of our sins, we are then reconciled with everyone. We might still have to apologize to specific individuals, but in this sacrament, Christ wipes away the division that was caused by our sins.
Isn't it odd, then, that in our Gospel reading today Jesus says he came not to bring peace between people, but division — especially within families.
Think about it: If we have a parent who disagrees with our Christian decisions and behaviors, do we really honor them if we give up the virtue that divides us? When spouses interfere with our spiritual growth, do we really honor the love that unites us if we allow them to control our faith? When relatives want us to approve of abortions or homosexual activities or couples living together outside the holy graces of sacramental marriage, do we really honor the truths that we share in common with them if we look like we also agree with the falsehoods they believe?
In situations like these, maintaining unity in the family has a high cost: It reinforces immoral behavior and gives the impression that behaving unlike Christ is good and that disobeying God's commandments is not destructive.
Standing firm on what divides us shows that we care more about what Jesus taught than what the relatives say or think about us. The cost of this division is the cross, because those who should be loving us will surely reject us. They will nail us to the cross with our Lord. But remember what comes after Good Friday!
Maintaining unity can be spiritually deadly. Division can produce new life.
How willing are we to be persecuted by our families and by friends who are like family to us? It hurts more when we're nailed by the people who should love us more. Is it good to protect ourselves by compromising our values for the sake of an easier life? Or should we argue and insist that they believe what we tell them about the truth? Neither option is Christ-like.
Jesus spoke in parables for those who weren't ready for the whole truth. Our lives are his modern parables. We must live in such a way that it's clear where we stand on the issues that divide us. At the same time, we must also make known that we do not condemn anyone for disagreeing with us, for we cannot judge their hearts and we will always love them, oh so deeply. – Read the source: http://gnm.org/good-news-reflections/?useDrDate=2017-07-17
Reflection 7 – St. Francis Solano (1549-1610 A.D.)
Francis came from a leading family in Andalusia, Spain. Perhaps it was his popularity as a student that enabled Francis in his teens to stop two duelists. He entered the Friars Minor in 1570, and after ordination enthusiastically sacrificed himself for others. His care for the sick during an epidemic drew so much admiration that he became embarrassed and asked to be sent to the African missions. Instead he was sent to South America in 1589.
While working in what is now Argentina, Bolivia and Paraguay, Francis quickly learned the local languages and was well received by the indigenous peoples. His visits to the sick often included playing a song on his violin.
Around 1601 he was called to Lima, Peru, where he tried to recall the Spanish colonists to their baptismal integrity. Francis also worked to defend the indigenous peoples from oppression. He died in Lima and was canonized in 1726.
Comment:
Francis of Solano knew from experience that the lives of Christians sometimes greatly hinder the spread of the gospel of Jesus Christ. Francis lived an exemplary life himself, and urged his fellow Spaniards to make their lives worthy of their Baptism.
Quote:
"When Francis Solano was about to die, one of the friars asked him, 'Father, when God takes you to heaven remember me when you enter the everlasting kingdom.' With joy Francis answered, 'It is true, I am going to heaven but this is so because of the merits of the passion and death of Christ; I am the greatest of sinners. When I reach our homeland, I will be your good friend'" (contemporary biography of St. Francis Solano).
Read the source text:http://www.americancatholic.org/features/saints/saint.aspx?id=1447
SAINT OF THE DAY
Catholic saints are holy people and human people who lived extraordinary lives. Each saint the Church honors responded to God's invitation to use his or her unique gifts. God calls each one of us to be a saint. Click here to receive Saint of the Day in your email.
Francisco Solano y Jiménez, O.F.M., (also known as Francis Solanus) (10 March 1549 – 14 July 1610) was a Spanishfriar and missionaryin South America, belonging to the Order of Friars Minor (the Franciscans), and is honored as a saint in the Roman Catholic Church.
Early life
[
edit
]
He was born 10 March1549 in Montilla, the third child of Mateo Sánchez Solano and Ana Jiménez. He was educated by the Jesuits, but felt drawn to the poverty and penitential life of the Franciscan friars. At the age of twenty, he joined theOrder of Friars Minor at Montilla,[1] entering the novitiate at St. Lawrence Friary, which was located in a place of great natural beauty. The community there belonged to the Reformed observance within the Order, following a very strict routine of prayer, silence and fasting. Francis followed this regimen rigorously, always going barefoot, abstaining from meat, and wearing a hairshirt throughout that entire year. As a result, however, his health was permanently affected, leaving him sick and fatigued.
Solano was solemnly professed at the end of his novitiate year, on 25 April 1570. He was then sent to the friary of Our Lady of Loreto in Seville for his seminary studies. There he learned not only philosophy and theology but developed his musical talents. He was ordained in 1576, a ceremony his mother was unable to attend due to her poor health. He was then named Master of Ceremonies for the community. Still a lover of simplicity, Francis made a small cell for himself by the chapel of the friary, made of clay and reeds.
After completing his final theological studies, Solano was assigned as an itinerant preacher to the surrounding villages of the region. He was eventually given a license as a confessor. During this period, he requested that he might be allowed to go to North Africa, with the hope of achieving martyrdom for preaching the Catholic faith. He was denied this request. At that point, Solano shifted his vision to the American missions.
After the death of his father, Solano returned to his hometown of Montilla to care for his mother. During that time, he gained the reputation of a wonderworker, as a number of people were cured of their afflictions through his intervention.
He tended the sick and dying during a 1583 epidemic in Spain, never worrying about his own health.[2]
New World
[
edit
]
Spanish Emperor Philip II requested the Franciscans to send missionaries to preach the Gospel in the Americas. In 1589 Solanus sailed from Spain to the New World, and having landed at Panama, crossed the isthmus and embarked on a vessel that was to convey him to Peru.[1] During the journey, a storm at sea crashed his ship against the rocks not far from Peru. The crew and the passengers abandoned the ship, but Francis stayed with the slaves that were on board. After three days, they were rescued.[2]
For twenty years Solano worked at evangelizing the vast regions of Tucuman (present day northwestern Argentina) and Paraguay. He had a skill for languages and succeeded at learning many of the regions' native tongues in a fairly short period. It is claimed he could also address tribes of different tongues in one language yet be understood by them all.[1] Being a musician as well, Solano also played the violin frequently for the natives. He is often depicted playing this instrument.
After that came Solano's appointment as guardian of the Franciscan friary in Lima, Peru. Further, he filled the same office for the friaries of his Order in Tucuman and Paraguay.
Around 1601 he was called to Lima, Peru, where he tried to recall the Spanish colonists to their baptismal integrity.[3] It is said that Solanus predicted the devastating 1619 earthquake of Trujillo, Peru. He died at Lima.
Veneration
[
edit
]
Solanus was beatified by Pope Clement X in 1675, and canonized by Pope Benedict XIII in 1726.[3] His feast is kept throughout the Franciscan Order on July 24 (except currently the United States, where it is celebrated on July 14).
Francis Solanus is the patron saint of Montilla. The Parish Church of San Francisco Solano is built on the site of the former house where he was born.[4] He is also patron of Argentina, Bolivia, Chile, Paraguay and Peru.[2]
Mission San Francisco Solano, the northern-most mission along California's El Camino Real, was named in 1823 for Francisco Solano.[5]
In Humahuaca, every day at precisely 12 noon, on the city hall belltower, heavy copper doors slowly open and a life-sized animated wooden, dramatic-looking statue of San Francisco Solano appears for about two minutes and gives his benediction to the silent crowd amassed on the village plaza.[6]
See also
[
edit
]
References
[
edit
]
Daily readings with reflections, Pope's messages, Bishop's messages, Church's music & videos, Educational Speaker, Bible Stories, Christopher Notes, Church Militant Video, Religious Movies, Journey Home