Readings & Reflections with Cardinal Tagle's Video: The Solemnity of the Most Holy Body and Blood of Christ A & Venerable Matt Talbot, June 18,2017
St. John Paul II reminded us that in commemorating the Solemnity of the Most Holy Body and Blood of Christ, the Church "does not only celebrate the Eucharist but solemnly bears it in procession, publicly proclaiming that the sacrifice of Christ is for the salvation of the whole world." We rejoice in this post-Easter expression of our Eucharistic affection in order to deepen our attachment to the unique and unending Event that transforms our lives. As the Sequence for Corpus Christi begs: "Jesus, of your love befriend us, You refresh us, you defend u, Your eternal goodness send us In the land of life to see."
AMDG+
Opening Prayer
Dear Jesus, There were times when I placed my focus on my own actions as I considered your Words and I think that was the cause for my confusion. Lord, I realize that to properly receive You, your Body and Blood, I must be willing to trust You and to open my heart to receiving the gifts You so generously offer me. This is much easier said than done amidst some adversity and trial because trust calls me to surrender full control of my life to You. Lord, bless me with the grace to submit my will to yours and to have a constant desire to be with You until the day when I have to face the Father in his heavenly kingdom. In your Name, I pray. Amen.
Reading 1
Dt 8:2-3, 14b-16a – He gave you a food unknown to you and your fathers.
Moses said to the people:
"Remember how for forty years now the LORD, your God,
has directed all your journeying in the desert,
so as to test you by affliction
and find out whether or not it was your intention
to keep his commandments.
He therefore let you be afflicted with hunger,
and then fed you with manna,
a food unknown to you and your fathers,
in order to show you that not by bread alone does one live,
but by every word that comes forth from the mouth of the LORD.
"Do not forget the LORD, your God,
who brought you out of the land of Egypt,
that place of slavery;
who guided you through the vast and terrible desert
with its saraph serpents and scorpions,
its parched and waterless ground;
who brought forth water for you from the flinty rock
and fed you in the desert with manna,
a food unknown to your fathers."
The word of the Lord.
Responsorial Psalm
Ps 147:12-13, 14-15, 19-20
R. (12) Praise the Lord, Jerusalem.
or:
R. Alleluia.
Glorify the LORD, O Jerusalem;
praise your God, O Zion.
For he has strengthened the bars of your gates;
he has blessed your children within you.
R. Praise the Lord, Jerusalem.
or:
R. Alleluia.
He has granted peace in your borders;
with the best of wheat he fills you.
He sends forth his command to the earth;
swiftly runs his word!
R. Praise the Lord, Jerusalem.
or:
R. Alleluia.
He has proclaimed his word to Jacob,
his statutes and his ordinances to Israel.
He has not done thus for any other nation;
his ordinances he has not made known to them. Alleluia.
R. Praise the Lord, Jerusalem.
or:
R. Alleluia.
Reading II
1 Cor 10:16-17 – The bread is one, and we, though many, are sone body.
Brothers and sisters:
The cup of blessing that we bless,
is it not a participation in the blood of Christ?
The bread that we break,
is it not a participation in the body of Christ?
Because the loaf of bread is one,
we, though many, are one body,
for we all partake of the one loaf.
The word of the Lord.
Gospel
Jn 6:51-58 – My flesh is true food, and my blood is true drink.
Bishop Robert Barron's homily: Every word from the mouth of God click below:
Jesus said to the Jewish crowds:
"I am the living bread that came down from heaven;
whoever eats this bread will live forever;
and the bread that I will give
is my flesh for the life of the world."
The Jews quarreled among themselves, saying,
"How can this man give us his flesh to eat?"
Jesus said to them,
"Amen, amen, I say to you,
unless you eat the flesh of the Son of Man and drink his blood,
you do not have life within you.
Whoever eats my flesh and drinks my blood
has eternal life,
and I will raise him on the last day.
For my flesh is true food,
and my blood is true drink.
Whoever eats my flesh and drinks my blood
remains in me and I in him.
Just as the living Father sent me
and I have life because of the Father,
so also the one who feeds on me
will have life because of me.
This is the bread that came down from heaven.
Unlike your ancestors who ate and still died,
whoever eats this bread will live forever."
The Gospel of the Lord.
Reflection 1 – Word of the 'Living Father'
---
The Eucharist is given to us as a challenge and a promise. That's how Jesus presents it in today's Gospel.
He doesn't make it easy for those who hear Him. They are repulsed and offended at His words. Even when they begin to quarrel, He insists on describing the eating and drinking of His flesh and blood in starkly literal terms.
Four times in today's reading, Jesus uses a Greek word—trogein—that refers to a crude kind of eating, almost a gnawing or chewing (see John 6:54,56,57,58).
He is testing their faith in His Word, as today's First Reading describes God testing Israel in the desert.
The heavenly manna was not given to satisfy the Israelites' hunger, as Moses explains. It was given to show them that man does not live by bread alone, but by every word that comes from the mouth of God.
In today's Psalm, too, we see a connection between God's Word and the bread of life. We sing of God filling us with "finest wheat" and proclaiming his Word to the world.
In Jesus, "the living Father" has given us His Word come down from heaven, made flesh for the life of the world.
Yet as the Israelites grumbled in the desert, many in today's Gospel cannot accept that Word. Even many of Jesus' own followers abandon Him after this discourse (see John 6:66). But His words are Spirit and life, the words of eternal life (see John 6:63,67).
In the Eucharist we are made one flesh with Christ. We have His life in us and have our life because of Him. This is what Paul means in today's Epistle when He calls the Eucharist a "participation" in Christ's body and blood. We become in this sacrament partakers of the divine nature (see 1 Peter 2:4).
This is the mystery of the faith that Jesus asks us believe. And He gives us His promise: that sharing in His flesh and blood that was raised from the dead, we too will be raised up on the last day. – Read the source: https://stpaulcenter.com/reflections/word-of-the-living-father-scott-hahn-reflects-on-the-solemnity-of-the-body
Reflection 2 – Jesus Christ offers his life for us today in the Eucharist
Do you accept in faith the mystery that the Eucharist is a person, Jesus Christ, true God and true man, who by this Most Blessed Sacrament offers his life for us? Willi Hoffsuemmer explains this mystery: "A man came to a priest and wanted to make fun of his faith. So he asked, "How can bread and wine turn into the Body and Blood of Christ?" The priest answered, "No problem. You yourself can change food into your body and blood, so why can't Christ do the same?" But the objector did not give up. He asked, "But how can the entire Christ be in such a small host?" The priest replied, "In the same way that the vast landscape before you can fit into your little eye." But still he persisted, "How can the same Christ be present in all your churches at the same time?" The priest then, took a mirror and let the man look into it. Then let the mirror fall to the ground and break, and said to the skeptic, "There is only one of you and yet you can find your face reflected in each of that broken mirror at the same time."
Today is the Solemnity of Corpus Christi (Latin for Body of Christ). It is a belief in the body and blood of Jesus Christ and His real presence in the Eucharist. It emphasizes the joy of the institution of the Eucharist on Maundy Thursday for our salvation. We can receive many graces from the Eucharist. In the Gospel, Jesus said, "I am the living bread that came down from heaven… Those who eat my flesh and drink my blood have eternal life, and I will raise them to life on the last day. For my flesh is the real food; my blood is the real drink. Those who eat my flesh and drink my blood live in me, and I live in them" (Jn 6: 51-56). These words of Jesus happen in every Mass: "The Mass is at the same time, and inseparably, the sacrificial memorial in which the sacrifice of the cross is perpetuated and the sacred banquet of communion with the Lord's body and blood. But the celebration of the Eucharistic sacrifice is wholly directed toward the intimate union of the faithful with Christ through communion. To receive communion is to receive Christ himself who has offered himself for us" (CCC: 1382).
Here are the challenges of the three Popes. 1) Pope Francis said, "Jesus gives his Body and his Blood by means of the bread and the wine, to leave us the memorial of his sacrifice of infinite love. With this Viaticum full to overflowing with grace, the disciples have everything they need for their long journey through history, to extend the Kingdom of God to everyone…. The Body of Christ is the bond which unites you to him: eat it, or you will have no part in him. The Blood is the price he paid for your redemption: drink it, lest you despair of your sinfulness." 2) Saint John Paul II reminded us that in commemorating the solemnity of the Most Holy Body and Blood of Christ, the Church "does not only celebrate the Eucharist but solemnly bears it in procession, publicly proclaiming that the sacrifice of Christ is for the salvation of the whole world." We rejoice in this post-Easter expression of our Eucharistic affection in order to deepen our attachment to the unique and unending Event that transforms our lives. As the Sequence for Corpus Christi begs: "Jesus, of your love befriend us,/ You refresh us, you defend us,/ Your eternal goodness send us/ In the land of life to see." 3) Pope Benedict XVI in this book The Feast of Faith observes, "Yet do we not feel a slight uneasiness at times in the face of an entire congregation coming to communion?" While it is true that we are all encouraged to receive communion during the Mass, we also observe that only a few people go to Confession. Sadly, the Pope remarked: "Occasionally, one has the feeling that 'communion' is regarded as part of the ritual – that it goes on automatically and is simply an expression of the community's identity…By going to Communion without 'discernment' (1 Cor 11:29), we fail to reach the heights of what is taking place in Communion; we reduce the Lord's gift to the level of everyday ordinariness and manipulation." Before communion, let us join the prayer of the priest, "Lord Jesus Christ, with faith in your love and mercy, I eat your body and drink your blood. Let it not bring me condemnation, but health in mind and body." Amen! For more discussion, please watch the video of Dr. Scott Hahn about the early Church and the Eucharist click this link: http://www.pagadiandiocese.org/2014/05/19/dr-scott-hahn-talks-about-the-early-church-and-the-eucharist/
Reflection 3 – How ordinary bread and wine can be transformed in Christ himself
Today we celebrate a great mystery of the church, that of the Most Holy Body and Blood of Christ. The mystery is how ordinary bread and wine can be transformed into Christ himself. The further mystery is how eating of these consecrated elements bring us eternal life. God, the author, understands the mystery perfectly. However, it will fully be revealed to us only when we meet God face-to-face. Until then we celebrate the mystery as we accept it in faith.
In the Old Testament reading, God fed his people with Manna in the desert for 40 years (Dt 8:2-3, 14-16). This bread from heaven came daily so the Israelites would have to learn to trust God. Manna was physical food, but it pointed to the necessity of spiritual food. "Not by bread alone does man live, but by every word that comes from the mouth of the Lord" (Mt 4:4).
Jesus is the Word of God made flesh. He is the eternal Word made flesh at every Eucharist. Jesus is the food for our souls as he said to them, "Amen, amen, I say to you, unless you eat the flesh of the Son of Man and drink his blood, you do not have life within you. Whoever eats my flesh and drinks my blood has eternal life, and I will raise him on the last day. For, my flesh is true food, and my blood is true drink. Whoever eats my flesh and drink my blood remains in me and I in him" (Jn 6:53-56). Do you accept this invitation of Jesus? Those who had faith in Jesus stayed.
We, too, need to profess faith in the Eucharist. Before receiving Communion, the Eucharistic minister says: "Body of Christ" "Blood of Christ." Our "Amen" is our act of faith. It means, "I agree." Faith is accepting as true what we do not fully understand.
When we receive Christ, we are united with his body, the church. We heard in the second reading (1 Cor 10:16-17) that we share the one loaf, which is Christ. In real sense, in communion we are united with all persons who are in the body of Christ from all times – the church in heaven and the church on earth – all those who have gone before us, those sitting next to us and those on the other side of the world. Eucharist is meant to unite, not divide. It is in Christ that we are one with him and with each other.
The Eucharist calls us to love selflessly as Jesus did. He says, "Remain in my love. Abide in me" (Jn 15:9-10). If we abide in Christ, we will do his will. He says, "As I have loved you, so must you love one another" (Jn 15:17). Love is never self-absorbed. Love must be shared – love the unlovable, especially the ones nearest to you; serve the ones most in need who cannot repay our service; love by forgiving the ones who hurt us most.
As you approach the altar today, be mindful that, as each receives the Eucharist, the church is filling up more and more of Christ. Let us go forth as the Body of Christ to bring his presence to a starving world.
Reflection 4 – I am the living bread that came down from heaven
"I am the living bread that came down from heaven; whoever eats this bread will live forever; and the bread that I will give is my Flesh for the life of the world."
Today's readings all reflect the meaning of the Eucharist. The first reading, Dt 8:2-3, 14b-16a, talks about manna, an unexpected gift of God that gave life to the people of Israel during their stay in the desert. The second reading 1 Cor 10:16-17 speaks about the Eucharist, as bread of life, to be broken out and shared among all brothers and sisters of God's church as means and sign of unity. The gospel John 6:51-58 presents a gift that is immensely superior to manna, BREAD that gives ETERNAL LIFE and to eat such Bread means to be identified and be a disciple of Christ.
Jesus gave His life on the Cross as ransom for the sin of every man. He became a peace offering to the Father so that we may all be free. His Body was broken and His Blood poured out as a sacrifice for sin. He died for all of us and paid the penalty that all our sins demanded. Jesus is the Bread of Life – offered, broken and shared so that man may have eternal life.
When we partake of His Body and Blood in the sacrament of the Holy Eucharist we are not only cleansed of our past sins and preserved from future sins but we are spiritually nourished. Charity which is wiped away by our sins is increased and strengthened but most importantly we come into an intimate union with Jesus and the Father. We progress in our relationship with Him and we come into a close union with all the faithful in one body – the Church. We are able to offer our lives to God and give Him the chance to break us in order to be shared with all His people.
Jesus is the Bread of life – offered, broken and shared – so that we may all have eternal life. Our Heavenly Father wants us to follow the model of Jesus and be One with Him through His Body and Blood, so that we too may be able to give our lives to His service – offered, broken and shared by His flock… so that we may all be His instruments in bringing His people into His never ending kingdom of peace, joy and total fulfillment.
Direction
To be able to do our service for God and His people, we need partake of Jesus through faith and receive Him in the Holy Eucharist.
Prayer
Heavenly Father, thank you for your gift of Yourself in Jesus. In Him I live and pray for in Him I have life eternal. Amen.
Reflection 5 – Let's Go Organic!
Nowadays, people are health-conscious more than ever. This explains the wide popularity of organic foods and restaurants. In one such restaurant serving organic meals, a customer complained, "Waiter! How come there are leaves and twigs in my soup? Do you expect me to eat all these?" "My apologies, sir," said the waiter. "I'll call the branch manager." The branch manager came, and explained to the customer. "I'm sorry, sir. But that recipe is very special to the owner of this restaurant. He got it as inheritance from his family tree!"
If we are looking for a truly organic food and drink, it is the sacrament of the Eucharist. Jesus repeatedly stressed it several times in the Gospel this Sunday: "My flesh is true food; my blood is true drink." And if we are looking for vitality, health, power and life, listen again to what Jesus said: "He who eats my flesh and drinks my blood will have everlasting life, and I will raise him up on the last day."
On this Feast of the Body and Blood of Christ, once again we proclaim the truth of this most august sacrament. Jesus is really present in the Eucharist. It is his Body and Blood that we receive in Holy Communion. He comes to us; he enters our entire system. His Blood enters into our blood stream; his Body becomes incorporated into the cells of our body.
A rich tourist visiting the Philippines had a heart failure. He was admitted to the hospital for surgery. Since he had a rare type of blood, the doctors looked for a blood donor. They found a man from the Ilocos region who had a similar blood type. He willingly donated his blood for the millionaire. As a token of gratitude, the rich man sent the Ilocano a new BMW car, diamonds and cash. A couple of weeks later, however, he needed another surgery. The same man was summoned again to donate blood. But after the second surgery, he received only a thank you card and a box of cookies. He was totally disappointed. He asked the rich man: "What happened to you? I thought you would be generous as before". To this the millionaire replied: "Manong, didn't you realize? The Ilocano blood now runs in my veins." (Ilocanos are known for having a very frugal lifestyle).
Can we say the same thing as Christians? When we receive Holy Communion, it is now the bodily tissues and blood of Jesus Christ that runs in our system. As the Catechism of the Catholic Church says: "In the most blessed sacrament of the Eucharist, the body and blood, together with the soul and divinity, of our Lord Jesus Christ and, therefore, the whole Christ is truly, really, and substantially contained" (#1374).
The Jews complained about this: "How can this man give us his flesh to eat?" It is not, however, the question of how that really matters. Even if Jesus explains it to us, we will never fully understand it, anyway. Rather, it is a question of why. The answer is clear: love. Jesus himself becomes true food and drink because of his love for us, in spite of our sins, and he longs to stay with us in each moment and in every aspect of our life. Jesus in the Eucharist is, indeed, the "Emmanuel" -God with us, here and now on earth and until we reach heaven for eternity.
This Sunday, allow me to share with you two important lessons in relation to the sacrament of the Eucharist. First, this feast should be an opportunity for us to examine ourselves, particularly our behavior, actions and gestures in the Mass. There is the Latin dictum, "Lex orandi, lex credendi." (Literal translation: "The law of praying is the law of believing.") In other words, the way we pray is an expression of our faith. If we truly believe that Jesus is really present in the Eucharist, we will always come for Mass on time, dress properly and modestly, behave reverently in the Church all the time, and regularly go to confession in order to worthily receive Holy Communion. The reason behind the abuses in the celebration of Holy Mass, by priests and lay people alike, can be traced to a severe lack of faith in the real presence of Christ in the Eucharist.
Pope Benedict XVI is well aware of this problem. In the book "Light of the World", Peter Seewald asked the Pope why, at papal Masses, he requires people to kneel and receive Communion on the tongue. He answered: "I am not opposed in principle to Communion in the hand; I have both administered and received Communion in this way myself. The idea behind my current practice of having people kneel to receive Communion on the tongue was to send a signal and to underscore the Real Presence with an exclamation point… I have heard of people who, after receiving Communion, stick the Host in their wallet to take home as a kind of souvenir. In this context, where people think that everyone is just automatically supposed to receive Communion — 'everyone else is going up, so I will, too' — I wanted to send a clear signal. I wanted it to be clear: Something quite special is going on here! He is here, the One before whom we fall on our knees! Pay attention! This is not just some social ritual in which we can take part if we want to" (pp. 158-159).
Secondly, this feast should also lead us to appreciate the reason why Jesus chose to become our food and drink in the Eucharist. He fervently desires that we share in the life of God. In the Eucharist, not only are we nourished with the heavenly food; we are also elevated to a higher dignity as God's children. This is illustrated in the material world. The animal says to the plant: "If you want to share in a higher form of life, let me eat you. But you have to die." When this happens, the plant becomes incorporated into the animal kingdom. The same is true with the animal. Man says to the animal: "If you like to share in human life, let me eat you. But you have to die" Then the animal becomes part of the human kingdom. This is the natural order of things in this world.
But in the case of our relationship with God, the reverse is what happens. God does not say to us: "Let me eat you, and you will die." Rather it is the other way around. He tells us: "Eat me, and you will live! You will become part of me and you will have eternal life." When we eat the Body of Christ, He does not lose His being and identity as in the case of the plant and animal. Rather, we who eat His body are the ones being transformed and incorporated into His Body. So we share in the divine life, we receive eternal life and are elevated to the level of the divine. After years of receiving Holy Communion, can we say we have become more holy and divine? If not, there must be something wrong, not with the sacrament of the Eucharist, but in the disposition and manner that we receive this sacrament.
Let me close with these words from Pope Benedict XVI: "We bring Christ, present under the sign of bread, onto the streets of our city. We entrust these streets, these homes, our daily life, to his goodness. May our streets be streets of Jesus! May our houses be homes for him and with him! May our life of every day be penetrated by his presence" (Homily for Corpus Domini, 2005). Source: Fr. Mike Lagrimas, Our Lady of Guadalupe Parish, Palmera Springs 3, Susano Road, Camarin, Novaliches, Caloocan City 1422.
Reflection 6 – Real presence of Jesus
Jesus said, "My flesh is true food and my blood is true drink" (Jn 6:55). Communion in the body and blood of Christ received by the healthy and dying has particular importance. It is the seed of eternal life and the power of resurrection. "He who eats my flesh and drinks my blood has eternal life, and I will raise him up on the last day" (Jn 6:54). What is the meaning of this challenged of Jesus to our present world?
Here is a story of Cardinal Mikel Koliqi, Archbishop of Shkoder, Albania (Europe). He was 65 years a priest and died at the age of 94. Pope John Paul made him a cardinal in 1994, even though he was not a bishop, as a tribute to his endurance and fidelity in keeping Catholicism alive the first officially atheist country of the world.
He was arrested in 1945; he spent 5 years in prison, often in solitary confinement, and was then sentenced for 23 years to forced agricultural labor. He was later sentenced to another 15 years for anti-communist agitation. He was released after 9 years and returned to Shkoder where he continued to minister secretly to anyone who sought him out. Finally he was able openly to shepherd the flock when in 1990, the ban on religion was lifted. The Pope called him "solid as an oak," the "one who never let him be intimidated." He was a persistent Real Presence of Jesus. He was an example of a bread broken for the service of life.
In the Eucharist, Jesus gives us Himself under the appearance of bread and wine. This is the food and drink, the nourishment that feeds us on the journey of life.
In baptism, we are born of water and the Holy Spirit as children of God. God is our Father and we share in His divine life. To sustain this life within us, we need divine nourishment and God the Father gives us the most precious nourishment, the body and blood of His own Son. Jesus declared, "Just as the Father who has life sent me and I have life because of the Father, so the one who feeds on me will have life because of me." (Jn 6:57).
Jesus nourishes us with his body and blood in the Eucharist and we are called to nourish the world with our body and blood. Whoever takes the Real Presence into himself or herself at this Mass automatically takes on the challenge to become the Real Presence to others, and to commit themselves to the works of Christ. Let's do the works of Jesus. In doing so, we are a Eucharistic people building the body of Christ.
Reflection 7 – He who eats this bread will live forever
What is the bread of life which Jesus offers to all who believe in him? It is first of all the life of God himself – life which sustains us not only now in this age but also in the age to come. The Rabbis said that the generation in the wilderness have no part in the life to come. In the Book of Numbers it is recorded that the people who refused to brave the dangers of the promised land were condemned to wander in the wilderness until they died. The Rabbis believed that the father who missed the promised land also missed the life to come. God sustained the Israelites in the wilderness with manna from heaven. This bread foreshadowed the true heavenly bread which Jesus would offer his followers.
Jesus is the "bread of life"
Jesus makes a claim only God can make: He is the true bread of heaven that can satisfy the deepest hunger we experience. The manna from heaven prefigured the superabundance of the unique bread of the Eucharist or Lord's Supper which Jesus gave to his disciples on the eve of his sacrifice. The manna in the wilderness sustained the Israelites on their journey to the Promised Land. It could not produce eternal life for the Israelites. The bread which Jesus offers his disciples sustains us not only on our journey to the heavenly paradise, it gives us the abundant supernatural life of God which sustains us for all eternity.
The food that makes us live forever
Jesus chose the time of the Jewish Feast of Passover to fulfill what he had announced at Capernaum – giving his disciples his body and his blood as the true bread of heaven. Jesus' passing over to his Father by his death and resurrection – the new passover – is anticipated in the Last Supper and celebrated in the Eucharist or Lord's Supper, which fulfills the Jewish Passover and anticipates the final Passover of the church in the glory of God's kingdom. When the Lord Jesus commands his disciples to eat his flesh and drink his blood, he invites us to take his life into the very center of our being. That life which he offers is the very life of God himself.
Do you hunger for the "bread of life"?
Jesus offers us the abundant supernatural life of heaven itself – but we can miss it or even refuse it. To refuse Jesus is to refuse eternal life, unending life with the Heavenly Father. To accept Jesus as the bread of heaven is not only life and spiritual nourishment for this world but glory in the world to come.
When we receive from the Lord's table we unite ourselves to Jesus Christ, who makes us sharers in his body and blood and partakers of his divine life. Ignatius of Antioch (35-107 A.D.) calls it the "one bread that provides the medicine of immortality, the antidote for death, and the food that makes us live for ever in Jesus Christ" (Ad Eph. 20,2). This supernatural food is healing for both body and soul and strength for our journey heavenward.
When you approach the Table of the Lord, what do you expect to receive? Healing, pardon, comfort, and rest for your soul? The Lord has much more for us, more than we can ask or imagine. The principal fruit of receiving the Eucharist or Lord's Supper is an intimate union with Christ. As bodily nourishment restores lost strength, so the Eucharist strengthens us in charity and enables us to break with disordered attachments to creatures and to be more firmly rooted in the love of Christ. Do you hunger for the "bread of life"?
"Lord Jesus, you nourish and sustain us with your very own presence and life-giving word. You are the bread of life – the heavenly food that sustains us now and that produces everlasting life within us. May I always hunger for you and be satisfied in you alone." – Read the source: http://dailyscripture.servantsoftheword.org/readings/2017/jun18.htm
Reflection 8 – Jesus invites us to change our view
In inviting us to feed on his "flesh" and drink his "blood," Jesus invites us to change our view and attitude – to embrace the life of his Father: the life that finds joy in humble service to others, the life that is centered in unconditional, total, sacrificial love; the life that seeks fulfillment not in the conventional wisdom of this world, but in the holiness of the next.
In the "bread" he gives us to eat, we become the body of Christ with and for one another, in his "blood" of the new covenant, his life of compassion, justice and selflessness flows within us, and we become what we have received: the sacrament of unity, peace and reconciliation. What a beautiful thought, if we accept it.
For us, food and drink are essential. Not only do they have an enormous symbolic value in terms of our community or family life. Can you imagine a birthday, a wedding, or a fiesta celebration without any food? Nowadays, many important business deals and social agreements are struck over a dinner or luncheon.
"Eat better and live longer." Immortality, it was believed in many ancient legends and myths, could be found somewhere. In the ancient Roman mythology, it was believed that the gods were kept from dying because they were fed a marvelous food called ambrosia and were given to drink a magical potion named nectar. Truly, for them, they became what they ate, their food made them what they were – immortals.
Now, that is precisely the whole point of Jesus' words in today's Gospel reading. On the occasion when Jesus was teaching in the synagogue of Capernaum, he says something very strange indeed. He says in effect that all those myths and legends about food and drink capable of producing immortality were not just empty dreams, but that in fact there were indications, preparations, anticipations, pointing to what would one day be fulfilled with his coming. For indeed, Jesus has come to offer the marvelous food and the supremely potent liquid that will ensure your immortality – and that food and drink are nothing else than his flesh and blood. This is what Jesus is in effect telling us.
Of course, he is not speaking of mere physical immortality as the ancient pagans understood it: a prolongation natural life as we know it now. He is speaking of something much better. He is referring to a sharing in the very life of God, a life which begins now invisibly but very truly in our hearts – a life so powerful that eventually, after we will have experienced the physical death like a mere falling asleep, we will be brought back to life, but this time to a life of total joy and happiness, filled forever by the infinite love of God.
Jesus slept the sleep of death for only three days, and then rose again gloriously alive forever. When we partake of the Eucharist, it is not a dead Christ that we eat. It is his resurrected body, the glorious Christ we receive. How can we not be changed by it one day, since we become what we eat? With other food, for example, when we eat a piece of meat or cake, that meat or cake get assimilated and become part of us. Not so when we receive the Risen Lord in the Eucharist, we become part of his Risen Life.
For some of us this may sound too good to be true. And so, we might be tempted to react like some of Jesus' listeners in the synagogue of Capernaum- with skepticism. But we are in a better position than they were in judging the truth of Jesus' words. They only saw a man of flesh and blood before their eyes. But by the grace of God, we know better. We know that Jesus is risen from the dead, forever alive with the life of his Father. And that changes everything. When Jesus promises that whoever receives the Eucharist, he will raise up the person on the last day, we know that he can do it and that he will do it.
We do not need ambrosia and nectar. We have Jesus Christ, the bread from heaven. In him humankind's wildest dreams are far surpassed. Do you believe his words?
Reflection 9 – The bread of life
Today is the feast of Corpus Christi, the great feast of the Blessed Sacrament. It is a commemoration or a calling to mind of that great act of love when at the Last Supper Christ left us the very gift of himself.
The first reading (Dt 8:2-3,14-16) sets before us the manna in the Old Testament, which prefigured and foreshadowed the Eucharist, the true heavenly bread. The Jews were being led by Moses from the slavery of Egypt to the land of promise. Their journey from Egypt to Canaan led through the vast desert of Sinai, where they suffered many hardships. God provided for them daily by a kind of bread that fell from heaven. When they first saw it they cried out: "Manna." What is it?
This manna, this heavenly bread, was a symbol of the Eucharist that was to sustain us spiritually on our journey through the desert of this world toward our eternal promised land. To reach our inheritance we must journey through the desert of life, amidst the many difficulties and hindrances that the world and our own natures put before us. Our promised land is not some strip of earth on which we can enjoy a few years of comfort. It is an everlasting home of complete joy and love and knowledge in which we share in the very happiness of God.
And just as the Jews needed nourishment to sustain them in their journey through the wilderness of the desert, so also we need the nourishment of God to sustain us in our journey through the wilderness of this world. This nourishment Christ gave us at the Last Supper, when by his divine power bread and wine became his body and blood.
What was prefigured in the Old Testament was foretold at Capernaum when he said: "My flesh is food, indeed. My blood is drink, indeed. I am the bread of life" (Jn 6:51-58). That promise was fulfilled the night before he died. And ever since that eventful night men have believed in the Eucharist and have found in it the spiritual refreshment and nourishment their souls crave and need to survive, to build up what has been torn down. Just two decade after the Ascension we find St. Paul reminding the Corinthians not to eat the bread or drink the chalice of the Lord unworthily, for it made one guilty of the body and blood of Christ (1 Cor 10:16-17). By this statement St. Paul records the faith of the early Christians in the Real Presence of Christ in the Holy Eucharist.
The first people who ever rejected Christ now come forth from the crowd. They would accept him in all they could see with their eyes and understand with their puny minds. But the sublimity of these words, the mystery of their meaning, was too much for their petty vanity. And so upon hearing the Eucharist for the first time, we are told they began to murmur among themselves: "This is strange talk," they said, "Who can hear it?" And, as John reported, "They walked no more with him" (Jn 6:66).
When Christ saw them leave he didn't call them back to give further arguments, for we accept divine teaching not because we understand it, but because it comes from God. Our Lord in seeing them leave turned to his apostles and said: "Will you go, too?" It was then that Peter made that great profession of faith: "To whom shall we go, Lord?" Your words are the words of eternal life" (Jn 6:68)
Catholic stand as the apostles did, with the one who has the words of eternal life. They do not understand how Christ is present in the Blessed Sacrament; but they do not refuse to believe. Our faith is founded upon the authority of Jesus Christ. It is no harder to believe that he remains with us in some mysterious way under the appearance of food, than it is to believe that the divine Son of God dwelt amongst us in the form of the carpenter of Nazareth. While all the appearances of bread and wine remain after the consecration in the Mass, a real, invisible change has taken place, and Jesus Christ is substantially present under these humble forms of food. The word transubstantiation has been adopted by the Church as most properly expressing the change that takes place in the Mass.
Since its institution the Eucharist has ever been the life of the Christ. That Church does not point back two thousand years and say: "Let the memory of Christ be your example." It does not just offer a memory of Christ to build up the life that the world, the flesh and the devil are trying to tear down. Christ was not just a figure who died and rose and then disappeared. Christ is still living, still nourishing. And so the Church points to the tabernacle, to the host, to the Eucharist, and says: "Let Christ be your example." For, our Lord extended his life, influence, grace, body and blood to the ends of the earth till the end of time. Life demands more than a memory or a souvenir to sustain it. Life demands life.
When you receive the Holy Communion and are well disposed, you receive Christ. His life transforms your activities, so that you love what he loves, you will what he wills, his interests become your interests, his affections become your affections. Your life becomes his life, if you will but let it. Only then can you cry out with St. Paul: "I live, no not I, but Christ lives in me." The Eucharist is the means God has provided for the working out of salvation. It is the cure of our modern civilization with all its ills.
Let each of us today on the great feast of Corpus Christi repeat that great act of faith proclaimed by Peter as we approach Communion to nourish our souls on this great gift of divine love – "To whom else shall we go, Lord? They words are the words of eternal life" (Jn 6:68). (Source: Rev. William J. Martin, "Homilies on the Liturgies of Sundays and Feasts," Homiletic & Pastoral Review, Vol. CVIII, No. 7, New Jersey: Ignatius Press, April 2008, pp. 41-43; Suggested Reading: Catechism of the Catholic Church, 1373-1381, 1391-1405).
Reflection 10 – Jesus is present in the Eucharist
Jesus is present in the Eucharist—body, blood, soul and divinity—and receiving the Eucharist in a state of grace should transform our lives.
Exhortation: Strive to receive the Eucharist with great desire.
Jesus asks something absurd in today's Gospel. He asks us to eat his flesh, and drink his blood. To make it worse, he says: "Amen, amen, I say to you, unless you eat the flesh of the Son of Man, and drink his blood, you do not have life within you." So it is imperative to eat his flesh, and drink his blood! But how can this be? Jesus has ascended into heaven. He is not here. Of course, the answer is in the second reading when Saint Paul says: "The cup of blessing that we bless, is it not a participation in the blood of Christ? The bread that we break, is it not a participation in the body of Christ?" Jesus gave us his Body and Blood under the form of bread and wine. But make no mistake: the Eucharist we are going to receive in a few minutes is in fact the Body, Blood, Soul and Divinity of Jesus Christ. At the Last Supper, Jesus said the bread and wine would be transformed. And so it is. But today we live in a culture that says the material world is all there is, that spiritual things are just imaginary. Yet, we profess belief in "all things, seen and unseen." We know that spiritual things are real. But sometimes, we can doubt it: Is the bread and wine actually transformed into the Body, Blood, Soul and Divinity of Jesus Christ?
In times of doubt, it is good to recall what happened to Hermann Cohen. Born in 1821 in Germany, Hermann learned how to play piano at the age of 4, and soon became a piano virtuoso, and an intellectual genius. By the age of 14, he was touring the great concert halls of Europe, and was adored by the public. Hermann was not religious, and soon fell into a very self-indulgent and sinful lifestyle. Addicted to gambling, and other vices, he was described as vain, and his behavior as depraved. But at the age of 26, he was asked by a friend to conduct a Church choir for a Eucharistic celebration. Having debts to pay, he accepted. During the service, Cohen felt strangely moved as the people prayed. Near the end, his gaze fell on the altar where there was a monstrance holding the Blessed Sacrament. When the celebrant raised the monstrance to bless the people, all fell reverently to their knees. Hermann felt compelled to bow down. He felt intense pain that this was not for him and, at the same time, a joyous hope. On leaving the church, he was euphoric. He thought the feelings would pass, but instead his sinful passions began to decrease. The following Friday he felt compelled to go to the church. During the blessing he burst into tears. On gazing at the Host, he experienced the presence of the Loving God. In the following days, feeling drawn by a strange, sweet power, he went back to the church. Finally, he dropped to his knees without knowing whom he was kneeling before, and prayed, "Who are you, Lord? What am I to do?" Soon he was attending Mass frequently, and he wept as others received communion. A few months later, he was touring in Germany and went to a small Catholic Church to attend Mass. This is how he describes what happened:
The singing and the palpable presence of supernatural power caused me to break out into fits of trembling. I felt both disturbed and moved. During the moment of transubstantiation, I was suddenly conscious of tears flowing from my eyes. God's grace in all its strength poured over me … As I dissolved into tears, I was seized by a sharp sense of remorse for my past life. And suddenly, under divine inspiration, I made a general confession before God of all the sins I had committed in my life. I saw my faults before me, multiplied by a thousand, hideous and repulsive, inviting God's wrath … And once again I felt a strange sense of peace, which poured over my soul like an oil of gladness—gladness that the merciful God would forgive me everything and, overlooking my crimes, have pity on me because of my remorse and bitter pain … Yes, I felt that he would forgive me, and in a spirit of thanksgiving, I resolved that I would love him above all things, and convert. On leaving the church in Ems, I was as Christian as it was possible for an unbaptized person to be.
Hermann Cohen sought and received baptism and the Eucharist. The former carousing playboy, and celebrated artist, became a joyful adherent of Christ. He eventually entered the seminary and became Father Hermann Cohen. Armed with the Eucharist, and in union with Mary, he formed a society dedicated to the nocturnal adoration of the Blessed Sacrament so that Jesus may be adored 24/7.
We all should love Jesus in the Eucharist, and receive him with great desire. But sometimes we don't perceive him there. Our vision is clouded and our senses dulled by sin. That is why we must confess our sins and receive God's absolution. Confession prepares us to receive the Eucharist in a state of grace, and when that happens, we will experience God's love at each communion. Then, we will agree with Father Hermann Cohen, who one said, "I should like the Eucharist to become a burning flame for your soul, so that, immersed in that flame, it might emerge burning with love and great-heartedness. I should like to see this eucharistic altar, on which Jesus is sacrificed, accept your offering too, so that you may become a victim of love, whose perfume rises to the throne of the Eternal God!" – Read the source: http://www.hprweb.com/2017/05/homilies-for-june-2017/
Additional Reading:
Honey from the Rock. Sixteen Jews find the Sweetness of Christ. Compiled by Roy Schoeman. 2007. Ignatius Press, San Francisco, CA.
Reflection 11 – My Flesh Is True Food, and My Blood Is True Drink
During the exodus of the people of Israel in the desert, God fed the people "with the finest wheat and satisfied them with honey from the rock". The first reading today recalls how God fed his people with manna. This bread from heaven gave the people life for a time, but did not grant them eternal life. It was only a shadow of something greater that the New Moses, Jesus Christ, would give his Church.
The first reading also states that "man does not live on bread alone, but on every word that comes forth from the mouth of the Lord". This also is brought to a whole new level of understanding in Christ: Jesus is the Word that comes forth from the mouth of the Father, he is the Word who gives us life. A third point from the first reading is that the flinty rock in the desert also foreshadows the true Rock, Jesus Christ, who gives us the water of life.
And so, when we read the first reading, the old manna points to the New Manna of the Eucharist; the word of the old law awaits fulfillment by the incarnate Word of God that gives life; the miracle of the water from the rock looks forward to the Rock of life-giving water.
The bread and the wine that men offered in sacrifice to God gained new meaning in the Exodus: "the unleavened bread that Israel eats every year at Passover commemorates the haste of the departure that liberated them from Egypt; the remembrance of the manna in the desert will always recall to Israel that it lives by the bread of the Word of God; their daily bread is the fruit of the promised land, the pledge of God's faithfulness to his promises" (CCC, 1334).
In the Gospel, Jesus proclaims that the bread that he will give bestows eternal life. The ancestors of Israel ate the manna in the desert, but still died. Jesus can give the gift of eternal life because he has received life from the Father. During the Last Supper, Jesus fulfills the Jewish Passover, anticipates the new Passover, his death and Resurrection, which is celebrated in the Eucharist, and also "anticipates the final Passover of the Church in the glory of the kingdom" (CCC, 1340). Through the Eucharist, we participate in Christ's sacrifice. It is a sacrificial death that gives life.
In the Eucharist, we thank and praise the Father: we thank the Father for all that he has accomplished through our creation, redemption and sanctification; we sing the glory of God through Christ. In the Eucharist, Christ's Passover is commemorated and made present by the power of his word and his Spirit (CCC, 1358-1381).
In the second reading, Paul mentions the cup of blessing, the third cup of he paschal meal. The first cup was the cup of sanctification; it opened the Passover meal. The second cup was the cup of proclamation; it proclaimed what God had done and looked back to the exodus from Egypt. The third cup was the cup of blessing; it completed the Passover meal and looked forward to the Messiah and the rebuilding of Jerusalem. When Jesus instituted the Eucharist, he gave a new and definitive meaning to the blessing of the bread and the cup (CCC, 1334).
The fourth cup was drunk after singing the Hallel Psalms and was called the cup of praise. This final cup was drunk by Christ on the Cross. "By waiting to drink the fourth cup of the Passover until the very moment of his death, Jesus united the Last Supper to his death on the cross. By refusing to drink of the fruit of the vine until he gave up his final breath, he joined the offering of himself under the form of bread and wine to the offering of himself on Calvary" (B. Pitre, Jesus and the Jewish Roots of the Eucharist, Doubleday, 169).
The Eucharist, Paul teaches, is our sharing in the Body and Blood of Christ. It unites us more closely to Christ and, through Christ, we are united into one Body, the Church. – Read the source text: http://www.zenit.org/en/articles/sunday-homily-my-flesh-is-true-food-and-my-blood-is-true-drink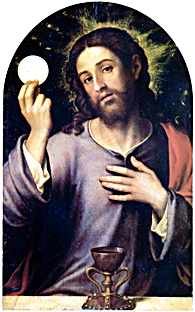 Reflection 12 – The Only Food That Satisfies Is the Lord's
Don't be fooled into thinking "False, Material" food can nourish, Pope says.
Pope Francis is affirming that to truly be satisfied, only one type of food is required: that of the Lord.
In his Corpus Christi homily Thursday evening in the courtyard of St. John Lateran, Pope Francis spoke about what the faithful must "eat" and must avoid in order to be spiritually nourished.
In the Eucharist, the Pope said, the Lord communicates "a love so great that He feeds us with Himself," with a "selfless love, always available to every hungry person in need," which gives renewed strength. "To live and experience the faith," means allowing the Lord to "feed you," Francis reflected.
He cautioned against trying to nourish oneself with material things, which only give a facade of satisfying, but do not. The Pope warned against numerous "food offerings that are not from the Lord," such as "money", "success", "pride" and '"vanity."
These material goods give the false appearance of satisfaction, but only "corrupt," he noted.
Rather, for our spirit and growth, the faithful need to receive "the reality that does not perish: the gifts of God, his Word and his Body," he said.
Upon completion of the Mass, thousands of faithful participated in the traditional Eucharistic Procession. They walked along Via Merulana to the Marian basilica of Santa Maria Maggiore. The Pope, as was announced earlier Thursday, decided not to walk this year, but instead traveled by covered car to the Piazza of Santa Maria Maggiore, where he closed the procession by giving Benediction.
Some faithful spoke to ZENIT about Francis' decision not to walk the Eucharistic Procession. Some Italian faithful said that although they enjoyed when Francis walked in the procession last year, they respected his decision not to do so, adding it is important "he knows his limits."
A priest from Mexico, who has been living in Rome for more than 20 years, told ZENIT that it was "a true act of humility." He added that Francis, "is just like any other faithful, as he is following the Lord the best he can. If he is not in the position to follow him on foot, he will do so by car." He reflected on the strong example Pope Francis sets for priests. – Read the source text: http://www.zenit.org/en/articles/pope-at-corpus-christi-the-only-food-that-satisfies-is-the-lord-s
Reflection 13 – How Jesus in the Eucharist helps us in difficulties
This Sunday we celebrate the Sacrament of the Eucharist and the reason why we believe it is truly and physically the presence of Jesus.
In the first reading, we're reminded that God our Father always provides the food and drink that we need for survival in the desert days of life's hardships. What he did for the Israelites, he does for us today in whatever ways we experience hot trials and dry faith. He provides what we need by giving us the True Presence of Christ, who comes to us in the bread of Mass (the Eucharist), and in the presence of his Holy Spirit dwelling within us (Baptism and Confirmation), and in the priest whose ordination makes Jesus present to us in Confession.
The Gospel passage tells us that the Eucharistic food and drink are truly Jesus himself, not a mere symbol of his love. Oh-my oh-my, how we need this food and drink to survive the serpents and scorpions and the parched and waterless ground of our desert experiences! Jesus literally fills us and quenches our thirsts. As we consume him, he consumes us. As we draw him into us, he draws us into himself. In this unity, we walk through our trials with all that we need for success.
The second reading tells us that the Eucharist increases our unity with Christ's body on earth, the church community through which he provides the various resources that we need. In this unity — when it's activated as it should be — no one lacks anything good because all necessary goods are shared. And ultimately in this unity, as Jesus said in the Gospel, we're assured of eternal life in heaven, where all needs are met perfectly and completely.
Questions for Personal Reflection:
What are the "serpents and scorpions" in your life right now? In what ways do you feel parched, thirsty to the point of desperation? During Mass, imagine that you're walking through a desert to receive from Jesus what you need. How does it feel to approach Jesus this way?
Questions for Community Faith Sharing:
How has the Eucharist helped you through a difficult time? Why did it make a difference? I kiss the Host before placing it in my mouth; what do you do that helps you become more aware of the presence of Christ in the Eucharist for all your needs? – Read the source: http://gnm.org/good-news-reflections/?useDrDate=2017-06-17
Reflection 14 – The precise significance of Corpus Christi
"What is the precise significance of today's solemnity, of the Body and Blood of Christ? The answer is given to us in the fundamental actions of this celebration we are carrying out: first of all we gather around the altar of the Lord, to be together in his presence; secondly, there will be the procession, that is walking with the Lord; and lastly, kneeling before the Lord, adoration, which already begins in the Mass and accompanies the entire procession but culminates in the final moment of the Eucharistic Blessing when we all prostrate ourselves before the One who stooped down to us and gave his life for us….
"Corpus Christi reminds us first of all of this: that being Christian means coming together from all parts of the world to be in the Presence of the one Lord and to become one with him and in him….
"With the gift of himself in the Eucharist the Lord Jesus sets us free from our "paralysis," he helps us up and enables us to proceed, that is, he makes us take a step ahead and then another step, and thus sets us going with the power of the Bread of Life….
"The Corpus Christi procession teaches us that the Eucharist seeks to free us from every kind of despondency and discouragement, wants to raise us, so that we can get out on the journey with the strength God gives us through Jesus Christ….
"Each one can find his own way if he encounters the one who is the Word and the Bread of Life, and lets himself be guided by his friendly presence. Without the God-with-us, the God who is close, how can we stand up to the pilgrimage through life, either on our own or as society and the family of peoples? The Eucharist is the Sacrament of the God who does not leave us alone on the journey but stays at our side and shows us the way….
God created us free but he did not leave us alone: he made himself the "way" and came to walk together with us so that in our freedom we should also have the criterion we need to discern the right way and to take it….
"Adoring the God of Jesus Christ, who out of love made himself bread broken, is th most effective and radical remedy against the idolatry of the past and of the present. Kneeling before the Eucharist is a profession of freedom: those who bow to Jesus cannot and must not prostrate themselves before any earthly authority, however powerful….
"W prostrate ourselves before a God who first bent over man like the Good Samaritan to assist him and restore his life, and who knelt before us to wash our dirty feet. Adoring the Body of Christ means believing that there, in that piece of Bread, Christ is really there, and gives true sense to life, to the immense universe as the smallest creature, to the whole of human history as to the most brief existence. Adoration is prayer that prolongs the celebration and Eucharistic Communion and in which the soul continues to be nourished with hope, because the One before whom we prostrate ourselves does not judge us, does not crush us, but liberates and transforms us.
"This is why gathering, walking, and adoring together fills us with joy." (Source: Pope Benedict XVI, Magnificat, Vol. 19, No. 4, June 2017, pp. 293-294).
Reflection 15 – Graces of Corpus Christi
"Do this in remembrance of me. Two things should be noted here. The first is the command that we should use this sacrament, which is indicated when he says: Do this. The second is that this sacrament commemorates the Lord's going to death for our sake.
"Do this. Certainly he would demand nothing more profitable, nothing more pleasant, nothing more beneficial, nothing more desirable, nothing more similar to eternal life….
"This sacrament is profitable because it grants remission of sins; it is most useful because it bestows the fullness of grace on us in this life. The Father of spirits instructs us in what is useful for our sanctification. And his sanctification is in Christ's sacrifice, that is, when he offers himself in this sacrament to the Father for our redemption, to us for our use. I consecrate myself for their sake. Christ, who through the Holy Spirit offered himself up without blemish to God, will cleanse our consciences from dead works to worship the living God.
"Nor can we do anything more pleasant. For what is better than God manifesting his whole sweetness to us. You gave them bread from heaven, not the fruit of human labor, but a bread endowed with all delight and pleasant to every sense of taste. For this substance of yours revealed your kindness toward your children, and serving the desire of each recipient, it changed to suit each one's taste.
"He could not have commanded anything more beneficial, for this sacrament is the fruit of the tree of life. Anyone who receives this sacrament with the devotion of sincere faith will never taste death. It is a tree of life for those who grasp it, and blessed is he who holds it fast. The man who feeds on me shall live on account of me.
"Nor could he have commanded anything more lovable, for this sacrament produces love and union. It is characteristic of the greatest love to give itself as food. Had not the men of my tent exclaimed: Who will feed us with his flesh to satisfy our hunger? As if to say: I have loved them and they have loved me so much that I desire to be within them, and they wish to receive me so that they may become my members. There is no more intimate or more natural means for them to be united to me, and I to them.
"Nor could he have commanded anything which is more like eternal life. Eternal flows from this sacrament because God with all sweetness pours himself out upon the blessed" (Source: St. Albert the Great, +1280 A.D., Magnificat, Vol. 17, No. 4, June 2015, pp. 107-108).
Reflection 16 – St. Anthony and the mule who knelt down before the Eucharist
A man doubted the Real Presence of Jesus in the Eucharist, until he saw this.
St. Anthony of Padua lived during the 13th century and possessed a great zeal for the Real Presence of Jesus in the Holy Eucharist. One day Saint Anthony heard of a man in Rimini named named Bononillo who did not share the same belief. In fact, Bononillo openly mocked people who believed that Jesus was truly present under the appearances of bread and wine.
St. Anthony tried his hardest to convince Bononillo with the proofs of scripture and argument, but discovered that the man was as stubborn as a mule.
Then St. Anthony received an inspiration. He challenged the wealthy merchant, "If the mule you ride adored the Body of Christ in the Eucharist, would you believe in the truth of the Blessed Sacrament?" Bononillo agreed, but decided to raise the stakes. Bononillo would starve his mule for three days and then bring it to the town square. Saint Anthony would bring the Blessed Sacrament to that same square. The mule then would be put in front of a pile of hay and St. Anthony would stand a few yards away with the Blessed Sacrament. What happened next would decide the victor.
To prepare for the event, St. Anthony fasted for three days, and Bononillo in turn told everyone in the town. Bononillo was convinced that the mule would think nothing of the Eucharist and ravenously eat the pile of hay.
On the day of the test, Bononillo brought his mule and placed the hay under the mule's nose. St. Anthony came and stood a distance away with the Holy Eucharist. Defying all odds, the mule turned his head and walked over to Saint Anthony. When the mule was close, the animal bent his front legs and kneeled in adoration! When Bononillo saw this miraculous change of events, he immediately knelt down and professed his belief in the truth of the Real Presence.
What this short story tells us is that Eucharistic presence of Jesus is something miraculous and supernatural. It is a gift that Jesus gave to his Church, one that reason alone cannot explain. Faith is required to hold to such a fantastic belief. It reminds us that what we witness each Sunday (and every day) is beyond our understanding.
The Catechism affirms this fact and declares, "That in this sacrament are the true Body of Christ and his true Blood is something that 'cannot be apprehended by the senses,' says St. Thomas, 'but only by faith, which relies on divine authority.' For this reason, in a commentary on Luke 22:19 ('This is my body which is given for you.'), St. Cyril says: 'Do not doubt whether this is true, but rather receive the words of the Savior in faith, for since he is the truth, he cannot lie'" (CCC 1381).
St. John Vianney put it perfectly, "If we really understood the Mass, we would die of joy."
Read the source: https://aleteia.org/2017/06/13/st-anthony-and-the-mule-who-knelt-down-before-the-eucharist/
Reflection 17 – Feast of Corpus Christi (Feast of the Body of Christ)
Read the source: http://www.catholic.org/encyclopedia/view.php?id=3400
This feast is celebrated in the Latin Church on the Thursday after Trinity Sunday to solemnly commemorate the institution of the Holy Eucharist.
Of Maundy Thursday, which commemorates this great event, mention is made as Natalis Calicis (Birth of the Chalice ) in the Calendar of Polemius (448) for the 24th of March, the 25th of March being in some places considered as the day of the death of Christ. This day, however, was in Holy Week, a season of sadness, during which the minds of the faithful are expected to be occupied with thoughts of the Lord's Passion . Moreover, so many other functions took place on this day that the principal event was almost lost sight of. This is mentioned as the chief reason for the introduction of the new feast, in the Bull "Transiturus."
The instrument in the hand of Divine Providence was St. Juliana of Mont Cornillon, in Belgium. She was born in 1193 at Retines near Liège. Orphaned at an early age, she was educated by the Augustiniannuns of Mont Cornillon. Here she in time made her religious profession and later became superioress. Intrigues of various kinds several time drove her from her convent. She died 5 April, 1258, at the House of the Cistercian nuns at Fosses, and was buried at Villiers.
Juliana, from her early youth, had a great veneration for the Blessed Sacrament , and always longed for a special feast in its honour. This desire is said to have been increased by a vision of the Church under the appearance of the full moon having one dark spot, which signified the absence of such a solemnity. She made known her ideas to Robert de Thorete, then Bishop of Liège, to the learned Dominican Hugh, latercardinal legate in the Netherlands, and to Jacques Pantaléon, at that time Archdeacon of Liège, afterwards Bishop of Verdun, Patriarch of Jerusalem, and finally Pope Urban IV. Bishop Robert was favourably impressed, and, since bishops as yet had the right of ordering feasts for their dioceses, he called a synod in 1246 and ordered the celebration to be held in the following year, also, that a monknamed John should write the Office for the occasion. The decree is preserved in Binterim (Denkwürdigkeiten, V, 1, 276), together with parts of the Office.
Bishop Robert did not live to see the execution of his order, for he died 16 October, 1246; but the feast was celebrated for the first time by the canons of St. Martin at Liège. Jacques Pantaléon became pope 29 August, 1261. The recluse Eve, with whom Juliana had spent some time, and who was also a fervent adorer of the Holy Eucharist, now urged Henry of Guelders, Bishop of Liège, to request the pope to extend the celebration to the entire world. Urban IV, always an admirer of the feast, published the Bull "Transiturus" (8 September, 1264), in which, after having extolled the love of Our Saviour as expressed in the Holy Eucharist , he ordered the annual celebration of Corpus Christi in the Thursday next after TrinitySunday , at the same time granting many indulgences to the faithful for the attendance at Mass and at the Office. This Office, composed at the request of the pope by the Angelic Doctor St. Thomas Aquinas, is one of the most beautiful in the Roman Breviary and has been admired even by Protestants.
The death of Pope Urban IV (2 October, 1264), shortly after the publication of the decree, somewhat impeded the spread of the festival. Clement V again took the matter in hand and, at the General Council of Vienne (1311), once more ordered the adoption of the feast. He published a new decree which embodied that of Urban IV. John XXII , successor of Clement V, urged its observance.
Neither decree speaks of the theophoric procession as a feature of the celebration. This procession, already held in some places, was endowed with indulgences by Popes Martin V and Eugene IV.
The feast had been accepted in 1306 at Cologne ; Worms adopted it in 1315; Strasburg in 1316. In England it was introduced from Belgium between 1320 and 1325. In the United States and some other countries the solemnity is held on the Sunday after Trinity.
In the Greek Church the feast of Corpus Christi is known in the calendars of the Syrians, Armenians, Copts, Melchites, and the Ruthenians of Galicia, Calabria, and Sicily. – Read the source: http://www.catholic.org/encyclopedia/view.php?id=3400
Reflection 18 – Corpus Christi Sunday: A Symbolic Solemnity?
I wanted to share with you a conversation I found myself in a few weeks ago.* I found it relevant as these are the days we are reflecting into Corpus Christi.
Friend: "What gives you reason to believe the Eucharist is more than a symbol?"

Me: "What gives me reason to believe that it is not?"
Friend: "Because, nowhere in Sacred Scripture does Jesus Christ say that 'I am the Eucharist.'"
Me: "Would you like to read John 6 with me?"
Friend: "No."
Me: "Why not?"
Friend: "Because, I know Scripture, and he does not say: 'I am the Eucharist.'"
Me: "Do you know what the word Eucharist means?"
Friend: "Does it matter?"
Me: "Only if you want your original question answered…as it relates to the Eucharist being a symbol or not."
Friend: "Humor me."
Me: "Thanksgiving"
Friend: "Where is that in the gospel?"
Me: "Can we read John 6 now (taking mental note at this point to be sure to go to 1 Corinthians 11 after we go through John 6)?"
Friend: "Sure."
So it is, we carefully went through John 6, taking note of our Lord "giving thanks", and its Greek eucharisteo (where we get the word Eucharist). As we were going through the "Bread of Life discourse" (John 6), my friend's interest started to peak with Christ's emphasis on the need to "eat" this bread come down from heaven. The conversation continued:
Me: "Take note of the evolution of our Lord's language. John wants us to see something here."
Friend: "What do you mean?"
Me: "Up to verse 54, John employed the Greek esthio, which is the more common Greek for eating. In verse 54, he uses the term trogo, which literally means "to chew, or gnaw"; Specifically, to chew or gnaw on animal stock such as mules, pigs, cattle, and so on. Recall that John has already set up his gospel to focus in on Christ as 'the lamb of God' (John 1:36). Strategically, John wants us to see that Christ is the new Passover lamb that we are to literally consume so as to be in covenant communion with Him."
Friend: (with a growing curiosity) "Are you suggesting that Christ is establishing Himself as the one and final Passover sacrifice?"
Me: "No, Christ is!"
Pause, and then it happened with the simple request to read John 6:60.
Friend reading John 6:60-66:
"60 Many of his disciples, when they heard it, said, 'This is a hard saying; who can listen to it?' 61 But Jesus, knowing in himself that his disciples murmured at it, said to them, 'Do you take offense at this? 62 Then what if you were to see the Son of man ascending where he was before? 63 It is the spirit that gives life, the flesh is of no avail; the words that I have spoken to you are spirit and life. 64 But there are some of you that do not believe.' For Jesus knew from the first who those were that did not believe, and who it was that would betray him. 65 And he said, 'This is why I told you that no one can come to me unless it is granted him by the Father.' 66 After this many of his disciples drew back and no longer went about with him."
Friend (with a sigh): "I suppose I have a rhetorical question. Why would they leave if it was just a symbol?"
Me: "Exactly. Consider, these are the same men that stood by and watched his mighty works, and yet they abandon their master for the sake of something merely symbolic? By your facial expression, I am concluding that, at the very least, you see this as illogical."
Friend: "Yes, and if I am going to be honest, that simply does not add up."
Me: "Can I show you something else?"
Friend: "I feel like I need to sit on this for awhile, but go ahead, fire away."
Me: "It is the passage concerning the only time Paul directly quotes Christ."
Friend: (with a smile) "More symbol verses reality?"
Me (laughter): "I suppose, yes. The passage is 1 Corinthians 11:23-26."
Friend: "Can I read?"
At this point, I am taking note that just five minutes ago he had no desire to read what he supposedly already knew, and now he wants to read (this is not uncommon).
Me: 'Please!"
Friend (reading the passage):
23 For I received from the Lord what I also delivered to you, that the Lord Jesus on the night when he was betrayed took bread, 24 and when he had given thanks, he broke it, and said, "This is my body which is for you. Do this in remembrance of me." 25 In the same way also the cup, after supper, saying, "This cup is the new covenant in my blood. Do this, as often as you drink it, in remembrance of me." 26 For as often as you eat this bread and drink the cup, you proclaim the Lord's death until he comes.
Me: "What do you see in this passage?"
Friend: "A command: 'do this', and to be honest with you, I am still taken back that these are the only words that Paul chooses to directly quote Christ. I suppose that alone should have us rethinking the importance of these words."
Me: "Yes…Paul knows the importance of this passage, this is why he goes back to the events in the upper room, because in the words, 'this is…the new covenant in my blood', he is in fact saying: "my flesh, my blood: this is the New Testament! This is why I came!"
And, after reminding my good friend that it is not so much about where the New Testament is in the Mass, but in light of Christ's words, the Mass is the New Testament, I continued:
"…John 6 is the backdrop to this passage (along with Mark 14: 24), because once we understand that the Eucharist is Christ's very flesh, we are then made to ask the question: "How does this take place?' And for the sake of time, let's just say (quoting my old Professor, Dr. Hahn), 'If the Mass is just another symbolic meal, then Christ's death was just another execution."
Friend: "So Christ's sacrifice is inseparable from the Eucharist?
Me: "Amen! Exactly, and when we have more time, we would be well served to take up the Letter to the Hebrews on this matter."
Friend: "Why are not more people aware of these passages?"
Me: "This is a question, for everyone who knows such passages, to take up personally. In other words, as I have been made aware of them, I can never share them enough. I suppose I am challenging myself to 'go forth', and proclaim these verses more. Pray for me."
Friend: "In saying that, let us pray."
Me: "Ok, before we do, can I ask you one more thing?"
Friend: "Yes, please."
Me: "Can I leave you with a homework assignment?"
Friend (with laughter): "Once a teacher, always a teacher…yes."
Me: "Can you reflect into why the Eucharist is not a symbol, but a living reality as it relates to our personal relationship with our Lord Jesus Christ."
Friend: "Hmmm…now you are talking my language—Yes!!!"
Me: "Well…it is the first language of God: that is intimate communion."
Friend: "Yes, I am beginning to see that."
"Our Father…"
Read the source: http://www.spiritualdirection.com/2017/06/18/corpus-christi-sunday-a-symbolic-solemnity
Related Articles/ Videos click below:
The video on Biblical evidence for the Real Presence of Jesus in the Eucharist click this link: http://www.pagadiandiocese.org/2014/06/11/biblical-evidence-for-the-real-presence/
Sophia Sketchpad: The Eucharist
(Catholic) Father Benedict Groeschel vs. (Protestant) Eucharist Debate http://www.pagadiandiocese.org/2017/06/15/catholic-father-benedict-groeschel-vs-protestant-eucharist-debate/
Where is the Eucharist in the Bible?
St. Anthony and the mule who knelt down before the Eucharist http://www.pagadiandiocese.org/2017/06/14/st-anthony-and-the-mule-who-knelt-down-before-the-eucharist/
Understanding the Eucharist: Paschal Sacrifice by Dr. Scott Hahn
The Eucharist: Sacrifice and Banquet by Dr. Scott Hahn
Dr. Scott Hahn: "The Bible and the Sacrifice of the Mass"
Readings & Reflections with Cardinal Tagle's Video: The Solemnity of the Most Holy Body and Blood of Christ A & Venerable Matt Talbot, June 18,2017 http://www.pagadiandiocese.org/2017/06/17/readings-reflections-with-cardinal-tagles-video-the-solemnity-of-the-most-holy-body-and-blood-of-christ-a-venerable-matt-talbot-june-182017/
The Eucharist: The Anticipation and Promise of Heaven on Earth by Archbishop Robert Carlson
The Eucharist: The Fourth Cup by Dr. Scott Hahn
Dr. Scott Hahn talks about the Early Church and the Eucharist
INCREASING REVERENCE FOR THE EUCHARIST http://www.pagadiandiocese.org/2017/04/26/increasing-reverence-for-the-eucharist/
The Eucharist: Scripture and Tradition – The Source and Summit of Catholic Faith by Michael Voris
Catholic Mass from a Protestant Perspective – Part 1-3 by Mike Cumbie http://www.pagadiandiocese.org/2016/06/06/catholic-mass-from-a-protestant-perspective-part-1-3-by-mike-cumbie/
The Catholic Mass, as described by Justin Martyr in the year 155 A.D. http://www.pagadiandiocese.org/2016/07/20/the-catholic-mass-as-described-by-justin-martyr-in-the-year-155-a-d/
THE VORTEX: EUCHARIST TO EMPTY TOMB – What's the connection between Holy Thursday and Easter Sunday? http://www.pagadiandiocese.org/2016/03/24/the-vortex-eucharist-to-empty-tomb-whats-the-connection-between-holy-thursday-and-easter-sunday/
On the Need to Receive the Eucharist Worthily http://www.pagadiandiocese.org/2016/05/31/on-the-need-to-receive-the-eucharist-worthily/
I Chose Christ, and He is There on All the Altars of All the Catholic Churches in the World http://www.pagadiandiocese.org/2016/06/05/i-chose-christ-and-he-is-there-on-all-the-altars-of-all-the-catholic-churches-in-the-world/
10 things you didn't know about the Eucharist http://www.pagadiandiocese.org/2016/06/11/10-things-you-didnt-know-about-the-eucharist/
Our Lord and the Eucharist by Michael Voris
The Sacredness of the Holy Eucharist and the Fathers of the Church by Bishop Schneider
The Holy Eucharist and Blessed Virgin Mary by Fr. Mitch Pacwa, SJ
The Mass Explained by Fr. Larry Richards
The Catholic Mass – Quotes from the Saints
Why Priests? Stephen Colbert takes on Garry Wills on the Real Presence of the Eucharist http://www.pagadiandiocese.org/2016/04/14/why-priests-stephen-colbert-takes-on-garry-wills-on-the-real-presence-of-the-eucharist/
Readings & Reflections with Cardinal Tagle's Video: The Solemnity of the Most Holy Body and Blood of Christ C & St. Madeleine Sophie Barat, May 29,2016 http://www.pagadiandiocese.org/2016/05/28/readings-reflections-with-cardinal-tagles-video-the-solemnity-of-the-most-holy-body-and-blood-of-christ-c-st-madeleine-sophie-barat-may-292016/
EUCHARISTIC MIRACLES CONFIRM REAL PRESENCE OF JESUS CHRIST http://www.pagadiandiocese.org/2016/04/24/eucharistic-miracles-confirm-real-presence-of-jesus-christ/
2 Eucharistic Hymns by Thomas Aquinas
The Dignity of the Eucharistic Celebration: 8 Teachings from Cardinal Burke
THE PIOUS PRACTICE OF BOWING AT HOLY NAMES http://www.pagadiandiocese.org/2016/04/18/the-pious-practice-of-bowing-at-holy-names/
The Vortex: Eucharistic Crisis
The Eucharist and Abortion by Michelle Yax
EUCHARIST IS DEADLY FOOD FOR UNREPENTANT SINNERS http://www.pagadiandiocese.org/2016/11/23/eucharist-is-deadly-food-for-unrepentant-sinners/
THE ONE TRUE FAITH: EUCHARIST – It's the Sacrament of Love http://www.pagadiandiocese.org/2017/02/24/the-one-true-faith-eucharist-its-the-sacrament-of-love/
On Holy Thursday, We Remember Jesus' Gift of Himself in the Eucharist http://www.pagadiandiocese.org/2016/03/24/on-holy-thursday-we-remember-jesus-gift-of-himself-in-the-eucharist/
THE VORTEX: TRAITOR – Created to be a saint, but damned for eternity http://www.pagadiandiocese.org/2017/04/13/the-vortex-traitor-created-to-be-a-saint-but-damned-for-eternity/
Jesus Christ is really, truly and substantially present in the Eucharist. And because of this, Eucharistic adoration is not only a wonderful thing, but also a wonderful gift to us from God. "The Eucharistic presence of Christ begins at the moment of the consecration and endures as long as the Eucharistic species subsist. Christ is present whole and entire in each of each of the species and whole and entire in each of their parts, in such a way that the breaking of the bread does not divide Christ. In the liturgy of the Mass we express our faith in the real presence of Christ under the species of bread and wine by, among other ways, genuflecting or bowing deeply as a sign of adoration of the Lord" (CCC: 1377-1378).
Reflection 19 – Venerable Matt Talbot
(1856-1925 A.D.)
Matt can be considered the patron of men and women struggling with alcoholism.
Matt was born in Dublin, where his father worked on the docks and had a difficult time supporting his family. After a few years of schooling, Matt obtained work as a messenger for some liquor merchants; there he began to drink excessively. For 15 years—until he was almost 30—Matt was an active alcoholic.
One day he decided to take "the pledge" for three months, make a general confession and begin to attend daily Mass. There is evidence that Matt's first seven years after taking the pledge were especially difficult. Avoiding his former drinking places was hard. He began to pray as intensely as he used to drink. He also tried to pay back people from whom he had borrowed or stolen money while he was drinking.
Most of his life Matt worked as a builder's laborer. He joined the Secular Franciscan Order and began a life of strict penance; he abstained from meat nine months a year. Matt spent hours every night avidly reading Scripture and the lives of the saints. He prayed the rosary conscientiously. Though his job did not make him rich, Matt contributed generously to the missions.
After 1923 his health failed, and Matt was forced to quit work. He died on his way to church on Trinity Sunday. Fifty years later Pope Paul VI gave him the title venerable.
Comment:
In looking at the life of Matt Talbot, we may easily focus on the later years when he had stopped drinking for some time and was leading a penitential life. Only alcoholic men and women who have stopped drinking can fully appreciate how difficult the earliest years of sobriety were for Matt.
He had to take one day at a time. So do the rest of us.
Quote:
On an otherwise blank page in one of Matt's books, the following is written: "God console thee and make thee a saint. To arrive at the perfection of humility four things are necessary: to despise the world, to despise no one, to despise self, to despise being despised by others."
Patron Saint of: Alcoholics, Sobriety
Read the source: http://www.americancatholic.org/features/saints/saint.aspx?id=1418
SAINT OF THE DAY
Catholic saints are holy people and human people who lived extraordinary lives. Each saint the Church honors responded to God's invitation to use his or her unique gifts. God calls each one of us to be a saint. Click here to receive Saint of the Day in your email.
VENERABLE MATT TALBOT
OFS

Matt Talbot.

LAYMAN
BORN
2 May 1856
Dublin, Ireland
DIED
7 June 1925 (aged 69)
Dublin, Ireland
RESTING PLACE
Our Lady of Lourdes Church, Seán McDermott Street, Dublin
ATTRIBUTES
Chains
PATRONAGE

People who struggle with alcoholism[1]
Addictions
The Venerable Matt Talbot, OFS (2 May 1856 – 7 June 1925) was an Irish ascetic revered by many Catholics for hispiety, charity and mortification of the flesh.
Talbot was an unskilled labourer. Though he lived alone for most of his life, Talbot did live with his mother for a time.[2]His life would have gone unnoticed were it not for the cords and chains discovered on his body when he died suddenly on a Dublin street in 1925.
Though he has not been formally recognized as a saint, Talbot may be considered a patron of men and women struggling with alcoholism.[1] He is commemorated on 19 June.[3]
Early life – alcoholism
[
edit
]
Talbot was born on 2 May 1856 at 13 Aldborough Court, Dublin, Ireland,[4] the second eldest of twelve children of Charles and Elizabeth Talbot, a poor family in the North Strand area. He was baptised in St. Mary's Pro-Cathedral on 5 May.[5] His father and all but the oldest of his brothers were heavy drinkers. Matt left school at the age of twelve and went to work in a wine merchant's store. He very soon began "sampling their wares", and was considered a hopeless alcoholic by age thirteen.[6] He then went to the Port & Docks Board where he worked in the whiskey stores. He frequented pubs in the city with his brothers and friends, spending most or all of his wages and running up debts.[7]When his wages were spent, he borrowed and scrounged for money. He pawned his clothes and boots to get money for alcohol. On one occasion, he stole a fiddlefrom a street entertainer and sold it to buy drink.[6]
"Taking the pledge"
[
edit
]
One evening in 1884 Talbot, who was penniless and out of credit, waited outside a pub in the hope that somebody would invite him in for a drink. After several friends had passed him without offering to treat him, he went home in disgust and announced to his mother that he was going to "take the pledge" (renounce drink). He went to Holy Cross College, Clonliffe where he took the pledge for three months. At the end of the three months, he took the pledge for six months, then for life.[8]
Having drunk excessively for 16 years, Talbot maintained sobriety for the following forty years of his life. There is evidence that Matt's first seven years after taking the pledge were especially difficult.[1]He found strength in prayer, began to attend daily Mass, and read religious books and pamphlets. He repaid all his debts scrupulously. Having searched for the fiddler whose instrument he had stolen, and failed to find him, he gave the money to the church to have Mass said for him.
Working life
[
edit
]
Even when his drinking was at its worst, Talbot was a hard worker. When he joined Pembertons, the building contractors, as a hod-carrier, his work-rate was such that he was put first on the line of hodmen to set the pace. Later, in Martin's timber yard, he took on the meanest and hardest jobs. He was respectful to his bosses but not obsequious, and on occasion stood up for a fellow-worker. On 22 September 1911 Talbot joined the builder's labourers branch of the Irish Transport and General Workers Union. When the Dublin Lockout of 1913 led to sympathy strikes throughout the city, the men of Martin's, including Talbot, came out.[7] At first Talbot refused his strike pay, saying that he had not earned it. Later he accepted it but asked that it be shared out among the other strikers. After his death a rumour was put about that he was a strike-breaker in 1913, but all the evidence contradicts this.
Religious life
[
edit
]
From being an indifferent Catholic in his drinking days, Talbot became increasingly devout. He lived a life of prayer, fasting, and service, trying to model himself on the sixth century Irish Monks.[6] He was guided for most of his life by Dr. Michael Hickey, Professor of Philosophy in Clonliffe College. Under Dr. Hickey's guidance Talbot's reading became wider. He read laboriously Scripture, lives of saints, The Confessions of St. Augustine, and writings of St. Francis de Sales and others. When he found a part difficult to understand, he asked a priest to clarify it.[6]
Dr. Hickey also gave him a light chain, (much like a clock chain), to wear as a form of penance.[6] He became Third OrderFranciscan in 1890 and was a member of several other associations and sodalities.[7] Talbot was a generous man. Although poor himself, he gave unstintingly to neighbours and fellow workers, to charitable institutions and the church. He ate very little. After his mother's death in 1915 he lived in a small flat with very little furniture. He slept on a plank bed with a piece of timber for a pillow. He rose at 5 a.m. every day so as to attend Mass before work. At work, whenever he had spare time, he found a quiet place to pray. He spent most of every evening on his knees. On Sundays he attended several Masses. He walked quickly, with his head down, so that he appeared to be hurrying from one Mass to another.
Death and veneration
[
edit
]
Talbot was on his way to Mass on Trinity Sunday, 7 June 1925, when he collapsed and died of heart failure on Granby Lane in Dublin. Nobody at the scene was able to identify him. His body was taken to Jervis Street Hospital, where he was undressed, revealing the extent of his austerities. A chain had been wound around his waist, with more chains around an arm and a leg, and cords around the other arm and leg.[7] The chains found on his body at death were not some extreme penitential regime but a symbol of his devotion to Mary, Mother of God that he wished to give himself to her totally as a slave.[9]Talbot's story quickly filtered through the community and there were many spectators when his funeral took place at Glasnevin Cemetery on 11 June 1925. In 1972 his remains were removed to a tomb in Our Lady of Lourdes Church in Sean McDermott Street, Dublin, in the area where Matt spent his life.[9]
On 6 November 1931, Archbishop Byrne of Dublin opened a sworn inquiry into the alleged claims of holiness of the former dock worker. The Apostolic Process, the official sworn inquiry at the Vatican, began in 1947. On 3 October 1975 Pope Paul VI declared him to be Venerable Matt Talbot, which is a step on the road to hiscanonisation, a process which needs evidence of a physical miracle in order to be successful.[7] There is a particular devotion to Matt Talbot among some North American Roman Catholics[9] among those involved in a ministry to achieve or maintain sobriety.
A possible miracle in Kansas, where a healthy child was delivered despite tests showing abnormalities—Down syndrome or cystic fibrosis—after his aunt organized a prayer chain asking the intercession of Matt Talbot, is currently under investigation. If shown to be "medically inexplicable", the case may bring Talbot a step closer to sainthood.[10]
"Never be too hard on the man who can't give up drink. It's as hard to give up the drink as it is to raise the dead to life again. But both are possible and even easy for Our Lord. We have only to depend on him." – Matt Talbot[3]
As word of Matt Talbot spread he rapidly became an icon for Ireland's temperance movement, the Pioneer Total Abstinence Association. His story soon became known to the large Irish émigré communities. Countless addiction clinics, youth hostels, statues and more have been named after him throughout the world from Nebraska to Warsaw to Sydney. One of Dublin's main bridges is also named after him. Pope John Paul II, as a young man, wrote a paper on him.
Graham Linehan has stated that the character of Matty Hislop in his comedy series Father Ted was based on Talbot.[11]
Talbot's remains were removed from Glasnevin Cemetery to Our Lady of Lourdes church on Seán McDermott Street, Dublin, in 1972. The tomb has a glass panel through which the coffin may be seen.
There is a small plaque in Granby Lane at the site of Matt Talbot's death.
References
[
edit
]