Readings & Reflections: Thursday of the Fifth Week of Easter & St. John I, May 18,2017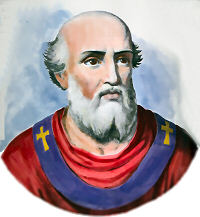 Elected when he was already advanced in years, to succeed Saint Hormisdas in the see of Peter, John I suffered in his own body for the sake of the peace between the powers of East and West. At the request of the Ostrogoth King Theodoric the Great, then ruler of Rome, John went to Constantinople to end the brutal persecution of the Byzantine emperor, Justin I. John secured charity toward the Arians, but, upon his return to Italy, was imprisoned by order of Theodoric. John died on May 18, 526 A.D., of starvation and exhaustion. He was buried in Rome as a "victim for Christ."
Jesus reveals an awesome reality: he loves us the very way that the Father loves him. What "God first concerned himself with" remains his main desire: "acquiring a people for his name." Thus, Christ begs: "Remain in my love." We do so by keeping his commandments, for they save us "from the destructive force of egoism and falsehood. To keep the Commandments is to be faithful to our deepest aspirations" (St. John Paul II).
AMDG+
Opening Prayer
"Lord, may I abound in hope, joy, and love. Inflame my heart with love for you and your ways and with charity and compassion for my neighbor. May there be nothing in my life which keeps me from your love."
Reading 1
Acts 15:7-21

After much debate had taken place,
Peter got up and said to the Apostles and the presbyters,
"My brothers, you are well aware that from early days
God made his choice among you that through my mouth
the Gentiles would hear the word of the Gospel and believe.
And God, who knows the heart,
bore witness by granting them the Holy Spirit
just as he did us.
He made no distinction between us and them,
for by faith he purified their hearts.
Why, then, are you now putting God to the test
by placing on the shoulders of the disciples
a yoke that neither our ancestors nor we have been able to bear?
On the contrary, we believe that we are saved
through the grace of the Lord Jesus, in the same way as they."
The whole assembly fell silent,
and they listened
while Paul and Barnabas described the signs and wonders
God had worked among the Gentiles through them.
After they had fallen silent, James responded,
"My brothers, listen to me.
Symeon has described how God first concerned himself
with acquiring from among the Gentiles a people for his name.
The words of the prophets agree with this, as is written:
After this I shall return
and rebuild the fallen hut of David;
from its ruins I shall rebuild it
and raise it up again,
so that the rest of humanity may seek out the Lord,
even all the Gentiles on whom my name is invoked.
Thus says the Lord who accomplishes these things,
known from of old.
It is my judgment, therefore,
that we ought to stop troubling the Gentiles who turn to God,
but tell them by letter to avoid pollution from idols,
unlawful marriage, the meat of strangled animals, and blood.
For Moses, for generations now,
has had those who proclaim him in every town,
as he has been read in the synagogues every sabbath."
The word of the Lord.
Responsorial Psalm
Ps 96:1-2a, 2b-3, 10
R. (3) Proclaim God's marvelous deeds to all the nations.
or:
R. Alleluia.
Sing to the LORD a new song;
sing to the LORD, all you lands.
Sing to the LORD; bless his name.
R. Proclaim God's marvelous deeds to all the nations.
or:
R. Alleluia.
Announce his salvation, day after day.
Tell his glory among the nations;
among all peoples, his wondrous deeds.
R. Proclaim God's marvelous deeds to all the nations.
or:
R. Alleluia.
Say among the nations: The LORD is king.
He has made the world firm, not to be moved;
he governs the peoples with equity.
R. Proclaim God's marvelous deeds to all the nations.
or:
R. Alleluia.
Gospel
Jn 15:9-11
Jesus said to his disciples:
"As the Father loves me, so I also love you.
Remain in my love.
If you keep my commandments, you will remain in my love,
just as I have kept my Father's commandments
and remain in his love.
"I have told you this so that
my joy might be in you and
your joy might be complete."
The Gospel of the Lord.
Reflection 1 – Abide in my love
Acts 15:1-2 states: "Some who had come down from Judea were instructing the brothers, "Unless you are circumcised according to the Mosaic practice, you cannot be saved." Because there arose no little dissension and debate by Paul and Barnabas with them, it was decided that Paul, Barnabas, and some of the others should go up to Jerusalem to the apostles and presbyters about this question."
To this the response has been: "Why, then, are you now putting God to the test by placing on the shoulders of the disciples a yoke that neither our ancestors nor we have been able to bear? On the contrary, we believe that we are saved through the grace of the Lord Jesus, in the same way as they." It is my judgment, therefore, that we ought to stop troubling the Gentiles who turn to God, but tell them by letter to avoid pollution from idols, unlawful marriage, the meat of strangled animals, and blood." Acts 15:10-11; 19-20
This scenario brings to light confusion and misunderstanding among the Jews and Gentiles who came to believe in Christ. Should the Gentiles comply before being loved? Should they be circumcised before being accepted as God's beloved?
This question still applies to us today. Have we mistaken compliance and rigidity as way to abide in the Lord and His love? Have we placed extra burdens on people who have opened their hearts to our Lord? Has our love for them been conditional? How open are we to love and serve those who are different and unlovable?
We are all reminded that nobody needs love more than those who do not seem to deserve it. If we wait for our neighbor to be likable, pleasing and acceptable, before we give them the love God freely showered on us, then that time may never come. We may never be able to love another. As such we will never be able to abide and remain in the love of Christ. We will never be able to keep His commandments and will never have God's peace and joy complete in our lives.
Remaining in God's love means treating our neighbor as our equal and with same dignity and love God gave us. It means being able to feed each other the character of Jesus without bias and discrimination.
One who truly loves another in the Name of Jesus remains and abides by God's Word. He bears much fruit and the joy of Christ is complete in him.
Direction
Love one another unconditionally not because of their compliance but because we are all one in Christ.
Prayer
Dear Jesus, with the power of the Holy Spirit, help me follow your one simple rule: "Remain in my love." Guide the steps that I take in your Name so that I may always abide by your ways. Amen.
Reflection 2 – Pleasure Versus Joy
These things I have spoken to you, that My joy may remain in you, and that your joy may be full. –John 15:11
The world offers "passing pleasures" (Hebrews 11:25), but the Lord Jesus offers to give us full and lasting joy (John 15:11). Pleasure is dependent on circumstances, but joy is inward and is not disturbed by one's environment.
Pleasure is always changing, but joy is constant! Worldly delights are often followed by depression. True joy is grounded in Jesus Christ, who is "the same yesterday, today, and forever" (Hebrews 13:8).
To keep experiencing pleasure, we must run from one stimulus to another, for it refuses to be permanently grasped. Joy is just the opposite. It is a gift we receive from God.
Pleasure is built on self-seeking, but joy is based on self-sacrifice. The more we pursue self-gratification, the more empty we feel. If a pint of pleasure gives momentary happiness today, a gallon of excitement and thrills is necessary for the same effect tomorrow. Joy, however, is based on the sacrificial giving of ourselves. As we learn what it means to focus on the needs of others, we find greater fulfillment in God Himself, who meets our every need.
Only when you seek the things of Christ can you find abiding joy. —Henry G. Bosch
There is joy beyond all measure
In abiding in the Lord;
It is promised most abundant
And enduring in His Word. —McQuat
For joy that will last, always put Christ first (Source: Our Daily Bread, RBC Ministries).
Reflection 3 – Full of Joy
In the Gospel today Jesus told his disciples: "that my joy might be in you and your joy might be complete" (Jn 15:11). Pope Benedict XVI has this meditation on the fullness of our joy: "Jesus shows the disciples the wounds in his hands and in his side (cf. Jn 20:20), signs of what has occurred and will never be cancelled: his glorious humanity remains 'wounded.' The purpose of this act is to confirm the new reality of the Resurrection: Christ, now among his own, is a real person, the same Jesus who three days earlier was nailed to the cross. And it is in this way that in the dazzling light of Easter, in the encounter with the Risen One, the disciples perceive the salvific meaning of his Passion and his Death. Then sorrow and fear turn into full joy. The sorrow and the wounds themselves become a source of joy.
"The joy that is born in their hearts derives from 'having seen the Lord' (Jn 20:20). He repeats to them: 'Peace be with you' (v.21). By then it was obvious that it was not only a greeting. It was a gift, the gift that the Risen One wants to offer his friends, but at the same time it is a consignment. This peace, which Christ purchased with his blood, is for them but also for all. The disciples must pass it on to the whole world. Indeed, he adds: 'as the Father has sent me, even so I send you.' The Risen Jesus returned to his disciples to send them out. He had completed his work in the world, it was then up to them to sow faith in hearts so that the Father, known and loved, might gather all his children from the dispersion.
"But Jesus knows that his followers are still fearful, even now. Thus he carries out the gesture of blowing upon them and regenerates them in his Spirit (cf. Jn 20:22); this action is the sign of the new creation. In fact, with the gift of Holy Spirit that comes from the Risen Christ, a new world begins. The sending of the disciples on mission is the beginning of the journey in the world of the people of the New Covenant, a people who believe in him and in his work of salvation, a people who witness to the truth of the Resurrection. This newness of life that foes not die, brought by Easter, must be spread everywhere so that the thorns of sin, which would the human heart, leave room for the new shoots of Grace, of God's presence and of his love that triumph over sin and death" (Pope Benedict XVI, 2005).
Reflection 4 – The supernatural joy of loving obedience
In today's Gospel reading, Jesus spells out the three basic elements of faith: obedience, love, and joy. Love is the center; it holds obedience and joy together. When we disobey, it's because we don't understand why it's unloving; we don't realize our sin interferes with our ability to love and to be loved. On the other hand, when we obey because we love, we experience great joy.
Obeying because we love is a mature faith. As children, we first obeyed because we feared punishment. To experience joy, we have to let go of childish reasons for obeying God's commands. Adult obedience is this: We love God so much that we want to follow Jesus in every way and in every circumstance, because we know that he loves us and that his commands are always based on love (even when we don't understand how so), and we know that we can trust him. We'd be foolish to disobey.
And we love others so much that we don't want to sin against them.
Love is like the air around us: We can close ourselves up and never breathe the air, and thus we die. Likewise, we can close our hearts and never receive the love that is permeating from God in every moment, and thus our souls slowly die. But when we obey God, imitating the holiness of Christ by following his commandments, we unite ourselves to him and therefore we're immersed in his love and therefore we experience unworldly joy.
If we really understand what occurs in the Sacrament of Reconciliation, joy is our primary feeling as we emerge from the confessional. It's a joy that comes from rediscovering that despite our disobedience, God still loves us, and that by reconciling with him we have opened ourselves to receive and experience his love more fully again.
Consider any command that you have trouble obeying, whether from the Bible or Church teachings. Ask the Holy Spirit to reveal to you how this command is based on love. In what ways are you missing or misunderstanding the love that's inherently there?
In today's first reading, the first Christians had to learn to stretch their love for God to include the Gentiles. We all need to allow God to stretch us beyond our current limits of love. To grow in holiness, we have to grow beyond old, familiar ways of dealing with the laws that we dislike and the people who are unlikable. That's the secret to finding supernatural joy.
Here's a great prayer for starting each day:
"Dear God, I want to obey You today; help me to stay close to You. Thank You for being so good to me; I love You and I want to love You more. Lord Jesus, be my joy. When I am tempted to sin, help me to love others more fully. I want to remain in Your love; help me to obey the call to love." – Read the source: http://gnm.org/good-news-reflections/?useDrDate=2016-04-28
Reflection 5 – Allowing ourselves to be stretched
In today's first reading, we see the early Christian leaders struggling to remain obedient to the commandments of God, as Jesus had instructed them to do in our Gospel reading today. Their debate arose from a limited understanding of God's will, which was based on their past experiences and religious training.
At first, many resisted the new perspective, but because they wanted to be obedient to his will, God stretched them beyond their old thinking. The Holy Spirit helped them let go of the idea that Gentiles must be converted to Judaism in order to become Christian.
Can you imagine what that was like? Sure! It happens to all of us. Just when we think we understand how God wants to bring someone into conversion, it's we who change. God expands our view. Or we think we know how a problem should be solved, and God comes up with a different plan.
Whenever our methods of ministry bring us to dead ends and brick walls that block progress, or whenever our discernment process gets us nowhere and leads only to debate and disappointment and failure, God has a different plan. We need the Holy Spirit's help in changing our minds, expanding our perceptions, and letting go of our ideas.
Whenever the training of our past experiences interferes with our love for others, we can be sure that God has a different plan. Whenever the old ways, the familiar tried-and-true ways no longer work, God has a different plan. He's expanding our view and stretching our thinking; he's leading us beyond the limits of our expectations.
So how can we be sure it's God who's leading us there and not worldliness and immoral compromises? When God stretches our minds, he never asks us to do something that contradicts his commandments. Every time he wants us to grow beyond what is comfortable and familiar, it makes us more Christ-like. This kind of stretching increases our obedience and our love for others.
God stretches us in many ways. Ever notice that after you say, "I could never do that kind of ministry," you end up in the middle of it? Or if you think you could never be friends with so-and-so because that person is too unlike you, too educated or too uneducated, too structured or too innovative, this is exactly the one God keeps putting into your path! It's no coincidence. The Holy Spirit is giving you opportunities to grow in new directions and develop new perspectives.
Don't tell me that God doesn't have a sense of humor! – Read the source: http://gnm.org/good-news-reflections/?useDrDate=2017-05-18
Reflection 6 – Abide in my love
Do you know the love that no earthly power nor death itself can destroy? The love of God the Father and his Son, the Lord Jesus Christ is a creative, life-giving love that produces immeasurable joy and lasting friendship for all who accept it. God loves the world so much because he created it to reflect his glory. And he created each one of us in his own image and likeness (Genesis 1:26-27). He wants us to be united with himself in an inseparable bond of unity, peace, and joy that endures for all eternity. That is why the Father sent his Son, the Lord Jesus, into the world, not to condemn it, but to redeem it from the curse of sin and death (John 3:16-17). Paul the Apostle tells us that we can abound in joy and hope because God's love has been poured into our hearts through the gift of the Holy Spirit who has been given to us (Romans 5:5).
Through Jesus' sacrifice on the cross, God offers pardon for all of our sins and failings, and he calls us to lay aside everything that might hold us back from loving him above all else. We owe him a debt of gratitude and love in return. We can never outmatch God because he has loved us first and has given himself to us without measure. Our love for him is a response to his exceeding mercy and kindness towards us. In God's love alone can we find the fulness of abundant life, peace, and joy.
A new commandment of love
The Lord Jesus gives his disciples a new commandment – a new way of love that goes beyond giving only what is required or what we think others might deserve. What is the essence of Jesus' new commandment of love? It is love to the death – a purifying love that overcomes selfishness, fear, and pride. It is a total giving of oneself for the sake of others – a selfless and self-giving love that is oriented towards putting the welfare of others ahead of myself.
There is no greater proof in love than the sacrifice of one's life for the sake of another. Jesus proved his love by giving his life for us on the cross of Calvary. Through the shedding of his blood for our sake, our sins are not only washed clean, but new life is poured out for us through the gift of the Holy Spirit. We prove our love for God and for one another when we embrace the way of the cross. What is the cross in my life? When my will crosses with God's will, then God's will must be done. Do you know the peace and joy of a life fully surrendered to God and consumed with his love?
"Lord Jesus, may I always grow in the joy and hope which your promises give me. Inflame my heart with love for you and your ways and with charity and compassion for my neighbor. May there be nothing in my life which keeps me from your love." – Read the source: http://dailyscripture.servantsoftheword.org/readings/2017/may18.htm
Reflection 7 – St. John I (d. 526 A.D.)
Pope John I inherited the Arian heresy, which denied the divinity of Christ. Italy had been ruled for 30 years by an emperor who espoused the heresy, though he treated the empire's Catholics with toleration. His policy changed at about the time the young John was elected pope.
When the eastern emperor began imposing severe measures on the Arians of his area, the western emperor forced John to head a delegation to the East to soften the measures against the heretics. Little is known of the manner or outcome of the negotiations—designed to secure continued toleration of Catholics in the West.
When John returned to Rome, he found that the emperor had begun to suspect his friendship with his eastern rival.
On his way home, John was imprisoned when he reached Ravenna because the emperor suspected a conspiracy against his throne. Shortly after his imprisonment, John died, apparently from the treatment he had received.
Comment:
We cannot choose the issues for which we have to suffer and perhaps die. John I suffered because of a power-conscious emperor. Jesus suffered because of the suspicions of those who were threatened by his freedom, openness and powerlessness. "If you find that the world hates you, know it has hated me before you" (John 15:18).
Quote:
"Martyrdom makes disciples like their Master, who willingly accepted death for the salvation of the world, and through it they are made like him by the shedding of blood. Therefore, the Church considers it the highest gift and supreme test of love. And while it is given to few, all however must be prepared to confess Christ before humanity and to follow him along the way of the cross amid the persecutions which the Church never lacks" (Vatican II, Dogmatic Constitution on the Church, 42, Austin Flannery translation).
Read the source: http://www.americancatholic.org/features/saints/saint.aspx?id=1387
SAINT OF THE DAY
Catholic saints are holy people and human people who lived extraordinary lives. Each saint the Church honors responded to God's invitation to use his or her unique gifts. God calls each one of us to be a saint. Click here to receive Saint of the Day in your email.
Pope John I can also refer to Pope John I of Alexandria.
Pope John I (Latin: Ioannes I; 470 – 18 May 526) was Pope from 13 August 523 to his death in 526.[1] He was a native of Siena (or the "Castello di Serena"), near Chiusdino, in Italy. He is the first pope known to have visited Constantinopleduring papacy.[1]
Biography
[
edit
]
While a deacon in Rome, he is known to have been a partisan of the Antipope Laurentius, for in a libellus written toPope Symmachus in 506, John confessed his error in opposing him, condemned Peter of Altinum and Laurentius, and begged pardon of Symmachus. He would then be the "Deacon John" who signed the acta (ecclesiastic publication) of the Roman synod of 499 and 502; the fact the Roman church only had seven deacons at the time makes identifying him with this person very likely.[2] He may also be the "Deacon John" to whom Boethius, the 6th-Century philosopher, dedicated three of his five religious tractates, or treatises, written between 512 and 520.[3]
John was very frail when he was elected to the papacy as Pope John I. Despite his protests, Pope John was sent by the Arian King Theodoric the Goth—ruler of the Ostrogoths, a kingdom in present-day Italy—to Constantinople to secure a moderation of a decree against the Arians, issued in 523, of Emperor Justin, ruler of the Byzantine, or East Roman, Empire. King Theodoric threatened that if John should fail in his mission, there would be reprisals against the orthodox, or non-Arian, Catholics in the West. John proceeded to Constantinople with a considerable entourage: his religious companions included Bishop Ecclesius of Ravenna, Bishop Eusebius of Fanum Fortunae, and Sabinus ofCampania.[4] His secular companions were the senators Flavius Theodorus, Inportunus, Agapitus, and the patrician Agapitus.[5]
Emperor Justin is recorded as receiving John honorably and promised to do everything the embassy asked of him, with the exception of restoring converts from Arianism-to-Catholicism to their original beliefs.[6] Although John was successful in his mission, when he returned to Ravenna, Theodoric's capital in Italy, Theodoric had John arrested on the suspicion of having conspired with Emperor Justin. John was imprisoned at Ravenna, where he died of neglect and ill treatment. His body was transported to Rome and buried in the Basilica of St. Peter.
The Liber Pontificalis credits John with making repairs to the cemetery of the martyrs Nereus and Achilleus on the Via Ardeatina, that of Saints Felix and Adauctus, and the cemetery of Priscilla.[7]
Pope John I is depicted in art as looking through the bars of a prison or imprisoned with a deacon and a subdeacon. He is venerated at Ravenna and in Tuscany. His feast day is 18 May, the anniversary of the day of his death (whereas it had formerly been 27 May).[8]
See also
[
edit
]
References
[
edit
]