Readings & Reflections: Thursday within the Octave of Easter & St. Conrad of Parzham, April 20,2017
When we, like the disciples in today's Gospel, are "startled," "terrified," or "troubled," what restores our peace? The humanity of Jesus Christ. The risen Lord says to the distressed disciples, "Look at my hands and my feet…. Touch me and see." To prove that they are not "seeing a ghost," Jesus takes the piece of baked fish given to him and eats it in front of the disciples. Jesus woos us away from our anxiety with the words, "Why do questions arise in your hearts?" For the pierced man who stands before us is our Answer. The repentance and conversion that Saint Peter preaches make it possible for God to "grant you times of refreshment and send you the Christ already appointed for you, Jesus." "All the holiness God has destined for our souls has been placed in the humanity of Christ, and it is from this source that we must draw" (Blessed Columba Marmion). Those who dare to look at his wounds an live as "witness of these things" hear the risen Christ say, "Peace be with you."
AMDG+
Opening Prayer
"Lord Jesus, open our minds to understand the scriptures that we may fully comprehend the truth of your word. Anoint us with power and boldness to be your witnesses to all the nations." Amen.
Reading 1
Acts 3:11-26
As the crippled man who had been cured clung to Peter and John,
all the people hurried in amazement toward them
in the portico called "Solomon's Portico."
When Peter saw this, he addressed the people,
"You children of Israel, why are you amazed at this,
and why do you look so intently at us
as if we had made him walk by our own power or piety?
The God of Abraham, the God of Isaac, and the God of Jacob,
the God of our fathers, has glorified his servant Jesus
whom you handed over and denied in Pilate's presence,
when he had decided to release him.
You denied the Holy and Righteous One
and asked that a murderer be released to you.
The author of life you put to death,
but God raised him from the dead; of this we are witnesses.
And by faith in his name,
this man, whom you see and know, his name has made strong,
and the faith that comes through it
has given him this perfect health,
in the presence of all of you.
Now I know, brothers and sisters,
that you acted out of ignorance, just as your leaders did;
but God has thus brought to fulfillment
what he had announced beforehand
through the mouth of all the prophets,
that his Christ would suffer.
Repent, therefore, and be converted, that your sins may be wiped away,
and that the Lord may grant you times of refreshment
and send you the Christ already appointed for you, Jesus,
whom heaven must receive until the times of universal restoration
of which God spoke through the mouth
of his holy prophets from of old.
For Moses said:
A prophet like me will the Lord, your God, raise up for you from among your own kin; to him you shall listen in all that he may say to you. Everyone who does not listen to that prophet will be cut off from the people.
"Moreover, all the prophets who spoke, from Samuel and those afterwards, also announced these days. You are the children of the prophets and of the covenant that God made with your ancestors
when he said to Abraham, In your offspring all the families of the earth shall be blessed. For you first, God raised up his servant and sent him to bless you by turning each of you from your evil ways."
The word of the Lord.
Responsorial Psalm
Ps 8:2ab and 5, 6-7, 8-9
(2ab) O Lord, our God, how wonderful your name in all the earth!
or:
R. Alleluia.
O LORD, our Lord, how glorious is your name over all the earth!
What is man that you should be mindful of him, or the son of man that you should care for him?
R. O Lord, our God, how wonderful your name in all the earth!
or:
R. Alleluia.
You have made him little less than the angels, and crowned him with glory and honor. You have given him rule over the works of your hands,
putting all things under his feet.
R. O Lord, our God, how wonderful your name in all the earth!
or:
R. Alleluia.
All sheep and oxen, yes, and the beasts of the field, The birds of the air, the fishes of the sea, and whatever swims the paths of the seas.
R. O Lord, our God, how wonderful your name in all the earth!
or:
R. Alleluia.
Gospel
Lk 24:35-48
The disciples of Jesus recounted what had taken place along the way, and how they had come to recognize him in the breaking of bread. While they were still speaking about this, he stood in their midst and said to them, "Peace be with you." But they were startled and terrified and thought that they were seeing a ghost. Then he said to them, "Why are you troubled? And why do questions arise in your hearts? Look at my hands and my feet, that it is I myself. Touch me and see, because a ghost does not have flesh and bones as you can see I have." And as he said this, he showed them his hands and his feet. While they were still incredulous for joy and were amazed, he asked them, "Have you anything here to eat?" They gave him a piece of baked fish; he took it and ate it in front of them.
He said to them, "These are my words that I spoke to you while I was still with you, that everything written about me in the law of Moses
and in the prophets and psalms must be fulfilled."
Then he opened their minds to understand the Scriptures.
And he said to them, "Thus it is written that the Christ would suffer
and rise from the dead on the third day
and that repentance, for the forgiveness of sins,
would be preached in his name
to all the nations, beginning from Jerusalem.
You are witnesses of these things."
The Gospel of the Lord.
Reflection 1 – Jesus open the understanding of his disciples
Last Sunday, we were all witness to an open tomb when Jesus resurrected from the dead. Yesterday we had two of Jesus' disciples open their hearts to a complete stranger who were blessed beyond their expectations.
In today's gospel, we see Jesus "open" the understanding of His followers whom he had disciple in the three years that they were with Him. He opened their hearts and minds to the truth behind His resurrection. Jesus explained to them that His resurrection was the fulfillment not only of His own words but also that of the Old Testament which stated that He had to suffer and
die but that He will rise again from the dead on the third day. But noteworthy of all was His mention of the task He wanted all His disciples and believers of all generations to do for Him- that repentance, for the forgiveness of sins , would be preached in His name to all the nations, beginning from Jerusalem."
Jesus saw the need for man to change and turn around from their old broken ways. He opened the understanding of His first disciples regarding the need to preach repentance. God sees all this and wants us to see it too. He wants us to see that in so many ways most of us have to repent if we have to decide to live for Him. This is important because we have to realize what we have done to cause Jesus to die on the cross.
In today's first reading, we see Peter actively pursuing the mission Jesus gave His first disciples as he preached: "Repent, therefore, and be converted, that your sins may be wiped away, and that the Lord may grant you times of refreshment and send you the Christ already appointed for you, Jesus, whom heaven must receive until the times of universal restoration of which God spoke through the mouth of his holy prophets from of old."
Much of what remains for us to do is not as difficult as we think they would be. God want us to repent and re- think what we are all about. He not asking us to complete our whole life's work in the next thirty days. He is only saying that for each of us to be one with Him, we need to open the door of our hearts to Him as there is in us something specific that's ready to be re-thought, re-formed, and re-shaped. If we focus our entire being on God, He will open our understanding and will show us what it is that we need to do. He will give us the wisdom and the courage to walk through the path of righteousness and to do what needs to be done in our lives.
Brethren, let us open our hearts to Jesus and listen to Him carefully. Let Him take us by the hand and allow Him to bring us to repentance and the joy of living in His peace as He said: "Peace be with you."
Let us inscribe this in our hearts s we love our lives for Him: Repent, therefore, and be converted, that your sins may be wiped away, and that the Lord may grant you times of refreshment and send you the Christ already appointed for you, Jesus, whom heaven must receive until the times of universal restoration of which God spoke through the mouth of his holy prophets from of old.
Direction
An open understanding will not only see and hear Jesus but will give a man's heart the desire to do His work.
Prayer
Heavenly Father, open my heart, bless me and make me turn away from my evil ways. In Jesus, I pray. Amen.
Reflection 2 – Touch Me!
One night, Steven Spielberg was seen drinking in a bar with a Chinese guy. After some time and several bottles of beer, Spielberg suddenly punched the Chinese guy in the face. The guy was surprised, and asked, "What's that for?" Spielberg said, "That's for bombing Pearl Harbor." The man protested: "You idiot! Those were the Japanese. I am Chinese!" But Spielberg replied, "Whatever! Chinese, Japanese, Taiwanese, Vietnamese. They are all the same!" After a while the Chinese guy kicked Spielberg. "Why?" he asked. The guy replied, "That's for sinking the Titanic!" "What? It was an iceberg!" protested Spielberg. The guy replied, "Whatever. Iceberg, Carlsberg, Lindbergh, Spielberg. They are all the same!"
No two people are the same, not even identical twins. Every human being is unique. But the recent advancements in the medical sciences are trying to undermine this truth. The advocates of the science of cloning are telling us that it is very possible to duplicate human beings. The human tissues and organs can be duplicated. The DNA can be duplicated. They can produce an exactly the same human person. However, they are gravely mistaken. Though it might be possible to duplicate the body and all its organs and tissues, it is not possible to duplicate a human being. Nobody can duplicate the principle of life and individuality of man, which is the soul. It is impossible to clone the soul.
And a human person is composed of both body and soul. If it is only body, it is just a corpse – ready to be buried. If it is only soul, then it must be a ghost. A human being is both body and soul. We should, therefore, avoid dichotomizing man. We cannot talk of a human person without taking both body and soul together.
Jesus Christ is true God. And he is also true man. He is both divine and human. As man, he has both body and soul. After the resurrection, Jesus appeared to the disciples many times. In the Gospel account this Sunday, he made sure that they understand this."Why are you troubled? It is I myself. Touch me." Then, as further proof, he even asked for food: "Do you have anything to eat?" They gave him a piece of fish, and he ate it in front of them. He clearly made sure to them that he is not a disembodied spirit or a ghost.
Today's Gospel rejects that spirit-body dualism. After his resurrection Jesus demonstrates he is not a "ghost" or a spirit without body. There is a tendency today to dichotomize Jesus: to separate the divine Jesus from the human Jesus, the bodily Jesus from the spiritual Jesus. The people of today prefer a "spiritual Jesus" to the flesh and blood Jesus.
Of course to "spiritualize" Jesus can be attractive to a lot of people. A spiritual Jesus is confined in the realm of the spirit. It keeps him at a safe distance from us, so he does not interfere in our plans and in our life; but he is always there when we need him. Many would prefer a "Jesus-on-call" ("Don't-call-me-I'll-call- you" arrangement.)
But an over-spiritualized approach to Jesus misses the truth: He desires that we touch him; that we contemplate his five wounds; and that we eat his body and drink his blood. That is, after all the reason for the Incarnation.
We may find it rather strange that Jesus, in his appearances after his resurrection, insisted on his physicality, the reality of his body:"Touch me!" Well, the reason is that he does not want us to put him aside to some distant spiritual realm. He desires not just a spiritual relationship with us, but also a physical one: physical and spiritual union – a "spousal union." He wants to espouse us. He is the Bridegroom, and we, the Church, are his Bride. As St. Peter tells us, he is the "author of life" (Acts 3:17), and he invites us to share that life: "I came that you may have life and have it to the full." (Jn 10:10). And this is precisely why Jesus gave us the sacraments: that we might connect and relate with him on the material and physical as well as on the spiritual level.
This tendency to dichotomize Jesus reveals also a clear tendency among us to dichotomize man. Many people want to separate their spiritual life from their daily life, their religious life from their life in this world. They are the so-called "split-level Christians", the dual-life Christians. They want to brush aside the commandments with a simple rule of thumb: As long as my spirit is right (that is, I feel good about myself) it does not matter what I do with my body. As the words of a famous song says: "It can't be wrong if it feels so right. 'Cause you, you light up my life." I can do anything I like as long as it feels good inside.
This Sunday, Jesus calls us to be authentic in our life and in our relationship with Him and with one another. Let the words we speak reveal the truthfulness of our hearts and minds. Let our actions express the purity of our intentions. Let the beauty of our bodies be the reflection of the inner beauty and splendor of our souls.
And let this also be the way we look at others. We cannot continue looking at people and judging them by their external appearances alone. A human person is more than the physical body we see. He is both corporeal and spiritual. Lest we forget, Jesus identified himself with the poor, the neglected and the rejects of society: "whatsoever you do to the least of my brothers, that you do unto me."
St. Irenaeus said: "The glory of God is man fully alive." God is glorified when we live our lives to the full. Let us live as true human beings, created in the image and likeness of God. We have bodies, but with souls. So we are not corpses. We have souls, but with bodies. So we are not ghosts. We are human beings, men and women created by God and redeemed by the blood of Jesus Christ, destined to share in the eternal life and glory in our God's heavenly kingdom (Source: Fr. Mike Lagrimas, Sta. Lucia Church, JP Rizal Street, Bgy. Sta. Lucia, Novaliches, Quezon City 1117).
Reflection 3 – The presence of Christ in the Eucharist and in his people
The two disciples in the Gospel story recounted what had taken place on the way, and how Jesus was made known to them in the breaking of the bread. The breaking of the bread reaches so deep into who we are as Catholics, as Christians, that the teaching of theCatholic Church places before us as a precept, as a command, that we are to gather for the breaking of the bread each week. Millions of Catholics around the world gather daily in their local parishes, in monasteries and convents, in hospitals and on the road for breaking of the bread.
In some way beyond our human perception, the breaking of the bread is both a sign that Jesus is already with us – in the Christian people who gather in his name, in you and me, and under the form of bread and wine, which become his Body and Blood. St. Francis of Assisi wrote: "Let the whole mankind tremble, the whole world shake and the heavens exult… That the Lord of the universe, God and the Son of God, so humbles himself that for our salvation He hides himself under the little form of bread!" When we speak of the real presence of Christ, generally we refer to that presence under the form of bread and wine, of the Eucharist. But the real presence of Christ is not only there, but in us and in Christ's people, too.
We hear of the real presence of Jesus today in the gospel twice. First, we heard of it in the description of what had happened to those disciples who had walked with Jesus to Emmaus, that they knew him in the breaking of the bread. Second, Jesus joined those disciples and those to whom they spoke. The risen Jesus was really there with them. He was not a ghost. Though now in glory Jesus in some miraculous way remains flesh and blood. The risen Christ is as real as those sitting next to you now, or when you watch a movie, or eat a meal. He was really there with the disciples – not a ghost. By eating fish, Jesus showed the disciples that he was flesh and blood. Jesus remains as real in this world as wives and husbands, parents and children. Jesus is as real in this world as the strangers on our streets, at our borders, or in scenes of devastation. Jesus is a real in our world as any human being, who, like us, longs for food for the day and shelter for the night.
Jesus asked the disciples to look at his hands and feet, to touch him, to see his flesh and feel his bones. Jesus reminds us that every time we touch each other, we are touching him. We are not simply touching Jesus; we are touching his wounds. For in each other, we touch Jesus' broken body. We know how much it hurts when we cut our finger with a piece of paper. The wounds of Jesus reflect the wounds which he bore for all of us and those wounds go as deep as nail marks, rather than being as shallow as paper cuts. So we are called to be loving and gentle with one another. Jesus challenges us to touch others with the same kind of love with which he reached out to us. Jesus' love was not always about warm, sweet cuddly things. Sometimes that love challenged the perceptions and prejudices of those around him. Sometimes that love was an invitation to sacrifice. Always, that love called for putting God first and loving my neighbors as myself.
Jesus is as truly present here as he was with the disciples, in the breaking of the bread and in our broken lives. We heard in the first reading (Acts 3:13-15, 17-19) how Jesus was put to death, and we know that we can help others, or we can hurt them. We heard in the second reading (1 Jn 2:1-5) that Jesus intercedes for us, and we know that we are to pray, we are to do, we are to be: for each other.
Aware that Christ is truly present in us, we gather to have that real presence affirmed and strengthened by seeking the nourishment of his Body and Blood. By paying attention to the reality of Christ present in the breaking of the bread, we are called as well to recognize the real presence of Christ in ourselves, in the community of faith and in the needs of those around us.(Source: Jack Clark Robinson, OFM, Fr. Hilarion Kistner, OFM, editor. Homily Helps. Ohio: St. Anthony Messenger Press, April 26, 2009).
Reflection 4 – Jesus opened their minds to understand the Scriptures
Aren't we like the apostles? We wont believe unless we can see with our own eyes. The Gospel accounts attest to the reality of the resurrection of Jesus from the grave. Jesus goes to great lengths to assure his disciples that he is no mere ghost or illusion. He shows them the marks of his crucifixion and he explains how the Scriptures foretold his death and rising.
Jerome (347-420 AD), an early church bible scholar, comments:
"As he showed them real hands and a real side, he really ate with his disciples; really walked with Cleophas; conversed with men with a real tongue; really reclined at supper; with real hands took bread, blessed and broke it, and was offering it to them… Do not put the power of the Lord on the level with the tricks of magicians, so that he may appear to have been what he was not, and may be thought to have eaten without teeth, walked without feet, broken bread without hands, spoken without a tongue, and showed a side which had no ribs." (From a letter to Pammachius against John of Jerusalem 34)
The door to heaven and key to paradise is through the cross
The centrality of the Gospel message is the cross – but fortunately it does not stop there. Through the cross Jesus defeated our enemies – death and Satan and won pardon for our sins. His cross is the door to heaven and the key to paradise. The way to glory is through the cross. When the disciples saw the risen Lord they disbelieved for joy! How can death lead to life, the cross to victory? Jesus shows us the way and he gives us the power to overcome sin and despair, and everything else that would stand in the way of his love and truth. Just as the first disciples were commissioned to bring the good news of salvation to all the nations, so, we, too, are called to be witnesses of the resurrection of Jesus Christ to all who live on the face of the earth. Do you witness the joy of the Gospel to those around you?
"Lord Jesus, open our minds to understand the Scriptures that we may fully comprehend the truth of your word. Anoint us with your power and give us joy and boldness to proclaim the Gospel in word and deed." – Read the source: http://dailyscripture.servantsoftheword.org/readings/2017/apr20.htm
Reflection 5 – Growing beyond the need for miracles

In today's first reading, the healing of the crippled man attracted a crowd. This reminds me of the time when my parish hosted a guest speaker from Ireland who was advertised as a "healing priest". He attracted such large numbers of people that many could not fit inside the church. They waited outside for his preaching to end so that they could get in line to go in for a healing.
When was the last time you saw a parish mission draw crowds this large for nothing more than to hear good teachings and have a penance service? I've never seen it. Most people are more interested in physical miracles than spiritual growth.
Peter addressed the miracle-seeking crowd and used this opportunity to turn their attention away from the miracle — and away from himself and John — to guide their eyes toward Jesus and their hearts toward conversion. Some of them accepted this, some did not.
Are we more fascinated by miracles or by personal improvement?
Look at how the disciples reacted when the risen Christ appeared supernaturally in the Gospel reading today. Jesus offered peace, but they shook with fear and confusion. They had already heard that Jesus had risen from the dead, but they were still finding it too incredible to believe.
There's a big difference between knowing and believing. We know we are loved by rebellious children and argumentative friends, but we don't fully believe it, and so we insist on having proof. We know that God loves us beyond all measure, but look at how readily we assume he's not answering our prayers. We know God is generous, but look at how stingy we are with our finances when the collection basket comes; we're fearful that God won't replenish and multiply what we give away.
Seeing miracles is wonderful, but this is not what gives us true belief in God's love, because seeing is not believing. The disciples were able to see Jesus after his death. When they saw the truth, they knew that a miracle had happened — but they felt afraid. Their conversion to believing the truth and understanding what it meant did not happen until Jesus opened their minds to understand the Scriptures.
When we pray for miracles, be they small or large, easily possible or seemingly impossible, we become true believers when we allow the Holy Spirit to give us new understanding and spiritual growth. Miracles are only bonuses of Christian living. The heart of Christian living is believing in God's love for us, which occurs when we move beyond the desire for miracles into the realm of understanding that God is making everything work for our good and for the benefit of others.
In this we find much more joy and inner peace than miracles could ever give us. – Read the source: http://gnm.org/good-news-reflections/?useDrDate=2017-04-20
Reflection 6– Witness of Peace
"In every person the desire for peace is an essential aspiration which coincides in a certain way with the desire for a full, happy, and successful human life. In other words, the desire for peace corresponds to a fundamental moral principle, namely, the duty and right to an integral social and communitarian development, which is God plan for mankind. Man is made for peace which is God's gift…..
" Jesus, the revelation of the Father's love, does not hesitate to offer himself in self-sacrifice. Once we accept Jesus Christ, God and man, we have the joyful experience of an immense gift: the sharing of God's own life, the life of grace, the pledge of a fully blessed existence. Jesus Christ, in particular, grants us true peace, which is born of the trusting encounter of man with God….
"In effect, peace presupposes a humanism open to transcendence. It is the fruit of the reciprocal gift, of a mutual enrichment, thanks to the gift which has its source in God and enables us to live with others and for others. The ethics of peace is an ethics of fellowship and sharing….
"The precondition for peace is the dismantling of the dictatorship of relativism and of the supposition of a completely autonomous morality which precludes acknowledgment of the ineluctable natural moral law inscribed by God upon the conscience of every man and woman. Peace is the building up of coexistence in rational and moral terms, based on a foundation whose measure is not created by man, but rather by God (Source: Pope Benedict XVI, Magnificat, Vol. 17, No. 2, April 2015, pp. 71-72).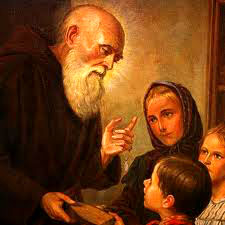 Reflection 7 – St. Conrad of Parzham (1818-1894 A.D.)
Conrad spent most of his life as porter in Altoetting, Bavaria, letting people into the friary and indirectly encouraging them to let God into their lives.
His parents, Bartholomew and Gertrude Birndorfer, lived near Parzham, Bavaria. In those days this region was recovering from the Napoleonic wars. A lover of solitary prayer and a peacemaker as a young man, Conrad joined the Capuchins as a brother. He made his profession in 1852 and was assigned to the friary in Altoetting. That city's shrine to Mary was very popular; at the nearby Capuchin friary there was a lot of work for the porter, a job Conrad held for 41 years.
At first some of the other friars were jealous that such a young friar held this important job. Conrad's patience and holy life overcame their doubts. As porter he dealt with many people, obtaining many of the friary supplies and generously providing for the poor who came to the door. He treated them all with the courtesy Francis expected of his followers.
Conrad's helpfulness was sometimes unnerving. Once Father Vincent, seeking quiet to prepare a sermon, went up the belltower of the church. Conrad tracked him down when someone wanting to go to confession specifically requested Father Vincent.
Conrad also developed a special rapport with the children of the area. He enthusiastically promoted the Seraphic Work of Charity, which aided neglected children.
Conrad spent hours in prayer before the Blessed Sacrament. He regularly asked the Blessed Mother to intercede for him and for the many people he included in his prayers. The ever-patient Conrad was canonized in 1934.
Comment:
As we can see from his life as well as his words, Conrad of Parzham lived a life that attracted others because of a special quality, something Chesterton alluded to when he wrote, "The moment we have a fixed heart we have a free hand" (Orthodoxy, p. 71). If we want to understand Conrad, we have to know where he fixed his heart. Because he was united to God in prayer, everyone felt at ease in Conrad's presence.
Quote:
"It was God's will that I should leave everything that was near and dear to me. I thank him for having called me to religious life where I have found such peace and joy as I could never have found in the world. My plan of life is chiefly this: to love and suffer, always meditating upon, adoring and admiring God's unspeakable love for his lowliest creatures" (Letter of Saint Conrad).
Read the source: http://www.americancatholic.org/features/saints/saint.aspx?id=1359
SAINT OF THE DAY
Catholic saints are holy people and human people who lived extraordinary lives. Each saint the Church honors responded to God's invitation to use his or her unique gifts. God calls each one of us to be a saint. Click here to receive Saint of the Day in your email.
| | |
| --- | --- |
| | This article needs additional citations for verification. (May 2014) |
Saint Conrad of Parzham, O.F.M. Cap. (1818–94), was a GermanFranciscan lay brother. He served for over 40 years in the post of porter of the Capuchin friary in Altötting, through which work he gained a widespread reputation for his wisdom and holiness. He has been declared a saint by the Catholic Church.
Early life
[
edit
]
Born 22 December 1818,[1] he was baptized with the name of John, the son of Bartholomäus Birndorfer and Gertrude Niedermayer, and was born on the family farm in Bad Griesbach, now a part of the town of Parzham, then in theKingdom of Bavaria, now part of Germany. He was the ninth son in a peasant family.
From his earliest years, the young Hansel (a diminutive of John) gave indications of his future sanctity by his modesty and love of solitude. His devotion was noticeable especially when he prayed in church, the distant location of which was no hindrance to his visiting it frequently even in inclement weather. He had a great devotion to the Blessed Virgin, and each day fervently recited the Rosary. On feast days he frequently made a journey to some remote shrine of the Blessed Mother. During such pilgrimages, always made on foot, he was engaged in prayer, and when he returned in the evening, he was usually still fasting.
John spent his early years on the family farm, losing his mother when he was 14. At the age of 31, after his father's death, he decided to leave the secular world. After disposing of his inheritance, he was admitted, first as a tertiary, then, two years later, as a lay brother among the Capuchin Franciscan friars.[2] Upon entering the novitiate, he was given the name Conrad by which he was known for the remainder of his life.
Brother Porter
[
edit
]
Immediately after his profession he was sent to the Friary of St. Ann, in the city of Altötting. The friary served the Shrine of Our Lady of Altötting, the national shrine of Bavaria to the Blessed Mother. Conrad was given the position of porter at this shrine, and retained it until his death. Because it was a large and busy city, the duty of the friary porter was a very difficult one. Conrad was known to be diligent at his work, sparing in words, bountiful to the poor, eager and ready to receive and help strangers. Brother Conrad fulfilled the task of porter for more than forty years, assisting the inhabitants of the town in their needs of body and soul.
Conrad loved silence in a special way. His spare moments during the day were spent in a nook near the door where it was possible for him to see and adore theBlessed Sacrament. During the night he would deprive himself of several hours of sleep, to devote the time to prayer either in the oratory of the friars or in the church. It was generally believed that he never took any rest, but continually occupied himself in work and exercises of devotion.
On the 21 April 1894, Conrad died in the friary where he had served for 41 years.
Canonization
[
edit
]
During his lifetime, Brother Conrad was reputed to have been able to read the hearts of those he met, and was attributed the gift of prophecy.[3] His heroic virtuesand the miracles he performed won for him the distinction to be ranked among the Blessed by Pope Pius XI in 1930. Four years later, the same pope, approving additional miracles which had been performed, solemnly inscribed his name in the list of saints.
References
[
edit
]