Readings & Reflections: Friday of the Fifth Week in Ordinary Time & St. Scholastica, February 10,2017
What we know of the life of Scholastica is drawn from The Dialogues, Gregory the Great's biography of her brother, Saint Benedict, the founder of Western monasticism. Born of a noble Roman family in Nursia of Umbria, Scholastica was dedicated to God at a young age. She led a community of virgins at Plombariola, not from Monte Cassino, the monastery Benedict had founded. She visited her brother once a year, meeting for prayer and conversation, just outside the monastery walls. It was shortly after one of these meetings, in the year 542 A.D., that Benedict, looking out from the monastery, saw his sister's soul ascend to heaven like a dove.
No one wants us to be like God more than God does himself. The way to this is obedience and the childlike dependence on him since we do not know how even to conceive of our happiness. That is why Jesus' actions towards the deaf man today are for all time: God takes us to himself; he touches us in a gesture of recreation; and he commands, "Be opened!"
AMDG+
Opening Prayer
Lord Jesus, Although cures for chronic or permanent conditions are not so common and frequent in today's society, we still believe in the healing power of prayer and care for the sick and suffering. Lord, enable your people to focus and provide spiritual and emotional support to those who are suffering from chronic and "incurable" ailments. Make all of us a source of your healing for family and friends who are ill. Lord, you invite all who are burdened to come to you. Allow your healing hand to heal them. Touch their souls with your compassion. Touch their hearts with your courage and infinite love for all. Touch their minds with your wisdom, that their mouths may always proclaim your praise. Teach them to reach out to you in their need, and help them to lead others to you by example. Most loving Heart of Jesus, bring them health in body and spirit that they may serve you with all their strength. Gently touch gently their lives which you have created, now and forever. Amen.
Reading 1
Gn 3:1-8

Now the serpent was the most cunning of all the animals
that the LORD God had made.
The serpent asked the woman,
"Did God really tell you not to eat
from any of the trees in the garden?"
The woman answered the serpent:
"We may eat of the fruit of the trees in the garden;
it is only about the fruit of the tree
in the middle of the garden that God said,
'You shall not eat it or even touch it, lest you die.'"
But the serpent said to the woman:
"You certainly will not die!
No, God knows well that the moment you eat of it
your eyes will be opened and you will be like gods
who know what is good and what is evil."
The woman saw that the tree was good for food,
pleasing to the eyes, and desirable for gaining wisdom.
So she took some of its fruit and ate it;
and she also gave some to her husband, who was with her,
and he ate it.
Then the eyes of both of them were opened,
and they realized that they were naked;
so they sewed fig leaves together
and made loincloths for themselves.
When they heard the sound of the LORD God moving about in the garden at the breezy time of the day,
the man and his wife hid themselves from the LORD God
among the trees of the garden.
The word of the Lord.
Responsorial Psalm
Ps 32:1-2, 5, 6, 7
R. (1a) Blessed are those whose sins are forgiven.
Blessed is he whose fault is taken away,
whose sin is covered.
Blessed the man to whom the LORD imputes not guilt,
in whose spirit there is no guile.
R. Blessed are those whose sins are forgiven.
Then I acknowledged my sin to you,
my guilt I covered not.
I said, "I confess my faults to the LORD,"
and you took away the guilt of my sin.
R. Blessed are those whose sins are forgiven.
For this shall every faithful man pray to you
in time of stress.
Though deep waters overflow,
they shall not reach him.
R. Blessed are those whose sins are forgiven.
You are my shelter; from distress you will preserve me;
with glad cries of freedom you will ring me round.
R. Blessed are those whose sins are forgiven.
Gospel
Mk 7:31-37

Jesus left the district of Tyre
and went by way of Sidon to the Sea of Galilee,
into the district of the Decapolis.
And people brought to him a deaf man who had a speech impediment and begged him to lay his hand on him.
He took him off by himself away from the crowd.
He put his finger into the man's ears
and, spitting, touched his tongue;
then he looked up to heaven and groaned, and said to him,
"Ephphatha!" (that is, "Be opened!")
And immediately the man's ears were opened,
his speech impediment was removed,
and he spoke plainly.
He ordered them not to tell anyone.
But the more he ordered them not to,
the more they proclaimed it.
They were exceedingly astonished and they said,
"He has done all things well.
He makes the deaf hear and the mute speak."
The Gospel of the Lord.
Reflection 1 – A deaf man
"And people brought to him a deaf man who had a speech impediment and begged him to lay his hand on him."
I can still remember the time when my only brother fell ill and subsequently passed on to his next life. The entire family tried to help. His wife did her very best. The medical team poured in all they had. But there was a limit to what everyone could do. In life, it is only God Who can make the difference. It is His will that shall have the final say and affirmation. All we can do is hope and pray for the best.
Those people who brought the deaf man to Jesus probably felt that there was not much they could do for their friend. Most probably that was the very reason why they begged Jesus to lay His healing hands upon their friend. Some of his friends might have hoped for total healing while others may have hoped only for a little improvement to his condition. Some friends may have hoped that even with such condition Jesus could at least give the deaf man some peace in his heart.
Today, we may have a lot of friends and family who may need physical and spiritual healing. Our hearts are so concerned for them but there comes a point when there is there is not much that we can do.
In reality after we have persevered in praying with them and shared God's Word and walked with them hand in hand, all we can do to bring them healing and wholeness, is simply to surrender them to the Lord in prayer. We can only ask the Lord to reach out to all of our loved ones and to relieve them of their burdens and concerns. We can only seek His healing mercies for their sicknesses and what may have afflicted them. We can only unite our hearts with them in prayer and seek God's strength as we all go through the dark valleys of life.
Jesus healed the deaf man as He opened his ears. In our lives God sent Jesus to heal us. It is through His healing touch that our hearts were opened to hear God's voice. Today amidst our weaknesses and our attraction for the world, it always helps to pray that we might "be opened." When we feel that God does not care about our sordid life situations, we may choose to close our hardened hearts on Him. But with prayers, God mighty Hands are in action in our lives as He opens our being to the truth of His love for us. Praying and meditating on His word are our reflex actions to God's word, "be opened!"
After all is said and done, we should remember that we owe everything to our Lord God. We need to totally depend on Him and be open to Him, abide in Him. All we can do is allow Him to prevail in our lives and the lives of those close to our hearts and let Him do what is needed and as He pleases. We need to remain in Jesus as He said: "If you remain in me and my words remain in you, ask for whatever you want and it will be done for you. John 15:7
In every life circumstance, Jesus is the ANSWER! With Him in our lives, we will be fully healed, restored and made fit to reach our final destination! He is our shelter from distress and He will preserve us!

Direction
Surrender all our cares to Jesus and let His healing mercies flow into our sick and sinful bodies. We are limited in what we can do yet we have God Who knows no bounds and on Whom all is possible.
Prayer
Heavenly Father, we pray that You will lay your healing Hands upon all those who are sick. We beg You to have compassion on all those who are suffering so that they may be delivered from their pitiful circumstances. In Jesus, we pray. Amen.
Reflection 2 – Opening our ears wider

In today's first reading, we see a classic illustration of a fault that we all have: hearing what we think we should hear, filtering out what we actually heard, and putting our words (or someone else's words) into God's mouth.
The serpent asked: "Did God really tell you not to eat from any tree in the garden?" No, that's not what he said, but did the woman catch this twisting of the truth? Listen to her answer: "God said all trees were okay except one." This part is true, but then she put words into God's mouth: "You shall not eat of the tree of knowledge of good and evil or even touch it." God had said nothing about touching it (see Genesis 2:16-17).
Eve started to sin when she acted as if she could be "like a god", by adding to God's words. We do that, too, whenever we jump to conclusions by supposing that we know more than we actually do.
This original sin is repeated today when we make up our own minds about the teachings (i.e., the "Deposit of Faith") that the Church Magisterium has protected from error throughout the centuries. To justify the decision to disobey a Church teaching, we put words into God's mouth: "If your conscience says it's okay, then it's okay."
For example, many Catholics don't trust the Church's teaching about using natural methods to responsibly determine the timing and frequency of conceiving children. I can testify that the Natural Family Planning method recommended by the Church is trustworthy unless the woman has a health issue that interferes with it, and when that happens, the Church does offer other options. Contrary to a common misunderstanding, the Church does not promote huge families; what the Church promotes is the value of family.
Consider any Church teaching that's controversial. Remove the temporal (earthly, temporary) human desires from the debate, then research it humbly, asking the Holy Spirit to help you understand what the Church is really trying to teach about love underneath whatever sounds wrong in it.
Although Church rules that deal with cultural problems are changeable and do evolve over time, we sin if we live by our own rules when it comes to moral (divine, eternal) laws, putting our words and personal preferences into God's mouth.
Let us ask Jesus to do for us what he did in today's Gospel passage. He wants to heal our imperfect hearing so that we can listen to the truth more accurately. Jesus is saying to us: "Ephphatha!" (that is, "Be opened!").
Eve didn't like being told that there was something she was not allowed to do. She did not understand (and she did not ask for understanding) why God would forbid anything. She chose not to trust that God had a good reason for his rules nor that his law benefited her. We are given the same choice. Will you trust what God is saying through his Church? – Read the source: http://gnm.org/good-news-reflections/?useDrDate=2017-02-10
Reflection 3 – He has done all things well
How do you expect the Lord to treat you when you ask for his help? Do you approach with fear and doubt, or with faith and confidence? Jesus never turned anyone aside who approached him with sincerity and trust. And whatever Jesus did, he did well. He demonstrated both the beauty and goodness of God in his actions. When Jesus approaches a man who is both deaf and a stutterer, Jesus shows his considerateness for this man's predicament. Jesus takes him aside privately, not doubt to remove him from embarrassment with a noisy crowd of gawkers (onlookers). Jesus then puts his fingers into the deaf man's ears and he touches the man's tongue with his own spittle to physically identify with this man's infirmity and to awaken faith in him. With a word of command the poor man's ears were opened, his tongue was released, and he spoke plainly.
What is the significance of Jesus putting his fingers into the man's ears? Gregory the Great, a church father from the 6th century, comments on this miracle: "The Spirit is called the finger of God. When the Lord puts his fingers into the ears of the deaf mute, he was opening the soul of man to faith through the gifts of the Holy Spirit."
The kindness and compassion of the Lord
The people's response to this miracle testifies to Jesus' great care for others: He has done all things well. No problem or burden was too much for Jesus' careful consideration. The Lord treats each of us with kindness and compassion and he calls us to treat one another in like manner. The Holy Spirit who dwells within us enables us to love as Jesus loves. Do you show kindness and compassion to your neighbors and do you treat them with considerateness as Jesus did?
"Lord Jesus, fill me with your Holy Spirit and inflame my heart with love and compassion. Make me attentive to the needs of others that I may show them kindness and care. Make me an instrument of your mercy and peace that I may help others find healing and wholeness in you." – Read the source: http://dailyscripture.servantsoftheword.org/readings/2017/feb10.htm
Reflection 4 – How will we keep the paschal season?
We are in the final days of winter Ordinary Time. Ash Wednesday is just days away. Now is a good time to begin to think about what we want our Lent to look like. It is especially important to remember that we have Lent because of Easter. We have all heard of the "forty days of Lent" but how many are aware of the "fifty days of Easter"? And how many keep those days as well as we do the days of Lent? This is something to think about as we prepare.
Perhaps you will make prayer more of a priority during the Lenten and Easter seasons. You can't go wrong with a resolution to pray more. It's important to keep in mind that more important than the words we speak in prayer is what comes next: listening to God's response to our prayer. Let us be attentive to the word we hear proclaimed and the Eucharist we eat and drink. The Lord surely communicates with us there. Let us be more attentive to the people who come into our lives, what they say, and what happens around us. God most often communicates to us through others.
This Lent might also be a good time to reestablish our relationship with our patron saints in prayer. The saints are there for us, especially the Blessed Virgin Mary, to intercede on our behalf before the Lord.
Let us especially pray for our catechumens and candidates for full communion with the Catholic Church. Lent is their intense period of purification as they prepare for the Easter sacraments.
Today's Gospel offers a wonderful inspiration for keeping the upcoming paschal season. Jesus heals a man who is deaf and has a speech impediment. We might consider what deafness the Lord might heal in us in the coming weeks. Are we deaf to those at work or school who might be having a particularly difficult period in their lives? Are we deaf to those who need special attention within our families, within our parish, or within the great neighborhood?
As we consider God's will for us in this coming paschal season, we pray, "Lord, open our ears so we may hear you speak." (Source: Timothy J. Cronin. Weekday Homily Helps. Ohio: St. Anthony Messenger Press, February 12, 2010).
Reflection 5 – Motivation
Today's readings contain two examples of disobedience. In the first reading (Gen 3:1-8), the disobedience of the woman and man triggers a series of events that results in their expulsion from the garden. They have simply been commanded to avoid the fruit of the tree in the middle of the garden, but their curiosity and their desire to be like gods cause them to ignore this command and partake of the fruit. The Gospel (Mk 7:31-37) tells of a crowd of people who disobey the injunction of Jesus to keep secret the miracles they have seen him perform. There is no indication that they are punished for this disobedience, but it seems likely that their exuberance over these wonders contributes to the uneasiness of local leaders about the rising popularity of Jesus.
There is a difference between these two disobedient responses, although both seem to have consequences. In the first reading (Gen 3:1-8), the man and woman disobeyed because they were unwilling to accept their limitations or to rely on God for judgment between good and evil. In the Gospel (Mk 7:31-37) the followers of Jesus disobeyed because they were filled with such amazement over the mercy and healing power they had witnessed. Perhaps the severity of the sin is directly correlated to the motivation behind it… or perhaps the sin is the motivation itself.
What is our motivation? Why do we do the things we do? Is it because we are overwhelmed by the greatness of God's works, or do we operate out of a sense of selfishness, greed and unwillingness to trust in God? The challenge of today's readings is for us to examine our hearts to find what stirs us to action. We must replace our self-centered attitudes with the amazement that the followers of Christ felt when they proclaimed, "He had done everything well!" (Mk 7:37). (Source: Cecilia A. Felix, Weekday Homily Helps. Ohio: St. Anthony Messenger Press, February 13, 2009).
Reflection 6 – Contempt of God
When we read the Gospel, we must avoid the temptation of imagining that the events it describes are things that happened to other people, somewhere else, a long time ago. If we do not find ourselves in the Gospel account, we limit the effectiveness of Jesus' ministry to the comparatively few encounters he had with people who lived two thousand years ago. Our faith challenges us to see Jesus' encounters with individuals in the past as signs of what Jesus continues to accomplish in our lives.
The man in today's gospel (Mk 7:31-17) is a picture of our fallen human nature. Our first parents stopped listening to God, and mankind has been beset by deafness ever since. When Adam and Eve lied about why they were hiding from God in the Garden, human speech became muddled and indistinct (Gen. 3:9-13).
These weaknesses are one of the effects of sin, which our catechism defines as "a failure in genuine love for God… and offense against God" (CCC: 1849-50). The man in the gospel is deaf through no fault of his own, but his physical disability perfectly illustrates the spiritual consequences that befall us when we choose to listen to a voice other than God's. If we make this choice often enough, we end up unable to hear anything at all.
Physical deafness can be partial, total or anything in between. We may say the same about sin, which is any thought or action contrary to God's law. St. Augustine calls sins a "love of oneself even to contempt of God." It is a denial of our vocation, which is to love God, and to love others because God loves them. Today's second reading, from the Letter of James (James 2:1-5), shows this social dimension of sin. Because sin weakens our relation with God, the primary relation in our lives, it is reflected in a weakening of every other relation, including the bonds that draws us to one another.
The gravity of our sin depends on the extent to which we prefer to love ourselves rather than God. Some sins are serious enough completely to sever our relation with God; others merely weaken it.
If we turn away from God altogether, we call the sin "mortal" (or "deadly") because the sinful action totally rejects God's love for us, and altogether turns our affections away from him. Mortal sin destroys our love for God, and without this love, which is our response to God's love; we cannot hope to be saved.
Obviously, this is no light matter: to commit a mortal sin we must choose to do something seriously wrong, we must know the action is wrong, and in spite of this knowledge we must deliberately choose to do it. Each of these points is important, and we must consider them all when we examine our conscience. The severity of the punishment rightly suggests that we may commit mortal sins only infrequently. However, although it may be difficult to reject God's love competely, we must not delude ourselves into imagining that it is impossible, or that we cannot commit mortal sin at all.
We commit a venial sin when an action weakens our love for God, but does not blind us altogether to our obligations to God, ourselves and one another. A venial sin is obviously far less serious than a mortal sin, but venial sins add up, and St. Augustine warns us to "tremble when (we) count them."
Sin, even venial sin, weakens our love for God and others and slows down the progress we ought to be making to draw closer to God. One of the effects of sin is a deadening of our sense of wrong-doing. Any habit, good or bad, becomes easier with practice, and a danger of repeated sin is the likelihood that we will grow increasingly deaf to God's call.
In today's first reading (Is. 35:4-7), the prophet Isaiah gives very vivid examples of God's love for us. It enables the blind to see, the deaf to hear, and the lame to leap for joy. If physical weakness is a good image for the effect of sin, these astounding cures are a consoling reminder of the power of God's grace. The Gospel is "Good News," and today's cure of the deaf man shows us the power of God's grace. We experience it in the sacrament of reconciliation, and we embrace it in the Eucharist, when we receive the Lamb of God, who takes away the sins of the world.
Today's gospel ends with the crowd's saying, "He does all things well" (Mk 7:37). This echoes the Book of Genesis, in which God looks at what he has created and sees that it is good (Gen. 1:31). Sin is our rejection of God's goodness; today's gospel is a reminder of God's power to restore that goodness if we are willing to surrender to his love. (Source: Rev. Reginald Martin, OP, "Homilies on the Liturgies of Sundays and Feasts," Homiletic & Pastoral Review. Vol. CIX, No. 11/12. San Francisco: Ignatius Press, August/September 2009, pp. 33-34; Suggested reading: Catechism of the Catholic Church, 1846-1864).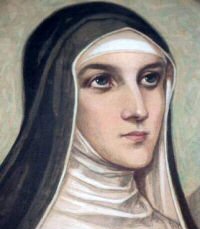 Reflection 7 – St. Scholastica (480-542? A.D.)
Twins often share the same interests and ideas with an equal intensity. Therefore, it is no surprise that Scholastica and her twin brother, Benedict (July 11), established religious communities within a few miles from each other.
Born in 480 of wealthy parents, Scholastica and Benedict were brought up together until he left central Italy for Rome to continue his studies.
Little is known of Scholastica's early life. She founded a religious community for women near Monte Cassino at Plombariola, five miles from where her brother governed a monastery.
The twins visited each other once a year in a farmhouse because Scholastica was not permitted inside the monastery. They spent these times discussing spiritual matters.
According to the Dialogues of St. Gregory the Great, the brother and sister spent their last day together in prayer and conversation. Scholastica sensed her death was close at hand and she begged Benedict to stay with her until the next day.
He refused her request because he did not want to spend a night outside the monastery, thus breaking his own Rule. Scholastica asked God to let her brother remain and a severe thunderstorm broke out, preventing Benedict and his monks from returning to the abbey.
Benedict cried out, "God forgive you, Sister. What have you done?" Scholastica replied, "I asked a favor of you and you refused. I asked it of God and he granted it."
Brother and sister parted the next morning after their long discussion. Three days later, Benedict was praying in his monastery and saw the soul of his sister rising heavenward in the form of a white dove. Benedict then announced the death of his sister to the monks and later buried her in the tomb he had prepared for himself.
Comment:
Scholastica and Benedict gave themselves totally to God and gave top priority to deepening their friendship with him through prayer. They sacrificed some of the opportunities they would have had to be together as brother and sister in order better to fulfill their vocation to the religious life. In coming closer to Christ, however, they found they were also closer to each other. In joining a religious community, they did not forget or forsake their family but rather found more brothers and sisters.
Quote:
"All religious are under an obligation, in accordance with the particular vocation of each, to work zealously and diligently for the building up and growth of the whole mystical body of Christ and for the good of the particular churches. It is their duty to foster these objectives primarily by means of prayer, works of penance, and by the example of their own lives" (Vatican II, Decree on the Pastoral Office of Bishops, 33, Austin Flannery translation).
Patron Saint of: Nuns
Read the source: http://www.americancatholic.org/features/saints/saint.aspx?id=1287
SAINT OF THE DAY
Catholic saints are holy people and human people who lived extraordinary lives. Each saint the Church honors responded to God's invitation to use his or her unique gifts. God calls each one of us to be a saint. Click here to receive Saint of the Day in your email.
Scholastica (c. 480 – 10 February 542) is a saint of the Roman Catholic Church and the Eastern Orthodox Churches. Born in Italy, according to a ninth century tradition, she was the twin sister of Benedict of Nursia.[2][3] Her feast day is 10 February.
Scholastica was born in 480 in Nursia, Umbria, of wealthy parents and according to Gregory the Great's Dialogues, was dedicated to God from a young age. She and her brother Benedict were brought up together until the time he left to pursue studies in Rome.
A young Roman woman of Scholastica's class and time would likely have remained in her father's house until marriage (likely arranged) or entry into religious life. But wealthy women could inherit property, divorce, and were generally literate. On occasion several young women would live together in a household and form a religious community.[3]
Benedictine tradition holds that Scholastica lived in a convent at Plumbariola about five miles from Monte Cassino and that this was the first "Benedictine" convent.[4] However, it has been suggested that it is more likely that she lived in a hermitage with one or two other religious women in a cluster of houses at the base of Mount Cassino where there is an ancient church named after her. Ruth Clifford Engs notes that since Dialogues indicates that Scholastica was dedicated to God at an early age, perhaps she lived in her father's house with other religious women until his death and then moved nearer to Benedict.[3]
The most commonly told story about her is that she would, once a year, go and visit her brother at a place near his abbey, and they would spend the day worshiping together and discussing sacred texts and issues.[5]
One day they had supper and continued their conversation. When Benedict indicated it was time for him to leave, perhaps sensing the time of her death was drawing near, she asked him to stay with her for the evening so they could continue their discussions. Not wishing to break his own Rule, Benedict refused, insisting that he needed to return to his cell. At that point, Scholastica closed her hands in prayer, and after a moment, a wild storm started outside of the guest house in which they were housed. Benedict asked, "What have you done?", to which she replied, "I asked you and you would not listen; so I asked my God and he did listen. So now go off, if you can, leave me and return to your monastery." Benedict was unable to return to his monastery, and they spent the night in discussion.[2]
According to Gregory's Dialogues, three days later, from his cell, he saw his sister's soul leaving the earth and ascending to heaven in the form of a shining white dove.[6] Benedict had her body brought to his monastery, where he caused it to be laid in the tomb which he had prepared for himself.[7]
Scholastica is the foundress of the women's branch of Benedictine Monasticism.
She was selected as the main motif for a high value commemorative coin: the Austria €50 'The Christian Religious Orders', issued 13 March 2002. On the obverse (heads) side of the coin Scholastica is depicted alongside Benedict.
Scholastica is the patron saint of nuns, and convulsive children, and is invoked against storms and rain. Her memorial is 10 February. She is the Patron Saint of Nuns. She sacrificed many opportunities for her and her brother, just so they could get closer to God.
See also
[
edit
]
References
[
edit
]
Jump up

^ "Patron Saints Index: Saint Scholastica". Saints.sqpn.com. Retrieved

2012-05-20

.
^

Jump up to:

a b Foley O.F.M., Leonard, rev. McCloskey O.F.M., Pat "Saint Scholastica", Saint of the Day, American Catholic
^

Jump up to:

a b c "Engs, Ruth Clifford. "St. Scholastica: Finding Meaning in her Story", St. Meinrad, In: Abbey Press, 2003