Readings & Reflections: The Baptism of the Lord A & St. Adrian of Canterbury, January 9,2017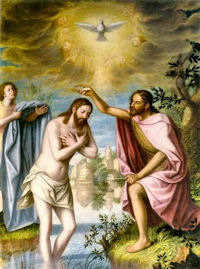 In the Gospel today (Mt 3:13-17) John the Baptist invited the people to repentance by turning away from the darkness of sin into the light of God's presence, joy and peace. When Jesus came and baptized him, a voice came from the heavens, saying, "This is my beloved Son, with whom I am well pleased" (Mt 3:17). Our Catechism teaches that "his eternal messianic consecration was revealed during the time of his earthly life at the moment of his baptism by John, when 'God anointed Jesus of Nazareth with the Holy Spirit and with power,' 'that he might be revealed to Israel' (Acts 10:38), as its Messiah. His works and words will manifest him as 'the Holy One of God'" (CCC:438). Then after, Jesus invited the people into the realm of God's kingdom, saying, "The Kingdom of God is near! Turn away from your sins and believe the Good News!" (Mk 1:14). This was his call about a kingdom of truth and life, of holiness and grace, of justice, love and peace. All were invited but only few listened and followed him as his disciples. Why?
When we received the sacrament of baptism, we become a disciple of Jesus for the service of his Church and this demands us to be mature, holy, and generous. Specifically we are called to grow up loving and caring others by sacrificially give one's time, talent, and treasure as active member of His Church and followed the example of the early disciples of Jesus to participate regularly the Sunday Mass (CCC:541-42). As baptized member of His Church, what are my commitments to Jesus Christ as my Lord and Savior?
AMDG+
Opening Prayer:
Let us pray (that we will be faithful to our baptism.)
Almighty, eternal God, when the Spirit descended upon Jesus at his baptism in the Jordan, you revealed him as your own beloved son. Keep us, your children, born of water and the Spirit, faithful to our calling. We ask this through our Lord Jesus Christ, your Son, who lives and reigns with you and the Holy Spirit, one God, for ever and ever. Amen.
Reading I
Isaiah 42:1-4, 6-7
Thus says the LORD:
Here is my servant whom I uphold,
my chosen one with whom I am pleased,
upon whom I have put my spirit;
he shall bring forth justice to the nations,
not crying out, not shouting,
not making his voice heard in the street.
a bruised reed he shall not break,
and a smoldering wick he shall not quench,
until he establishes justice on the earth;
the coastlands will wait for his teaching.
I, the LORD, have called you for the victory of justice, I have grasped you by the hand; I formed you, and set you as a covenant of the people, a light for the nations, to open the eyes of the blind, to bring out prisoners from confinement, and from the dungeon, those who live in darkness.
The word of the Lord.
Or
Peter proceeded to speak to those gathered in the house of Cornelius, saying: "In truth, I see that God shows no partiality. Rather, in every nation whoever fears him and acts uprightly is acceptable to him. You know the word that he sent to the Israelites as he proclaimed peace through Jesus Christ, who is Lord of all, what has happened all over Judea, beginning in Galilee after the baptism that John preached, how God anointed Jesus of Nazareth with the Holy Spirit and power. He went about doing good and healing all those oppressed by the devil, for God was with him."
The word of the Lord.
Responsorial Psalm
Ps 29:1-2, 3-4, 3, 9-10
R. (11b) The Lord will bless his people with peace.
Give to the LORD, you sons of God,
give to the LORD glory and praise,
Give to the LORD the glory due his name;
adore the LORD in holy attire.
R. The Lord will bless his people with peace.
The voice of the LORD is over the waters,
the LORD, over vast waters.
The voice of the LORD is mighty;
the voice of the LORD is majestic.
R. The Lord will bless his people with peace.
The God of glory thunders,
and in his temple all say, "Glory!"
The LORD is enthroned above the flood;
the LORD is enthroned as king forever.
R. The Lord will bless his people with peace.
Gospel
Matthew 3:13-17
Jesus came from Galilee to John at the Jordan to be baptized by him.
John tried to prevent him, saying, "I need to be baptized by you,
and yet you are coming to me?" Jesus said to him in reply, "Allow it now, for thus it is fitting for us to fulfill all righteousness." Then he allowed him.
After Jesus was baptized, he came up from the water and behold,
the heavens were opened for him, and he saw the Spirit of God descending like a dove and coming upon him. And a voice came from the heavens, saying, "This is my beloved Son, with whom I am well pleased."
The Gospel of the Lord.
Reflection 1 – Jesus submit to John's baptism
During the time of Jesus, baptism was received only by those wanting to change their lives and wishing to prepare for the coming of the Messiah As such receiving baptism implies admission of one' sinfulness. This is the very reason why the Pharisees and Sadducees refused to be baptized by John as they considered themselves just, righteous and sinless.
But why did Jesus submit to John's baptism when He did not need to change His life?
The baptism of Jesus did not indicate any change from sin to righteousness but it signaled the start of His new life-His public life and ministry. It meant siding with the sinners and to be identified with them as He had to take on their condition of slavery and walk with them into freedom.
The very model of Jesus is upon all of us as His followers, servants and workers in His vineyard. Have we imitated Jesus and His ministry or is the sin of partiality upon all of us? Acts 10:34 states, "In truth, I see that God shows no partiality." The sin of partiality was common during the time of Jesus as both Jews and Gentiles could not stand one another. But God in Christ went beyond any possible distinctions among men.
Today we need to ask ourselves how we have conducted the affairs of our community… have we been exclusive or inclusive in our ways? Do we identify with those who have gone wrong in life or do we criticize and judge them? Do we treat them like our very own, love them and lift them up to the Lord? Or do we distance ourselves from them and dare not come close? Have we been rigid in our ways that we have practically closed the doors of our community to those who cannot seem to place their lives together in God's Name?
When Jesus was baptized by John, the Baptist, 'immediately on coming up out of the water He saw the sky rent in two and the Spirit descending on him like a dove. Then a voice came from the heavens: "You are my beloved Son. On you my favor rests."'
As sons of the Father, what should we do so that His favor rests on us always? We should always pray to God to open His heart on all of us just as we open our hearts to all those around us. Heaven and earth should be brought together to praise God. We should remain reconciled with God and neighbor.
Our Heavenly Father has commanded us to love Him above all and to love our neighbor as ourselves. Out of this law on love, God expects that we are able to bring everyone into His fold. He wants us to be a light for the nations, to open the eyes of the blind, to bring out prisoners from confinement, and from the dungeon, those who live in darkness. His greatest concern is the redemption of every man as He opened the door of salvation to all.
In the goodness of our hearts, we should therefore be able to bring the True Christ to all, His love and mercy so that we may all partake the great banquet that awaits all of us. Rather than bring a set of rules and rituals which are meant only to become burdens upon God's people, we should be able to bring the Truth that we all have in Christ, that we are all equal and precious in the eyes of God. We should therefore share Christ with everyone as He is God of all!
Jesus brought God and His Word to all without any discrimination. We ought to do the same. If we do as Jesus did, we will in time hear a voice come from the heavens saying, "This is my beloved son, with whom I am well pleased."
Direction
Relate to everyone as God's children, as co-heirs to the Father's kingdom.
Prayer
Lord, this incredible season comes to an end today but not the joy I have discovered in these weeks.
I can sense it – your summons in my life and the response I feel growing in my heart. I want to take up the mission you are calling me to and follow in your path of service.
Thank you for making me one of your children born in water and your Spirit. Help me to listen to your voice in my life and remember each day the happiness of sharing the bond of baptism with you.
With your help, I can stay faithful to your calling and celebrate my mission as your follower. Thank you for this great gift! May I be a light in the world for you.
Heavenly Father, bless me with your peace and help us share Jesus, His Word and His life to the ends of the earth. In Him, I hope and pray. Amen.
Reflection 2 – Baptism of the Lord
Today we celebrate the Feast of the Baptism of the Lord, which is a milestone event in the life of Jesus, in the Christmas story and in our Christian life. Christ did not go to John to confess His sins, as others had done. Rather, He who was like us in all things but sin, having taken on himself the weight of human sin, humbled Himself to be baptized. Thus, He sanctified the waters and, in so doing, as the Fathers of the Church teach, He instituted the Sacrament of Baptism by His actions. He did not need to do this, but, like everything else He did, it was done out of love for us and for the Father.
Already, we can see Jesus' humility and His obedience to the Father when He tells John to allow the Baptism in order "to fulfill all righteousness" (cf Matthew 3:13-17). What, then, is this fulfillment of all righteousness, which Christ speaks of? It is, as the prophet says, "the victory of justice" to be "a covenant of the people, a light for the nations" (cf Isaiah 42:6). It is not a vengeful justice but it is a merciful justice that makes us just, after the example which the Lord set for us.
In this reading from Isaiah, we also hear the echoes of Christ's presentation in the temple (which feast the Church celebrates on February 2nd), where Simeon praised God for this Light to the nations and prophesied that the sword would pierce Our Blessed Mother's heart, a piercing that would take place, in particular, when the new covenant would be established by Christ's blood (cf 1 Corinthians 11:25).
This humility and obedience, which were part and parcel of Jesus' hidden life with Mary and Joseph, will also characterize His public life and will open the doors of heaven to us. Humility and obedience draw God: As Christ rises from the waters, the Holy Spirit descends on Him in the form of a dove and the Father is well pleased. The Trinity manifests itself. And, Jesus is anointed from on high with power and the Holy Spirit (cf Acts 10:38) "to open the eyes of the blind, to bring out prisoners from confinement, and from the dungeon, those who live in darkness" (Isaiah 42:7).
"Today let us do honor to Christ's baptism and celebrate this feast in holiness. Be cleansed entirely and continue to be cleansed. Nothing gives such pleasure to God as the conversion and salvation of men, for whom his every word and every revelation exist." (St. Gregory of Nazianzus)
Let us "put on the Lord Jesus Christ" (Romans 13:14) not just today, but every day. Let us go and do as He did (cf Luke 10:37). – Read the source: http://www.spiritualdirection.com/2017/01/09/feast-of-the-baptism-of-the-lord
Reflection 3 – Our Dignity, Challenge and Mission
In a grade school class, the students were discussing an act of dishonesty by one of them. One boy said, "I am ashamed of James. He cheated in the exams, and he is the son of our teacher." "That's nothing," replied another boy. "Yesterday I saw Jeffrey, the son of the Principal, fighting with his classmate. That's really embarrassing to his Dad!" But the third boy said, "Well, you know, Bill did the worst. I heard him tell a big lie to our teacher. He was recently baptized, and so he is already a child of God. That's truly embarrassing to God!"
How many of us still remember this truth? In Baptism, we have become children of God. What an infinitely great dignity! St. John was very clear and sure of this: "See what love the Father has bestowed on us that we may be called children of God! Yet so we are! Beloved, we are God's children now; what we shall be has not yet been revealed" (1Jn 3:1-2). This Sunday, as we celebrate the Feast of the Baptism of the Lord, let us also think about the Baptism we received.
First, let us take a look at the Baptism of the Lord. Why did Jesus ask to be baptized by John in the Jordan? Definitely, he has no need of baptism, for he is sinless. He is the All-holy God. But he received baptism as an expression of his humble obedience to the Father and also as public proclamation of his mission as Messiah, God's Chosen One. In other words, in receiving baptism, he had in mind the welfare of all his followers. St. Augustine puts it, "The Lord desired to be baptized so that he may freely proclaim through his humility what for us was to be a necessity" (Sermon 51, 33).
He was baptized for our sake for he knew so well that we need it. In his sermon St. Maximus of Turin said: "Christ is baptized, not to be made holy by the water, but to make the water holy, and by his cleansing to purify the waters which he touched…For when the Savior is washed, all water for our baptism is made clean, purified at its source for the dispensing of baptismal grace to the people of future ages. Christ is the first to be baptized, then, so that Christians will follow after him with confidence" (Ofc. of Readings, vol 1, p. 612).
The Sacrament of Baptism is necessary for our salvation. Jesus made this clear when he told Nicodemus: "No one can enter the kingdom of God without being born of water and the Spirit. What is born of flesh is flesh and what is born of spirit is spirit" (Jn 3:5-6). Finally, at his Ascension, he left this command to his disciples: "All power in heaven and on earth has been given to me. Go, therefore, and make disciples of all nations, baptizing them in the name of the Father and of the Son and of the Holy Spirit, teaching them to observe all that I have commanded you" (Mt 28:18-20).
As we call to mind our own Baptism, our hearts should be filled with joy for such an infinitely great gift of God to us. The Catechism of the Catholic Church quoted the words of St. Gregory Nazianzen in describing this sacrament: "Baptism is God's most beautiful and magnificent gift… We call it gift, grace, anointing, enlightenment, garment of immortality, bath of rebirth, seal, and most precious gift. It is called 'gift' because it is conferred on those who bring nothing of their own; 'grace' since it is given even to the guilty; 'baptism' because sin is buried in the water; 'anointing' for it is priestly and royal as are those who are anointed; 'enlightenment' because it radiates light; 'clothing' since it veils our shame; 'bath' because it washes; and 'seal' as it is our guard and the sign of God's Lordship" (CCC #1216).
This great and wonderful gift by God, however, imposes on us a big challenge. Pope St. Leo the Great said, "Thanks to the Sacrament of Baptism you have been turned into a temple of the Holy Spirit. Don't let it ever happen that you drive away so noble a guest by your evil deeds, or ever again submit to the power of the demon: for the price you were bought with is the blood of Christ" (Christmas Homily, 3).
In Baptism, we have become temple of the Holy Spirit. God resides in the innermost core of our being. And so we are able to cry out to God, "Abba, Father!" (Gal 4:6). Upon coming out of the water, the Spirit of God hovered over Jesus and the voice of the Father was heard: "This is my beloved Son with whom I am well pleased" (Mt 3:17). These are the same words uttered by the heavenly Father when we emerged from the waters of Baptism: "These are my beloved children." We must, therefore, live as His children, always pleasing in His sight.
Moreover, Baptism also gives us a very important mission to fulfill. It impels us to work for genuine respect for and unity with our brothers and sisters. St. Paul wrote to the Galatians: "For all of you who are baptized into Christ, have clothed yourselves with Christ. There is neither Jew nor Greek, there is neither slave nor free person, there is not male and female, for you are all one in Christ Jesus" (3:28).
Being baptized is such a great gift from God. It gives us the highest dignity – we have become God's children. But it also gives us the greatest lifelong challenge – we have to live up to this dignity. Our whole lives should be conformed to that of Christ. And it also gives us a very important mission – to welcome and reach out to one another for we are all brothers and sisters. Let this Sunday's feast open our eyes and transform our hearts as we pray: "Lord Jesus, make our hearts like unto yours. Amen." – Source: Fr. Mike Lagrimas, Our Lady of Guadalupe Parish, Palmera Springs 3, Susano Road, Camarin, Novaliches, Caloocan City 1422)
Reflection 4 – Baptism of our Lord
When we watch Jesus being baptized by John, we are given new insight into his person and his mission. We also get a pre-figure of our own baptism and our role in the drama of salvation that began at the river of Jordan.
The Jewish people who asked John to baptize them were doing something very unusual. Baptism was a ritual reserved for Gentiles who wished to be received into the Jewish faith; Jews did not see it as a need for themselves. It was a penitential rite for people who had been shut out by God and wished to be accepted by him; the chosen people could not think of themselves that way. So the popular religious movement going on at the river was a sign that they recognized their need for God in a new way. This was the moment Jesus had been waiting for. In being baptized, he would identify himself with the people who were renouncing sin and searching for God, and he would set out on his mission to save them.
This was how his public life began. The Spirit of God descended upon him, and a voice from heaven declared, "This is my beloved Son." It recalls the words of the prophet Isaiah, "Here is my servant whom I uphold, my chosen one with whom I am pleased." In the reading from the Acts of the Apostles, Peter said that it all began "after the baptism that John preached…God anointed Jesus of Nazareth with the Holy Spirit and power."
And how was he going to save them? Peter says, "He went about doing well and healing all the oppressed by the devil." Thus he fulfilled the prophecy of Isaiah: "I, the Lord, have called you for the victory of justice…to open the eyes of the blind, to bring out prisoners from confinement, and from the dungeon, those who live in darkness."
What Jesus received from John at the river Jordan was not the sacrament of Christian initiation, but it does prefigure our baptism. When you and I were baptized, not only were we adopted into the very life of God, but in our own way we too were called to go about doing good, to stand up for justice, to open the eyes of the blind, and to free people from all kinds of prisons. When we try to live up to our mission, the Lord says of us, "Here is my servant whom I uphold, my chosen one with whom I am pleased."
How am I to open the eyes of the blind and work for justice?
Reflection 5 – Jesus humbly submitted to baptism by John
Why did Jesus, the Sinless One, submit himself to John's baptism at the River Jordan? John preached a baptism of repentance for the forgiveness of sins (Luke 3:3). In this humble submission of Jesus we see a foreshadowing of the "baptism" of his bloody death upon the cross. Jesus' baptism is the acceptance and the beginning of his mission as God's suffering Servant (Isaiah 42:1-4). He allowed himself to be numbered among sinners. Jesus submitted himself entirely to his Father's will. Out of love he consented to this baptism of death for the remission of our sins. Do you know the joy of trust and submission to God? .
Jesus' baptism – beginning of a new creation
The Father proclaimed his entire delight in his Son and spoke audibly for all to hear. The Holy Spirit, too, was present as he anointed Jesus for his ministry which began that day as he rose from the waters of the Jordan river. Jesus will be the source of the Spirit for all who come to believe in him. At his baptism the heavens were opened and the waters were sanctified by the descent of Jesus and the Holy Spirit, signifying the beginning of a new creation.
Heaven will open for those who bow before the Lord
How can we enter into the mystery of Jesus' humble self-abasement and baptism? Gregory of Nazianzus (329-389 AD), an early church father tells us:
"Let us be buried with Christ by Baptism to rise with him; let us go down with him to be raised with him; and let us rise with him to be glorified with him."
Do you want to see your life transformed in the likeness of Christ? And do you want to become a more effective instrument of the Gospel? Examine Jesus' humility and ask the Holy Spirit to forge this same attitude in your heart. As you do, heaven will open for you as well.
The Holy Spirit transforms us in the likeness of Jesus
The Lord Jesus is ever ready to renew and refashion us in his likeness through the gift and working of the Holy Spirit – and he anoints us for mission as ambassadors of his kingdom of righteousness (moral goodness), peace, and joy (Romans 14:17). We are called to be the "light" and salt" of his kingdom that radiate the beauty and aroma of his mercy and goodness to those around us (Matthew 5:13,15-16). The Lord Jesus wants his love and truth to shine through us that many others may may find new life, freedom, and joy in the Holy Spirit. Ask the Lord Jesus to fill you with his Holy Spirit that you may radiate the joy of the Gospel to those around you.
"Lord Jesus, fill me with your Holy Spirit and with the fire of your love and goodness. May I always find joy and delight in seeking to please you in doing your will just as you have delighted in the joy of pleasing your Father and doing his will." – Read the source: http://dailyscripture.servantsoftheword.org/readings/2017/jan9.htm
Reflection 6 – The Obedience Factor
Permit it to be so now, for thus it is fitting for us to fulfill all righteousness. —Matthew 3:15
Dewey VanderVelde refused to be baptized. He steadfastly resisted, even when his wife and daughters were baptized one Sunday afternoon.
Years later, his pastor preached on the baptism of Jesus. He pointed out that John the Baptist initially refused to baptize Jesus, but Jesus said, "It is fitting for us to fulfill all righteousness" (Matthew 3:15). The pastor then added this comment: "If Jesus obeyed the will of the Father, so should we."
After the message, Dewey asked to be baptized. He said that he should have obeyed the Lord's command much sooner, and he regretted having been so stubborn.
The issue, of course, was more than just baptism; it was obedience. The same may be true for us. We may be stubbornly disobeying the Lord in a certain area of our life—lying, cheating, stealing at work, not giving to the Lord.
Here's what we must face: Jesus obeyed the Father in everything. His submission took Him from the height of popularity to abandonment. It took Him from public adoration to solitary suffering. It took Him to Pilate's judgment hall, the terrible road to Calvary, the cross, and the tomb.
Let it be today that we willingly decide to obey the Lord in everything.
— David C. Egner
O give us strength to quench the urge
To do things our own way;
And help us, Lord, to heed Your Word,
Its precepts to obey. —Sper
True faith will obey without delay (Source: Our Daily Bread, RBC Ministries).
Reflection 7 – Baptized into ministry
Today we celebrate the "initiation rite" that launched Jesus' public ministry. We, too, have experienced this same Baptism: Our first Sacrament of Initiation immersed us into the life of Christ. The other two Initiation Sacraments — Confirmation and Communion — confirm this holy life and empower us to live it in union with Christ. Thus says the Lord God about you: "Here is my servant whom I uphold, my chosen one with whom I am pleased, upon whom I have put my Spirit…." (see the reading from Isaiah).
What is this Spirit doing in you that is pleasing to the Father? How is this Spirit serving the kingdom of God through you? Are you giving this Spirit the freedom to continue Christ's ministry in today's world?
All Christians have been baptized into the ministry of Christ, but it's the hardships we endure and the passions we feel that initiate us into our own particular areas of ministry. For example, children of chronically or terminally ill parents often grow up to become doctors and nurses, and many who escape and recover from abuses often become ministers of healing for other victims, and workers who suffer from unjust employers often start their own businesses and create jobs where the staff is treated the way Christ should be treated.
Whatever we feel passionate about, we have received this energy from the Passion of Christ through the Sacrament of Baptism.
Then, if we celebrate Mass consciously, paying attention to the true meaning of the Eucharist, our calling to ministry is renewed in the Sacrament of Communion, because Christ who is the Eucharist reunites us to his ministry. Thus, we can change the world, just as Christ did, one day at a time.
For this, you have been chosen by the Father. Whatever you are doing because of this calling, our Father is very pleased with you!
For a series of ministry discernment self-assessment tests, see "The Master Needs You" at wordbytes.gnm.org/ministries-of-the-laity/#master or download the e-book "Knowing God's Will and Doing it Well" published by Catholic Digital Resources: catholicdr.com/ebooks/GodsWill.htm.
Questions for Personal Reflection:
What is the Holy Spirit doing in you that's pleasing to the Father? What will you do to give this Spirit the freedom to continue Christ's ministry in your world — in your home, your workplace, your parish, your community — wherever you live, work and play?
Questions for Community Faith Sharing:
Choose one line from Isaiah's scripture and explain how this describes your life in Christ. Take turns sharing on this until all verses have been covered. – Read the source: http://gnm.org/good-news-reflections/?useDrDate=2017-01-09
Reflection 8 – The Mystery of Baptism
"What does baptism imply? You begin to understand it in a living Christian companionship, since in this companionship a memory is aroused that gives peace to the heart, satisfaction to the soul, and, at the same time, makes life combative, makes you realize that life is a battle for affirming Christ. So what does baptism imply for me, what does it bring about? Baptism implies the participation of my person in the Mystery of Christ's person….
"A person who loves another and seeks to identify with that other has a terrible experience of being unable to penetrate into the other, of being ultimately a stranger. Not in the case of Christ!…
"In the Letter to the Romans and in the Letter to the Ephesians, St. Paul goes as far as to say, Don't you know that you are members one of another? This is the height which Christ has reached as Lord of history. In his Resurrection, he has set the terms of this assimilation to himself, of this glory, of this making explicit that in him all things consist, everything belongs to him. The assimilation of Christ brought about by baptism is the Resurrection of Christ that penetrates history; it is the Body of the risen Christ that grows ever more according to the times of the mystery of the Father. And the gesture that makes the journey of the new creature possible, the one remade by the power of God and therefore capable of new things, is the Eucharist, Viaticum, food for the journey, true nourishment for the person and for his hope. In this gesture, in giving himself, Christ continues to bring man to perfection in himself. Under the sign of matter, what the sign indicates really happens – Christ becomes one with me." (Source: Monsignor Luigi Giussani, +2005 A.D., Magnificat, Vol. 17, No. 11, January 2016, pp. 139-140).
Reflection 9 – St. Adrian of Canterbury (d. 710 A.D.)
Though St. Adrian turned down a papal request to become Archbishop of Canterbury, England, Pope St. Vitalian accepted the rejection on the condition that Adrian serve as the Holy Father's assistant and adviser. Adrian accepted, but ended up spending most of his life and doing most of his work in Canterbury.
Born in Africa, Adrian was serving as an abbot in Italy when the new Archbishop of Canterbury appointed him abbot of the monastery of Sts. Peter and Paul in Canterbury. Thanks to his leadership skills, the facility became one of the most important centers of learning. The school attracted many outstanding scholars from far and wide and produced numerous future bishops and archbishops. Students reportedly learned Greek and Latin and spoke Latin as well as their own native languages.
Adrian taught at the school for 40 years. He died there, probably in the year 710, and was buried in the monastery. Several hundred years later, when reconstruction was being done, Adrian's body was discovered in an incorrupt state. As word spread, people flocked to his tomb, which became famous for miracles. Rumor had it that young schoolboys in trouble with their masters made regular visits there.
Read the source: http://www.americancatholic.org/features/saints/saint.aspx?id=1255
SAINT OF THE DAY
Catholic saints are holy people and human people who lived extraordinary lives. Each saint the Church honors responded to God's invitation to use his or her unique gifts. God calls each one of us to be a saint. Click here to receive Saint of the Day in your email.
Saint Adrian (or Hadrian) of Canterbury (died 710) was a famous scholar and the abbot of St Augustine's Abbey in Canterbury in the English county of Kent.
According to Bede, he was a Berber[1] native of North Africa, and abbot of a monastery near Naples, called Monasterium Niridanum (perhaps a mistake for Nisidanum, as being situated on the island of Nisida). He was twice offered the vacant archbishopric of Canterbury, by Pope Vitalian, but modestly declined the appointment. He first recommended that it should be given to Andrew, a monk belonging to a neighbouring monastery(monachum quemdam de vicino virginum monasterio), who also declined on the plea of advanced years. Then, when the offer was again made to Adrian, he introduced to the pontiff his friend Theodore of Tarsus, who then chanced to be at Rome, and who consented to undertake the charge. Vitalian, however, stipulated that Adrian should accompany the new archbishop to Britain. He gave as his reasons that Adrian, having twice before made a journey into Gaul, knew the road and the mode of travelling.
The two set out from Rome on May 27, 668, and proceeding by sea to Marseille, crossed the country to Arles, where they remained with John, the archbishop, till they got passports from Ebroin, who ruled that part of Gaul as Mayor of the Palace, for the minor king Clotaire III. Having then made their way together to the north of France, they parted company, and went severally to reside for the winter, Theodore with Agelberctus, bishop of Paris, Adrian first with Emmon, bishop of Sens, and afterwards with Faro, bishop of Meaux. Theodore, being sent for in the following spring by King Ecgberht of Kent, was allowed to take his departure, and he reached England in the end of May, 669; but Adrian was detained by order of Ebroin, who is said to have suspected him of being an emissary of the Greek emperor sent to stir up troubles against the kingdom of the Franks. At length, however, the tyrant became convinced that there was no ground for this notion, and Adrian was permitted to proceed to England, where, immediately on his arrival, he was made abbot of the monastery of St. Peter (afterwards called St. Augustine's Abbey) at Canterbury, an appointment which was in conformity with instructions given by the pope to Theodore. Such is the account given in the Ecclesiastical History (iv. 1.). Adrian was known to be a man learned in the Bible, as well as in Greek and Latin, and an excellent administrator. Under his direction the abbey came to have substantial, far-reaching influence.
In another account, also attributed to Bede, in his Lives of the Abbots of Wearmouth, it is stated that Adrian was not made abbot till after the resignation of Benedict Biscop, who is made to have accompanied Theodore all the way from Rome, and to have been immediately on their arrival appointed to this place, which he appears to have held for about two years. The facts in the two relations are not perhaps absolutely irreconcilable; but they are strangely dissimilar in manner, and in the circumstances which they respectively notice, to have come from the same pen. Bede describes Adrian (or Hadrian, as he calls him in the Ecclesiastical History), as not only a distinguished theologian, but eminently accomplished in secular learning; he and Theodore, we are told, traversing all parts of the island, gathered multitudes of scholars around them wherever they appeared, and employed themselves daily with equal diligence and success in instructing those who flocked to them not only in the truths of religion but in the several branches of science and literature then cultivated. Bede particularly mentions the metrical art, astronomy, and arithmetic (which may be considered as representing what we should now call rhetoric and the belles lettres, physical science, and mathematics); and he adds, that while he wrote (in the early part of the eighth century), there still remained some of the pupils of Theodore and Adrian, who spoke the Greek and Latin languages as readily as their native tongue. A record of the teaching of Theodore and Adrian is preserved in the Leiden Glossary.[2]
To the flourishing state of learning thus introduced into England, and for a short time maintained, King Alfred appears to allude in the preface to his translation ofPope Gregory I's Liber Pastoralis Curae, in the latter part of the ninth century, where he says that it often came into his mind what wise men there were in the country, both laymen and ecclesiastics, in a former age; how the clergy in those happy times were diligent both to teach and to study, and how foreigners then came hither to acquire learning and wisdom; whereas now, in his own day, if any Englishman desired to make himself a scholar, he was obliged to go abroad for instruction. Adrian, long surviving his friend the archbishop, is said to have lived for 39 years after he came to England, continuing till his death to preside over the monastery at Canterbury. (Bede, Historia ecclesiastica gentis Anglorum iv. 1, 2.; and Vita Abbatum Wiramuth., in Smith's Beda, p. 293.; W. Malmes. De Pontif. p. 340.) He died on January 9 which is now his feast day. He is buried in the church of the monastery.
Sources
[
edit
]