Readings & Reflections with Cardinal Tagle's Video: Thirty-third Sunday in Ordinary Time C & St. Frances Xavier Cabrini, November 13,2016
Our Lord reminds us, "Watch out; don't be fooled. Many men, claiming to speak for me, will come and say, 'The time has come!' Don't be afraid … they do not mean that the end is near" (Lk 21:8-9). Scientists believe it in billions of years from now for the end of the world due to the sun's energy exhaustion. The Church teaches us that "we do not know the time for the consummation of the earth and of humanity" (Vat. II, GS #39; CCC:673).
In the Gospel (Lk 21:5-19), Jesus announced the coming destruction of the temple, "the time will come when not a single stone here will be left in its place" (Lk 21:6). The Church teaches its meaning: "He identified himself with the temple by presenting himself as God's definitive dwelling place among men. Therefore, his being put to bodily death presaged the destruction of the Temple, which would manifest the dawning of a new age in the history of salvation: 'The hour is coming when neither on this mountain nor in Jerusalem will you worship the Father.'" (CCC: 586).
During the Mass we acknowledge that "We proclaim your Death, O Lord, and profess your Resurrection until you come again." Let us look forward to the second coming of Christ without anxiety and pray to God the Father, "Lord, protect us from all anxiety as we wait in joyful hope for the coming of our Savior, Jesus Christ" and "stand firm and you will save yourselves" (Lk 21:19). Because "our citizenship is in heaven, and from it we await a Savior, the Lord Jesus Christ, who will transform our lowly body to be like his glorious body, by the power that enables him even to subject all things to himself" (Phil 3:20-21). While still in this world, let us prepare ourselves by regularly by receiving the Eucharist every Sunday that Jesus' promise be in us as he said, "Whoever eats my flesh and drinks my blood has eternal life, and I will raise him on the last day" (Jn 6:54). Be a messenger of this good news and bring your family and friends to receive him to prepare ourselves to be a citizen in heaven with the Lord. Stand firm to the faith in Jesus' promise and you will save yourselves.
AMDG+
Opening Prayer
"Lord Jesus, your grace and mercy abounds even in the midst of trails and difficulties. Help me to seek your kingdom first and to reject whatever would hinder me from pursuing your way of righteousness and holiness. Fill me with the joy and hope of your everlasting kingdom. Lord, by your atoning death on the cross you have redeemed the world. Fill me with joyful hope, courage, and boldness to witness the truth of your love for sinners and your victory over the powers of sin, Satan, and death." In your Name, I pray. Amen.
Reading I
Mal 3:19-20a – The sun of justice will shine on you.


Lo, the day is coming, blazing like an oven,
when all the proud and all evildoers will be stubble,
and the day that is coming will set them on fire,
leaving them neither root nor branch,
says the LORD of hosts.
But for you who fear my name, there will arise
the sun of justice with its healing rays.
The word of the Lord.
Responsorial Psalm
Ps 98:5-6, 7-8, 9
R. (cf. 9) The Lord comes to rule the earth with justice.
Sing praise to the LORD with the harp,
with the harp and melodious song.
With trumpets and the sound of the horn
sing joyfully before the King, the LORD.
R. The Lord comes to rule the earth with justice.
Let the sea and what fills it resound,
the world and those who dwell in it;
let the rivers clap their hands,
the mountains shout with them for joy.
R. The Lord comes to rule the earth with justice.
Before the LORD, for he comes,
for he comes to rule the earth;
he will rule the world with justice
and the peoples with equity.
R. The Lord comes to rule the earth with justice.
Reading II
2 Thes 3:7-12 – If anyone is unwilling to work, neither should that one eat.


Brothers and sisters:
You know how one must imitate us.
For we did not act in a disorderly way among you,
nor did we eat food received free from anyone.
On the contrary, in toil and drudgery, night and day
we worked, so as not to burden any of you.
Not that we do not have the right.
Rather, we wanted to present ourselves as a model for you,
so that you might imitate us.
In fact, when we were with you,
we instructed you that if anyone was unwilling to work,
neither should that one eat.
We hear that some are conducting themselves among you in a disorderly way,
by not keeping busy but minding the business of others.
Such people we instruct and urge in the Lord Jesus Christ to work quietly and to eat their own food.
The word of the Lord.
Gospel
Lk 21:5-19 – By your perseverance you will secure your lives.
Bishop Robert Barron's Homily: A Theology of Work click below:
While some people were speaking about
how the temple was adorned with costly stones and votive offerings, Jesus said, "All that you see here–
the days will come when there will not be left
a stone upon another stone that will not be thrown down."
Then they asked him,
"Teacher, when will this happen?
And what sign will there be when all these things are about to happen?" He answered, "See that you not be deceived,
for many will come in my name, saying,
'I am he,' and 'The time has come.'
Do not follow them!
When you hear of wars and insurrections,
do not be terrified; for such things must happen first,
but it will not immediately be the end."
Then he said to them, "Nation will rise against nation, and kingdom against kingdom. There will be powerful earthquakes, famines, and plagues from place to place; and awesome sights and mighty signs will come from the sky.
"Before all this happens, however, they will seize and persecute you, they will hand you over to the synagogues and to prisons,
and they will have you led before kings and governors
because of my name.
It will lead to your giving testimony. Remember, you are not to prepare your defense beforehand, for I myself shall give you a wisdom in speaking that all your adversaries will be powerless to resist or refute. You will even be handed over by parents, brothers, relatives, and friends, and they will put some of you to death.
You will be hated by all because of my name, but not a hair on your head will be destroyed. By your perseverance you will secure your lives."
The Gospel of the Lord.
Reflection 1 – Today is the day
Dr. Scott Hahn's reflection click below:
It is the age between our Lord's first coming and His last. We live in the new world begun by His life, death, Resurrection and Ascension, by the sending of His Spirit upon the Church. But we await the day when He will come again in glory.
"Lo, the day is coming," Malachi warns in today's First Reading. The prophets taught Israel to look for the Day of the Lord, when He would gather the nations for judgment (see Zephaniah 3:8; Isaiah 3:9; 2 Peter 3:7).
Jesus anticipates this day in today's Gospel. He cautions us not to be deceived by those claiming "the time has come." Such deception is the background also for today's Epistle (see 2 Thessalonians 2:1-3).
The signs Jesus gives His Apostles seem to already have come to pass in the New Testament. In Acts, the Epistles and Revelation, we read of famines and earthquakes, the Temple's desolation. We read of persecutions—believers imprisoned and put to death, testifying to their faith with wisdom in the Spirit.
These "signs" then, show us the pattern for the Church's life—both in the New Testament and today.
We too live in a world of nations and kingdoms at war. And we should take the Apostles as our "models," as today's Epistle counsels. Like them we must persevere in the face of unbelieving relatives and friends, and forces and authorities hostile to God.
As we do in today's Psalm, we should sing His praises, joyfully proclaim His coming as Lord and King. The Day of the Lord is always a day that has already come and a day still yet to come. It is the "today" of our Liturgy.
The Apostles prayed maranatha—"O Lord come!" (see 1 Corinthians 16:22; Revelation 22:20). In the Eucharist He answers, coming again as the Lord of hosts and the Sun of Justice with its healing rays. It is a mighty sign and a pledge of that Day to come. – Read the source: https://stpaulcenter.com/reflections/today-is-the-day-scott-hahn-reflects-on-the-33rd-sunday-in-ordinary-time
Reflection 2 – Defend on God's wisdom
There was once a man who lived with his family in a beautiful suburban home. He and his wife worked hard for their family and provided the best they could offer their children. Then there was the great recession of all time that people started to lose their jobs. Business was slow and the threat of an impending conflict among the nations of the world came in and even made it worst.
They lost everything and life became difficult and hard times certainly impacted on their lives. But in all these times, this family kept God's peace in their hearts, were not perturbed but depended on God's goodness and divine providence. Jesus said, "All that you see here–the days will come when there will not be left a stone upon another stone that will not be thrown down." After years of cutting down on a lot of trivial things and just subsisting on basics, this family somehow survived the strong winds that wiped out their home and all they had.
Today as they look at the things around them and the life that they have shared as a family there was a question that somehow came into the man's heart. During the beautiful and easy years with his family, did he and his wife really build a home or a temple of things and attachments, which he thought he would never lose?
This family eventually had nothing much as far as wealth, power and influence are concerned. All that was left was their deep love for our Lord and for one another and their neighbor. They built a temple within their hearts, which they have chosen to give to our Lord God, which stood the test of time and the ups and downs of life.
Affiliating yourself with Christ and being His disciple implies a lot of things and one of them Jesus stated in today's gospel, "They will seize and persecute you, they will hand you over to the synagogues and to prisons, and they will have you led before kings and governors because of my name. It will lead to your giving testimony." Very intimidating and certainly not something everyone will be prepared to welcome.
Are you ready for such circumstance in your life? Or are you about to jump ship and give up your faith in our Lord Jesus?
It is indeed amazing that despite what the Scripture states and their fulfillment in history, people still embrace Jesus as their Lord and Savior.
Our Lord has assured us that He will always be by our side. And for those who continue to be faithful to Him, they are blessed with the kind of courage to face any adversary, even death itself. And for those who are not actually called upon to render to the Lord this supreme testimony of love, all are given the strength not to run away from any duty and responsibility, little or great, through fear of sacrifice, persecution and death. Even those who are naturally timid, God gives the courage to stand by what is right in His eyes and gives them the words to respond to any litigation and questioning.
It may not be within our own strength to suppress the sensible fear which we inherit from our fallen nature but with Jesus in our hearts He gives us the grace so that fear may not take possession of our will and effectively paralyze our acts. With God's grace, we can go through any trial or persecution and all human strength can only amount to nothing but mere weakness.
Keep the faith amidst any adversary, as Jesus will always be there to defend us! He is our Defender and Counselor and He will set us free in any difficult situation if we speak and act His truth. Jesus said: "By your perseverance you will secure your lives."
Direction
Depend on God's wisdom and on His never- ending presence and protection.
Prayer
Heavenly Father, give me the grace to live and fight for your cause. In Jesus, I pray. Amen.
Reflection 3 – The End is a New Beginning
Two housewives were talking about their husbands. "Last Christmas," said the first woman, "I gave my husband a nice gift – a gold necklace. He has worn it everyday ever since." The second woman said, "Good for you. My husband is different. I bought a very expensive Christmas gift for him two years ago but I never saw him use it even once." "Why?" her friend asked. "What was your gift?" She answered, "A memorial plan!"
The month of November is set aside by the Church as an opportunity for us to pray for the faithful departed. This is also a reminder to the living that our life in this world is short and limited.
In the Gospel this Sunday, Jesus predicts the destruction of Jerusalem and the Temple, as well as the catastrophic events that signal the end of the world. This is not to frighten and throw us into panic. He is simply saying the truth. Everybody dies. This world, and everything in it, will perish. According to St. Paul, "The present form of this world is passing away" (1Cor 7:29:31).
But Jesus assures us: "Do not be terrified!" If we look closely at the events he mentioned, these are already happening all over the world that we see on TV every day: earthquakes, hurricanes, wars, false prophecies, famines, and many other natural and man-made calamities.
As Christians, we should not concern ourselves with the details of when and how the end of the world will come. In fact, Jesus warns us that when these tragic events happen, "such things must happen first, but it will not immediately be the end." Nevertheless, he mentioned some specific problems that his followers will encounter before the end takes place: persecutions and accusations from both political and religious powers, betrayals even by their own family and friends and martyrdom. Another sign of his imminent second coming is massive apostasy – when many believers would turn away from the true faith: "When the Son of Man comes, will he find faith on earth?" (Lk 18:8). We see all these now very clearly. But should we be afraid and sad?
I remember an incident in the seminary. One seminarian, known for his sense of humor, was assigned to do the spiritual reading before the Mass in the morning. Noticing that most of the seminarians were asleep, he decided to say something unusual. At the end of the reading, instead of saying, "This is the Word of the Lord", in a solemn voice, he said, "My brothers, this is the end of the world!" The seminarians, still sleepy, responded: "Thanks be to God!"
The end of the world is not something we must fear, but should be thankful to God for. In the first reading, through the prophet Malachi, God says: "But for those who fear my name, there will arise the sun of justice with its healing rays"(Mal 3:20). Jesus affirmed this when he said, "But when these signs begin to happen, stand erect and raise your heads, for your redemption is at hand" (Lk 21:28).
In other words, the end is not about total annihilation and destruction but a new beginning. It is similar to graduation ceremonies – "Commencement Exercises," we say. The end of studies is the beginning of a new stage in the life of a person. The graduate rejoices as he leaves the portals of his Alma Mater, not really as a departure but as an entrance into a new beginning in life. This is clearly illustrated in the liturgical life of the Church. Next Sunday, with the celebration of the Solemnity of Christ the King, we will end the liturgical calendar. But by the following Sunday, we begin a new one, with the start of the Advent Season.
In Theology, the word used for the Second Coming of the Lord is "Parousia". This is a Greek word describing the triumphant entry of the emperor into a city or territory. After driving out the enemies, the emperor takes possession of the territory and is regarded as savior of the people. It, therefore, becomes an occasion for festive celebrations and it marks the beginning of a new calendar. The Second Coming of Christ, his Parousia, therefore, is the occasion for great celebration that we must look forward to with eager and joyful hope. He will raise up our mortal bodies from the dead, and reunite these glorified bodies with the souls. Such an event will be the beginning of a new calendar to mark the start of a new and perfect life in the presence of God. (cf., Fr. Fernandez, "In Conversation with God", V, 481).
Here is what the Church said in the Second Vatican Council: "We do not know the time for the consummation of the earth and of humanity. Nor do we know how all things will be transformed. As deformed by sin, the shape of this world will pass away. But we are taught that God is preparing a new dwelling place and a new earth where justice will abide and whose blessedness will answer and surpass all the longings for peace that spring up in the human heart. … The expectation of a new earth must not weaken but rather stimulate our concern for cultivating this one. For here grows the body of a new family, a body which even now is able to give some kind of foreshadowing of the new age"(Gaudium et Spes, 39).
The Church, therefore, teaches that while we have to prepare for death, we must all the more prepare for life. Realizing the brevity of our life and the temporariness of this world and everything in it, we should all the more strive to make the best of this life. That is why St. Paul reminds the Thessalonians: "We instructed you that if anyone was unwilling to work, neither should that one eat." Those who think about heaven and eternal life are often the ones who render exemplary service to their fellowmen here on earth. This we see in the lives of the saints. For instance, St. Frances Xavier Cabrini, the first American saint, whose feast we celebrated on November 13. She and her congregation of religious sisters built the most effective hospitals, schools, orphanages and homes for the outcasts in the US and all over the world. This apostolic zeal and spirit of loving service are evident in the lives of all the saints whose minds and hearts are filled with a deep longing for heaven.
Indeed, looking forward to the Second Coming of Christ, looking up to heaven, should not make us idle spectators or nervous fanatics, but must inspire and empower us to better this world, as we pray and work for the coming of God's kingdom on earth (Source: Fr. Mike Lagrimas, Our Lady of Guadalupe Parish, Palmera Springs 3, Susano Road, Camarin, Novaliches, Caloocan City 1422).
Reflection 4 – Take heed that you are not led astray
How would you respond if someone prophesied that your home, land, or place of worship would be destroyed? Jesus foretold many signs that would shake peoples and nations. The signs which God uses are meant to point us to a higher spiritual truth and reality of his kingdom which does not perish or fade away, but endures for all eternity. God works through many events and signs to purify and renew us in hope and to help us set our hearts more firmly on him and him alone.
First signs of the end times
To the great consternation of the Jews, Jesus prophesied the destruction of their great temple at Jerusalem. The Jewish people took great pride in their temple, a marvel of the ancient world. The foretelling of this destruction was a dire warning of spiritual judgment in itself. They asked Jesus for a sign that would indicate when this disastrous event would occur. Jesus admonished them to not look for signs that would indicate the exact timing of impending destruction, but rather to pray for God's intervention of grace and mercy.
Jesus said there would be many signs of impending conflicts and disasters – such as wars, famines, diseases, tidal waves, and earthquakes – which would precede the struggles of the last days when God's anointed King would return to usher in the full reign of God over the earth. In that day when the Lord returns there will be a final judgement of the living and the dead when the secrets of every heart will be brought to light (Luke 12:2-3; Romans 2:16).
Jesus foretells the destruction of the Temple at Jerusalem
Jesus' prophecy of the destruction of the temple at Jerusalem was a two-edged sword, because it pointed not only to God's judgment, but also to his saving action and mercy. Jesus foretold the destruction of Jerusalem and the dire consequences for all who would reject him and his saving message. While the destruction of Jerusalem's temple was determined (it was razed by the Romans in 70 A.D.), there remained for its inhabitants a narrow open door leading to deliverance. Jesus said: "I am the door; whoever enters by me will be saved" (John 10:9). Jesus willingly set his face toward Jerusalem, knowing that he would meet betrayal, rejection, and death on a cross. His death on the cross, however, brought about true freedom, peace, and victory over the powers of sin, evil, and death – not only for the inhabitants of Jerusalem, but for all – both Jew and Gentile alike – who would accept Jesus as their Lord and Savior. Do you know the peace and security of a life submitted to the lordship of Jesus Christ?
We need to recognize the signs of God's judgment, mercy, and grace to save us
Sometimes we don't recognize the moral crisis and spiritual conflict of the age in which we live, until something "shakes us up" to the reality of this present condition. God reminds us that a future judgment and outcome awaits every individual who has lived on this earth. The reward for doing what is right and pleasing to God and the penalty for sinful rebellion and rejection of God are not always experienced in this present life – but they are sure to come in the day of final judgment.
The Lord Jesus tells us that there will be trials, suffering, and persecution in this present age until he comes again at the end of the world. God intends our anticipation of his final judgment to be a powerful deterrent to unfaithfulness and wrongdoing. God extends grace and mercy to all who will heed his call and his warning. Do not pass up, even for one day, God's invitation of grace and mercy to seek first his kingdom of righteousness and peace. This day may be your only chance before that final day comes.
Satan destroys and kills – God restores and gives life
The real enemy of the Gospel – the good news of Jesus Christ – is Satan (also called Lucifer), the powerful leader of the fallen angels who rebelled against God and who were cast out of heaven. Satan opposes God and all who follow his rule of peace and righteousness (moral goodness) on the earth. Jesus calls Satan a "murderer" who turns brother against brother and the "father of lies" who twists the truth and speaks falsehood (John 8:44). Satan not only opposes God's rule, he seeks to destroy all who would obey God. Satan will use any means possible to turn people away from God. He tempts people through envy, deception, hatred, and fear to provoke hostility towards those who follow the Lord Jesus Christ.
What is Jesus' response to hostility and persecution? Love, forbearance, and forgiveness. Only love – the love which is rooted in God's great compassion and faithfulness – can overcome prejudice, hatred, and envy. God's love purifies our heart and mind of all that would divide and tear people apart. Knowing God as our compassionate Father and loving God's word of truth and righteousness (moral goodness) is essential for overcoming evil. Jesus tells us that we do not need to fear those who would oppose us or treat us harshly for following the Lord Jesus. He promises to give us supernatural strength, wisdom, and courage as we take a stand for our faith and witness to the truth and love of Christ.
The Gospel is good news for the whole world because it is God's eternal word of truth, love, pardon, and salvation (being set free from sin and evil) through his Son, Jesus Christ. The Lord Jesus has won the victory for us through his atoning death on the cross for our sins and his rising from the grave – his resurrection power that brings abundant life and restoration for us. That is why the Gospel has power to set people free from sin, fear and death, and bring peace, pardon, and new life.
Endurance never gives up hope in God
Jesus tells his disciples that if they endure to the end they will gain their lives – they will inherit abundant life and lasting happiness with God. Endurance is an essential strength which God gives to those who put their trust in him. Endurance is the patience which never gives up hope, never yields to despair or hatred. Patience is long-suffering because it looks beyond the present difficulties and trials and sees the reward which comes to those who persevere with hope and trust in God. That is why godly endurance is more than human effort. It is first and foremost a supernatural gift of the Holy Spirit which enables us to bear up under any trial or temptation.
Endurance is linked with godly hope – the supernatural assurance that we will see God face to face and inherit all the promises he has made. Jesus is our supreme model and pioneer who endured the cross for our sake (Hebrews 12:2). "God shows his love for us in that while we were yet sinners Christ died for us" (Romans 5:8). Jesus willingly shed his blood for us – to win for us pardon and peace with God. Our joy and privilege is to take up our cross each day to follow the Lord Jesus.
True martyrs live and die as witnesses of Christ and the Gospel of peace
The word "martyr" in the New Testament Greek means "witness". The Book of Revelation says that "Jesus was the faithful witness …who freed us from our sins by his blood" (Revelation 1:5). Tertullian, a second century lawyer who converted when he saw Christians singing as they went out to die by the hands of their persecutors, exclaimed: "The blood of the martyrs is seed." Their blood is the seed of new Christians, the seed of the church.
The third century bishop, Cyprian said: "When persecution comes, God's soldiers are put to the test, and heaven is open to martyrs. We have not enlisted in an army to think of peace and to decline battle, for we see that the Lord has taken first place in the conflict." True martyrs live and die as witnesses of the Gospel. They overcome their enemies through persevering hope and courage, undying love and forbearance, kindness, goodness, and compassion.
God may call some of us to be martyrs who shed their blood for bearing witness to Jesus Christ. But for most of us, our call is to be 'dry' martyrs who bear testimony to the joy and power of the Gospel in the midst of daily challenges, contradictions, temptations and adversities which come our way as we follow the Lord Jesus.
We do not need to fear our adversaries
What will attract others to the truth and power of the Gospel? When they see Christians loving their enemies, being joyful in suffering, patient in adversity, pardoning injuries, and showing comfort and compassion to the hopeless and the helpless. Jesus tells us that we do not need to fear our adversaries. God will give us sufficient grace, strength, and wisdom to face any trial and to answer any challenge to our faith. Are you ready to lay down your life for Christ and to bear witness to the joy and freedom of the Gospel?
"Lord Jesus Christ, by your atoning death on the cross you have redeemed the world. Fill me with joyful hope, courage, and boldness to witness the truth of your love for sinners and your victory over the powers of sin, Satan, and death." – Read the source: http://www.rc.net/wcc/readings/nov13.htm
Reflection 5 – The end is near
It is said of G.K. Chesterton that when the London Times asked him to write an editorial answering the question, "What's wrong with the world today?" he simply responded, "I am." Refusing to blame institutions or governments, holding neither systems nor schools responsible for the world's woes, Chesterton knew that the sinful human heart is at the root of all disorder. That was in 1910, but since the beginning of Christianity many have been pre-occupied about foretelling "what's wrong" with the world and how all things will end. There are entire libraries filled with analysis about what signs we should look for in order to pinpoint the time when all things will end. Jesus describes the end-times today in our readings in a way that defies pinpointing dates of his return or the ultimate end. Everything that Jesus describes here are events that are always happening to the world and in the Church: earthquakes, wars, false prophecy, famines, etc. As followers of Jesus we should not be inordinately occupied in trying to identify signs that the world is ending, but we should be instead looking for signs of how our own faith in and love of Jesus might be ending. Jesus underscores this by highlighting the persecution that members of the Church will undergo for his name. Today many face the possibility of martyrdom at the hands of those who have chosen against Christ, many around the world are being led before judges and generals to suffer for the name of Jesus. In our own country people are being persecuted for teaching what the Church teaches, especially regarding sexual, marriage and life issues.
Professors are losing their jobs for teaching that only a man and a woman can enter marriage, pharmacists who do not wish to cooperate with the evil of dispensing contraception and abortifacients are having to choose between their faith and their profession, physicians and nurses struggle to remain faithful to Catholic morality as the medical profession pressures society to see euthanasia as a viable moral option. Preachers in all denominations wonder if they will be arrested after leaving the pulpit for "hate speech" if they mention that homosexual acts are immoral. So-called Catholic politicians routinely misinform their constituencies on matters of Catholic morals and doctrine, claiming that their legislation represents a "strain" of Catholicism wherein legitimate diversity of opinion reigns. Religious liberty is waning in the face of much political pressure and free speech is being manipulated to serve only those in political power. So one can legitimately wonder when the end of the world will come, but more immediately we need to focus and concentrate on one thing: am I going to stand with Christ against the forces that negate his word and moral vision, or will I capitulate to the spirit of the age?
Christ, of course, wants to be our strength, he wants to enter our souls and live there to heal us and communicate his love for us, but we must be aware of what forces are eroding the capacity of Catholics to have a public influence for the good of society. Combined with his love moving within us, our reception of his love, and a full rich knowledge of Catholic moral and social teaching, we can stand before the powers and receive "wisdom in speaking that all your adversaries will be powerless to resist or refute." Do not worry about the end of the world. Worry about the end of our love of and faith in Christ. Will we labor with him and for him in this age? If not, it doesn't matter when the world ends because our lives will be "over" at the deepest point of such infidelity. Yet if we prove true, if we continue to feed on the grace of the sacraments, if we live lives centered around the Lord and his plan for us, we can hope that we shall reign with him in everlasting joy and glory. (Source: Deacon James Keating, Ph.D., "Homilies for Sunday Liturgies and Feasts," Homiletic & Pastoral Review, Vol. CXI, No. 1. San Francisco: Ignatius Press, October 2010, pp. 34-36; Suggested Reading: Catechism of the Catholic Church, #547-50; 1042-50; 2548-50).
At my childhood parish church of Ste. Genevieve du Bois in St. Louis, MO, there was a beautiful mosaic of Christ under the tabernacle. When I would kneel during the Eucharistic Prayer as a server, I remember the distinct feeling that Christ was gazing at me from that mosaic, no matter where I knelt. I think it was an early intimation of my vocation, but also an image of how God provides for each one of us, no matter where we are.
From all eternity before the world was made, God had an idea of each one of us, and a plan for our lives. Like an architect looking at a plot of land and seeing a finished building, or an artist studying a blank canvas and seeing the finished work, the Lord looks and sees the son or daughter he is calling us to become. And his look, His gaze, has power, and it invisibly and quietly guides us and directs us at each stage, in the peaks and valleys until, by cooperating with his grace, we gradually become who He has called us to be and step by step finish the work he has entrusted to us.
This we call God's "Providence": his knowing and guiding each us to our final goal, and his Providing for us along the way like a good Father. As all the saints have known, God labors in every human experience to prove his loving care for us, providing every necessary opening for us to receive him definitively. No one on this earth lives a life devoid of that opportunity—to say "yes" to his love and mercy.
This Sunday focuses our attention on Christ's second coming, and the turmoil which precedes it. His words at first seem frightening: "You will even be handed over by parents, brothers, relatives, and friends, and they will put some of you to death." There are descriptions of earthquakes, famines, war—words which were fulfilled in the 20th century, as in other times, and which we continue to see in the news today, proclaiming in ways big and small, God's coming judgment.
But if we belong to Christ, if we live with God the Father as our Father and God the Son as our Brother, if we have allowed that Providential gaze to guide us and his mercy to cleanse us, any fear of judgment dissipates.
Surely it is necessary to repent of our sins, to follow his commandments and pray for mercy. But it is even more necessary to trust in His goodness and His Providence as loving Father and Brother, and to be grateful for that gaze from the tabernacle: He is always watching us, filling us with grace to complete the work entrusted to us, so that not a hair on our head will be destroyed, and by perseverance we will secure our lives.
This Second Coming of Christ also means victory for the lowly People of God. It means that by divine intervention, darkness and terrorism and death do not have the final word. For the Children of God, it is not slavery and suffering, but community and faith and family which are lasting, infinitely perfected in eternal life. The last word for God's creation is less like Auschwitz and more like that local parish community of Ste. Genevieve.
In this season of Advent which is approaching, a new beginning, let us look forward with trust and hope, despite the unknown, despite the news headlines, to that ultimate triumph of God over chaos, sin, and death; that triumph which he promises us through his Son, Jesus Christ. – By Fr. John McCuskor, OSB at http://www.hprweb.com/2016/11/homilies-for-november-2016/
Reflection 6 – Beware!
Take heed that you not be deceived. —Luke 21:8
An acquaintance of mine was "taken in" by a smooth-talking salesman who stopped at his place of business. The man displayed some attractive jewelry that he said he had purchased at a tremendous discount. He was especially proud of some very expensive-looking watches that had a well-known name on the dials.
My friend was impressed and bought several watches. But after the salesman left, he examined his "bargains" more carefully. He was surprised to discover that the trademark was not that of a famous brand after all. Two letters in the name were different, but the print was so small he hadn't noticed it before. The watch straps were not genuine leather but "genuine lizard," and on the back of the cases were the words "Swiss base metal."
The incident reminded me of what the Savior said in Luke 21:8, "Take heed that you not be deceived." Even as some in the business world cleverly pervert the facts and victimize their customers, there are also false teachers in the church who distort the truth. They use biblical terminology and appear to be orthodox. But beware! They are evil and will lead you astray. Be firmly grounded in the Word of God and you won't be "taken in" by deception. — Richard De Haan
O grant us grace, Almighty Lord,
To read and mark Your holy Word,
Its truths with meekness to receive,
And by its holy precepts live. —Beddome
Examine all teaching in the light of God's Word (Source: Our Daily Bread, RBC Ministries).
Reflection 7 – The temporary and the divine
In this Sunday's Gospel reading, Jesus says that the day will come when not one stone of the temple will be left mortared to another, because it will all be torn down. He's reminding us that everything here on earth is temporary.
Think of what you enjoy here on earth. It's temporary. What causes you to suffer? It too is temporary. What of this world do you depend on? It's temporary. What do you admire, trust, save, hope for, spend working hours to achieve and plan relaxation hours for a reward? It's all temporary — unless we are using it for the Kingdom of God.
We know that we're supposed to focus on the things of God, things that will last for all of eternity, but we're uncomfortable with the blind faith that this requires. We are like the disciples who looked for God's vindication against injustices and immorality in the temporal world: wars, earthquakes, plagues and famines. We wish that Jesus would hurry up with his Second Coming and stop all the evils and hardships.
In our daily lives, we seek God's help, but we look for something tangible upon which to base our faith. We want to know the future; we don't like the insecurity of not knowing what God has planned. We depend on what we can see more than we depend on God whom we cannot see, so we ask God to give us signs.
However, the best way to walk forward with God is to raise one foot in air, preparing to take the next step, and — while that foot is still in the air — ask God: "Where do You want me to place my foot next?"
This takes balance; if we don't remain centered in God, we teeter and fall. If God doesn't show us immediately where to put our foot down to move forward, we can either fall away or fall into his hand.
God's hand is never temporary! God's hand provides true security based only on his endless, all-powerful, all-knowing love. It doesn't always feel that way, but his love and protection never fail.
Questions for Personal Reflection:
What help from God are you currently waiting for? What wars and insurrections are plaguing your life? Do you believe that your problem is temporary or do you fear that it's permanent? What will you do this week to entrust yourself to the wisdom and guidance of Jesus?
Questions for Family & Community Faith Sharing:
When waiting for God's guidance, how do you stay centered on God? How do you find and hold your balance while you've got one foot wavering in the air? What if you were to put your foot down in the wrong place and move in the wrong direction? Does God protect you then? How? – Read the source: http://gnm.org/good-news-reflections/?useDrDate=2016-11-12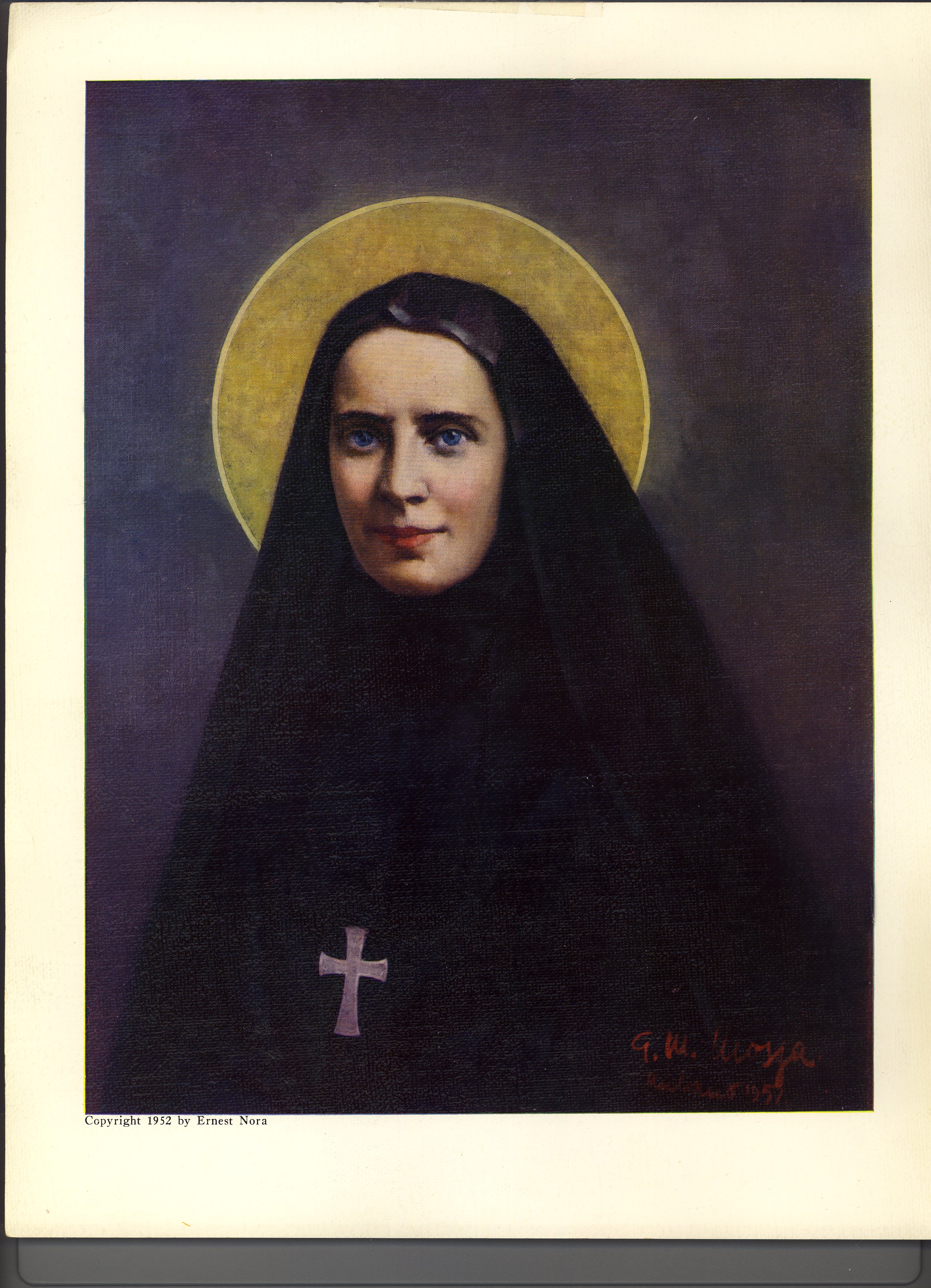 Reflection 8 – St. Frances Cabrini, building up the community of faith
Today we look to St. Frances Cabrini, the first canonized American saint, and admire what God accomplished through her. St. Frances Cabrini is known for her tenacity and administrative skills. By her passion for serving the poor and sick she instituted many orphanages and hospitals in New York, Chicago and elsewhere. St. Frances Cabrini's inspiration and influence continues as many buildings (and numerous churches) bear her name. As we reflect on the work of this great saint, as well as our own work and that of others we admire, we need to remember that what matters even more than the work is that we recognize what God accomplishes through that work.
Today's Scripture readings put into perspective God's place in our work and material world. The Book of Wisdom (Ws 13:1-9) encourages us to look at the beauty and power of creation and give credit and respect to God who made the objects of admiration. The author gives credit to the unfaithful gentiles who at least admire God's attributes through his creation. God's power and presence underlies all creation including all of our work and charity. There is no good that we can do without God, nor is there any created thing worthy of praise greater than God. From such gifts of beauty and power we are inspired and empowered to continue doing God's work.
In the Gospel (Lk 17:26-37), Jesus describes various scenarios during historical moments and during ordinary daily tasks. Jesus foretells what we may experience at his second coming. The greatest sign of God's power through Jesus is his resurrection and ascension to Heaven. Jesus promises us that we too will experience this.
Until the fullness of time, we are empower by faith and hope to do God's good work to build the community of faith so others may experience God's greatness too. (Source: Jeffrey Trytko, Weekday Homily Helps. Ohio: St. Anthony Messenger Press, November 13, 2009).
Reflection 9 – St. Frances Xavier Cabrini
(1850-1917 A.D.)
Frances Xavier Cabrini was the first United States citizen to be canonized; she became a U.S. citizen in 1909. Her deep trust in the loving care of her God gave her the strength to be a valiant woman doing the work of Christ.
Refused admission to the religious order which had educated her to be a teacher, she began charitable work at the House of Providence Orphanage in Cadogno, Italy. In September 1877, she made her vows there and took the religious habit.
When the bishop closed the orphanage in 1880, he named Frances prioress of the Missionary Sisters of the Sacred Heart. Seven young women from the orphanage joined her.
Since her early childhood in Italy, Frances had wanted to be a missionary in China but, at the urging of Pope Leo XIII, Frances went west instead of east. She traveled with six sisters to New York City to work with the thousands of Italian immigrants living there.
She found disappointment and difficulties with every step. When she arrived in New York, the house intended to be her first orphanage in the United States was not available. The archbishop advised her to return to Italy. But Frances, truly a valiant woman, departed from the archbishop's residence all the more determined to establish that orphanage. And she did.
In 35 years Frances Xavier Cabrini founded 67 institutions dedicated to caring for the poor, the abandoned, the uneducated and the sick. Seeing great need among Italian immigrants who were losing their faith, she organized schools and adult education classes.
As a child, she was always frightened of water, unable to overcome her fear of drowning. Yet, despite this fear, she traveled across the Atlantic Ocean more than 30 times. She died of malaria in her own Columbus Hospital in Chicago.
Comment:
The compassion and dedication of Mother Cabrini is still seen in hundreds of thousands of her fellow citizens, not yet canonized, who care for the sick in hospitals, nursing homes and state institutions. We complain of increased medical costs in an affluent society, but the daily news shows us millions who have little or no medical care, and who are calling for new Mother Cabrinis to become citizen-servants of their land.
Quote:
At her canonization on July 7, 1946, Pope Pius XII said, "Although her constitution was very frail, her spirit was endowed with such singular strength that, knowing the will of God in her regard, she permitted nothing to impede her from accomplishing what seemed beyond the strength of a woman."
Patron Saint of:
Hospital administrators
Immigrants
Impossible causes
Related St. Anthony Messenger article(s)
Holy People 'Walk the Talk,' by Carol Ann Morrow
Read the source: http://www.americancatholic.org/features/saints/saint.aspx?id=1198
SAINT OF THE DAY
Catholic saints are holy people and human people who lived extraordinary lives. Each saint the Church honors responded to God's invitation to use his or her unique gifts. God calls each one of us to be a saint. Click here to receive Saint of the Day in your email.
ST. FRANCES XAVIER CABRINI, M.S.C.
RELIGIOUS AND FOUNDRESS
BORN
July 15, 1850
Sant'Angelo Lodigiano, Province of Lodi, Kingdom of Lombardy-Venetia, Austrian Empire
DIED
December 22, 1917 (aged 67)
Chicago, Illinois, United States
VENERATED IN
Roman Catholic Church
BEATIFIED
November 13, 1938, by Pope Pius XI
CANONIZED
July 7, 1946, by Pope Pius XII
MAJOR SHRINE
Chapel of Mother Cabrini High School, New York City
FEAST
November 13 (December 22, pre-1970)
PATRONAGE
immigrants, hospital administrators, Lincoln
Saint Frances Xavier Cabrini, M.S.C. (Italian: Francesca Saverio Cabrini; July 15, 1850 – December 22, 1917), also called Mother Cabrini, was an Italian– American religious sister, who founded the Missionary Sisters of the Sacred Heart, a Catholic religious institutethat was a major support to the Italian immigrants to the United States. She was the first naturalized citizen of the United States to be canonized by the Roman Catholic Church, on July 7, 1946.[1]
Early life
[
edit
]
Cabrini was born July 15, 1850, in Sant'Angelo Lodigiano, in the Lombard Province of Lodi, then part of the Austrian Empire, the youngest of the thirteen children of Agostino Cabrini and Stella Oldini, who were wealthy cherry treefarmers. Sadly, only four of the thirteen survived beyond adolescence.[2] Small and weak as a child, born two months premature, she remained in delicate health throughout her life. When she went to visit to her uncle, Don Luigi Oldini of Livagra, a priest who lived beside a swift canal, she made little boats of paper, dropped violets in them, called the flowers missionaries, and launched them to sail off to India and China.[3]
At thirteen Francesca attended a school run by the Daughters of the Sacred Heart. Five years later she graduated cum laude, with a teaching certificate.[3] After the deaths of her parents in 1870, she applied for admission to the religious congregation of the Daughters of the Sacred Heart at Arluno. These sisters were her former teachers but reluctantly, they told her she was too frail for their life.[4]She became the headmistress of the House of Providence orphanage in Codogno, where she taught, and drew a small community of women to live a religious way of life. Cabrini took religious vows in 1877 and added Xavier to her name to honor the Jesuit saint, Francis Xavier, the patron saint of missionary service.[5]
Missionary Sisters of the Sacred Heart of Jesus
[
edit
]
In November 1880, she and six other women who had taken religious vows with her founded the Missionary Sisters of the Sacred Heart of Jesus (M.S.C.).[6] Cabrini composed the Rule and Constitutions of the religious institute, and she continued as its superior general until her death. The sisters took in orphans and foundlings, opened a day school to help pay expenses, started classes in needlework and sold their fine embroidery to earn a little more money.[3] The institute established seven homes and a free school and nursery in its first five years. Its good works brought Mother Cabrini to the attention of (the now Blessed) Giovanni Scalabrini,Bishop of Piacenza, and of Pope Leo XIII.
Missionary
[
edit
]
In September 1877, Cabrini went to seek approval of the pope to establish missions in China. Instead, he suggested to her that she go to the United States to help the Italian immigrants who were flooding to that nation in that era, mostly in great poverty. "Not to the East, but to the West" was his advice.[6]
Cabrini left for the United States, arriving in New York City on March 31, 1889, along with six other sisters. She encountered disappointment and difficulties at every step.[6] Archbishop Michael Corrigan, who was not immediately supportive, found them housing at the convent of the Sisters of Charity, where they were allowed to stay as long as necessary. She obtained the permission of the archbishop to found an orphanage, which is located in West Park, New York today and is known asSaint Cabrini Home.
Cabrini organized catechism and education classes for the Italian immigrants and provided for the needs of the many orphans. She established schools and orphanages despite tremendous odds. She was as resourceful as she was prayerful, finding people who would donate what she needed in money, time, labor, and support.[7] In New York City, she founded Columbus Hospital and Italian Hospital. In the 1980s, they were merged into Cabrini Medical Center.[4] The facility closed in 2008.
In Chicago, the sisters opened Columbus Extension Hospital (later renamed Saint Cabrini Hospital) in the heart of the city's Italian neighborhood on the Near West Side. Both hospitals eventually closed near the end of the 20th century. Their foundress' name lives on in Chicago's Cabrini Street.
She founded 67 institutions: in New York; Chicago; Des Plaines, Illinois; Seattle; New Orleans; Denver; Golden, Colorado; Los Angeles; Philadelphia;[5] and in countries throughout South Americaand Europe. Long after her death, the Missionary Sisters would achieve Mother Cabrini's goal of being missionaries to China. In only a short time, after much social and religious upheaval there, the Sisters left China and, subsequently, a Siberian placement.
Cabrini was naturalized as a United States citizen in 1909.[5]
Mother Cabrini died of complications from dysentery at age 67 in Columbus Hospital in Chicago, Illinois, on December 22, 1917,[7]while preparing Christmas candy for the local children. By that time, she had founded 67 missionary institutions to serve the sick and poor and train additional sisters to carry on the work.
Her body was originally interred at Saint Cabrini Home, an orphanage she founded in West Park, Ulster County, New York.
Veneration
[
edit
]
In 1931, her body was exhumed as part of the canonization process. At that time, her head was removed and is preserved in the chapel of the congregation's international motherhouse in Rome. An arm is at the national shrine in Chicago, while most of the rest of her body is at the shrine in New York.
Cabrini was beatified on November 13, 1938, by Pope Pius XI, and canonized on July 7, 1946,[7] by Pope Pius XII. Her beatification miracle involved the restoration of sight to a child who had been blinded by excess silver nitrate in the child's eyes. Her canonization miracle involved the healing of a terminally ill member of her congregation. When she was canonized, 120,000 people from all over the area filled Soldier Field for a Mass of thanksgiving.[8]
Mother Cabrini's feast day is November 13,[9] the day of her beatification. In the pre-1970 calendar, still used by some, the date was December 22, the day of her birth in heaven, the day normally chosen for a saint's feast day.
St. Frances Xavier Cabrini is the patron saint of immigrants,[10] and of the religious institute, the Servants of the Lord and the Virgin of Matará, (Servidoras).[11]
National Shrine of Saint Frances Xavier Cabrini
[
edit
]
Due to the overwhelming increase of pilgrims to her room at Chicago's Columbus Hospital, the then-Archbishop of Chicago, Cardinal Samuel Stritch, consecrated a National Shrine built in her honor within the hospital complex. The National Shrine of Saint Frances Xavier Cabrini was dedicated in 1955.[12] The Shrine was at the heart of Columbus Hospital, formerly located in Chicago's Lincoln Park. It was a popular destination for the faithful seeking personal healing and spiritual comfort. In 2002, the hospital closed and soon after was torn down, but the shrine and Mother Cabrini's room were conserved, though closed to the public. It was reopened on October 1, 2012, following a ceremony the previous day.
It is located in the Lincoln Park area of Chicago at the former Columbus Hospital. It was solemnly blessed and dedicated in an Inaugural Liturgy that was celebrated by Cardinal Francis George, O.M.I., Archbishop of Chicago, on September 30, 2012. The Reverend Theodore Ploplis, Coordinator of Spiritual Services at Chicago's St. Joseph Hospital and a priest of the Archdiocese of Chicago, also assumed duties as the first Rector of the National Shrine, effective September 1, 2012.
The National Shrine will now function as a stand-alone center for prayer, worship, spiritual care and pilgrimage. Today, it is an architectural gem of gold mosaics, Carrara marble, frescoes and Florentine stained glass. As part of its restoration plan, it will be surrounded by a large condominium development on North Lakeview, the former site of Columbus Hospital.
Other shrines to Mother Cabrini
[
edit
]
Manhattan, New York City
[
edit
]
The St. Frances Xavier Cabrini Shrine in the Washington Heightssection of Manhattan overlooks the banks of the Hudson River and neighboring New Jersey. After her death in 1917, Mother Cabrini was buried in West Park, New York. In 1933, her remains were moved to the chapel of Mother Cabrini High School. Following Mother Cabrini's canonization in 1946, there were so many pilgrims coming to pray that a new shrine was built in 1957 on the school grounds. The shrine served the young women attending Mother Cabrini High School as a place for their liturgies and prayer services. Mother Cabrini High School was established in 1899. It closed June 30, 2014 after 115 years of educational service to women.[13]
The major portion of her body is now enshrined under glass in the altar of the shrine. Today, the Shrine continues as a center of welcome for new immigrants and pilgrims of many nationalities who come to pray and reflect.[14] The street to the west of the shrine was renamed Cabrini Boulevard in her honor.
Golden, Colorado
[
edit
]
Another Mother Cabrini Shrine is located in Golden, Colorado. Arriving in Denver in 1902, Mother Frances Xavier Cabrini, founder of the Missionary Sisters of the Sacred Heart of Jesus, established in 1904 the Queen of Heaven Orphanage.[15]During a trip in 1902 to visit the Italian workers and their families in the Clear Creek, Argentine, and South Park mining districts, Frances X. Cabrini discovered a property on the east slope of Lookout Mountain owned by the town of Golden. No reliable source of water was known to exist on the property at that time, although there were two barns and a springhouse built in the 1890s. In 1909 -1910, she negotiated the purchase of this property as a summer camp for the girls at the Queen of Heaven Orphanage in Denver, Colorado. A farming operation, with poultry, livestock and dairy cows, was established and maintained by three of the Sisters of the Sacred Heart.[16]
In September 1912, Mother Cabrini directed the sisters where to dig to find water. A replica of the grotto of Lourdes was built over the spring in 1929 and replaced in 1959 by a second built of sandstone. On Mother Cabrini's last visit to the foothills in 1912 she authorized the building of the Stone House to serve as a dormitory for the girls. The house was to be built of native rock. Construction was completed in 1914. The house was used as a summer camp for the girls from the Queen of Heaven orphanage. In 1967 a system of foster care took over the responsibilities of the orphanage and Queen of Heaven closed.[15] The summer camp became a year around retreat facility, and a place for small prayer gatherings. The Stone House is listed on the National Register of Historic Places.
In April 1948, a St. Frances Cabrini Shrine Committee was incorporated. The convent, completed in 1970, contains a chapel dedicated to the Sacred Heart, and has an exhibit of artifacts and clothing used by Mother Cabrini. The stained-glass windows of the convent chapel came from Villa Cabrini in Burbank, California, which was a school formerly sponsored by the Missionary Sisters.[16]
The Cabrini Mission Foundation, founded in 1998, is a non-profit organization that raises funds to support Cabrini programs and institutions focused on health care, education, and social services.[17]
Parishes named in honor of Mother Cabrini include: Saint Frances Xavier Cabrini Catholic Church, Yucaipa, California. Saint Frances Cabrini Catholic Church in San Jose, California, St. Frances Cabrini K-8th grade Catholic School in Savannah, Georgia, St. Frances Cabrini Church in Tucson, Arizona, St. Frances Cabrini Parish in Allen Park, Michigan,[18] St. Frances Cabrini Catholic Church in Lebanon, Tennessee, St. Frances Xavier Cabrini Parish in Lorain, Ohio, St. Frances Cabrini Church in Omaha, Nebraska, St. Frances Cabrini Catholic Church located in Conneaut, Ohio, and St. Frances Xavier Cabrini Catholic Church located inEl Paso, Texas. The Scalabrini Fathers, founded by the Blessed Giovanni Scalabrini, run St Francesca Cabrini Italian Church in Bedford, England, which is named in her honor.[19]
CHRISTUS-Saint Frances Cabrini Hospital in Alexandria, Louisiana, bears her name because Charles Greco, the Bishop of Alexandria at the time of its founding, shortly after her canonization, had met her when she came to visit the grade school he attended in New Orleans. The Santa-Cabrini Hospital in the east end of Montreal, Canada, is also named in her honor and is very popular amongst Canadians of Italian descent.
Chicago's Cabrini–Green housing project, which has since been mostly torn down,[23] was named after her, due to her work with Italian immigrants in the location. It has since become a haven for underprivileged and poor people and the Cabrini Sisters still work there.
St. Frances Xavier Cabrini was honored in 1996, listing her in the National Women's Hall of Fame.[24]
See also
[
edit
]
References
[
edit
]
Daily readings with reflections, Pope's messages, Bishop's messages, Church's music & videos, Educational Speaker, Bible Stories, Christopher Notes, Church Militant Video, Religious Movies, Journey Home