Bishop Teodoro Bacani alarmed by rash of drug suspect slayings
A BISHOP on Monday condemned the killings of hundreds of drug suspects just over a week after the Duterte administration assumed office.Novaliches Bishop Emeritus Teodoro Bacani said that killing drug suspects to solve the drug menace cannot be justified.

He said that law enforcers should respect human rights and adhere to the "due process of law."

"You cannot do evil in order to achieve good. Hindi ka pwedeng gumawa ng mali para makamtan mo yung tama. Kapag gumawa ka ng mali nauna na yung mali sa tama at baluktot na kaagad ang pasimula. Kaya dapat, una, tayo ay may paggalang sa karapatang pantao. Ikalawa, sa karapatan ng tao dito sa Pilipinas na naaayon sa Konstitusyon," Bacani said in Veritas Patrol interview.

The prelate also said that the police should not play the roles of accusers, judges and executioners.

"Hindi naman po kunan ng buhay o patayin ang tao na ang lilitis sa kanya at mag- aakusa sa kanya at magpapatupad ng hatol sa kanya iisa na lang. Hindi pwede yan," Bacani added.

The Philippine National Police chief, Director General Ronald "Bato" Dela Rosa, and Solicitor General Jose Calida on Monday vowed to protect police officers from congressional inquiries into the growing list of slain drug suspects.

"The people of the Philippines have had enough of the drug menace that is corrupting and destroying our youth and society. We will not allow anybody to derail this effort of the PNP and its officers to implement the order of our President to stop this drug trafficking menace in our society," Calida said in a press briefing at Camp Crame.

Dela Rosa also rallied his men to continue on with its fight against drugs, as many drug suspects have already surrendered and died.

The PNP chief issued these pronouncements after Senator Leila de Lima said that she intends to launch an investigation into the killings of drug suspects.

De Lima, who is set to become the chair of the Senate committees on justice and human rights, said that her inquiry seeks to come up with operational guidelines for law enforcement agencies./ac /rga/ac

Read the source and comments: http://newsinfo.inquirer.net/795489/bishop-alarmed-by-rash-of-drug-suspect-slayings
Drug suspects murdered in Filipino President Duterte's war on crime
Civil rights campaigners including two legislators called for an inquiry into police operations amid concerns some of the dead suspects could have been summarily executed by lawmen
Filipino authorities say nine people have been killed in "anti-drug" attacks following President Rodrigo Duterte's call on communist factions to kill drug traffickers and dealers.
One raid in the southern town of Matalam, about 900 kilometres south of Manila, left eight "drug personalities" dead on Saturday, including a woman, regional police spokesman Superintendent Romeo Galgo told Agence France-Presse.
In Manila, police found an unidentified dead man, his entire head wrapped in tape, on a poorly lit road late on Friday. His torso was covered with a cardboard sign reading: "I am a pusher." Civil rights groups are demanding an investigation amid fears of summary executions.
The 71-year-old president, who built a reputation for tough anti-crime methods while mayor of the southern city of Davao, won the 9 May election overwhelmingly on a bold promise to end criminality and corruption in the first three to six months of his presidency.
This included a pledge to kill can i buy propecia with my hsa tens of thousands of drug dealers and other criminals – with the help of the authorities and the general public. The pledge has won him support but also sparked alarm among human rights groups. More than 100 suspects have been killed in the seven weeks since Mr Duterte's election.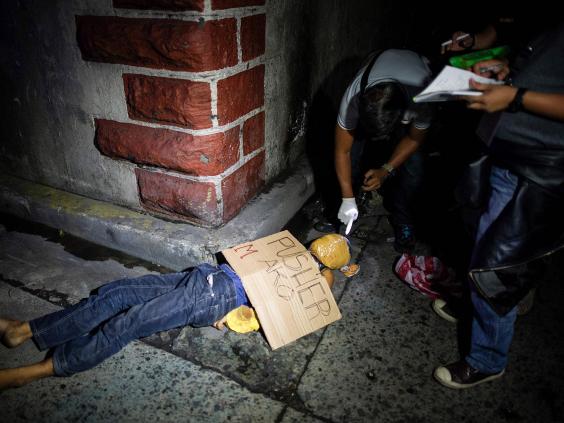 Civil rights campaigners including two legislators called on Friday for an inquiry into recent months' police operations amid concerns at least some of the dead suspects could have been summarily executed by the lawmen. Police have said they had operated within the boundaries of the law in killing 103 suspects between 10 May and 7 July.
The Manila newspaper Philippine Daily Inquirer's "kill list" of suspected criminals shows 119 victims of suspected summary killings up until 7 July, including 13 unidentified ones, since the elections.
Extrajudicial killings, torture, enforced disappearances, human trafficking and other human rights violations have decreased in the Philippines in recent years, but cases still exist and remain unsolved, according to Human Rights Watch.
Mr Duterte, a former prosecutor, has encouraged police and even ordinary citizens to shoot suspected drug dealers if they resist arrest and fight back, promising cash rewards if they turn in drug lords.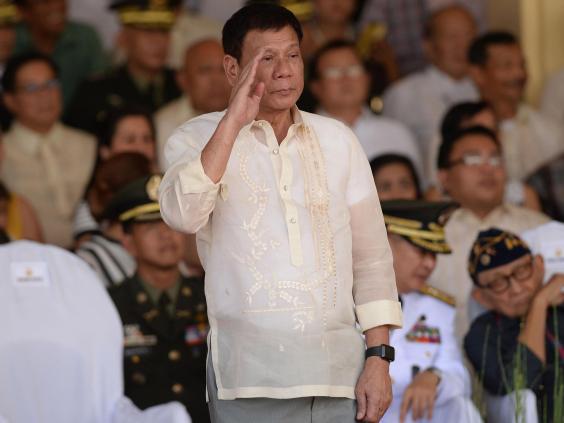 In recent weeks, dozens of suspected drug dealers have been killed in alleged gun battles with police or have turned up dead under mysterious circumstances, some with cardboard signs warning the public not to imitate the slain suspects.
Mr Duterte said there are many officials, Chinese nationals and police involved in the drug trade and suggested he would disclose their identities soon.
Last Friday the Philippines' new police chief ordered officers linked to narcotics trafficking to surrender within 48 hours or be killed. And on Saturday Mr Duterte vowed to kill not only drug traffickers, but drug addicts.
"If I couldn't convince you to stop, I'll have you killed… if you're into drugs, I'm very sorry. I'll have to apologise to your family because you'll surely get killed," he said in a speech, adding: "The problem is once you're addicted to shabu (methamphetamine), rehabilitation is no longer an option."
Read the source and comments: http://www.independent.co.uk/news/world/asia/philippines-drugs-suspects-murder-killings-police-duterte-manila-a7128761.html
Related articles/ Videos click below:
Pope Francis: Death penalty fosters revenge, not justice, pope says http://www.pagadiandiocese.org/2016/06/21/pope-francis-death-penalty-fosters-revenge-not-justice-pope-says/
CBCP head Archbishop Socrates Villegas: 'We will resist the moral wrong' http://www.pagadiandiocese.org/2016/07/10/cbcp-head-archbishop-socrates-villegas-we-will-resist-the-moral-wrong/
Archbishop Socrates Villegas' Pastoral appeal to our law enforcers: Appeal to Reason and Humanity – Seek peace and pursue it (Ps.34:14) http://www.pagadiandiocese.org/2016/06/21/archbishop-socrates-villegas-pastoral-appeal-to-our-law-enforcers-appeal-to-reason-and-humanity-seek-peace-and-pursue-it-ps-3414/
Cardinal Tagle: Oppose 'culture of death,' Church prays for leaders http://www.pagadiandiocese.org/2016/06/19/cardinal-tagle-oppose-culture-of-death-church-prays-for-leaders/
CBCP President Archbishop Socrates Villegas alarmed over vigilante killings http://www.pagadiandiocese.org/2016/06/20/cbcp-president-archbishop-socrates-villegas-alarmed-over-vigilante-killings/
Death penalty won't solve crime: Branson – Visiting tycoon cites experience in Europe http://www.pagadiandiocese.org/2016/05/25/death-penalty-wont-solve-crime-branson-visiting-tycoon-cites-experience-in-europe/
Is death penalty Biblical? Priest explains why not http://www.pagadiandiocese.org/2016/05/23/is-death-penalty-biblical-priest-explains-why-not/
Law dean raises 7 arguments vs death penalty http://www.pagadiandiocese.org/2016/05/23/law-dean-raises-7-arguments-vs-death-penalty/
Pope Francis Calls for Abolition of Death Penalty http://www.pagadiandiocese.org/2016/02/21/pope-francis-calls-for-abolition-of-death-penalty/
If death penalty returns, bishop says he'll volunteer to die http://www.pagadiandiocese.org/2016/05/20/if-death-penalty-returns-bishop-says-hell-volunteer-to-die/
In a letter (March 20,2015) to the International Commission against the Death Penalty, the Pope Francis says that today the death penalty is "inadmissible, no matter how serious the crime committed. It is an offence against the inviolability of life and the dignity of the human person." He adds that it "does not render justice to the victims, but rather fosters vengeance."
Daily readings with reflections, Pope's messages, Bishop's messages, Church's music & videos, Educational Speaker, Bible Stories, Christopher Notes, Church Militant Video, Religious Movies, Journey Home