Press Statement of Archbishop Socrates Villegas contrary to the misleading if not deceptive post of GMA News Online
CONTRARY to the misleading if not deceptive post of GMA News Online, the CBCP is not sealing its lips on the accusations of rape against a priest in the Diocese of Butuan. There is a newly promulgated set of guidelines in place that is being followed. The Diocese will, as directed, see to the availability of the priest concerned for investigation by civil authorities.
Meanwhile, the diocese will conduct its own canonical investigation on first instance. The diocese, and if necessary the CBCP, will offer the victim the therapeutic and psychological support she may need. But we must first give the bishop of the locality the chance to act as our present protocols dictate.
+SOCRATES B. VILLEGAS
Archbishop of Lingayen-Dagupan
President, CBCP
April 19, 2016
Read the source and comments: http://www.cbcpnews.com/cbcpnews/?p=76083
Duterte 'insults' Bishop Villegas by telling Catholics to listen to the bishop or go to hell
"To all Roman Catholics, listen to your bishop. Don't vote for me or you will go to hell." This was how Davao City Mayor Rodrigo Duterte reacted to the post of Catholic Bishops Conference of the Philippines (CBCP) President Archbishop Socrates Villegas on his Facebook where he wrote: "Judge for yourself if this is the right choice. I will keep my personal judgment to myself. This video can help…." The bishop posted a link to the viral video of Duterte on his rape joke. GMA News reporter Cedric Castillo posted this statement of the presidential aspirant on his Twitter account and reported on GMA News online.
For some Catholics, this was an insult to Bishop Villegas because he did not say that Catholics will go to hell if they don't listen to him. What he said was that if Catholic voters will not make a "Good vote, an intelligent vote and a discerned vote", their votes can bring hell to the Philippines. Watch the video clip of Archbishop Villegas here is the embedded link of the video below:
Source: GMA News online
Mayor Duterte? by Archbishop Socrates Villegas
What the world desperately needs now is leadership by example. We have so many leaders in office and many more aspiring to sit in office but are they examples of good citizenship? If the leaders we choose are to be leaders for national progress they must be visionaries AND exemplary.
Corruption is indeed a great scourge of Philippine politics.
The usual face of corruption that we recognize easily is stealing from public funds. Corruption, like a monster, is a devil with many faces. Killing people is corruption. Killing is a crime and a sin whether it is done by criminals or public officials no matter what the intention. Adultery is corruption. It makes married love cheap and uses people for pleasure. Adultery corrupts the family; it destroys children and victimizes the weak. Vulgarity is corruption. When we find vulgarity funny, we have really become beastly and barbaric as a people. When a revered and loved and admired man like Pope Francis is cursed by a political candidate and the audience laugh, I can only bow my head and grieve in great shame. My countrymen has gone to the dregs.
Is this the leadership by example that Mayor Duterte excites in us? Is this the leadership by example that makes a public official deserving of the title "Honorable"?
+SOCRATES VILLEGAS
Archbishop of Lingayen Dagupan
CBCP President
Read the source and comments:http://www.cbcpnews.com/cbcpnews/?p=68684
Rodrigo Duterte: The Rise of Philippines' Death Squad Mayor
The following opinion piece was written by Phelim Kine, Asia Division Deputy Director, Human Rights Watch .
For Rodrigo Duterte, the brutal death squads that have claimed the lives of more than 1,000 people during his tenure as mayor of Davao City in the Philippines' main southern island of Mindanao are not a problem. They're a political platform.
Duterte publicly admitted his direct links to the Davao death squad during a May 24 live broadcast of his weekly television talk show. "Am I the death squad? True. That is true," Duterte said on-air while discussing his accomplishments as Davao's chief executive. He thenpledged that if he became president of the Philippines he would execute 100,000 more criminals and dump their bodies in Manila Bay.
Duterte's comments echoed those he made on May 15, which asserted the summary killing of suspected criminals as a key plank to his approach to public security: "We're the ninth safest city. How do you think I did it? How did I reach that title among the world's safest cities? Kill them all [criminals]."
Duterte's claim of responsibility for the extrajudicial killings of hundreds of people has drawn deafening silence from President Benigno Aquino III. And aside from an expression of outrage from Philippines Secretary of Justice Leila De Lima, Duterte's comments have drawn scant public criticism.
Instead, observers describe Duterte's public admission of complicity with the Davao death squad as an act of shrewd political branding in the lead-up to presidential elections in May 2016. Those political ambitions are not misplaced. Recent public opinion pollsplace Duterte as the public's third most popular potential candidate out of a field of known presidential hopefuls. On May 22, Vice President Jejomar Binay told reporters that he wasconsidering Duterte as his running mate in his presidential bid next year.
The apparent public and political support for that initiative betrays a willful ignorance of the sinister reality of Duterte's approach to public order. The operation of "death squads" in Davao while Duterte has been the city's mayor has resulted in the deaths of hundreds of street children, petty criminals, and petty drug dealers since 1998.
Duterte himself took to the airwaves in 2001–2002 to issue threats against what he considered undesirable elements in Davao. Some of the criminals whose names he announced were later found dead, apparent victims of the death squad.
Philippine authorities have yet to successfully prosecute anyone for any of these murders. In the meantime, the killings continue andcopycat death squad operations have emerged in other cities.
There is a shameful history of political tolerance for Duterte's tactics that reaches the highest levels of the Philippine government. Duterte boasted at a public hearing of the Philippine Senate in February 2014 that he would "gladly kill" a suspected smuggler if he came to Davao. Rather than condemn Duterte's appalling threat, lawmakers expressed sympathy with his views. Senator Cynthia Villar, chairperson of the Senate Committee on Agriculture and Food, which held the hearing, responded to Duterte's threat by saying, "In Mindanao, you have to be tough because if not, there will be several abuses." Senator Grace Poe, a putative 2016 presidential election candidate, likewise failed to challenge Duterte's affront to the rule of law and instead clucked about how children might misconstrue Duterte's death threat.
This tolerance from lawmakers for Duterte speaks volumes about the failure of successive Philippine governments to address the country's problem of extrajudicial killings.Extrajudicial executions, including politically motivated killings, by state security forces have been a longstanding problem in the Philippines. Although the number of killings has decreased dramatically in recent years compared to a decade ago, they continue largely with impunity.
Exhibit A of the government's failure to prosecute the perpetrators of extrajudicial killings is the official response to the November 2009 Maguindanao massacre in which a "private army" financed by the powerful Ampatuan family killed 58 people including more than 30 media workers. Almost six years later, the case is in effective judicial limbo, with no successful prosecutions and a total of 87 suspects still at large.
A much-vaunted initiative by the administration to address impunity – the creation in 2012 of a so-called superbody to expedite the investigation and prosecution of cases of extrajudicial killings – has remained largely inactive even as Philippine human rights groups report new cases. With the notable exception of the government's move in March 2015 to prosecute the masterminds behind theTagum Death Squad, after a detailed Human Rights Watch report, the perpetrators of these crimes remain at large.
Duterte's boastful brand of violent impunity should be a path to prosecution, not a platform for political office. Until the government adopts a zero tolerance attitude toward public officials who publicly endorse extrajudicial killings as an acceptable approach to governance, Duterte and others like him will pose a grave danger to the safety of the citizens they are elected to protect.
BIO: Phelim Kine is the deputy director of the Asia Division at Human Rights Watch. His Twitter handle is @PhelimKine
The opinion piece above was provided to the Budapest Business Journal by The MarkNews.
Read the source and comments: http://bbj.hu/opinion/rodrigo-duterte-the-rise-of-philippines-death-squad-mayor_102752
The Victims of the Davao Death Squad: Consolidated Report 1998-2015
By Fr. Amado Picardal, CSsR, April 19,2016
I recently received a consolidated report of the killings perpetrated by the Davao Death Squad (DDS) since 1998 up to the end of 2015. The source will not be mentioned for obvious reasons. Suffice it to say that since the killings started, they have been monitoring these cases. I know them very well and I have been collaborating with them as we denounced these killings and worked with the Commission of Human Rights and the Human Rights Watch. They are hesitant to make the report public out of apprehension that it will be used for political purposes. I believe that to hide this would be a disservice to the nation since I believe that the body count could multiply many times over throughout the whole country in the next six years. The original report that I have is in Excel format, and very detailed (year by year, according to age, sex, areas, weapons used, etc). What I present is a summary and my own analysis. I know that when I do this, I am risking my life. But the truth must come out before it is too late.
The total number of persons killed by the DDS from 1998-2015 is 1,424. Let me repeat in words – ONE THOUSAND FOUR HUNDRED TWENTY-FOUR victims. This can be considered as MASS MURDER perpetrated by the same group, inspired and supported by the same persons. The data does not include those killed in other cities where the DDS have expanded franchise-style.
Out of 1,424, there were 1,367 male and 57 female. This means that those murdered by the DDS were not only men, there were also fifty-seven women.
Looking at this according to age there were 132 children killed (17 and below) — 126 boys and 6 girls. The youngest was a 12 years boy and a 15 year girl. There was a 9 year old boy who was killed by a stray bullet – he was not an intended target.
There was a total of 476 young adults (18-25) murdered – 466 male, 19 female. The number of older adults (26 years and above) killed were 612 (466 male, 28 female). There were victims whose age were not given – 201 (191 male, 10 female).
Thus, almost 50 percent of the victims were young people (children and young adults). Most the victims were killed in urban poor areas (e.g. Buhangin, Agdao, Bangkerohan, Boulevard, Matina, Toril). Most of those killed were involved in illegal drugs – as users and pushers. There were also those involved in petty crimes – theft, cell-phone snatching, gang members. There were 14 cases of mistaken identity – they were not the intended targets but the DDS hit men mistakenly hit the wrong target. There were some who had gone away after being warned that they were on the hit list and after some years, after reforming their lives, came back thinking that they were safe. Their names were still on the list so they were still killed.
Thus, one can say that majority of the victims of the DDS were young and poor – juvenile delinquents considered as the weeds of society. There were no reports of drug lords or big time criminals among those killed by the DDS. There were two journalists who were believed to have been murdered by the DDS – Jun Pala and Ferdie "Batman" Limtungan. Jun Pala was a radio commentator who constantly spoke out against the DDS and Mayor Duterte. There were two previous attempts on his life and he accused Duterte of being behind these attacks. He was finally killed by motorcycle riding men on the third try. Ferdie "Batman" Lintuan also spoke out against the DDS and also the alleged anomalies in the construction of the People's Park which he linked with Mayor Duterte. He was also killed by motorcycle riding men.
The victims of the DDS were unarmed. They did not fight back. Many were just sitting down on street-corners outside sari-sari stores, talking with friends and then suddenly shot in cold blood. There were some who were just released from prison and while waiting for public transportation on the side of the road were suddenly shot by motorcycling men. How the DDS knew the exact time and place they were to be released is amazing. Another victim was killed inside his home in front of his mother and three children who were begging the DDS not to kill him. One of the most well-known case is Clarita Alia – a vegetable vendor in Bangkerohan – whose teen-age sons (who were below 17 years old) were murdered by the DDS. I was asked by Clarita to bless the body of her boy, Fernando before he was buried.
I have personally witnessed the aftermath of two DDS killings. The first was in our parish church in Bajada. While officiating a Wedding Mass I heard shots outside in the carpark. I immediately rushed outside after the Mass to find out what happened. I saw the body of a teen-age boy lying in our church ground surrounded by people. He had just been shot by DDS hit-men while sitting in the car park with his friends. The killers escaped on a motor-cycle. There was a police car nearby but the police just fired warning shots into the air and did not go after the killers. The boy who was killed lived in a nearby slums area. He had been suspected as one of those who broke the window of a car park in our church and stole some items two weeks earlier.
The second time I witnessed the aftermath of a DDS killing was while mountain-biking in Lomondao, a distant barangay in Davao. As I neared the place I met three motorcycle riding men speeding back to the city. When I arrived in the place I saw people who gathered around the body of a young boy. When I asked what happened, someone told me it was the DDS. The boy was cell-phone snatcher and drug user. He added, the boy deserved to die.
The killings have not stopped. The DDS continue their murderous spree even to this day. For the last five years (2011-2015), there were 385 victims of extrajudicial killings in Davao – 39 of them below seventeen years old and 118 young adults (18-25). In 2011 there 111 reported DDS killings, in 2012 there were 61, in 2013 there were 101, in 2014 there were 52 and there were 60 in 2015. The DDS usually take a break during the campaign period. They will continue their operations after the elections.
So far, no one has been held accountable for these killings. There has been no official investigation by the police or the city government. The police do not acknowledge the existence of the DDS. The Commission on Human Rights (CHR) came to Davao for a public hearing and also met secretly with witnesses – family of the victims and former members of DDS. Although the CHR recommended prosecution, this could not prosper because nobody was willing to testify in court out of fear. The DDS are still around and anybody who testifies will surely be targeted for assassination. I have met some of these witnesses and understand their fear. They claimed that some of those listed as victims were their former companions who knew too much and were suspected of betraying the DDS. So while former DDS members talked about how they were recruited, trained and how they operate, and who their handlers were and their link with some police and local government officials, all these information could not stand in court because they were not willing to testify in spite of the sworn statements made before the CHR. Much of the information can also be found in the report of the Human Rights Watch in 2009 You Can Die Anytime: Death Squad Killings in Mindanao.One of the findings of the Human Rights Watch report reveals the link between the DDS and the police:
"According to these "insiders," most members of the DDS are either former communist New People's Army insurgents who surrendered to the government or young men who themselves were death squad targets and joined the group to avoid being killed. Most can make far more money with the DDS than in other available occupations. Their handlers, called amo (boss), are usually police officers or ex-police officers. They provide them with training, weapons and ammunition, motorcycles, and information on the targets. Death squad members often use .45-caliber handguns, a weapon commonly used by the police but normally prohibitively expensive for gang members and common criminals.
The insiders told Human Rights Watch that the amo obtain information about targets from police or barangay (village or city district) officials, who compile lists of targets. The amo provides members of a death squad team with as little as the name of the target, and sometimes an address and a photograph. Police stations are then notified to ensure that police officers are slow to respond, enabling the death squad members to escape the crime scene, even when they commit killings near a police station."
The Human Rights Watch Report also revealed the modus operandi:
"Our research found that the killings follow a pattern. The assailants usually arrive in twos or threes on a motorcycle without a license plate. They wear baseball caps and buttoned shirts or jackets, apparently to conceal their weapons underneath. They shoot or, increasingly, stab their victim without warning, often in broad daylight and in presence of multiple eyewitnesses, for whom they show little regard. And as quickly as they arrive, they ride off—but almost always before the police appear."
"They deserved to die." This is what Mayor Duterte said while denying involvement in these extrajudicial killings. At one time, he read a list in his TV program. A few weeks later many of those in the list were killed by the DDS.
"They deserve to die." This is also the attitude of many residents of the city towards the victims of the DDS. This shows who are behind them and why there has been little outcry regarding these mass murders.
It appears that the DDS killings are the center-piece of Mayor Duterte's campaign against criminality in Davao City. To fight against criminality, you simply kill the criminals through extra-judicial executions carried out by the DDS. No need to arrest them, put them on trial and imprison them if proven guilty. No need for due process of the law. Criminals do not have rights – that is a western concept. For criminals there can only be one punishment – death. It doesn't matter if you are a petty criminal – even if you are only a drug addict or pusher or cell-phone snatcher, you deserve to die. The killings are meant to be a deterrent to crime – to instill fear on everyone so that they will stop committing crime. According to Human Rights Watch Report:
"The continued death squad operation reflects an official mindset in which the ends are seen as justifying the means. The motive appears to be simple expedience: courts are viewed as slow or inept. The murder of criminal suspects is seen as easier and faster than proper law enforcement. Official tolerance and support of targeted killing of suspected criminals promotes rather than curbs the culture of violence that has long plagued Davao City and other places where such killings occur."
It has been very difficult to speak out against these extrajudicial killings because majority of the people in Davao support these. The archdiocese of Davao under the leadership of Archbishop Fernando Capalla came out with a pastoral letter: "Thou Shalt Not Kill" and held several prayer vigils. We were a minority – a small voice whose cry in the wilderness was drowned out by the applause of the majority. The blood of 1,424 victims of the DDS was the price that was paid so that there could be peace and order – so that all can walk at night without fear. This was the peace of the cemetery, an order maintained by death squads – by criminals.
And the mass murder continues and there will be more blood spilled – not just in Davao but the entire Philippines. Mayor Duterte promised that if elected "the 1,000 will become 100,000." He declared that "it will be bloody." He said there will be" no need for more jails — just funeral parlors." He promised to "eliminate criminality in the entire country within 3-6 months." How will he do it? The answer is what happened in Davao – through the DDS under the direction of many police officers who deny their existence, with the financial support coming from businessmen and also drawn from the government coffers.
"I'm willing to go to hell, as long as the people I serve live in paradise." Is this an admission on the part of Mayor Duterte that what he has done is a grave sin against God that could someday earn him divine punishment?
Is Davao a paradise after 18 years of DDS extrajudicial killings? Has criminality been eradicated? According to the data from PNP covering 2010-2015, out of 15 chartered cities Davao was fourth in terms of Total Index of Crimes: 37,797 incidents. In terms of murder, Davao was no. 1 (1,032 incidents) and in terms of rape Davao was no. 2 (843 incidents). This report gives the impression that in Davao you can be murdered and raped any time. Murder is not really that bad if the DDS and the Mayor can do it. Rape is not really that bad if the Mayor can callously joke about it, wishing he was the first in line when he heard that a hostage – an Australian Lay Missionary – was raped.
Meanwhile, the families of victims cry out for justice as the DDS continue their killing spree. The national government has failed to address this mass murder that could soon multiply many times over, God forbid.
If the DDS is not stopped and those behind it is not held accountable, there will be a national bloodbath. Those who support it and allow it to multiply will have blood in their hands – they will be accomplices to mass murder. The one who orders this is a mass murderer – the biggest Criminal of them all.
If it is alright to kill suspected criminals – who can stop any one from taking the law into their own hands? Anyone can become judge and executioner – not only the police and public officials. Anyone can form their own vigilante groups. There won't be any need for prisons or lawyers or judges. There won't be any peace, no order as long and human rights and the rule of law are disregarded. Meanwhile, the big criminals, the big thieves and murderers will continue to rule the land. If it is o.k. to kill criminals, who can prevent anyone from killing the biggest Criminal of them all? We could be entering another dark period of our history — like the dictatorial period in the past or worst.
About Me
Read the source and comments:http://amadopicardal.blogspot.com/2016/04/the-victims-of-davao-death-squad.html
Rosales: Duterte will bring us back to Martial Law days
By Rosette Adel (philstar.com) | Updated May 27, 2015 – 4:17pm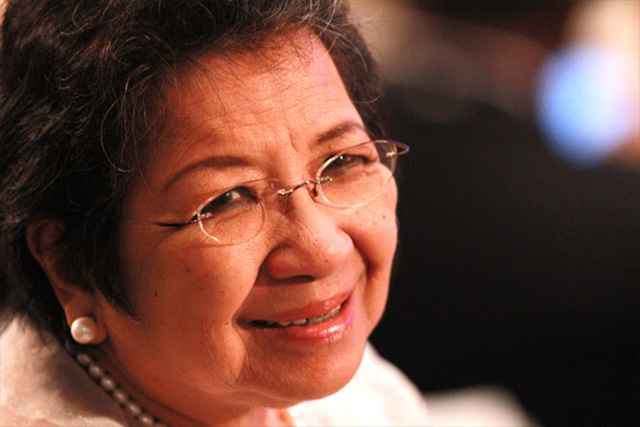 MANILA, Philippines – Former Commission on Human Rights (CHR) Chair Loretta "Etta" Rosales on Wednesday compared Davao City Mayor's link to the Davao Death Squad (DDS) with extrajudicial killings during the Ferdinand Marcos regime.
Duterte on Monday said he will kill all people who are making the life of the Filipino miserable.
Rosales then reacted in an interview with ANC that Duterte will bring us back to Martial Law days if he believes in what he says such as bringing back extrajudicial killings.
"Mayor Duterte, do you not believe in the EDSA revolution? Do you not believe in democracy and justice? You answer me that, because if you cannot, if you do not believe in it, and you intend to do with extrajudicial killings then I think we should campaign against you," Rosales said.
Rosales also discussed that Duterte's linkage with DDS has no difference with the murder of Benigno "Ninoy" Aquino under the Marcos jurisdiction, stating the comparison that both Marcos and Duterte has command responsibility.
According to Rosales, even if Marcos was sick and lying in bed, he was blamed for the murder of Aquino because he has a command responsibility.
"Ano ang diperensiya nu'n sa pagkakapatay kay Ninoy dito sa mga pinapatay nila, pinapaslang nila na mga inosente at walang ka-alam-alam? That's the whole point of criminal justice system," she said.
During the interview, a viewer responded, arguing that the difference of DDS is that allegedly they only kill criminals while Aquino was deemed innocent, to which Rosales replied that to others, Aquino may be innocent but to Marcos he is subversive and a threat to his reign.
Rosales pointed out that due process is also a difference.
"Until such time that you go through the process of investigation, prosecution, trial and conviction, you are deemed innocent, but what do they do? They just kill them," Rosales explained.
Rosales also shared that CHR conducted an investigation and came up with a resolution in June 28, 2012, which revealed that there are indeed killings in Davao City which involves children and suspected criminals.
Asked if the resolution states that Duterte is involved in DDS, Rosales did not directly answer but said that he is fully aware of the killings in his jurisdiction and tolerated these acts evidently. She added that that is a crime of omission since he has a command responsibility.
"I'm not going to say that, but this is what I'm going to say, they are law enforcers. Mayor Duterte is the highest official in Davao City and he knows fully well that there are summary killings, the police know that there are summary killings on-going but they didn't do anything about that," Rosales shared.
The former CHR chief, who vehemently opposes the death penalty, alleged that Duterte is mocking the criminal justice system by supporting summary execution of criminals.
"He makes a mockery of the criminal justice system. It's very cynical and I think he enjoys, he derives a lot of pressure seeing all of us alarmed that a high government official like him, the highest in Davao city can afford to talk this way and get away with murder," Rosales said.
Rosales said that Duterte will still be accountable with the killings even if he is indirectly involved with DDS due to his command responsibility in Davao City and this can still be brought to court.
Read the source and comments:http://www.philstar.com/headlines/2015/05/27/1459324/rosales-duterte-will-bring-us-back-martial-law-days
Published on April 17th, 2016 | by The Maharlikan
Duterte on 1989 Australian rape victim: "Napaka ganda, dapat si Mayor ang nauna"
MANILA, Philippines – A video of Davao City Rodrigo Duterte saying he was angry at a group of rapists not just because they committed the crime, but because their victim was so beautiful, "the mayor should have been first," has earned the ire of netizens who see it as another joke done in poor taste.
YouTube user "Beatboxer Ng Pinas" posted the video, Duterte on Australian Rape Victim: "Napaka Ganda. Dapat Mayor ang Mauna" on Saturday.
Duterte was holding a political rally and in the middle of telling the story of their pursuit of a group of criminals who had raped a number of women. He said he saw one of the victims, an Australian lay minister, whom he described as someone who looked like a beautiful American actress.
"Putang ina, sayang (Son of a bitch, it's too bad)," he remarked, to the audience's laughter.
"Ang napasok sa isip ko, ni-rape nila, pinagpilahan nila lahat do'n (What I thought was, they raped them, they lined up for all of them there)," Duterte continued.
"Nagalit ako kasi ni-rape? Oo. Isa rin 'yun. Pero napakaganda. Dapat, ang mayor muna ang mauna(Was I mad because she was raped? Yes, that's one of the reasons. But she really was beautiful. The mayor should have been first)," he said, to even louder laughter.
"Sayang (Too bad)," he added, before the video cut his speech off.
In the longer video recording, Duterte mentioned a "Pugoy" hostage incident, which seemed to refer to an infamous hostage-taking incident in a Davao prison in 1989.
According to a report by the Union of Catholic Asian News, 17 missionaries had been visiting the jail to hold Sunday service when they were taken hostage by prisoners under the leadership of Felipe Pugoy for almost 48 hours.
Soldiers stormed the compound to free the hostages, but five of them were killed, along with 16 prisoners.
Australian lay missioner Jaqueline Hamill, 36, was among those killed.
Read the source and comments:http://themaharlikan.info/politics/duterte-on-1989-australian-rape-victim-napaka-ganda-dapat-si-mayor-ang-nauna-2/
Rodrigo Duterte: Philippines presidential candidate jokes about rape and murder of Australian missionary
Leading Philippine presidential candidate Rodrigo Duterte, whose campaign promises a ruthless war on crime, has been angrily condemned after a video surfaced of him joking about a murdered Australian rape victim.
Mr Duterte, who promises mass killings of suspected criminals if elected next month, appears in a video uploaded on YouTube — since removed — making the joke about the female Australian missionary.
The missionary who was ministering in a prison in Davao in the southern Philippines was taken hostage, raped and killed during a riot by inmates in 1989.
"They raped all of the women … There was this Australian lay minister … when they took them out … I saw her face and I thought, 'Son of a bitch. What a pity … they raped her, they all lined up. I was mad she was raped but she was so beautiful. I thought, the mayor should have been first," Mr Duterte is shown telling a crowd of laughing supporters at a campaign rally.
Reports from the period, backed by Philippines media, name the Australian missionary as 36-year-old Jacqueline Hamill. Four other hostages were killed in the incident.
Mr Duterte was the city mayor at the time, and according to Rappler.com he had previously admitted to ordering the shooting of the hostage-takers on his television show "Gikan sa Masa, Para sa Masa".
Mr Duterte, who boasts of the extra-judicial killings of suspects by vigilantes during his time in Davao, is the preferred candidate in the run-up to the May 9 election, according to the latest opinion survey.
Comments draw widespread condemnation
His rivals, women's groups and commentators on social media quickly denounced his remarks.
A fellow missionary in Manila at the time of the incident in 1989, Robin Haines Merrill, took to Facebook to denounce Mr Duterte's candidacy.
"Jacqueline's death affected me deeply personally," she wrote, adding: "Don't vote for people who speak vile things against women".
President Benigno Aquino's spokesman Herminio Coloma said the comments showed Mr Duterte's "lack of fitness for the presidency" and his "utter lack of respect for women".
Mr Aquino, who under the constitution cannot seek a second term, is supporting his former interior secretary Mar Roxas, who trails Mr Duterte in opinion surveys.
Rival presidential candidate, Vice President Jejomar Binay, called Mr Duterte's remarks "simply revolting".
"You are a crazy maniac who doesn't respect women and doesn't deserve to be president," Mr Binay told Mr Duterte in a statement.
Another candidate, Senator Grace Poe, who is just behind Mr Duterte in the surveys, called his comment "distasteful and unacceptable, and reflects his disrespect for women".
One Filipino remarked on Twitter: "I broke down after watching Duterte on Aussie rape. I can't fathom how his followers can laugh at it".
Women's group Gabriela attacked Mr Duterte's remarks by saying rape or any other form of sexual abuse was not a joke "nor something to be trivialised in a joke", especially by someone seeking the presidency.
Many Filipinos have embraced Mr Duterte for his vulgarity-laced speeches, his boasts of sexual conquests and his promised war on crime.
Even when he called Pope Francis a "son of a whore" in a speech last November, his followers in the devoutly Catholic nation quickly forgave him.
A spokesmen for Mr Duterte had no immediate comment when approached by AFP. But Duterte media group head Peter Lavina told the Philippines' GMA News Online in a text message that a clarification will be provided.
Many of his followers brushed off the controversy.
"We won't apologise for he has done nothing wrong, it was a clear joke for God's sake," one Filipina supporter said on Twitter.
Read the source and comments:http://mobile.abc.net.au/news/2016-04-17/philippines-presidential-candidate-condemned-for-joke-about-rape/7333300
Philippines candidate Duterte condemned over rape comments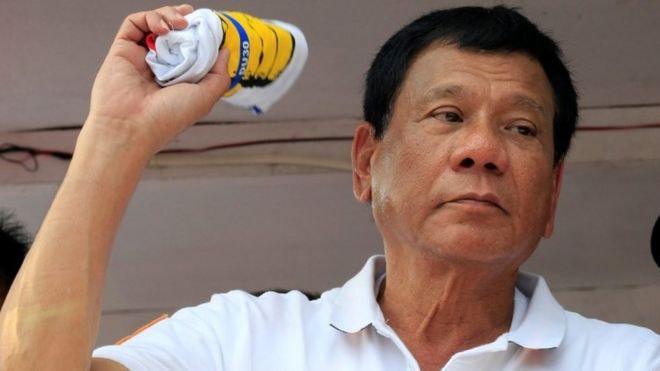 A video of leading Philippines presidential candidate Rodrigo Duterte joking about a murdered Australian rape victim has provoked a storm of protest.
The footage shows Mr Duterte and his supporters making light of the assault by prison inmates in 1989 when he was town mayor.
He said the female missionary was so beautiful that "the mayor should have been first".
Critics say this shows Mr Duterte is "unfit" for the office of president.
Mr Duterte's supporters however have dismissed the comments as a joke.
The candidate is known for his irreverent speeches and boasts of sexual conquests.
One recent poll had him leading over other contenders ahead of the 9 May election.
'Disgusting endorsement'
The rape comments in a YouTube video are the latest in a string of inflammatory statements – including the proposed mass executions of suspected criminals – made by Mr Duterte.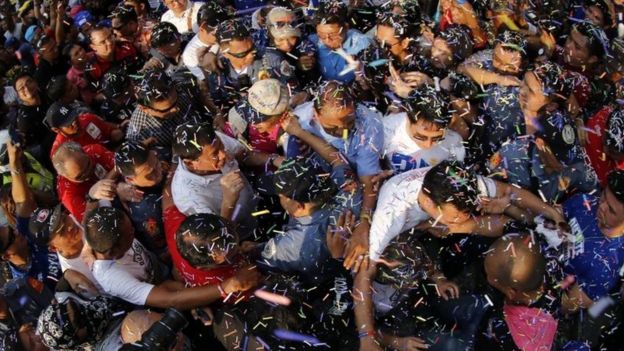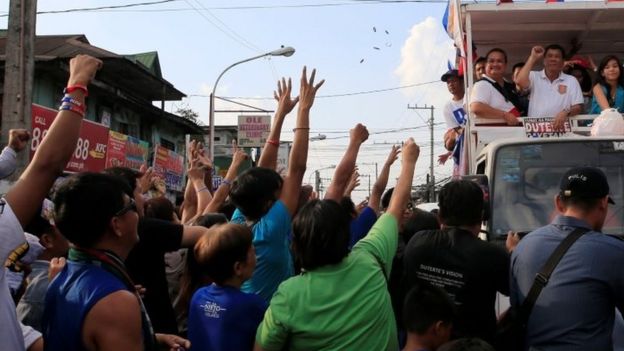 In the video he refers to the missionary who was murdered while ministering in a prison in the city of Davao in the southern Philippines and goes on to make his remark to laughter at a campaign rally.
President Benigno Aquino's spokesman Herminio Coloma said the comments reflected Mr Duterte's "lack of fitness for the presidency" and his "utter lack of respect for women".
A rival presidential candidate, Vice-President Jejomar Binay, called the comments revolting.
"You are a crazy maniac who doesn't respect women and doesn't deserve to be president," Mr Binay told Mr Duterte in a statement.
Human Rights Watch (HRW) Deputy Asia Director Phil Robertson said the comments "were a disgusting endorsement of sexual violence" for which Mr Duterte should be utterly condemned.
In 2015, HRW described Mr Duterte as the death squad mayor for his tactics in dealing with violent crime in Davao, with more than 1,000 people being killed.
Read the source and comments: http://www.bbc.com/news/world-asia-36067011
Why I am not voting Duterte, a Christian's perspective. MUST READ!
Putting God aside to vote for Duterte?
Another netizen, by the name of Rudy Alix, shared his one of many reasons not to vote Duterte. That one reason has ultimately narrowed down to what he calls as "conscience", and thus a very "personal thing".
He reasoned out that voting for Duterte means asking God to step aside for a while, i.e. putting God behind this May elections to pick Duterte as the leader of this country.
According to Alix, a man that is openly defying God's sixth and seventh commandments and says "follow me and I will be your leader" is like following the one with rebellious attitude towards God's moral standard.
"I won't do that to my God," added Alix in his post.
Alix is pertaining to Duterte's grandstanding of intentional violation of "Thou shall not murder" and "Thou shall not commit adultery", both are parts of the Ten Commandments as can be read in Exodus 20:1-17.
Here's Alix complete post on his Facebook wall:
So this friend tells me to come back and support Duterte because he's winning. I told him that I still won't because it's a personal thing now, like a conscience thing.

If I see a man openly defying the the commandments "Thou shalt not kill" and "Thou shalt not commit adultery" and he says follow me, I want to be your leader. I see a man who defies God and wants me to follow him instead. If I do, then I'm telling God to step aside on this one because he's exempted. I won't do that to my God.

As I said, it's just a conscience thing, very personal. It feels like IDOLATRY if I suspend belief in the 10 Commandments because of one man.

So I'm sticking with ROXAS-ROBREDO. They're not saints either, but they don't brag about violating God's commandments. This is a personal thing, and I'm posting it here risking vulnerability because if there is any one of you out there who wants to convince me to go for Duterte, don't bother. I won't.
Flaunting vs. being ashamed of sins
No one is perfect in this sinful world. Every human being is a sinner (except Jesus when He came in the form of man). Every candidate has his own skeleton in his closet.
But being ashamed of your sin is different from grandstanding it. The latter is a public display of one's rebellion to God's moral standards. That's the big difference between Duterte and the other candidates. Binay's is another story.
Extrajudicial killing is murder
With regards to the sixth commandment, modern translations of the Bible (NKJV as an example) aptly use "murder" instead of "kill". In this chaotic world brought by sin, God allowed lawful killing, but that's not His original and real intention. He did not create this world to be a killing field. Murder is unlawful killing. Extrajudicial killing is unlawful, and thus constitutes a murder.
Duterte openly admitted his connection with Davao Death Squad. DDS is a vigilante group in Davao City killing suspected criminals without due process of law.
Hypocrite and judgmental
Most of the time, a person who raise or say something about Duterte's bragging of his immoral acts is branded as hypocrite or judgmental right away. In effect, defenders of Duterte are condoning the distasteful acts while persecuting those who call sin as sin.
"Judgmental" is having the excessive critical point of view towards others. The key is "point of view" which may be fact or opinion. But seeing those kissing spree and bragging of having extra-marital relationships, hearing those unnecessary cursing, seeing and hearing the claim of extrajudicial killings among others are facts, not an opinion nor insinuation.
When you call a sin by its right name based on facts it is not being judgmental. You are actually helping others to discern between truth and evil, between immoral and moral, between sin and righteousness.
Hypocrite is a person who pretends to have virtues or moral but actually does not actually possess it. If you are not an adulterer nor fornicator and that you air publicly that you do not approve Duterte's grandstanding of his "three balls", then you are not a hypocrite.
"Shut up because you are also a sinner"
If so, then no one will advocate and preach God's righteousness because no one is qualified. But that is not how it works. Any sinner can embrace and preach God's moral standard provided that he or she is totally ashamed of his/her own sins.
You leave your sins under God's judgment, have a contrite attitude towards it, and join millions in sharing God's love. One way to show love to others is to remind them what sin is and its consequences.
Godly character first and foremost
The Bible has given us several guidelines in picking a leader. Below are some of it.
"It is an abomination for kings to commit wicked acts, For a throne is established on righteousness." Proverbs 16:12
"Choose some well-respected men from each tribe who are known for their wisdom and understanding, and I will appoint them as your leaders." Deuteronomy 1:13
"Hate what is evil; cling to what is good." Romans 12:9
By context, the first two verses above are not mainly for church setting, but for civic leaders. As noticed, these guidelines have something to do primarily with godly character. Other qualifications such as educational background, experience, or competence are secondary. Apparently, God is more interested in the heart of the leader. If humility under God is present then God can easily teach the leader.
Don't ignore that "little voice"
Did the "little voice" remind you that something is wrong when you saw Duterte flaunting his distasteful acts and foul mouth on public broadcast? If you experienced that then that's a good sign. It means that the Holy Spirit is still with you telling you to embrace God's righteousness and "hate what is evil".
Read the source and comments: http://getreal.rocks/why-i-am-not-voting-duterte-a-christians-perspective-must-read/
Related Articles/ Videos click below:
Prospects under a Duterte Presidency: Scenario Analysis http://www.pagadiandiocese.org/2016/05/05/prospects-under-a-duterte-presidency-scenario-analysis/
Christians Voting for Pro-Aborts?!?! http://www.pagadiandiocese.org/2016/04/06/christians-voting-for-pro-aborts/
'SACRILEGE COMMUNION' – "If they continue to support candidates who espouse violence as a means to resolve conflicts" http://www.pagadiandiocese.org/2016/04/07/sacrilege-communion-if-they-continue-to-support-candidates-who-espouse-violence-as-a-means-to-resolve-conflicts/
Cebu Archbishop Jose Palma and Emeritus Ricardo Cardinal Vidal back call to examine conscience… if they agree with the candidate's platform of violence http://www.pagadiandiocese.org/2016/04/12/cebu-archbishop-jose-palma-and-emeritus-ricardo-cardinal-vidal-back-call-to-examine-conscience-if-they-agree-with-the-candidates-platform-of-violence/
Mayor Duterte? by Archbishop Socrates Villegas http://www.pagadiandiocese.org/2016/04/15/mayor-duterte-by-archbishop-socrates-villegas/
Archbishop Socrates Villegas: Discerning for whom to vote in the National and Local Elections – Lord guide us with your grace http://www.pagadiandiocese.org/2016/04/13/archbishop-socrates-villegas-discerning-for-whom-to-vote-in-the-national-and-local-elections-lord-guide-us-with-your-grace/
Archbishop Socrates Villegas urges voters to use 10 commandments in choosing their candidates http://www.pagadiandiocese.org/2016/04/07/archbishop-socrates-villegas-urges-voters-to-use-10-commandments-in-choosing-their-candidates/
Archbishop Socrates Villegas to voters: Don't be swayed by surveys http://www.pagadiandiocese.org/2016/04/06/archbishop-socrates-villegas-to-voters-dont-be-swayed-by-surveys/
Bishop Arturo M. Bastes: A Testimony during Martial Law (1973-1986) of the Marcos Regime of the Philippines http://www.pagadiandiocese.org/2016/04/15/bishop-arturo-m-bastes-a-testimony-during-martial-law-1973-1986-of-the-marcos-regime-of-the-philippines/
An Assessment of the New USCCB Document Faithful Citizenship: FCFC (#34) lists "intrinsically evil acts," and says that Catholics cannot vote for a political candidate "who favors a policy promoting" them http://www.pagadiandiocese.org/2016/01/06/an-assessment-of-the-new-usccb-document-faithful-citizenship-fcfc-34-lists-intrinsically-evil-acts-and-says-that-catholics-cannot-vote-for-a-political-candidate-who-fav/
THE DOWNLOAD—YOUR VOTE COUNTS – But it's your own soul that'll do the counting http://www.pagadiandiocese.org/2016/02/09/20527/
THE VORTEX: A TIE IS A LOSS – Maybe Catholics should concentrate more on the Faith than on politics http://www.pagadiandiocese.org/2016/03/15/the-vortex-a-tie-is-a-loss-maybe-catholics-should-concentrate-more-on-the-faith-than-on-politics/
Catholic Bishops: Voting for Candidate who supports abortion is formal cooperation with evil
Should Pope Francis get involved in politics? Of course he should http://www.pagadiandiocese.org/2016/02/19/should-pope-francis-get-involved-in-politics-of-course-he-should/
Is Health Care a Pro Life Issue? http://www.pagadiandiocese.org/2016/02/14/is-health-care-a-pro-life-issue/
BISHOP ROBERT MCELROY GOES SOFT ON INTRINSIC EVIL: San Diego bishop says intrinsic evils don't automatically prioritize issues for voters http://www.pagadiandiocese.org/2016/02/12/bishop-robert-mcelroy-goes-soft-on-intrinsic-evil-san-diego-bishop-says-intrinsic-evils-dont-automatically-prioritize-issues-for-voters/
Archbishop Oscar Cruz on the forthcoming elections: Principle of participation
Is Socialism Making a Comeback? – Despite Bernie Sanders's best efforts, socialism is still as bad an idea as it ever was http://www.pagadiandiocese.org/2016/02/10/is-socialism-making-a-comeback-despite-bernie-sanderss-best-efforts-socialism-is-still-as-bad-an-idea-as-it-ever-was/
Daily readings with reflections, Pope's messages, Bishop's messages, Church's music & videos, Educational Speaker, Bible Stories, Christopher Notes, Church Militant Video, Religious Movies, Journey Home