Don't demonize: Why 'yes' won in Ireland's same-sex marriage referendum?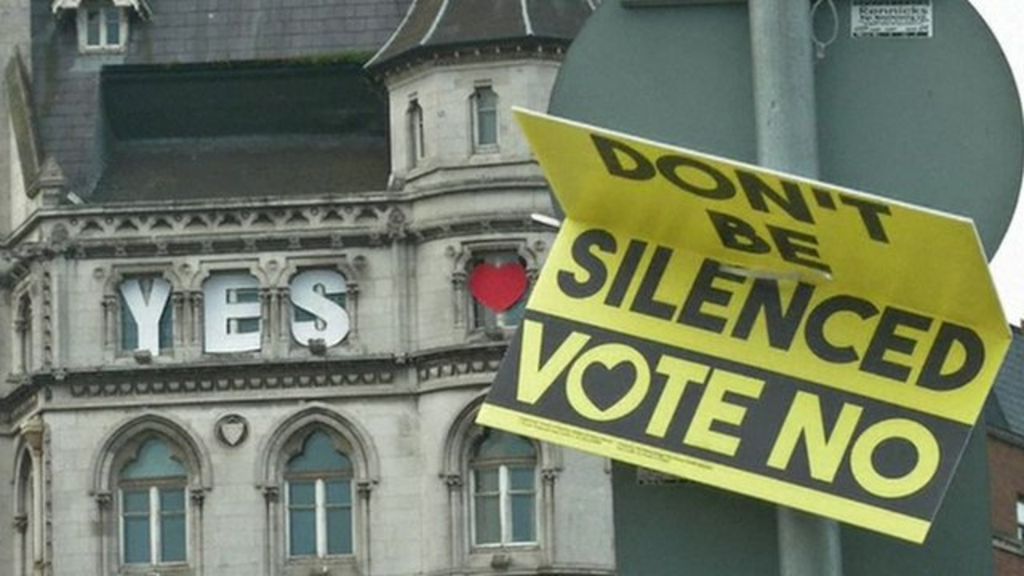 BY DAVID QUINN FEBRUARY 17,2016
As someone who was actively involved on the No side in the same-sex marriage referendum campaign in Ireland last year, as someone who lived in Australia for several years, and as someone who is married to an Australian, I have a special interest in Australia's promised referendum on same-sex marriage.
I hope Australians will be brave enough to resist the enormous pressure that is already been brought to bear on them to radically change the definition of marriage and the family in a way that will be especially harmful to the interests of children.
On May 22 last year, Ireland became the first country in the world to vote in favour of same-sex marriage by popular plebiscite. The margin was 62 percent to 38 percent in favour. That was a handsome victory for the same-sex marriage side. I would love to say the vote surprised me, but it didn't.
For months, no, for several years before the vote, opinion polls were showing that upwards of 70 percent of Irish people favoured altering our Constitution so as to allow same-sex marriage. On average only 18 percent of people were opposed. Or so the polls suggested.
Those of us on the No side always believed that the polls were exaggerating the level of support for same-sex marriage and underestimating the level of opposition.
For one thing, people were terrified to publicly admit that they were opposed to same-sex marriage, or even had doubts.
During the four-week referendum campaign, tens of thousands of Yes voters up and down the country were to be seen sporting "Yes Equality" badges.
Almost none of the almost three quarters of a million people who voted No did so. Why not? They were scared. They were scared of being called "homophobic bigots". They were scared of being attacked by their friends, by their family, by passers-by on the street.
During the campaign, journalists went to various parts of the country to do "vox-pops" that is, to interview people on the street for their opinions. They were able to find No voters, but almost none of them would go on the record, let alone appear on camera out of fear.
Is that any way to run a democracy? Our politicians did absolutely nothing to encourage open debate. Every single party was in favour of same-sex marriage. Fairness is the last thing they were interested in.
The Children's Minister, James Reilly, went so far as to warn voters that vulnerable gay people might harm themselves if the vote went the "wrong" way.
In my book, the very bravest people on the No side were not those of us who appeared on radio and television. It was our canvassers. They commonly had to run a gauntlet of abuse.
Genteel pensioners had leaflets urging a No vote ripped out of their hands, torn up and then thrown back in their faces by university students.
Other canvassers had eggs pelted at them by Yes supporters.
In one case, a bus driver on Dublin's posh southside stopped in the middle of traffic to roar "Catholic bigots" at a team putting up Vote No posters. Several passengers on the top deck opened their windows to hurl down similar abuse.
Another man in a different part of the country was putting up a poster on a lamppost late at night. Someone came out of a nearby pub and started furiously shaking the ladder because he objected to the No side putting up any posters.
In the end, many of our volunteers began putting up posters in the early hours of the morning rather than risk this kind of thing.
In many cases they might as well not have bothered. About a third of our posters were ripped down or defaced almost as soon as they went up. Nothing like this had ever before been seen in an Irish election or referendum campaign.
The vandals boasted about it on social media, posting pictures of themselves with torn down or defaced posters. Complaints about what was happening were made to the police. Absolutely nothing was done. The media took no interest either. The narrative that a vote for same-sex marriage was a vote for "love" and "equality" was not to be challenged, not even by the facts.
If the Australian political system is remotely fair, if the leaders of the Liberal party, the Labor party and the National party are at all interested in fair play and a fair go (a core Australian value I seem to remember), then they need to watch out for this kind of thing and stamp it out immediately.
If the debate is fair, or even approximates to fairness, then I believe that the No side in Australia has a much better chance of victory than we did because Australians might actually be able to hear both sides of the argument properly.
In Ireland, as I mentioned, every political party favoured same-sex marriage. So did all of the major media.
As in Australia, the big corporates were in favour and made sure everyone knew it. The head of Twitter in Ireland suggested a Yes vote would be good for business.
The former president, Mary McAleese, urged a Yes vote. Our presidency is a mostly ceremonial role and no past president had ever before urged people to vote a certain way on a given issue.
The police turned up at Yes campaign voter registration drives. The Garda Representative Association (the nearest thing our police have to a trade union) urged a Yes vote.
The Yes side received millions from an American foundation called Atlantic Philanthropies. This was not spent during the referendum campaign itself, but it was spent campaigning for a referendum.
To be fair to the leaders of the Yes campaign, they did not engage in the sort of daily abuse of their opponents that their foot soldiers engaged in. For example, they studiously avoided calling us "homophobes", perhaps for legal reasons and perhaps because they thought it might be counter-productive.
Three of the leaders of the Yes campaign in their book, Ireland Says Yes: The Inside Story of How the Vote for Marriage Equality Was Won, set out their version of events.
In it, they are not abusive towards those of us who led the No campaign but they pay very little attention to the terrible atmosphere of fear that pervaded the campaign and that made it almost impossible for any but the bravest to admit they were No voters.
Instead, it is all about the triumph of "love". The impression is even given that the victory was won by a plucky and resourceful few. Nothing could be further from the truth. As columnist Liam Collins wrote in The Sunday Independent, how could they not have won given everything they had on their side and also given the enfeebled state of the Catholic Church in Ireland?
In the referendum debate we devoted a lot of our time to the question of the rights of children and especially their right to be raised by their own mother and a father where possible. We had considerable success in making this a big issue and forced the other side to respond to our questions.
We tried to show that allowing same-sex marriage would give a same-sex couple the same legal right to have a child as an opposite sex couple. As a result of such a change, some children would be deliberately deprived of either a mother or a father as the case may be.
We pointed out that a Yes vote would also be a declaration that the natural ties are of little consequence given that two men or two women can't both be the natural parents of the one child.
We would also inevitably be paving the way for surrogacy seeing as the only way two men could have a child (unless they adopted) would be through the use of a surrogate's womb.
The Yes side accused us of being misleading. They said these things were happening anyway. Our response was that by enshrining same-sex marriage in our Constitution, we would be giving these things our ultimate seal of approval and it would be very hard to go back.
In any event, every jurisdiction that has redefined marriage has also redefined the rights of children at almost the same time. It is all part of a process, a radical reconfiguring of the family.
The Yes side also developed the mantra that "all a child needs is love" and therefore the sex of the parents or the natural ties don't matter. We responded that the love of a mother is different from the love of a father.
We pointed to the irony that a movement dedicated to "celebrating difference" was telling us there is no real difference between men and women, a difference which is the most fundamental in human nature.
Our posters were mostly based on the theme of children and their rights. We believe that they had a certain resonance with swing voters, and with men in particular, above all middle-aged and older men who seemed most likely to vote No.
The posters annoyed single mothers. They were offended by the notion that children deserve a mother and a father. Many single mother are already alienated from the "traditional" family and this helped to explain both the high turn-out and the very high Yes vote in working class areas.
Women and young people were hugely supportive of same-sex marriage. Mothers felt protective towards their gay sons and daughters, or the gay sons and daughters they might have. But this protective instinct didn't persuade them that every child deserves a mother. It was a case of "mothers against motherhood".
The single biggest problem we faced was that so many people had their minds made up before the campaign even began. The relentless, media-led propaganda campaign that had been waged for several years beforehand had seen to that.
We felt we did well in most of the radio and TV debates, but out of the two million people who voted, only a minority of those would have tuned into any specific debate. Many watched or listened to none at all.
And given that we had no media on our side, no political party, and given that we had only a fraction of the money the Yes side had, it was very hard to reach as many voters as we wanted.
This is why it was not an insubstantial achievement to persuade almost four in ten voters to vote No despite all the advantages the Yes side enjoyed.
The leaders of the No campaign in Australia should take heart from this. The weight of the Australian Establishment is on the Yes side, but not as overwhelmingly as in Ireland. The Churches in Australia (some of them anyway) seem more confident and up for the fight. In addition, the No side isn't starting from as far back in the polls as we did.
I also hope and believe that the Australian love of fair play will ensure both sides are allowed a fairer hearing than was the case in Ireland.
In fact, if I was to leave the No side in Australia with only one piece of advice it is this; do everything you can to persuade the main political parties to play their part in ensuring a fair and balanced debate in which no one is demonised.
When huge numbers of voters feel they cannot express their opinion in public on issues as fundamental as the nature of marriage, the family, and the rights of children, we ought to know something has gone deeply wrong.
David Quinn is head of The Iona Institute and is a columnist with The Irish Independent and The Irish Catholic
Read the source & comments: http://www.mercatornet.com/conjugality/view/dont-demonise/17624
Related Articles/ Videos:
Breaking: Supreme Court Redefines Marriage Throughout USA
5 Implications of the US Supreme Court Same-Sex Marriage Decision
US Supreme Court Decision on Marriage "A Tragic Error" Says Archbishop Kurtz, President of USCCB
US Supreme Court Justice Kennedy replaces the "Laws of Nature" with his own on Gay Marriage
US CHIEF JUSTICE JOHN ROBERTS: COURT NOT THE PLACE FOR POLITICS http://www.pagadiandiocese.org/2016/02/08/us-chief-justice-john-roberts-court-not-the-place-for-politics/
Courts Becoming Very Hostile to Christianity
Efforts to Silence Clergy Continue Apace
Losing Tax Exemption Will Destroy The Church
Archbishop Gomez: Creation and the Future of Marriage
Bishop Strickland's Statement on US Supreme Court Decision on Same-Sex Marriage
Cardinal John Njue to Kenyan Americans: On Morality be Kenyans not Americans
What does the legalization of gay marriage mean for the Catholic Church?
Catholic Activist: Justice Kennedy betrayed Christ in Gay Marriage Decision
Redefining Marriage, Part 1-10: Who's to blame? The root of the problem.
Catholic Respond to Brave New Roe: One Nation, Divided Over Marriage
11 Most Devastating Quotes from John Robert's Gay Marriage Dissent
12 Quotes: "Marriage Equality" spells the death of marriage
Supreme Court Decision in Obergefell vs. Hodges on Homosexual Marriage as National Policy
12 Quotes against Sodomy that every Catholic should know
The #1 Reason the Catholic Church won't support same-sex marriage
Surrender to Sodomy: Supreme Court's Decision on Gay Marriage
Obergefell destroyed marriage as legal contract. It did not destroy marriage
Same-Sex 'Marriage' Negates Both Reason and Reality
Fr. Barron on Gay Marriage and the Breakdown of Moral Argument
The US Supreme Court: A Despotic Agent of Change
In Legalizing Same-Sex Marriage US Supreme Court Rejects Natural Law and Provokes God's Wrath
Slowly but surely making gay okay
Franciscan University presents: Why marriage matters?
Pope Francis: List of tips to make a marriage work
Why the Episcopalians Voted for Gay Marriage?
40 Questions for Christians Now Waving Rainbow Flags
Abandoning the full meaning of marriage
After Obergefell on same-sex marriage: The Effects on Law, Culture & Marriage
Is Catholic Response to Obergefell (Homosexual Marriage) to Obey the State or Disobey it?
How to discuss "gay marriage" (Part 1-3)?
Saint Nero, Patron of Gay Marriage
Sermon: "Transgenderism according to the Bible"
Jason Evert Interview: What is transgenderism?
Johns Hopkins Psychiatrist: Transgender is 'mental disorder'; sex change 'biologically impossible'
Nazism and Gay Rights: Key Parallels
Archbishop Gadecki: Gender Ideology is worst than Marxism
Same-sex "marriage" and the crisis of leadership
15 Quotes from Pope Benedict XVI (Cardinal Ratzinger) Letter to the Bishops on Homosexuality
Letter to the Bishops of the Catholic Church on the Pastoral Care of Homosexual Persons
The Vortex: It's unnatural! Amid the push for transgenderism and same-sex "marriage"
FBI (Faith Based Investigation): Homosexuality
FBI: Homosexuality with Question & Answer
Homosexuality, the Grave Evil Presented as Good
Homosexual and Freemasons Inside the Church
"The Rite of Sodomy" Homosexuality in the Roman Catholic Church
Mic'd Up: "Pink Money and the Homosexual Mafia"
Mic'd Up: Homosexuality is intrinsically disordered
Homosexuality is not sexuality
Sexual Dysfunction: The Latest Progressive Imposition
Where we are and things to come – Message from Jonathan Cahn (August 2015)
The Covenant Theology of the Rainbow & Why the Homosexual Community Uses It
The Coming Plague of Gender Confusion
When a man calls himself a chicken
10 Reasons why you should oppose same-sex "marriage"
An Impossible Right: Why 'Same-Sex Marriage' is Wrong Headed
Same Sex Marriage: What the Church Teaches and Why with Bishop Ronald Gainer
Nigerian Bishops: No Shaking on Sodomy
Same Sex Marriage: Why Not? – Dr. Jennifer Roback Morse
Marriage Equality and Marriage Reality at the Supreme Court – Dr. Ryan Anderson
Gay agenda 'has never been about gay rights…
A Pastoral Response to the Acceptance of Homosexual Lifestyle and the Legalization of Homosexual Unions
Pope Francis: A bold bishop warns about attacks on marriage
No communion for dissenters – Archbishop Myers: Believe or not receive
Kenya's Cardinal John Njue determined to be in the thick of the family synod action
Why words matter when it comes to homosexuality?
Homosexuality and the Synod on the Family
Cardinal Robert Sarah: ISIS and Gender Ideology are like apocalyptic beasts
Silencing the Church on Marriage: Australian Archbishop Julian Porteous under threat
Here-under are some articles about family and marriage for you to read or watch:
Saint Pope John Paul II's Theology of the Body in Video Presentation
Sacraments 101: Matrimony (Why make it Catholic?)
A love that is life long: The marriage God wants for you
What's destroying some Catholic marriages?
What Catholics need to know about marriage and sex, Part 2
Can a Catholic sign a pre-nuptial agreement?
We want Church truth on marriage, young Catholics say
Wives, Be Subordinate to Your Husbands? – John Paul II on Ephesians 5:21-33 http://www.pagadiandiocese.org/2016/02/12/wives-be-subordinate-to-your-husbands-john-paul-ii-on-ephesians-521-33/
An Open Letter to the Adulterers Outed by the Ashley Madison Hackers
Pro-life, Married & Contracepting: Is there a problem?
Pope Francis' General Audience: The Family is an irreplaceable source of stability for children
The 4 most important parts of marriage
Pre-Cana with St. John Chrysostom: 7 Tips to a successful marriage
Reflections on the Indissolubility of Marriage and the Trinity http://www.pagadiandiocese.org/2016/02/12/reflections-on-the-indissolubility-of-marriage-and-the-trinity/
44 Sins against the sacrament of marriage
Live-in: Research facts and analysis on cohabitation
Bishop Olmsted Calls Men Into the Breach http://www.pagadiandiocese.org/2016/02/05/bishop-olmsted-calls-men-into-the-breach/
Pope Francis: When families teach forgiveness, they strengthen society
THIS EUROPEAN NATION JUST FOUGHT THE GAY AGENDA AND WON – Pope Francis lent a hand http://www.pagadiandiocese.org/2015/12/23/this-european-nation-just-fought-the-gay-agenda-and-won-pope-francis-lent-a-hand/
"God himself is the author of marriage" (GS 48:1). The vocation of marriage is written in the very nature of man and woman as they came from the hand of the Creator. Marriage is not a purely human institution despite the many variations it may have undergone through the centuries in different cultures, social structures, and spiritual attitudes (CCC:1603)
FBI Homosexuality click below:
FBI (Faith Based Investigation): Homosexuality
Many believe the Freemasons are simply a centuries-old charitable fraternity. However, the Catholic Church has consistently condemned Freemasonry more than any other error in its history because it promotes indifferentism, naturalism, communism, and other dangerous philosophies.
PRIEST SEX ABUSE IS ALL ABOUT HOMOSEXUALITY http://www.pagadiandiocese.org/2015/12/14/priest-sex-abuse-is-all-about-homosexuality/
THE VORTEX: BLACKMAIL? COVER-UP? Did the New York archdiocese buy Fr. Miqueli's silence? http://www.pagadiandiocese.org/2015/12/16/the-vortex-blackmail-cover-up-the-vortex-blackmail-cover-up-did-the-new-york-archdiocese-buy-fr-miquelis-silence/
THE VORTEX: HIDING GAY PRIESTS http://www.pagadiandiocese.org/2015/12/14/the-vortex-hiding-gay-priests/
THE VORTEX: HALF OF PRIESTS AND BISHOPS ARE GAY http://www.pagadiandiocese.org/2016/01/11/the-vortex-half-of-priests-and-bishops-are-gay/
THE VORTEX: SIFT THEM LIKE WHEAT- Satan has attacked the priesthood and episcopacy with homosexuality http://www.pagadiandiocese.org/2016/01/12/the-vortex-sift-them-like-wheat-satan-has-attacked-the-priesthood-and-episcopacy-with-homosexuality/
MIC'D UP: SHOULD HOMOSEXUALS BE PRIESTS? http://www.pagadiandiocese.org/2016/01/19/micd-up-should-homosexuals-be-priests/
HOMOSEXUAL ACTIVIST TO SPEAK AT SAN FRANCISCO PARISH http://www.pagadiandiocese.org/2016/02/02/homosexual-activist-to-speak-at-san-francisco-parish/
ARCHBISHOP DENIS HART MUZZLES PRO-GAY SPEAKER: Melbourne archbishop disallows pro-LGBT politician from speaking at Catholic event http://www.pagadiandiocese.org/2016/02/12/archbishop-denis-hart-muzzles-pro-gay-speaker-melbourne-archbishop-disallows-pro-lgbt-politician-from-speaking-at-catholic-event/
Homosexuality, the Grave Evil Presented as Good with Q & A, Part 1 & 2
Homosexuality, the Grave Evil Presented as Good
FBI: Homosexuality with Question & Answer
Homosexuals and Freemasons inside the Church
Homosexual and Freemasons Inside the Church
"The Rite of Sodomy" Homosexuality in the Roman Catholic Church
"The Rite of Sodomy" Homosexuality in the Roman Catholic Church
Mic'd Up: Homosexuality is intrinsically disordered
Mic'd Up "Pink Money and the Homosexual Mafia"
Please click this link to watch the video on Mic'd Up "Pink Money and the Homosexual Mafia"
Michael Voris gives a series of short talks, answering questions coming in response to his talk on homosexuality in Nigeria.
In this talk from Nigeria, Michael Voris speaks about the grave evil presented as good – homosexuality. Catechism of Catholic Church teaches that, "Homosexuality refers to relations between men or between women who experience an exclusive or predominant sexual attraction toward persons of the same sex. It has taken great variety of forms through the centuries and in different cultures. Its psychological genesis remains largely unexplained. Basing itself on Sacred Scripture, which presents homosexual acts as acts of grave depravity (cf. Gen 19:1-29; Rom 1:24-27; 1 Cor 6:10; 1 Tim 1:10), tradition has always declared that 'homosexual acts are intrinsically disordered" (CDF, Persona humana 8). They are contrary to the natural law. They close the sexual act to the gift of life. They do not proceed from a genuine affective and sexual complementarity. Under no circumstances can they be approved" (CCC: 2357).
The Cost of Abortion & Contraception Deception click below:
The Cost of Abortion and Contraception Deception
Pope Francis Defends Life From Conception to Natural Death During Angelus – February 7,2016 http://www.pagadiandiocese.org/2016/02/07/pope-francis-defends-life-from-conception-to-natural-death-during-angelus-february-72016/
Do Men Have a Duty to Have More than 2.1 Children? http://www.pagadiandiocese.org/2016/01/26/do-men-have-a-duty-to-have-more-than-2-1-children/
Fighting Poverty by Eliminating Children http://www.pagadiandiocese.org/2016/02/10/fighting-poverty-by-eliminating-children/
Catholic Bishops: Voting for Candidate who supports abortion is formal cooperation with evil
Eclipse of Reason – Live Abortion Documentary/Pro-Life Anti-Abortion Video
Stojan Adasevic: A communist abortionist turned pro-life after a saint visited him
12-year-old speaks out on the issue of abortion
Who is behind the murderers in abortion?
Abortion and the Bill and Melinda Gates Foundation
Is there a link between abortion, contraception and breast cancer?
Abortion and Eucharist by Michelle Yax
Please click this link to watch on Abortion with Movie: From Old Testament, New Testament & Fathers of the Church Teaching to Present Day
Bible's Teachings Against Abortion
US Representative Nancy Pelosi vs. The Catholic Church on Abortion Issue
8 Unbelievably heartbreaking quotes from women who aborted their babies
Abortion Warns of Something Worse?
'We're killing babies all over the place!' – Dr. Ben Carson
Ben Carson: They say abortion is about women's rights but what about the baby?
Help to abolish abortion: Turn the tide 2012 Pro-life video
Discovering Natural Family Planning
Pro-life Song and Video: Stand Up For Life
Is Health Care a Pro Life Issue? http://www.pagadiandiocese.org/2016/02/14/is-health-care-a-pro-life-issue/
Planned Parenthood Videos Put a Spotlight on Another Issues: Procurement Companies
Video: Laughing abortionists 'pull out baby hearts after abortion, just for fun'. It's cute.
Undercover pro-life investigator: I saw evil in the face of late-term abortionist
Forensic report finds Planned Parenthood video are authentic and unaltered
US Bishop issues major call for men to join the battle for life & family: 'We need to get off the sidelines'
Pope Francis: Life must be defended in all its stages
Into the breach: An Apostolic Exhortation to Catholic Men, My Spiritual Sons in the Diocese of Phoenix
Does God want Christians to stand up against the injustice of abortion? Here's what the Bible says…
'I made a huge mistake' – Why one radical feminist changed her mind on abortion http://www.pagadiandiocese.org/2016/01/06/i-made-a-huge-mistake-why-one-radical-feminist-changed-her-mind-on-abortion/
THE VORTEX: TIME BOMBS IN THE MARCH FOR LIFE – The March for Life has been hijacked by the Church of Nice http://www.pagadiandiocese.org/2016/01/21/the-vortex-time-bombs-in-the-march-for-life-the-march-for-life-has-been-hijacked-by-the-church-of-nice/
MIC'D UP—PLANNED PARENTHOOD'S STRATEGY http://www.pagadiandiocese.org/2016/02/12/micd-up-planned-parenthoods-strategy/
Related Articles/ Videos on Euthanasia click below:
Pope Francis denounces "false compassion" behind abortion and Euthanasia
Rejecting Euthanasia, Respecting the Human Spirit
Euthanasia is always wrong; You do not kill innocent people
Michael Voris talks an in-depth discussion of the true, financial cost of abortion and its effects to the United States. Catechism of the Catholic Church teaches that, "The inalienable rights of the person must be recognized and respected by civil society and the political authority. These human rights depend neither on single individuals nor on parents; nor do they represent a concession made by society and the state; they belong to human nature and are inherent in the person by virtue of the creative act from which the person took his origin. Among such fundamental rights one should mention in this regard every human being's right to life and physical integrity from the moment of conception until death" (CDF, Donum vitae III; CCC: 2273).
Contraception & the New Dark Age, Part 1-4: Where we are & How we got here by Dr. Martin Brenner click below:
Contraception & the New Dark Age, Part 1-4: Where we are & How we got here?
CIA: The Rockefeller Foundation – Actively Undermining the Catholic Church click below:
CIA: Rockefeller Foundation – Actively Undermining the Catholic Church
We are used to thinking of the Rockefellers as simply a byword for wealth, power and financial success. Perhaps we might think of them as determined businessmen or see them as great philanthropists. But the truth is far different; the Rockefeller Foundation is actively undermining the Catholic Church, and in the process, attempting to erase man's natural orientation to the eternal.
Global Warming Unmasked click below:
Are the environmental movements and groups simply devoted to laudable, correct stewardship of God's creation, or do they have a more sinister, hidden agenda? Is "global warming" being used as an excuse for something far darker? Is the final goal of the liberal elites behind the push of junk science population control, eugenics and Gaia worship?
Mic'd Up "Is Contraception Killing the Church?" click below:
Mic'd Up: Is Contraception Killing the Church?
This week on Mic'd Up we'll be tackling the terrible scourge of Contraception on the Church. Michael Hichborn and Rey Flores from American Life League will join us to expose Catholic Relief Services complicity with Organizations who support contraception and to Discuss The Pill Kills Day of Action 2014. Also joining us will be Lynn Mills who will be discussing the continued prayer rally at Providence Park Hospital in the Archdiocese of Detroit because of their complicity in abortion, contraception and sterilization. Following that same thread we'll break down the announcement from Detroit Archbishop Allen Vigneron concerning the crisis of parish closings facing Detroit. Also dropping by will be author James Kalb, to discuss the plague of pluralism on the Church's Hierarchy.