Readings & Reflections with Cardinal Tagle's video: Thirty-third Sunday in Ordinary Time A, November 16,2014
Why does the master call the two servants "good and faithful"? Because, when entrusted with a vast amount of money, they do not run off or spend the money on themselves. Rather, they invest what was given them as their way of revering their relationship with their master. His reply is, "Since you were faithful, I will give you great responsibilities. Come, share my joy." Which means, come and be my equal. The worthy wife is valued "far beyond pearls" because she loves her husband and family with just such gratuitous, self-sacrificing love. We are "children of the light" in as much as we have been given an all-surpassing Master and the chance to glorify him by our obedience.
AMDG+
Opening Prayer
"Lord, be the ruler of my heart and thoughts, be the king of my home and relationships, and be the master of my work and service. Help me to make good use of the gifts, talents, time, and resources you give me for your glory and your kingdom." In your Name, I pray. Amen.
Reading I
Prv 31:10-13, 19-20, 30-31 – She works with loving hands
When one finds a worthy wife,
her value is far beyond pearls.
Her husband, entrusting his heart to her,
has an unfailing prize.
She brings him good, and not evil,
all the days of her life.
She obtains wool and flax
and works with loving hands.
She puts her hands to the distaff,
and her fingers ply the spindle.
She reaches out her hands to the poor,
and extends her arms to the needy.
Charm is deceptive and beauty fleeting;
the woman who fears the LORD is to be praised.
Give her a reward for her labors,
and let her works praise her at the city gates.
The word of the Lord.
Responsorial Psalm
Ps 128:1-2, 3, 4-5
R. (cf. 1a) Blessed are those who fear the Lord.
Blessed are you who fear the LORD,
who walk in his ways!
For you shall eat the fruit of your handiwork;
blessed shall you be, and favored.
R. Blessed are those who fear the Lord.
Your wife shall be like a fruitful vine
in the recesses of your home;
Your children like olive plants
around your table.
R. Blessed are those who fear the Lord.
Behold, thus is the man blessed
who fears the LORD.
The LORD bless you from Zion:
may you see the prosperity of Jerusalem
all the days of your life.
R. Blessed are those who fear the Lord.
Reading II
1 Thes 5:1-6 – Let the day of the Lord not overtake you like a thief.
Concerning times and seasons, brothers and sisters,
you have no need for anything to be written to you.
For you yourselves know very well that the day of the Lord will come like a thief at night. When people are saying, "Peace and security, " then sudden disaster comes upon them, like labor pains upon a pregnant woman, and they will not escape.
But you, brothers and sisters, are not in darkness, for that day to overtake you like a thief. For all of you are children of the light and children of the day. We are not of the night or of darkness. Therefore, let us not sleep as the rest do,
but let us stay alert and sober.
The word of the Lord.
Gospel
Mt 25:14-30 – Since you were faithful in small matters, come, share your master's joy.
Bishop Robert Barron's Homily – Parable of the talents click below:
Jesus told his disciples this parable:
"A man going on a journey called in his servants and entrusted his possessions to them. To one he gave five talents; to another, two; to a third, one–to each according to his ability. Then he went away. Immediately the one who received five talents went and traded with them, and made another five. Likewise, the one who received two made another two. But the man who received one went off and dug a hole in the ground and buried his master's money.
After a long time the master of those servants came back
and settled accounts with them. The one who had received five talents came forward bringing the additional five. He said, 'Master, you gave me five talents. See, I have made five more.'
His master said to him, 'Well done, my good and faithful servant. Since you were faithful in small matters, I will give you great responsibilities. Come, share your master's joy.'
Then the one who had received two talents also came forward and said, 'Master, you gave me two talents. See, I have made two more.'
His master said to him, 'Well done, my good and faithful servant. Since you were faithful in small matters, I will give you great responsibilities. Come, share your master's joy.'
Then the one who had received the one talent came forward and said, 'Master, I knew you were a demanding person, harvesting where you did not plant and gathering where you did not scatter; so out of fear I went off and buried your talent in the ground. Here it is back.' His master said to him in reply, 'You wicked, lazy servant! So you knew that I harvest where I did not plant and gather where I did not scatter? Should you not then have put my money in the bank so that I could have got it back with interest on my return? Now then! Take the talent from him and give it to the one with ten. For to everyone who has, more will be given and he will grow rich; but from the one who has not, even what he has will be taken away. And throw this useless servant into the darkness outside, where there will be wailing and grinding of teeth.'"
The Gospel of the Lord.
Reflection 1 – Settling accountsDr. Scott Hahn's reflection click below:

The day of the Lord is coming, Paul warns in today's Epistle. What matters isn't the time or the season, but what the Lord finds us doing with the new life, the graces He has given to us.

This is at the heart of Jesus' parable in today's Gospel. Jesus is the Master. Having died, risen, and ascended into heaven, He appears to have gone away for a long time.

By our baptism, He has entrusted to each of us a portion of His "possessions," a share in His divine life (see 2 Peter 1:4). He has given us talents and responsibilities, according to the measure of our faith (see Romans 12:3,8).

We are to be like the worthy wife in today's First Reading, and the faithful man we sing of in today's Psalm. Like them, we should walk in the "fear of the Lord" – in reverence, awe, and thanksgiving for His marvelous gifts. This is the beginning of wisdom (see Acts 9:31; Proverbs 1:7).

This is not the "fear" of the useless servant in today's parable. His is the fear of a slave cowering before a cruel master, the fear of one who refuses the relationship that God calls us to.

He has called us to be trusted servants, fellow workers (see 1 Corinthians 3:9), using our talents to serve one another and His kingdom as good stewards of His grace (see 1 Peter 4:10).

In this, we each have a different part to play.

Though the good servants in today's parable were given different numbers of talents, each "doubled" what he was given. And each earned the same reward for his faithfulness – greater responsibilities and a share of the Master's joy.

So let us resolve again in this Eucharist to make much of what we've been given, to do all for the glory of God (see 1 Corinthians 10:31). That we, too, may approach our Master with confidence and love when He comes to settle accounts. – Read the source: https://stpaulcenter.com/settling-accounts-scott-hahn-reflects-on-the-thirty-third-sunday-in-ordinary-time/
Reflection 2 – The more we hide our talents, the more we lost it
Suzanne Bloch, an immigrant from Germany, often played chamber music with Albert Einstein and other prominent scientists. She said that Einstein, though an accomplished violinist, irritated his fellow musicians by not coming in on the beat. "You see," Bloch explained, "he couldn't count." Einstein could project revolutionary theories about the cosmos, but he had difficulty with rhythmic counting. Despite his limitation, he remained an enthusiastic musician. Do we sometimes lament our limitations? We all have abilities, but we are also afflicted with inabilities. We may be tempted to use our limitations as an excuse for not doing the things God has enabled us to do. Just because we may not be gifted to speak in public or to sing in a choir doesn't meant that we can sit on the spiritual sidelines doing nothing. When we realized that all of us have limitations, we can move forward by seeking God's guidance in using our gifts. Surely, we can pray. Surely, we can show kindness to others. We can visit the lonely, the sick, and the elderly. We can tell with effective simplicity what Jesus means to us by actively using our talents in the parish ministry (cf. Our Daily Bread, RBC Ministries).
St. Paul said, "Having then gifts differing according to the grace that is given to us, let us use them" (Rom 12:6). Too many people make a mistake by burying their talents. This is what the parable of the talents (Mt 25:14-30) teaches us to be open to the Spirit and generous of our gifts by sharing it to others. The more we share our talents, the more fruitful we can be to the full. The more we hide our talents, the more we lost it.
During Sunday's Angelus (Nov 11,2014), Pope Francis reflected on the parable of the talents, where God gives every person gifts, that are meant to be put to good use. He asked, "Are you making good use of your God given talents?" He said, "Talents are the heritage God trusts us with. Which heritage? His Word, His Eucharist, Faith in God the Father, His forgiveness… So many things. His greatest treasures. Jesus doesn't ask us to keep His grace in a safety box. None of that. He wants us to use it to help others" He invited Catholics to reflect on how they've used their talents, or if they've even used them at all. "And what have we done? Who have we shared our faith with? How many people have we inspired through our hope? How much love have we shared with our neighbors?" For more watch the video of Cardinal Tagle click this link: http://www.pagadiandiocese.org/2017/11/18/readings-reflections-with-cardinal-tagles-video-thirty-third-sunday-in-ordinary-time-a-st-agnes-of-assisi-november-192017/
Reflection 3 – Parable of the talents
Our Lord has gifted all of us with different resources, time, money, power, influence, intellect and talents. As a matter of fact all that we have and all we call ours came from the bounty and abundance of our God, borne only out of His love for all of us. They were all lent to us to be used for His kingdom and His greater glory.
It is true that there are consequences for every decision we make but God will never condemn us for our bad choices. Yet at journey's end, we are still all expected to make a full account of our lives and the gifts He has bestowed on us.
God does not want us to be idle. He gifted us with our lives, our talents and resources and He wants us to make use of them for His glory and the good of His people. If Jesus did not forget his vocation, then we too should never be lost inside our own egos but always remember our calling. Jesus took all His gifts to prosper us and to give us new life. His understanding heart, his forgiveness, his faith and trust in the Father and even His very own life – He took them all and gave them to us so that we may all be saved. In giving His all to us, Jesus did not only find His life's purpose and His joy but was able to do the Father's will.
Can't we imitate Jesus? Have we followed the Model we have in our Lord or have we appeared to be blind not to see what He has done? The path Jesus took may be quite difficult to pursue but if we are one with Him and the Father then His will and our will be one and the Spirit that dwells in us will empower us to properly use our lives and gifts. We will be fruitful in His Name.
In today's gospel, Jesus is trying to lead us towards an honest evaluation of what we have done to all the gifts He has poured into our lives. The Spirit is calling us to face ourselves and to name our gifts and rejoice in them. The Spirit wants us examine our hearts and try to see where those gifts are calling us- how we have used them, misused or wasted them.
Finding and facing our true selves may not be an easy job and is not done in a moment. Let us ask God's grace to see our true selves as getting a clear picture of what we have done may take time and focus as the truth reveals itself only by stages, one at a time.
So many times we have watched people with great gifts and we feel sorry for them as we see their gifts being wasted. But have we taken them as opportunities to face ourselves and to probe our own stewardship deeply? Probably not as facing the truth about ourselves takes humility and needs the power of the Spirit.
If we resolve to serve God and His people, it can be done, as there is nothing in this world we cannot handle if we allow God to prevail and His grace to work. God is always with us. His hand and His heart are guiding us – guiding us to find our gifts, to give them and share them with His people.
Let us then start sharing more of ourselves in Christ's Name so that lives may be transformed and souls brought closer to our Heavenly Father.
Remember if we are considered good and faithful servants, faithful even in small matters, God will give us greater responsibilities and we will be able to come and share our master's joy.
Direction
Consider making a change in your life. Try spending less for yourself and start to spend more for other people. Try shifting your focus on your neighbor rather than on yourself. See how God will make your cup full of joy.
Prayer
Dear Jesus, those that are passing and of the world at times provide attraction to my still lustful soul that my choices at times are quite far from yours. Help me to detach from this world so that each gift and talent I have may all be used only for the greater glory of your Name. Amen.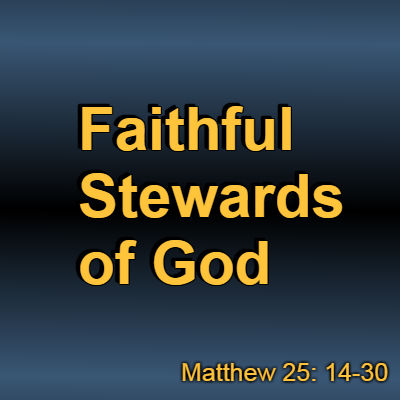 Reflection 4 – Faithful Stewardship
A priest dropped by a gas station and was surprised by the long line of cars at the pump. He soon realized that it was the eve of long holiday weekend. Finally, after waiting for some time, it was his turn. The attendant apologized. "Father", said the young man, "I'm so sorry about the delay. It's always like this before a long holiday weekend. Everyone waits until the last minute to get ready for a long trip." The priest smiled and said, "I know what you mean. It's the same in my business."
We are now on the thirty-third Sunday. Next Sunday we will celebrate the Solemnity of Christ the King. It is the last Sunday of the liturgical year. Hence, our readings at this time are about the last things – death, the end of the world, final judgment, heaven and hell. These are the hard realities we can never avoid. It is, therefore, necessary and wise to do our preparation way ahead of these inevitable events.
This Sunday, the Gospel gives us the parable of the Talents. It reminds us of the unannounced coming of the Lord and the time for accounting and judgment. Hence, there is the need to properly use our talents and gifts for the glory of God and the welfare of our fellowmen.
The meaning of the parable is clear. We are the servants. The talents are the blessings God has given us – time, intelligence, our capacity to love, temporal goods, family, and the like. The journey of the master signifies our life in this world. His sudden return stands for our death. The settling of accounts is our judgment. The eternal banquet is Heaven.
The master entrusted talents (a significant amount of money or gold) to his three servants before he went away for some time. The amount was proportionate to the capacity of each servant, and the master hoped that it would be handled properly until his return. The first two servants invested the money and, as a result, they were able to double the amount when the master returned. The third servant acted foolishly. He buried the money of his master. This greatly offended the master.
It was a threefold offense: first, he did not use the money according to its purpose. In burying it, it was not able to help other people, and so it did not grow. Second, it revealed the superficial relationship he had with his master. It was a relationship based only on fear, and not love. And third, it also showed his low self-esteem. He did not count his giftedness. Instead, he compared himself with the other two servants, and in the process, he looked down on himself and even accused the master of being "a hard man, reaping where you had not sown." In all these, it was clear that he was not a trustworthy servant.
In all honesty, we have to admit that sometimes we are like this third servant. Instead of looking at our self and counting our blessings, we look at other people who have more. We become envious of them and our discontent grows. So, instead of thanking God and using His blessings, we complain. We then end up becoming bitter and unhappy.
The parable this Sunday tells us that God has entrusted us with many blessings. The fact is we are blessed more than we ever imagine. And He expects us to use these blessings, not to bury them in the ground. The more we use them and share them with others, the more blessed we are, and we become a blessing to others as well.
There was a famous pianist named Jan Paderowski. One time, a fellow pianist asked him if he could be ready to play a recital on short notice, Paderowski replied, "I am always ready. I have practiced eight hours daily for 40 years." "Oh, how I wish I had been born with such talent and determination," the other pianist said. Paderowski said, "We are all born with talent and determination. I just used mine."
"Burying our talents" is another word for selfishness. The more selfish we are, the more we feel insecure and insignificant, and we indulge in self-pity. But Jesus reminds us that we should never feel insignificant, for we are all precious in the eyes of God. We should never say, "I am just a small person. My presence is not important in this world." Just imagine a piano with one key missing. It can never play a complete melody. Imagine a typewriter or a computer keyboard missing one letter. You can never compose a complete message.
One time I offered a funeral Mass for a dead pilot in the Air Force. His aircraft had engine trouble and crashed. The investigation revealed that one small screw in the engine was missing. The absence of one small screw caused the fatal accident. One small screw is important to the pilot and to the entire aircraft.
Each one of us has significant contribution in the building up of the Body of Christ. Each one is important and precious in the eyes of God. Instead of indulging in self-pity or being envious of others, let us resolve to use our gifts and talents. As St. Irenaeus said, "The glory of God is man fully alive." This means that the best way to give glory to God is to develop our life to its fullest potentials, by using wisely our God-given gifts, talents and blessings for the benefit of others. Any time the Lord returns and we are asked to render an account of our stewardship, we will hear Him say, "Well done, my good and faithful servant! Come, share your master's joy!" Let me close with this thought from Bruno Hagspiel:
An engineer has figured out that with a 5-kilogram bar of iron you could make various things: nails, which would net you $10; needles, which would gain you $300; and watch springs, which would bring $250,000. Each day has the same raw material. What you make depends on you (Source: Fr. Mike Lagrimas, Our Lady of Guadalupe Parish, Palmera Springs, Camarin Road, Novaliches, Caloocan City 1423).
Reflection 5 – The master will settle his account with them
What can economics and productivity teach us about the kingdom of heaven? Jesus' story about a businessman who leaves town and entrusts his money with his workers made perfect sense to his audience. Wealthy merchants and businessmen often had to travel abroad and leave the business to others to handle while they were gone.
Why did Jesus tell this story and what can it teach us? Most importantly it tells us something about how God deals with us, his disciples and servants. The parable speaks first of the Master's trust in his servants. While he goes away he leaves them with his money to use as they think best. While there were no strings attached, this was obviously a test to see if the Master's workers would be industrious and reliable in their use of the money entrusted to them. The master rewards those who are industrious and faithful and he punishes those who sit by idly and who do nothing with his money.
The essence of the parable seems to lie in the servants' conception of responsibility. Each servant entrusted with the master's money was faithful up to a certain point. The servant who buried the master's money was irresponsible. One can bury seeds in the ground and expect them to become productive because they obey natural laws. Coins, however, do not obey natural laws. They obey economic laws and become productive in circulation. The master expected his servants to be productive in the use of his money.
God rewards those who use their gifts for serving him and the good of others
What do coins and the law of economics have to do with the kingdom of God? The Lord entrusts the subjects of his kingdom with gifts and graces and he gives his subjects the freedom to use them as they think best. With each gift and talent, God gives sufficient means (grace and wisdom) for using them in a fitting way. As the parable of the talents shows, God abhors indifference and an attitude that says it's not worth trying. God honors those who use their talents and gifts for doing good. Those who are faithful with even a little are entrusted with more! But those who neglect or squander what God has entrusted to them will lose what they have.
There is an important lesson here for us. No one can stand still for long in the Christian life. We either get more or we lose what we have. We either advance towards God or we slip back. Do you seek to serve God with the gifts, talents, and graces he has given to you?
"Lord Jesus, be the ruler of my heart and thoughts, be the king of my home and relationships, and be the master of my work and service. Help me to make good use of the gifts, talents, time, and resources you give me for your glory and your kingdom." – Read the source: http://dailyscripture.servantsoftheword.org/readings/2017/nov19.ht
Reflection 6 – Fruitful way of living
In reflecting on today's scripture on the coming of the kingdom, we are challenged to cast aside our fears and embrace a new and fruitful way of living. Here's a story in the late 2007, at Pittsburgh's Carnegie Mellon University, a computer science professor Randy Pausch famously delivered a "last lecture" – one assigned to be given as if it were the last lecture of a dying man. What would he say? Others had given imagenative, moving lectures with this assignment. In Randy's case, however, it turned out to be not merely an exercise. He told his audience of his just-diagnosed pancreatic cancer, and how he was going to devote his remaining days to pursuing his childhood dreams. By the time he died, July 25, 2008, he had become a world phenomenon. His final lecture was read by millions who sought his insights to making the most of each day of life. His insights are: Always have fun; dream big; dare to risk; look for the best in everybody; make time for what matters; let kids be themselves.
Both today's second reading (1 Thes 5:1-6) and Gospel (Mt 25:14-30) deals with the immediacy of the present moment; or the "inbreaking of the kingdom of God." In his letter to the Thessalonians, Paul likens the final coming to a "thief in the night." In today's gospel, Jesus tells a parable of final judgment, coming like a master returning from a long journey to inspect what his servants have done with treasure he left them. What are these Scriptures telling us?
First, make each day count. "Always have fun," Randy Pausch implored his "last lecture" audience. How many Christians do we know who walk about with a sour look on their face? If we see the kingdom – God's love, alive on earth – bursting forth about us, why not enjoy it? That is not reckless abandon, by the way; it's doing what you know ought to be done, with a joyful spirit. "Make time for what matters," Pausch said, echoing today's gospel theme. These closing days of the church's year – it ends next week with the Feast of Christ the King – are good time to take stock. Each of us is challenged to look to the future with our hearts set on the right priorities.
Second, focus on relationships. The world constantly is drawing us to care about things that don't really matter in the big picture. What really lasts, we should ask ourselves. The answer is easy, Jesus tells us again and again: relationships. Love God; love your neighbor. Do what it takes to build stronger relationships. As we head toward Christmas, is this the year to reach out to those we have shunted aside? "Look for the best in everybody" implored Randy Pausch. Easy words, hard task! But the presence of God's kingdom implores us to do so. We are challenged to cast aside our negative assessments of family, neighbors, and people on the street, and imagine people in a new way.
Third, God is here always – not just someday in the future, after we die. Jesus implores us: We need to move beyond fear. The servant in today's gospel story who buried the master's money was afraid of losing it, and therefore didn't do anything with it! Pausch echoed the advice we can glean from the gospel story: "Dare to risk!" Jesus, in his example of self-giving, dares us to risk it all!
Randy Pausch is by no means the first person to remind us to cast aside the bad and to pursue the good. It's an ancient tradition in plenty of cultures, and certainly essential in the message of Jesus. But it helps us, from time to time, to hear from a brave witness. In this gathering at the Lord's Table, let us bring our joys and hopes, our dreams and misgivings, our risks and fears, our loving and our broken relationships, all before the Lord and each other. Let ut pray for God's grace to be a Eucharistic Community (Source: Fr. Hilarion Kistner, OFM, editor, Homily Helps. Ohio: St. Anthony Messenger Press, Nov. 16, 2008).
Reflection 7 – Come, share your master's joy
This is the best dating advice that I have ever heard! Websites like eHarmony, Match.com, and Catholic Match ask you hundreds of questions about your personality, likes and dislikes, etc. But today's first reading from Proverbs reminds us of what is really important. "Charm is deceptive and beauty fleeting; the woman who fears the Lord is to be praised." The woman who fears the Lord is to be praised. The writer upholds other traits, like being hardworking, and caring for the poor. But fearing the Lord is the ultimate quality for a spouse to possess.
In today's Gospel passage, we see an example of what fearing the Lord does not look like. The third servant who received one talent feared his master, but this is not how God wants it to be with Him. So that is not what the term "fear the Lord" means. The third servant knew that his master was demanding, and out of fear of losing the little bit of money he was given, he buried it in the ground. The servant could have deposited that sum of money and gained interest, but he buried it in the ground for safekeeping. Hiding and being afraid is not what fearing the Lord means.
So what does a healthy, holy fear of the Lord look like? Fear of the Lord is rooted in respect and love. Not timidity and coercion, but love and respect comprise a proper fear of the Lord. Respect and love come from our cry to God the Father as Abba, our dearest Father in Heaven. This respect is the familial respect a child has for a parent. We show our love for the Lord when we love Him so much that we would do anything to refrain from offending God. This desire not to offend God comes from love. Our love for God is based on an internal longing to draw closer in relationship with the Lord. Our desire to show love and respect characterize a healthy, holy fear of the Lord.
This sounds like a lot of work, doesn't it? Building relationships takes time and effort, and maintaining them properly takes even more time and effort! Why should we take the time to establish a healthy fear of the Lord? What might help us to take this seriously in our lives? The last judgment can do that. We need to remember that one day we will face the last judgment, the eschaton, or the parousia, at which time the sheep will be separated from the goats. Those who have lived as the Lord has taught us will be separated from those whose lives showed no respect for God, and His ways.
I hope that when each of us stands before the judgment throne of God that He says to us, "Well done, my good and faithful servant. . . ." I know that I am not a perfect person, but God sees how often I try to renew my intention to live in right relation with Him. I truly fear the Lord out of love. We all can work at our relationship with the Lord. My suspicion is that you know what you need to work on. Take this to prayer. Ask the Lord to guide your relationship to inspire fear of Him within your heart.
I pray that one day all of us will be able to stand before the judgment throne of God and hear Him say, "Well done, my good and faithful servant…Come, share your master's joy." – Read the source: http://www.hprweb.com/2017/10/homilies-for-november-2017/
Reflection 8 – Blessed Are Those Who Fear the Lord
Purpose: A healthy fear of the Lord will lead us to live a sacrificial life for others.
Our Judeo-Christian tradition teaches us that happiness and friendship and marriage should all be based on a healthy loving fear of the Lord. In the Hebrew Scriptures, the Psalmist expresses it very simply and poetically. "Blessed are those who fear the Lord," and then he explains what exactly that means: "To fear the Lord is to walk in his ways." This is the wisdom of the ages. It is the perennial principle of human happiness. It is the basis for true spiritual friendship. And it is the foundation of true success in marriage.
To fear the Lord is to walk in his ways. How blessed are those who fear the Lord! Those who fear the Lord are to be praised! Some kinds of fear are good, and some kinds of fear are bad. Bad fear should be resisted. Good fear should be encouraged. To fear the Lord is to understand that the meaning of life is to love God and to seek his ways. To fear the Lord is to appreciate the unsurpassable value of faith in God and faith in the Son of God. To fear the Lord is to live a sacrificial life for others in imitation of the one who sacrificed himself for us on the Cross.
But this way of life must begin at home. It begins in the context of marriage and family, and the family must always have priority in the spiritual life. We must sacrifice ourselves first of all for those who are closest to us, for those we love the most. The husband sacrifices himself for his wife. The wife sacrifices herself for her husband. As parents, they sacrifice themselves for their children. To fear the Lord is to see the beauty and sacredness of this sacrificial way of life. Our faith enables us to see what the world does not appreciate: the sacredness of marriage, and the beauty of a life that is lived for one's family.
What exactly does that look like, a life lived for one's family? In our society we are surrounded with many models of infidelity and unfaithfulness. We are constantly confronted with outright violations of marriage and family, and we see many family relationships breaking down and falling apart. It's easy to become kind of skeptical about the whole idea. But we know how it's supposed to work. Down deep in our hearts, we know how it's supposed to be. And our faith tells us how it's supposed to be.
In our first reading, the Book of Proverbs speaks of the woman who has true wisdom. How does this woman live her life? How does she spend her time? What does she value? What makes her happy? Does she live for herself, or for her family? Well, let's see. She obtains wool and flax, and makes cloth with skillful hands. She reaches out her hands to the poor, and extends her arms to the needy. She is clothed with strength and dignity, and she laughs at the days to come. She opens her mouth in wisdom, and on her tongue is kindly counsel. She watches over the conduct of her household, and she does not eat her food in idleness. She is resourceful and productive. Her children rise up and praise her, and her husband extols her. The woman who fears the Lord is to be praised. Give her a reward for her labors, and let her works praise her at the city gates.
Of course, the Scriptures affirm the very same truths about husbands. The man of wisdom is the one who works hard for his family, and is faithful to his wife. The man of wisdom is the one who avoids worldly allurements, and controls his unruly impulses. The man of wisdom is the one who fears the Lord, and spends his free time going to church and studying the law of the Lord. The man of wisdom is the one who accepts hardships, stays humble, mourns over his own sins and the sins of others, hungers for righteousness, shows mercy to those who have wronged him, keeps his mind and heart clean, and works to bring his family and friends closer to God. This is the wisdom of the ages, the wisdom that our society has lost, and thinks it doesn't need.
The foundation of our society is marriage and the family. And the foundation of marriage and the family is a healthy fear of the Lord. The fear of the Lord is the key to wisdom, the key to a successful and productive life, and the key to happiness in this life, and the next. If we truly believe this, then we actively and constantly restructure our lives so that they revolve around walking in the ways of the Lord. And very soon, we discover that it is not going to be easy. We may find that we are insulted and persecuted, and marginalized and excluded, because we have committed ourselves to a Christian set of values and a Christian way of life.
Is our Lord demanding? Yes, because he is Truth and Goodness, and Truth and Goodness are demanding. We have to stay awake and alert. We have to work hard and stay sober. We have to be good and faithful servants. We have to use the gifts and talents the Lord has given us. The more we use the gifts and talents he has given us, the more gifts and talents he gives us. They are given to us for others. All he asks is that we remain faithful in small matters. All he asks is that we follow his ways in the details of our lives. All we have to do is lead a quiet life and do the work he has given us to do. All we have to do is put ourselves at the service of our families and friends with the resources he has given us. His demands are reasonable. In the face of such demands, the wrong kind of fear will lead us to protect ourselves, abandon our duties, and live for ourselves. But the right kind of fear will lead us to abandon ourselves, accept our duties, and live for others. (Source: Homiletic and Pastoral Review)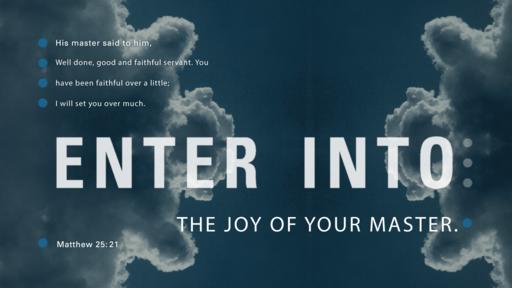 Reflection 9 – Master's approval
Rudolph was a young musician in Vienna with a burning desire to write a symphony. Finally, the time came when he was able to do so. After writing and rewriting it many times, he showed the score to some friends and asked for their opinion. Without exception, they agreed it was an excellent work. But Rudolph continued to labor over it, polishing and perfecting what he hoped would be a masterpiece. At last, he was ready to present it to the public.
The orchestra performed his symphony beautifully. After the last movement ended, there was a brief pause. Then the audience broke out in thunderous applause. Rudolph, however, seemed unmoved until an old white-haired man approached him. Placing his hands on the young man's shoulders, he exclaimed, "Well done, Rudolph! Well done!" Only then did the young musician smile with satisfaction. He had received approval from the one he wanted most to please – his respected mentor.
That's how we should view our work – as service for our Master. Recognition from people is encouraging. But we should long to hear above anything else our Lord's "Well done, good and faithful servant." It's the Master's approval that really counts!
When you've given your best for the Master;
The best your life can afford,
He will say, "Well done," to His servant;
"Now enter the joy of the Lord."
When you do what pleases God, God is pleased with you (Source: Our Daily Bread, RBC Ministries).
Reflection 10 – The Meaning of the Parable of the Talents
"We know what the Lord thinks of servants who bury their talents out of fear of losing them. Our greatest talent and treasure is our ability to love, and in this enterprise the champion is the greatest risk taker, which means the one most willing to invest himself where the odds appear most against him. The absolute victor is Jesus Crucified. Love, the overflow of goodness, is, as Thomas Aquinas tells us, "diffusive of itself." It belongs to the very nature of love to flow outward, to gravitate like water to those empty, low, dry places. If a characteristic of cosmic nature is horror vacui, in "abhorrence of the (physical) void," the divine nature abhors the void of love and runs to remedy it….
"To be "in heaven," to have one's dwelling in the heavens, far from connoting a spiritualistic fleeing from the earth, means rather to reside in the fullness of love and to be always engaged in bestowing the benefits of love on others – to pour out one's being into the void in others as if one were sunlight and rain" (Source: Erasmo Leiva-Merikakis, Magnificat, Vol. 16, No. 9, November 2014, p. 211).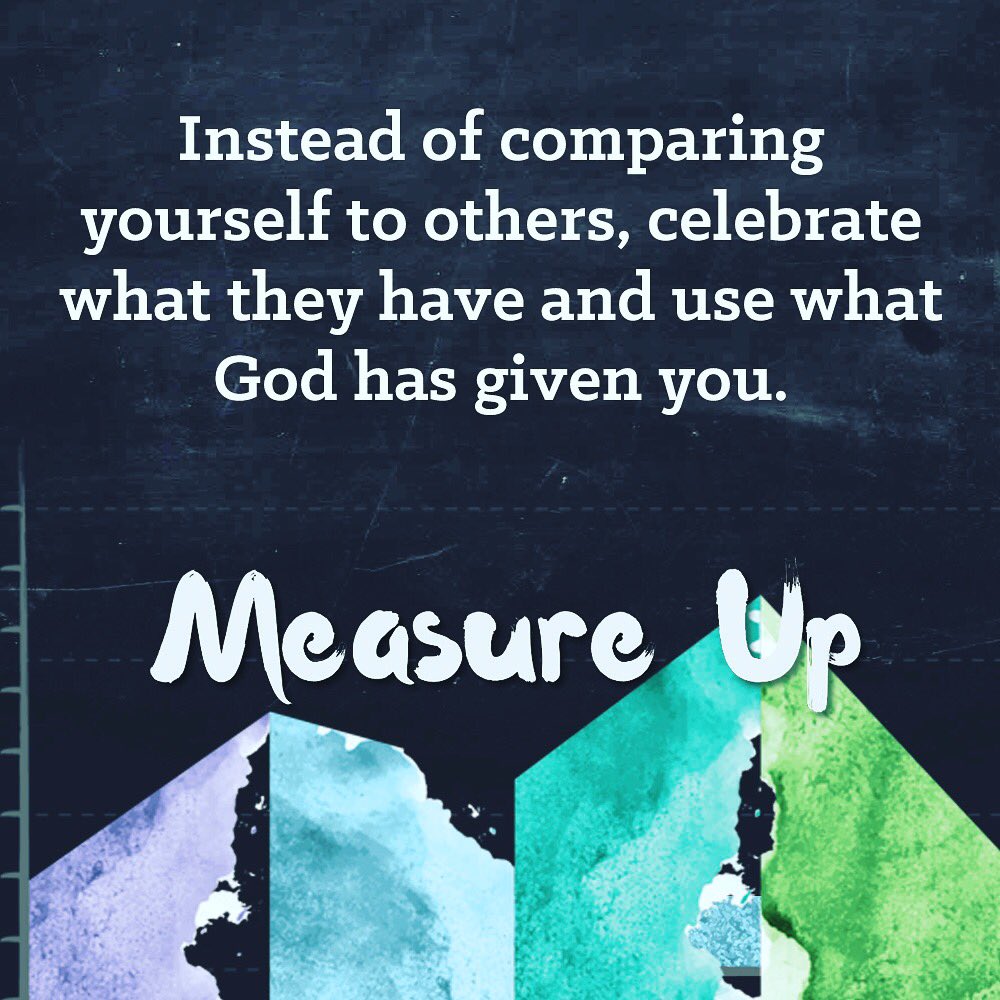 Reflection 11 – The Parable of the Talents
"The man in the parable represents Jesus, we are the servants, and the talents are the inheritance that the Lord entrusts to us. What is the inheritance? His Word, the Eucharist, faith in the heavenly Father, his forgiveness… in other words, so many things, his most precious treasures. This the inheritance that he entrusts to us, not only to safeguard, but to make fruitful! While in common usage the term "talent" indicates a pronounced individual quality, for example talent in music, in sport, and so on, in the parable, talents represent the riches of the Lord, which he entrusts to us so that we make them bear fruit.
"The hole dug into the soil by the wicked and slothful servant (Mt 25:26) points to the fear of risk which blocks creativity and the fruitfulness of love, because the fear of the risks of the love stop us. Jesus does not ask us to store his grace in a safe! Jesus does ask us for this, but he wants us to use to benefit others. All the goods that we have received are to give to others, and thus they increase, as if he were to tell us: "Here is my mercy, my tenderness, my forgiveness: take them and make ample use of them." And what have we done with them? Whom have we "infected" with our faith? How many people have we encouraged with our hope? How much love have we shared with our neighbor? These are questions that will do us good to ask ourselves. Any environment, even the furthest and most impractical, can become a place where our talents can bear fruit. There are no situations or places precluded from the Christian presence and witness. The witness which Jesus asks of us is not closed, but is open, it is in our hands.
"This parable urges us not to conceal our faith and our belonging to Christ, not to bury the Word of the Gospel, but to let it circulate in our life, in our relationships, in concrete situations, as a strength which galvanizes, which purifies, which renews. Similarly, the forgiveness, which the Lord grants us particularly in the Sacrament of Reconciliation: let us not keep it closed within ourselves, but let us allow it to emit its power, which brings down the walls that our egoism has raised, which enables us to take the first step in strained relationships, to resume the dialogue where there is no longer communication…. And so forth. Allow these talents, these gifts, these presents that the Lord has given us, to be, to grow, to bear fruit for others, with our witness….
"Moreover, the Lord does not give the same things to everyone in the same way: He knows us personally and entrusts us with what is right for us; but in everyone, in all, there is something equal: the same, immense trust. God trusts us, God has hope in us! And this is the same for everyone. Let us not disappoint him! Let us not be misled by fear, but let us reciprocate trust with trust! The Blessed Virgin Mary embodied this attitude in the fullest and most beautiful way. She received and welcomed the most sublime gift, Jesus himself, and in turn she offered him to mankind with a generous heart. Let us ask her to help us to be good and faithful servants in order to participate in the joy of our Lord." – (Pope Francis, 2013- , Magnificat, Vol. 19, No. 9, November 2017, pp. 284-285).
1) The first talent is God's Love.
The "talents"1 of which Jesus speaks in today Gospel are not only the qualities or the abilities that God has given to each one of us but His Love and gifts of grace, strength and intelligence, with which He fills us so that we assume the responsibility of children and brethren.
In this regard, Pope Francis asks: "Have you thought about how you can put your talents to the service of others?" then he says: "Do not bury your talents! Bet on great ideals, ideals that enlarge the heart, the ideals of service that will make your talents fruitful. Life is given to us not to jealously preserve it for ourselves, but to give it to others. "
The Pope reminds us that, in this parable of the talents2, Jesus wants to teach his disciples (and us) to make good use of the gifts that God gives to every man and woman. He calls them to life, gives them talents and a mission to be accomplished using and sharing such gifts. This is also a parable with which Christ invites us not to be afraid of life and God. He is not a master excessively and unfairly demanding, but a Father who with the gift of Charity allows us to live in freedom and love.
In addition to His love these are the gifts- talents that Jesus offers us: his Word deposited in the Gospel, Baptism which renews us in the Holy Spirit, prayer – the 'Our Father' – that we address to God as children united in the Son, his forgiveness which he commanded to be given to everyone and the sacrament of his sacrificed Body and Blood. In a word: the Kingdom of God, which is Christ himself who is present and alive among us.
The talents that Jesus has entrusted to us, his friends and brothers, multiply when we donate them to others. It is a treasure given to be invested and shared with everyone. If it is foolish to think that the gifts of Christ are due to us, it is also foolish to renounce using them because it would be defeating the purpose of our existence. Commenting on this passage of the Gospel, St. Gregory the Great notes that the Lord does not deprive anyone of the gift of his charity and love. He writes: "It is therefore necessary, my brethren that you'd put every effort in the safekeeping of charity and in every action that you must perform" (Homilies on the Gospels 9.6). And, after stating that true charity consists in loving both friends and enemies alike, he adds "If one lacks this virtue, he loses every good, he is deprived of the talents received and is thrown out into the darkness"
2) A parable framed by two others parables.
In the Gospel according to Matthew, the parable of the talents is preceded by the one of the wise virgins and followed by the parable of the final judgment on love (I was hungry, thirsty, I was naked … and you gave me something to eat, something to drink, to get dressed …).We can consider it as the central pillar that illuminates the other two. First, it sheds light on the meaning of wisdom, represented by the reserve of oil. True wisdom comes from the novelty of a free and creative relationship that the human person has with the Lord. Second, the parable of the talents teaches that the grace given by God and accepted and recognized by us, becomes a gift for the brothers, who identify with the person of Christ. Also, if we consider the Gospel of Luke, this parable is closely linked with the story of Zacchaeus freely encountered by Jesus. This parable reveals a curious fact: in front of God, man is not only forever in debt but is called freely to a meeting with him, which is pure grace. Being wise and skillful in front of God is then the only way to liberation, which will become a free gift in the meeting with the brother.
Unfortunately, sometimes we are in front of God like the third servant, the one who did not grow his talent, and we remain closed in our preconceptions about God and our modest ideas about Him. We care too much about our peace of mind and of our routine. Novelty frightens us. Christ calls us to be his confident disciples that are not afraid of him and stand by without servile fear. The disciple of Jesus must move in a relationship of love, from which alone can spring courage, generosity, freedom and even the courage to take the required risks.
Looking to the One who "has made all things new" we are-unfortunately more frightened than enlightened. This is why the parable of the talents stimulates the freedom and generosity that flows from the recognition of the sheer gratuitousness of an encounter. This meeting is wanted by man, as it was for Zacchaeus, but is made from the goodness and love of God who went to his house and brought salvation. It was the coming of Christ in the house of a repentant sinner.
3) Coming = Advent.
All Latin Christians equate Advent to a period of 4 weeks for the Roman rite and 6 weeks for the Ambrosian rite, but many ignore the origin of the word "advent" and some "curiosity" that this term carries with it and that is worth reminding.
Let's start with the word "Advent", which is derived from Latin and literally means "arrival", "coming". It was used by the rulers of ancient times, especially in the East, to indicate the ritual with which they wanted to solemnly celebrate their arrival (in fact, their "coming") in a city. They demanded to be welcomed as benefactors and gods. For the Christian liturgy the choice to use this term for the "coming" of Jesus Christ, the true giver of salvation and redemption among men in the great cities of this world, was therefore consistent with the mentality of ancient times.
Thus the real "advent" would coincide with the celebration of Christmas, which is the day when we celebrate the coming of someone. The word Advent later was amplified to indicate the period of preparation for the feast of December 25th. Therefore the question of how long should we prepare for Christmas came up. The most ancient solution that the Ambrosian rite has retained to this day, was to "build" the period of preparation for Christmas in imitation of the period of preparation for Easter, namely Lent. Because Lent is marked over six Sundays, so Advent was "built" on six Sundays3.
These are Sundays intended to keep alive the vigilance of expectation, so that Christ doesn't find us indolent and lazy, and the devil doesn't rob us of this treasure. These are Sundays when we are reminded that to have faith means to make fruitful the talent that has been placed in our hands.
4) The one who loves, lives in vigilant expectation.
To receive and treasure the presence of Christ in us we must have the vigilance of the heart, that the Christian is called to exercise in everyday life, but especially in the season of Advent when we prepare with joy to the mystery of Christmas.
The environment that surround us offers the usual commercial messages, even if perhaps to a lesser degree now, due to the economic crisis. The Christian is called to live Advent as a time of waiting without being distracted by the lights of shops and supermarkets, but looking with the eyes of the heart to Christ, the true Light.
In fact, if we persevere "vigilant in prayer and rejoicing in praise "(Preface for the First Sunday of Advent), our eyes will be able to recognize in Him the true light of the world that comes to enlighten our darkness.
The Virgin Mary teaches us an active and joyful vigilance on the path to the encounter with God. Following the example of our Heavenly Mother, the consecrated Virgins are daily witnesses of how to live this expectation by showing that the greatest talents are the Love of God, his Kingdom and His righteousness.
The virgin is the person who waits, even with her body, the eschatological marriage of Christ with the Church, giving herself completely to the Church in the hope that Christ gives himself to the church in the full truth of eternal life. The celibate person anticipates in his flesh the new world of the resurrection. He or she is the witness in the Church of the awareness of the mystery of marriage and defends it from any reduction and impoverishment. (cf. Saint John Paul II, Familiaris Consortio, nr. 16)
The consecrated Virgins in the world are called to testify that, being persistent and "vigilant in prayer and rejoicing in praise" (Preface First Sunday of Advent), allows our eyes to be able to recognize in Christ the true light of world that comes to enlighten our darkness.
The task of the consecrated Virgins is to build a life on the rock of a Lord loved, listened and waited (cf. Mt 7.24 to 25).
1 The talent was not a coin, but a unit of account. It was not possible to mint a coin of almost 27 kilos! It indicated, however, a very large value, as huge as it is the treasure left to us by Jesus. In fact a talent was 60 mines and 6,000 drachmas. The drachma was treated as equivalent to the dinar (which was the currency of the time) and an unskilled worker earned about a dinar a day. The Mishnah says that the minimum for a family to live was 200 dinar per year. With a talent, a family could live 30 years.
2 In the parable of the talents recorded by the Evangelist St. Matthew (25, 14-30), Jesus tells of three servants to whom, when going on a long journey, the master entrusts his money. Two of them are doing well, because they earn twice their talents. The third, however, hides the money received in a hole. Back home, the master calls the servants to give an account of what he had entrusted to them, and while he appreciated what the first two did, he is disappointed with the third one. The servant that kept hidden the talent without enhancing it. He miscalculated: he acted as if his master would no longer come back and as if there was not a day when he would be asked to be accountable for how he had "managed" the gift.
3 This year, November 16 is exactly the sixth Sunday before Christmas, precisely the beginning of the Ambrosian Advent. In more recent times the Roman Rite shortened this period to "only" four Sundays and that explains the difference in the calendar and the words "Roman Advent" on November 30th.
Patristic Reading Saint John Chrysostom
Homely on Mt 78
And if in Luke the parable of the talents is otherwise put, this is to be said, that the one is really different from the other. For in that, from the one capital different degrees of increase were made, for from one pound one brought five, another ten; wherefore neither did they obtain the same recompense; but here, it is the contrary, and the crown is accordingly equal. For he that received two gave two, and he that had received the five again in like manner; but there since from the same beginning one made the greater, one the less, increase; as might be expected, in the rewards also, they do not enjoy the same.
But see Him everywhere, not requiring it again immediately. For in the case of the vineyard, He let it out to husbandmen, and went into a far country; and here He committed to them the talents, and took His journey, that thou might learn His long-suffering. And to me He seems to say these things, to intimate the resurrection. But here it is no more a vineyard and husbandmen, but all servants. For not to rulers only, nor to Jews, but to all, doth He address His discourse. And they who bring a return unto Him confess frankly, both what is their own, and what their Master's. And the one says, Lord, "Thou gave me five talents;" and the other says, "two," indicating that from Him they received the source of their gain, and they are very thankful, and reckon all to Him.
What then says the Master? "Well done, thou good" (for this is goodness to look to one's neighbor) "and faithful servant; thou was faithful over few things, I will set thee over many things: enter thou into the joy of thy Lord, "meaning by this expression all blessedness.
But not so that other one, but how? "I knew that thou art a hard man, reaping where thou sowed not, and gathering where thou sown not: and I was afraid, and hid thy talent: lo, there thou hast that is thine." What then the Master? "Thou ought to have put my money to the exchangers,"14 that is, "that ought to have spoken, to have admonished, to have advised." But are they disobedient? Yet this is nought to thee.
What could be more gentle than this? For men indeed do not so, but him that hath put out the money at usury, even him do they make also responsible to require it again.
783 But He not so; but, Thou ought, He says, to have put it out, and to have committed the requiring of it again to me. And I should have required it with increase; by increase upon the hearing, meaning the showing forth of the works. Thou ought to have done that which is easier, and to have left to me what is more difficult. Forasmuch then as he did not this, "Take," say He, "the talent from him, and give it to him that hath ten talents? For unto every one that hath shall be given, and he shall have abundance; but from him that hath not shall be taken away even that which he hath."16 What then is this? He that has a gift of word and teaching to profit thereby, and uses it not, will lose the gift also; but he that gives diligence, will gain to himself the gift in more abundance; even as the other loses what he had received. But not to this is the penalty limited for him that is slothful, but even intolerable is the punishment, and with the punishment the sentence, which is full of a heavy accusation. For "cast ye," says He, "the unprofitable servant into outer darkness: there shall be weeping and gnashing of teeth." See thou how not only the spoiler, and the covetous, nor only the doer of evil things, but also he that doeth not good things, is punished with extreme punishment.
Let us hearken then to these words. As we have opportunity, let us help on our salvation, let us get oil for our lamps, let us labor to add to our talent. For if we be backward, and spend our time in sloth here, no one will pity us any more hereafter, though we should wail ten thousand times. He also that had on the filthy garments condemned himself, and profited nothing. He also that had the one talent restored that which was committed to his charge, and yet was condemned. The virgins again entreated, and came unto Him and knocked, and all in vain, and without effect.
Knowing then these things, let us contribute alike wealth, and diligence, and protection, and all things for our neighbor's advantage. For the talents here are each person's ability, whether in the way of protection, or in money, or in teaching, or in whatsoever thing of the kind. Let no man say, I have but one talent, and can do nothing; for thou canal even by one approve thyself. For thou art not poorer than that widow; thou art not more uninstructed than Peter and John, who were both "unlearned and ignorant men;" but nevertheless, since they showed forth a zeal, and did all things for the common good, they attained to Heaven. For nothing is so pleasing to God, as to live for the common advantage.
For this end God gave us speech, and hands, and feet, and strength of body, and mind, and understanding, that we might use all these things, both for our own salvation, and for our neighbor's advantage. For not for hymns only and thanksgivings is our speech serviceable to us, but it is profitable also for instruction and admonition. And if indeed we used it to this end, we should be imitating our Master; but if for the opposite ends, the devil. Since Peter also, when he confessed the Christ, was blessed, as having spoken the words of the Father; but when he refused the cross, and dissuaded it, he was severely reproved, as savoring the things of the devil. But if where the saying was of ignorance, so heavy is the blame, when we of our own will commit many sins, what favor shall we have?
Such things then let us speak, that of themselves they may be evidently the words of Christ. For not only if I should say, "Arise, and walk;"20 neither if I should say, "Tabitha, arise,"21 then only do I speak Christ's words, but much more if being reviled I bless, if being despitefully used I pray for him that doeth despite to me. Lately indeed I said, that our tongue is a hand laying hold on the feet of God; but now much more do I say, that our tongue is a tongue imitating the tongue of Christ, if it show forth the strictness that becomes us, if we speak those things which He wills. But what are the things which He wills us to speak? Words full of gentleness and meekness, even as also He Himself used to speak, saying to them that were insulting Him, "I have not a devil;"22 and again, "If I have spoken evil, bear witness of the evil."23 If thou also speak in this way; if thou speak for thy neighbor's amendment, thou wilt obtain a tongue like that tongue. And these things God Himself says; "For he that brings out the precious from the vile, shall be as my mouth;" such are His words.
When therefore thy tongue is as Christ's tongue, and thy mouth is become the mouth of the Father, and thou art a temple of the Holy Ghost, then what kind of honor could be equal to this? For not even if thy mouth were made of gold, no nor even of precious stones, would it shine like as now, when lit up with the ornament of meekness. For what is more lovely than a mouth that knows not how to insult, but is used to bless and give good words? – Read the source: Archbishop Francesco Follo https://zenit.org/articles/the-gifts-received-and-shared-2/
Reflection 13 – Well done, my good and faithful servant!
This Sunday's Gospel reading reminds us not to bury the gifts that God has given us. To do so is to be a "wicked, lazy servant!"
Ouch.
We all have at least one buried talent. There's more we could be doing for the kingdom of God, but we think: "Not me. I'm not gifted enough" or "Someone else can do it better than I can" or "God can't be telling me to do that" or "I don't have the time, the financial resources, the know-how, or good enough health" or "I'm retired now and I've been waiting a long time to finally focus on my own desires."
There's no holy excuse for wasting anything good that God has given us, but sadly it happens quite often, because we don't realize how necessary our talents are for the Church and our joint mission of spreading Christ's influence upon the world.
What's pushing your gifts and talents aside? What's interfering with your usefulness to the kingdom of God? Now is the time to open wide your potential and release your talents into God's plans!
We are all gifted "enough" to make a difference for God's kingdom, because our abilities come from him. We're his servants, and it's up to him, not us, to decide what we're capable of doing. Even the homebound and the bedridden have a divine purpose that can be accomplished in their circumstances and sufferings. Often, these precious people are very powerful prayer warriors and have some of the soundest wisdom on earth.
Have you ever been challenged by the question: "If God is so good, why does he allow evil to happen?" The answer is: It's not God that allows it. It's we who allow it! We are the Body of Christ on earth. We are his hands and feet and vocal chords and embracing arms. Jesus truly wants to make our world more heavenly, but too many of us have seemingly good reasons to bury the gifts that could make a difference. Indeed, this is wicked laziness!
Questions for Personal Reflection:
What good have you done? Hear God assuring you: "Well done, my good and faithful servant! Since you were faithful in small matters, I will give you greater responsibilities. Come, share your Master's joy!" What "greater responsibilities" can you say yes to by offering the gifts that he's provided to you? What's stopping you from saying yes?
Questions for Community Faith Sharing:
How would you recommend, based on your own experiences, that Christians invest the gifts of God? How do you identify (1) your giftedness and (2) God's purpose for it? – Read the source: http://gnm.org/good-news-reflections/?useDrDate=2017-11-18
Reflection 14 – Use talents wisely
We have the joy of breaking the bread of God's word, and shortly, we will have the joy of breaking and receiving the Bread of the Eucharist, food for life's journey. All of us, none excluded, need this, for all of us are beggars when it comes to what is essential: God's love, which gives meaning to our lives and a life without end. So today too, we lift up our hands to him, asking to receive his gifts.
The Gospel parable speaks of gifts. It tells us that we have received talents from God, "according to the ability of each" (Mt 25:15). Before all else, let us realize this: we do have talents; in God's eyes, we are "talented". Consequently, no one can think that he or she is useless, so poor as to be incapable of giving something to others. We are chosen and blessed by God, who wants to fill us with his gifts, more than any father or mother does with their own children. And God, in whose eyes no child can be neglected, entrusts to each of us a mission.
Indeed, as the loving and demanding Father that he is, he gives us responsibility. In the parable, we see that each servant is given talents to use wisely. But whereas the first two servants do what they are charged, the third does not make his talents bear fruit; he gives back only what he had received. "I was afraid – he says – and I went and hid your talent in the ground. Here you have what is yours" (v. 25). As a result, he is harshly rebuked as "wicked and lazy" (v. 26). What made the Master displeased with him? To use a word that may sound a little old-fashioned but is still timely, I would say it was his omission. His evil was that of failing to do "good. All too often, we have the idea that we haven't done anything wrong, and so we rest content, presuming that we are good and just. But in this way we risk acting like the unworthy servant: he did no wrong, he didn't waste the talent, in fact, he kept it carefully hidden in the ground. But to do no wrong is not enough. God is not an inspector looking for unstamped tickets; he is a Father looking for children to whom he can entrust his property and his plans (cf. v. 14). It is sad when the Father of love does not receive a generous response of love from his children, who do no more than keep the rules and follow the commandments, like hired hands in the house of the Father (cf. Lk 15:17).
The unworthy servant, despite receiving a talent from the Master who loves to share and multiply his gifts, guarded it jealously; he was content to keep it safe. But someone concerned only to preserve and maintain the treasures of the past is not being faithful to God. Instead, the parable tells us, the one who adds new talents is truly "faithful" (vv. 21 and 23), because he sees things as God does; he does not stand still, but instead, out of love, takes risks. He puts his life on the line for others; he is not content to keep things as they are. One thing alone does he overlook: his own interest. That is the only right "omission".
Omission is also the great sin where the poor are concerned. Here it has a specific name: indifference. It is when we say, "That doesn't regard me; it's not my business; it's society's problem". It is when we turn away from a brother or sister in need when we change channels as soon as a disturbing question comes up, when we grow indignant at evil but do nothing about it. God will not ask us if we felt righteous indignation, but whether we did some good.
How, in practice can we please God? When we want to please someone dear to us, for example by giving a gift, we need first to know that person's tastes, lest the gift prove more pleasing to the giver than to the recipient. When we want to offer something to the Lord, we can find his tastes in the Gospel. Immediately following the passage that we heard today, Jesus says, "Truly I tell you that, just as you did it to one of the least of these, my brothers, you did it to me" (Mt 25:40). These least of our brethren, whom he loves dearly, are the hungry and the sick, the stranger and the prisoner, the poor and the abandoned, the suffering who receive no help, the needy who are cast aside. On their faces we can imagine seeing Jesus' own face; on their lips, even if pursed in pain, we can hear his words: "This is my body" (Mt 26:26).
In the poor, Jesus knocks on the doors of our heart, thirsting for our love. When we overcome our indifference and, in the name of Jesus, we give of ourselves for the least of his brethren, we are his good and faithful friends, with whom he loves to dwell. God greatly appreciates the attitude described in today's first reading that of the "good wife", who "opens her hand to the poor, and reaches out her hands to the needy" (Prov 31:10.20). Here we see true goodness and strength: not in closed fists and crossed arms, but in ready hands outstretched to the poor, to the wounded flesh of the Lord.
There, in the poor, we find the presence of Jesus, who, though rich, became poor (cf. 2 Cor 8:9). For this reason, in them, in their weakness, a "saving power" is present. And if in the eyes of the world they have little value, they are the ones who open to us the way to heaven; they are our "passport to paradise". For us, it is an evangelical duty to care for them, as our real riches, and to do so not only by giving them bread but also by breaking with them the bread of God's word, which is addressed first to them. To love the poor means to combat all forms of poverty, spiritual and material.
And it will also do us good. Drawing near to the poor in our midst will touch our lives. It will remind us of what really counts: to love God and our neighbor. Only this lasts forever, everything else passes away. What we invest in love remains, the rest vanishes. Today we might ask ourselves: "What counts for me in life? Where am I making my investments?" In fleeting riches, with which the world is never satisfied, or in the wealth bestowed by God, who gives eternal life? This is the choice before us: to live in order to gain things on earth, or to give things away in order to gain heaven. Where heaven is concerned, what matters is not what we have, but what we give, for "those who store up treasures for themselves, do not grow rich in the sight of God" (Lk 12:21).
So let us not seek for ourselves more than we need, but rather what is good for others, and nothing of value will be lacking to us. May the Lord, who has compassion for our poverty and needs, and bestows his talents upon us, grant us the wisdom to seek what really matters, and the courage to love, not in words but in deeds. – Read the source: https://zenit.org/articles/use-talents-wisely-pope-reminds/
The Pope Francis' Remarks before the Angelus
Dear Brothers and Sisters, good morning!
In this penultimate Sunday of the Liturgical Year, the Gospel presents the parable of the talents (Cf. Matthew 25:14-30). Before leaving on a journey, a man gave his servants talents, which at the time were coins of notable value: to one servant five talents, to another two, and to another one, according to each one's ability. The servant that received five talents was entrepreneurial and made them yield, earning another five. The servant who received two behaved in the same way and earned another two. Instead, the servant that received one dug a hole in the ground and hid his master's coin.
It's this same servant that explained to his master, on his return, the reason for his gesture, saying: "Lord, I know you are a hard man, who reap where you have not sown and gather where you have not winnowed. I was afraid and I went and hid your talent in the ground (vv. 24-25). This servant doesn't have a relationship of trust with his master but is afraid of him, and this blocks him. Fear always immobilizes and often makes one carry out mistaken choices." Fear discourages one from taking initiatives; it induces one to take refuge in secure and guaranteed solutions, and thus one ends by not doing anything good. One must not be afraid; one must have trust to go forward and to grow in life's journey.
This parable makes us understand how important it is to have a true idea of God. We must not think that He is a wicked master, hard and severe who wants to punish us. If this mistaken image of God is within us, then our life can't be fecund because we'll live in fear and this won't lead us to anything constructive, rather, fear paralyzes us, it's self-destructive. We are called to reflect to discover what is truly our idea of God. Already in the Old Testament He revealed Himself as "merciful and gracious, slow to anger, and abounding in steadfast love and faithfulness" (Exodus 34:6). And Jesus always showed us that God isn't a severe and intolerant master, but a Father full of love, of tenderness, a Father full of goodness. Therefore we can and must have immense trust in Him.
Jesus shows us the generosity and care of the Father in many ways: with His word, with His gestures, with His reception of all, especially of sinners, little ones and the poor – as the World Day of the Poor reminds us today –; but also with His admonitions, which reveal His interest so that we won't waste our life uselessly. In fact, it's a sign that God esteems us greatly: this awareness helps us to be responsible persons in all our actions. Therefore, the parable of the talents calls us to a personal responsibility and a fidelity that becomes also the capacity to set out continually on new paths, without burying our talent, namely, the gifts that God has entrusted to us, and of which He will ask us to account.